Sand, surf and sexy blondes are images that typically come to mind when thinking of sunny San Diego, but toss those beachy clichés aside. What you should be thinking about is the food. Big juicy burritos and scrumptious brunches are staples of almost every student's diet at the University of San Diego. It's hard to go a couple of blocks away from campus without finding a new restaurant that you just have to try, making this prime location hard to beat on the food scale.
Keep reading for 10 delicious restaurants at USD.
1. La Paloma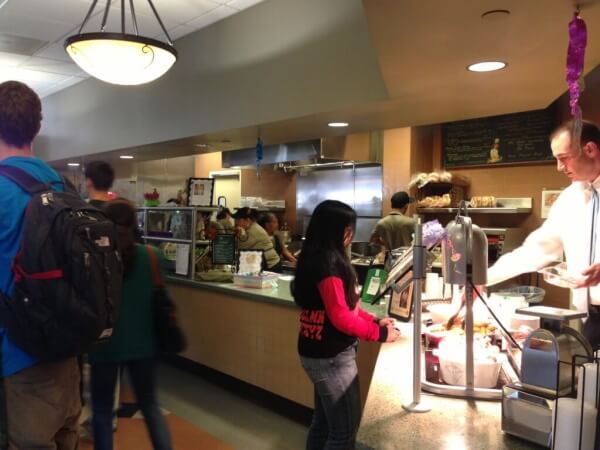 USD's very own La Paloma has a unique menu offering breakfast all day. Mongolian barbecue, salad bar, full service cafe and a sandwich station are among the delectable amenities. "The first day I walked into La Paloma I remember thinking… this is what college food is like? I'm never going home," said Liberal Studies senior Mary Grabowski. The Mongolian barbecue is cooked in front of you right after you order it, and the smell wafting from your box of juicy noodles is enough to drive your classmates crazy. When you're on campus, it's hard to go wrong with a meal from La Paloma.
2. PB Shore Club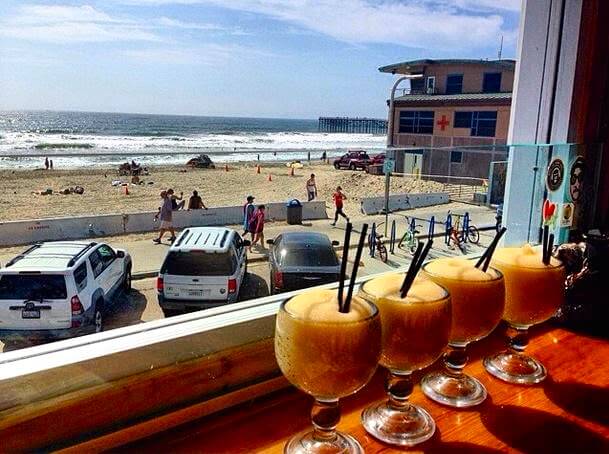 Students can't decide what the biggest draw at the PB Shore Club is—eating breakfast with an ocean view or munching on late night brisket nacho fries while watching the gold fish races. That's right. Gold fish races. It's a Wednesday night special event where you can buy and race a gold fish at the Shore club against other fish for five dollars all while enjoying some marvelously grilled shrimp tacos. "You haven't lived until you've eaten nachos at 1 a.m. while rooting for your buddy's fish to win in its race," said communications senior Kyle Holder.
3. Casa Guadalajara
Several Mexican Restaurants line the streets of Old Town, San Diego, but none are as full of culture and tasty ingredients as Casa Guadalajara. The table salsa and chips are extremely addictive, but trust me—you're going to want to save room for some sizzling fajitas or grilled fish tacos. "We love to go [to Casa Guadalajara] for Taco Tuesdays or any night really to eat tacos and catch up. It has such a cute atmosphere and is always a fun place to be with friends or family," said sophomore biology major Anne Dawkins. The nightly live entertainment and bar will make eating your tacos all the more enjoyable.
4. Up2you Cafe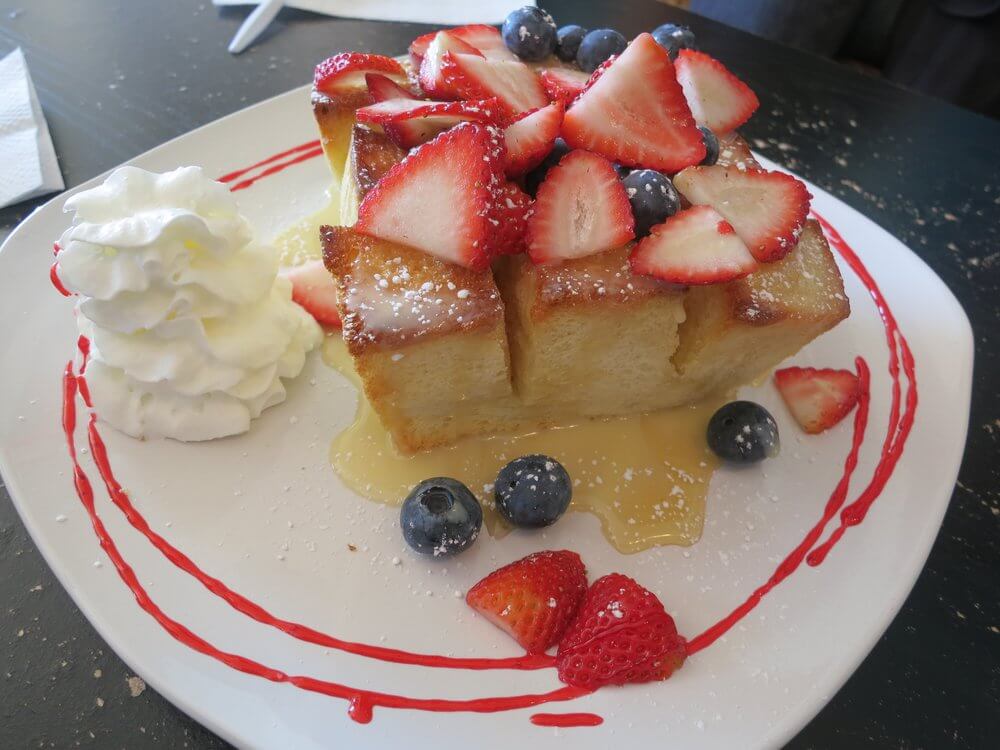 Ever heard of brick toast? After a trip to the ultimate hipster's cafe you will become familiar with it, a sweet slab of bread topped with ice cream, fruit and any sauce you choose, unless you settle for a crepe or a napoleon (cream inside of a puff pastry). Dessert is the cafe's specialty, and the line in this tasty shop is always out the door. "It's cool because you're getting like a gourmet treat but it's in a low-key cafe in Kearny Mesa," said sophomore English major Megan Cooling. A visit to Up2you Cafe will definitely make your next trip to San Diego a little sweeter.
5. Napizza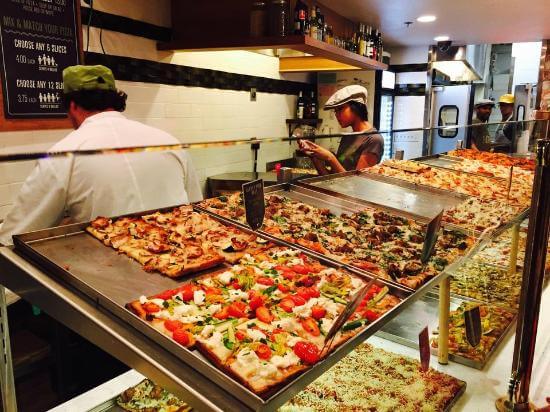 Pizza by the slice is the key element of Napizza's menu. With options like "veggy me" and lasagna, a slice of pizza and a salad is enough to satisfy your Italian cravings. "My go to is the truffle porcini pizza. One slice of it is enough to fill me up. The flavors are so rich and tasty," said junior Sociology major Lauren Berriatua. Students also appreciate the fair prices and quick service. The "by the slice" style at Napizza saves you time and money, allowing you to spend the rest of your night wandering down the streets of Little Italy.
6. Kono's Cafe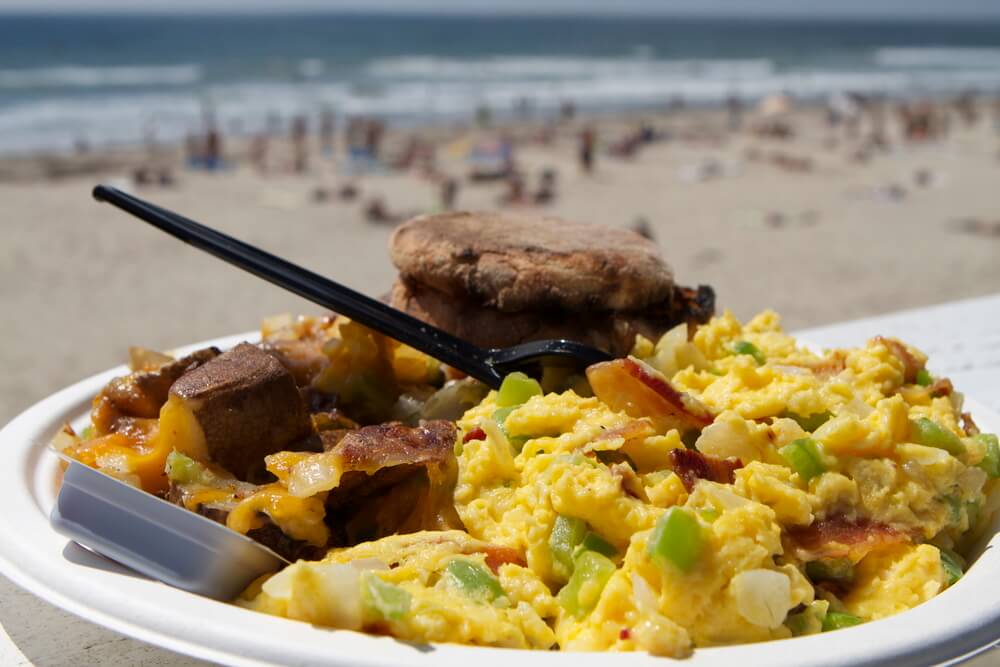 Big breakfast plates filled with eggs, bacon, french toast and an English muffin all for less than ten dollars sounds like a dream—and that's exactly what Kono's is. A dreamy cafe at Pacific Beach with an ocean view, Kono's offers breakfast burritos and killer cheesy potatoes. "I love getting their Big Breakfast #1. It's honestly enough for two people but the food is too good to share or have leftovers," said senior business major Justin Lombardi. Don't be fooled by the dirt-cheap prices; enjoy the stacks of hotcakes while still having enough money leftover for next month's rent.
7. Olive Cafe
Also located at Pacific Beach, the Olive Cafe is a quaint and charming outdoor restaurant that serves breakfast and lunch all day. The Olive Cafe bakery provides fresh croissants, muffins and scones and its west coast cheesesteak or tuna melt is the perfect way to fill up your belly before a relaxing beach nap. "I don't think there is a better way to spend your Sunday, or any day really, then eating a late breakfast at the Olive Cafe while you watch the surfers head out to the water. It's fun, delicious and sweet," said junior marketing major Sally Turner.
8. Neighborhood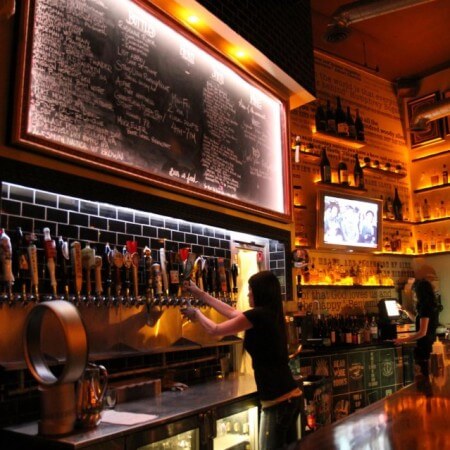 The Neighborhood is a chic restaurant in the Gaslamp District with unique entrées and appetizers. Their appetizers include salt and malt powder popcorn as well as cheese fries with farm egg and aioli. Their impressive burgers and specialties make the Neighborhood a must visit. If you go later in the night (like a true college student) a visit to the Neighborhood's secret speakeasy (hidden behind a fake wall) makes the experience all too great. "I don't know another place that has awesome food and a speakeasy," said senior biology major Hayden Fensten. "It's a fun blast from the past."
9. Rubicon Deli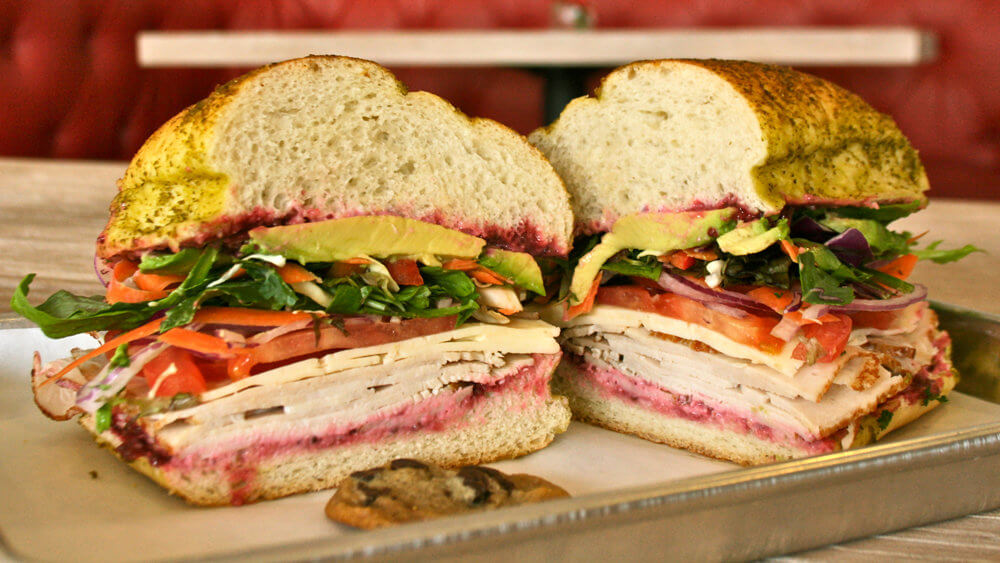 Rubicon Deli down in Pacific Beach has sandwiches stuffed between freshly baked bread and filled with delicious meat and spreads. Famous for their bread options like dutch crunch and garlic cheese, Rubicon Deli packs a large amount of flavor into an even larger-sized sandwich. "I get the Crandy [whenever I go to Rubicon] and let me tell you, it's like Thanksgiving in a Sandwich. Turkey, provolone and cranberry mayo spread to top it off. What else does a girl need?" said junior business major Lauren King. And the acai bowls are game changer. They combine fresh fruit and homemade granola for an intoxicating antioxidant blast that will have you dreaming of Rubicon in your next triple block.
10. Snooze Cafe
If you aren't into #basic pancake flavors like chocolate chip and blueberry but enjoy a good breakfast, Snooze Cafe may be your new fave. With pancake flavors like pineapple upside down, sweet potato, peanut butter cup and coffee and donut, Snooze takes its pancakes seriously. This adorable eatery located in quaint Hillcrest offers breakfast lovers everywhere a refreshing experience. "Whenever my family comes to visit I always take them to get the pancakes. We leave feeling like we've gained 20 lbs, but it's so worth it," said sophomore engineering major Stephen Smith. Its classic breakfast pot pies, flavorful chilaquiles or green eggs 'n Hamwich will take your pun-tastic taste buds on an unforgettable journey.
Are you a foodie looking for Instagram-worthy spots at USD? Here are 10 more eateries—that don't break the bank.
Written by Zoe Knafelc
University of San Diego students have it good when it comes to food. Toreros dine with made-to-order sandwiches, sushi bars, smoothies and acai bowls and open-smoked barbecue. But sometimes, you need to escape the dining hall—no matter how good it is. As one of the most "foodie" cities in the world, San Diego overflows with opportunities to try renounced cuisine, especially for your #InstaFeed. And CM's got your back; check out these 10 trendy (and cheap AF) spots for any So-Cal student.
1. WowWow Waffle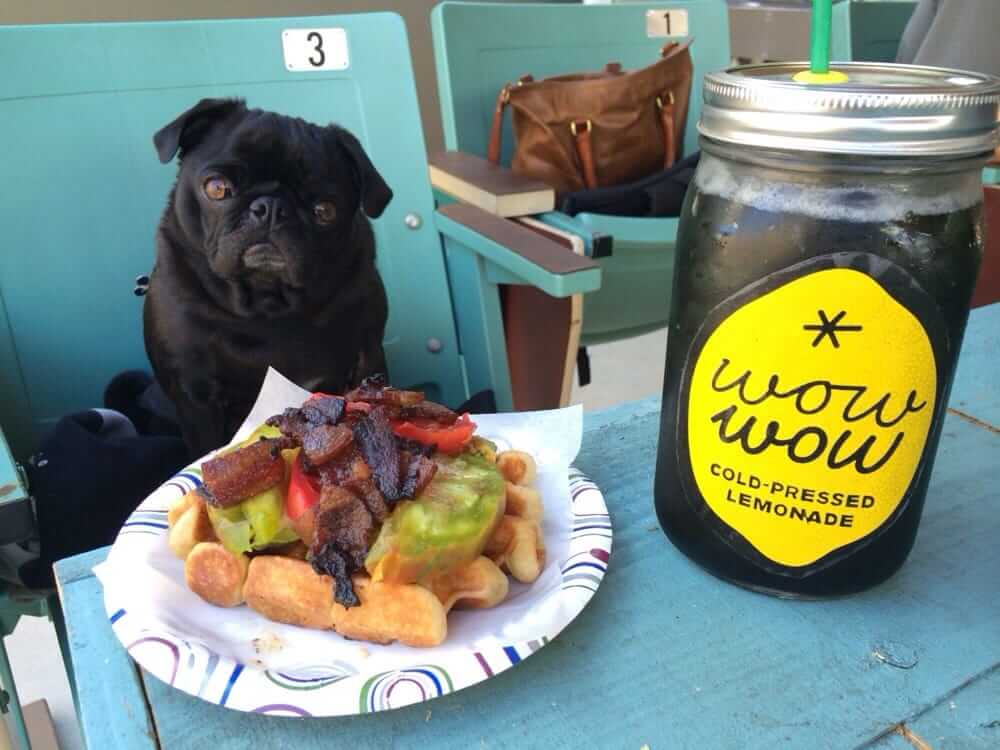 The Vibe: Street Food with a Twist
How much money to bring: $4–$9
Do you think you love waffles more than Leslie Knope? If so, you'll find WowWow Waffle to die for. Made with organic and fresh ingredients grown by local farms, this waffle joint mastered the art of Belgian street waffles. Especially in their popular dish, the Tropical Treat. This waffle pairs banana, real whipped cream and macadamia nuts to make the perfect tropical breakfast… or lunch or dinner. They even specialize in fresh pressed lemonade. Sipping on lemonade and chowing down on some waffles sounds pretty chill – talk about a homework getaway. Don't feel like traveling? WowWow Waffle food trucks scatter throughout San Diego so the "wow" can come to you.
2. Baked Bear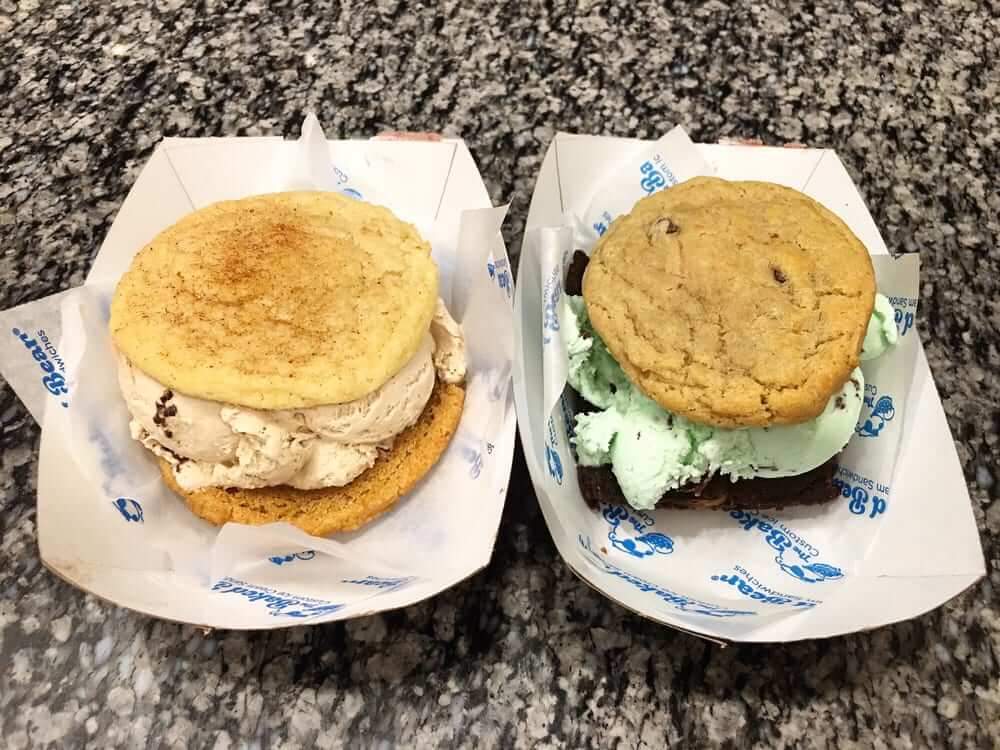 The Vibe: Family Friendly Fun
How much money to bring: $6
We bet you've wanted to get your hands on those popular ice cream-cookie sandwiches from social media. Now's your chance. Baked Bear mastered the cookie and ice cream sandwich duo. Squish your favorite ice cream in between two soft and chewy cookies with any topping you want. Baked Bear makes a great escape from the heat of Pacific Beach. Staff prepare artisan cookies for customers to eat by themselves or pair with a scoop of ice cream. "The ice cream sandwiches are the best treat," said USD freshman Rose A. Their flavors of cookies range from chocolate chip to seasonal specials like candy cane and apple strudel. If you are feeling funky, you can pull out a secret menu hack and order a milkshake. This simple milkshake comes with a twist; pick your favorite flavor of both ice cream and cookie and they will mix it all together and add whipped cream.
3. Hodad's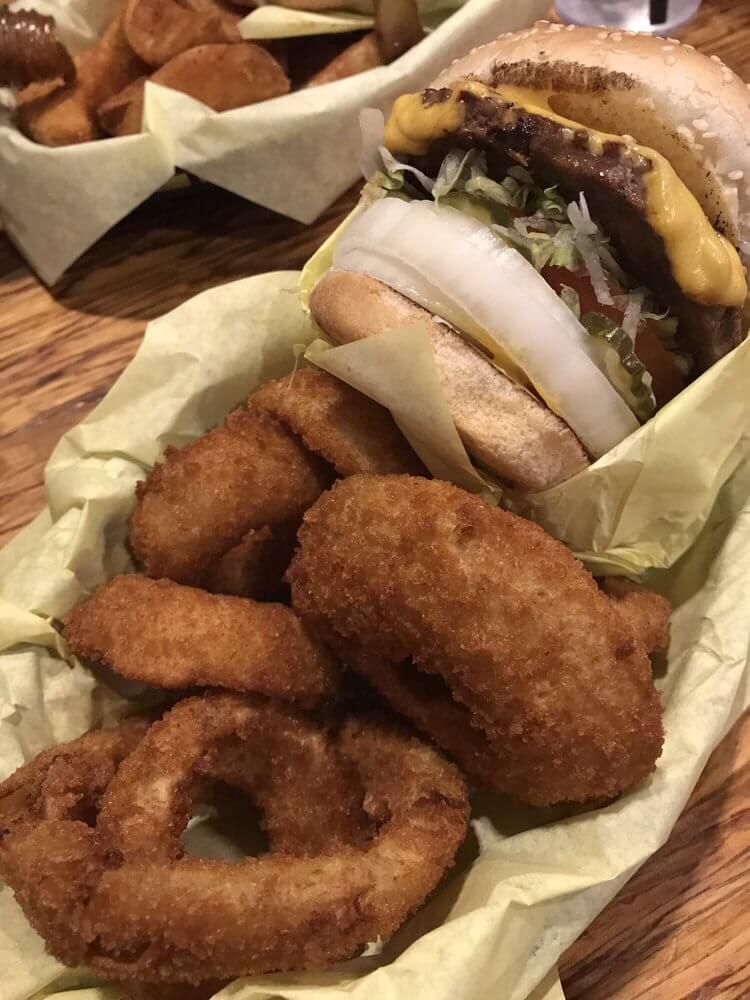 The Vibe: Laid-back surfer/biker hangout
How much money to bring: $4–$8
Any burger fanatic will rave over burgers from Hodad's. Don't sleep on these world-famous sliders. Hodad's prides themselves in offering fresh food, great portions and the best atmosphere. The burger joint, decked out with license plates and lots of stickers from all over the country, sets the "fun vibes" mood. Of course, the number of burger choices marvels any normal burger joint. Many frequent eaters order the Guido Burger; a burger with Pastrami, ketchup, pickles, Swiss cheese, grilled onions and spicy brown mustard for $6.75. It's worth the price, too, as these burgers might act as a second meal when you can't finish them. Onion rings and wedge cut fries paired with your favorite burger always completes the order. Head on down to Ocean Beach to get your hands on one of these babies.
4. Mad Beet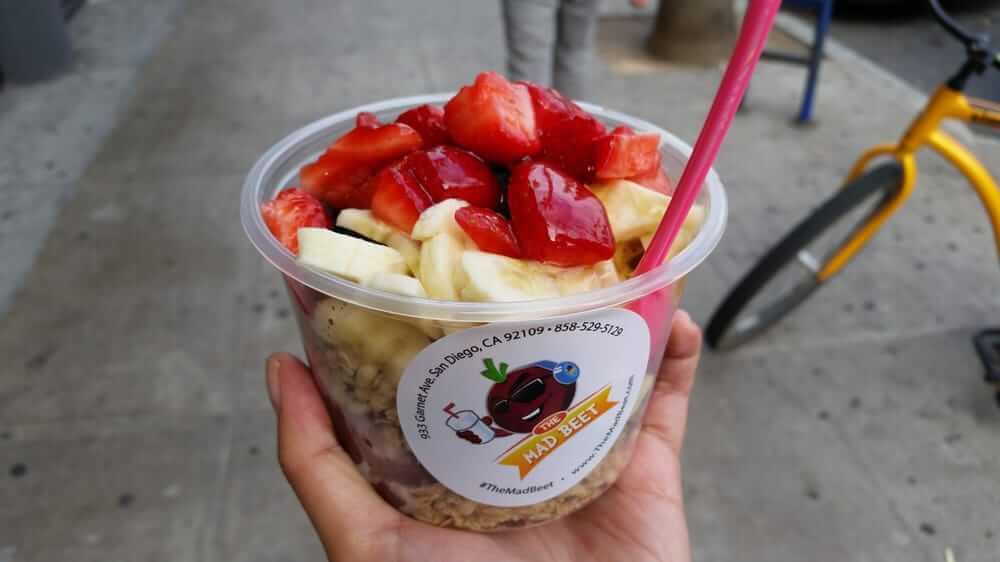 The Vibe: Health Conscious with Good Tunes
How much money to bring: $6–12
The Mad Beet equals the ultimate hangout for the fit and beach-loving students of USD. The Mad Beet specializes in healthy food, designed by physical trainers and ex-military personnel to fuel your body with a positive attitude. Catch workers providing an awesome and chill experience with boppin' tunes in the background. Their menu, all themed off of popular music artists from the 80s to now, offers house-chopped salads, freshly squeeze juices, thick smoothies and, best of all, giant açai and pitaya bowls. A USD fan fave goes out to the Beyoncai, açai sorbet, granola, strawberries, banana and peanut butter packed in a bowl with honey drizzled on top. Need a pick me up? The Mad Beat also sells energy drink smoothies made with Red Bull that give you some energy, guaranteed. You will love the amount of choices you get along with the amount of acai that you get in your 32oz. açai bowl. Who wouldn't want to snap a pic of that?
5. Afters Ice Cream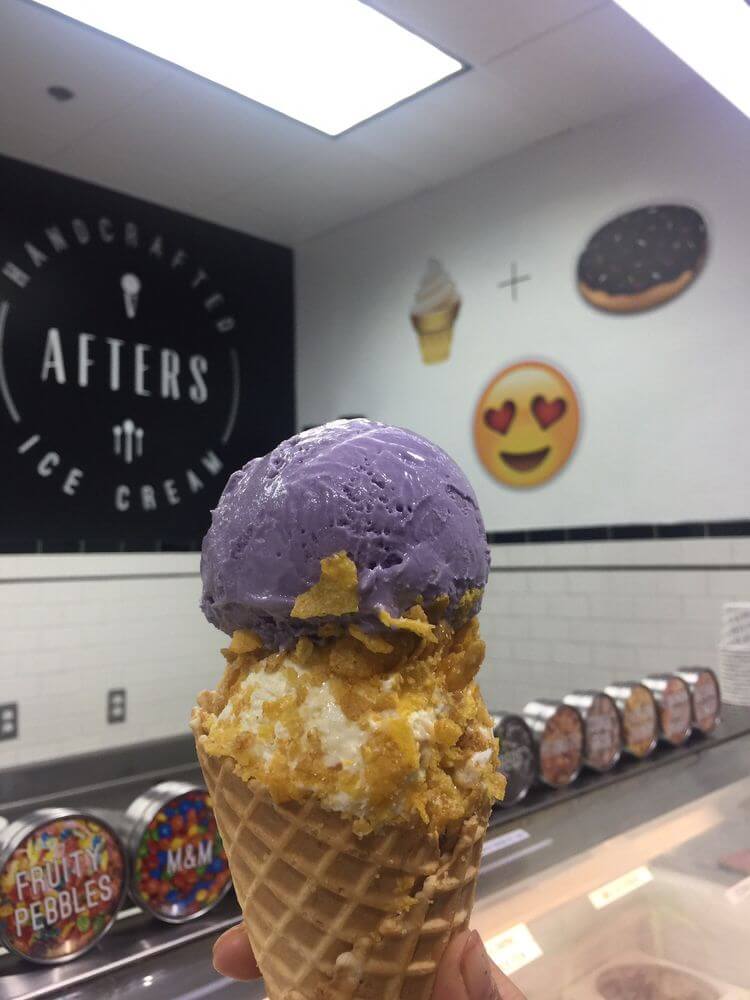 The Vibe: Hip and Modern Flow
How much money to bring: $4–$8
Need the perfect place to satisfy your late-night munchies? Afters Ice Cream creates the ultimate cravings paradise, as you can indulge in their gourmet ice-cream until 1 a.m. What a score. Plus, this black and white minimalistic store serves as the perfect background for the colorful treats. Their unique flavors like Cookie Monster, Churro and Hot Chocolate continue to surprise customers. Once you try one flavor, we guarantee you'll order another treat. "I love cookie butter and their ice cream is to die for," USD Sophomore said. If you're need a dessert flare, don't fret. Look into the Milky Bun, a warmed glazed donut with any flavor of ice-cream in the middle, one of their toppings along the edges, topped off with chocolate drizzle. That was a mouthful, huh? Talk about a unique ice-cream sandwich.
6. Better Buzz Coffee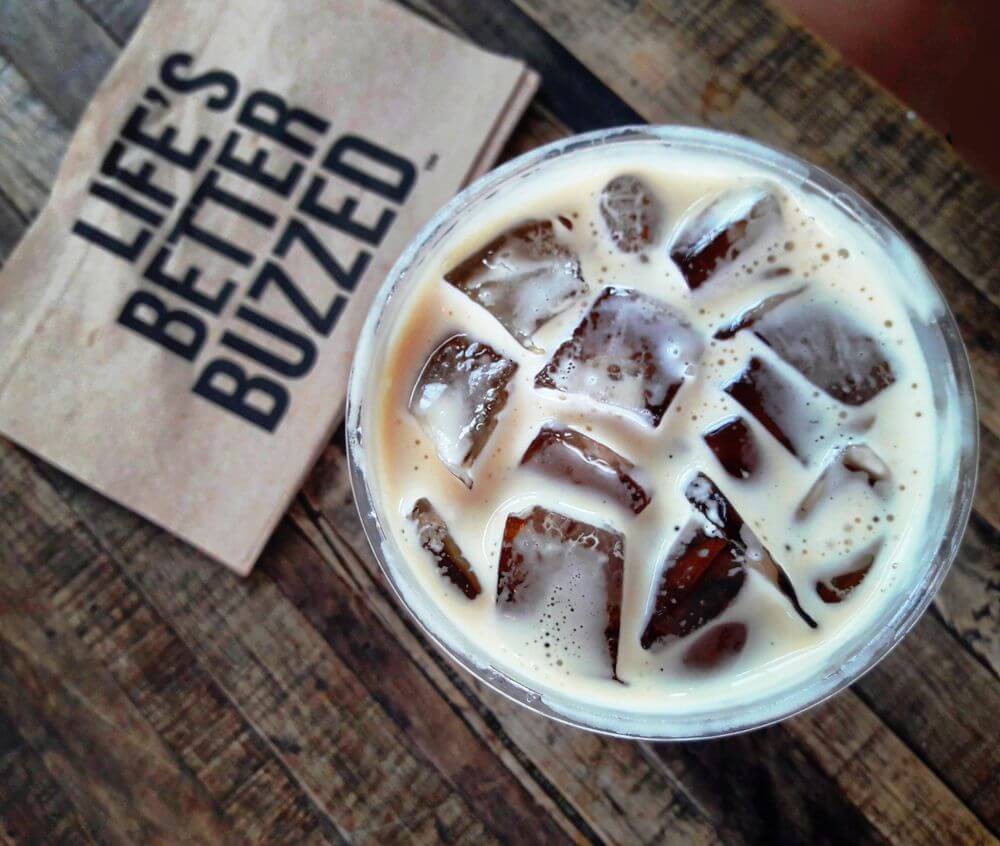 The Vibe: Coffee Enthusiast's Heaven
How much money to bring: $5–$10
Calling all coffee lovers—ditch your typical Keurig K-cups and treat yourself to an artisan cup o' joe. This coffee shop sells the ultimate Instagram-able coffee. If you haven't heard of Life Is Better Buzzed, you may not have heard the buzz. Grab a pick-me-up iced caramel coffee and watch your likes blow up by featuring cute coffee cups and the shop on your feed. Located in Hillcrest, Better Buzzed offers a perfect stop after an early morning run on the boardwalk. "Better Buzzed coffee is so hot in San Diego. I always see it on my feed or people drinking it in my 8 a.m.," USD freshman Paez said.
7. Breakfast Republic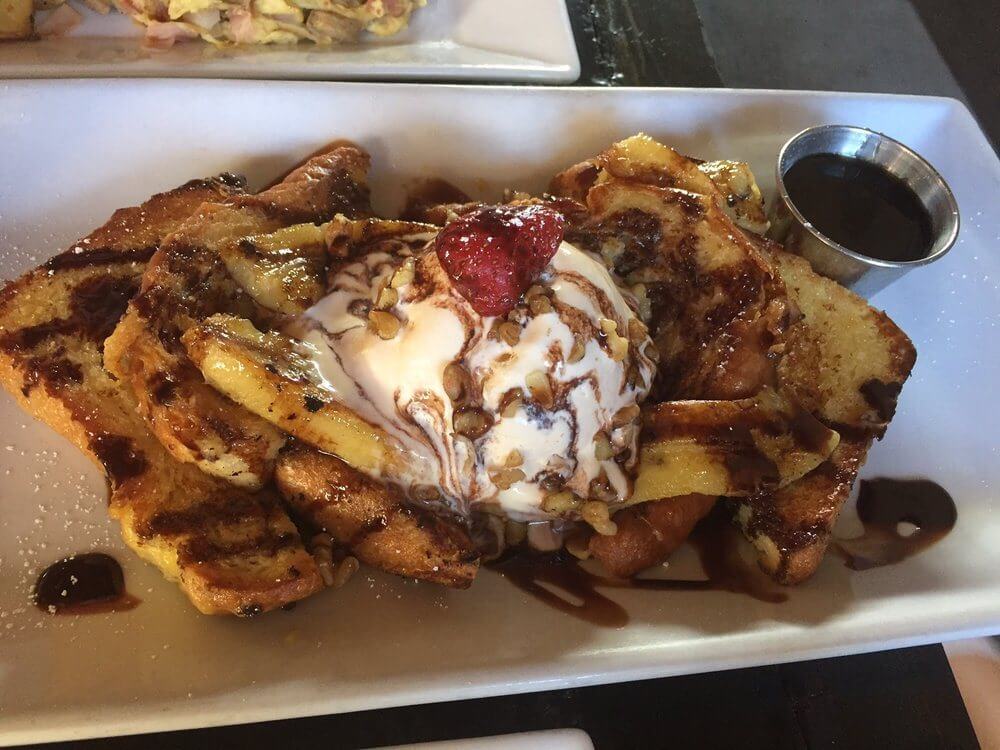 The Vibe: Breakfast Lover's Dream
How much money to bring: $15–20
Need a good breakfast for a Sunday recovery day? Breakfast Republic offers a variety of comfort breakfast foods that will make your tummy smile and add aesthetic to the 'gram. Though small, this restaurant packs lot of personality. And let's not forget about the outdoor seating. "The Oreo pancakes are by far the best. Two chocolate pancakes are filled with Oreo filling, so it is like eating a huge Oreo," USD First-Year said. The menu offers a lot of options, especially for vegan, vegetarian and gluten-free customers. Food prepared in-house assures fresh ingredients with a lot of flavor. Their lemon zest French toast always pops up on USD student's feeds. Savory breakfast fans love the skillet scramble instead of French toast. Definitely stop by one of their locations to snap a pic and enjoy an amazing breakfast.
8. Rum Jungle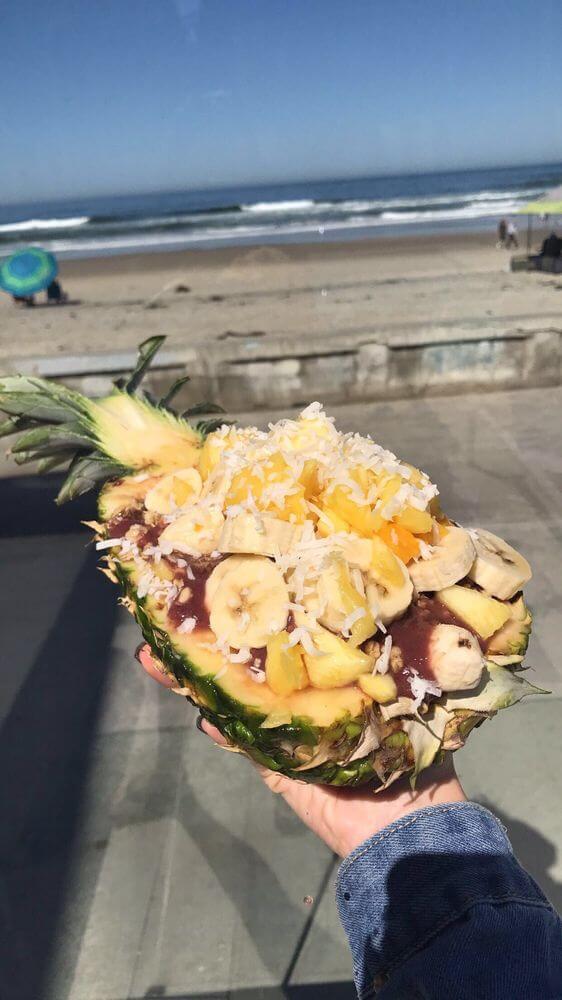 The Vibe: Tropical Paradise
How much money to bring: $5–$7
When you live in San Diego, smoothie bowls become a staple in your everyday diet. The bowls make for a fruity, healthy and delicious snack. On top of that, every bowl is made differently. Rum Jungle, located down on Mission Beach like many college hot spots, put a tropical twist on the popular breakfast food. Not only do you get a smoothie bowl topped with granola, coconut and a variety of freshly chopped fruit, you can ditch the boring bowl for a pineapple. You heard that right. Rum Jungle will serve your breakfast in a hollowed-out pineapple. Rum Jungle brings USD students vibes straight out of an all-inclusive trip to Hawaii.
9. Galaxy Taco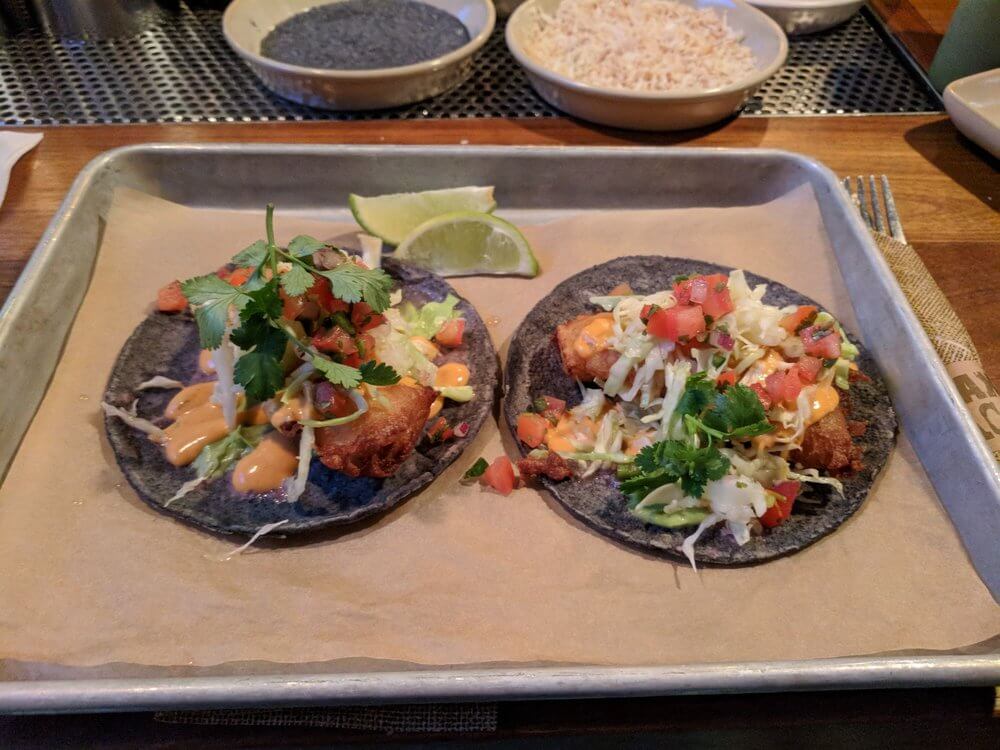 The Vibe: Mexican Fiesta Space Style
How much money to bring: $15-$20
A typical San Diego student diet includes tons of tacos. But after a while, having the same old tacos can get a little boring. However, nothing gets too boring when your tacos are out of this world (literally). Galaxy Tacos offers a one-of-a-kind taco shop experience located in La Jolla. The taco shop serves black tortilla tacos and oftentimes chars designs of skulls on their tortillas, too. If you want more than that menu item, many other options like enchiladas, avocado tostada and quesadillas are available. These unique flavors offer guests a galactic experience and an epic Insta feed unalike any human… or alien. If you happen to be over 21-years-old, you can also enjoy an awesome variety of tequila.
10. Donut Bar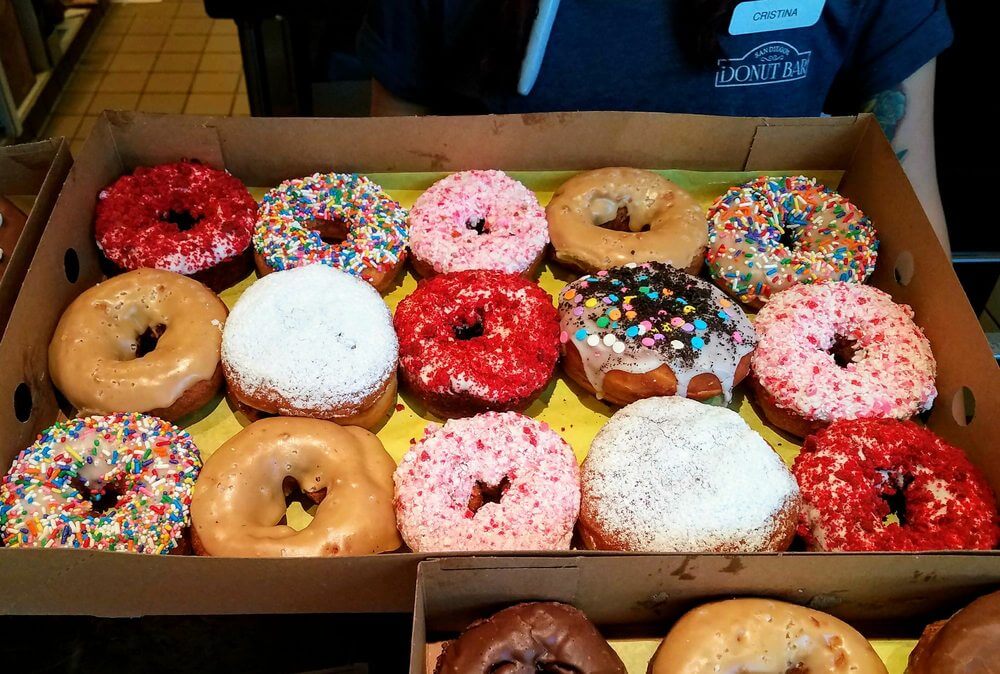 The Vibe: Bakery Meets Art
How much money to bring: $3.50 – $4.50 per donut
Sure, donuts make us sweat with excitement every time, but who doesn't like donuts that think outside of the box? Donut Bar in sunny downtown San Diego won awards for the best and most creative local-based donut shop. Their donuts are decorated and have fun names, like the Monte Cristo donut covered in Black Forest ham, Emmental Swiss cheese, American cheese and a house-made raspberry cranberry compote stuffed in a donut. Imagine stuffing your face with that. They even sell cupcakes decorated like Harry Potter. If you can think of a donut, Donut Bar totally has it. "This place has any donut you could ever want. It is a perfect place to fulfill the sweet tooth craving," USD Freshman Jamie Schneider said. The Donut Bar serves vanilla soft serve swirled into a churro donut cone. Who cares about carbs when the donuts look this good? Plus, the location in the busy hub of downtown San Diego not only makes Donut Bar an amazing bakery, but a starting place to an awesome day in the city.
**Updated on February 7, 2018 to include 10 more restaurants by Zoe Knafelc.