Your learning experience shouldn't feel limited to the confines of a classroom, so why not indulge your college career by going to one of the greatest learning environments? Urban centers deliver a dynamic college life by exposing students to things they'd otherwise never see. The richness and airiness of an authentic beignet in New Orleans or the popping Latina nightlife and fast-paced steps to the bachata at Club Cache in New York City can only be found near urban campuses. The adventures outside the classroom are limitless. The universities themselves provide amenities including stellar career services, unbeatable school pride and a sense of community that make students love their college years. With all of this in mind, why wouldn't college students attend colleges in urban areas?
While waiting for your local train, read on to discover the top 10 urban campuses in America.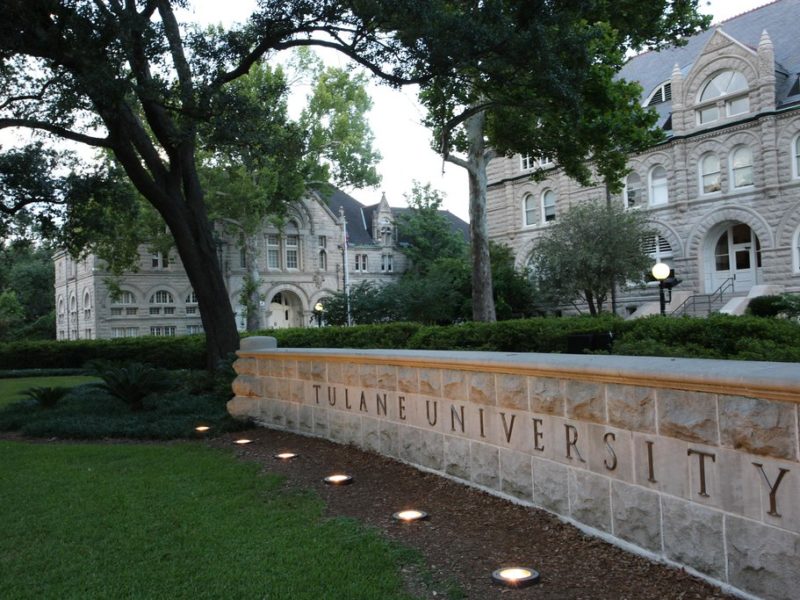 Stumble down Bourbon Street while wearing those colorful beads around your neck and dancing to some soulful jazz, all while getting a college education in the Big Easy. Beautiful Tulane University, lined with trees, greenery and ancient Greek-style architecture, sits in Uptown New Orleans. Students can travel to the nearby French Quarter to experience one of NOLA's most historic neighborhoods. The French Market contains six whole blocks of good eats, including grits and jambalaya, and quality live folk music unique to the area. The Lavin-Bernick Center for University Life works hard to provide students with trips around the city and the rest of Louisiana. In the classroom, students are set up for success with a teacher ratio of 8:1 and a freshman retention rate of 92 percent. Plus, the university's Newcomb-Tulane College Career Services assists students of all majors with finding a post-grad job. With immersion into the area's French-influenced culture and cheerful spirit, Tulane creates excitement for all college students to experience. So grab a voodoo doll along with your textbook and get ready for the unique school life you've always wanted.
9. Suffolk University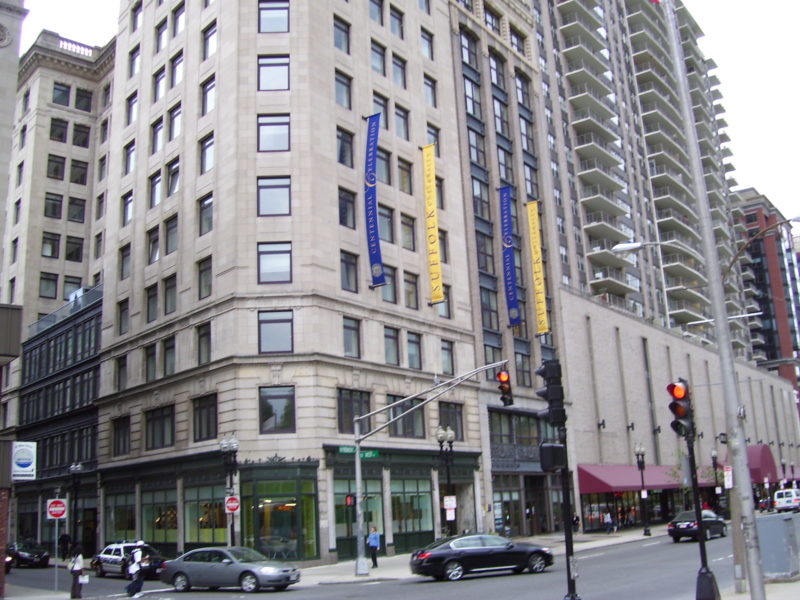 Suffolk University immerses its student body in American history. Located in Boston's historic Beacon Hill, SU embodies the radical political ideas that shaped the United States since before the American Revolution. Attracting history goers and buffs alike, the university holds a rich history of its own. Suffolk hosts the Ford Hall Forum, America's oldest free library lecture series. Past speakers have included incredibly important historical figures like Malcolm X, Martin Luther King, Jr., Eleanor Roosevelt and Winston Churchill. The university also sends students out to explore sites like Boston Commons, the oldest public park in the country. Thanks to the Students Activities Center, students feel a strong sense of community with their city. SAC hosts programs like Jumpstart, an organization that bonds the student body to the Boston community by putting students in low–income preschools. Plus, Suffolk University knows how to get students the job and internship placements they want. The school pushes its finance graduates to earn the Charted Financial Analyst, a key designation for investment professionals. This mark of distinction sets them a leg and an arm above other applicants, just like our Founding Fathers intended.
8. University of Minnesota: Twin Cities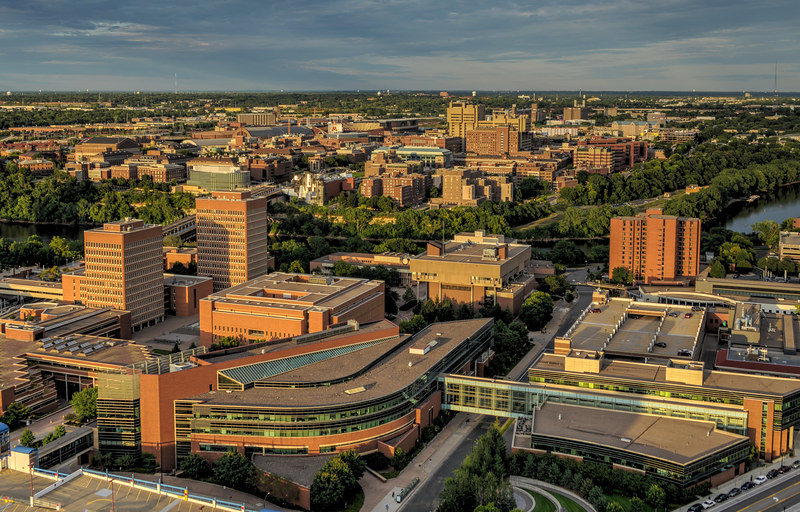 Come and thrive in the place where Prince was inspired to create the Minneapolis sound of R&B, funk, rock and pop. Within the glistening Twin Cities of Minneapolis and St. Paul lies the University of Minnesota: Twin Cities. This location reigns as one of the most desirable places for millennials because of the close community feel in the large city. The small classes at UM make it feel like you're with a tight–knit family during your four years. The university's Student Unions and Activities staff organize events to occupy students including U of M Day, a yearly celebration where students celebrate the founding of the university and all of its achievements. Ever heard of the Mall of America? Besides blowing your already empty wallet on all the enticing stores, this magical mall gives you a place to watch live concerts, create your own crayon or go bowling. Want to go on a hike? Take a trip to Minnehaha Park. Only 15 minutes away from campus, the park features beautiful hiking trails and a gorgeous 53-foot waterfall. Talk about the ultimate nature getaway. In addition, the university has a total of 51,000 students and an impressive freshman retention rate of 93 percent. If you see yourself repping maroon and gold and going to a big-city school, attend the University of Minnesota.
7. CUNY—Baruch College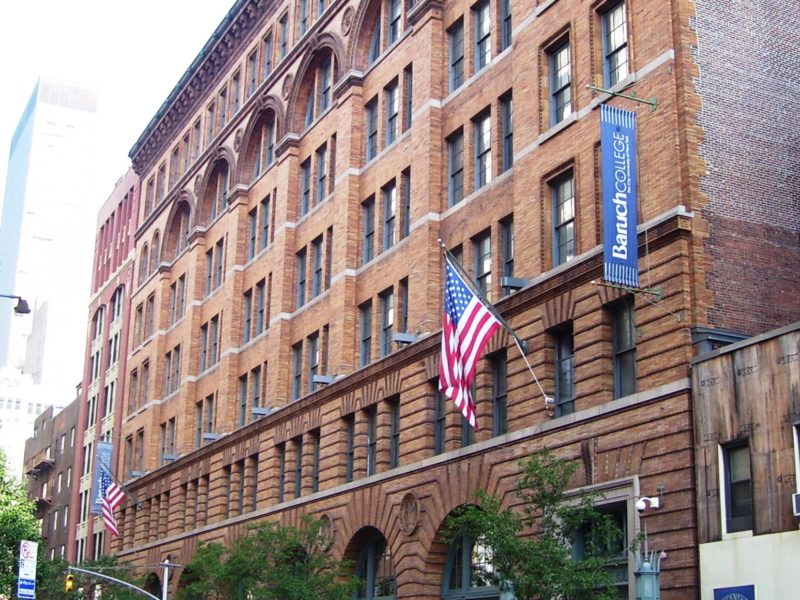 Imagine going to college in the city that never sleeps: 6 a.m. workouts in Central Park, class at 10 a.m., Cap'n Crunch–coated chicken fingers for brunch at Queens Comfort at 12 p.m. and finishing your day at 2 a.m. overlooking the beautiful skyline on the rooftop at Le Bain. You can, luckily, make that dream a reality if you attend CUNY—Baruch College. It checks all the boxes – desirable location, low price and strong academic programs. Their nationally-ranked business program provides students with the writing and presentation skills they need to succeed in the real world. Baruch's business students are so successful that they recently won an award that allows them the opportunity to continue their studies in Japan. Want to hang on campus and still take in the view of the city that never sleeps? Take in breathtaking views of the streets of Manhattan from the seat of your classroom. Prepare yourself for an Instagram-worthy food moment in between lectures. Hit up DiDi Dumplings and ask for the Beef Sensation. On that health grind? Check out Chopt for their creative dishes like the Key West Jerk Chicken Salad. Union Square offers trendy places to eat and shop, and you can't forget to visit Central Park. "Central Park is also one of the coolest places to hang out and just take some time to sit back, reflect and admire nature while having a bite to eat," Baruch College junior Danielle Fuchs said. With the hustle and bustle of New York City at students' fingertips, CUNY—Baruch College gives a taste of all of that the Big Apple has to offer.
6. Reed College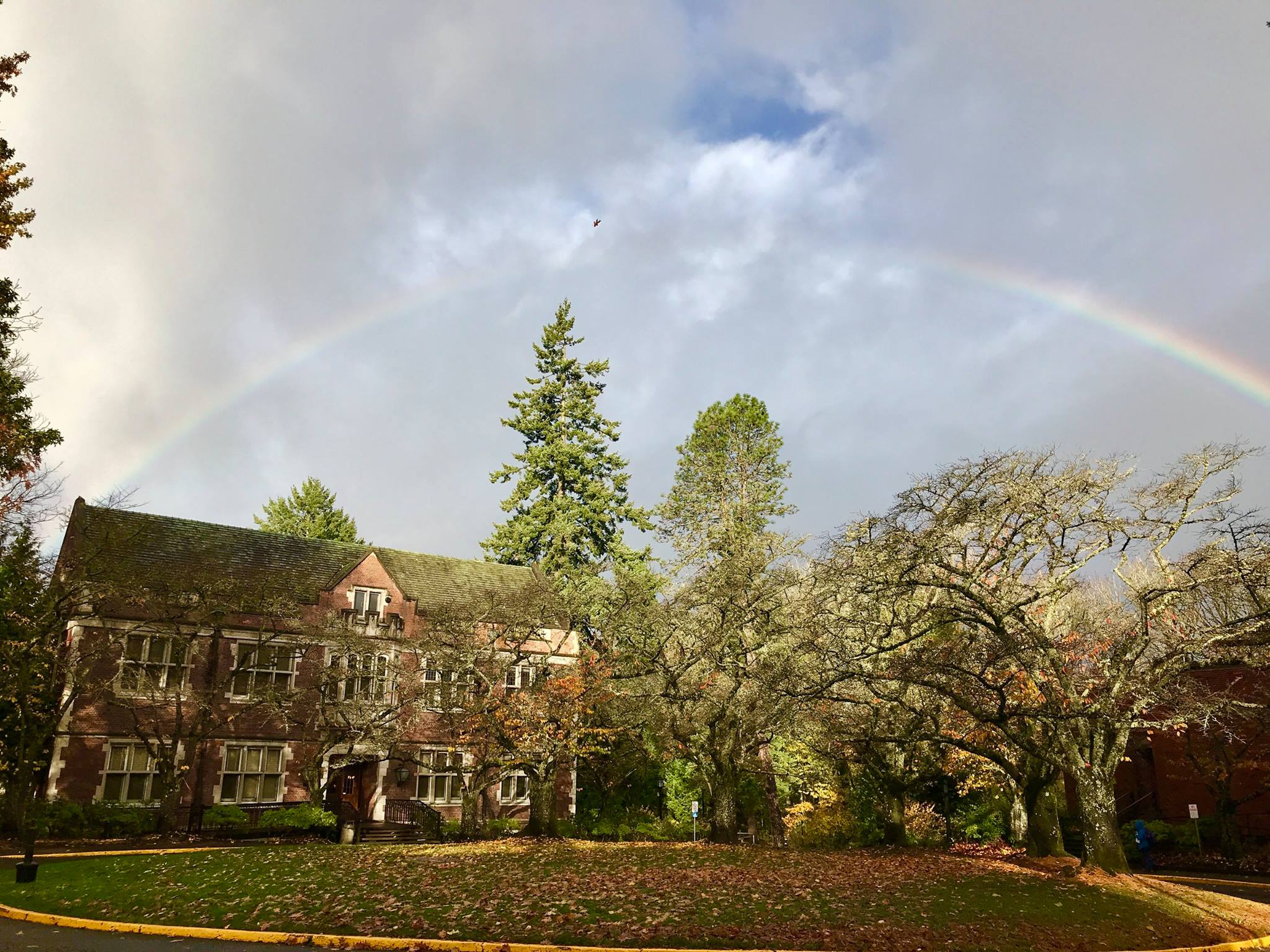 Living the city life while finding time to spend outdoors proves challenging for most college students. Luckily, Reed College combines nature and city vibes all in one place. Located in southeast Portland, Reed College has its very own canyon nature preserve right in the center of campus. Want to explore the city? Head to Washington Park and discover why they call Portland the City of Roses. For seven months out of the year, the park comes abloom with other 500 rose varieties. Talk about the ultimate study spot. Need a weekend getaway? Mount Hood, also known as Reed College's private retreat, gives students and faculty alike an opportunity to become one with nature. They can take in breathtaking views, go for a hike or venture off on one of the bike trails. Spend a day after the stress of exam week in the serene Portland Japanese Garden, relaxing in a peaceful botanical oasis at the Lin Su Chinese Gardens or getting a once in a lifetime experience seeing endangered animals at the Oregon Zoo. Academically, Reed resembles that of an Ivy League in regard to acceptance rate and difficulty of classes, only without the large price tag. Through SEEDS—Students for Education, Equity and Direct Service—Reed students work to create positive change in their urban environment through weekly and monthly programs. SEEDS sees students helping in primary education classrooms, cycling for change (and school credit) and even corresponding with people in prison throughout the Northwest. Students who want to become one with their community and get the best of what both nature and the city have to offer thrive at Reed College.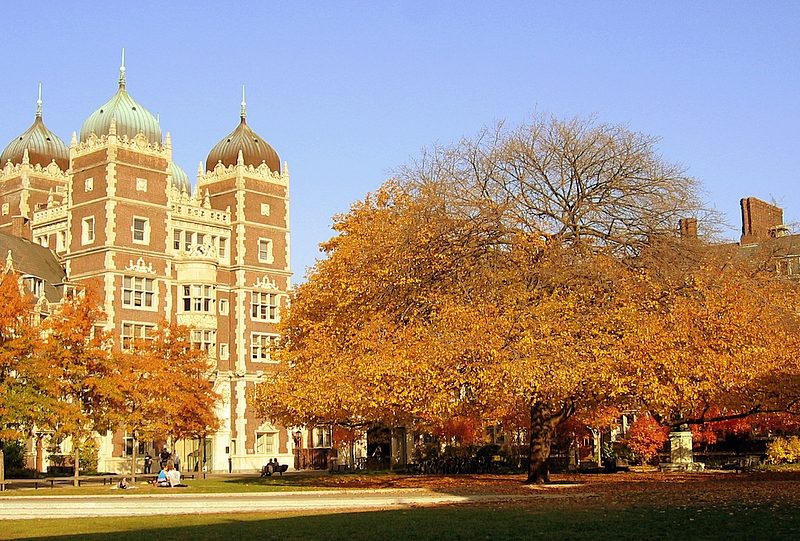 The University of Pennsylvania has given students an Ivy League education since their founding father Benjamin Franklin began the university 275 years ago. Consisting of 280 acres of land in the City of Brotherly Love, students can take advantage of the internship and job opportunities offered by the Office of Student Affairs and Penn Career Services. Students have landed jobs and internships with Philly's professional sports teams and the Children's Hospital of Philadelphia. "Having Philadelphia as a college campus is the most amazing thing. I have the entire city at my fingertips and the University of Pennsylvania itself is a beautiful school. I couldn't imagine myself working anywhere else," University of Pennsylvania employee and Philadelphia college student Nathan Mansfield said. When you need to motivate yourself to study, head over to the Fishbowl—named for the fact that two of the room's walls are glass. Then take a study break at Accenture Cafe for a lemon turkey and Havarti with a cranberry orange muffin. These spots all ensure that students can find their friends studying (or procrastinating homework and watching Netflix instead). And who knows? Maybe you'll be inspired to draft a new Constitution and give Ben Franklin a run for his money.
4. George Washington University—Foggy Bottom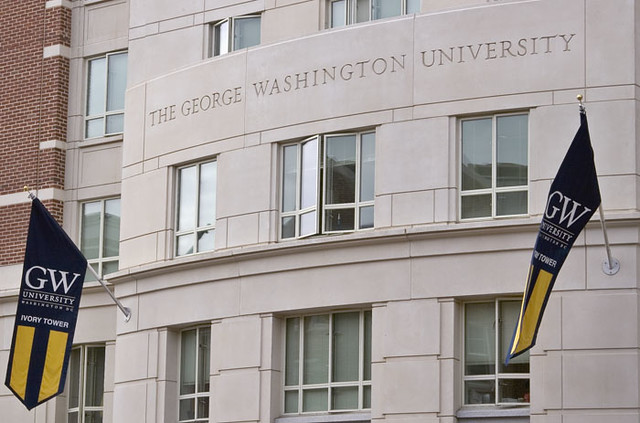 Who wouldn't want to attend college in the nation's capital? Thanks to the George Washington University—Foggy Bottom, you can. Students receive the proper preparation to acquire jobs and internships in D.C. with the assistance of yearly career fairs and the George Washington University career centers. Companies offer students at GWU internships with companies and organizations like Common Sense, Girl Scouts of America and AARP that have students leaving college with a career state of mind. Majoring in political science or econ? You've come to the right place. Washington D.C. famously houses federal and international agencies and lobbyist groups always look to recruit student volunteers. Now that's a resume booster. Once you finish planning your future, grab a bite and take in the sites on and off campus. "There's so much student life around campus also including an excellent meal plan with a variety of restaurants to choose from," GWU sophomore Cameryn Padron said. Refuel yourself at CIRCA Foggy Bottom for their pumpkin ravioli and warm apple dumplings. Want something lighter? Cleanse your body with Flower Child's vegetarian, vegan and paleo-friendly meals. Students venture off campus to the National Mall to get their fill of American history, Georgetown to unwind and Nationals Park to take in America's favorite pastime. "My favorite thing to do in DC is to scooter all around the monuments at sunset and grab a snack to finally sit up on the National Mall with a few friends to study or enjoy the rest of the day," Padron said. With all that D.C. has to offer, George Washington University—Foggy Bottom will help you make the most of it.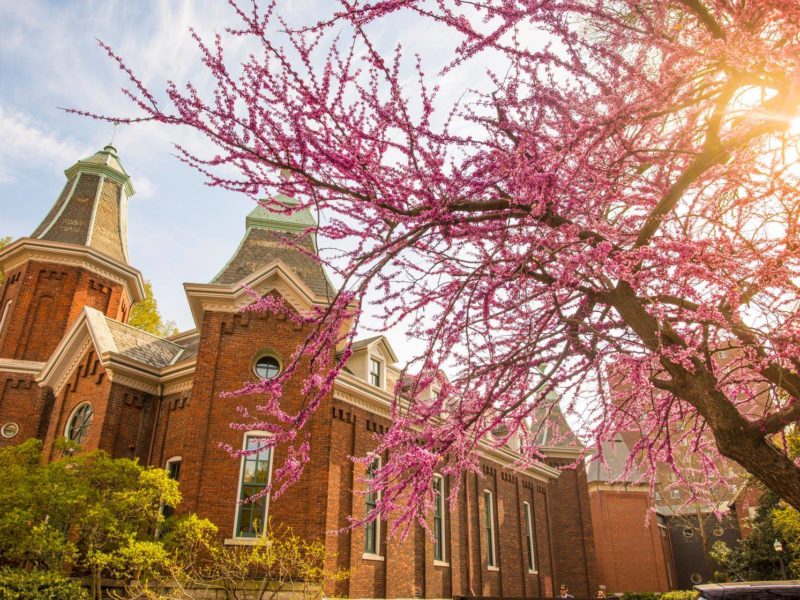 Situated just moments away from Nashville's iconic Music Row, Vanderbilt University utilizes the city of Nashville as its campus. With restaurants, shopping and a constant stream of concerts, Vanderbilt students rarely get bored. "My favorite thing about Vanderbilt's campus is the accessibility of everything. I don't feel like the campus is too small, yet everything ends up being within 15 to 20 minutes walking distance," Vanderbilt University junior David Adames said. Anyone with a passion for great country music and great food, head over to Grins Vegetarian Café, Mellow Mushroom or The Row. These restaurants embody the country spirit of the city of Nashville by offering famous southern dishes like steaks, ham, mashed potatoes and mac & cheese. Broadway, Nashville's downtown area, also welcomes students with open arms (especially on a Friday night). "My favorite thing about Nashville has to be Broadway. There is always live music being played and anyone can just walk in and listen to some great music," Adames said. As a major tourism hub, Nashville holds job opportunities galore for Commodores looking to pad their resume before they graduate. Besides having an ideal location, the university and its population of 12,800+, receive global recognition as a scientific research university. No wonder their freshman retention rate sits at 97 percent.
2. University of Chicago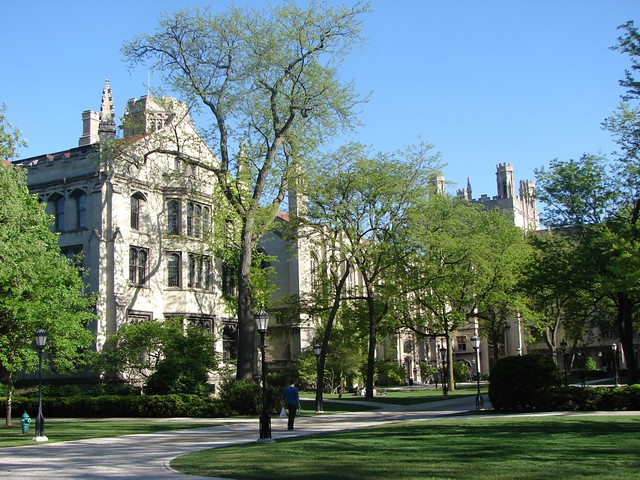 Call the breathtaking Windy City your home by attending the University of Chicago. The proximity to Downtown Chicago allows students to experience the wonders of the Loop. There you can surround yourself with chocolate at Godiva Chocolatier, decorate yourself in some of the most exclusive handcrafted jewelry at Local Charm and have lunch at Gayle V's Best Ever Grilled Cheese. Feel good about yourself at this local gem as their breads, cheeses, butter, meats and vegetables are local and farm-fresh (while munching on their divine Pulled Porker). The Chicago Art Museum showcases beautiful artwork from the Midwest and beyond including works by Vincent van Gough and Claude Monet. And, of course, you have to take a picture at the Bean—it'd be rude not to. The school's 6,264 students embrace their urban campus with activities provided by the Student Activity Center. Want to get to know the city before ASAP? Enroll in Chicago Urban Explorers. This six-day pre-orientation program introduces students to all that Chicago has to offer before school starts. Additionally, the school's career services allow students to take advantage of the major corporations located downtown. Check out Exelon, State Farm and Boeing for some extra moola. Big sports fan? You're in luck. Watching the Cubs, White Sox, Bears, Bulls or Blackhawks stands a favorite pastime for college students in Chicago. Get ready to kick back and play ball in this urban metropolis.
1. Columbia University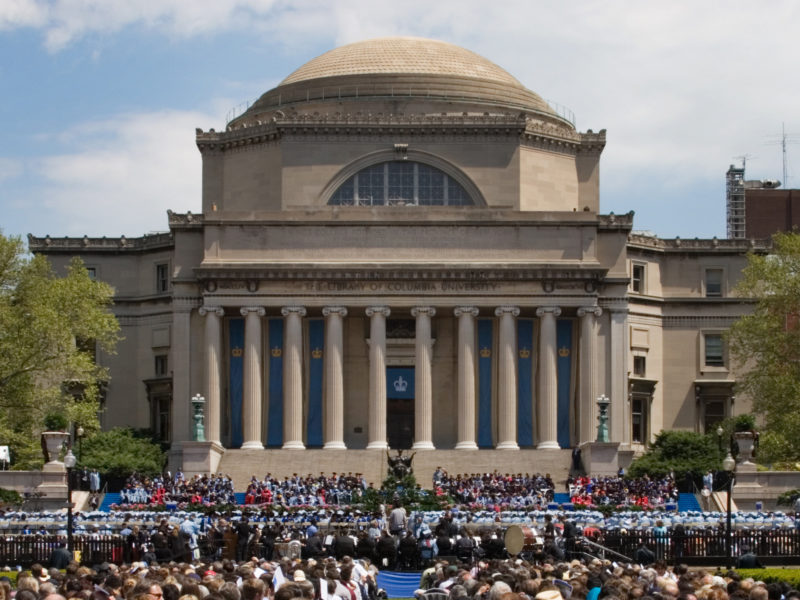 Architecture nuts swoon the second they step on to Columbia's campus. The school's 36 acres holds historically significant architecture such as the columns holding up the beautiful Butler Library and the outside of the FSL Brownstones dormitories. "My favorite thing about Columbia's campus is that it strikes a really great balance between being its own space while still very much integrated in the city's space," Columbia sophomore Megan Rodriguez said. Besides architecture, the university engages students both on campus and in the midst of New York City. The Arts Initiative works hard to curate ticket discounts to allow students to attend cultural events all around NYC. Good thing, too, considering there are 40 Broadway theaters and 150 museums and galleries to explore. Columbia's campus also offers scrumptious dining options such as Jin Ramen for spicy tonkotsu ramen and a beautiful side of pork buns. Or head to Absolute Bagel for your fill of the authentic everything bagel with scallion cream cheese. Once you're full, fill your Twitter and Instagram feed with pictures of you by the Empire State Building and the Statue of Liberty. Head over to the Pepsi Cola sign for a Snapchat-worthy spot to make your friends back home jealous. Wander over to the admirable Sundial monument or take in the city from the steps at the Met. The bustling atmosphere of New York City, the diversity of the people and places in Harlem and the culture that you cannot find anywhere else in the world surrounding Columbia makes this university stand out among the rest.