You never sleep. You might as well pull an all-nighter in the city that never sleeps. Feel the city wind slap you awake as you get ready for a full 24 hours of cultural eats and magical lifetime experiences in New York City. If you've got only one day to see it all, or if you're a native hiding among the tourists, here are the best ways to maximize your limited time. Warning: If you stop in the middle of the sidewalk for a selfie, New Yorkers will step on you. Don't freak out, if you haven't gotten your Broadway tickets yet, just download the TodayTix  app and you can snag them last minute.
6:00 Jog in the Park
Catch Central Park at its most serene time. As you join New Yorkers for their morning run, you'll feel energized for your long day of sightseeing ahead. Jog along the reservoir like the girls from Sex and the City or sing out "That's How You Know" across the bridge where they filmed the parade in Enchanted. Feeling whimsical? Join the sculpted, larger than life Alice in wonderland's tea party. But whatever you do, don't miss the chance to run stairs at the Belvedere Castle. Your calves might complain, but the view (and the climb) will leave you breathless.
7:00 Eat all the Bagels
Whether you find yourself on the Lower East or Upper West, there's no side not close to a bagel-ery. "There's no better New York experience than going into a bagel shop, waiting in line for 30 minutes and being yelled at by the guy making the bagels. It's the New York way. And it's delicious. Get lox." Barnard first year Emily O'Dell said. Smelling your way through all the shops is the best way to determine the good from the pretty-good. Fresh, warm and smothered in cream cheese, NYC bagels are always made day of. Bonus points for finding kosher bagels.
8:00 Get Coffee in Williamsburg
You'll need something fantastic to wash down that bagel and something warm to keep you cozy on a chilly autumn day in the city. Stay in Williamsburg too long and the sheer number of hipsters will have you pulling out your MacBook Air, oversized glasses and sitting in a coffee shop all day. Keep it short; grab your fancy drip coffee or cold brew and get out. You'll want to spend your free day checking out the graffiti and thrift shops in the surrounding neighborhood.
9:00 Walk the Brooklyn Bridge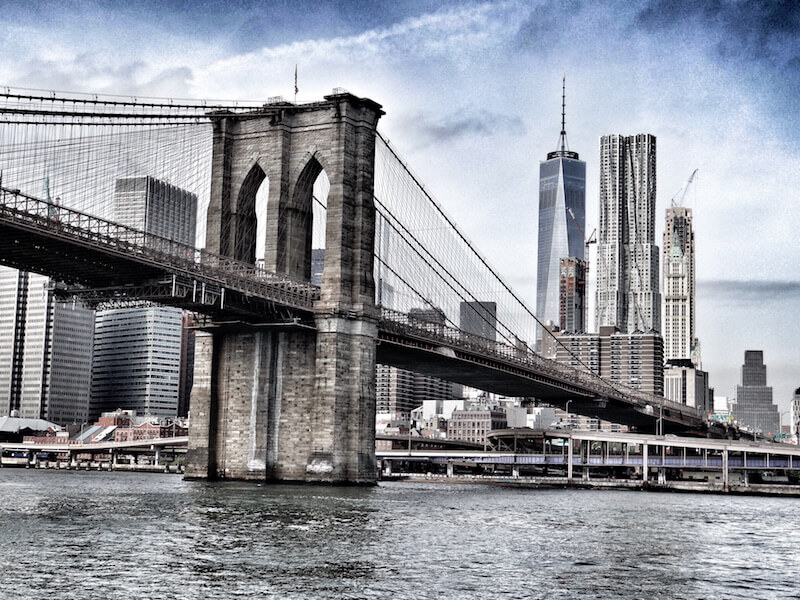 Nothing makes you feel more alive than the East River's wind in your face. And you'll never feel more human than being dwarfed by the human accomplishment that is the construction of midtown. See the Statue of Liberty in the distance, the Manhattan bridge on your other side as you literally walk into the skyscrapers.
10:00 Taste Fruit in Chinatown
Have you ever tried dragon fruit before? How about lychee? Both are exotic colors, shapes and textures. Merchants sell both right off the street in Chinatown. That way you can eat while you shop. Cleanse your pallet after those dumplings and fried rice with a taste of something sweet.
11:00 Let Little Italy Welcome You
Right across the street from Chinatown rests the unbelievably quaint and cheery Little Italy. Cue bright red awnings, the open-every-day-of-the-year-Christmas shop and smiling hosts encouraging you to choose their restaurant. Little Italy puts a smile on everyone's face. Even if the authentic food is over-priced (but tasty!), Little Italy welcomes you with open arms and a huge "benvenuto!"
12:00 Shop 'Till You Drop in Herald Square
See where the Rockettes perform during the Thanksgiving Day Parade and get lost in the world's largest Macy's store. (Holiday Trip: You can actually catch the Rockettes: Christmas Spectacular at Radio City Hall. Check out  TodayTix to get the lowest prices on tickets.) If the multiple levels, departments and blocks that this store covers are too much for you, there's a massive Gap, Forever 21, H&M and any other store you can think of, less than two blocks away. Herald Square is the ultimate spot to uncover an adorable holiday sweater for your bae.
1:00 Grab a Shack Burger
Whether you grab one down by Herald Square or up by The Museum of Natural History, Shake Shack is one of the more affordable New York City treats. Get a "concrete" shakes—named after the thick custard they use—and feast yourself on these juicy and decadent treats. The best part: these burgers won't slow you down. They aren't those huge American size portions so you can have a bacon burger AND those cheesy crinkly French fries and still be able to walk around the city.
2:00 Explore Bryant Park
Ice rink or not, Bryant Park is a bubble of calm in the bustling city. Grab a hot coco from the park restaurant (or a cider at the holiday fair in the winter months) and check out the free performances and special events. If the weather is dreary, head next door to the famous New York Public Library. You'll feel like you've shrunk 10 sizes entering the arching stone entrance hall, but that your brain has expanded just looking at the walls of books. The gift shop here has some of the coolest NYC gifts. On your way out, make sure you snap a pic of you next to the famous lions to go with the one of your friend's ice skating wipeout.
3:00 Get Lost at an Art Museum
Even if you aren't "artsy," no millennial can stay away from an artsy pic for Insta. From ancient to contemporary, NYC has you covered on the most beautiful and thought-provoking exhibitions. Take a trip to the Metropolitan Museum of Art (or the Met as locals call it). There's a special room hidden inside with the ruins of The Temple Dendur and a surrounding moat, explained Pratt Institute senior Kimberly Green. "The right side of the room is lit up with natural light from the ginormous window panels. People even sit on the edge of the steps towards the panels and have their own little piece of serenity," she said. Not into art? Pick the beautiful view of the Empire State Building and Freedom Tower on the balcony of the new Whitney Museum. One museum will have you set with #latergrams until you manage to find your way back to NYC.
4:00 Learn about History, Sex & Ice Cream
In addition to art, NYC has a complete supply of museums on literally anything you could want to learn about. "My favorite place in NYC is the Museum of Natural History and the park behind it. It's just one of the nicest places, and the museum is both full of history and a historical object itself," Teachers College alum Charlie Malone said. From the National Museum of Mathematics to the Museum of Sex to the newly opened Museum of Ice Cream, NYC museums satisfy every funky interest and hidden hobby.
5:00 Hop on the Subway
Did you even go to New York if you didn't stand forever dripping in sweat waiting for the train then spend the rest of your ride shivering in the AC (or vice versa, depending on the season). As you wait for the train, the subway exposes you to New York's (literally) underground art scene. Musicians on the platforms, artists in the hallways and beautiful mosaics at each individual shop are sure to keep first time riders craning their neck for more. And if you aren't a high rolling gossip girl from the UES, a subway swipe is also almost always at least $30 cheaper than a cab.
6:00 Take the Staten Island Ferry
You've already seen the Statue of Liberty from the Brooklyn Bridge, but was that angle the right one to post a pic on Insta? Take the Staten Island Ferry just before sunset for a stunning (and free) view of her minty freshness and a dazzling view of downtown sparkling on the way back.
7:00 Grab Dinner
Head over to Café Pedlar in Brooklyn. "Great coffee, great atmosphere and friendly staff. All in the heart of Cobble Hill Brooklyn," Hunter College junior Ravi Rampatsingh recommended. Looking for something a little more upscale? Try Rosa Mexicano's, a lovely place with a view of Lincoln Center. Order the guac and a sharply dressed waiter will make it fresh right at your table. Want to go somewhere everyone will recognize? Gabriela Taboas a first year MFA student at the New School suggested heading over to Chelsea Market. "It gets so full but there is much to see, the stores are amazing and there are so many places to eat there that you could spend days just trying to decide what to eat," she said. As per usual, New York's got every food lover covered.
8:00 See a Broadway Show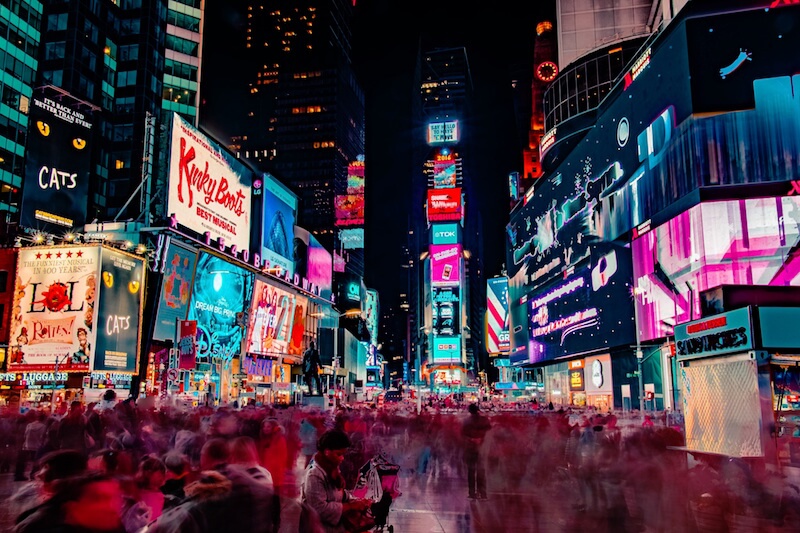 It's not a New York City trip without two Broadway tickets in your hands. If you want to save money and get tickets last minute, don't waste your precious time in line. Instead get the best deals on last minute tickets with the TodayTix  app. Wicked, Waitress, School of Rock, Kinky Boots, Avenue Q, Matilda—the magnetic experience of Broadway is at your fingertips!
9:00 Treat. Yo. Self.
Too cold to stand in the out-the-door-line of Magnolia Bakery? Well, their cupcakes are crazy delicious, but the new craze in New York is doughnuts. Forget everything you knew about "glazed" and "powdered" and meet flavors like red velvet with blueberry glaze and cream filling with salted caramel and bacon at places like The Doughnut Pub. Once you walk past those beautiful circles you know you're going in for a bite… or five.
10:00 Stargaze at Grand Central Station
Every cheesy NYC movie features Grand Central Station as "the only place you can see stars in New York." But honestly, you'll be so fascinated by the ceiling you won't even notice the crick in your neck. You've had a long day, but don't nap! Instead of letting yourself lull, feed off the energy of people rushing from train to train.
11:00 Catch Live Music
Museums and Broadway shows are only the beginning of the NYC cultural scene. Soak up some soulful tunes at a jazz bar or club like Blue Note. Meet New Yorkers and transition from day to night in this classy establishment. Feel the brass rattle through your bones and let your body loose with some swingin' dance moves.
12:00 Go Downtown for the Evening Out
You might only be able to afford one drink, but why not spend your money at a rooftop bar in midtown instead of shelling $30 to go up the empire state building? The view of the city that never sleeps lit up at night is fantastic. What better way to enjoy it then in your hot NYC outfit we know you packed, while sipping a gin and tonic.
1:00 Revisit the Bridge
So nice, you've gotta do it twice. "The best thing to do late at night in New York, personally, is walking the Brooklyn Bridge. You get the complete 360-view of everything. As well as most of the tourists are gone by that time, so you don't have to feel rushed and the space feels like yours. On top of, the view of the lights from the city just makes ya dream. It's even better if you bring a little picnic set up with you (pizza and some alcohol)" Green said.
2:00 Grab That Last Slice
What better way to soak up that expensive alcohol than with cheap, greasy, cheesy carbs? In the city that never sleeps, late night pizza is the perfect drunk-food snack. If you want the grab and go NYC pizza experience, 2 Bros has you covered with a piping hot $1 slice. But, if you're feeling bougie check out Artichoke Pizza on the LES. It's open until 3 a.m. and has a menu full of delicious treats. From the best creamy, spinach and artichoke slices to a mouth-watering margarita, Sicilian or crab, these slices won't disappoint!
3:00 Do Something Crazy in St Marks
Your search for 24-hour pizza may bring you to St Marks, the perfect place to make bad decisions. Whether you get a piercing or add a tattoo to your collection, this street on the Lower East Side just may peer pressure you into unleashing your inner rebel. Even if you live above the influence and don't partake in The Hangover-styled shenanigans, you can still appreciate the fashion choices, neon and creepy shop windows in this seedy (but cool) part of Manhattan.
4:00 Check out Times Square
Any other time of the day Times Square is miserable. Sure you'll miss the Naked Cowboy at 4am but you won't miss tourists crashing into you with shopping bags. Extra bonus: you get to avoid the freaky Disney costumes and their dark, soulless eyes. Take a seat on the TKTS steps. Soak in the lights, the larger-than-life ads, the New Year's Ball and of course the Coca-Cola commercial.
5:00 Watch the Sunrise on the Highline
This city park has become a major tourist attraction since it opened completely in 2014. You'll stand in line just to walk forward and wait 30-45 minutes just for a popsicle from a food truck. Avoid the crowds and stake out your own quiet spot on these railroad tracks turned green space in the early morning. After such a long day, a quiet nap and a glance at the sun rising over the city will make you feel complete. After tackling the city that never sleeps, it's time that you do.
Get More City Guides!
21 Date Spots in Boston When You're Under 21
21 Best Date Spots in Philly When You're Under 21