Anyone who enjoys connecting with nature knows that getting out into it tends to revive the soul in a way you can't properly describe. Whether you hike regularly, scale mountains with ease, or just hope to start the granola lifestyle, these universities will give you the tools you need to succeed in the outdoors. With perks ranging from gear rentals or pre-planned trips, you won't need to lift a finger when it comes to figuring out your next adventure. These year-round activities will get you excited to engage with your surroundings. Adventure awaits!
Read on to find out which colleges suit every type of outdoor enthusiast:
10.  University of Colorado, Boulder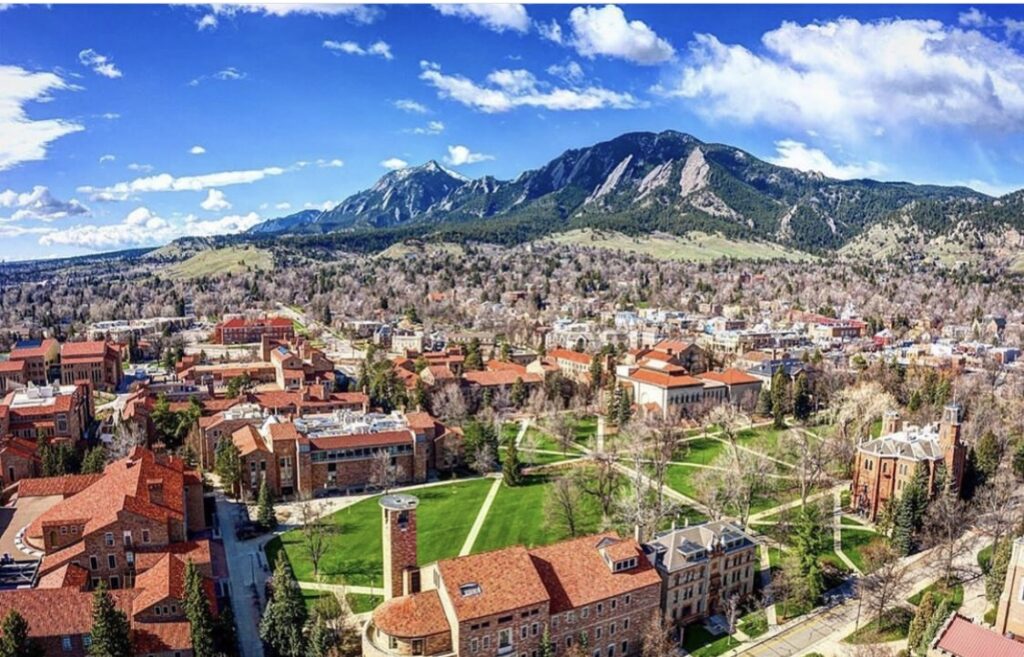 If you appreciate the outdoors, you most likely already know about the beautiful Boulder, Colorado. The location of the city sits at the base of the Rocky Mountains. The mountain range looks like one you might see on a picturesque postcard, with pine trees scattered across year-round. Whether you like green in the summertime or the white of snow in the winter, the Rocky Mountains will surely excite any students who love the outdoors. From hiking to whitewater rafting, the variety of activities places the University of Colorado, Boulder on the list of the best outdoor enthusiast colleges. 
"Whether you ski, hike, climb, or do anything in between, Boulder is truly one of the most amazing places for exploring the outdoors. There are great trails less than a 10-minute drive from campus. I personally love CU's proximity to so many national parks, like Rocky Mountain National Park, and public lands for hiking and camping," University of Colorado, Boulder graduate student Margaret Hegwood said. "I've enjoyed meeting like-minded students who love the outdoors through groups like the CU Boulder Hiking Club. I've also met many researchers who conduct their field work in and around Boulder on various environmental issues, making it also a great place to learn more about nature and how to protect our planet."
The university engages with the rocky terrain surrounding them by offering a climbing gym on campus. They even have a climbing team that competes in the USA Collegiate Climbing Series. The close distance to Eldorado Canyon State Park, titled the best climbing location in the world, allows students to hike and explore the outdoors as they see fit. The Outdoor Pursuits Group hosts trips for students that might not know where to start their adventures. They offer equipment rentals for camping, a trip-planning resource group, and even a scuba course. You truly cannot go wrong with this university. 
9.  Evergreen State College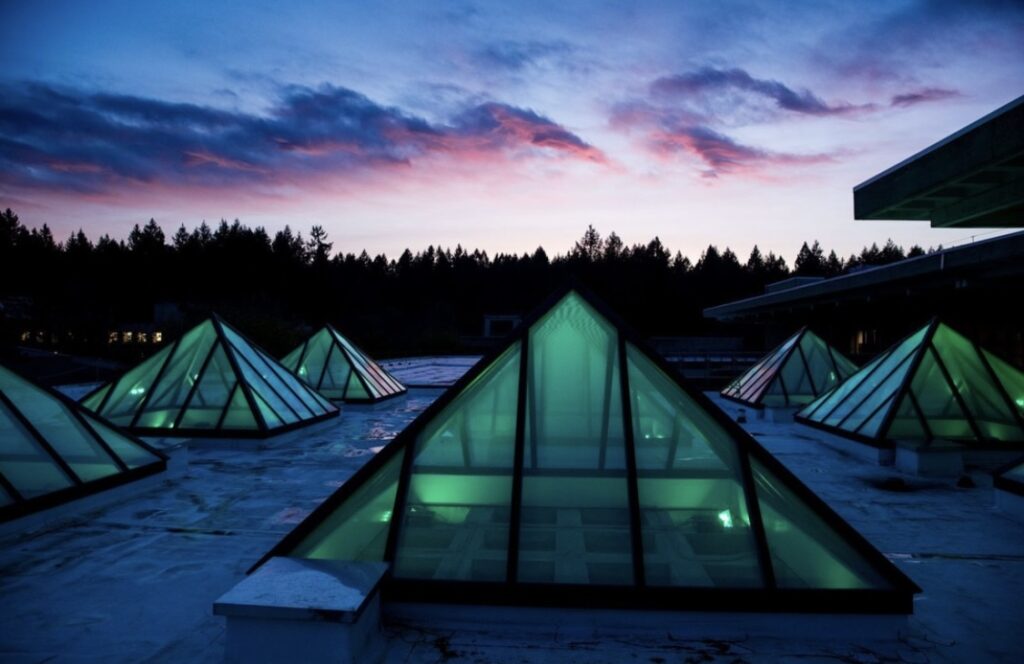 I am sure you've seen Twilight before, but those gorgeous forests weren't part of a set. They, in fact, do exist and Evergreen State College sits near some of the most beautiful forests Washington offers. Located in Olympia, the capital of Washington State, this college doesn't just boast gorgeous views. They also don't follow the traditional curriculum you might know. They allow students to design their path of study when working towards their degree. But if you prefer to stick to tradition, they still offer a pre-determined path of study. 
"Our students in environmental studies, for example, benefit from our natural learning labs which include our 1,000-acre rainforest, open shoreline, and USDA-certified organic farm. For students who love the outdoors and are interested in multi-media productions? We got you covered with our beautiful landscape and classes and media internships that will allow you to work and learn in areas such as audio, video, photography, production, post-production and instructional media," Evergreen State College Public Relations Manager Kelly Von Koltz said. "And of course, for students uncertain of what they want to do, but who are curious about the world, Evergreen allows you to mix a variety of interests and develop their own area of emphasis— allowing students to discover their way on their own terms."
Students who love the outdoors can participate in the college's Outdoor Program. This program lets students participate in the outdoors by offering discounted trips with local conservation groups and equipment rentals. The college prides itself on providing participants with the skills needed to safely and respectfully go out into nature. They offer "The Greener Guide to the Outdoors", which acknowledges indigenous tribes that originally lived on the land nearby. Every nature lover knows the importance of enjoying their activities without leaving a trace. What's better than a college that promotes respectful ways of going out into nature while giving students the tools to do so? 
8.  Williams College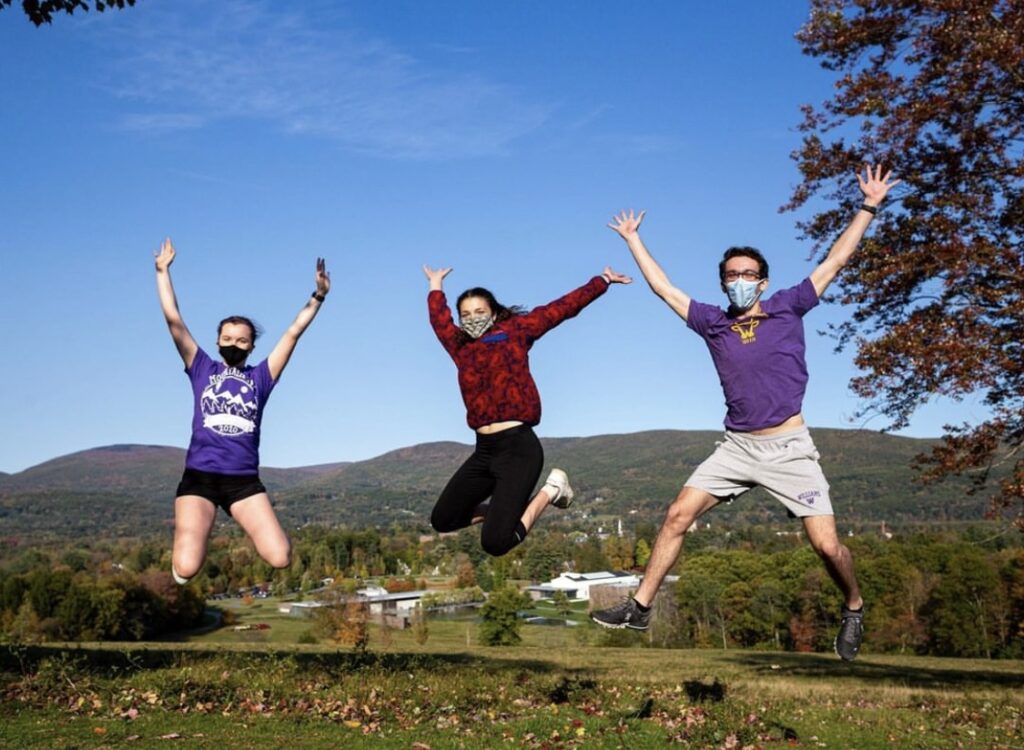 While Massachusetts houses the bustling city of Boston and an alarming number of Dunkin' Donuts, this state offers nature lovers hidden wonders you might not expect. Williamstown fits the description of an adventurist's dream. With breathtaking hikes and forests that might outdo the state of Washington, the endless activities captivate students of Williams College. The college lies in the northwest corner of the state, with New York and Vermont close by. This opens possibilities for outdoor lovers to experience      everything the three states have to offer. 
"Williams College is an awesome place for folks who love the outdoors! We're nestled right in this beautiful northwestern Massachusetts valley of the Berkshire hills bordering wilderness in both New York and Vermont. Literally once you walk out your dorm doors you are outdoors! We boast of having the oldest outing club in the history of college outing clubs founded in 1864! WOC [Williams Outdoor Club] offers weekly programming, PE classes often taught by students with specialized skills, overnights and out of state outings during longer break periods," Director of Williams College Outdoor Club Scott Lewis said. "To top it off, we have our very own Mountain Day— where on one fine fall day in October when the magic colors of fall are so overwhelming inspiring, that the Chapel bells are rung early in the morning to signal classes are cancelled for the day— and we all get outside to enjoy community and celebrate the place surrounding us!"
William's College Outing Club allows students to partake in trips regionally and nationally. Recently, the club took an excursion to the Grand Canyon. Not only does this allow students to experience the wonders that Massachusetts offers, but they can also explore other terrains not many get the chance to. They even offer regular sunrise hikes. As someone who loves the golden glow of early morning, I would sign up for as many of these as I could. They also organize the holidays that occur in relation to the outdoors, such as the Winter Carnival. The high focus on engagement with nature spreads to first-year activities as well. The WOOLF program takes first-year students into the Berkshire environment near the campus to explore the outdoors and hone their teamwork skills before they step into the classroom. 
7.  Bates College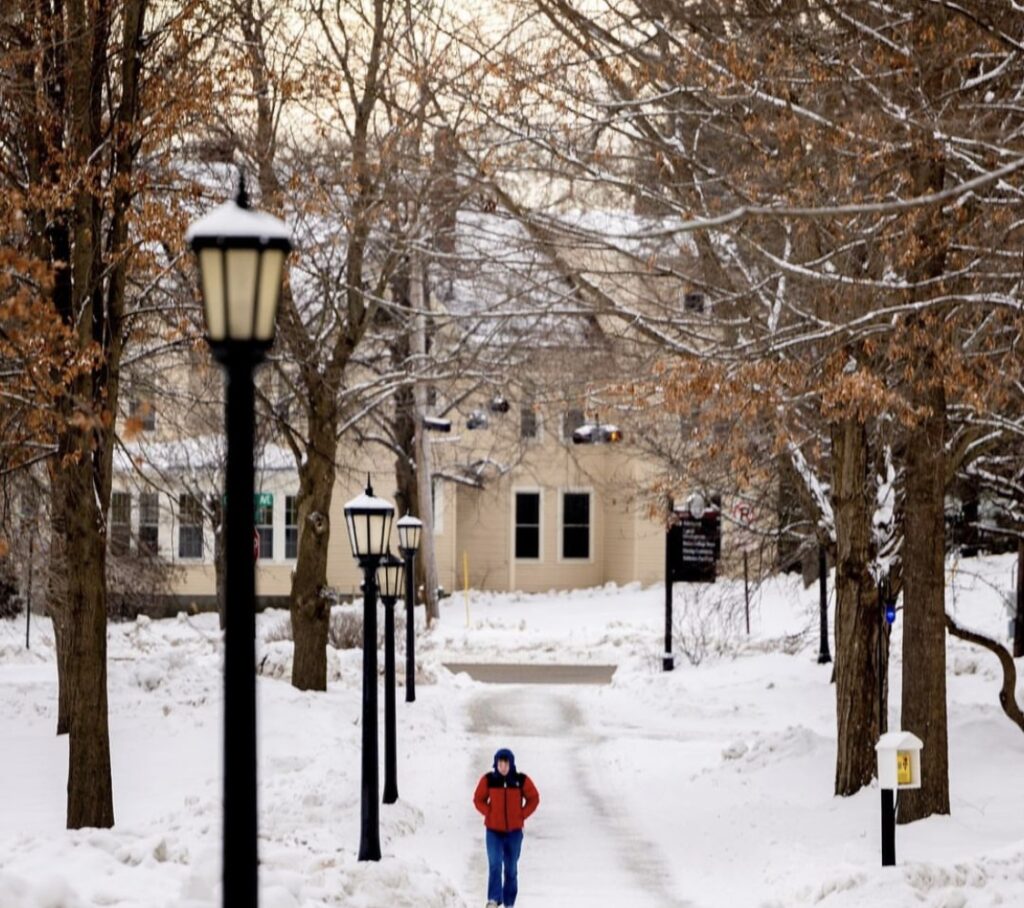 Located in the northeast corner of the United States, not many people think of Maine when they plan their hiking trips. The state flies under the radar, making it a hidden gem waiting for exploration. In Lewiston, Maine, Bates College offers students the opportunity to step into the unknown with a variety of on and off-campus activities catered toward nature-lovers. From hiking to kayaking, the possibilities see no end. If that doesn't excite you, you can visit the nearby Thorncrag Bird Sanctuary. 
"Bates College is situated in a really central location for outdoor recreation in Maine, which is a fantastic state to be in if you love the outdoors. We are within two hours of the ocean, the mountains, and rivers and lakes. We also have a long tradition of students who want to be out there; the Bates Outing Club has been active for 102 years! The BOC hosts many events as well as student-led trips all over Maine and beyond," Coordinator of Outdoor Education and Program Catie Luedee said. "Like to ski? Sunday River, a resort with over a hundred trails, is only an hour from campus. Big hiker? We have many base camping and backpacking options within 2 hours of campus. If paddling is your jam, we are located near the Androscoggin River and other great bodies of water. We're under three hours to Acadia National Park and to Baxter State Park, where the Appalachian Trail ends at the top of Katahdin. If you just like to chill outside— grab a hammock from our Equipment Room and go hang on The Quad."
Like other colleges catered towards those wilderness explorers, Bates College offers their own Outing Club. They aim to help students engage in the outdoors while still protecting the environment around them. They adopted the leave-no-trace method which shows the dangers of human interference in local environments to help ensure students minimalize their impact on the natural world surrounding them. They take care in explaining the dangers of climate change. After all, how can you enjoy nature if it gets destroyed before you get to it? The Club offers multiple trips throughout the semester that cater towards the conditions of each season. Whether you prefer to enjoy the basking warmth of the sun on summer hikes with a cooling lake swim waiting for you at the end or zipping down ski trails in the heavy snowfall, the trips will have you packing your bags immediately. 
6. Appalachian State University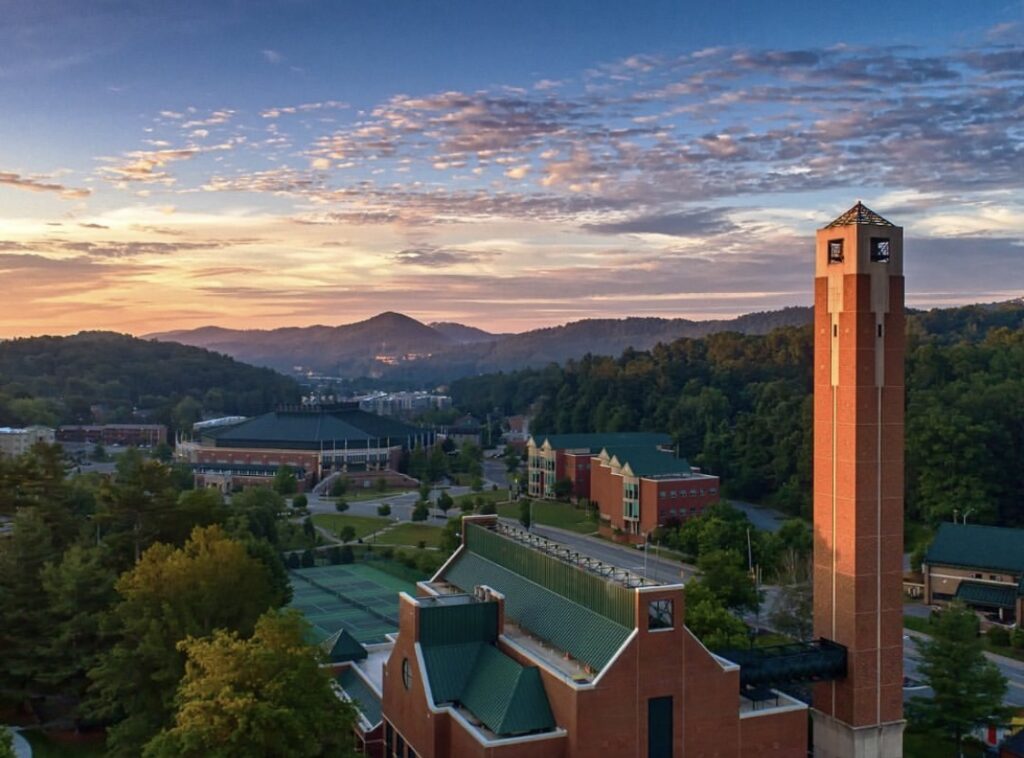 You don't often see a university located within a mountain range. But here at Appalachian State University, you get the privilege of living out your cottagecore dreams. Boone, North Carolina attracts hikers and those looking for Instagram worthy photos throughout the year. You won't even need to leave your campus to enjoy the breathtaking views. Mountains surround the entire campus, allowing students to enjoy these sights from any building on the grounds. 
"Within a 20-minute drive of the university, you have access to a plethora of fantastic hiking trails, waterfalls, scenic views, rock climbing, backpacking, fly fishing, mountain biking, and more. The university also supports students exploring the region with Outdoor Programs. Outdoor Programs offers adventure trips that students can sign up for. For example, over the winter break a group went out for nine days and sea kayaked in the Everglades." Coordinator for Outdoor Programs Jacob Norris said. "We also offer a bachelor's degree in Recreation Management. App State offers three concentrations related to this degree: Recreation and Park Management, Commercial Recreation and Tourism Management, and the Outdoor Experiential Education concentration. Each program has seen a high success rate of students finding work in the field post-graduation as well, and many stay around Boone just for the area!"
A college in such a wonderful place knows that outdoor enthusiasts will flock here for a glimpse of the natural beauty. That's why they offer a variety of activities for students of any skill level to enjoy. The university doesn't have a specific club that you can join. Instead, they let the university recreation department help rent equipment, plan trips and oversee a climbing wall. They even offer certifications, such as a wilderness first responder certification, for those looking to hone their wilderness medicine skills. These certifications help the student learn how to help someone injured in a remote setting. For example, if you get fall while rock climbing and get injured, a wilderness first responder will be the first person to come treat you. Not only does that help students looking for a job in an outdoor environment after graduation, but their trip staff apprenticeship also helps students gain the leadership skills they need to succeed in the classroom and out in nature. 
5. Smith College
Outdoor enthusiasts often separate themselves into two categories. Some love just getting outside and walking amongst nature while others scale cliffs without harnesses or whitewater raft in the quickest of rapids. If you consider yourself part of the latter, then you belong at Smith College! They throw the entire rulebook of traditional outdoor activities out the window. Not only do they cater to students who love nature, they cater to students who love the adrenaline that comes with experiencing heart-pounding activities in nature. This Massachusetts-based college with get your heart pounding and blood pumping in the best way possible. 
"Smith College has an amazing community of outdoor enthusiasts. I love introducing students to the many hiking, paddling, rock climbing, and cycling opportunities in the Pioneer Valley and getting to go to work every day alongside my friends," Smith College Outdoor Adventure Program Leader and current president of the Outing Club Lesley Tilghman said. "It can be especially intimidating to enter outdoor spaces as a woman, so Smith's supportive and welcoming environment is the perfect place to learn new skills and break out of your comfort zone."
The Smith College Outdoor Adventure Program reminds me of heavy-metal music due to the intensity of activities they offer for their students to partake in. After all, how often will a college offer cliff climbing, a boathouse for students to use and overnight backpacking trips? For those who love the outdoors, it feels like a breath of fresh air. You can consume all media related to it and never get tired of the options. For those who don't normally partake in outdoorsy activities, the possibilities offered here seem a bit overwhelming. The more you look into it though, the more you enjoy it. The Outdoor Adventure Program hosts off-campus trips, clinics, leadership training, and work studies for students who love nature. From whitewater rafting to hiking, to even emergency shelter training, they help connect students with the world surrounding them in ways they might never experience. 
4. Warren Wilson College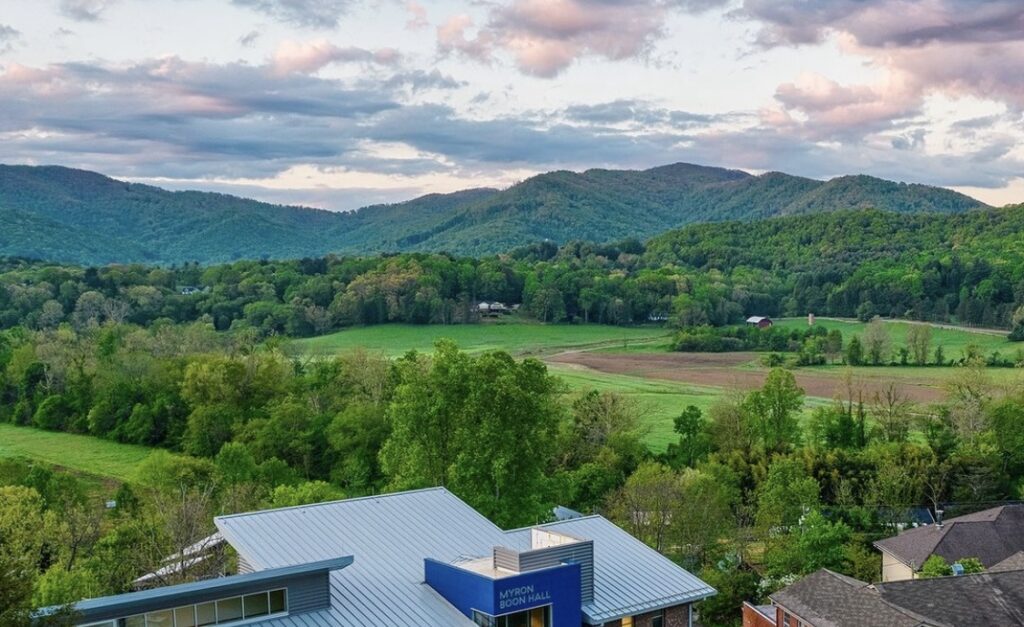 I don't need to preach to you about the beauty of North Carolina. From the vast mountain ranges to the raging rivers, you can't go wrong with a trip here. That's why Warren Wilson College made the top five on this list. The college doesn't go by the books on many things. For starters, they provide students with the opportunity to participate in one of the country's only Outdoor Leadership degree programs. They also tend their own forests and organic farms on campus. Who doesn't love a sustainable, self-sufficient college?
"Every student at Warren Wilson College is impacted by the land. With over 1,100 acres, including a farm, forests, mountains, and streams right on campus, your classrooms, laboratories, and studios are not limited to those with walls. Students engage with the land in many different ways, whether you're a creative writing major writing about fish in the Swannanoa River for your senior capstone project, a fiber arts crew student making natural dye from indigo plants grown on-campus, or a student in an applied ecology class partnering with the Cherokee Preservation Foundation to restore rivercane habitat," Dean of Land Resources Dave Ellum said. 
The college sits on 1,100 acres with over 25 miles of hiking trails for students to enjoy. A river runs through the campus as well as a 600-acre forest. When you think about it, you basically live on a national park. The nearby Blue Ridge Mountains provide some of the best hiking on the east coast. The trails loop up and down the green range, allowing breathtaking views once you hit the highest peaks. This college gears itself towards any outdoor lover, making it the perfect place for a student looking to connect deeper with nature. 
3. Montana State University
Home to Glacier National Park and sitting near the border of Canada, Montana tends to climb to the top of any hiker's bucket list. Everyone wants to catch a glimpse of the gorgeous Rocky Mountains soaring high into the clouds with snow-tipped peaks. The state also unearths some pretty cool prehistoric creatures as well. Paleontologists find a large portion of dinosaur bones each year in Montana. If this interests you, you will mostly likely feel right at home attending Montana State University. 
Located in Bozeman, students get to experience all the wonderful things Montana can offer. For those interested in hiking, Gallatin National Forest takes you through some of the most breathtaking scenery in the state. Wildflowers bloom along the trails during spring and summer. You can even catch a glimpse of animals such as bears or wolves during your hike. The university organizes the Outdoor Club yearly, which helps students participate in hiking and similar activities. They employ students as well, which helps those interested in working in conservation or at a national park after graduation gain valuable experience. 
2. University of Vermont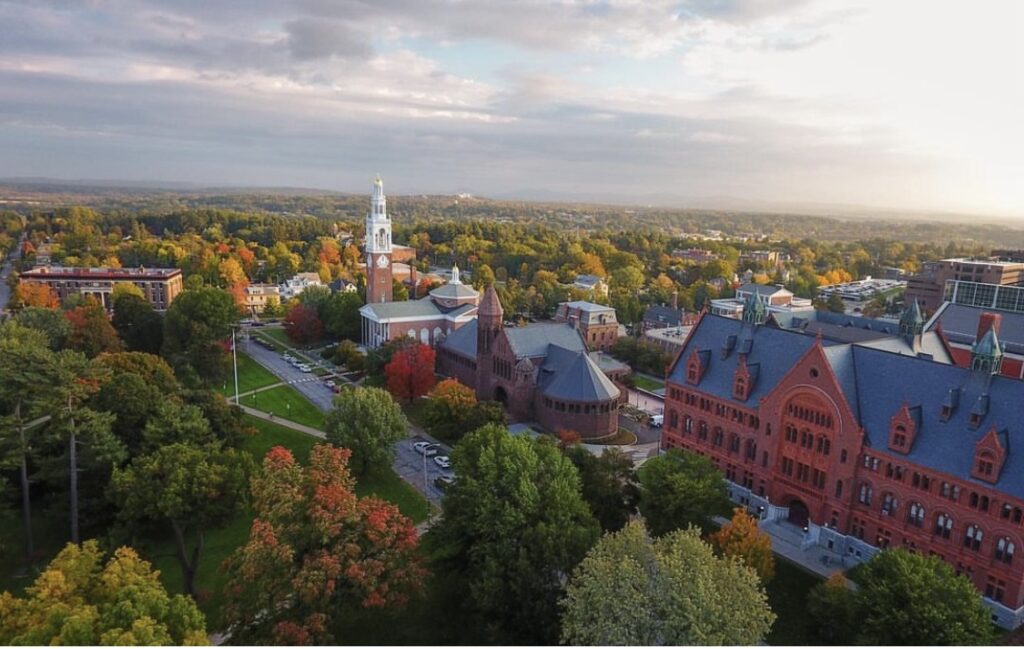 Anyone on the granola side of TikTok knows how the students at the University of Vermont embrace the outdoors. These students dubbed it as the best school for outdoor enthusiasts, which places it high on this list. Located in Burlington, Vermont, the university provides many different activities aligning with the four-season climate. This includes hiking when the weather is warm and skiing when snow coats the mountains nearby. Even if you lack experience in those activities, the University of Vermont's Outing Club can help you become an expert in no time. 
"I definitely believe that UVM is a great place to explore the outdoors. With Summit Sisters, we pride ourselves in creating a comfortable, safe, and super fun environment to get people into the outdoors who may have felt previously uncomfortable or scared to do outdoor activities! I've found an incredibly kind and welcoming community of outdoor enthusiasts here," University of Vermont junior and president of UV Summit Sisters Nicole Cohen said.
The Outing Club hosts a gear house for any student to borrow the gear they need to embrace the adventure. They rent out maps, backpacking gear, and even have a team of student leaders willing to help answer any questions you may have. They also oversee the Skiing and Snowboard Club. The club doesn't compete against other schools, leaving it as a learning experience for anyone interested. Those who love hiking will find a home with the university's Summit Sisters, a group for female-identifying and non-binary hikers looking to explore the landscapes near the college. If none of those awesome feats suit you, the University of Vermont even helps first-year students explore the outdoor landscape near campus. UVM Wilderness Trek allows first-year students to connect with the rugged outdoors. This six-day program occurs before move-in and lets students backpack or volunteer in order to get aquatinted with the surroundings in Vermont. It's no wonder why many outdoorsy students find themselves here. 
1. Middlebury College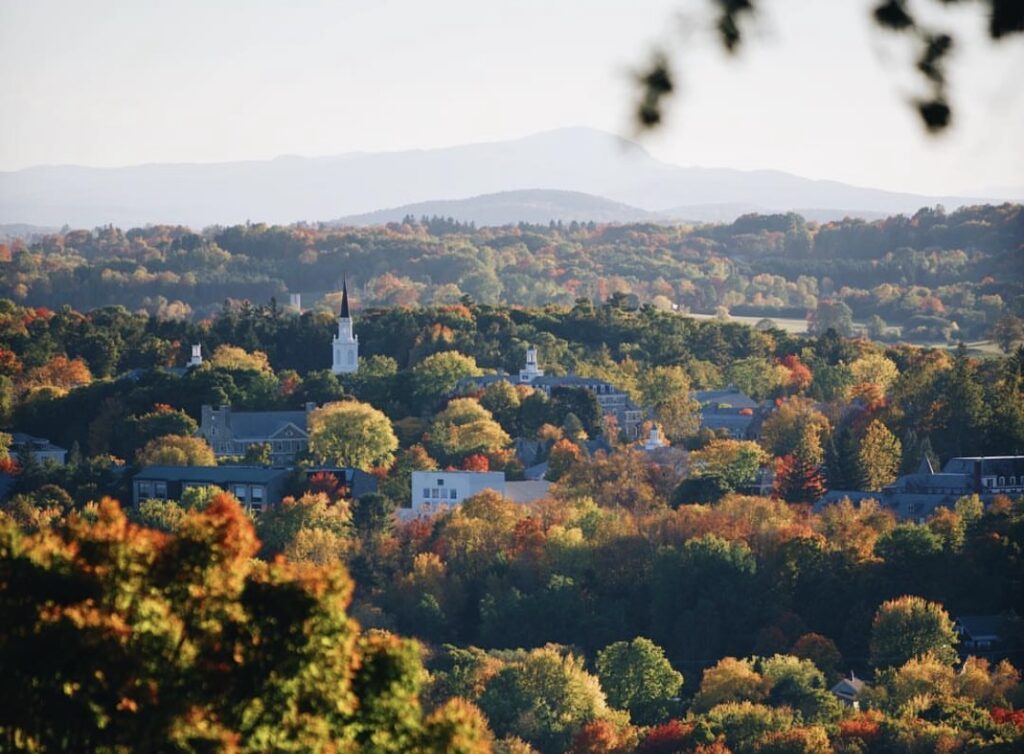 Vermont brags about their landscape for a reason. The range of activities for each person to enjoy year-round solidifies Middlebury College at the top of this list. The small town of Middlebury transforms depending on the season. It looks like a Hallmark town during the winter with snow covering the ground. And during the summer, luscious green trees cover the nearby landscape, which includes mountains and forests. The fall foliage will satisfy any proper leaf-peeper. The town even boasts one of the many covered bridges in the state. The inner photographer in me squeals at the thought of how beautiful everything looks year-round. 
Middlebury College embraces the seasons and provides many clubs that let students participate 365 days a year. A few of these include Middlebury Mountain Club, Freeheelers Trekking Club, and Midd Climbers. Middlebury Mountain Club prides themselves on teaching students how to engage with their surroundings in nature by embracing environmentally conscious practices. They offer hiking and boating excursions free of cost for students. The Freeheelers Trekking Club focuses on hiking and backpacking as well as winter activities like skiing. The Midd Climbers oversee the college's climbing gym; they help students gain skills to go climb cliffs in the nearby mountains. Nestled between Vermont's Green Mountains and New York's Adirondacks, this college is every outdoor enthusiast's dream. You just can't go wrong here.
If you want to engage with the outdoors while not hiking or climbing, the college offers a program called The Knoll. This program offers three main areas that include the Educational Garden, the Outdoor Kitchen and the Serenity Garden. The program gears itself towards expanding a student's knowledge in regards to agriculture and gardening through research and hands-on-experience. They grow food for their dining hall and help contribute remaining produce to local nonprofits to help the community. Even if you have a brown thumb, don't fret. This program can turn you into an experienced gardener that can't wait to share tips on becoming self-sustainable. Not many colleges offer such incredible opportunities to engage with the beautiful world surrounding them while learning how to garden. These skill-based opportunities help place it at the top of the list for outdoor enthusiasts.