Aesthetic matters when you want a quiet sanctuary that you can constantly seek out. It helps calm the mind, make you feel like you traveled somewhere new and refresh your perspective. You want a place that not only feels safe but looks good too. Luckily, more than a few places like that exist. Let's get started, shall we?
Check out the 10 Prettiest University Libraries on the West Coast:
10. William H. Hannon Library at Loyola Marymount University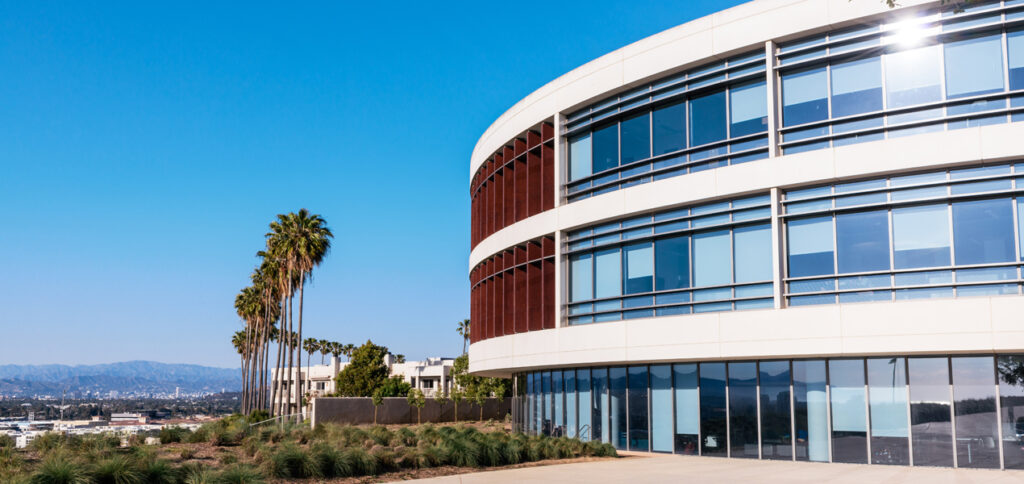 The William H. Hannon Library reminds me more of a space station, but who doesn't want that aesthetic in a library? A long, circular building with many wide windows and an expansive amount of glass and stone for walking just outside, this library offers a futuristic aesthetic perfect for any Instagram feed. The pleasing imagery doesn't end there. The interior, with elevators, wide open spaces, wooden floors and walls in one room and tiled floors in the next, offers students plenty of comfortable, rustic seating to sit and read or study. Intricate ceilings and lights hang over their heads as they explore the various material the library offers.
"The William H. Hannon Library was such an exciting addition to the LMU campus when it opened back in 2009. I graduated in 2007 and had grown attached to our former library where I was employed as a student. However, I am now a librarian at the Hannon Library and the views of Los Angeles and its coastline here are unmatched. Though I never got to enjoy all the new amenities as a student, I'm happy to work in such a gorgeous and modern building that serves as a hub for the campus community," Librarian and Loyola Marymount University graduate Marisa Ramirez said.
The library presents grandness on the outside, with wide sidewalks leading up to it and plenty of walking space around to just sit down on the grass and read or study. On the inside, it possesses intricate designs and unique architecture. The rooms all look different, each one designed beautifully, but comfortably with plenty of seating and room to wander. The digital library offers plenty of essays, sermons and various other eBooks for any reader.
9. Payson Library at Pepperdine University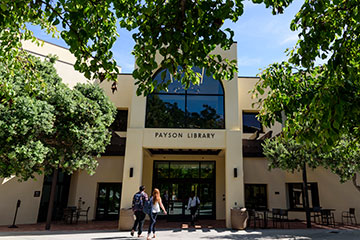 With all the libraries this list mentions, the Payson Library, admittedly, probably offers the most comfortable aesthetic. The exterior, a basic beige with long windows, opens up to a woodsy interior where the long windows reveal trees outside. Wooden beams on the ceiling give the space a cottage feel. Many of the rooms offer a different aesthetic with either surfboards against the walls or an honest-to-god fireplace and sofas and footrests that sit right next to the many bookshelves with plenty of books for anyone.
"One of my favorite memories of Payson (besides the amazing ocean views) is classes in the Great Books Room. I absolutely loved being able to learn and read the classics in such a wonderful space. The chairs were huge and leather and fancy and really set the mood. Some of my friends and I used to joke that sitting in a Socratic seminar around that huge table made us feel like Knights of the Round Table," Pepperdine University graduate Lauren Davila said.
The reference to King Arthur feels spot on. One look at wooden ceilings and warm, candlelight colors and you might think you moved into a more modern version of BBC's Merlin. In this peaceful, wide open space, Payson Library offers so much more than just a place to sit and study. It offers an experience. It gives you a sanctuary to read, write and just relax with a friend or a study group.
8. The Langson Library at University of California, Irvine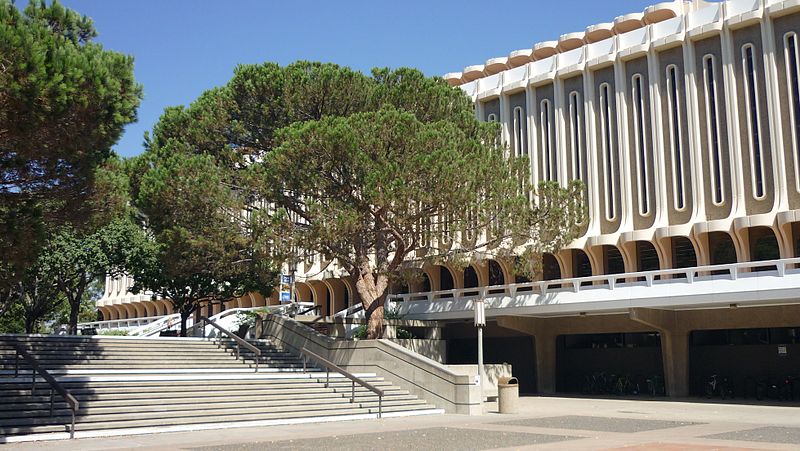 I take my earlier sentiment on the UCSD library back. This library feels the hardest to describe. I suppose I can say that many, many, many very thin, narrow windows line an already wide rectangular building. The exterior offers fields just outside the library's front steps to sit and read, while the interior carries a very cozy feel about it because of the patterned carpets and many comfortable armchairs. Different rooms offer different seating structures, but they all boil down to the same thing; puffy armchairs and some kind of wooden table, with an array of both physical and digital book offers.
"The part of the library that I would like to highlight is the Korea Corner, which is located on the first level on the outer ring side of the building. With the support of various grants, we were able to create this space that highlights Korean history and culture with a bunch of Korean language material available too. It is also has a multimedia set up where students can watch DVDs and a computer to access the archive of the National Library of Korea. I highly recommend that students check it out," University of California, Irvine English Professor Joseph Jonghyun Jeon said.
The varied rooms and resources present a perfect escape for any student. The digital section offers all the studying material one could need on different cultures, pieces of literature and art. The shelves of physical book sit right next to the large armchairs and offer a wide variety of genres and reading material within arm's reach. All in all, the library maintains a catalogue-minimalist aesthetic, and if you ask me? Comfortable never looked so pretty.
7. Cecil H. Green Library at Stanford University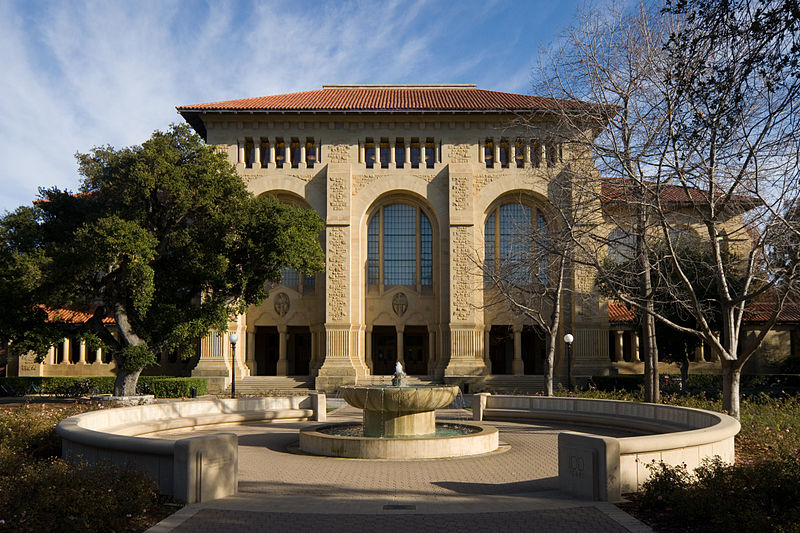 Ever read a historical drama, or even just watched Downton Abbey? If you like that aesthetic, and the feel that you traveled back in time to meet Mr. Darcy over your favorite books (just me?), then feel free to pay a visit to the Cecil H. Green Library at Stanford. This library contains arched windows, a cozy interior with intricate lamps on long wooden tables and comfortable armchairs for reading. Plus, you'll see a fountain outside— yes, you read that right, a fountain! This library provides students with not only a peaceful study space, but also offers any cosplayer or period piece lover the opportunity to get dressed up and take some worthwhile photos out front.
6. Shields Library at University of California, Davis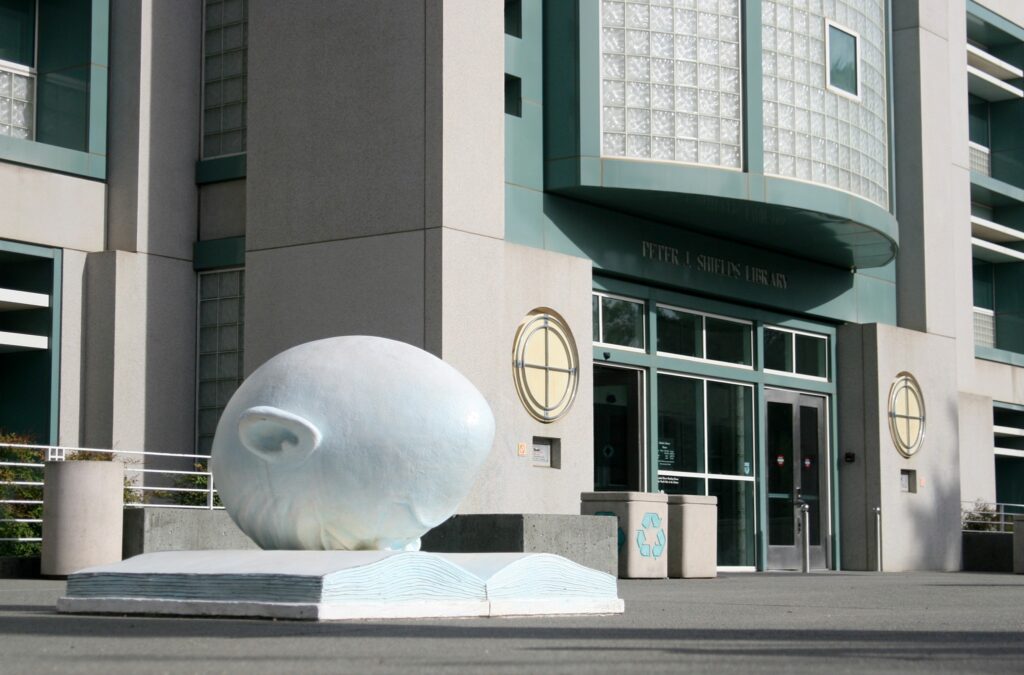 You know Tecna from Winx? The one with purplish hair that talks with an accent that no one can really discern even all these years later and carries a painful obsession with technology? Okay. Now, imagine someone decided to design a library based on that character. No kidding; the Shields Library looks that cool. With a blue and white exterior, long windows, a sculpture out front and a minimalist interior, this library gives students the perfect and prettiest place to get to work.
"I have two favorite spots in the Shields Library at UC Davis. One is Special Collections. It's an oasis of quiet, calm, and concentration. It's filled with wonderful surprises in terms of rare books, manuscripts, and papers. When I schedule a visit to special collections for students, it's always a high point of the class. It's right in the middle of campus and yet many students don't know it's there or that it holds treasures including sixteenth and seventeenth-century books. Learning how to handle and learn from these fragile and precious survivors of another time and place is an experience I want students to have at least once while they are here. I also love the courtyard in the center of Shields Library. Sheltered by the surrounding wings of the building, the courtyard is open to the air. I've always enjoyed the way it is tucked away yet, again, actually in the middle of things," Distinguished English Professor at University of California, Davis, Frances E. Dolan said.
Stairwells that lead off into separate sections, wide open reading rooms filled with light and a digital library to offer students whatever they could need. What more to ask for? It uses a futuristic aesthetic with its blue and white exterior, as well as the white statue out front. The statue itself presents a giant head in a book. Look at that, this place promises an interest in their books even before you enter the building. Plus, how cool would that thing look in the background of a selfie? The Shields Library truly gives any student the perfect, airy place to work, read for fun or study with friends.
5. Davidson Library at University of California, Santa Barbara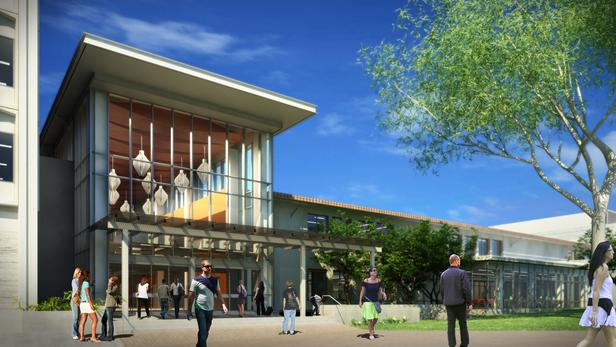 The best way I can describe this library? If someone turned Tangled into a study space. At least, from the inside with long bobble lamps hanging from the ceiling that kind of look like lanterns in the sky. The pleasing aesthetic far from ends there. The exterior holds wide spaces to walk, walls that majorly consist of glass windows and a few steps where you can sit with your friends. The interior's walls and ceilings, however, consist of wood instead with an intricately designed ceiling and plenty of comfortable plush seats against the walls.
"The new Davidson Library at UCSB, unlike most libraries, has luxuriously spacious hallways, which alleviate the stress of overcrowded classrooms and small offices. It's not quite the great outdoors, but on the top floor you can view the ocean from the library's south end and the mountains from its north— a wonderful space in which to study," University of California, Santa Barbara Distinguished English Professor Patricia Fumerton said.
The Davidson Library, in other words, feels like a postcard for what you think Malibu looks like. I never went to Malibu so I can neither confirm nor deny the similarities. However, this library looks very close to what I imagine it looks like. A paradise in the middle of a university setting, comfortable and beautiful on the inside just as much as it presents itself on the outside. One only needs to wander in to get swept away.
4. Doe Memorial Library at University of California, Berkeley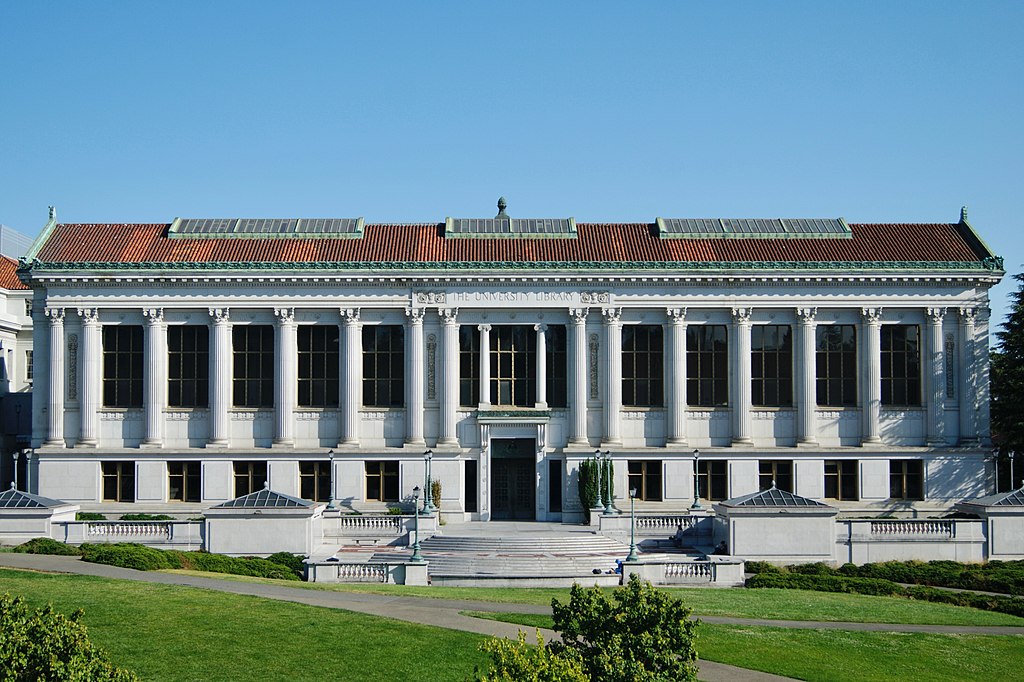 The Doe Memorial Library looks like the White House decided it wanted to change occupations and become a study space instead. Legitimately, with many high rectangular windows lined on the exterior, white pillars, street lamps bracketing the front doors and balconies with white-stone railings. The inside holds even more beauty with an arched, patterned ceiling, rectangular windows placed at intervals and a large arched window on the far wall. Many desks and with rustic-looking lamps line the long hallways, close by to the even more plentiful bookshelves that offer a range of genres for any reader.
3. Leatherby Libraries at Chapman University

The Leatherby Libraries looks like how I imagine Harvard feels, if that makes sense. In other words, it carries a very academic aesthetic. Right away, at the front doors, you get a feel for Greek and Roman architecture brought to the modern world. It presents high, polished pillars holding up a perfectly rectangular archway that leads to glass doors and long glass lights on either side. This place offers countless comfortable seating along the walls next to windows peering out over the exterior fields, trees and open spaces, circular lamps hanging from the ceilings and a digital library for any reader.
"As recent as 2003, Leatherby Library at Chapman University offers a sleek modern building with up-to-date conveniences, abundant access to computer monitors, and distinctive architectural features. This modern edge is complemented by the warmth and serenity one expects in a library with multiple floors of stacks, private study rooms, secluded study nooks, and a superior archive of books, media materials, and special collections. In addition, the library hosts an affable professional staff and a small cafe. If you love research, Leatherby Library is a treasure," Chapman University Adjunct Lecturer Douglas Cooney said.
Chapman University already carries some weight with the name alone. Now, you get a library that matches that grandness. The Leatherby Libraries doesn't just hold books, but exhibits. Various masks and vintage objects make an appearance. Countless articles, journals and newspapers. Whatever you need, Leatherby Libraries not only looks good, but helps you study well.
2. Geisel Library at University of California, San Diego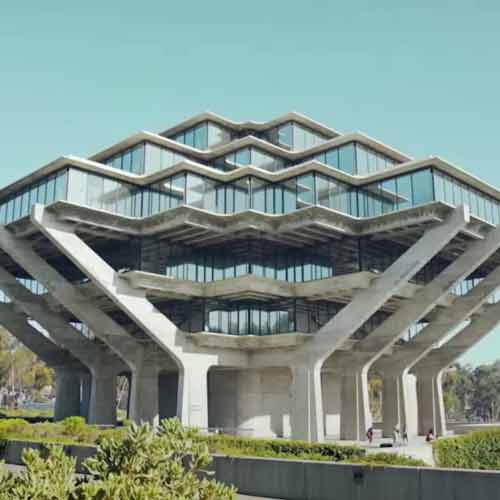 This one feels a little harder to describe, but I shall try my best. The best explanation I can manage? This library looks like a tree made with glass and cement. Ironically surrounded by plenty of beautifully structured actual nature. Nonetheless, the building remains very aesthetically pleasing with plenty of glass walls, a monochrome interior with plenty of room to roam around, a Dr. Seuss sculpture outside (yes, really) and the many, many genres, both physical and digital, that it offers.
"Geisel Library is kind of surprisingly wonderful. It looks like a spaceship from the outside, and its various sides are covered with interactive art. The roof is covered with paths and gardens, with a snake path winding down one side of the roof, and a hidden "garden of Eden" (an homage to Milton's Paradise Lost). A larger-than-life sculpture of Theodore Geisel at his drawing table (AKA Dr. Suess) is on another part of the rooftop, and my kids love to climb up and sit on his lap. My favorite place to work is by the West-facing window of the seventh floor, with quick access to the Slavic literature collection and a beautiful view of the Pacific Ocean," University of California, San Diego Literature Professor Amelia Glaser said.
Star Wars comes to UCSD! Not really, but the library certainly looks like something from the distant future. It would come as no surprise to me to find Luke Skywalker roaming the halls or Han Solo peeking out from corners. The interior carries a distinctly bookish feel, with long shelves crammed with books and plenty of places to sit and read. The Geisel Library really feels like a place to escape to when you want peace and quiet. What student doesn't want to get away sometimes?
1. Powell Library at University of California, Los Angeles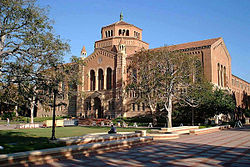 Powell Library, in my biased opinion, tops this list as the prettiest library. Not just because of the wide-open walkways and fields on the exterior, leading up to the front steps. Nor for the airy corridors, always a nice place to sit on a sill and catch up on some reading, studying or just chatting with your friends. It's because of the high, arched windows. The long tables will suit any reader because the books allow any reader to enjoy them, no matter the genre you like to peruse. The wide-open entryway and rustic aesthetic makes it perfect for any Instagram pictures. Or even just for the simple need to get away.
"UCLA's Powell Library is the quintessential university library with glorious traditional architecture. Even after many years, I still frequent the reading rooms for personal research. It's become a second home," UCLA Graduate and UCLA Extension Data Science Instructor Daniel D. Gutierrez said.
Powell Library provides both UCLA students and professors with a transformative experience. The deep colors, carved ceilings and grand stairwells highlight the library's other-timely features. Ever watch Doctor Who or read Strange the Dreamer by Laini Taylor? They give us episodes and large scenes dedicated to grand libraries and the Powell Library definitely fits that entire aesthetic. Not to mention their digital library, which offers plenty of books for fun articles, classics and essays for any kind of reader to peruse.
---