Are you craving a smooth, balanced cup of a vanilla latte? Or maybe the bitter punch of a strong espresso? If you're looking for the best place to get a cup of coffee and soak up some good vibes for your long study sessions, ditch the crowded University of Florida libraries.
Sink into a cozy spot at these 10 local Gainesville coffee spots.
1. Pascal's Coffeehouse
https://www.instagram.com/p/BsOLng5g60z/
Home to student study groups and warm cups of coffee, Pascal's Coffeehouse sits nestled in the backroads of Gainesville's midtown. If you ever get stuck in a Gainesville summer storm or sweating from the raging humidity, duck for cover in this coffee shop. While there, you might as well stick around for a while. Or, if you want to take some coffee back to the dorms, get an iced coffee growler to go. The Florida sun bursts through the windows to provide a beautiful natural light, making it the perfect setting to annotate your assigned readings or take a quick selfie break. Upstairs, extra tables and overflowing bookcases are teeming with studying students. Pascal's comfy and cozy study environment motivates you to complete that long to-do list.
2. Opus Coffee
https://www.facebook.com/OpusCoffee/photos/a.562271043851155/2385569511521290/?type=3&theater
When Tim and Bret Larson, two brothers from Miami, were looking to open a coffee shop, they had one goal in mind. "We wanted to be in hospitals because we wanted a mission and an immediate way to give back," said Tim Larson, co-owner of the coffee bar. Busy all days of the week, Opus Coffee ranks as one of the top spots for coffee lovers. Opus Coffee prides itself on unique and bold flavors. If you crave something fruity and sweet, a cup of coconut frenzy tea refreshes your taste buds. During holiday times, their Merry Mint Cold Brew takes a unique twist on a traditional coffee that customers love. The hands-down perfect treat for any afternoon? The Opus classic "Slay Like Bae" — a half nitro cold brew, half lemonade beverage with a floating slice of pineapple and a cherry on top. While this may sound like a crazy flavor combination, these contrasting ingredients blend perfectly together for a tasty drink. If you're in the Innovation District, you're in luck. Excellent for a long day of studying, check out Opus' six locations throughout Gainesville. If you live in the Infinity Hall dorm, coffees just a few steps away. If you end up near UF Health Shands Hospital, take a quick pit-stop inside.
3. Wyatt's Coffee
https://www.instagram.com/p/B8hj7JHhZmQ/
Located in downtown Gainesville square, Wyatt's Coffee offers a variety of coffees. When looking for a French Press or Pour Over or anything in between, Wyatt's Coffee satisfies your caffeine fix. The walls are garnished with draping green plants, providing a soothing study feel. Even though it's small inside, you'll want to stay for a while if you snag a spot by the window. Not a huge coffee fan? Wyatt's also serves a plethora of tea. If you're looking to warm up to a cup of earl gray tea or to cool down with an ice-cold glass of hibiscus tea, Wyatt's has you covered for all your tea needs.
4. Karma Cream
https://www.instagram.com/p/B7taUQEhBqo/
A popular spot for vegans, Karma Cream's menu has healthy, delicious foods that will satisfy anyone's dietary needs. They have tons of dairy-free ice cream flavors. You can't resist the combination of a waffle cone dripping with caramel flavored ice cream paired with a cappuccino. The painted pastel walls provide the perfect atmosphere to listen to your Lo-fi beats playlist and work on that essay for your political science class. "Karma Cream is a favorite though because it's super vegan-friendly and they're always rotating bakery treats," said Caroline Davidson, a sophomore at UF. Don't leave without trying the Midnight Cowboy Cookies. If you can't decide between cookies or ice cream, just know that Karma Cream can make you your own personalized ice cream cookie sandwich.
5. Concord Coffee
https://www.instagram.com/p/B87jZePAiwN/
A new addition to UF in 2019, this cafe sits close to campus with its location on University Ave. With delicious coffee and pastries, Concord has become a staple coffee shop in Gainesville. Using organically grown coffee beans and supporting sustainable farmers, they have mastered different coffee brewing techniques to ensure a strong cup of Joe. Geometric designs and potted succulents plants decorate the wooden tabletops, where UF students sit typing away on their assignments. The homemade waffles pair perfectly with a hot vanilla latte.
6. Halo Potato Donuts
https://www.instagram.com/p/B_8OQqNB3qr/
When driving down South Main St., stay on the lookout for Halo Potato Donuts. The neon blue exterior seems to jump out at drivers in their cars zooming past. While a traditional cafe, Halo Potato Donuts also has a food truck always on the move. "They have amazing vegan options on Sunday mornings, and I've loved every flavor I've tried so far," Davidson said. Although known for the out-of-this-world donuts, this spot gives you a great cup of coffee as well. Keep your donut options classy with The OG (aka a simple vanilla glaze) or go all out with a Maple Bacon or Lemon Blueberry delicacy. Peanut butter lovers: Definitely go for the Florida Buckeye, a donut combining chocolate and peanut butter that gives Reese's a run for its money.
7. Maude's Cafe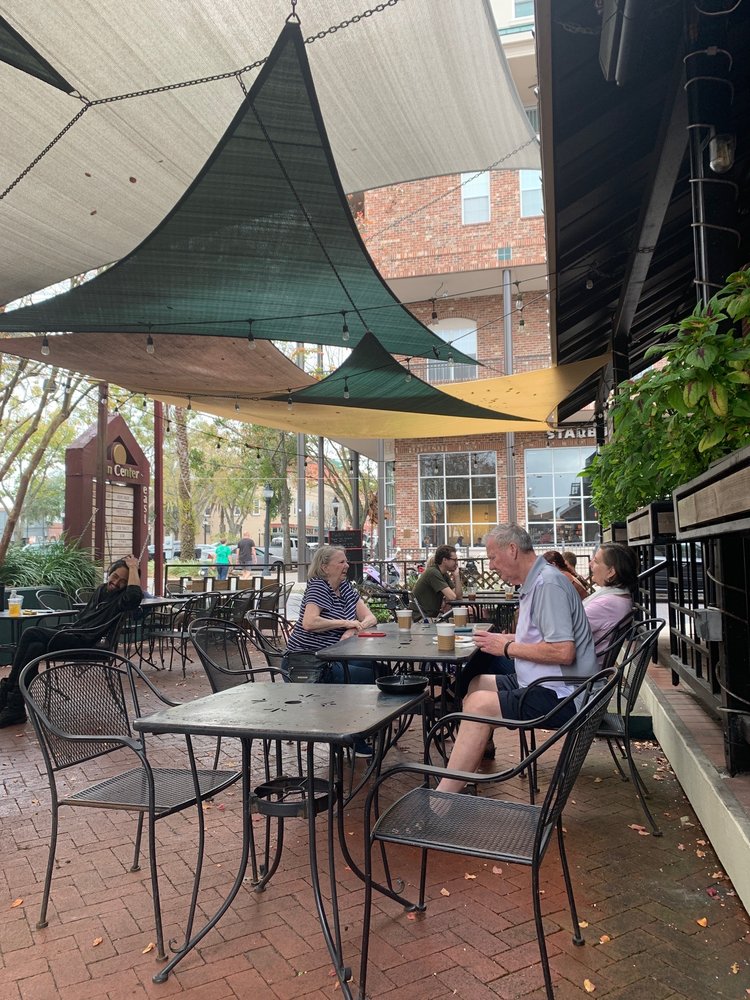 Frothy milk folded into a strong, bitter espresso never tasted so good. If you're venturing downtown, check out this hidden gem — Maude's Cafe. "I just love the vibe of it, and I think it's underrated," said Baemnet Abetew, a sophomore at UF. Serving cakes and coffee, among other dishes, sit inside and enjoy a board game with friends or relax outside on the patio and enjoy an up-close view of the towering Hippodrome.
8. Curia on the Drag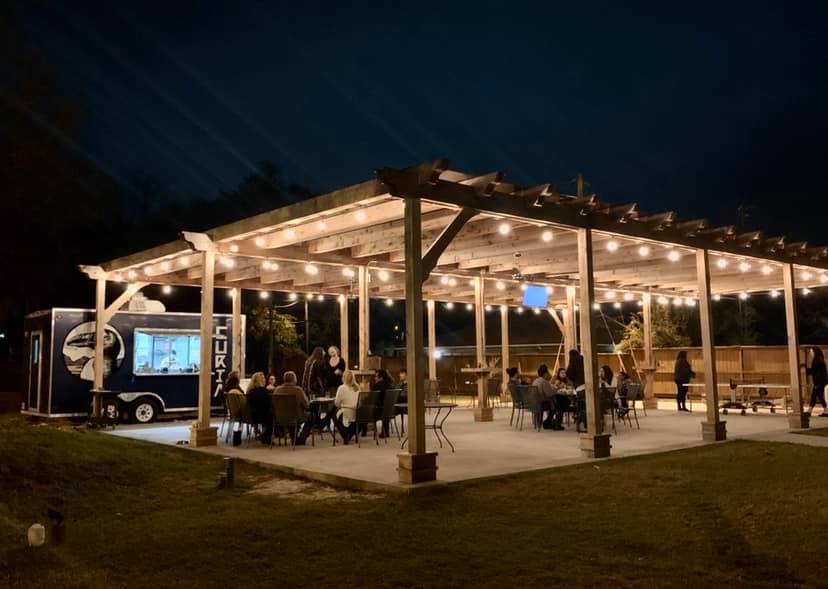 A self-proclaimed urban oasis, Curia on the Drag serves the best Cafe Cubano or Cafe con Leche. Or, if you need an extra kick of caffeine, try the Yerba Mate, an energizing, fizzy iced tea originating from Argentina. Curia on the Drag's drinks will not only quench your thirst, but give you a great place to hang out with friends and try some mouthwatering food. "It has a very interesting aesthetic with cool vibes," said Ian Ezring, a sophomore at UF and vegetarian. With a plant-based menu, Curia on the Drag fulfills anyone with an appetite. Try their jackfruit quesadillas or Thai curry, packed with flavor and healthy for you too.
9. CYM Coffee Co.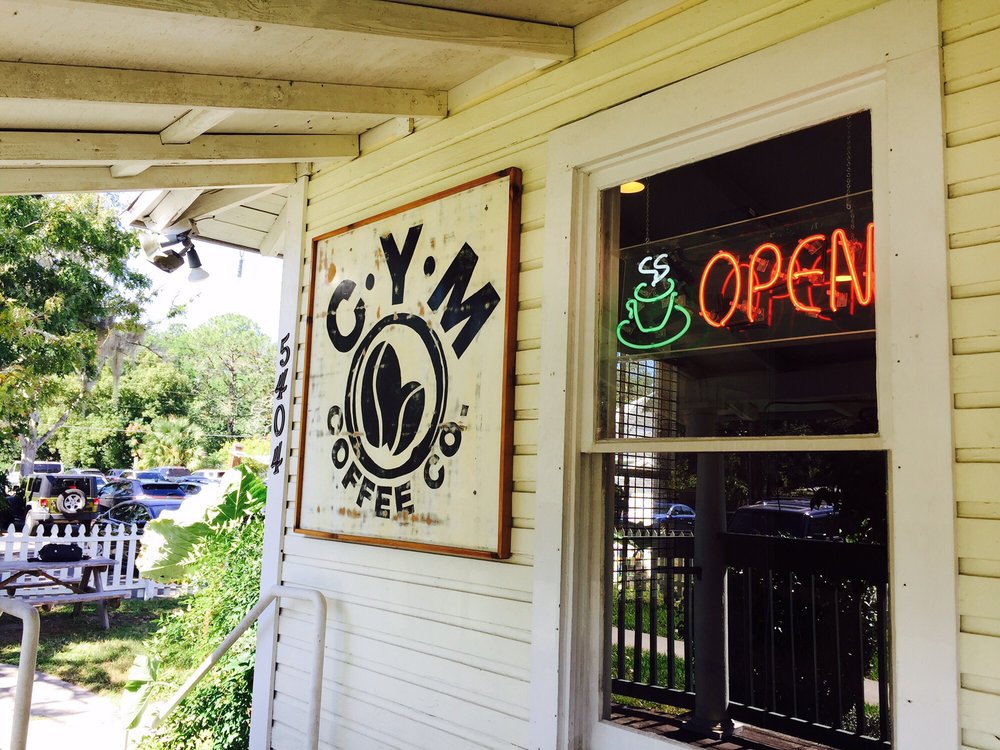 Head down to CYM for a simple, good-natured neighborhood hangout spot. Open since 2012, this spot presents live performances and jovial ambiance. "CYM has lots of food options as well as coffee," said Casey Foran, a sophomore student at UF. CYM lovers rave about the s'more latte, a velvety concoction of milk, mocha and marshmallow. Enjoy an iced coffee with a swirl of milk mixed evenly throughout the brew. Or, taste a freshly baked cheese Danish while you read your favorite novel. This coffee house feels like a vacation right in the backyard of Gainesville. You won't want to miss out.
10. Coffee Culture
https://www.instagram.com/p/B7vsETEhsi0/
When heading off campus with a group of friends to enjoy the weekend, stop by Coffee Culture on your way out. With a dark interior and grunge mood, Coffee Culture's espresso-based coffee cafe serves the best shot of caffeine. This cafe's family-owned enterprise providing fair-trade coffee fills your thirst for a local coffee spot. Their friendly staff will always make a great cup of coffee, where lattes sport white foam designs on the tops of their delicate mugs. Feel free to work on homework here well into the night; their late-night hours make it the perfect place to sit, be productive and enjoy yourself the entire time.