The dim lights go black save for one solitary beam on center stage. A woman whose face you don't recognize but whose journey you feel begins to dance like nobody's watching. Suddenly, she sits on a chair under a hanging chain. She pulls it. Water crashes onto her like a sweet lover, releasing her timidity. You watch, but refuse to blink as your heart relaxes but catches fire all at the same time.
Wait, wait, wait a minute…that's the movie Flash Dance, not a Boston College Dance Team performance. I could've sworn they were the same thing. Regardless, they both get the people goin' just like the first few bars of "Party in the U.S.A." Here are ten other BC events that will make you feel that same rush, guaranteed.
1. THE FIRST HOME CONFERENCE FOOTBALL GAME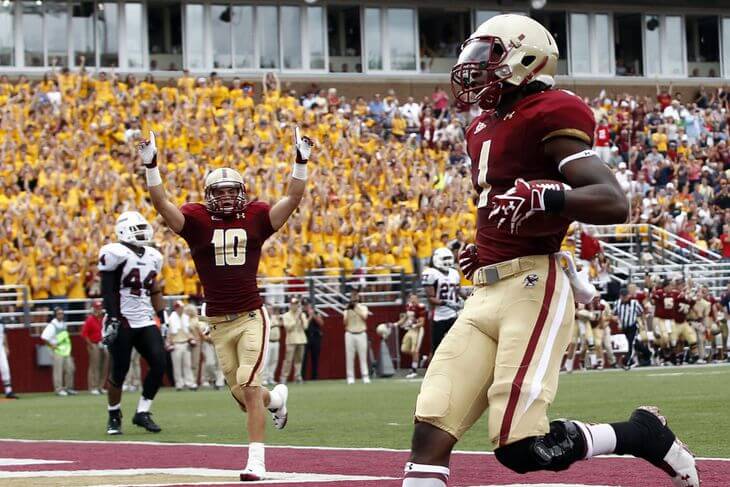 At BC, Saturdays in autumn revolve around Alumni Stadium and football games. Pre-game parties in dorms with friends, tailgates and brewskies on the baseball field with family and the impending loss of your voice during the game generally encompass the day. On no other day do we party harder or cheer louder, though, than the ACC home opener. This year, the game happens to be at night against Florida State. You Seminoles better put in your earplugs because the eagles are on a warpath, and we're coming for you.
2. BC VS. BU HOME HOCKEY GAME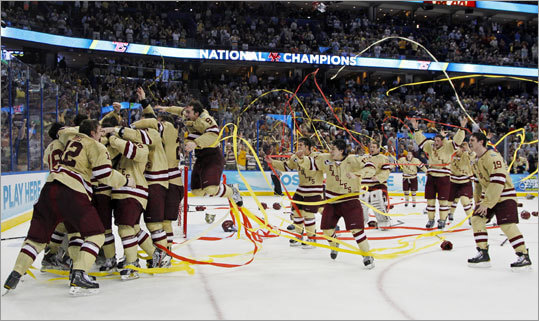 Consider yourself lucky if you can even get a ticket to the BC vs. BU hockey game in Conte Forum. If you happen to be so blessed, pre-game hard with your friends in the dorms to escape the blistering cold, throw on that oversized hockey jersey with a backwards cap and sprint down to Conte Forum with the knowledge that you won't be able to hear yourself think for the next two hours. The "Sucks to BU" and "This is our city" chants will fire you up like Gordon Bombay after the defeat of Iceland. Be there or get ready for some serious FOMO.
3. MARATHON MONDAY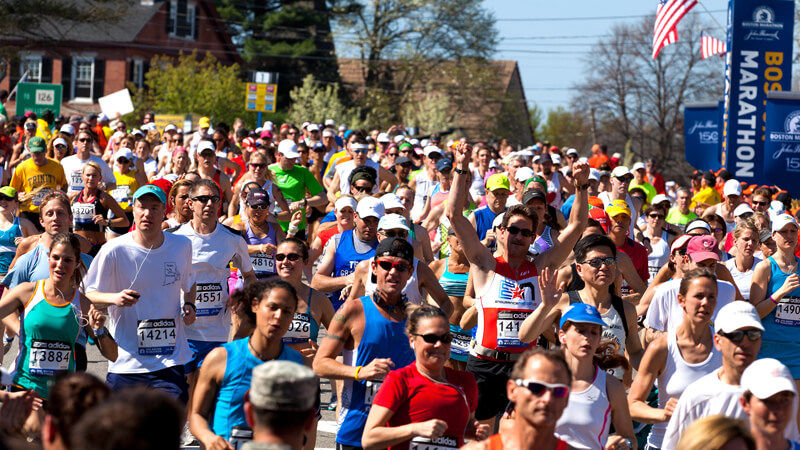 When was the last time you got woken up at 6 a.m. on a class-free Monday by your neighbors turning up and were actually so happy that you jumped out of bed and turned on music yourself? No, this isn't Christmas. At BC on this blessed Monday, we start with 7 a.m. dosas and mimosas, 8 a.m. shotguns, 9 a.m.–how do I say this delicately?—regrouping and 10 a.m. rallying as we rush over to Commonwealth Avenue to watch the first runners speed through mile 21 of the Boston Marathon. Cheer for a couple hours and be prepared for a lovely mid afternoon hangover. Don't worry, just take a nice siesta and reconvene with friends at around 8 p.m. to piece together your day.
4. SEXUAL CHOCOLATE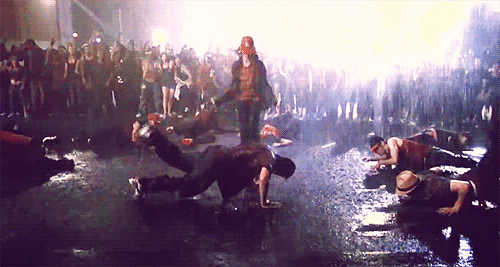 Performing numerous times around campus throughout the year, BC's all-male step team Sexual Chocolate attracts Hodor-sized crowds anywhere it goes. The energy is electric as each member of the crowd feeds off the energy of the performers. Every step and clap sends a jolt through crowd as you watch in amazement at the cohesion and unity Sexual Chocolate exhibits. Go to one of these events and you'll seriously start to consider why you've never tried step—you swear it would have made you much hotter.
5. BC STUDENT PLAYS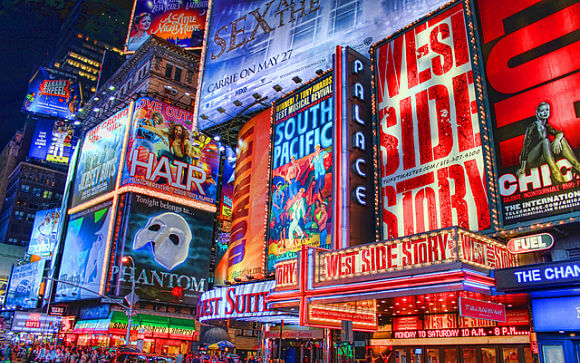 There are a total of six student productions throughout the year. You can watch your friends—aka future Broadway stars—perform on stage in front of a sold-out Robsham Theater. You're guaranteed to laugh, cry, yell (maybe only at the appropriate moments) and feel the emotions of the characters in your bones. It's also nice to take a night off from feeling loopy and nauseous and instead feel eloquent and cultured. Enjoy the show!
6. ARTS FEST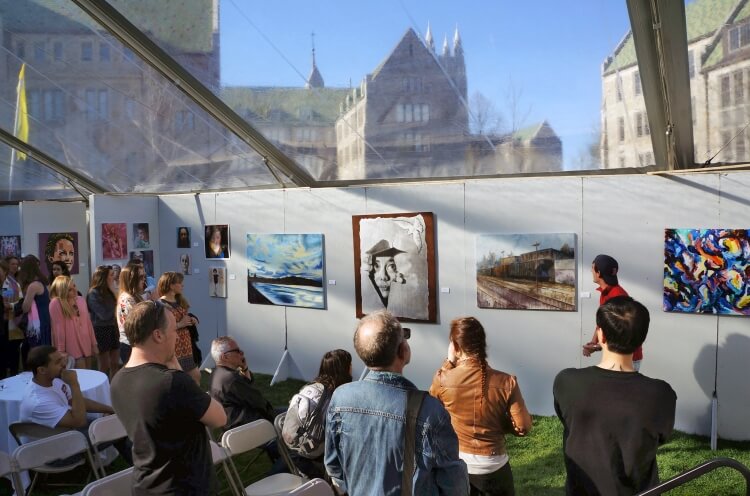 At BC, there are hundreds of opportunities to express yourself through art, dance, music and writing. So much so, in fact, that BC decided to dedicate an entire week to the exhibitions of everything art-related out on the quad on Main Campus. At all hours of the day for a full week in the Spring, you can hear live music, see flawless dancing and view brilliant works of art within the massive tents that attract any and all. Most likely you have more than a few friends who are involved in Arts Fest in some way, so go out and support your friends' talents as you cheer and clap and wish you were that talented.
7. CHAMBERS LECTURE SERIES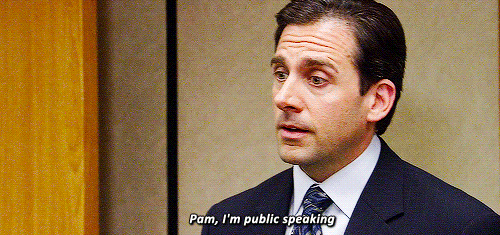 BC does an amazing job exposing its students to successful, inspirational and famous individuals who want to impart their knowledge and advice to the student body. The Chambers Lecture Series hosts all of the honored guests who give speeches about anything from literature to art to everyday motivation. Past speakers include hero Paul Rusesabigna, author and former Navy Seal Eric Greitens and Olympic swim coach Bob Bowman. Take advantage of these speakers and go learn something, would ya?
8. RELAY FOR LIFE
Everyone college-aged has done or knows about Relay for Life. At BC, we do it big. Head down to the Plex, pledge some money and walk all night long with your friends as you celebrate the lives cancer has taken while working towards a cure for the deadly disease. Almost everyone on campus at least makes a visit to the relay. Not only do BC Relay participants annually raise over a million dollars, they also produce (almost as important) Boston Strong koozies. In this case, be a follower and get your butt over there for a rocking, spiritual and emotional roller coaster of a time as you share it with some of your best buds and strangers who all have one common enemy.
9. LITERALLY ANY CLUB EVENT YOUR FRIEND ASKS YOU TO GO TO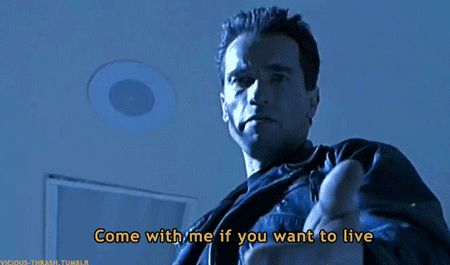 Some of the best events at BC are small gatherings hosted by clubs on any given night. A lot of clubs encourage members to bring friends along to experience the club for themselves. Faith groups especially encourage members to bring along others to share in prayer, communion or deep conversations that allow people to grow closer to one other and their own inner spirituality. At many of these clubs, you find out things you didn't know about yourself and at the very least you'll never regret eating the free pizza.
10. RETREATS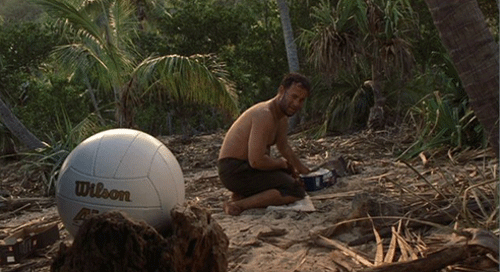 Part of the Jesuit education at Boston College involves deepening your spirituality through contemplation, conversation and prayer. The best places to do so are on any of the (seemingly) thousands of retreats available. For freshmen, the 48 Hours retreat focuses on the college transition and dealing with the struggles that arise. Others include the extremely popular Kairos and the silent retreat Manresa. Many of the retreats are non-denominational and can include team building, as well. If you ever feel lost at BC to the point of making a volleyball your best friend, just attend one of these retreats.