When it comes to going green, Luther College definitely deserves a gold star. With wind turbines, solar fields and energy efficient toilets, Luther fulfills its commitment to the environment and its students' health. Does every school have brag-worthy toilets? Nope, didn't think so.
1. Wind Turbine
You probably recognize the wind turbine that sits on top of the bluffs facing Luther's small campus. That energy harnessed travels to campus through a transmission line that runs underground and generates 3.6 million kilowatt hours of electricity a year. Did you know that makes up about 27 percent of Luther's total energy? "Every day we look from the café at the beautiful landscape of the bluffs topped with a reminder of Luther's effort to create a sustainable campus: the twirling white wine turbine," said junior Christina Van Nevel. Luther certainly doesn't let its small campus limit its strong environmentally-friendly vibe.
2. Solar Fields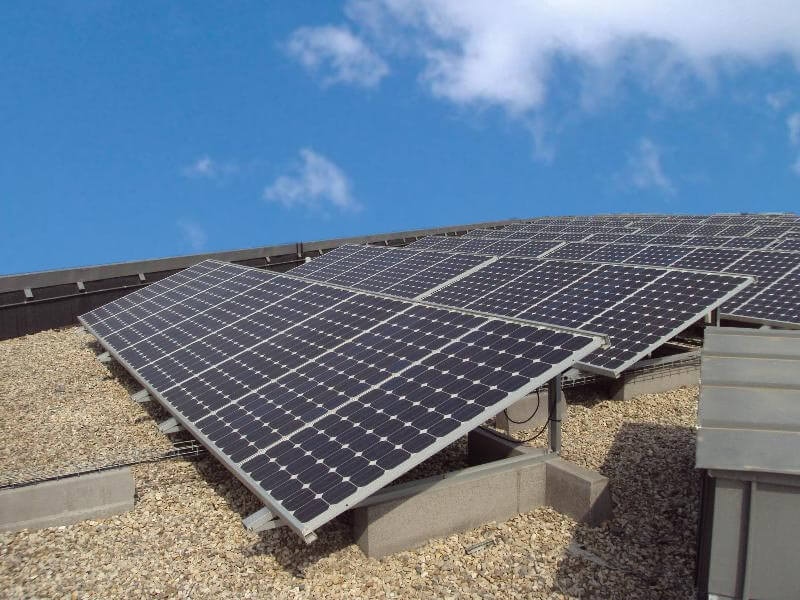 Luther also has two solar fields on its campus. Located to the north of Pole Line Road, the majority of the solar panels power Regents Fitness Center, the home of Luther's athletic program. The second set of arrays sits on the roof of Preus Library directly on campus, where the library uses all the energy generated. Even cooler? The solar panels together equal 821.76 kW, while they produce 1,118,000 kWh of energy per year. With these solar arrays, Luther College hosts the most Solar Photovoltaic Systems in Iowa as a single unit. Solar panels look odd—I mean they're big shiny plates mounted on the ground, take up space and frankly, look pretty ugly. But when you really think about how they harness the heat power of a star 92 million miles away from earth so that I can watch Netflix (I mean study), that's totally worth a little bit of roof or field space.
3. Composting in the Dorms
For many years, compost bins sit alongside the usual garbage can and recycling bins. But this past academic year (2015–2016), the environmental studies department introduced composting in the dorms as well. Students committed to healthy eating likely threw their banana peels away in their dorms, which added to the regular trash, leading to those nasty greenhouse gases. But with the compost bins, those fruit and veggie scraps ultimately come together to create the fertilizer that the school uses in the production garden or local farms. Sounds like an incentive to keep eating healthy, because it helps save the Earth as well.
4. Geothermal Heating
Geothermal energy probably reminds you of Iceland or something, but we have that on campus too. You can find it in Baker Village, a small community of student houses on the east side of College drive, and in the Center for the Arts. This heating system actually reduces Baker Village's heating and cooling costs by 40 percent. The Center for the Arts (CFA) utilized geothermal technology when built in 2003 to not only cool and heat the building, but also to control humidity. I don't know if you've ever experienced Iowa weather, but winters get pretty cold and summers feel seriously scorching, so we Midwesterners rely on our heating and cooling all year round. Using the earth and its natural temperature to cope with our ridiculous climate? That sounds pretty damn cool.
5. Energy-Saving Toilets
Okay so toilets don't sound like the most glamorous of topics, and they're surprisingly wasteful (pun intended) when it comes to water. Luckily Valders and Samson-Hoff Labs, the newest buildings on campus, boast energy saving toilets. You won't see the usual auto-flush toilets, which waste way more water than needed. Although auto-flush toilets sound like a good idea, especially since some people tend to forget to flush and it prevents us from touching the icky handle, energy saving toilets make a much better option. Have you ever had an auto-flush toilet pre-flush on you? Annoying, right? This can also waste between 3 and 7 gallons of water. Yep, energy efficient toilets seem more and more like a win-win.
6. Auto Shut-off Lights
You might know that many of the buildings on campus use auto shut-off lights. Seems unnecessary, but they actually save a ton of energy. Students and faculty leave lights on without meaning to and walk away which might mean a whole classroom of lights on for hours with no one in the room. It seems more exiting to just focus on the other new sustainable sources of energy, right? But Maren Beard, Assistant Director of Center for Sustainable Communities, thought otherwise. "It is always best to focus on efficiency first. By focusing on efficiency we can drive down energy use (and energy bills) before investing in renewable," said Beard. While not as sexy or interesting as wind turbines, auto shut-off lights make an easy and efficient, albeit boring solution to a simple problem.
7. Recycling Initiatives
Reduce, reuse and recycle! One of the easiest ways to be environmentally friendly revolves around simply recycling. Luther has many recycling initiatives to urge students and staff to recycle. All of the dorms come with recycling containers both inside the rooms, as well as large dumpsters outside of the dorm buildings. This makes it easy for students to recycle without putting much energy into it. Throughout campus you'll find recycling containers split into groups: plastic, metal and paper. I get it, sorting through trash, or rather recycling, doesn't sound like much fun, but it reduces the need for new materials and produces new products all with your old pop bottles or that second draft of your English paper. That's right, Luther students can save the Earth one piece of paper at a time.
8. Edible Landscapes & Production Gardens
Luther's edible gardens allow students to grow some of their own food and get in touch with nature. Along with the edible landscapes, our campus offers several production gardens that produce vegetables for the cafeteria throughout the year. Students work in the gardens and the edible landscapes to produce food that everyone can eat. Mmm, fresh veggies. "It is the best opportunity for students to learn to produce their own food and have a closer relationship with the land. The Luther gardens are a big step towards encouraging students to eat locally grown and organic food. Since I worked in the gardens, I think nothing is more beautiful than seeing the seeds sprout that you sow a few days ago," said junior Shelja Thakur, an environmental studies student. What sounds better than munching on some fresh picked veggies on your way to class?
9. Reusable Grab & Go Containers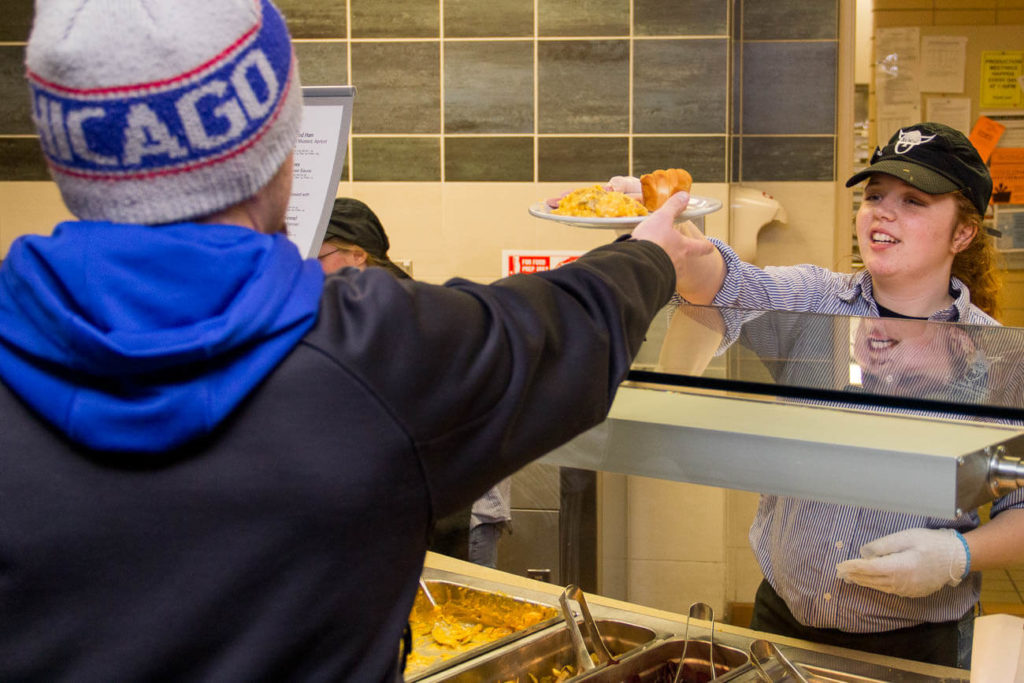 Luther's grab and go makes up an integral part of the Luther dining service. Often students don't have time for the Cafeteria, so they'll grab a "bag lunch." "Luther has an option to buy a token to use and get a plastic reusable container. When you return the container, you get your token back to continue reusing for the rest of the year," said Van Nevel. This system allows students to be on the go and environmentally friendly at the same time. It feels super helpful, especially during the hectic school year. Just like filling a Tupperware container with mom's leftovers, the reusable grab and go container both allows us to cut down on trash and eat on the go.
10. Cafe to Community
Cafeteria to community focuses both on philanthropy and environmental sustainability. Talk about killing two birds with one stone. This program started in November 2013 and uses volunteers to feed local community members along with staff and students. Students work with the Cafeteria to package food from the Luther Cafeteria to be delivered to the First Lutheran Church Food Pantry twice a week. Sounds like a great way to expand your resume while helping your community and environment. "My favorite environmental aspect of Luther is Cafeteria to Community. Not only reducing food waste on campus, the program also helps the local community," said junior environmental studies major Bakhita Soares. Reducing waste and helping feed those in need—what more can you ask for when it comes to volunteer work?