England is more than the land of Big Ben, Stonehenge and the Queen. Filled with cultural diversity and historical roots, this country holds prestige in dozens of colleges and universities. From the distinguished universities of Cambridge and Oxford to the hipster and down-to-earth University of Leeds and University College London, England's universities hold unique and remarkable opportunities for their students. But who makes it to the top? From tons of degrees, boss student unions, career opportunities and city life, we've narrowed down your options to 10 colleges in England. Just make sure to finish reading before you think about applying… or transferring.
These 10 best colleges in England put the "great" in Great Britain.
10. University of Surrey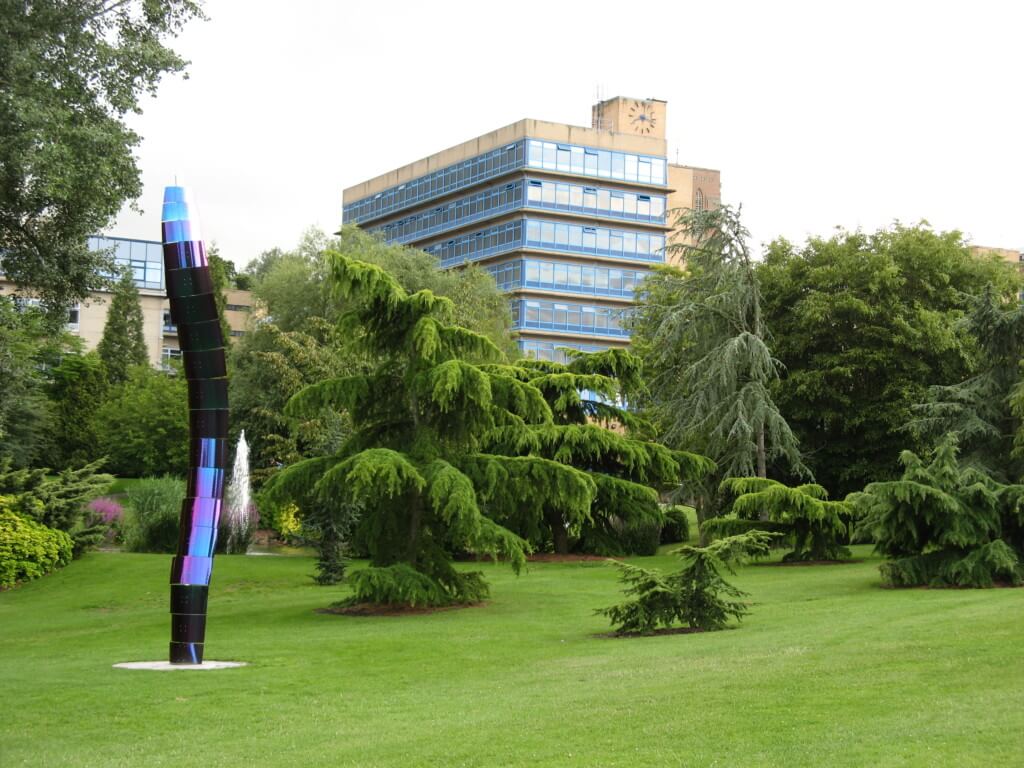 Looking forward to living in the perfect college town? Then you might want to check out the University of Surrey. Known for its green space and natural scenery, this uni may be the spot for nature lovers. We didn't even leave the realm of extracurricular activities yet. When it comes to academics, students can choose from almost 115 different majors, like microbiology or digital media arts. No matter your passion, Surrey's got your back and over 95 percent of grads receive employment opportunities. Plus, with organizations like the Game of Thrones Society or the Dodgeball Club, and the rest of University of Surrey Students' Union (USSU), you'll never want to hole up in your flat. "The facilities are brilliant and the sheer expertise of the lecturers in their respective fields is really impressive. I'd honestly have to say the best part about [Surrey] is the people you meet—everyone is super friendly and creative," said University of Surrey second year Ben Dunkerley. "We have a super nice campus with a lake that is awesome in the summer for BBQs or meeting up with friends. Last year we had an open-air cinema and concerts by the lake, too."
9. Imperial College London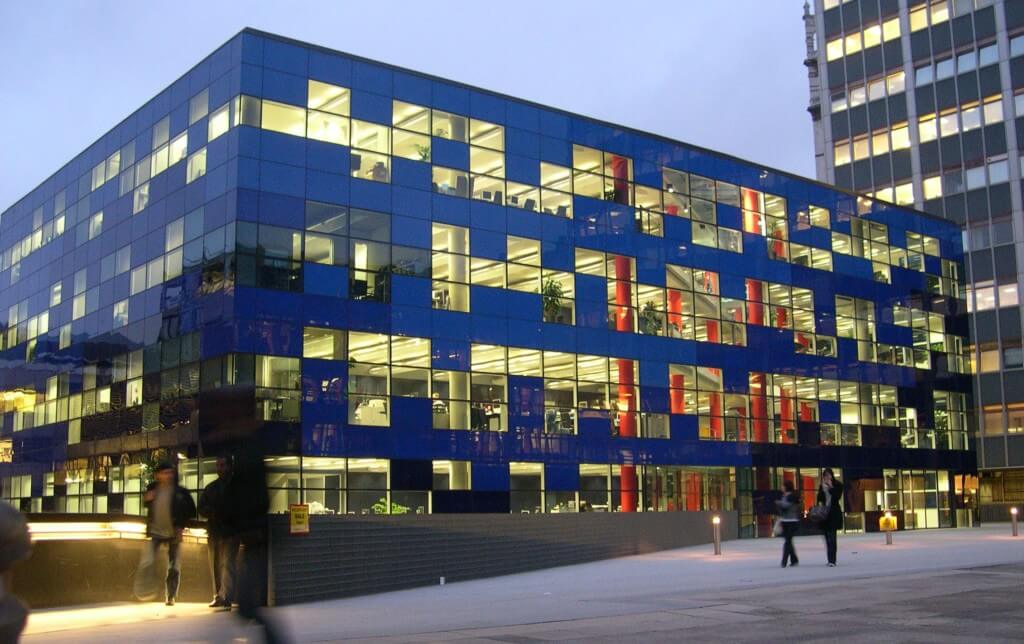 England's capital has its fair share of top notch unis, too. Imperial College London—which has a 14.5 percent acceptance rate—offers tons of opportunities for various UK and international students. The thousands of applicants can choose from 120 majors, like aeronautical engineering or petroleum geoscience. On top of that, students get to experience the 370 student union organizations. Who wouldn't want to join the Calligraphy and Oriental Painting society? Famous alumni like Sir Alexander Fleming and astronaut Marc Garneau once walked the halls. For those thinking past graduation, this uni holds the title of 29th most employed school in the world. "Being in the center of one of the world's most vibrant and scientifically progressive cities provides students with a great deal of career prospects, and exposes us to the wider world," said Imperial College third year Cyd Cowley. "Our research resources and laboratories … are involved in creating some of the biggest scientific breakthroughs. Even having access to a fraction of those resources as a student is really empowering and exciting." Something even cooler: students regularly see movie stars and celebs on the red carpet outside Albert Hall, a concert venue close to many of the college's buildings. And when you're not on the lookout for celebrities, spend the afternoon chilling out in one of the vast selection of coffee shops, pubs and hipster hang out locations surround the campus.
8. University of Manchester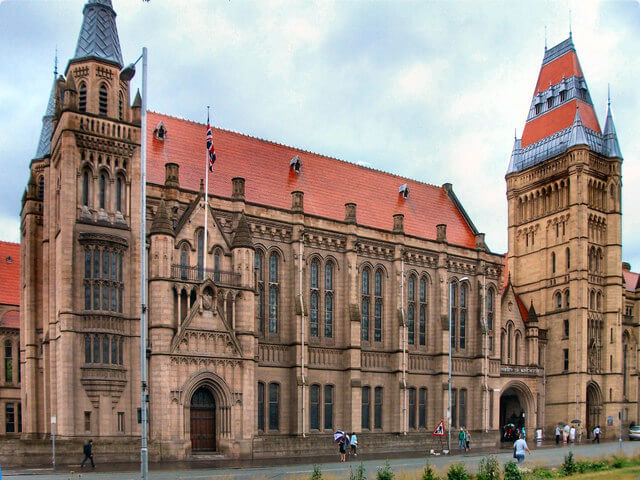 Manchester doesn't miss the mark when it comes to academics. This school offers over 150 majors and even helps broke students everywhere: Manchester provides one of the lower costs of living in comparison to most other England unis. Joining their list of alumni might entice you too. The University of Manchester bears its fair share of awesome alumni, including Benedict Cumberbatch, Jack Whitehall, Toby Jones, Parineeti Chopra, Dan Howell and many others. "The feeling of being a part of this university is the best, because it comes along with a stacked education and great social life," said University of Manchester second year Marwan Kassar. And don't expect to be in your apartment much at the University of Manchester. With many vinyl shops, year-round festivals like the literature and jazz festivals and packed with coffee shops, your Instagram feed #aesthetic will thrive. For the full Manchester affect, students can check out tons of museums, cheap river taxis and luscious gardens.
7. University of Nottingham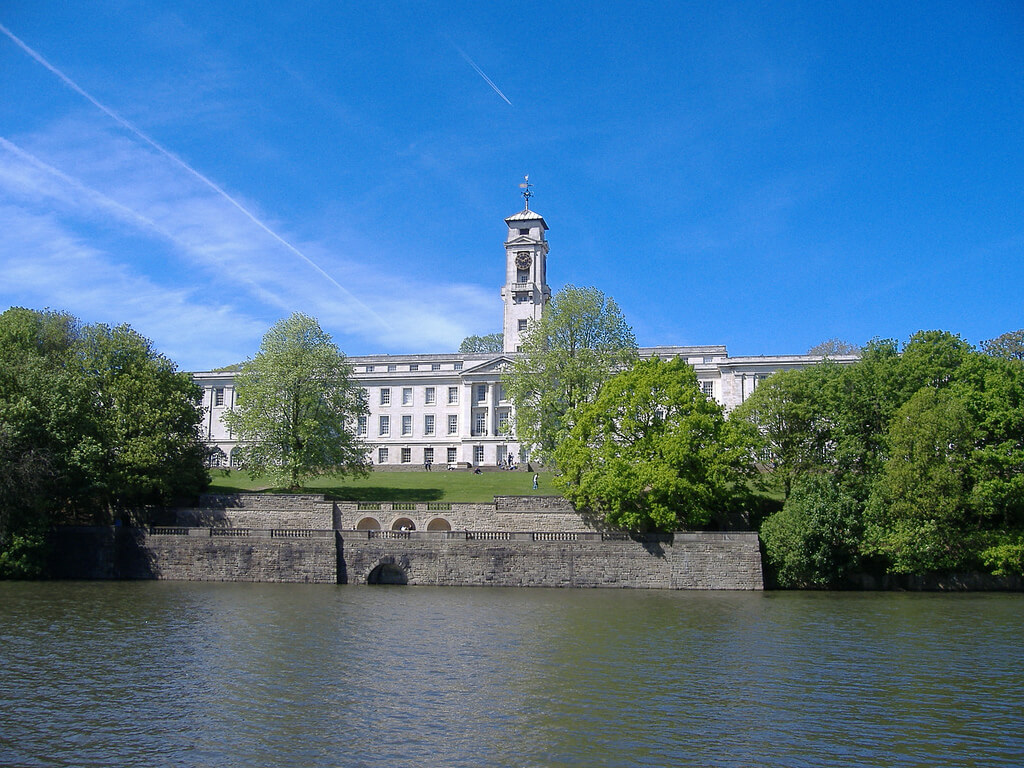 The historic University of Nottingham sits in the picturesque land of Robin Hood. But don't get distracted by the fame of the surrounding folk tales. Nottingham holds thousands of students who study more than 100 majors—all while basking in the sunlight and green spaces of Nottingham, of course. The campus' lush green space and historic buildings provide a great atmosphere for societal get-togethers or activities of the nearly 200 student organizations. Students live and breathe English history while also developing their future. "My course has placements that help you learn more about the program and how to be a pharmacist … there is a student services [building] that can help direct you to whatever you need [when it comes to career opportunities]," said University of Nottingham first year Mark Stewart. With an awesome student life and restaurants to die for, it shouldn't come as a surprise that it attracts all sorts of outstanding students. Famous alumni include lots of English Olympians like Kristan Bromley, Chris Bartley and Tim Baillie. So really, England should thank this uni for many of its medals.
6. University of York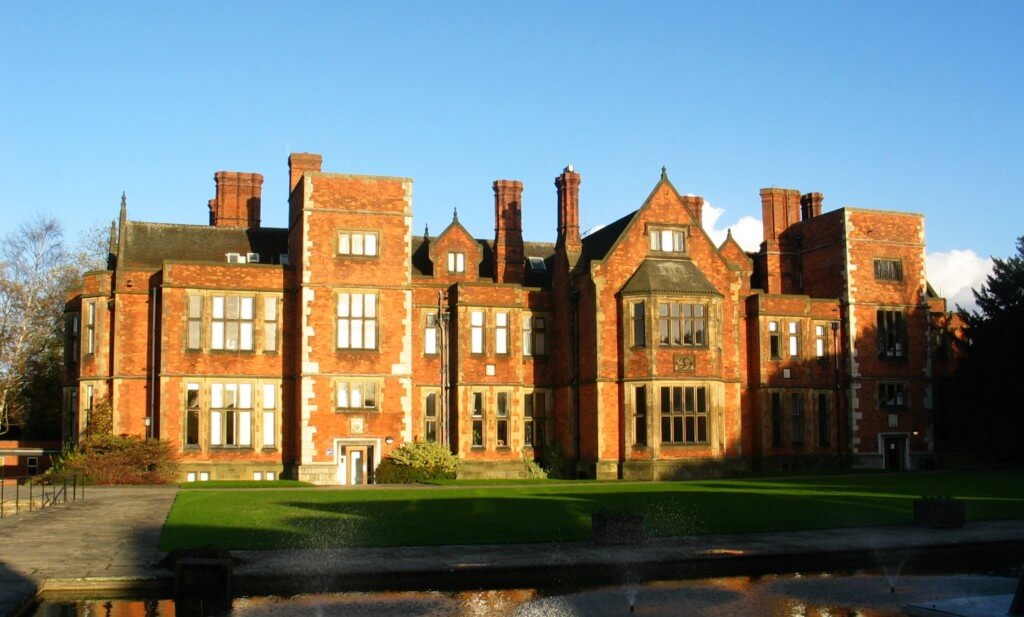 Venture through a walled city with dungeons, 13th century minsters and The Shambles—one of the oldest streets in England—to get to the University of York. Though established in 1963, this uni gives off serious historic vibes, probably because of the rich and intriguing history that surrounds it. Students can't be bored with the surrounding city activities, like a cool maze, the scenery of Rowntree Park and the beauty of York Castle. Almost 200 student societies beat out the popularity of intercollegiate sports. Over 15,000 students live and breathe the school colors of green and blue, cheering on types of sports like rugby and water polo (just two of the 68 sports offered). The College Varsity Tournament between York and Durham University was even introduced to spark more pride among students. Not only does York take the gold when it comes to sports but career opportunities, too. The 88 percent post-graduation employment rate means that students can join the likes of Harriet Harman, Phil Lester and Greg Dyke.
5. University of Leeds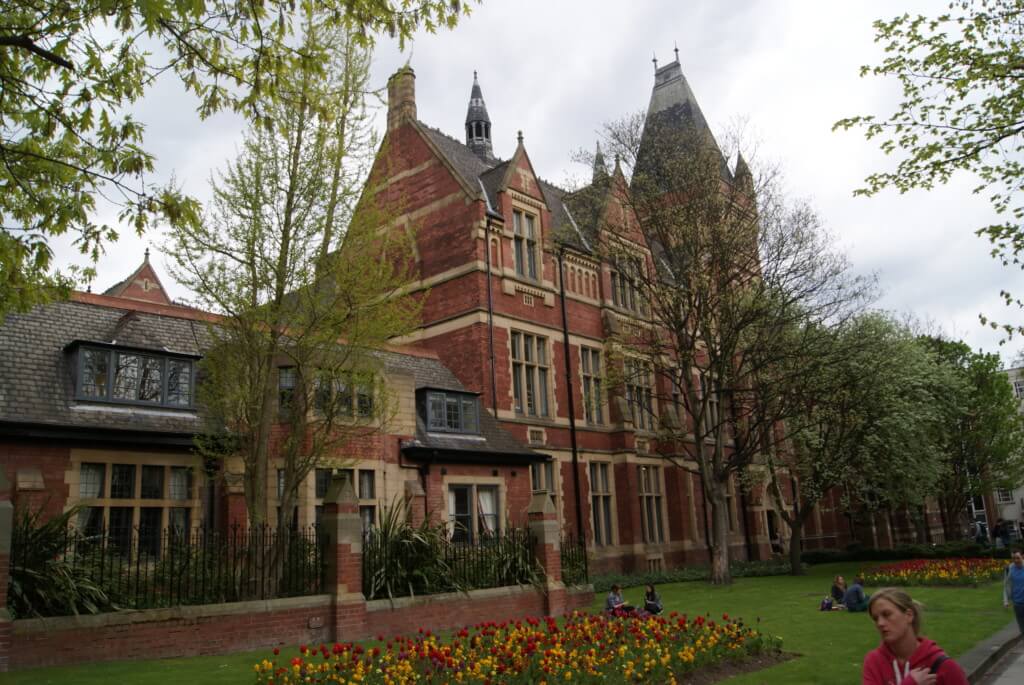 Want to find the epitome of hipster and alternative vibes? Head towards the University of Leeds, whose progressive and go-with-the-flow student body sparked alternative music genius within Dan Smith, the lead singer of Bastille, and the eclectic group alt-J. Home to some of the coolest spots for music festivals, like the Leeds, Wireless and Otley Folk festivals, students will find it almost impossible to feel bored. Of the 250 majors offered, over 50 courses revolve around history combinations or art. Students taking these courses don't have to rely on their textbooks to see art, either. Leeds holds several museums and centuries-old abbeys for aspiring artists or historians to roam. With homework and assignments, students often travel to Roundhay Park, where the green space, flowers and river create a relaxing atmosphere. "[Leeds is] a student-run city just 'cause of all the unis there, so it's very student friendly. It's also a nice campus which just makes for an overall good experience," said Leeds first-year student Kyle Grebert.
4. University of Southampton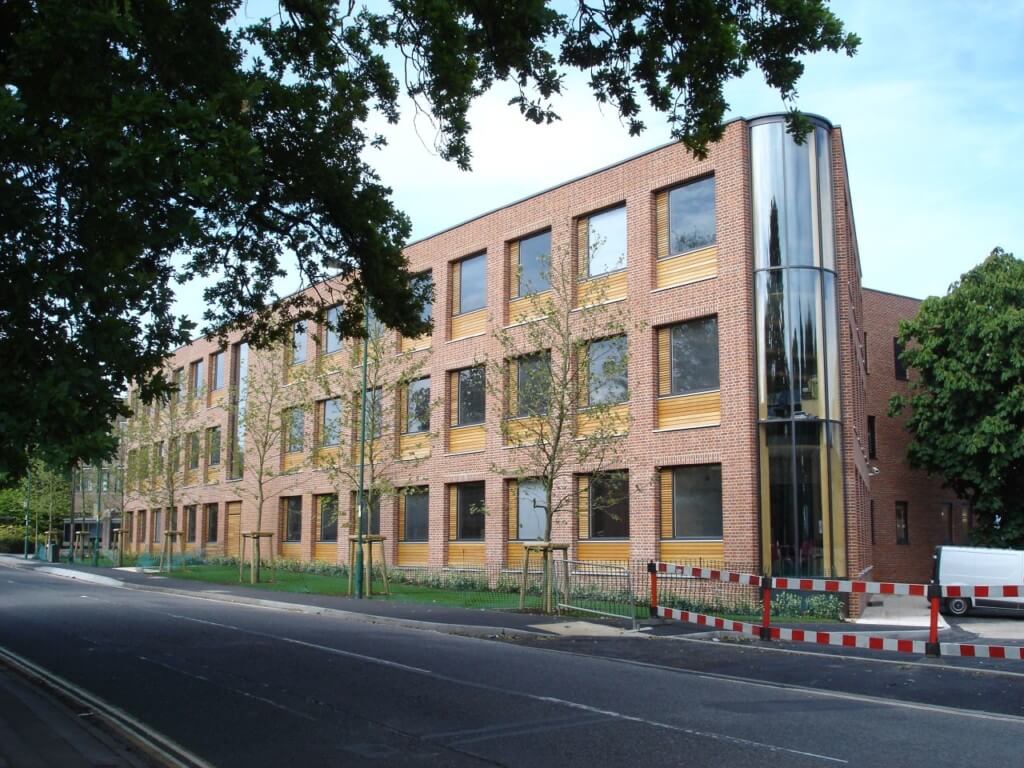 Among hundreds of historical campuses, the University of Southampton's futuristic vibes really stand out. Many buildings were built with large windows, modern shapes or mosaic-like art. Despite its sci-fi feel, 20,000 students call Southampton—or SOTON as the students call it—home. SUSU, the student union, provides tons of activities and over 300 societies or organizations for students to be involved in. "My university experience so far has been great … as students, we have dedicated placement advisors which help and guide us step-by-step throughout the whole entire process. Despite the thousands of students at the university, I feel valued, which is crucial due to the expensive and rising tuition fees that we have to pay," said University of Southampton second year Neil Maddalora. Outside of campus, the port city of Southampton provides a source of fun and history in its roots. Students can explore several museums, including a maritime-themed center with interactive displays of the Titanic and the many Tudor house exhibitions scattered across the city. "The vibe and atmosphere that Southampton offers is a bit different. It's a mix of rural and urban atmosphere which is kind of nice," said Maddalora.
3. University of Oxford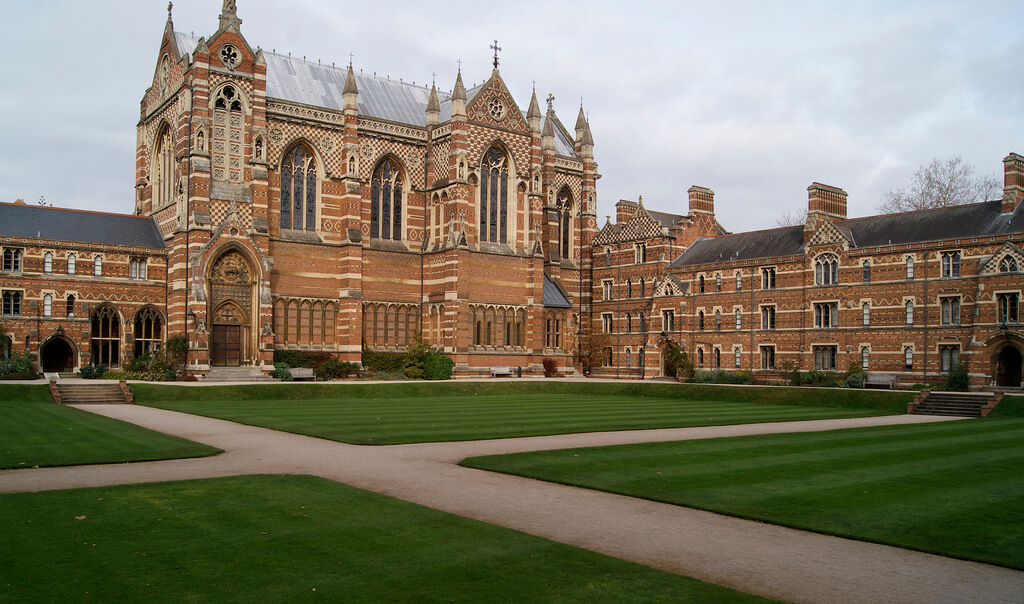 Does the University of Oxford ring a bell? Of course it does. This uni sits about an hour away from London and offers quite the student experience… for those that get accepted. Those who do get into Oxford—the eighth most employable university in the world—will soon join the ranks of alumni Bill Clinton, Stephen Hawking, Hugh Grant and Kate Beckinsale. Some of the world's greatest authors went here too, like Oscar Wilde, C.S. Lewis and J.R.R. Tolkien. Though a quite selective school and a difficult curriculum, living in the city of Oxford can lessen some of the hardships. Oxford holds may locations to relax and breathe in nature, like the River Cam and the Backs. "One thing that's different about Oxford is the college system. Oxford is split up into 38 'colleges'. These colleges … provide accommodation, food, a library and tutorials, as well as miscellaneous other things like sports teams, a college bar, a chapel and often facilities for exercise, music, etc. This means that you basically are guaranteed a group of friends as soon as you get to Oxford, because you spend so much time in your college for your first year," said University of Oxford third year Jake Olenick. Oxford offers a new perspective on student engagement from various sports viewings to exhibitions in university buildings to tea dates with the Vice-Chancellor.
2. University College London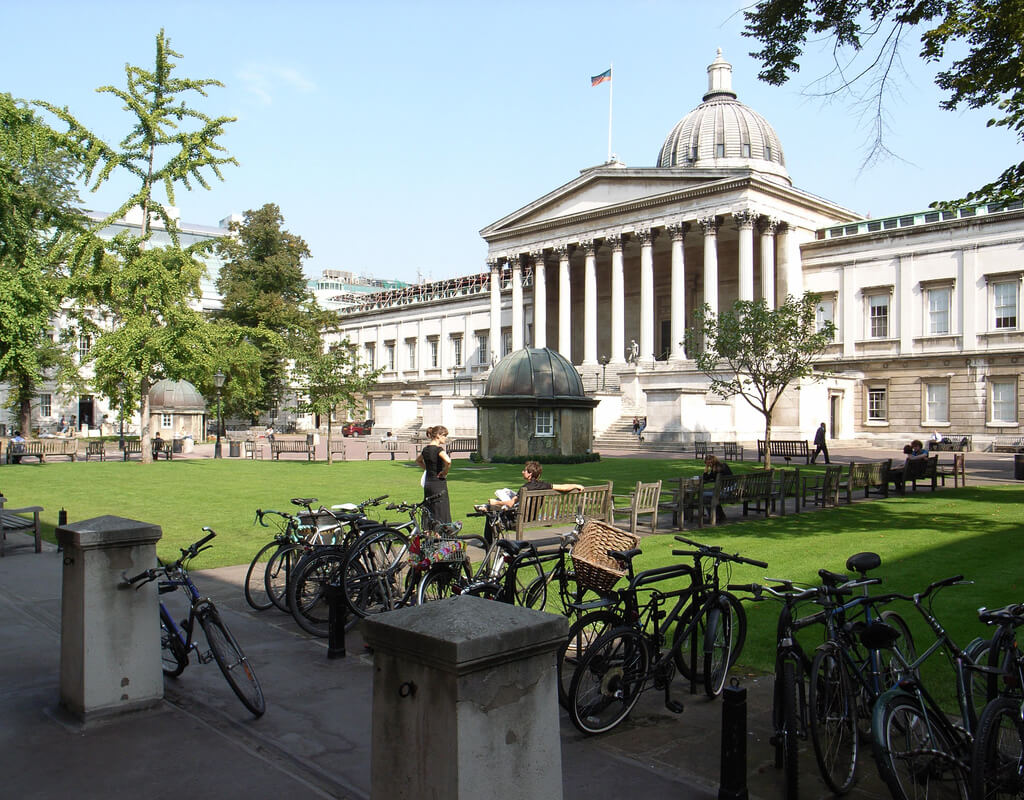 Imagine going to the very school where Gandhi once studied. University College London sits in the Bloomsbury area of London, surrounded by historic museums, landmarks and squares. With more than 35,000 students of over 200 majors, you won't find one student alike. The UCL Union prides itself on supporting its student body and alumni—including Chris Martin, Alexander Graham Bell and Ricky Gervais—and offering over 260 organizations for students to join like the Anime Society, the Comedy Club or the Rock and Metal Society. For about £1700 a month for living costs—a pretty good deal for living in London—students receive the best treatment. UCL provides students prime opportunities for getting hired. Students can explore the diverse cultural hub of London all year long. From grabbing lunch at eclectic spots with Indian Cuisine, like Dosa n Chutny in Tooting, to seeing art from all over the world at the National Gallery, prepare for the ultimate wow-factor. "You're in the central of one of the greatest cities of the world, there's a huge range of diversity, everyone is open to discussion and the world is at your fingertips," said UCL first year Pauline Wholey. "It's a college without being enclosed. Yes, we have a campus quad but life doesn't revolve around it and that's what I was looking for in a university."
1. University of Cambridge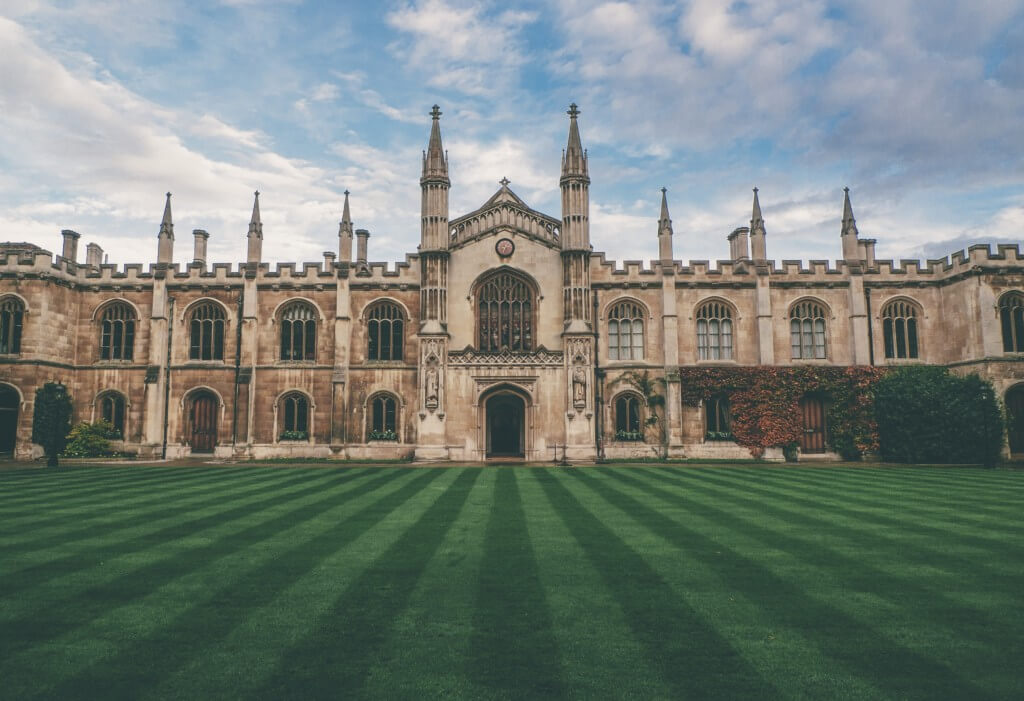 Good luck finding a more beautiful and academically-challenging campus than Cambridge. The second-oldest college in England, built in 1209, astounding research opportunities and tough admittance rate make its title as the 6th most employable college in the world. "You choose your major right off the bat, and work in small groups of two to four with a leader in the field. This provides you with a very broad exposure to current issues in the academia, as well as front-line insight into what's practically going on in the field," said Cambridge second year Saif Jalali. And talk about great company. The long list of notable Cambridge grads includes Isaac Newton, Eddie Redmayne, Tom Hiddleston, Jane Goodall, Charles Darwin, John Oliver, Ian McKellen, Hugh Laurie and David Attenborough. Cambridge prides itself on others things besides academic life as well. The university hosts several libraries and museums or collections on its campus alone, providing peace and quiet or some thought-provoking stimulation. Outside of campus, students fill the many chill coffee shops, like Aromi and Indigo Café, and fun restaurants, including The Regal and The Bakers Arms, that crop up around campus. History buffs can explore the tons of museums that cover archeology, English history and geography in Cambridge.