Ready to design the next Golden Gate bridge? Or how would you like to create a new infrastructure to help sustain our environment? As an engineering student, you'll learn skills that will help you build skyscrapers, bridges, medical technology and more. We researched and uncovered the ten best schools for your engineering degree based on internship opportunities, qualified professors, job placement ratings post-graduation and quality concentrations.
Explore the top 10 colleges for engineering majors will have you rebuilding our world in no time.
10. Harvey Mudd College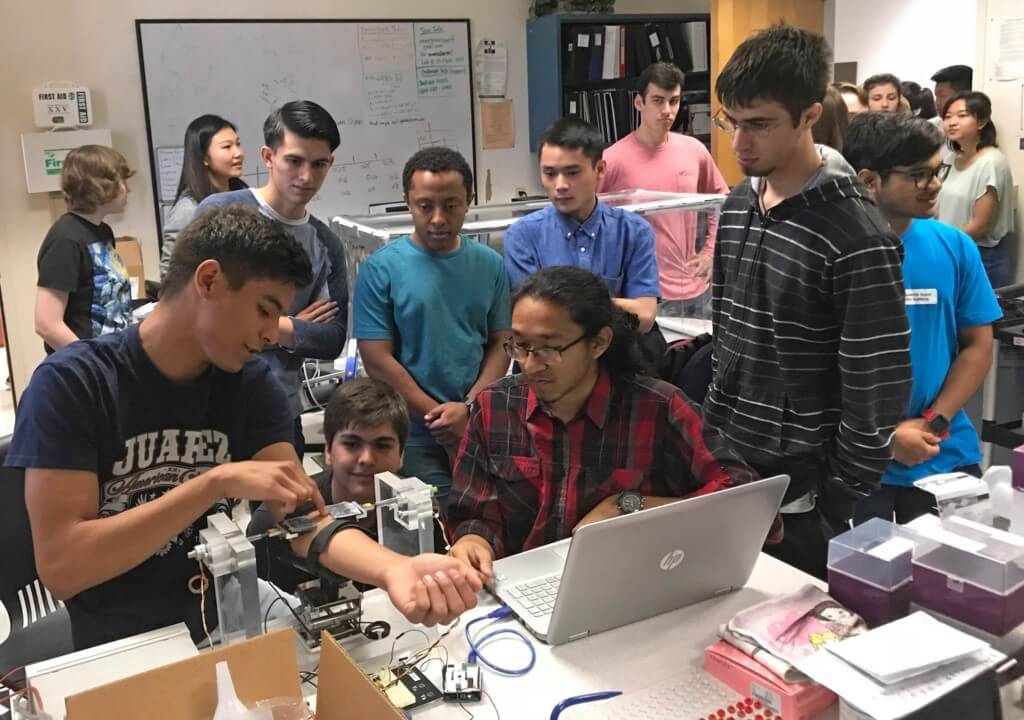 Can't settle on civil or electric right away? Harvey Mudd gives you an option to explore all engineering paths with a general engineering degree. Students from Harvey Mudd can walk into any engineering firm and understand how each focus in engineering intertwines. "Working in the field, you see so many kids who find a specialty in the engineering world and yet they can't function outside of that specification. I like that my classes at Harvey Mudd enable our students to work across all fields in engineering. They may not be experts but they can walk into any interview and honestly say they are able to do whatever the company needs and learn further information if need be," said Harvey Mudd Professor Joseph King. Mentorships through the engineering-fellowship program help students find the engineering Yoda to their Sykwalker. With only 55 students on average, professors assign each student to a fellowship. The perks? Students gain a close personal connection with their mentor thanks to one-on-one instruction rather than an over-sized lecture hall.
9. Lafayette College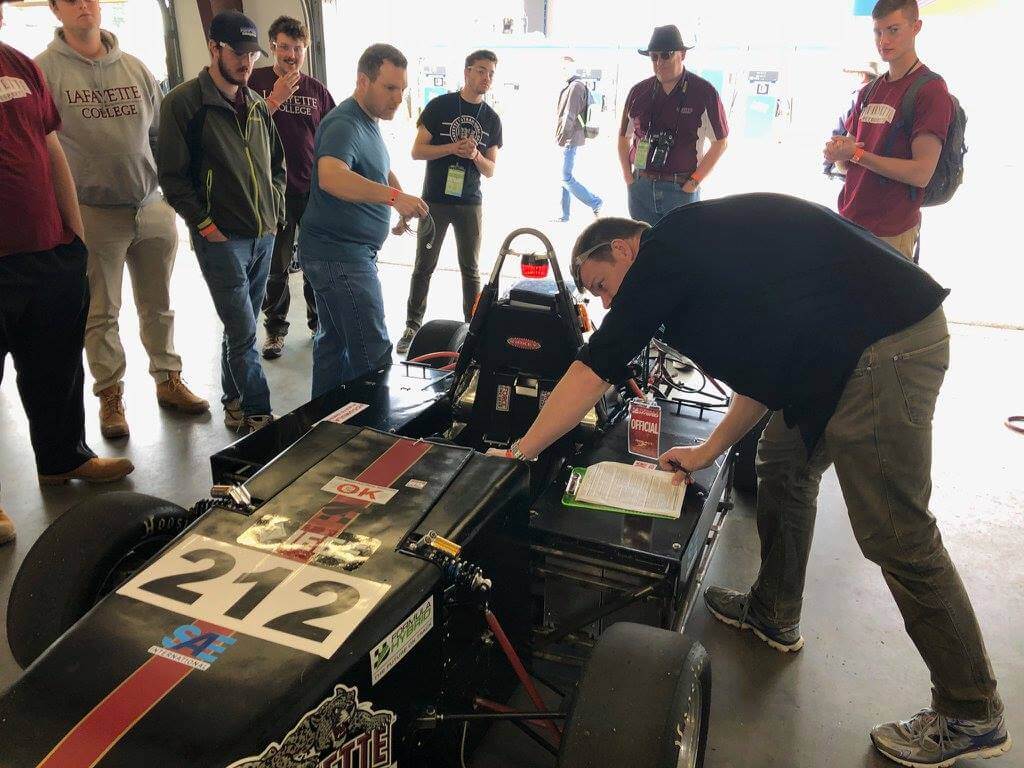 You'll learn as an engineer that sometimes less can mean more. Lafayette College proves that as the second smallest school on this list. At Lafayette, more than 80 percent of the classes at the university have fewer than 50 students in it. Want a more global education? Lafayette also leads the country in engineering students who study abroad. More than 30 percent of kids in their department travel to cities like Bremen, Germany and Madrid, Spain to work on projects with IRL engineers to solve real world problems. Take classes for your future career while also fulfilling that need for travel and adventure. The university had students in these programs go on to jobs at big companies such as Google, Ford and BMW.
8. Bucknell University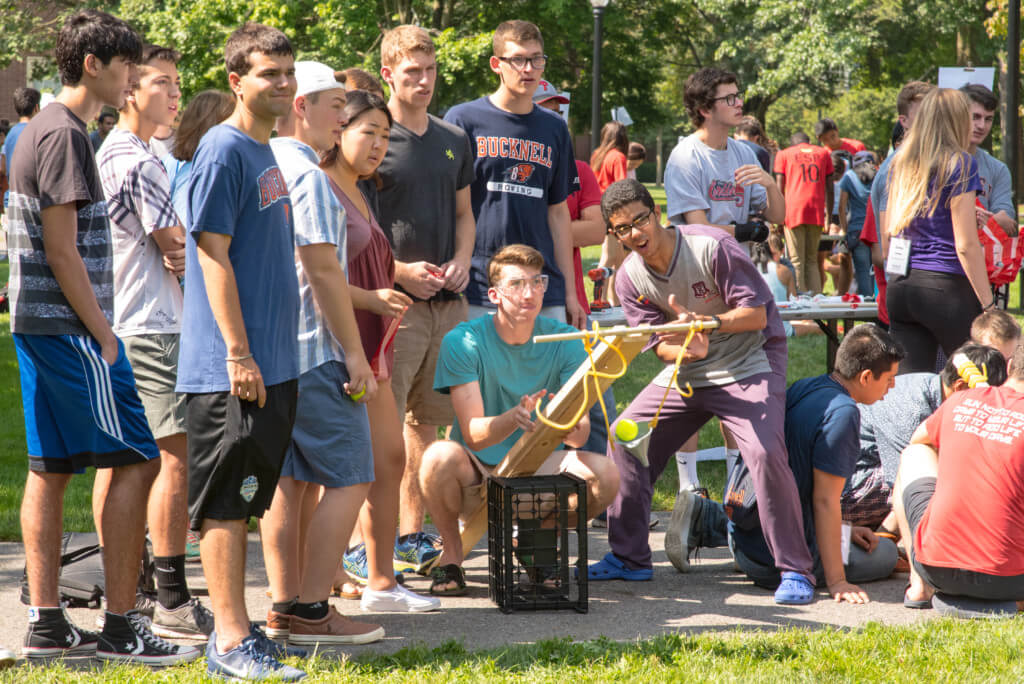 Get personal with your pro at Bucknell. Engineering student work closely with professors thanks to their 9:1 student to staff ratio. The largest classes in the engineering department includes 20 students. "In my engineering classes, whenever I have a question about an assignment or in class my professor has an answer for me right away. They email back within hours and are always willing to meet with me outside of class to work together," Bucknell junior Ian O'Keefe said. But Bucknell's program offers more than just individualized instruction. They also offer a variety of hands-on clubs for engineering students. For the Tesla obsessed, Bucknell offers the ChemE car club, where students design a car that runs on chemicals to compete at a national competition. Bucknell students also stand out thanks to the university's unique double major or minor program. Students get the choice of an optional five-year program which results in a bachelor of the arts and bachelor's of the sciences in engineering or bachelor's of the science and bachelor's of management in engineering. Take one more year and make yourself that much more marketable.
7. United States Naval Academy
Division of engineering and weapons—yeah, not your traditional engineering department. The United States Naval Academy goes above and beyond what it means to have the best equipment and tech. The academy houses a fluids laboratory, hydromechanics laboratory, satellite ground station, material laboratory and specialized electrical engineering laboratories, all available to students. As far as classes go, the Academy's capstone courses prepare you for a lifetime of thinking outside the box. At the Naval Academy, you could help design a laser beam to develop underwater communication or battle on the front lines to design an automated early detection of lung cancer. The Naval Academy also provides one of the best STEM centers in the country. Students at the academy go to schools to talk to young kids and faculty. "The STEM center is my favorite part about the academy. I love going and talking to young kids, especially girls, about the engineering field. I was once one of those kids and it helped me find my future so this program gives me the opportunity to give back," Naval Academy sophomore Karolyn Batista said. Don't be the one to sit back and watch others change the world. Go out and actually make a difference.
6. United States Military Academy (West Point or USMA)
While it may not carry the Ivy League distinction, West Point's admissions still hikes up the competition come application time. Each class allows a max of 50 in each year, and they only take the best of the best for their civil and mechanical engineering programs. Do you crave travel and want to make a difference in the world? West Point engineers focus on building bridges, improving energy efficiency and so much more for soldiers and civilians overseas. The big selling point of the program? Guaranteed summer internships. West Point places students with professionals in the field to gain hands on experience on projects that really change people's lives. Of course every school urges you to come up with new innovations when doing projects, but why do that if your creations just get you a grade? Cadets at USMA often receive money from donors to finance their creations. That new idea for a defense system now becomes a reality with your name attached to it.
5. Georgia Institute of Technology
If hours of research sounds like heaven, choose Georgia Tech. Imagine enhancing the future of energy, biotechnology, sustainability and nanotechnology through real-life projects. With over 150 different research centers offered, students can find a project that will help them make a difference. While at the university, more than 33 percent of students in the department take part in research alongside hundreds of qualified and experienced professors. Students receive academic credit and a lot of times even get paid to work alongside these experts. What college kid wouldn't want to get paid? Going to school and work in fields like aerospace, electrical and mechanical engineering sounds like a sweet after-school deal. Another perk? For a lot of these students these opportunities turn into full-time employment post-graduation.
4. Cornell University
Did someone say Ivy League? Consider yourself spoiled with over 14 different majors and over 20 different minors to choose from at Cornell. Don't think all your experience will come from homework either. Cornell gives students 29 different Project Teams to choose from. Check out Baja SAE, where students work to build a one-person off-road vehicle from scratch. If that doesn't make you want to sign up immediately, consider joining Project Team ChemE Car where students work to design a car that runs on chemical reactions, and then race against other schools. Plus, diversity rules in Cornell's engineering department. "I wanted diversity in the school that I went to and Cornell gave that to me. It was important to learn how to work with everyone and anyone in the field and not get accustomed to what people think is the norm in the engineering field," Cornell 2016 graduate Collin McGee said. Who said women can't major in engineering? Forty-six percent of the overall engineering class at Cornell is female.
3. University of California, Berkeley
Nerd alert. If you spent more time on a computer than at high school football games, consider UC Berkeley your new home. The engineering department at UC Berkeley maintains five different buildings, including the massive Bechtel Engineering Center. It houses computers and rooms for students to rent out to work on research like robotic exoskeletons for the disabled or molecular surgery to improve cancer outcomes. Talk about making a difference in the world. The university also prides itself on its prominent research in the computer engineering and science field, like the Agile Design of Efficient Processing Technologies (ADEPT) project, which works to lower the cost of custom silicon. UCB also has a Data-X lab which conducts research in bridging the gap between theory and practice in real-world engineering. If the passion for innovation burns inside of you, then Berkeley fits perfectly.
2. Stanford University
Incredible campus, great weather and a tradition of excellence: you couldn't engineer a better experience. The Stanford engineering program holds true to that reputation. With 10 different areas of study and over 100 subcategories students can literally pursue anything they want in the engineering world. A big program also means a big alumni network. Stanford prides themselves on their 60,000 alumni available for networking with students. They host the SoE Reunion every year to which alumni come back and speak on different panels about the groundbreaking research they conduct. And the best part? Most students go on to work with and help with the research and receive credit in findings, building connections that prove invaluable after they turn that tassel. With so many alumni in the workforce, chances are when your resume passes through an engineering company, a Stanford grad probably reads it. Go Cardinals, right?
1. Massachusetts Institute of Technology
For an engineering student, an acceptance to this prestigious university comes as close to paradise as possible. As soon as you hit campus, you'll find a million clipboards in your face screaming at you to get involved… kind of hard not to with over 65 different labs and testing centers for students in the program. Some of these centers take part in groundbreaking research in neurological engineering, nuclear engineering systems and aerospace engineering. MIT also offers over 20 different concentrations, including Computer and Science, Electrical and Computer Science and Mechanical engineering, meaning students can tailor their degree directly to their interests. Plus, students at MIT learn from only the most distinguished professors. Professors who teach engineering at the University share a combined 431 awards including the National Medal of Science, National Medal of Technology and Innovation and the Gairdner Award. Their global connections will help you to build your resume to land the job of your dreams once you graduate.
Want more college rankings? Check out:
CM's Top 10 Universities for Pre-Med Students
Top 10 Most Eco-Friendly Colleges