Nothing beats the thrill of the wind in your face as pedal past freshmen and hungover seniors. That is until you get side swiped by a car from the commuter lot. Fortunately schools throughout the nation ease your morning ride with freshly painted bike lanes, professional repair on campus, commuter showers, creative benefits for cyclists and stellar storage options. Rather than condemning yourself to long treks across campus by foot, check out the 10 best bike friendly colleges.
10. Eastern Mennonite University
Eastern Mennonite offers the cheapest bike rentals of all – 20$ per semester. What a steal! (Except don't steal the bike. Rude.) But with its Bicycle Co-op with maintenance options, and the bike friendly city of Harrisonburg, Virginia with tons of restaurants and activities within a mile of campus, even those who aren't the next Lance Armstrong can have accessible sustainable transportation options.
9. Michigan State University
Michigan State scores solidly in all the basics. Its DIY campus repair stations and full on-campus service center will keep your wheels rolling. It also promotes education and advocacy for students, while offering classes on safety. Michigan stands as a force within the community to make sure cyclists don't get shafted, and have enough racks on campus. Plus, it offers great rentals.
8. University of Nebraska – Lincoln
They're pretty serious about football in Lincoln – but they're also serious about cycling, so much so that Nebraska offers a special free valet for bicycles on game day. Many places offer onsite repair and educational classes, but Nebraska offers those classes for school credit, making it easier to fit bike safety into your schedule. It also has an updated cycling website where you can find the deets on adventure trips into the countryside.
7. Portland State University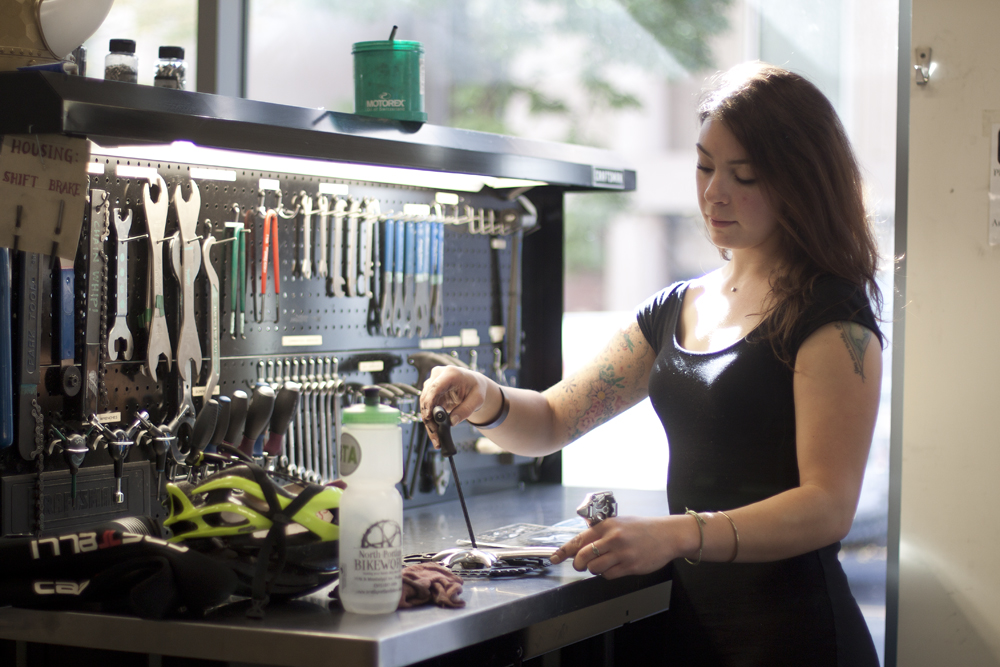 Slammed in a city known for both hipsters and sustainability, PSU offers a fully-fledged bike shop on campus (The Bike Hub) and plenty of the other basics—like bicycle rentals. PSU is nothing to sneeze at – its cycling classes will have you using the self-service repair before you know it. Plus, its indoor bike garage will give you a spot to stash your ride during bad weather.
6. Emory University
Bike Emory, the organization in charge of biking facilities at the school, gives out semester long bike rentals to those who need wheels to romp around their Atlanta stomping ground, and has a Bike Share system for those who only need a temporary ride. A professional repair station will keep your bike well-oiled, as well as a self-repair and fix-it stations throughout campus. To take advantage of them, Emory gives out two to four year bicycle service packages to help save bucks on bikes – and it includes secure summer storage. That way, next time you get a flat before an Emory group ride, you'll be good to go.
5. University of Louisville
Not only does UL have on-campus repair, but it also offers an incentive to bike to school. As part of a special program, UL convinced students to give up their right for a parking pass for two years in exchange for a $400 voucher to a local bike shop. Thousands of students took the challenge along with faculty members. UL offers covered and uncovered bike racks and has an article on its website called "Overcoming Bike Commuting Excuses," which will make you feel ashamed to ever get behind the wheel of a car again. UL even has group rides on campus – and once a year, you get to ride with the president of the school on the President Bike Ride, an event to promote biking across campus.
4. University of Minnesota
UM invented tech-friendly solutions to help out cyclists; specifically it devised an RFID system for commuters to earn benefits by cycling. For clocking at least 12 rides a month, students are entered in prize drawings and faculty members can reduce their health care plan rates. UM's Bike Center offers a lot of services to members, including commuter showers and a bike sharing system. The Bike Center also helps with repairs right on campus and holds instructional classes for bike safety and maintenance.
3. University of California – Santa Barbara
UC Santa Barbara built commuter showers and lockers for cyclists who ride in to class from afar. The school has even developed a safety app that allows cyclists to plan the safest route to campus. Safety is clearly a priority among students as well as the administration. The student body raised $400,000 towards rebuilding a dangerous roundabout.
2. University of California – Davis
UC Santa Barbara's sister school has a lot of similar facilities – it too has commuter showers and lockers along with bike racks. Plus, it's surrounded by one of the most bike-friendly cities in the country. The college makes it even easier to care for your bike by offering covered summer bike storage so that you don't have to hassle with a wheeled companion when trying to bus home for the hotter months. Cheap bikes are available through on-campus auctions of used vehicles, and the school also offers the Bike Barn: a repair shop that also doubles as a classroom for safety classes.
1. Stanford University
Stanford loves cycling so much it has a mascot named Sprocket Man who walks around campus with a superman outfit and a shield made out of gears. While Sproket Man's great, not having to worry about your beloved two-wheeler is even better. Stanford has no less than 18,000 bike rack parking spots, and makes sure you're not sweaty after riding into class by having clothes lockers and on-campus showers specifically for bikers. With covered bike storage, you can keep your baby secure. If something does happen, the campus bike shop is there to help, along with DIY repair stands scattered throughout campus. It's no wonder the school earned a Platinum award from the League of Bicycle Friendly America.