Coffee. For some, a tasty drink. For others, the substitution of meth in college. Coffee addicts, we all know the difference a single cup of coffee can make to our daily lives. Without it, we can barely get through our days. During my college years at the University of Florida, I realized that going to coffee shops stimulates my body to function even better than drinking coffee in my college apartment.
It goes beyond nourishing my body with a legally addictive substance, but seeing people work as hard as you in a coffee shop with their favorite drinks and in the same stressful and chaotic mood, not only motivates me in a way but also gives me some kinds of relief. This wholesome experience melts away all my worries and anxieties, at least for the time it takes me to finish my cup of coffee.
Read on for the top 10 coffee shops around the University of Florida:
1. Opus Coffee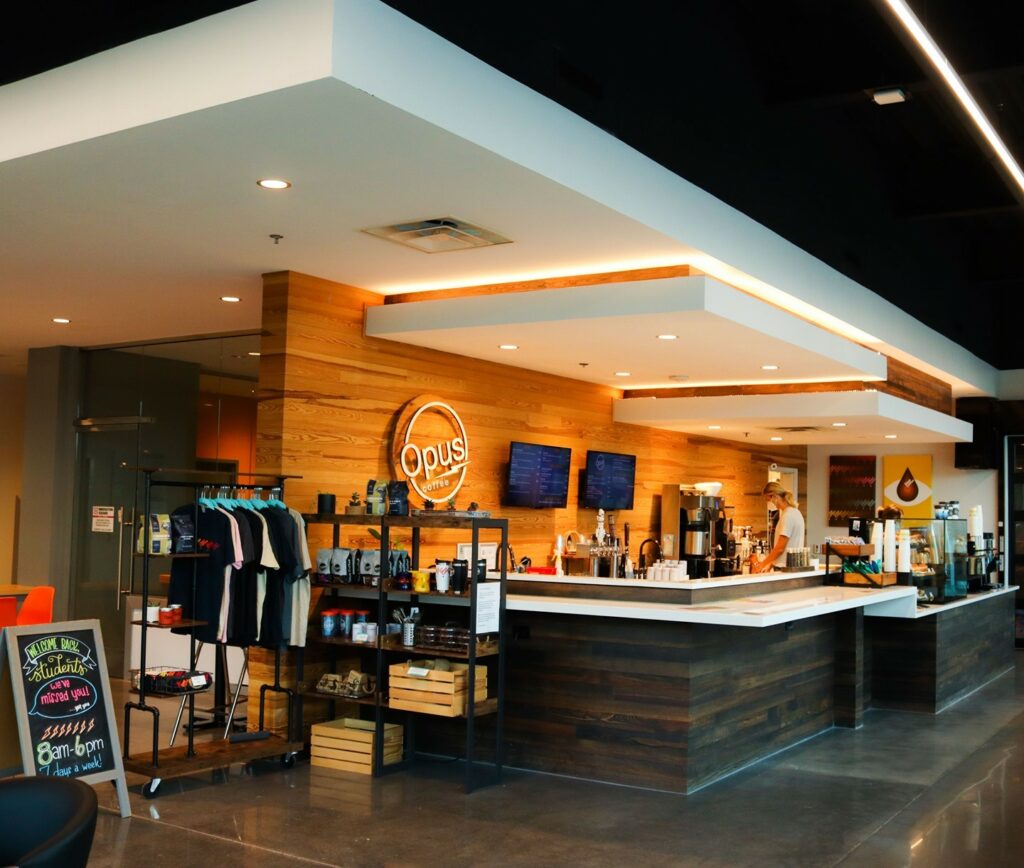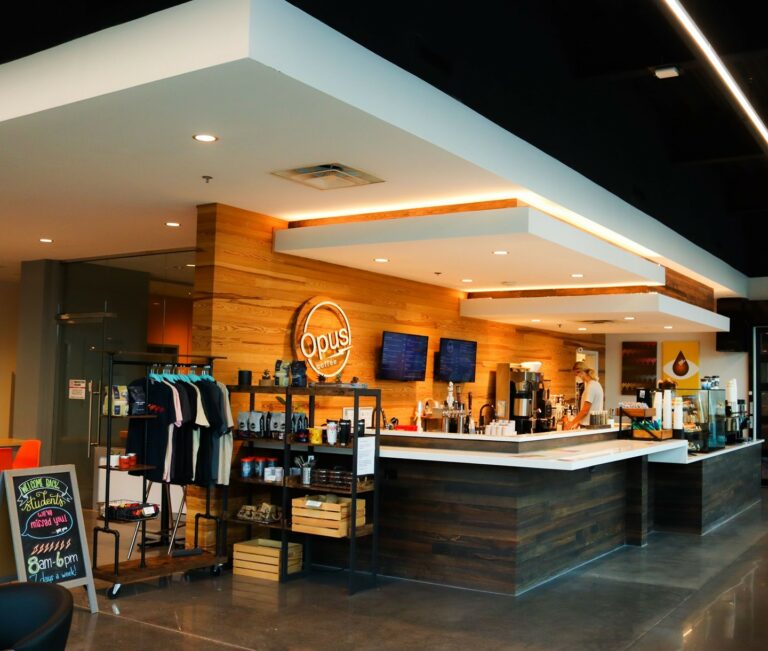 Opus coffee, established in 2002, wins the heart of students and professors because of its proximity to campus and its sustainable and fresh coffee. Its food truck and different locations around town make it accessible for people who need caffeine to function during their crazy, stressful and endless days. Did you know that you can buy their craft coffee not only at their different coffee shops, but also online and at other places like restaurants around Gainesville too?
Opus coffee not only goes beyond providing many high-quality coffee options but also enjoining a great environment where their skilled baristas enthusiastically welcome you, providing royal treatment (literally) to all the customers. More than offering the best coffee, Opus takes the Gainesville community very seriously. They organize annual catering events, participate in fundraising at local hospitals, donate to Shands Cancer Center and more.
2. Concord Coffee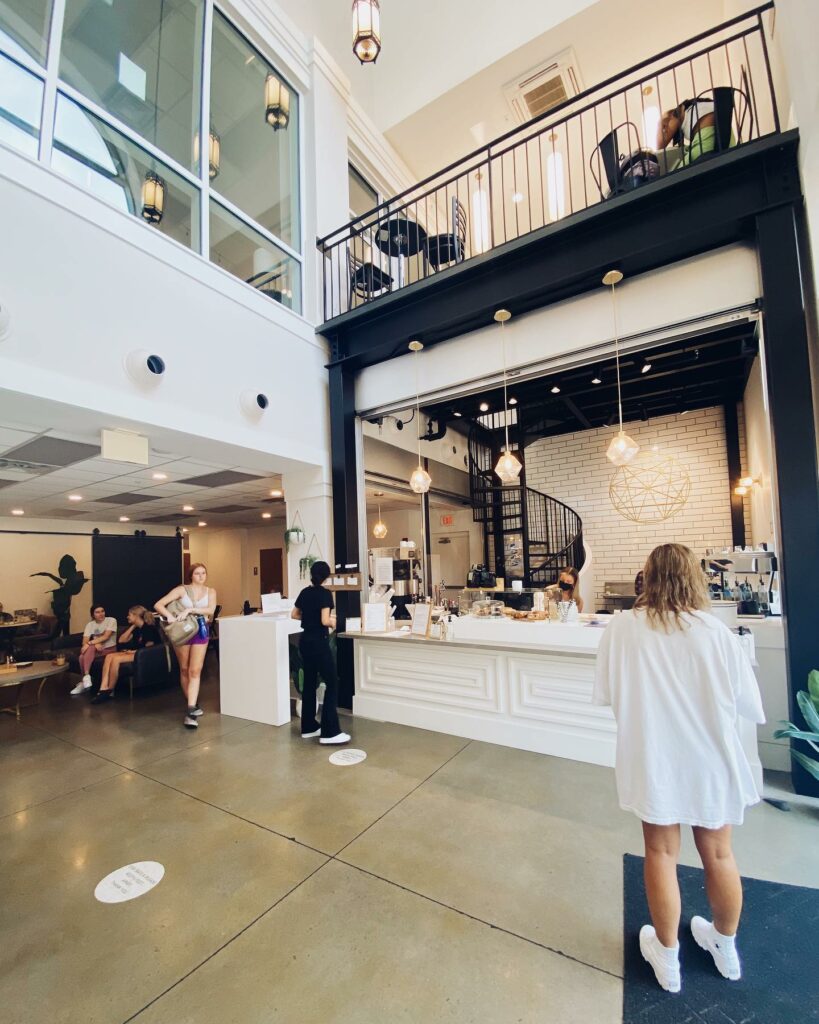 The mere word "concord" means "together in harmony and peace," and Concord Coffee can't get more accurate than this. The aesthetic of the place and the fact that you get there by crossing the street from Library West, make this coffee shop a suitable, enjoyable and relaxing place to sip your favorite cup of coffee. You can even order their coffee and ship it to your doorsteps (although honestly, going to the coffee shop makes the whole experience a remarkable one).
"Its location and good vibes pushed me to go to Concord during my stressful weeks at UF," University of Florida graduate Shani McCarley said. "It's very fancy, and it has really good food options. Besides, you can sit outside if you want to."
McCarley, who just graduated from UF in spring, used to go to different coffee shops with friends or by herself. For her, coffee shops can uplift her days at Gainesville and motivate her to get work done. She said that what she misses the most from leaving college includes leaving her college apartment and walking to either Concord, Opus or Pascal's coffee.
3. Wyatt's Coffee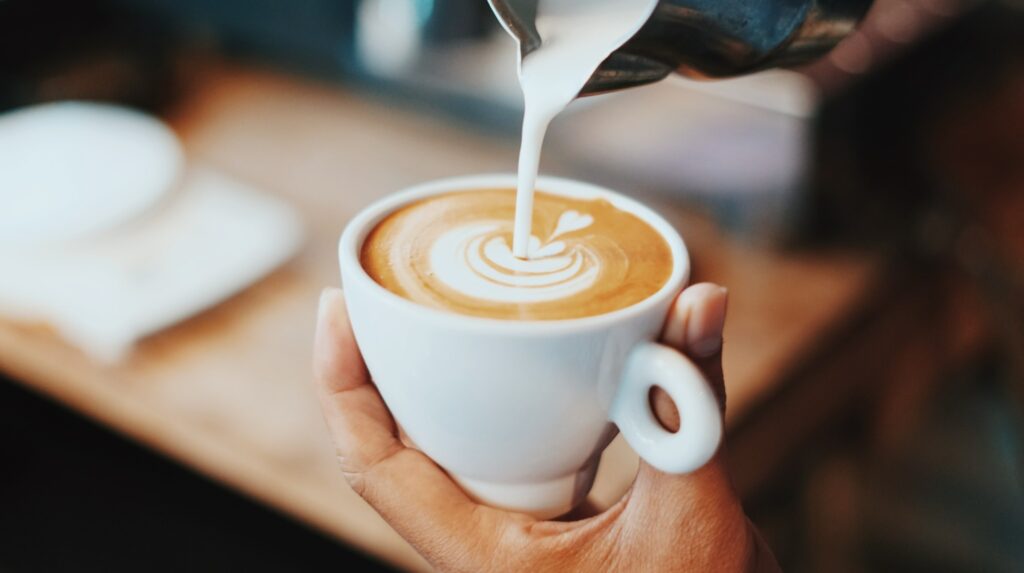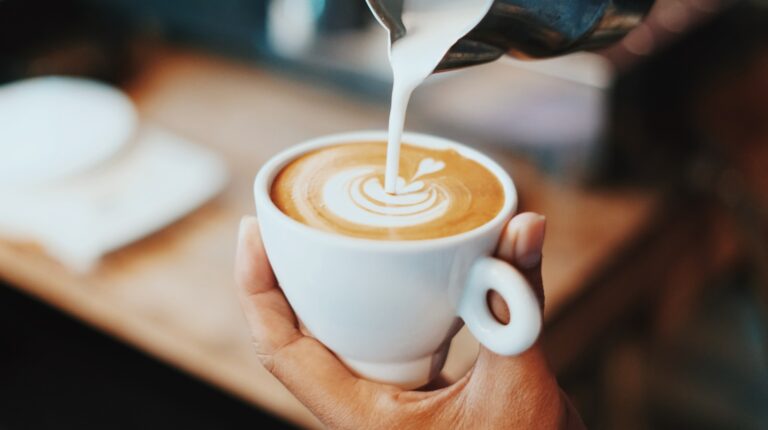 Wyatt's three goals entail creating remarkable experiences, serving insanely good coffee and bringing love to the community. Whenever you find yourself walking the streets of downtown Gainesville, make a stop at Wyatt's to get a fine and fresh brew. You definitely won't regret it. In fact, you might fall in love with it. Do you want to know my favorite thing about Wyatt's? Every time I go there, I feel like a tourist walking around the downtown streets of my college town. But despite its location, I die for its insanely good oat milk cappuccino, which more than wakes me up, makes me stay there for a second round.
"In my opinion, a local coffee roaster has way better coffee than a local chain. The experience of a local coffee shop is that people who work there give you a sense of what the town people are like," University of Central Florida senior Regina Benarroch said. "It all begins as soon as you enter the shop and see the barista behind the counter smiling at you, ready to take your order."
Benarroch visited Gainesville during the spring, and Wyatt's Coffee turned out to be her go-to breakfast place during her short weekend gateway from Orlando. Even though she stayed in my house near University Drive, she felt obsessed for Wyatt's cold brew. Benarroch needs a dose (or two) of caffeine to keep up with her every day, so saying "no" to Wyatt's Coffee was out of her list of options.
4. Café Sabroso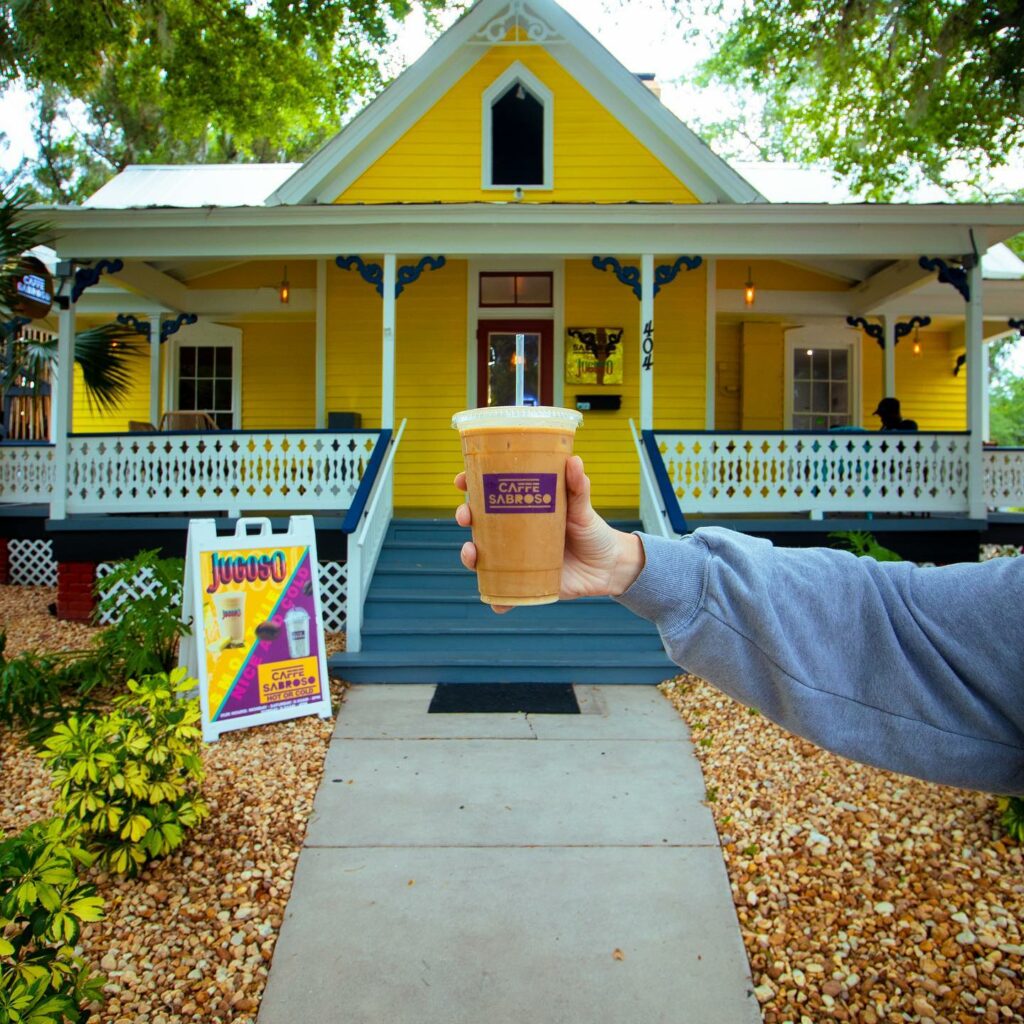 Café Sabroso, it doesn't look like your typical coffee shop due to its amazing architecture. This very bright yellow color house is located in the middle of an ocean of oak trees, making it a romantic yet adventurous and unique way of getting coffee. Probably the best place to meet people or to go with a big group of classmates to work there. The interior design also makes you feel extremely comfortable, almost as if you can feel like yourself lay on the couch of your college apartment. Plus, you can find that Hispanic roots show effortlessly at Café Sabroso, where a "café con leche" (coffee with milk), a "pan tostado" (toasted bread) and a variety of "jugos" (juices) make you feel home far away from home.
5. Curia on the Drag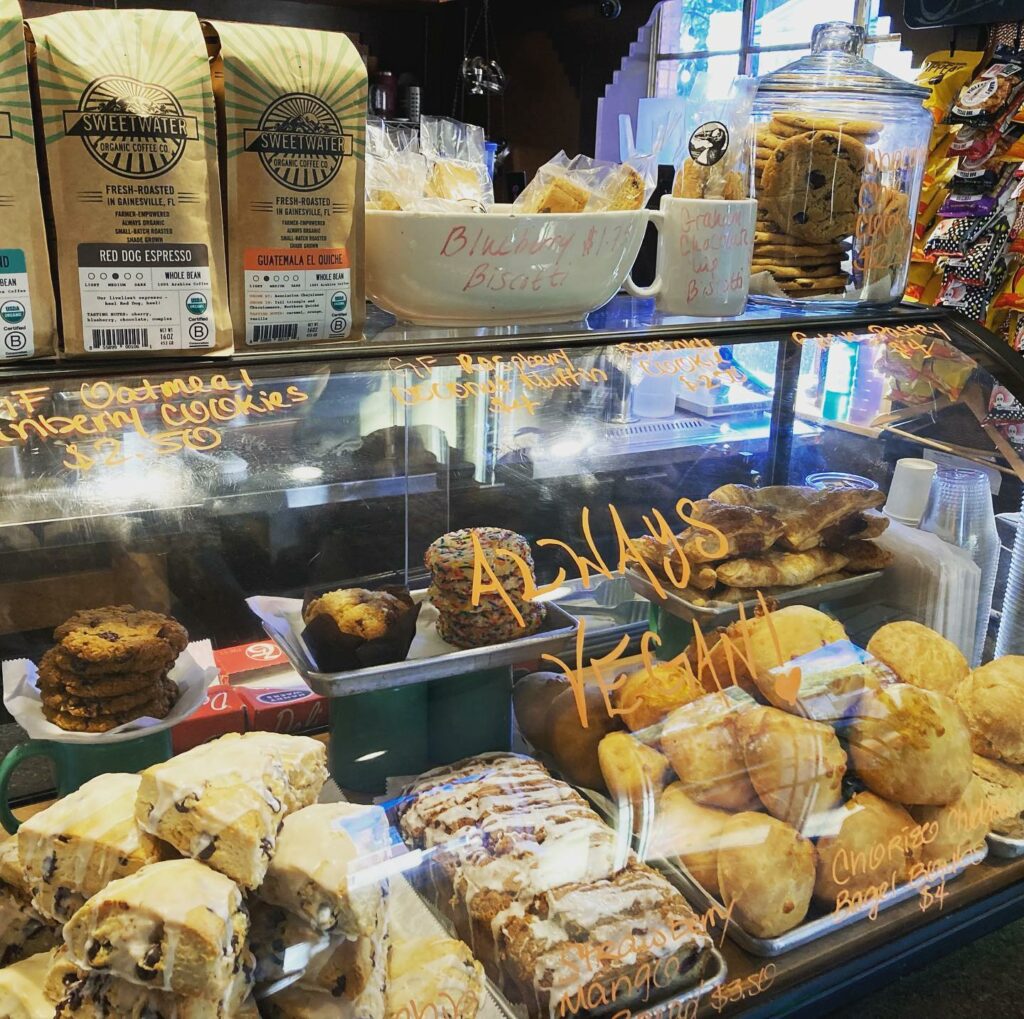 Curia on the Drag offers high-quality coffee with vegan pastries. Let me give you a tip: try to go to Curia in the hours close to the sunset. Between the trees, you'll see how the sky starts turning light orange and pink. Nothing uplifts my day rather than sipping coffee and reading a book while the sun hides between the oak trees. I don't know about you, but I live for these moments, especially when I drown in schoolwork and need some time for myself.
One can literally spend the whole day at Curia on the Drag, although it has relative long distance from campus, and you might need a ride to get there. In the same area, you can find a vegan food truck that I swear it makes the best yucca fries and vegan burritos. At Curia, you can sit outdoors or in a pretty big room with lots of tables and places to sit. You'll find lots of board games, books and a vintage furniture collection there. You also don't see many students, so if you really need a break from people your age and everything school-related, then Curia offers the perfect place.
6. Karma Cream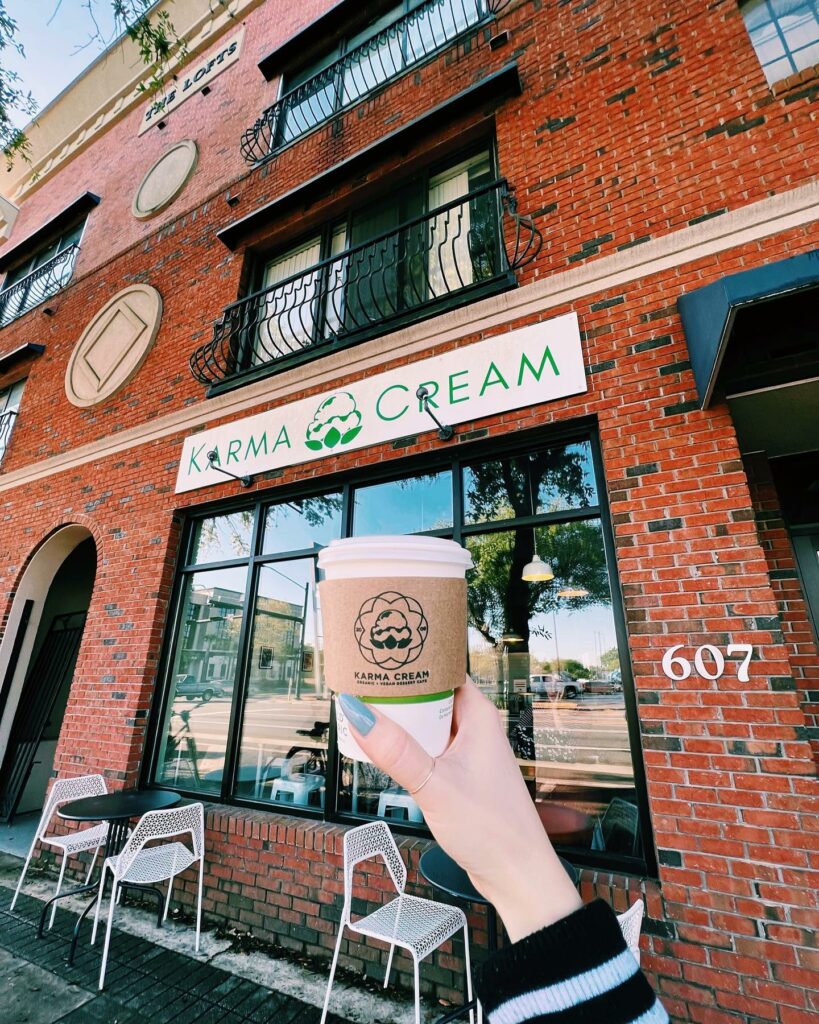 If you like eating at vegan places but would instead go somewhere relatively close to campus, Karma Cream offers you the best vegan coffee setting. Besides its delicious coffee, they also include vegan ice cream, milkshakes and ice cream sandwiches. You won't find any insanely good croissants in Gainesville like their chocolate hazelnut-filled croissants and the pistachio almond one, again all vegan and organic. A unique decorative fume on your coffee can lift your mood and make you feel like being the most special human being (at least for the time it takes you to finish your cup).
"I love that every coffee shop I visited in Gainesville has their own souvenirs you could take with you," University of Central Florida senior Regina Benarroch said. "And the fact that this coffee shop is relatively small made me feel really welcomed, especially because I'm from out of town."
Personally, it turned out very hard for me to work in a quiet place by myself sometimes. Therefore, when this happens, I usually come to Karma Cream; despite its non-stop good music they play, the tables are so close to each other, which makes the interaction with other customers effortlessly easier. It also makes me feel that I can share the same table with different people together. So, if you like to meet new people, then Karma Cream provides the best place for you.
7. Volta Coffee, Tea & Chocolate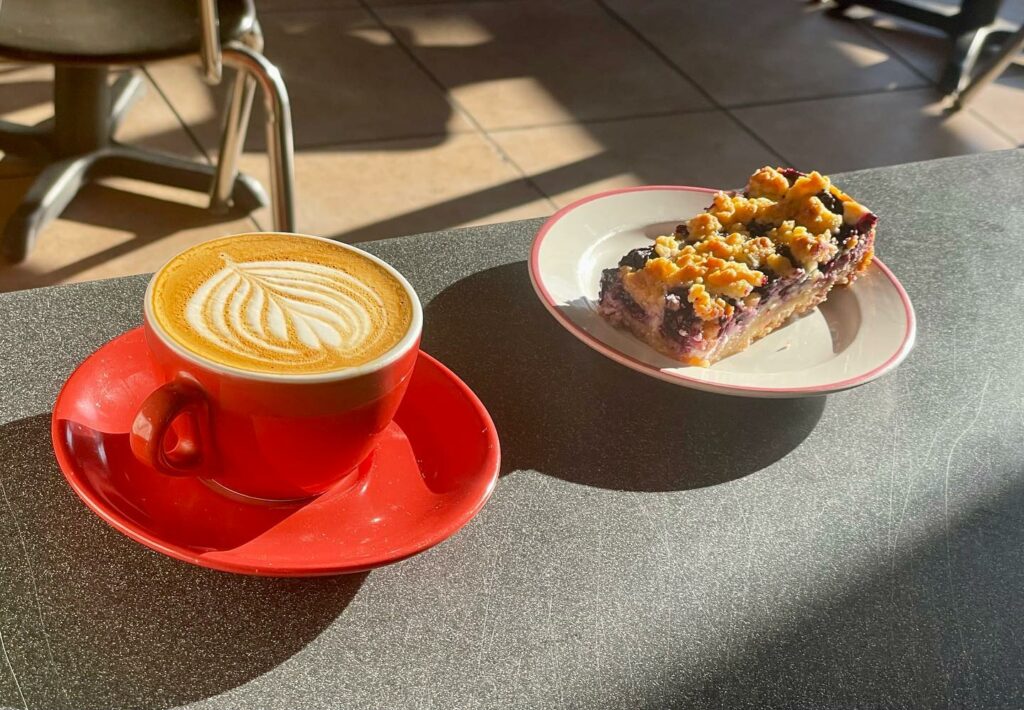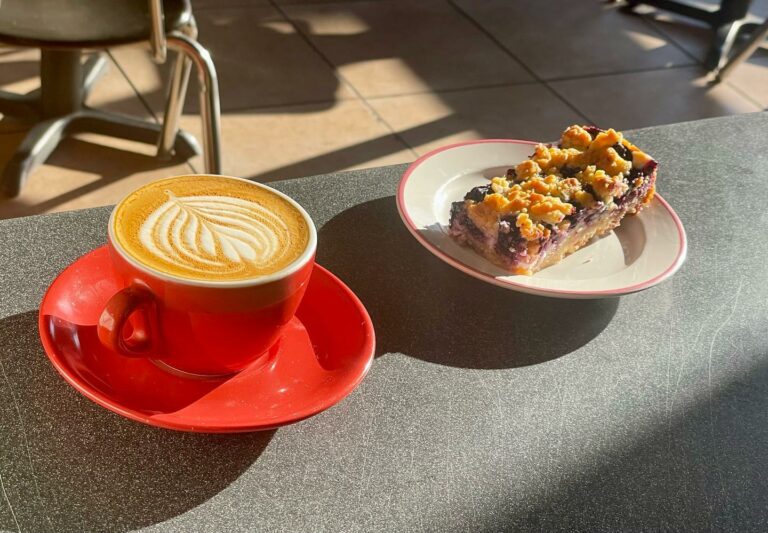 More than a coffee experience, Volta offers delicious food as well. Stopping by for homemade empanadas, different types of cakes, pastry cream buns, cupcakes and macarons, and of course, for your favorite cup of coffee. Since 2008, Volta has filled up the hearts of the town people who come downtown for a pretty ordinary but wholesome coffee experience. Again, not many students visit this zone frequently, so this place might offer you the perfect setting to disconnect from the outside world for a couple of hours.
"My favorite thing about coffee shops, besides the coffee, of course, is the background music and the sound of the coffee machine," University of Florida junior Lori Sharabani said. "It is better than going to the library."
Sharabani often tries different coffee shops around Gainesville. When she feels like going to Volta, she takes a scooter from Social 28 – her college housing – and takes some time to wonder through the streets of downtown until she knows that she can't move on with her day without caffeine. By then, her enthusiasm and motivation to sit at a coffee shop practically overflows her body. So, if you look for a suitable, comfortable, and a well-known coffee shop in downtown Gainesville, Volta Coffee, Tea & Chocolate might fulfill your expectations.
8. Pascal's Coffeehouse
I don't know why, but I always thought the location of Pascal's coffeehouse turned out very funny. I walked past this place hundreds of times before realizing it was a coffee house. But as soon as I knew, I became obsessed with it. You can find Pascal's Coffeehouse among plenty of houses, even though not all of them look the same, you will still wonder if you already passed through that same tree or quiet street. However, its location provides you with the best relaxing mood which keeps nourishing your body as soon as you open the doors of the coffee shop and order your tasty cup of coffee.
"More than wanting to go to a coffee shop, I just need to," University of Florida junior Lori Sharabani said. "It's a change of scenery, and when I see that people are working hard, it pushes me to do the same. If I stay home, I procrastinate, and probably I'll procrastinate at a coffee shop too, but at least I have my caffeine doses."
Pascal's coffeehouse doesn't look like a typical coffee shop setting. When you order your cup of coffee, you can choose among siting indoors, outdoors or even better, going upstairs for a library-setting kind of experience. Due to its green carpet floor, the bookshelves fill with a whole variety of books and the silence that reigns in the place, you might confuse the place with Library West. So, if you need a quiet place to work and take your productivity to another level, then Pascal's won't disappoint you.
8. Bay Island Coffee
The name of this coffee shop describes it so accurately: an island in the middle of Butler shopping plaza. After an extensive and tiring shopping at Trader Joe's and through a drive-through system, you can order your favorite cup of coffee to-go. They also offer different types of frozen drinks like milkshakes and smoothies. Even better, if you don't have time for breakfast one morning, just a quick stop, and you'll get a breakfast sandwich of egg and American cheese with your favorite choice of protein.
10. Maude's Classic Café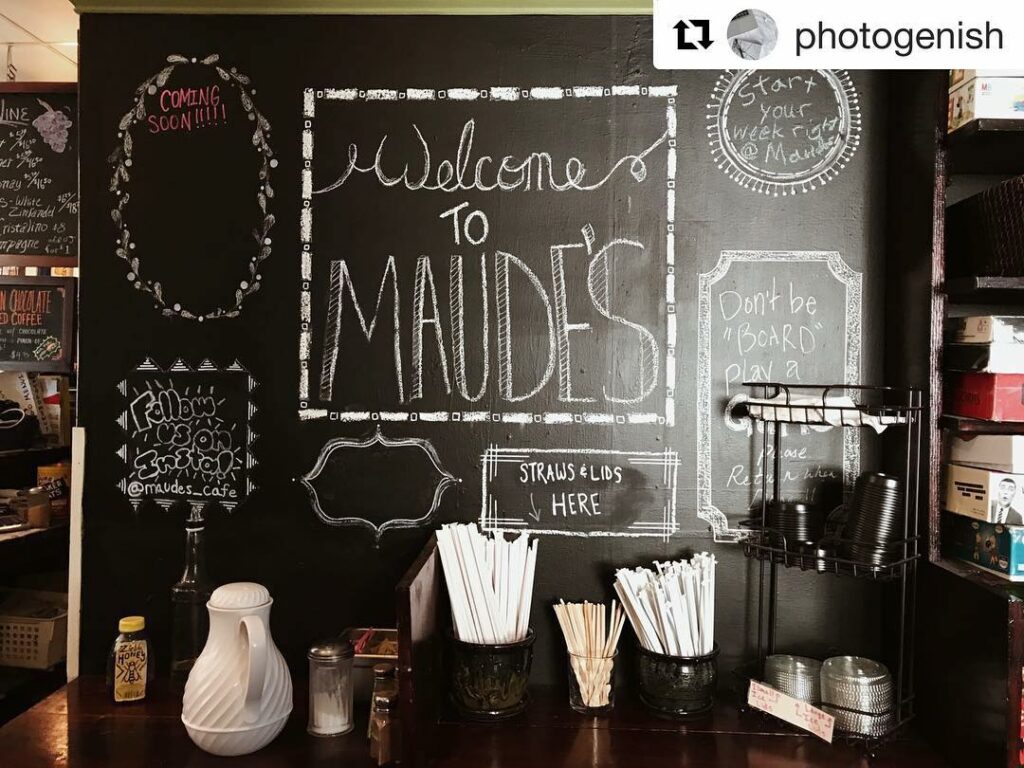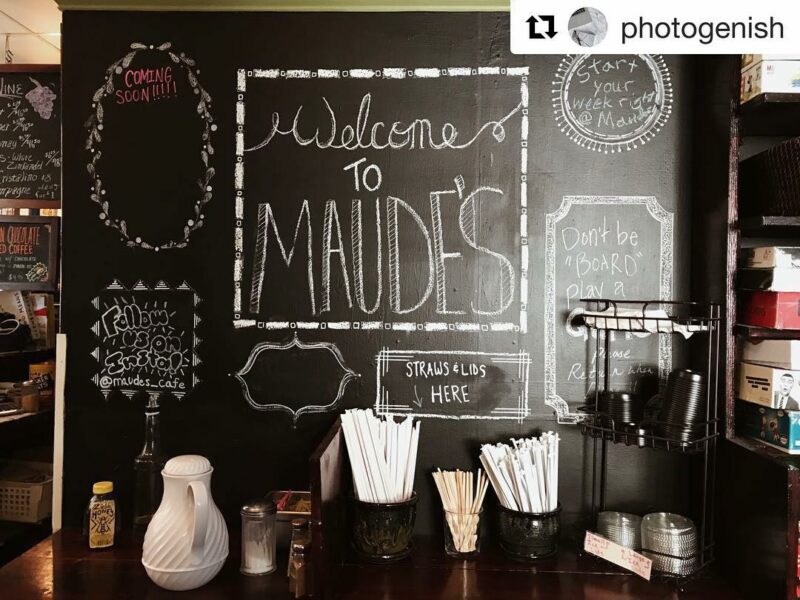 You can find Maude's Classic Café right next to the most desiring sushi restaurant in Gainesville. It seems like a whole new different world as soon as you get in. From sandwiches to quesadillas, salads and delicious desserts, they also offer a high-quality coffee that you can enjoy while sitting outdoors in a cute and comfortable spot. My favorite thing about this place (besides the excellent coffee) deals with the diversity of people you find there. No matter where you come from and how you look, they welcome you with open arms. The cool and friendly baristas will not stop smiling at you until they see you feel happy and satisfied with your order.