New York University holds other schools to a very high standard when it comes to performing arts education. Whether it's dance, musical theater, acting, or music, NYU holds top rankings. However, classes can only help with so much. A lot of what makes an impressive performer is practice. How can students get more practice outside of the classroom? The answer is simple: student-run performance clubs. If you're an NYU student dying to scratch that performance itch you ignored since March 2020, these 10 theater, music and dance organizations might help.
In alphabetical order, we compiled 10 of NYU's top performing arts clubs.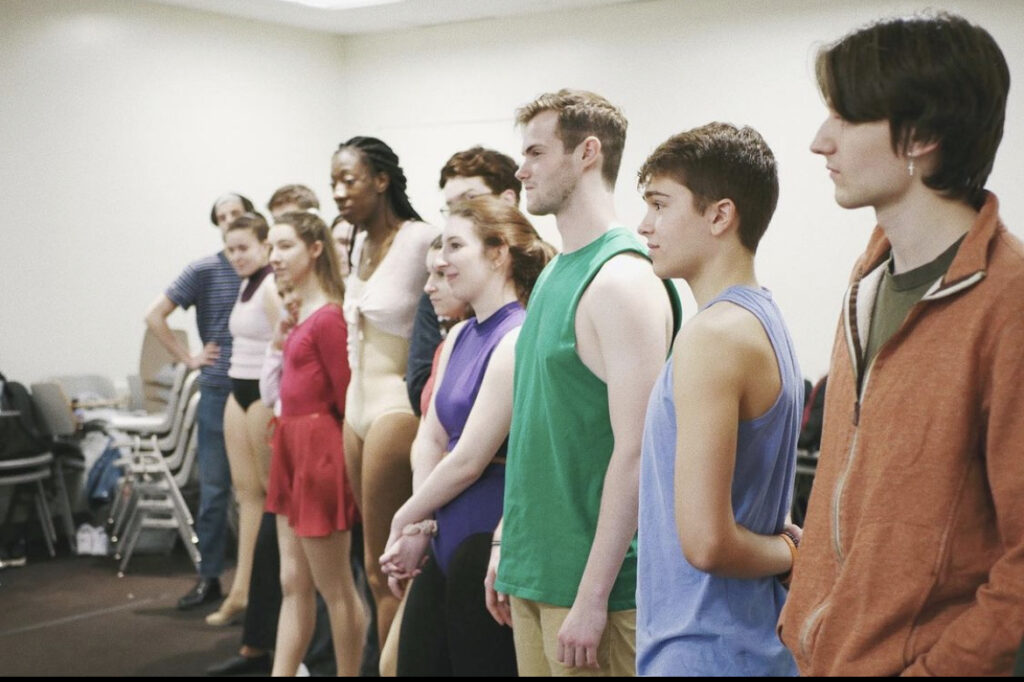 NYU's A Class Act, created by Steinhardt's music education students, was created to offer a place for students to work on a fully student-run production. Opportunities include directing, producing, performing, and design. While full productions hold the club to its mission, A Class Act also offers Q&As, themed cabarets and other methods of performance. According to their Instagram, their new executive board feels ready and excited for this upcoming year. A Class Act accepts abd encourages all NYU student to participate and support.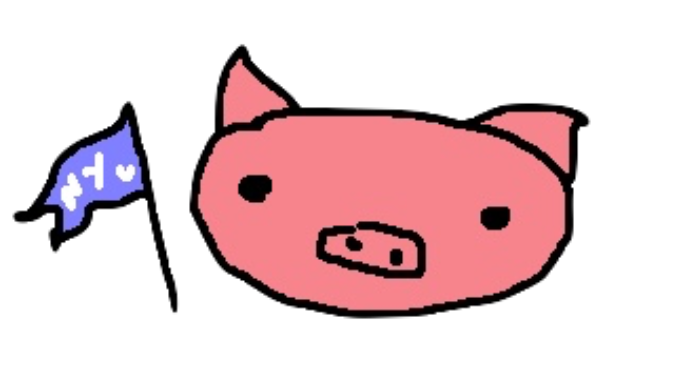 The name of this organization screams college starving artists. Broke People produces a festival of shows entirely written, directed, acted, produced and designed by both undergraduate and graduate students at NYU. While the festivals act as the club's main events, they also hold similar activities both semesters to boost student involvement.
"Getting involved in theater at the collegiate level can be both daunting and inaccessible," Broke People's marketing director Leah Plante-Wiener said. "We're very happy we can offer that opportunity to students across NYU. "I've been lucky enough to have a few plays produced through Broke People, and the artists I've met through that have become some of my best friends and closest collaborators. We always want to include as many people as we can."
They encourage anyone and everyone to get involved with Broke People in any capacity; audition, submitting works, coming to shows, applying for a tech position, etc. With all of the productions they produce each year, they need as many students as possible. No need to hold back when it comes to Broke People; if you put yourself out there, they have a place for you.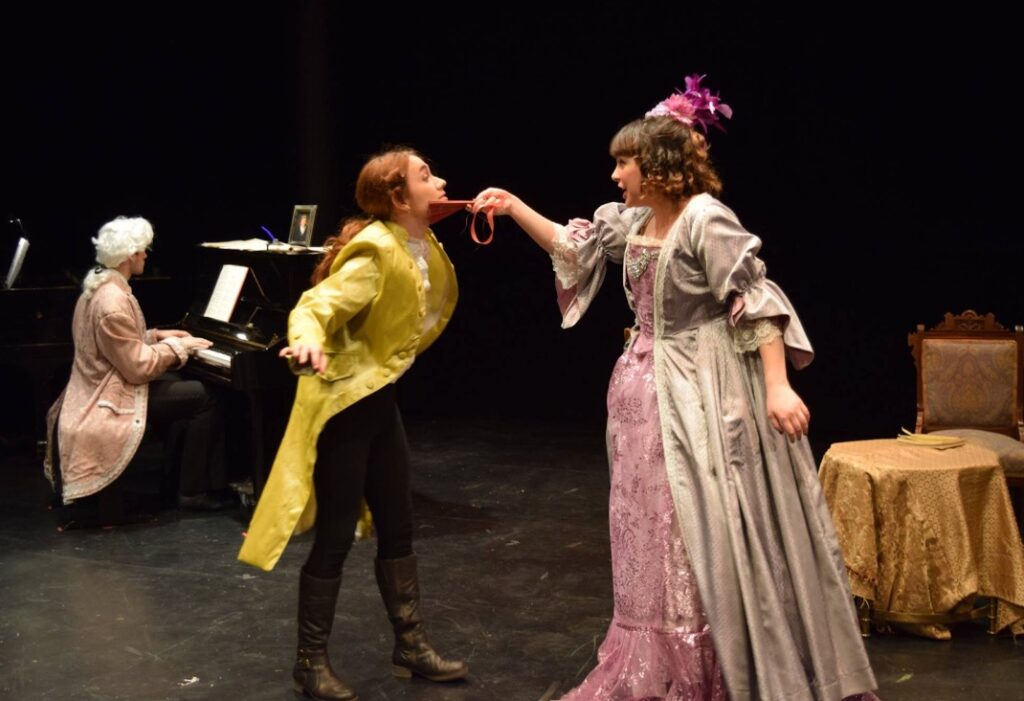 NYU Steinhardt's Classical Voice Collective (CVC) got created by the classical voice students in Steinhardt's Vocal Performance program. CVC remains the only university-wide club completely focused on classical music opportunities. They held many themed recitals, talks with alumni and industry professionals, and full-length productions.
"It's truly amazing to see, and hear, all of the talented individuals who I never would have known without CVC," CVC Treasurer Caroline Zager said . "The community is really unique and I'm so grateful for the individuals and supportive atmosphere it has given me since joining."
Because CVC focuses on classical music and study, unlike any other club on campus, they hold a special place on campus. They create a community unlike any other. Members and participants engage with students from all different studies and schools within NYU with one love: classical music.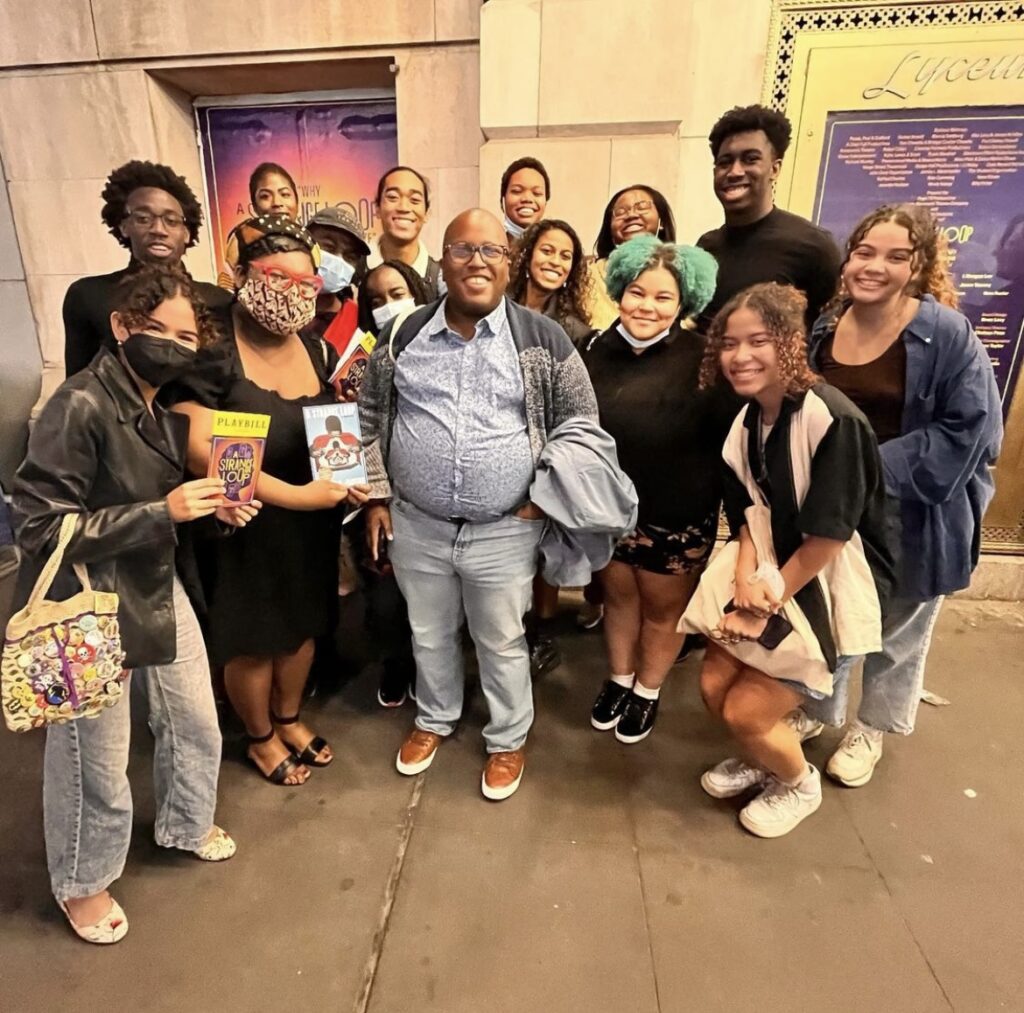 The Collective at NYU Tisch marks as the university's foremost organization for Black multidisciplinary arts and artists. In following their mission, they "[provide] space for Black artists to create new works, further develop their skills through guest workshops, showcases, and events, and most importantly to find a stronger sense of community and solidarity within our academic community." This last academic year, they hosted screenings for movies and TV shows, guest speakers, talkbacks, mixer activities and events, trips to Broadway shows, and their annual Black Arts Festival. They partner with Tisch School of the Arts as well as various other groups on campus to reach as many NYU students as possible. The Collective holds an importantance on campus for Black artists and students, and everyone deserves to know about it and support their work.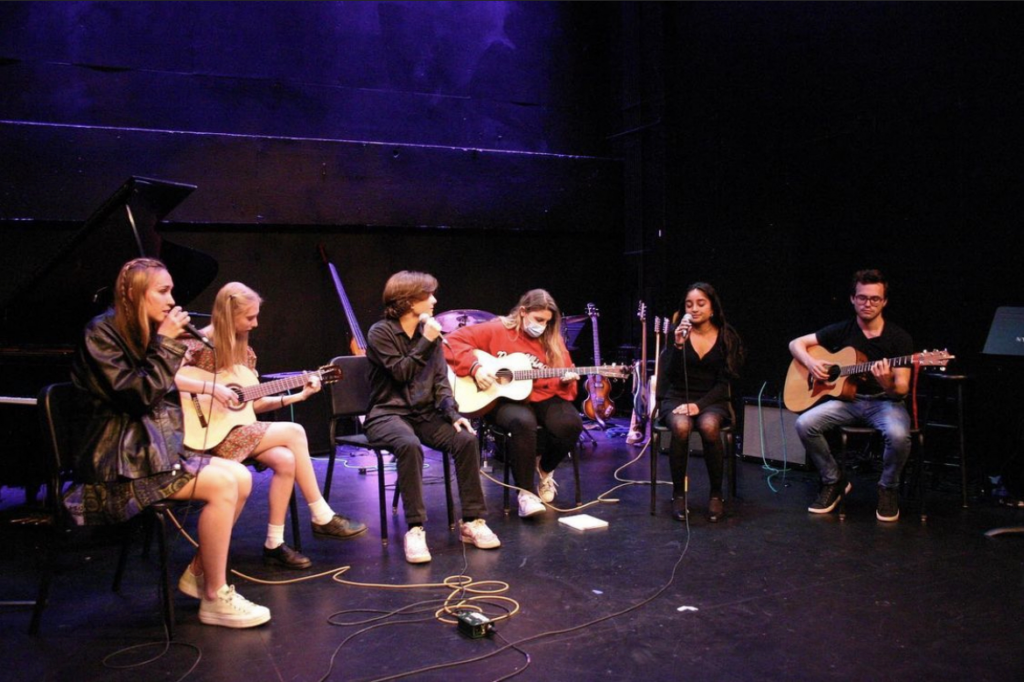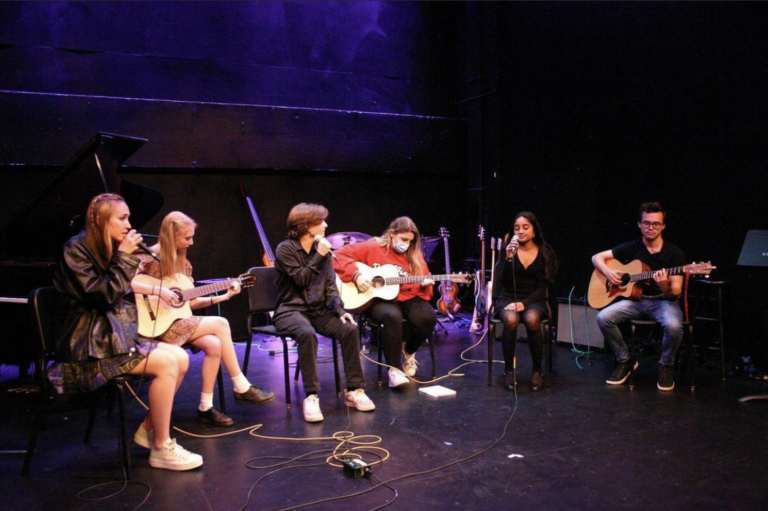 The Composers' Collective aims to promote the works of NYU Steinhardt's music theory and composition students. They provide events that put these students' work on their feet; they produce concerts and other events where composers partner with other students to sing or play their original works.
"Along with showcasing their writing, students that participate in our concerts have the opportunity to schedule rehearsals, reach out to performers, and request particular tech and stage set ups," NYU Composers' Collective Co-President Jackie Andresen said. "It's a great entrepreneurial practice for our future careers post NYU, and an amazing way to foster collaboration between the music departments here at Steinhardt. This past year was many of our first years at NYU where we were able to program in-person events and performances, and to be able to work with such an amazing team to make these concerts happen has been something I am forever grateful for!"
While their main goal is to provide performance opportunities for student composers, Andresen also said they host other events, such as pumpkin painting in the Fall and a holiday board games event in the Winter. Andresen loves working with her fellow executive board members. The last school year brought their first opportunity to put on live performances since they joined the organization. It brought Andresen friends and coworkers that she feels incredibly grateful for. The organization focuses on giving composers a space to produce their work, while also promoting social connections with fellow composers.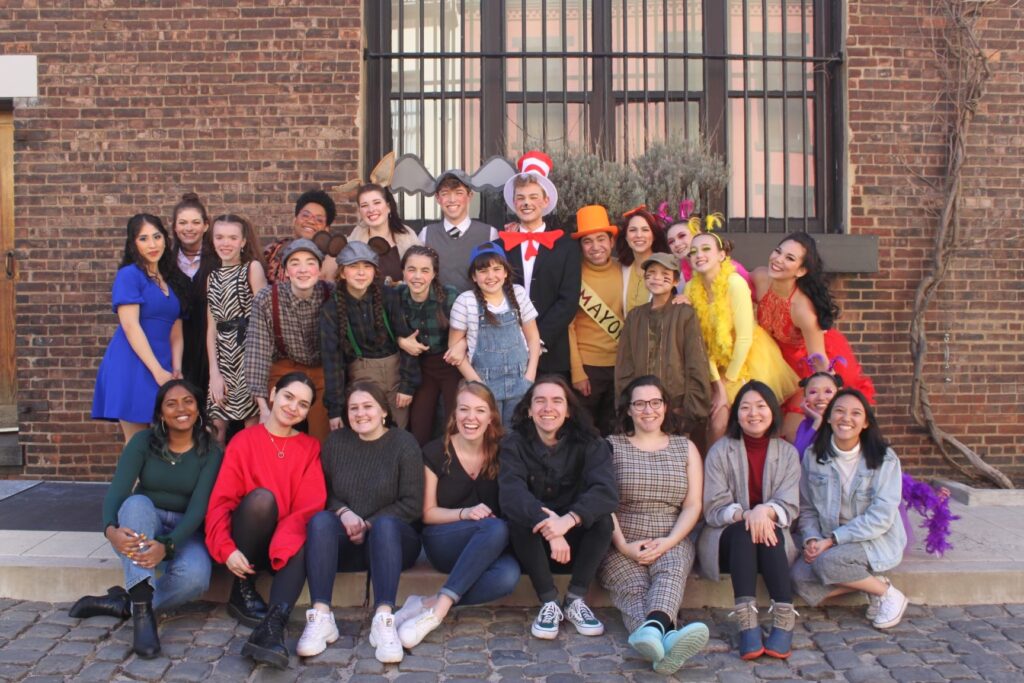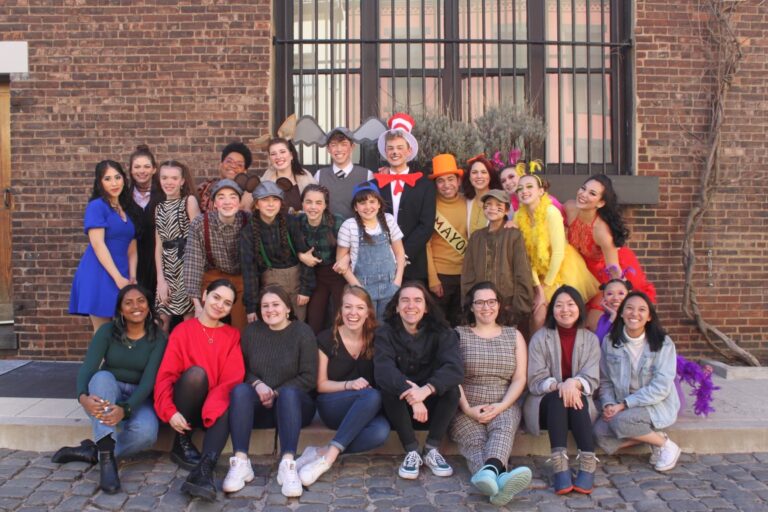 Students from NYU Steinhardt's Educational Theatre program created Lamplighters to give university students the chance to work directing with young audiences. Their goal succeeds by connecting students at NYU with students in NYC and New Jersey, ages eight to 18, to produce, direct and perform theater from young audiences (TYA). While the pandemic put the club's work with children on hold, Lamplighters shared excitement to resume this year.
"Nothing is ever going to be the same after Covid, and I think there's a lot of nervousness in that but also a lot of opportunity," Lamplighters President Laura Amancha said. "It gives [the executive board] a chance to step in and say, 'Okay, what do we want to do now and how do we envision the future of this club.' Not only do we think and hope [young students] are learning from us, but we are 100% learning from them. I think that with us being a nonprofit organization and still actively looking for ways to give back, it speaks volumes about our values as a club and just how passionate we are about creating connections with and supporting our surrounding community."
Working with and offering theater for young audiences makes up the club's mission statement, almost completely. Her eagerness to continue extends beyond putting on productions; Lamplighters also hold fundraisers and generally raises money for theatre organizations around the city. Amancha, along with the other board members, seem eager to fill their executive board this year, and they encourage students from any school within NYU to get involved.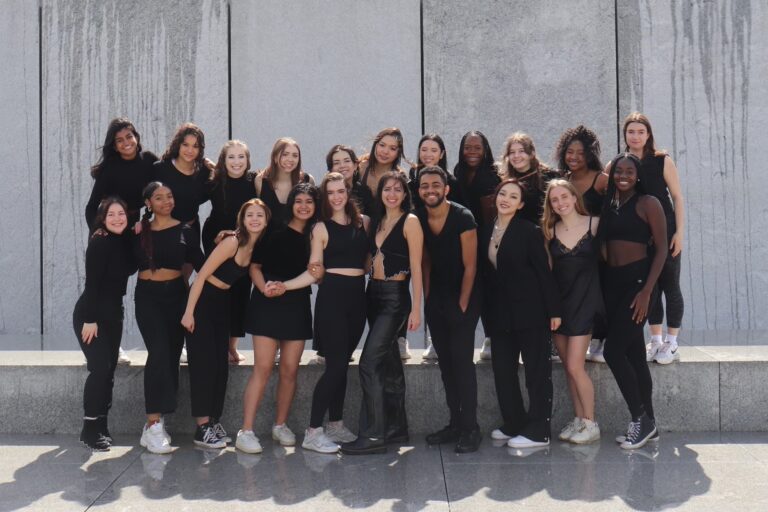 I love watching dance teams—probably because I know I could never dance like them, at least not well—and Pulse Dance Project holds no exception. As described by the company's incoming President, Lauren Marcolus, Pulse provides a space for dancers and choreographers who are passionate about dance to come together and create new, expressive works from varying styles of dance. They hold a showcase each winter and spring, showcasing the company's work throughout the semester. Other marketing and social events lead up to these showcases, too, such as photoshoots, concept videos and masterclasses.
"Members have multiple opportunities to choreograph for the showcase and participate in pieces and projects choreographed by other Pulse members as a way to showcase their own choreography and learn from their peers," Pulse Dance Project incoming President Lauren Marcolus said. "Pulse has not only introduced me to so many talented dancers and creative artists, but it has helped me make so many friends and find a community within NYU, which is something that can be really hard at such a big school in such a big city."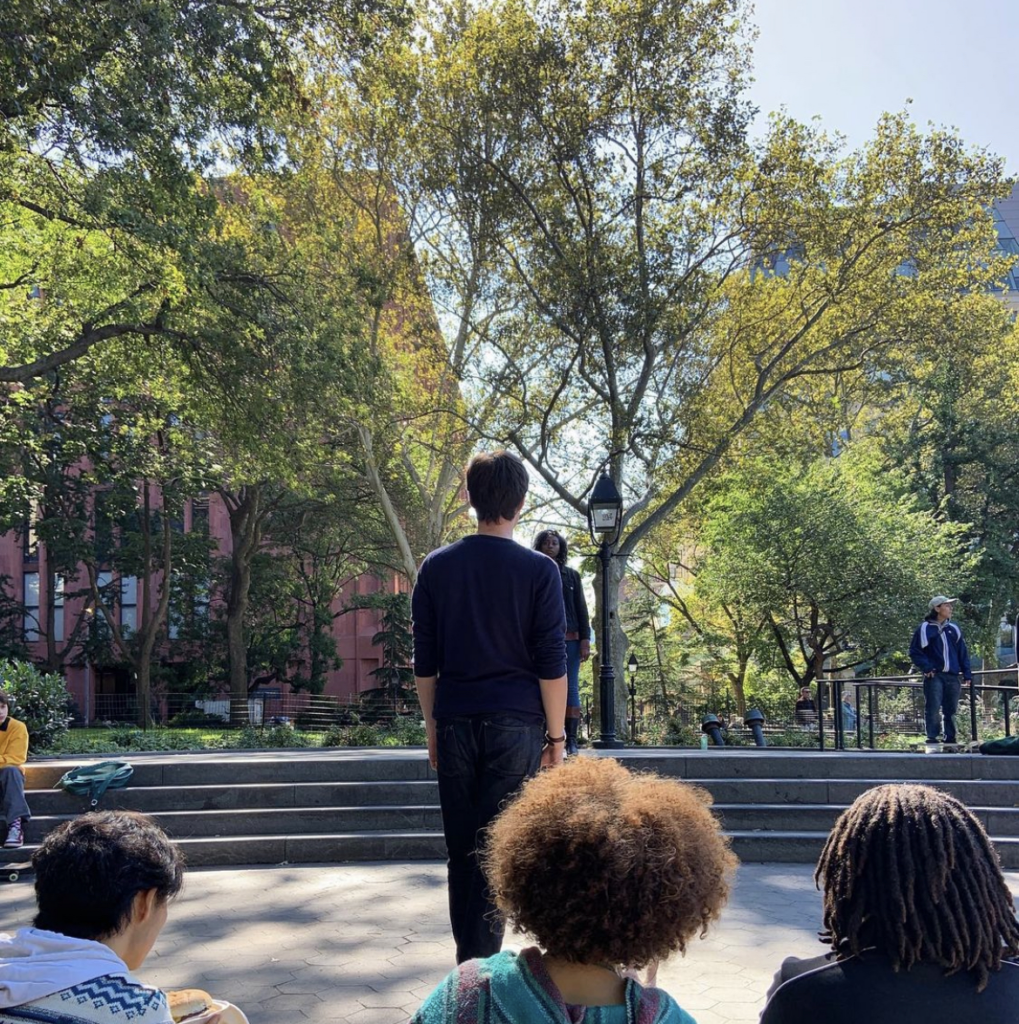 This club, run by NYU Tisch undergraduate students, offers an extracurricular place to study and perform classical theater for the entire university. Each semester, they produce one main play written by William Shakespeare, typically with a modern take or spin on the work. While performances hold a major role in the organization's success, they also host staged readings, lectures, workshops, and other events throughout the school year. Opportunities for undergraduate students include acting, directing, and various technical roles. Check out their Instagram to see what their productions look like.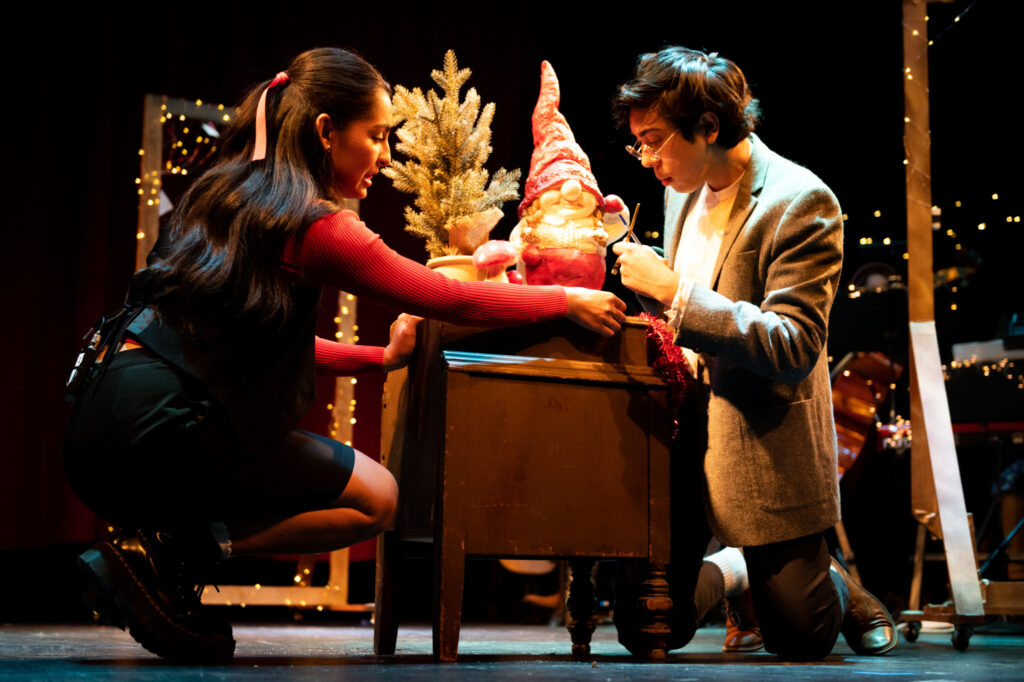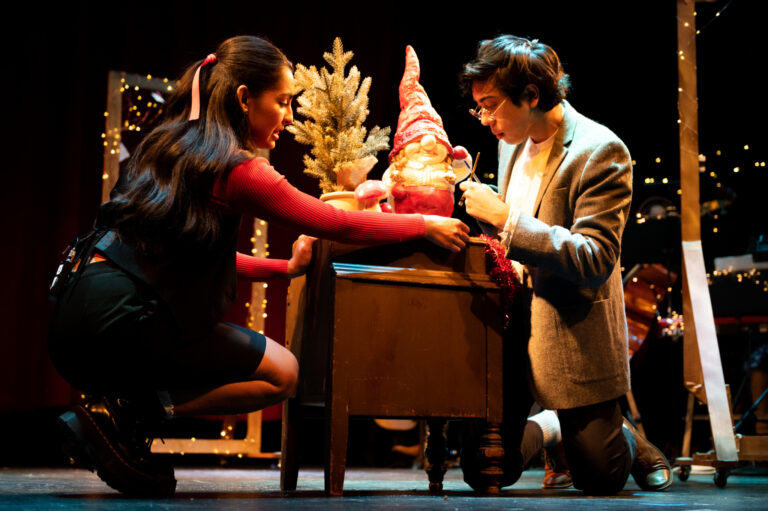 Tisch New Theatre (TNT), led by entirely undergraduate students, provides a space for learning and personal development in theater. This non-profit organization produces large-scale musical productions each semester, open to all NYU undergraduate students. TNT welcomes everyone!
"If you are driven, interested in working on meaningful theatre, and want to build relationships with some of the kindest, most talented people, TNT is the place for you," Tisch New Theatre President and Producer Sasha R. Cohen said."Through the work we produce, we provide a platform for students to raise their voices and be the change they want to see in the industry. When students work on our productions, they make all the artistic and strategic decisions alongside supportive peers who may become future colleagues, an aspect I believe makes TNT a special organization."
They hold auditions every semester and provide opportunities for design and technical theatre positions.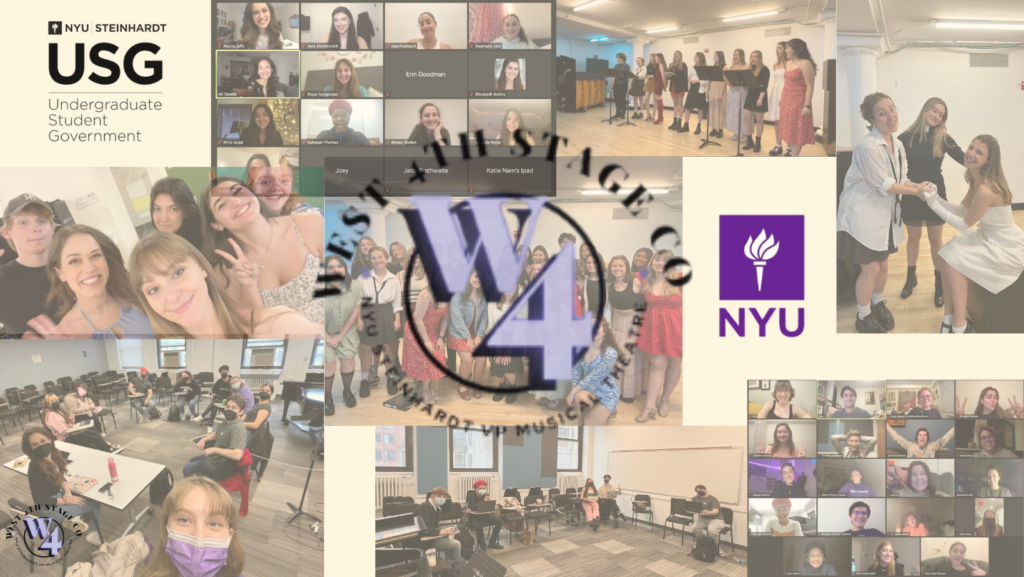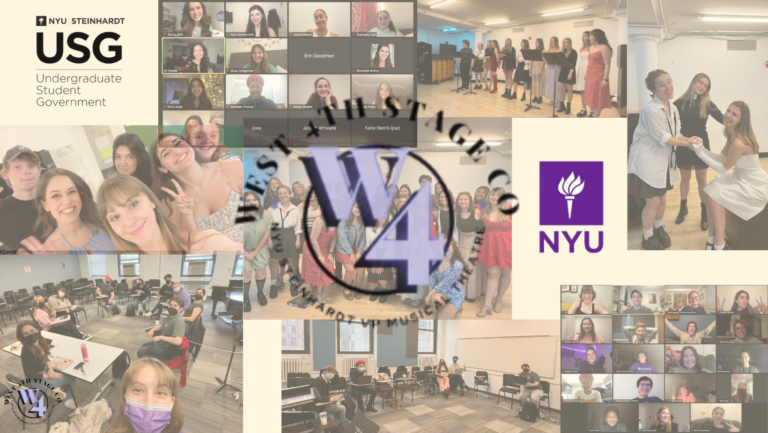 Housed in NYU's Steinhardt Vocal Performance program, West 4th Stage Company joined NYU's Undergraduate Student Government last school year, opening opportunities to all NYU students. In their mission statement, West 4th wants to fill any gaps in the vocal performance: musical theater curriculum. This includes putting on shows the department wouldn't do, giving students a place to put on a show entire on their own, working with straight plays, and holding various activities that fall within those standards.
"One of my favorite experiences with the club was our short play festival, '5×10,'" Former West 4th Stage Company Producer Joey Mervis said. "We got to provide directing and design opportunities to students who wouldn't have had that at a big school like NYU."
Last year, they put on a cabaret in memory of Stephen Sondheim and his work, including over 20 students, hosted a Q&A with a Broadway star, put up staged readings of straight plays every two weeks, and more. Anticipating a "semi-return to normal" this fall, West 4th hopes to provide as many performance opportunities as possible to make up for lost time.
---