Still unsure about which credit card to apply for? With so many options for earning rewards and building credit, it can be difficult to choose a solid credit card.
Look no further — here are College Magazine's top 10 best first credit cards for college students:
1. Wells Fargo Cash Back College Card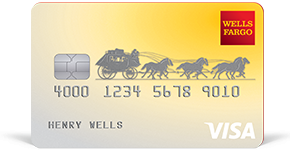 With the Wells Fargo Cash Back College Card, cash back is unlimited and all the benefits of banking with a large bank like Wells Fargo come in handy. For starters, this card is exclusive to college students and credit limits are generous, giving you a chance to earn money on large purchases. For the first six months, earn 3% cash rewards on everything gas, grocery and drugstore; earn 1% back on everything else and after your first 6 months. This card has no annual fee and your cash rewards can be set up to automatically transfer to your other Wells Fargo accounts (savings and checking) or as an automatic credit card payment — however, cash back can only be redeemed in increments of $25.
"While everyone's situation is different, most first-timers should be able to find a card with no annual fee that meets their needs," said Dr. Blake Bowler, an accounting professor at the University of Florida. As a Wells Fargo credit cardholder, you'll have access to your FICO credit score and extensive financial information that can help you navigate the scary adult world that is money. Aside from this, you'll have a 0% APR for the first six months and depending on your creditworthiness a relatively low APR after that (between 12.65% and 22.65%). If you already use Wells Fargo, this is a convenient and beneficial card to have in your wallet.
2. Discover it Student Cash Back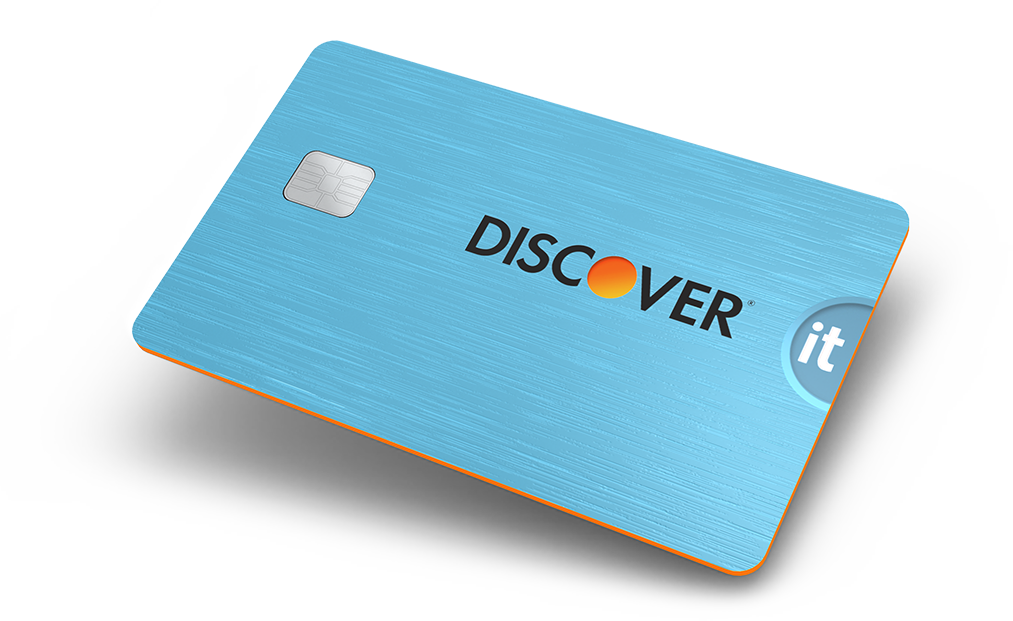 Discover offers tons of different credit cards that suit the college lifestyle, but one of the best options is the Discover it Student Cash Back card. With this simple card, earn 1% unlimited cash back on every purchase; every three months Discover selects a category of spending (categories like groceries, Amazon, ride-sharing) that will qualify for 5% cash back. There's no limit to how much cash back you can earn, and in your first year of spending, Discover will match all the cash you've earned. Other benefits include a $20 annual bonus for earning higher than a 3.0 GPA, 0% APR for the first 6 months (after that it'll be 19.49%) and no annual fee.
"I chose the Discover it Student Card was because of the lower interest rates, the variety of cash back bonuses they gave, and how easy the application process was,"  University of Florida Valeria Maldonado-Ruiz said. "Many students have yet to start building their credit. Many, because of how practically impossible it is to be approved for one if you don't already have a credit score. This card helps students begin the foundation of their credit and rewards them for good grades and spending their money on school supplies." This card is student-geared, so you don't need to have credit already established to be qualified.
3. Chase Freedom Unlimited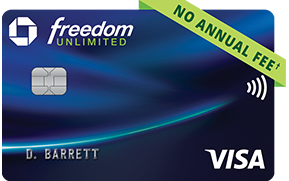 I've never been one to turn down free money and neither should you. The Chase Freedom Unlimited card like most cards advertised for students gives cash back, but the real bonus is that after spending $500 on purchases in the first 3 months, you get $200 cash back. In other words, if you spend over $167 each month usually, you're set to earn a generous gift from Chase. As expected, earn 1.5% cash back on all spending regardless of the type of purchase, and redeem it at any time. You can also use your cash rewards easily for Amazon purchases by just adding your card to your account.
This card has a 0% intro APR for 15 MONTHS (!!!) and no annual fee. Aside from that, Chase gives you built-in security benefits that can be helpful if you plan on using your credit card a lot such as zero liability protection, purchase protection up to $500 per claim and real-time fraud monitoring. If you're looking for a safe and money-making credit card, Chase Freedom Unlimited is worth a second look.
4. Bank of America Cash Rewards Credit Card for Students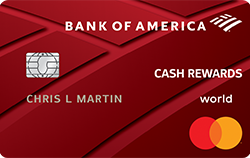 Like most credit cards nowadays, cash rewards are guaranteed with this Bank of America card; however, as a student card, Bank of America gives you extra cash back tailored to your needs. "This card is perfect for students because it comes with no fees (unless you forget to pay your bill) and you can be eligible for it without any credit history at all… for me, I set it up to give me 3% cash back for all purchases at restaurants," University of Florida sophomore finance major Cameron Galbraith said. Earn 3% back on the category of your choosing (gas, online shopping, travel and more) and change it every month if you want.
This can be especially helpful if you plan your spending ahead of time; if you plan on booking all your flights next month, you can switch your cash rewards to give 3% on travel. Also, earn 2% at grocery stores and wholesale clubs like BJs and Costco, and 1% on all other purchases. No annual fee, 0% APR for your first 15 billing cycles and built-in fraud protections are other benefits to the card. Lastly, earn $200 in cash rewards if you spend at least $1,000 in purchases within the first 90 days.
5. Discover it Chrome for Students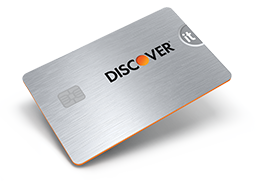 Like the Discover it Student Cash Back card, this card is made for students but with slightly different, yet still awesome benefits. Instead of earning more cash back based on the category, the Discover it Chrome for Students card is often referred to as Discover's student restaurants and groceries card because you'll earn 2% cash back on all gas station and restaurant purchases. You're limited to earning up to $1,000 per three months, but chances are you won't be spending enough to earn that much anyway. With this card, every late-night Taco Bell run and tank fill before a road trip put money back in your bank.
"I was skeptical and extremely nervous [to get a credit card] because I know the financial risk you take if you are irresponsible with a credit card", University of Florida junior Ciana Rodgers said. Aside from that, you still get a bonus for good grades, 0% APR the first 6 months and all cash back matched by Discover your first year of spending. If your primary expenses are eating out and filling up with gas, check out the Discover it Chrome for Students when looking for the best first credit card for you.
6. Citi Rewards+ Student Card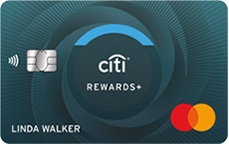 The Citi Rewards+ Student Card rewards you for spending in a slightly different, but still beneficial way. Instead of earning money back directly, every purchase earns you "ThankYou" points that can be exchanged for gift cards, used as travel rewards or spent directly online with Amazon and Best Buy. Every $1 spent earns you 1 point, except supermarkets and gas stations getting you 2 points per dollar.
Bank of America lets you round up to the nearest 10 points on every purchase (so a $56 dollar bookstore purchase would earn you 60 points instead of 56). Also, for the first 100,000 ThankYou points you redeem, you'll get 10,000 points back (be sure to save up your points!). Don't worry — this card is also free of annual fees and has a 0% intro APR for the first 7 months.
7. Discover It Secured
Though this is not a card designed specifically for college students, the Discover it Secured card lets you build credit responsibly and still gives cash back on purchases. "After graduating college, your credit score may be important in renting an apartment, buying a car, or even applying to jobs. Your future self will thank you for planting the seeds for success early on," Bowler said. As a secured credit card, money is still loaned out to you from Discover like a normal credit card but you have to put down a refundable deposit (securing it) that affects how much your credit limit will be.
With no interest fees the first 6 months and no annual fee ever, secured cards like this are awesome if you don't have any credit built and don't have income from an employer or scholarships (most banks ask for this information when determining how much money to loan out). The amount deposited it completely up to you, so save up a couple of hundred bucks and keep it safe on your credit card for emergencies. Additionally, the Discover it Secured card gives 2% cash back on restaurants and gas stations and 1% on all other purchases, plus they'll match your first year's earnings — so you're still making mad money. Added bonus: Discover lets you view your FICO credit score for free on your monthly statements so you can watch it go up!
8. Deserve EDU Mastercard for Students
Looking for a card that doesn't bank through well-known banks like Chase or Wells Fargo? The Deserve EDU card Mastercard for Students is great for earning money back and building credit like every other student credit card, but it is also great for frequent travelers and international students. If not having a social security number has been keeping you from getting a credit card in the U.S., this card is made for you since they don't require social security numbers from international students.
Aside from that, being a cardholder gets you complimentary Amazon Student Prime, 1% cash back on all purchases and cell phone insurance up to $600 when you pay your bill with your credit card. Like what every good card needs, this card has no annual fee, but it does have a variable APR of 20.24%; if you don't plan on spending more than the essentials, then this card is a safe bet for you.
9. Bank of America Travel Rewards Credit Card for Students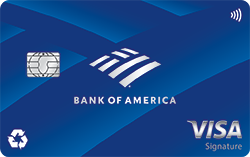 If you're attending a college outside of your home state and can't afford to visit home as much as you'd like to due to expensive airfare, look into the Bank of America Travel Rewards Credit Card for Students. Rather than earning cash rewards, with this card you'll earn points specifically for travel use that can help you get home more often than just the holidays. "I would encourage students to consider the different rewards and sign-up bonuses that cards offer and to choose the one that best fits their spending profile," Bowler said.
For every $1 you spend, earn 1.5 travel points (and there's no limit on how many points you can earn); so book your flights with this card and earn points to use for future flights! If you spend at least $1,000 in the first 90 days (book some flights ahead of time!), you'll earn a bonus of 25,000 points. You won't get charged an annual fee or foreign transaction fees, so no need to worry about extra costs with traveling outside the U.S. like with other cards. APR is 0% for the first 12 billing cycles and after that varies from 16.49% to 24.49% depending on your credit potential. Start flying and earning with this Bank of America card.
10. American Express EveryDay Credit Card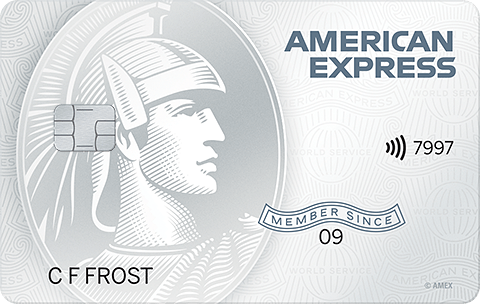 American Express cards are known for being the most expensive to keep up with, but their EveryDay Credit Card is the opposite and rewards you with points, low-interest rates and bonuses for new members. Earn 10,000 rewards points after spending $1,000 in the first three months, which can be redeemed for travel, gift cards and entertainment, among other things. If you use your card more than 20 times in a billing cycle, you'll earn 20% more points; also, supermarkets get you 2 times the points.
Your points can also be applied directly back to your credit card balance or even transferred to frequent flyer programs like Delta SkyMiles. American Express also gives you the option to carry over your balance for a month if you can't pay it off right then and there. You won't ever have to pay an annual fee and your intro APR will stay at 0% for the first 15 months.