Are you jealous of that friend who posts #TravelTuesday every week on Instagram without fail? He's traveling to new countries every break—even the trendy ones in Southeast Asia. Or maybe she captions a photo with, "Found a quaint café in Paris and hitchhiked home but it was all okay in the end" as if that wasn't the coolest Insta of all time. Forget about them. Plan your own (even better) backpacking trip through Europe itinerary, mapped out for your convenience. And don't worry, we won't tell SingleAndTravelin94 you got it from us. College students like you shared their stories and pro tips on backpacking through Europe on a budget.
Prepare for the ultimate 30-day backpacking through Europe itinerary.
Even if you're traveling for less than 30 days, pick your favorite destinations and rework the backpacking itinerary to fit your timeline. Once you're in Europe, use the GoEuro app to find and book the best—and cheapest—travel for rail, air, bus in just one search.
1. Start in Barcelona: 4 days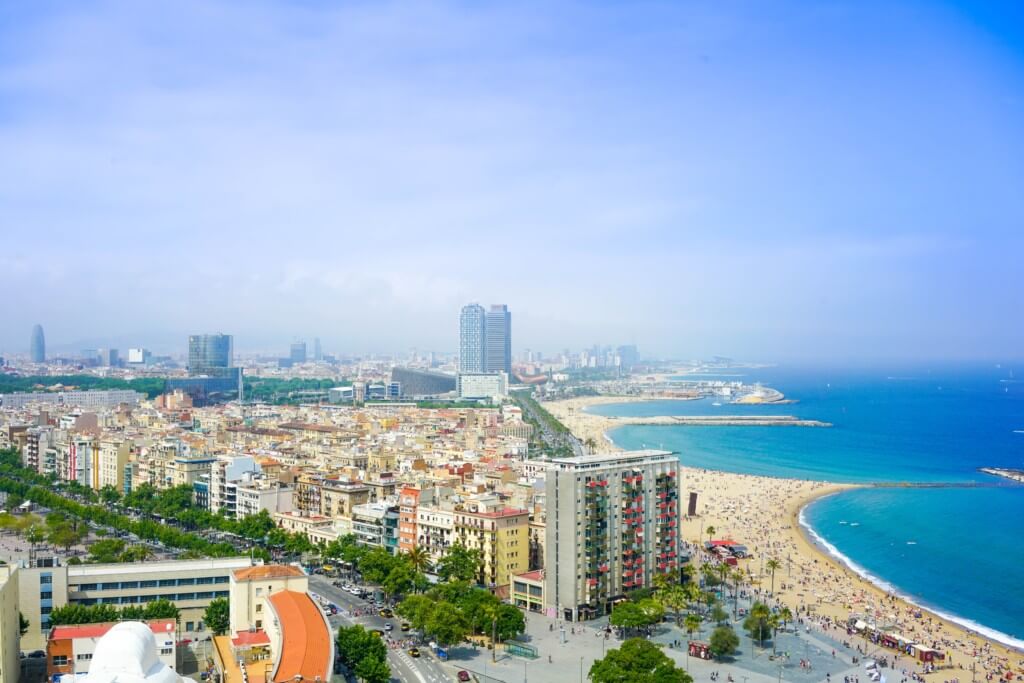 Start your trip in Barcelona to kick it off without a hitch. "Barcelona is very navigable by metro or bus. My brother and I took a bus at 3 a.m. a few nights… and it was very safe," Irina Gavrila, a William & Mary senior said. Let the year-round sunshine kiss your face all day at the beach or walking around a plaza. And when the sun sets, Barcelona tourists and locals party until it rises again. "Both nights I stayed in Barcelona I didn't get in back to the hostel until 9 a.m. the next morning," College of William & Mary junior Brooke Cox said. You won't worry about a language barrier either considering most people speak Catalan and English according to Cox.
Sit down with a local beer at Catwalk or Opium. "They're both on the beach so you can walk outside and buy a beer from the street vendors before heading back to go dance," Cox said. And after you danced your heart out, head through Plaza Real, where locals and tourists alike take a few last moments to grab late night tapas (and more street beer). Try the Iberian pork cheek or squid and tuna belly tapas.
If you want to see that classic Spanish architecture you looked at in your Spanish 101 textbook as a freshman, head to the Gothic region. Visit the Cathedral of the Holy Cross and Saint Eulalia, constructed between the 13th and 15th centuries and still standing. Don't get spooked by the elaborate gargoyles inside the enormous cathedral depicting all kids of animals from pets to mythical creatures. Your jaw will drop in awe looking at the craftsmanship, wondering who managed to lift them so high up in the 15th century. Then make the trek to the Sagrada Familia. Buy your tickets online ahead of time to avoid long lines at the basilica. Look out for pilgrims of the Camino de Santiago—a pilgrimage hike that ends at Sagrada Familia that can be up to 500 miles long.
2. Train to Granada: 1 day
Spend a day sightseeing the Alhambra, an Islamic Palace. Moorish poets described it as "a pearl set in emeralds" to capture the palace's color in comparison to the woods around it. Next, visit the Royal Chapel of Granada. The Catholic Monarchs were buried here, including Joanna of Castile (Joanna the Mad) and Philip I of Castile (Philip the Handsome), her husband. The Chapel looks bathed in gold on the inside, with tall Gothic-style ceilings overhead.
3. Bus to Cordoba: 2 days
Mezquita de Cordoba's symmetrical brown and white striped tile pattern will give your Insta followers FOMO for days. Cordoba, formerly one of the most popular cities in the world, kept the Jewish quarter at its epicenter. Plus, Cordoba actually has the only synagogue that survived the Spanish Inquisition.
Fill your second day with more florals than your spring wardrobe. Calleja de Las Flores, a narrow patio lined with flower pots, will make you swoon. Maybe the cutie on your trip will catch a whiff of romance and finally make a move. Then check out Alcazar de Los Reyes Cristianos. Once occupied by Spanish monarchs, walking down the line of tall, manicured hedges will make you feel royal.
4. Bus or train to Seville: 2 days
"No joke the city is crawling with Americans studying abroad," Cox said. "You got flamenco dancing, sangria, warm weather, palm trees and bull fights," Cox said. Watch a flamenco show while in town at Tablao Flamenco Los Gallos, a famous flamenco theatre inside a cozy building in Seville.
If you opt for a bullfight, translate the seat selections before you buy a ticket in the circular stadium. Pick from the shade area (sombra), where the best but most expensive seats are, the sun and shade area (sol y sombra), where the seats get shadier as the fight goes on, and the sun area (sol), the cheapest but sunniest seats. Pro tip: The barrera seats get the best visibility and the andanadas get the worst (they're further away from the action). End your night by renting a paddle boat at la Plaza de España to soak in the Spanish architecture around you.
5. Bus to Malaga: 2 days
#LiveItUp during your European travels. "If you're doing the hostel experience make sure to sign up for the hostel pub crawl. It's usually between 15-10 Euros to sign up and it includes a drink at every bar you go to and entry to a club at the end," Cox said.
Then get your fill of Spanish culture and history the next day at the Museo Picasso Malaga. Picasso was actually born in Malaga, and his family donated almost 300 works of his art to this palace-turned-museum. Walk through Picasso's works chronologically to see the evolution of his painting into the Cubist works we know and study today.
6. Fly to Vienna: 2 days
Prepare for long nights in hookah bars and longer hangovers the next day. "Head to Travel Shack Party Bar," said Cox, "Vienna was a lot bigger than I expected so be ready to pay for a lot of Ubers." The only con? A lot of places close on Sundays in Vienna, so plan on making Sunday your brunch and chill day in spots like Schachtelwirt. You'll drool over its most popular dish, sliced pork and dumplings with vegetables. Try the ginger cider as well.
Vienna is the City of Music—missing out on the House of Music (Haus der Musik) would be a huge mistake. This interactive sound museum walks you through the history of great composers like Mozart, Haydn and Schubert. Or go to the Virtostage on the fourth floor to direct your own multimedia opera. End the night—and your Vienna stay—at Wiener Riesenrad Giant Ferris Wheel to see the city of Danube from 212 feet in the area. You can even eat or grab cocktails on one of the luxury cars.
7. Bus or Train to Prague: 3 days
Cheap beer, rich history and insta-worthy photo-ops—the study abroad trifecta. "It's like walking into a real-life fairy tale," Cox said. Visit Europe's oldest synagogue, the Pinkas Synagogue, in the old Jewish quarter. It doesn't look like much on the outside. But inside, you'll gawk at huge Gothic windows and molding depicting the 12 Tribes of Israel.
Hangry yet? "Grab a tredlník and eat it on the Charles Bridge for breakfast," Cox said. If you're more of the brunch type, get brunch at Cafe Louvre. If you need the ultimate Prague experience in an afternoon, go to the Prague Castle and see St Vitus Cathedral. "Then go paddle boating on the Vltava river," William & Mary senior Julian Mills said.
Go back to the 80s, but remember that "war is over" when you see the John Lennon Wall. In the 1980s, fans started covering this wall with John Lennon and Beatles lyric-inspired graffiti. Now it's one of the most popular street art spots in Prague. And if the Lennon wall got you on an art kick, Prague has a lot more to show. The Narodni Galerie (or National Gallery they featured Ai Weiwei's exhibit "Law of the Journey" over the summer. But the list of famous artists this gallery enshrines does not stop there (CC: Gustav Klimt and van Gogh).
8. Bus to Budapest: 1 day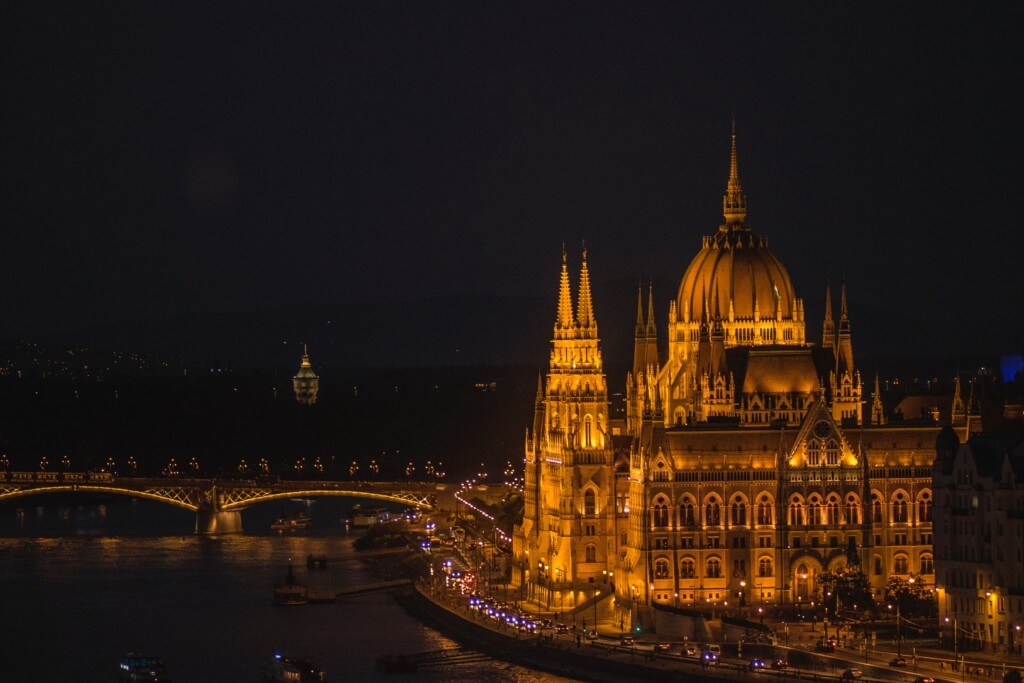 You'll need a nap to keep up with the nightlife in Budapest. "Stay at Retox Party Hostel… [It's] a good time you can only get away with in your twenties," Cox said. Stick to the buddy system to avoid sketchy street vendors. The city also offers super fun booze cruises, like the Budapest Boat Party. "You'll literally live like kings. We got a three-course meal and two drinks for $25 at a five-star hotel," Cox said.
9. Bus to Brasov: 1 day
You must see Bran Castle, AKA Dracula's castle. Sitting in the woods, anyone who fangirls over Stoker will not get spooked by the winding passages inside. But if you have yet to read the book (which you definitely should before you go), you will not be disappointed. Dozens of red tower tops and little additions on them beg the question of just how many secret passageways could fit into one building. Don't get queasy listening to stories about Dracula sucking people's blood. Before you head back to the city you'll want to eat steamy Polenta Bulz or schnitzel at Casa de Ceai, a restaurant on the Bran Castle property.
10. Bus to Maramures, Romania: 1 day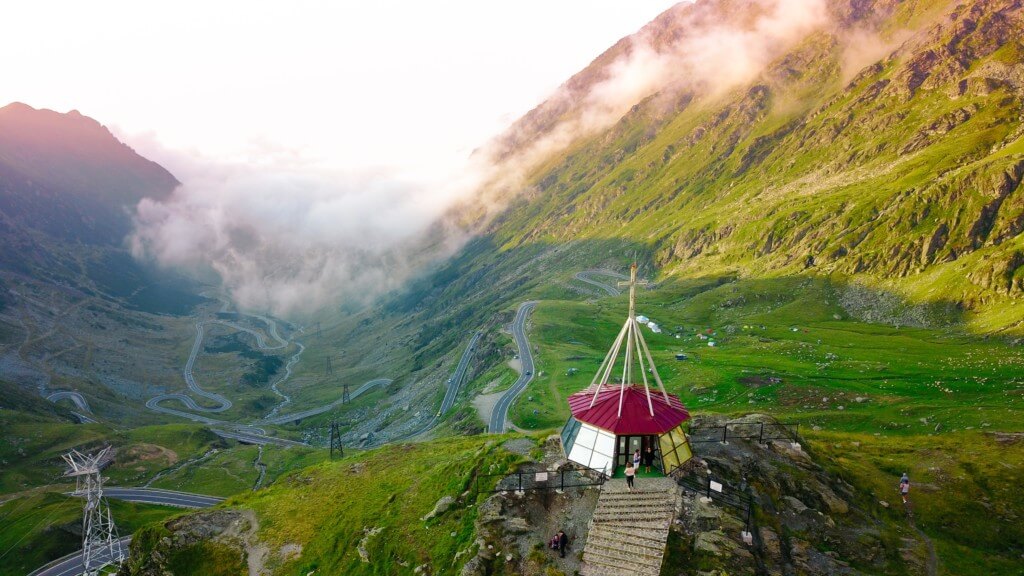 Spend a day seeing the north of the country and visit the monasteries in the mountains built in the 1300s. Make sure you charge your phone first for pictures. The countryside here looks absolutely breathtaking, dotted with the high spires of the Barsana, Rohia and Rohiita Monasteries. The sunset behind the mountains in Maramures swirl unique colors together that come together for a once-in-a-lifetime moment.
11. Fly to Bologna: 1 day
"I took a low cost flight from Romania to Bolognia and it was $80 round trip! I couldn't bring luggage, so just bring a 'handbag' with all the essentials," Gavrila said. Stop in for a day for the ultimate Italian foodie experience. Eat tortellini so soft it melts in your mouth at Osteria dell'Orsa. For a more casual vibe head to Nicola's Pizzeria for the classic Neapolitan pizza. Once you're stuffed visit Basilica di San Petronio, the fifth largest church in the world. While the building looks cold and imposing on the outside, the warm light shining in the windows on the inside contrasts off the rust-colored accent walls.
12. Bus or train to Florence: 4 Days
Explore the museums with the FirenzeCard. The pass, valid for 72 hours at 72 Euro, gets you into every tourist hotspot in Florence. "It's cheaper than paying to enter every museum," Gavrila said. Start with the Urrizi Gallery where you can see "The Birth of Venus." Or check out the beautiful gardens at the Piti Palace. "Also the Duomo and your pass will get you to the top of the dome so you can see Brunelleschi's dome up close."
And if you want to come home with the best Italian threads, go shopping in Florence. Walk through Via de' Tornabuoni and try not to spend all the money for the rest of your trip. Notorious for the best shopping in Florence, pick up a chic leather bag at Pierotucci Italian Leather Factory. Or in indulge in Italian fashion (at better prices than you would find in the U.S.) at designer stores like Furla, Prada, Cartier and Gucci. Once you get back to The States, your friends will beg to find out where you picked up your chic new purses.
And every night is good for a party in Florence. The club turns up even on Wednesday nights. The Blob Club gives visitors equal opportunity to hit the dancefloor or just relax and sip on champagne with friends. End your night with a crispy crust and gooey mozzarella cheese at Fo' Caccia La Notte, a late-night pizza window.
13. Take the train to Rome: 3 Days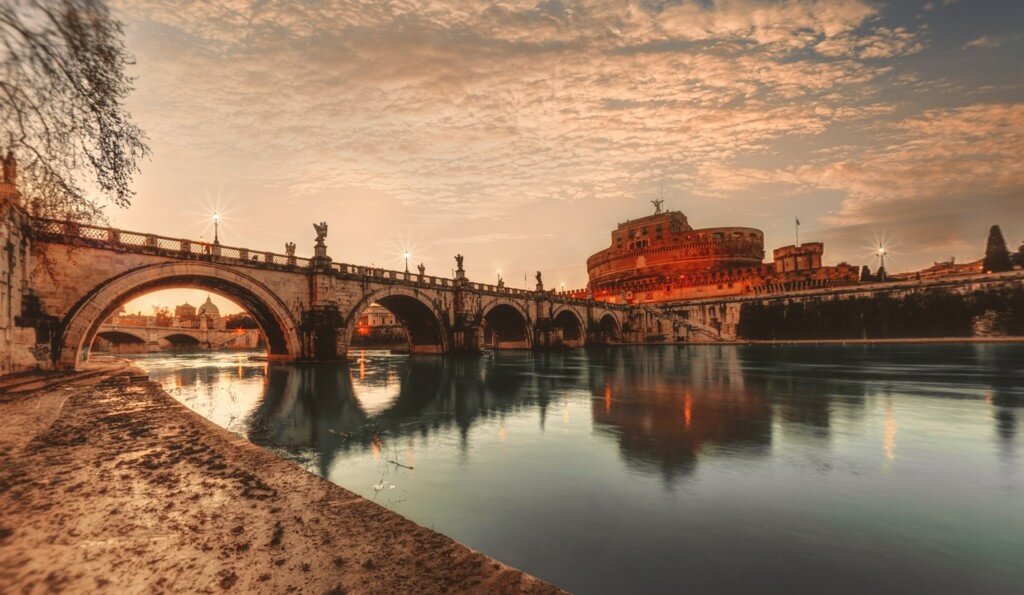 "I was only in Rome briefly, I loved the Roman Forum (I studied it during Latin class) and toured the Vatican. Went to some famous pizza place where you're seated on a long table and everyone shares a bunch of pizza, it was great, we ended up friends with all the locals at the table," said Bryan Enslein, who backpacked through Europe. Some hot pizza spots include La Prattolina, Panattoni and Da Ivo.
Holy cow, what a holy city. "I would dedicate an entire day to the Vatican because it's very special and there's so much to see. The Vatican holds most of the world's most famous pieces of art, on top of the Sistine chapel and St. Peter's basilica," Gavrila said. On Wednesdays, the Pope (if he's in town) comes out in St. Peter's Square for a Papal Audience, blessing the crowd and giving small teachings. If you're lucky, the Pope might come out and bless the crowds. Rome feels warm at night even in the winter time, which always seems like a plus. "Vatican City will make you believe that God is real after seeing all the paintings," Cox said.
And, if religion isn't for you, maybe the Illuminati is. "Go to the Illuminati Club," Cox said. The place feels super underground and niche, complete with a courtyard garden with olive trees in the back and house music inside. Rome sounds like a great place to find yourself, whatever that means to you.
14. Bus to Verona: 1 day
Stop in Verona to geek out over Romeo and Juliet's old stomping grounds. "Verona is a super cute Italian town if you're looking for a day trip near Florence. Go check out the Juliet house and ask for advice about love," Cox said. If you have time at night, catch an opera at the Arena di Verona. An amphitheater built in the first century + Italian opera = one unforgettable European experience for sure (even if you splurge on this one).
15. Fly to London: 2 Days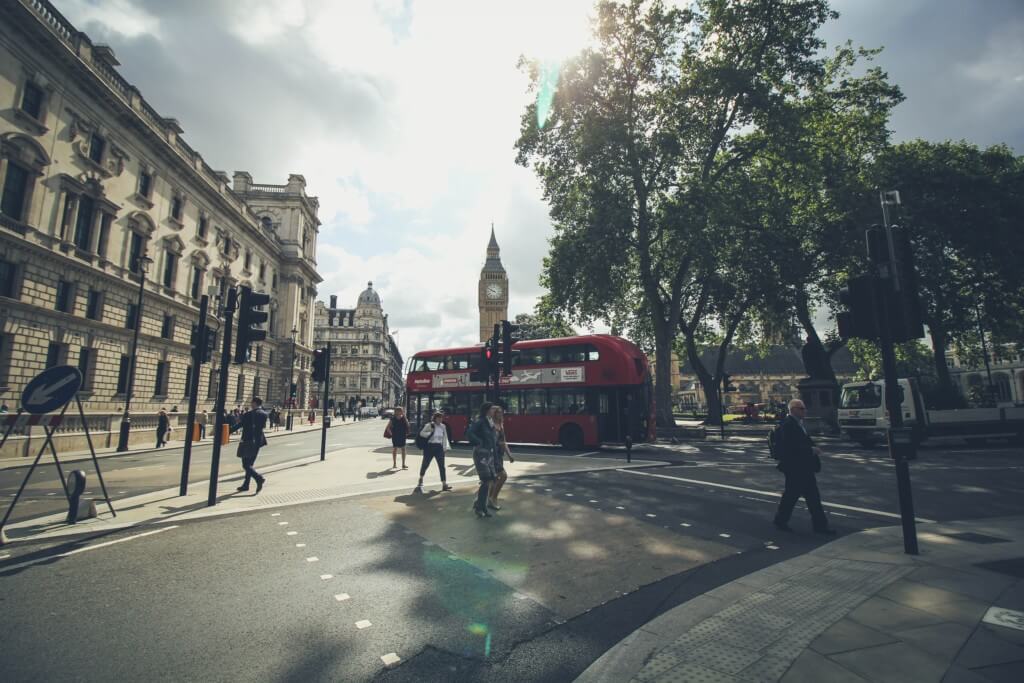 Pinkies up. A classy English street fair awaits you at Portobello Road Market. With over 1,000 merchants at this large scale flea market, you'll find anything from old English antiques to a new pair of wellies. One of the best ways to get to know a culture might just be through their objects, after all.
After a full day of shopping in London, you'll need sustenance. Now. Goode & Wright, right up Portobello, serves French food with a British twist like lamb, rabbit pie, duck breast and more. You will feel like you walked straight into the 1920s in this oak-paneled old restaurant. Bonus: They're famous for their brunch, if you want to pop by in the morning for schnitzel, French toast or benedict.
Get a bird's eye view of the city on the London Eye. With good weather, you'll see the Houses of Parliament, Big Ben, Westminster Abbey, Buckingham palace and more from your capsule. That way you can pinpoint what you want to visit up close. Add some bubbly to your London Eye experience—because who doesn't want to pop champagne over 400 feet in the air?
16. Train to Paris: 2 Days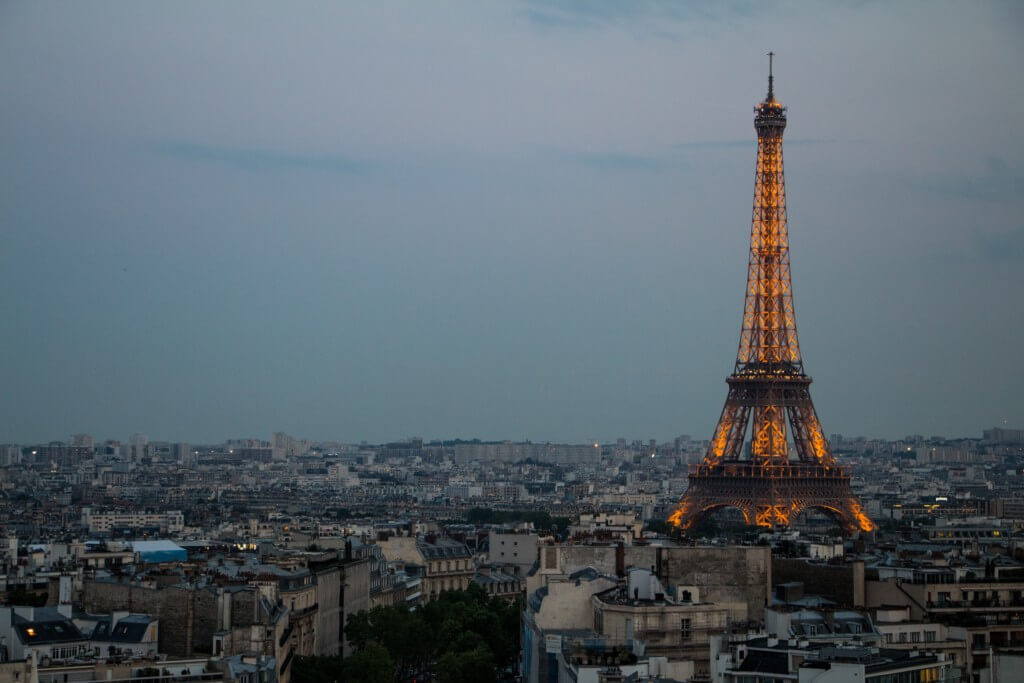 Save the best for last with two days in the City of Lights (or the City of Love if you travel with bae). Although they may seem basic, a lot of the tourist attractions in Paris make themselves worthwhile. Take the Louvre, for instance. This art museum has been around since Francis I ruled France and wanted his own personal art collection. See Roman Sculptures or Mona Lisa up close and personal.
After the Louvre, relax at Le Garde Robe, a wine bar. Make your night extra classy with Merlot and a meat place or Pinot Grigio and cheese plates. As your trip comes to an end, you'll want to drink as much exotic wine as you can—and eat a baguette to soak it up so you can drink more.
Want one last killer view before you leave Europe? Thought so. Printemps Haussmann, a department store in Paris, has a terrace with the least crowded (but possibly most picturesque) view in Paris, from the Eiffel Tower to the oldest buildings in the city. Ready for your final photo op?
Now that you've customized your ultimate backpacking through Europe itinerary it's time for booking logistics. Start planning your adventure with the GoEuro app to find flights, trains and buses at the best prices.