I had not slept for almost 37 hours by the end of the homecoming weekend, with events and excitement keeping me from my bed. College GameDay staff started lining up for students at two a.m. I got up, put on my favorite Bruin jersey and ran out to see a downpour of rain. Not only am I struggling with how tired I am, but now I'm soaking wet too. The icy air held me like a bouncer until I went back inside to add jeans and a hoodie to my GameDay attire. This ended up being a brilliant decision as it turns out The Rose Bowl can get incredibly cold at night.
Once I reached the main campus, I found a group of students and a friend of mine who I planned on meeting for the game.
We all lined up in the rain while a couple of sorority girls complained about their outfits. I don't blame them as they wore thin tank tops and shorts. I found myself quite grateful for my earlier brush with the cold and for having checked the forecast earlier knowing that rain was to come. Thankfully ESPN was handing out breakfast burritos for the first students who arrived at the event. It kept us warm and gave us some energy to help us from falling asleep in the mud. 
The crowds kept growing as we all waited out in the cold. The temperature stayed at 39 degrees Fahrenheit, similar to when we first arrived. The rain shifted between going sideways and stopping at times, but we held out. There was no definitive way to tell the time before the broadcast started, but you could just feel the hours draining by as we waited anxiously from two a.m. to noon. If you ever want to do something like this, bring a portable phone charger because you'll want it after the first few hours. 
All of that melts away when the actual broadcast starts. The crowd's cheers drown out the chill in our bones as we watch the Oregon Duck start doing push-ups to try to distract the hosts. Students began to push and shove one another like it was a Taylor Swift concert, all trying to get closer to the camera. Some started chanting "U-C-L-A" while others threw insults at Oregon's team. My friend and I even made it on-air with our sign that said "It's Duck Hunt Season."
The actual broadcast itself lasts only a few hours. With staying awake 20 hours now due to a lack of spare time to actually rest as I rushed between events, my Insomnia loomed over me.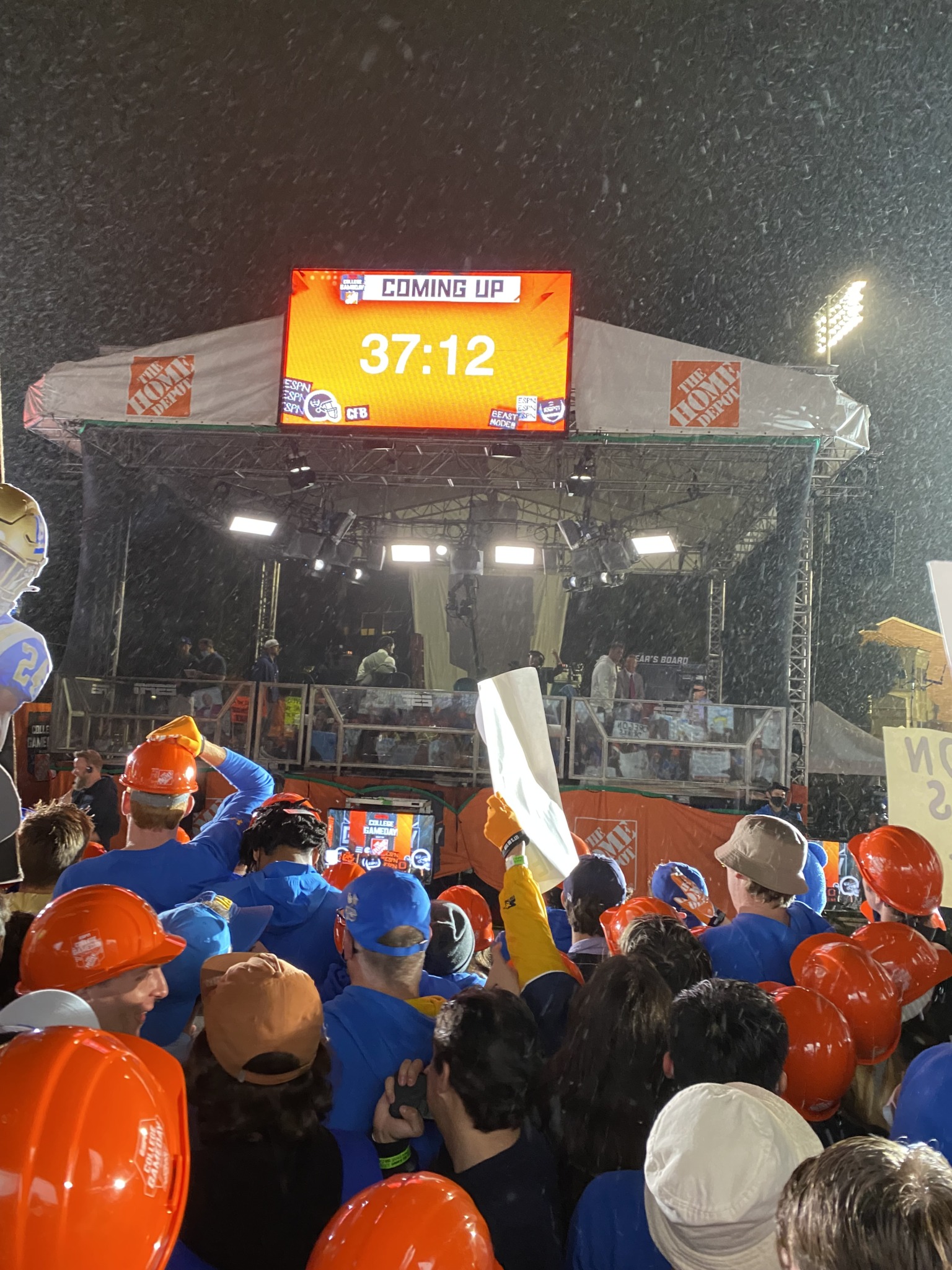 Thankfully, we finally boarded the buses to The Rose Bowl. Even though I was sleepy, we had enough excited people around me that I didn't feel it. Not yet at least.
Tailgating helps keep you awake with all the noise and the fun you can participate in, especially during homecoming weekend. By the time the actual game starts, you'll forget how little sleep the activities from homecoming leave you with. Despite the excitement and long hours waiting for the game to start, it ended poorly with the Oregon Ducks winning. The exhaustion hit me on the long bus ride back, but it was truly an experience I'll never forget. I wish I could say I slept for a day afterwards, but I only got about five hours or so total (such is the life of a student with Insomnia). However, if I'm lucky enough to have this experience again, I'll remember to sleep a bit more beforehand.