To say my college experience revolved around rowing would be a gross understatement. I spent four years on Michigan's DI team, devoting most of my time and energy in pursuit of a Big Ten and an NCAA championship win. For the most part, rowing is perceived as "boring" or "lame"—both fair and valid sentiments.
A majority of rowers (myself included) are weird, which likely comes with the territory of voluntarily putting yourself through the tedious and exhausting training every day. You're sitting down, going backward. Practices are generally filled with long, endurance-building pieces. Given that races require at least a 2000-meter course, it's not exactly the ultimate spectator sport. Barring May 17, 2017, all my practices looked like what any rower would expect.
Okay, fine, you convinced me. I'll tell you about May 17, twist my arm why don't you.
May 17, 2017 marks the day a speed boat hit us.
Yeah, you read that right. A speedboat.
With less than two weeks until NCAA's, three days had passed since the devasting blow of losing Big Ten's to our arch rivals, Ohio State University for the fourth year in a row. We lost by one point. Despite it being the third time I experienced this firsthand, it never got easier to swallow. We went in with what felt like our best shot of winning, only to fall short again. As easy as it is to wallow, we shifted focus towards redemption at NCAA's.
Each NCAA boat—first varsity 8+ (1V), second varsity 8+ (2V), and first varsity 4+ (1V4)—was primarily coached by one person. My boat, the 2v, was coached by an absolute badass by the name of Liz Tuppen. Liz is passionate, eager and driven. She is also not someone to mess with. Until I spent some time in the 2V my freshman spring, she absolutely terrified me. With roughly 9km of water on Belleville lake where we practiced, the three boats were often spread out from one another.
It's sunny on this Wednesday afternoon. Sunny is nice—it's warm and enjoyable. Sunny is also irritating – it brings boater traffic and jet skis, which means constantly rowing through wakes. As the one team that practices on this lake, we deal with more than just boaters. We're in the process of tapering; our volume is low, so we take a number of leisurely breaks throughout practice. We talk about naming our shell—something a lot of teams do, but ours has historically not.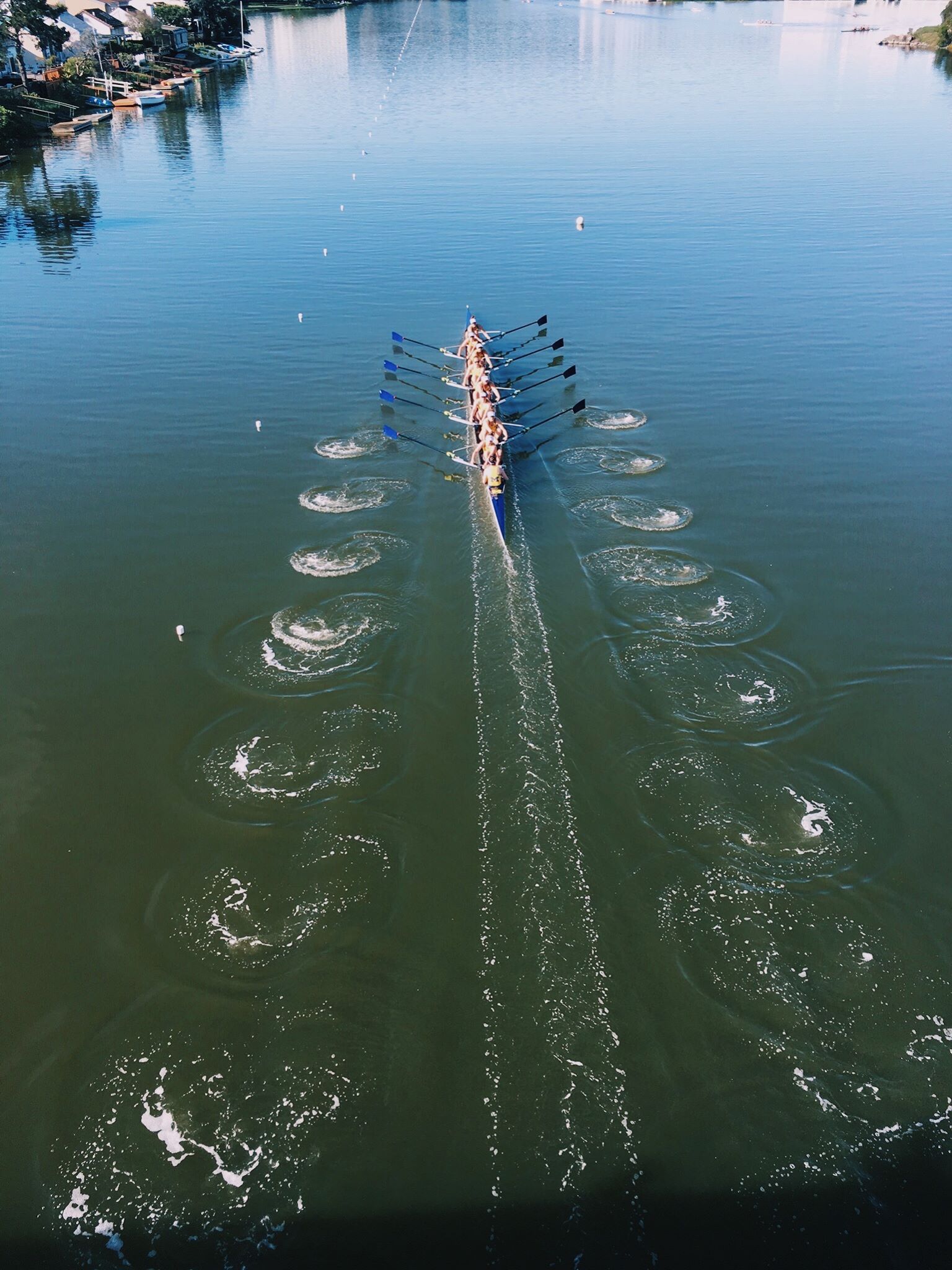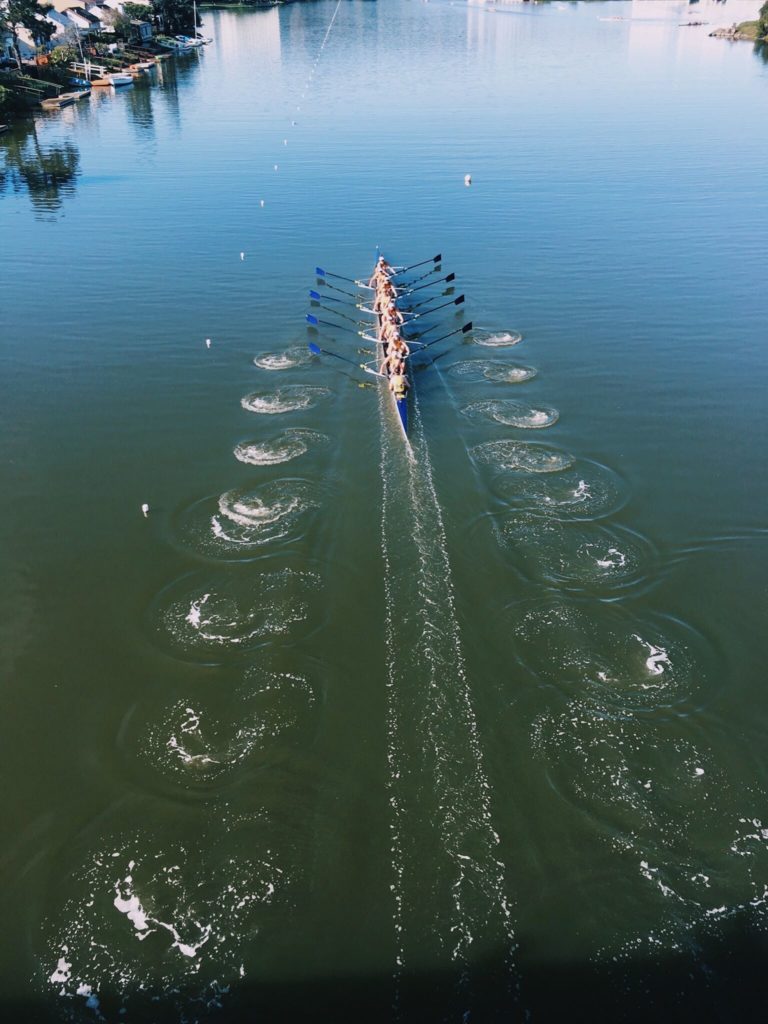 We're floating perpendicular on the lake, our stern about 15 feet from shore and our bow about 400 feet from a small island. Liz sits in her launch to our right. It's mostly quiet around us, minus a bright yellow speedboat idling in the distance behind Liz. The boat starts to move in our direction, towards the bridge that leads to the bigger part of the lake.
The boat pointed directly at us. We laugh. What an asshole, we thought, thinking he would swerve at the last minute to wake us. He picks up speed, his bow lifting as he gets faster. There's no way he can't see us. Our rowing shell sits almost 60 feet long.
Liz starts yelling through her megaphone. Some of the girls in the bow wave their arms. He's gonna swerve right? He's not turning. Liz is screaming. I'm still laughing. Behind me, someone screams "STOP!" The laughter ends. I can hear the panic in her voice. He's not going to stop. He really can't see us. He's right there, aimed at bow seat: Katie.
I look at our coxswain and then shut my eyes tight.
There's a splash, immediately followed by a sharp crunching sound that vibrates through the shell.
I can't turn around. Our coxswain, Alexis, tells me Katie's okay. She either jumped or got ejected from the boat.
To this day, Katie says she didn't jump. Either her body did it for her or the force of impact did. Most of the girls behind me took their feet out of their shoes preemptively for a faster escape. The thought hadn't even crossed my mind. If I ever needed proof of my incredibly weak survival skills, that was it. In my defense, sitting in the stroke seat, I was the second least likely to die—least likely being Alexis. It's good to know that my body and brain aren't prepared to handle life-or-death situations well.
The speedboat slowly turns around. The driver asks if everyone's okay as Liz pulls Katie onto her launch. He drives off like nothing ever happened. Meanwhile, our boat is sinking since we're missing about three feet off of our bow. The police and ambulance are on their way. Some kind strangers in a pontoon boat helped ferry the remaining eight of us to shore.
Katie was medically deemed fine. The police later arrested the culprit (though I believe they let him go shortly thereafter). Katie was the first to laugh about the incident. To this day it's probably our most ridiculous running joke. Remember that time we got wrecked by a speedboat?
The crash left the boat destroyed beyond repair. For what it's worth, it was a brand-new boat that cost somewhere along the lines of $45,000. We took it as an omen that maybe we should continue not naming our boats.
Earlier that semester, the Michigan Men's basketball team skidded off the runway on route to Big Tens, only to end up winning the championship. This was our plane crash. The mindset shifted. Since someone literally almost died, I guess we really have nothing to lose. We came third at NCAA's both as a boat and as a team.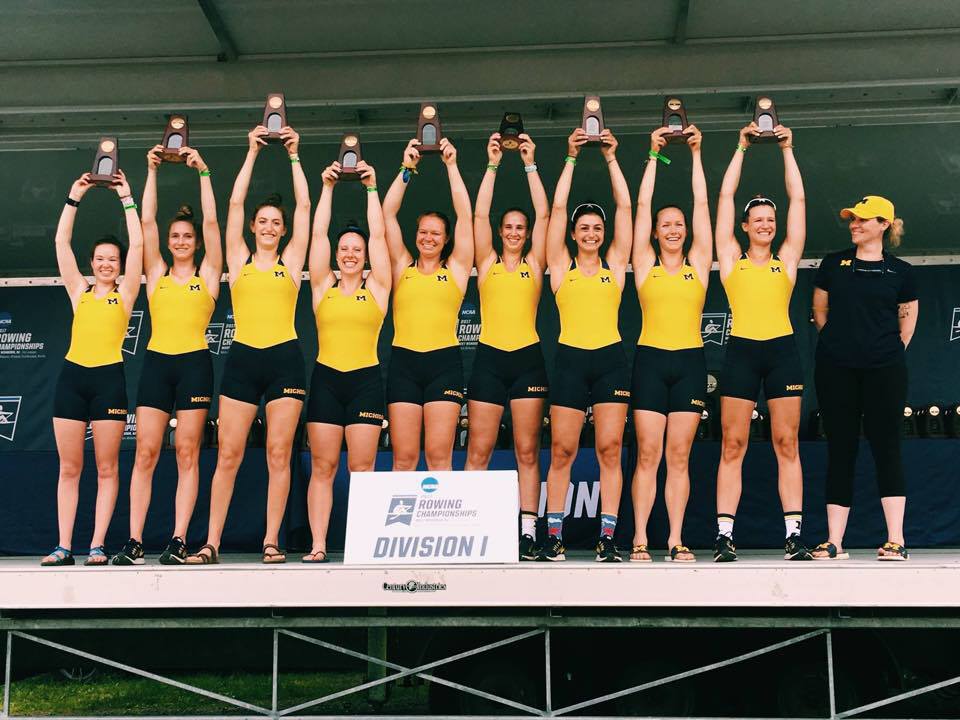 A couple of articles came out about the crash, but they all contained interesting twists on the story. A Sports Illustrated piece claimed that we all swam to shore. It may not be accurate, but I'll take that as my 15 minutes of fame, even if my name isn't in it.