I love it when the tables get turned during an interview. It means that I've made my subject comfortable enough that he or she feels that it's okay to ask me about my life. So when Maiara Walsh – a 24-year-old actress/singer/philanthropist – started grilling me, I gladly obliged.
What I didn't expect her to do was fuel my dream to move out to California one day. Walsh told me that judging by my voice and knowing me for a half hour, I give off a "West Coast vibe." So if it sounds like I'm gushing, it's because the Switched at Birth star made my life. Now that we've established that, I'm going to continue singing the praises of the inquisitive, ambitious and multitalented Walsh.
Wait, It's Not My-Ah-Ra?
First and foremost, get her name right: it's My-Ah-Da, something you should know before going into an interview. Awkward. Luckily she laughed at my struggle to pronounce her name because, as she said, "I still get new ones everyday."
As her star rises, the name thing shouldn't be a problem anymore. After gaining some recognition on Disney Channel's That's So Raven spinoff Corey In The House, she landed the role of the devious Simone on ABC Family's Switched at Birth.
"In the first season, Simone is introduced as a girl on the basketball team and she befriended Daphne [Katie Leclerc]," she said. "She's a little misguided. She's used to getting what she wants. In the second season she's trying to find her way back into herself and some redemption."
Walsh was careful not to reveal any of the sure-to-be juicy details of the new season (which comes back on September 3). All she was willing to say was: "It's going to be a good season."
She was slightly less reserved when discussing General Education, the "fun coming-of-age family indie film" that will mark her big screen debut. Walsh plays the love interest of a kid who has to take a summer school class in order to graduate high school and get his tennis scholarship to a local university. Maybe it's just me, but I don't think summer school would be so bad with Walsh as motivation.
She's So Fetch
Everyone loves Mean Girls, right? It's the one chick flick that every guy can admit to loving. Here's a fun fact: they made a sequel without any input from Tina Fey that aired it as a TV movie. Walsh played Mandi Weatherly, Mean Girls 2's answer to Regina George.
"The first Mean Girls is almost untouchable," she said of stepping into the iconic franchise. "It's always difficult doing sequels. It went from PG-13 to PG, so that was a big leap. I wanted to do my best to not play Regina."
By my count, Walsh went from a literal mean girl to a more ambiguous one in Switched at Birth. What's up with that?
"It's kind of double-edged," she said. "Playing the bitch is not my favorite character. What's fun about Simone is that she's a layered character. There needs to be some redemption quality."
Walsh mentioned that she'd love the opportunity to play a weirder character or to step into a fantasy universe like Lord of the Rings or The Hunger Games. For the record, she's Teem Peeta. She earns 100 cool points for that.
What Can't She Do?
Walsh is a junior college dropout who, if she had her way, would have a private tutor who traveled with her because she "just loves learning." She happened to be a psychology major, which makes her diagnosis of my West Coast vibe even more legitimate.
"I think psychology really ties into acting," she said. "I love getting into people's heads. I like science and biology. What I really love is acting and singing."
Oh yeah, did I mention she sings too? It's not just a hobby either: Walsh said she's been writing nonstop, getting ready to shoot her first music video in a month and hoping to start on an album asap.
"This has been such a crazy journey because I've been terrified of singing my entire life," she admitted.
The Seattle native is half Brazilian and half American (her father is of Irish, German and Swedish descent). She spent nine years of her life in Sao Paulo, Brazil, which helped her become fluent in Portuguese and get a solid grasp of Spanish.
"I do go out for a lot of Latina roles," she said of how being multilingual helps her acting career. "I would eventually love to do a film in Brazil and sing in Portuguese or Spanish."
Making Dreams Come True
Aside from the whole 'I'm good at everything' shtick Walsh has going for her, she's also a philanthropist. She works with Give Kids the World in Orlando. Its website describes the sprawling village as "a 70-acre, nonprofit 'storybook' resort…where children with life-threatening illnesses and their families are treated to weeklong, cost-free fantasy vacations."
Walsh will be hosting an event there on September 7 and 8 called "Enchanted Weekend." She and other young celebrities (Walsh wouldn't namedrop) will be hosting parties, performing and doing other activities with the kids all weekend.
"I'm really excited about it," she said with genuine enthusiasm (she's not the only one who can analyze voices). "I went there last summer and I fell in love. I wanted to bring more magic to the kids. It'll show them how special they are. When you're surrounded by kids for three days straight it's hard not to be inspired."
I don't think a huge "awwwwwww" even begins to describe how cute that sounds. Considering how much she inspired me and my dreams, imagine how much good she can do for those kids in Orlando. Let her inspire you with some words of wisdom for anyone who wants to be an actor/singer/exceptional person:
"Ask yourself why you want to be a singer or actress," she said. "If you're in this for the fame it most likely won't work out for you. I've been doing for 10 years and I'm still working toward where I want to be. You need dedication and passion. As an artist, there's a need inside of me to create. Ask yourself, is this something I truly must do?"
Wondering what Maiara Walsh has been up to since 2012?
A lot has happened since 2012. "Dynamite" is no longer the hit song, Juicy sweatpants have come back and American Idol has gone off the air. But, some things have stayed the same for 2012—like Maiara Walsh's soaring career.
Switched at Birth
With the show's final episode airing, fans were left content. Seeing the family you have grown to love— and even wished you could be a part of sometimes— laying on the front lawn together staring at the sky was truly something special. Walsh's character, Simone, underwent some of the biggest changes during her airtime. Starting as a bully, then labeled the school slut, going to AA meetings for her alcohol problem and then finally, she apologizes and makes amends with everyone.
Walsh's time on Switched at Birth proved to be extremely different than her actual high school life. On the show, Walsh's character is the bully. In real life, she was bullied throughout her years in school.
So many movies
Walsh has been in nearly a dozen movies. In 2012, Walsh co-starred in General Education, a film about family, teenage years and love. That same year, she co-starred in a movie that was quite the opposite. After dying in a car accident, her character's friend, Grace played by Kelcie Stanahan, has to retrace the steps of the night of her death in order to remember what happened. Walsh's spirit comes out throughout the film in order to help her friend remember.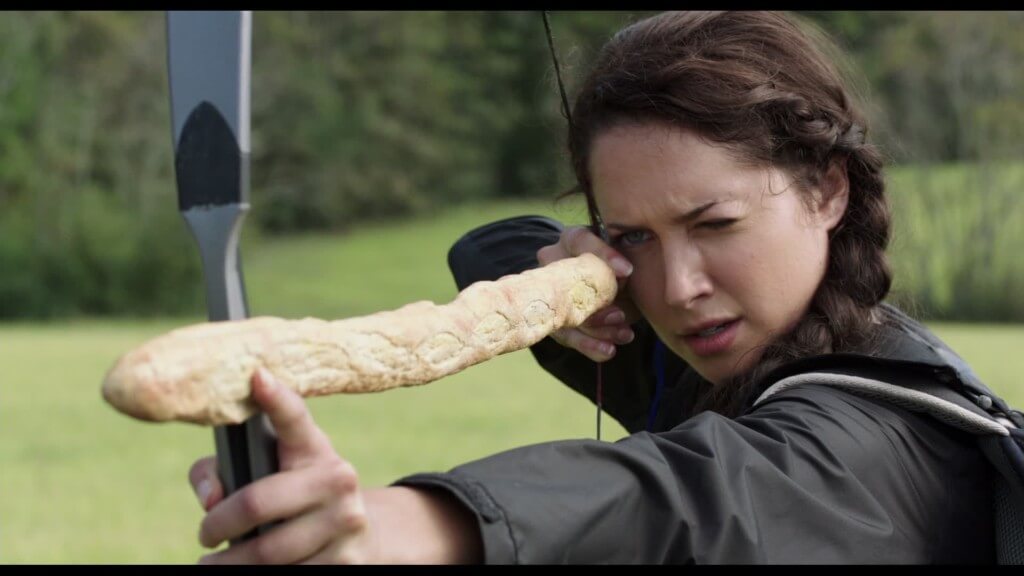 And, of course, who doesn't love The Hunger Games? Walsh starred in a 2013 parody of the fan favorite called The Starving Games. Playing Kantmiss Evershot, played by Walsh, makes the original movie into a hilarious parody. A year later, Walsh returns to her role as a love interest in the film, The Jazz Funeral about a father and son who take a trip to New Orleans. In 2015, Walsh goes back to a similar love triangle from the one on Switched at Birth Glitch. Extremely unavailable, Walsh's character finds herself in a love triangle with her boyfriend and his best friend. Another horror film of 2015, Summer Camp. Walsh showcases her thriller side once again in this frightened, European-based film.
And still more to come…
In 2018, Walsh will be in two films that are already in post-production. One, Underwater Upside Down, a comedy about two Malibu brothers. Next, is an action packed thriller, Power Play. Walsh has already filmed two episode of the action, drama sci-fi series, The Last Ship for this coming season.
Life
Off the screen, Walsh has shown her love for singing, as well. On her YouTube channel, she covers songs, including John Legend's "All of Me." She also uses the space to show the online world bits of inspirational poetry. Her poetry videos are all poems that she wrote about life. One spoken word poetry is about her love for NASA.
Walsh has used her extreme acting talents to inspire not just her peers but people of all ages. Whether it be horror, comedy, romance or her role as a bully gone wrong (but turned right) Walsh can do it all. Her singing voice is extraordinary along with her poems. This girl definitely has skill.
10 of Maiara Walsh's most #relatable social media posts
Written by Hilary Droke
Stars! They're just like us. Maiara Walsh may have dropped out of college, but we all know the college struggle is a #mood rather than just an active student status. The 30-year-old actress has been up to a lot since we've last caught up with her, including snagging a recurring role on ABC's the Last Ship, jetsetting with Teen Beach Movie star Garrett Clayton and starring in and directing her own short film, Her Boyfriend's Secret. She's also been active on her Insta and Twitter, giving us something to LOL at every single time we open up our feeds.
1. The One Where She Gave Us All the Feels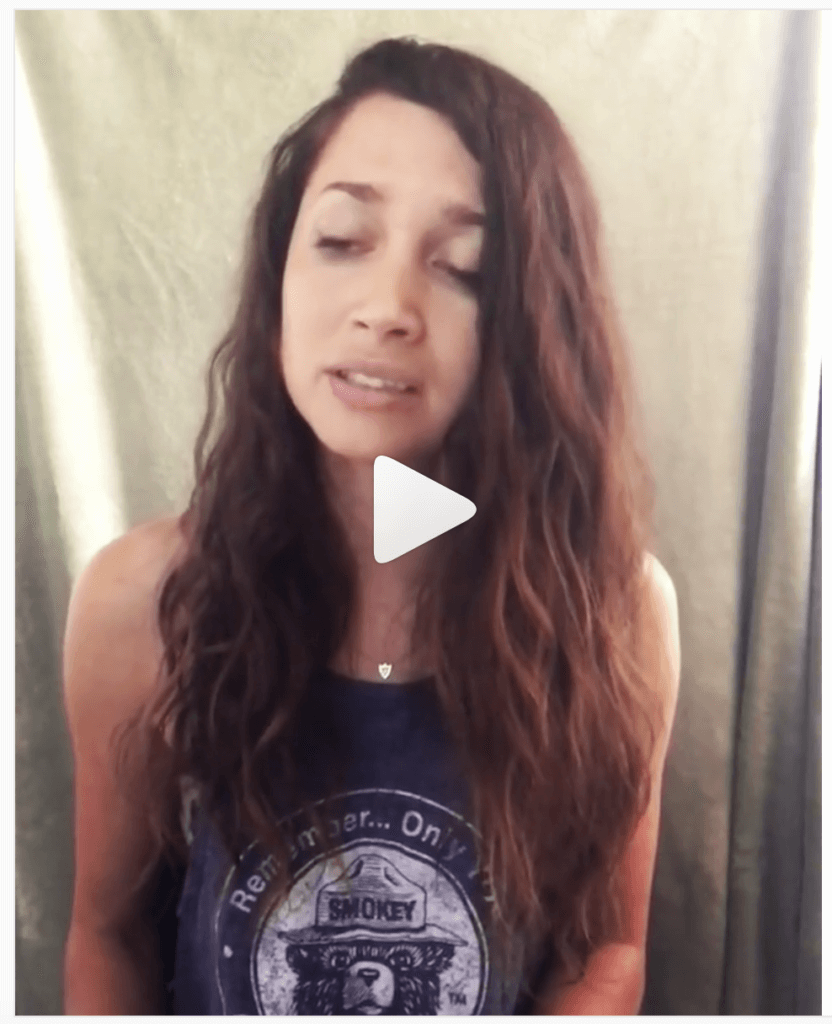 Maiara has been giving us Grammy vibes since she started sharing her music on her YouTube Channel three years ago, and her talent hasn't stopped soaring since. Here she sings about a recent breakup and gives us all the feels. I mean, "Your silence speaks volumes/ as the tears spring to my eyes/ 'cause I know your next words won't be tender and light"? Walsh totally gets it—this reads just like a page out of our journals the last time we were ghosted.
2. The One Where She Totally Nailed What It Is to Life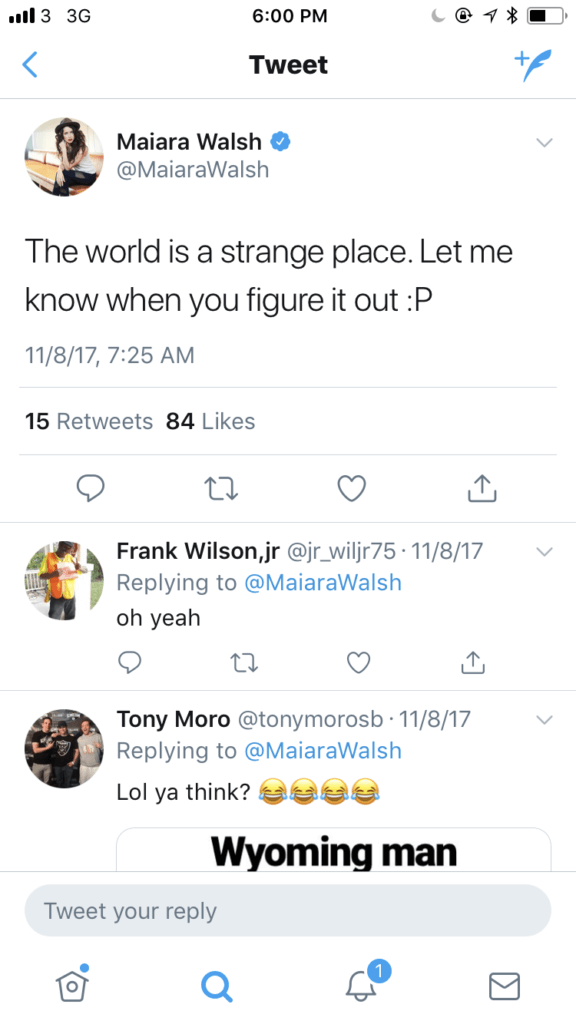 College has taught us that life doesn't make sense, and it probably never will. Here Maiara Walsh shares a seat with us on that struggle bus and lets us know that you will survive if you don't have a five-year, ten-year—or even ten-minute—plan. While we don't think we'll figure it out anytime soon, at least Walsh feels the same.
3. The One Where She Tells Us to Get Back Up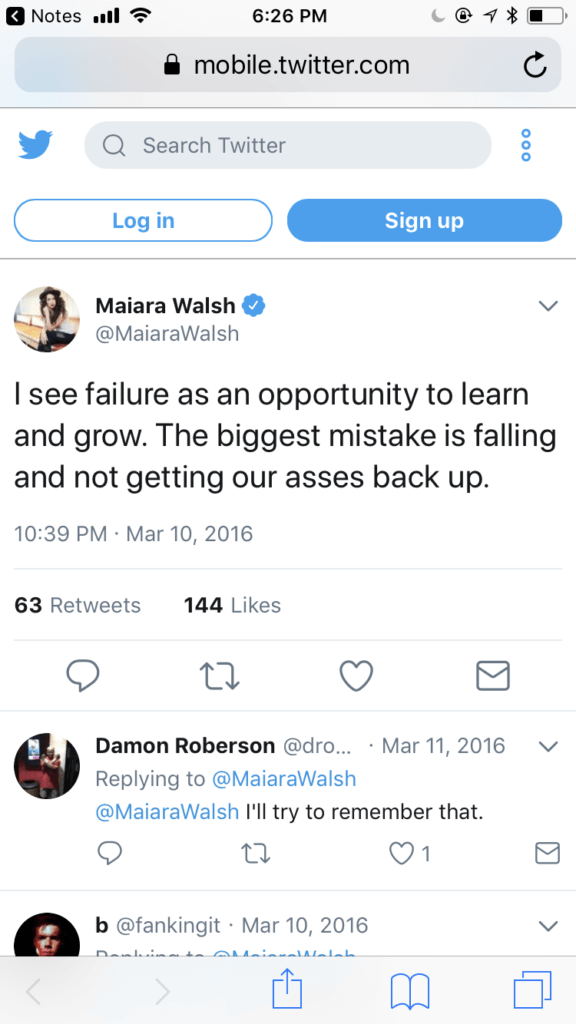 We've all missed the grade we wanted on a huge exam, or got passed over for the job we really wanted. While Walsh talks about something a little more star studded (like landing a role on your next guilty pleasure, perhaps?) failing happens to the best of us. Get your ass back up.
4. The One Where She Gives Us Total #NastyWoman Vibes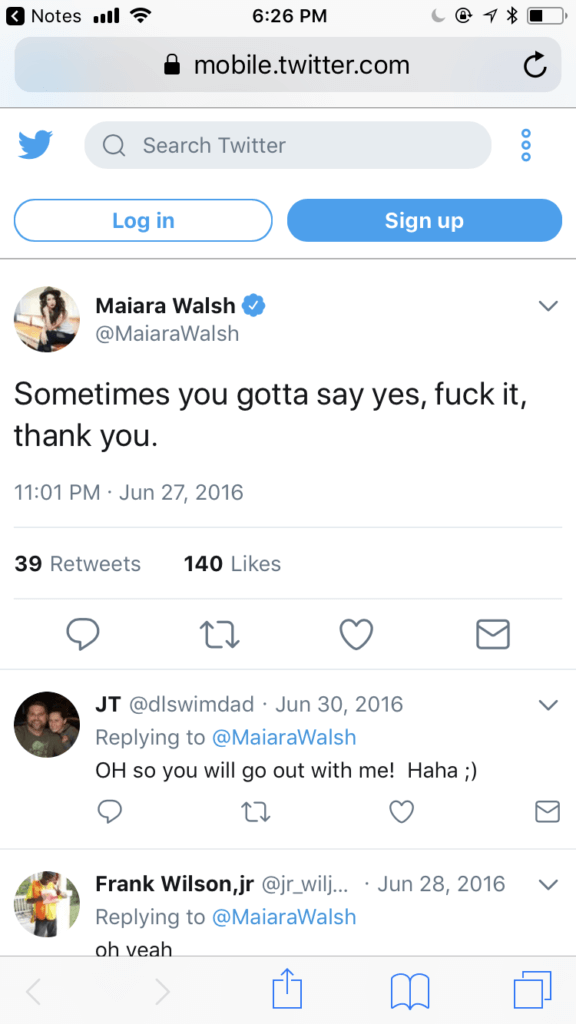 Is it weird I want this on a sticker? Or as my new phone background? Walsh could switch from acting to motivational speaking, she's that good.
5. The One Where She's Bad at Golf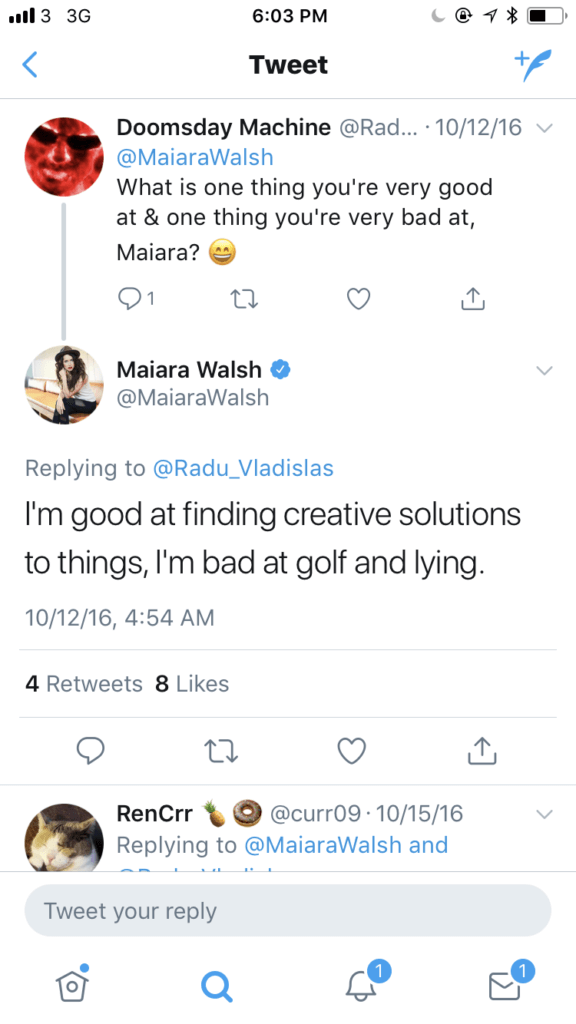 College has a funny way of making us feel like we aren't good at anything (thanks, gen chem) so whether it's golf or just passing that really tough course, it's nice to know that stars have flaws too. So take a page out of Walsh's book and just admit it. After all, your failures can sometimes be just as important as your successes.
6. The One Where She Reminds Us That Sometimes Silence is Key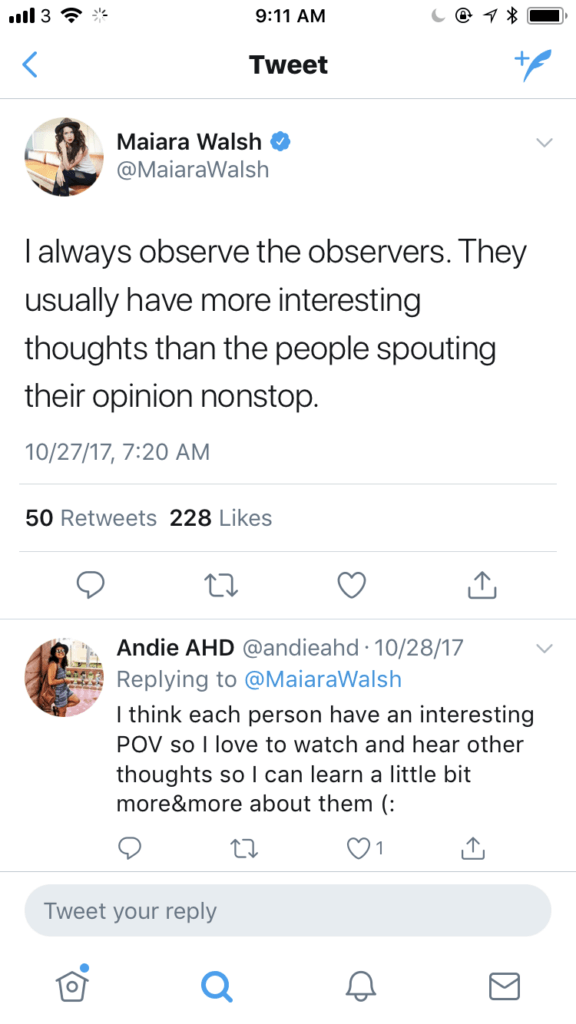 Again, Walsh comes in clutch with the sage advice, straight from your social media feed. We all came to college to learn more about our interests and the world, so it only makes sense that sometimes we have to shut up to hear all the cool ideas around us. While you maybe shouldn't adopt this strategy for your next lecture (participation points for the win), try it out the next time you hit up the coffee shop down the street. You'll learn so much when you take a second to listen.
7. The One Where She Summed Up EXACTLY What it's Like to Live in NY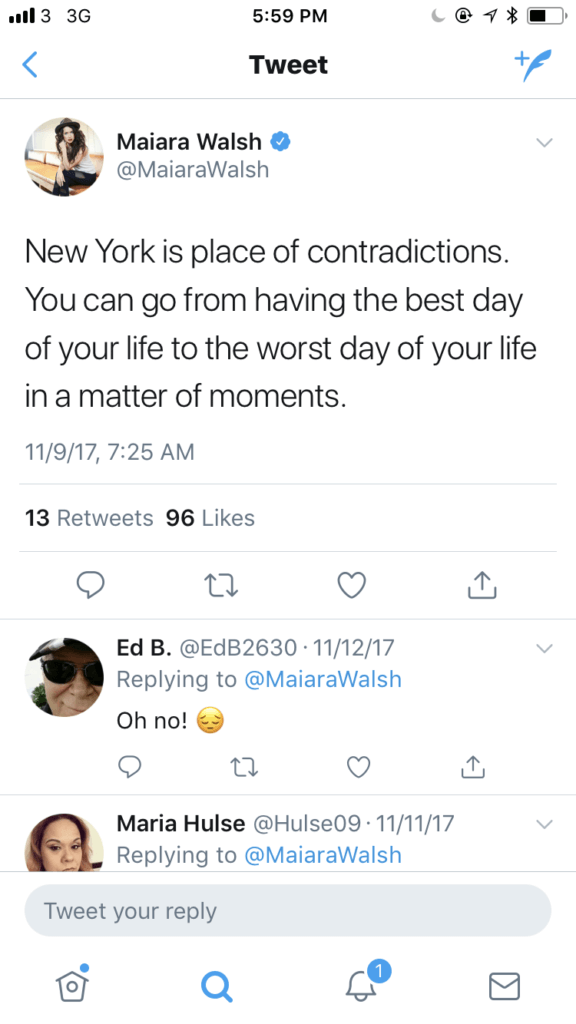 We might think of New York City as an alternate dimension, sort of like empty arcades or a library right before closing time. I mean, where else can you go from the bodega to a gentrified hipster yoga/smoothie studio in the space of one block? Whether you've finally landed your dream internship or you've just decided to head to the Big Apple for a change of scenery, we can all agree that NYC isn't exactly all Carrie Bradshaw moments and getting coffees at Central Perk. But Maiara reminds us to keep our heads up—because whenever a day gets worse, it just means that something better is about to come along.
8. The One Where She Won Throwback Thursday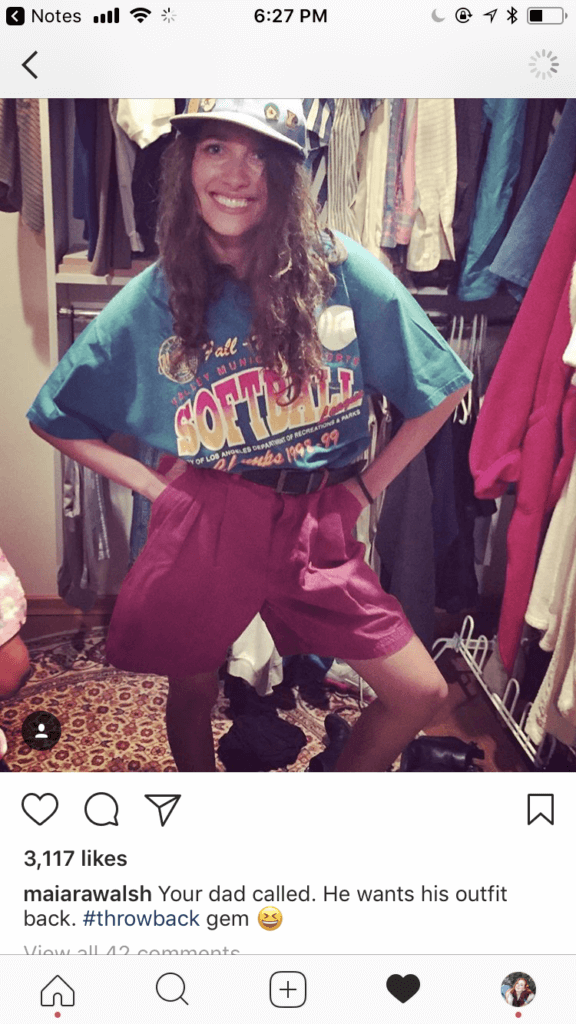 Who says stars can't be just like us? Maiara wins Throwback Thursday with an outfit that anyone with (or without) a dad bod could totally rock, circa 2006. All that's missing is the fanny pack. We just wish we could thrift as hard as her.
9. The One Where She Talks About Cheesecake
BRB, quoting this for the rest of eternity. Maiara once again proves herself the queen of social media with an analogy we won't soon forget. She totally nails dating in the age of Tinder, Bumble and Grindr and disses hookup culture while also making us just a little bit hungry. Sex is cool, but like, so is cheesecake.
10. The One Where She Gets Caught on the John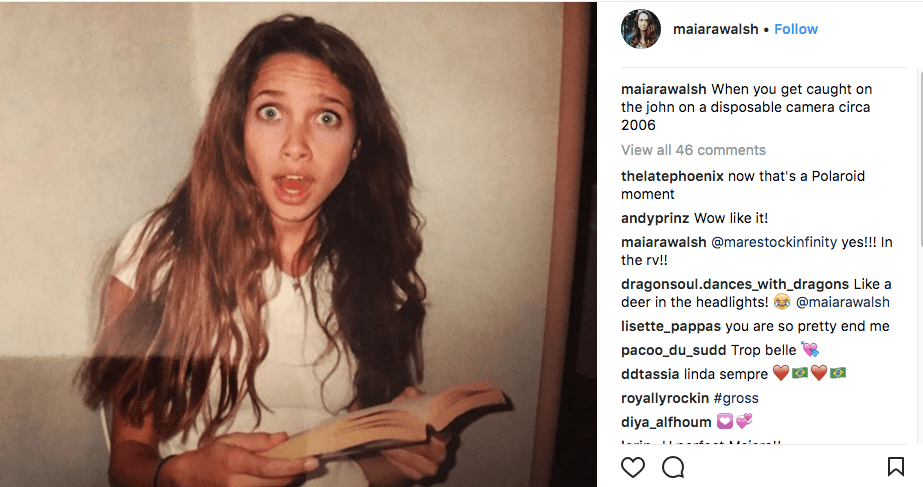 Alternate Caption: When you study all night and still fail your midterm. Walsh once again proves her candids way outshine even the most practiced sorority girl and shows us that quirky throwbacks can totally work outside of finsta accounts. Petition for Maiara to only post throwbacks from here on out?
**Updated on June 18, 2018 by Hilary Droke to include 10 social media posts.
*Updated May 5, 2017 by Samantha Slavin to include updates on Maiara Walsh's life and career.