Human bodies consist of 70% water. We can't live without it. Consuming and drinking water helps our tissues function properly and stay away from illnesses. However, a lot of college students would like to buy packaged water, which turns into a way of wasting money on those single-use plastic bottles that you eventually throw away. As a result, keeping your own water bottle will not only reduce your monthly expenses, but also potentially protect our environment by releasing less harmful greenhouse gases.
Keep reading for the best 10 water bottles to help you stay healthy and hydrated.
1. Hydro Flask Water Bottle

I bet everybody knows about the famous Hydro Flask water bottles. You can drink straight from this bottle since it provides a narrow, tapered metal edge. If you want to clean the caps and lids, you can simply put them into the dishwasher. The company also offers various warranties that ensure your stratification of using this water bottle. You can even customize your own bottle with your favorite color and patterns on the website. Most importantly, you can put some cool stickers on your Hydro Flask to make it look special. You can decorate it with whatever you want, maybe some funny memes, your favorite TV shows or clothing brands, etc. Keep in mind to pick waterproof stickers so they won't come off when you wash your bottle.
2. Timer Water Bottle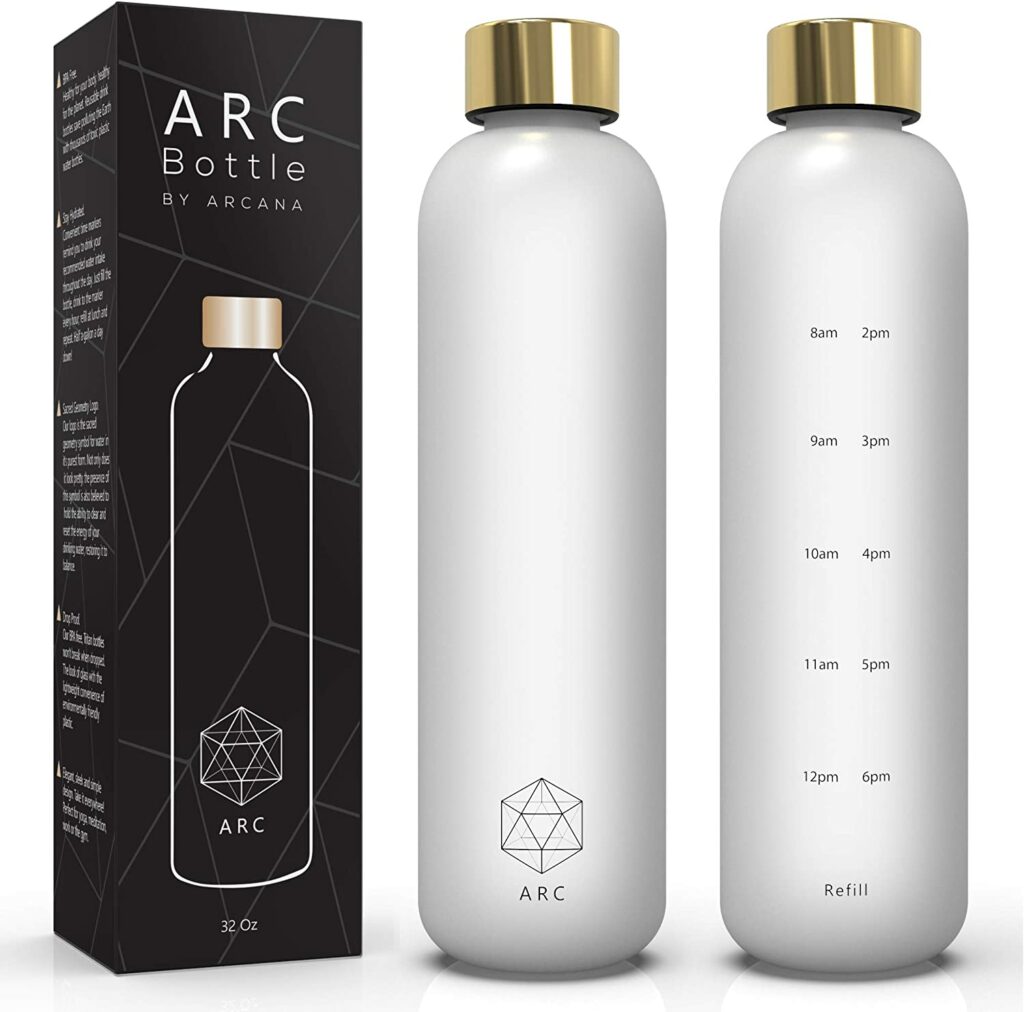 Do you always forget to drink water with a busy schedule? Don't worry. This timer water bottle will remind you to hit your daily hydration goals. You can fill your bottle and drink to the marker every hour, which proves itself as an easy way to meet the recommended water intake of the day. If you struggle to find a lightweight bottle to carry around between classes and the gym, this one matches your interest. Additionally, it uses an environmentally friendly plastic design.
3. Brita Premium Filtering Water Bottle

If you find yourself looking for a water bottle with its own filter inside, you can't miss Brita filters. Compared with other pour-through systems, this bottle can work to reduce 99% of contaminants in tap water. They offer different sizes of water bottles, ranging from 20 ounces to 36 ounces. However, as time goes on, a lot of impurities will build up on the filter; therefore, if you want to buy this one, don't forget to replace the filter monthly to keep the water fresh and clean.
4. Swell Water Bottle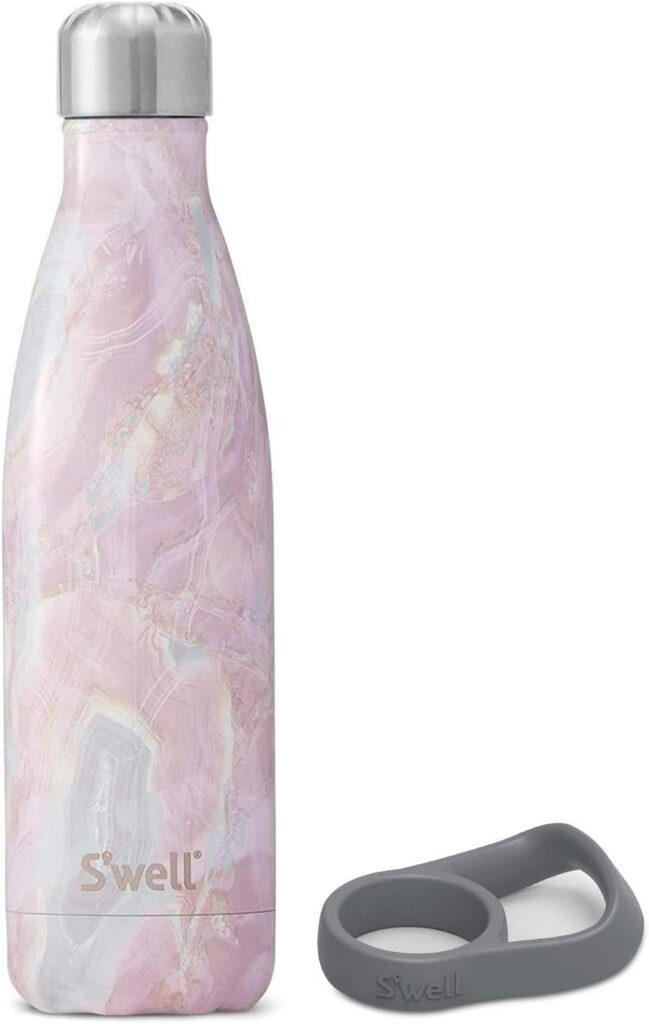 With the constant exploitation of the world's resources, Swell chooses to fund millions of dollars to different environmental organizations every time a customer makes a purchase. Beyond its sustainable concept of protecting the environment, the water bottles also fit perfectly in any college student's backpack. Because of a triple-insulated trophy design inside each bottle, it can keep beverages cold for 36 hours and hot for 18 hours. You can also create a personalized bottle with your name or initials to make it special.
5. Simple Modern College Logos Water Bottle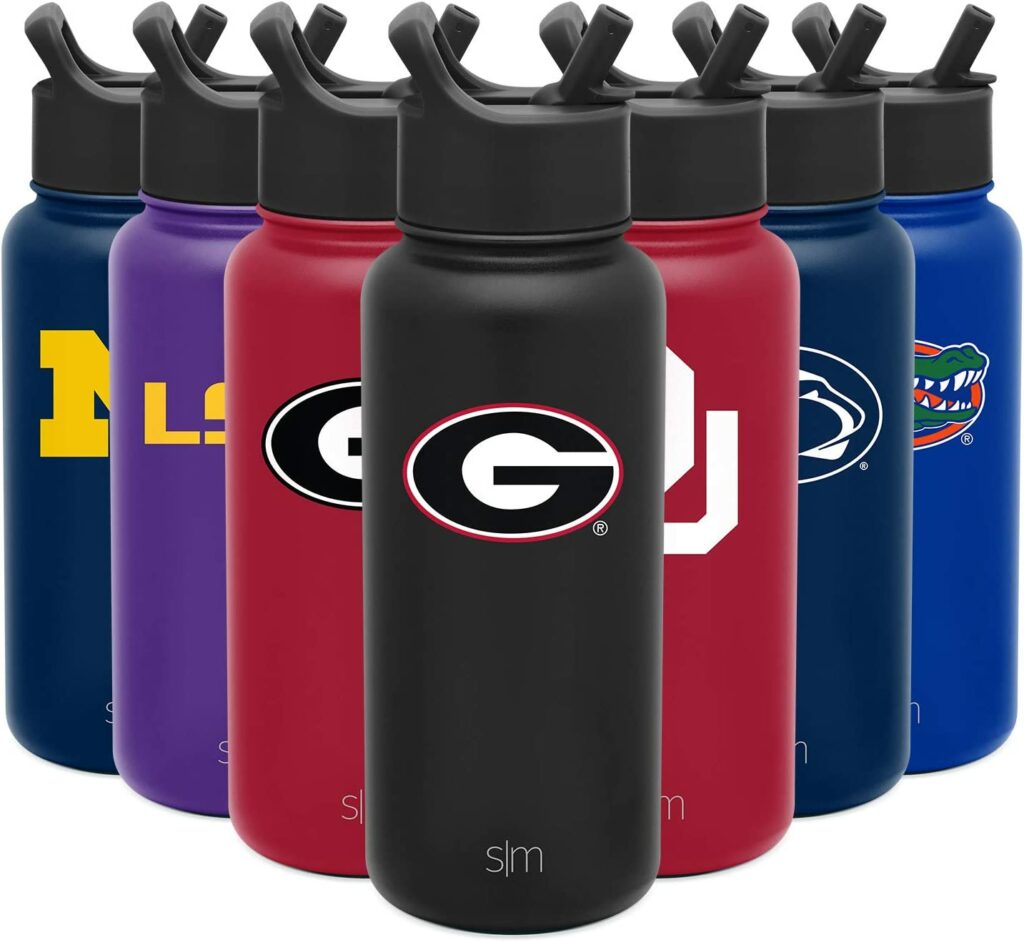 Do you want to show off your college spirit to other people? Simple Modern gives you endless options to choose from. With more than 200 choices, you can definitely find a water bottle with your college logo on it. You no longer need to feel concerned about demonstrating your school passion because now you can simply spread the sense of school pride by getting this water bottle. It will keep the water warm for up to eight hours, which turns out as a great option for students to use in the winter.
6. Glass Water Tumbler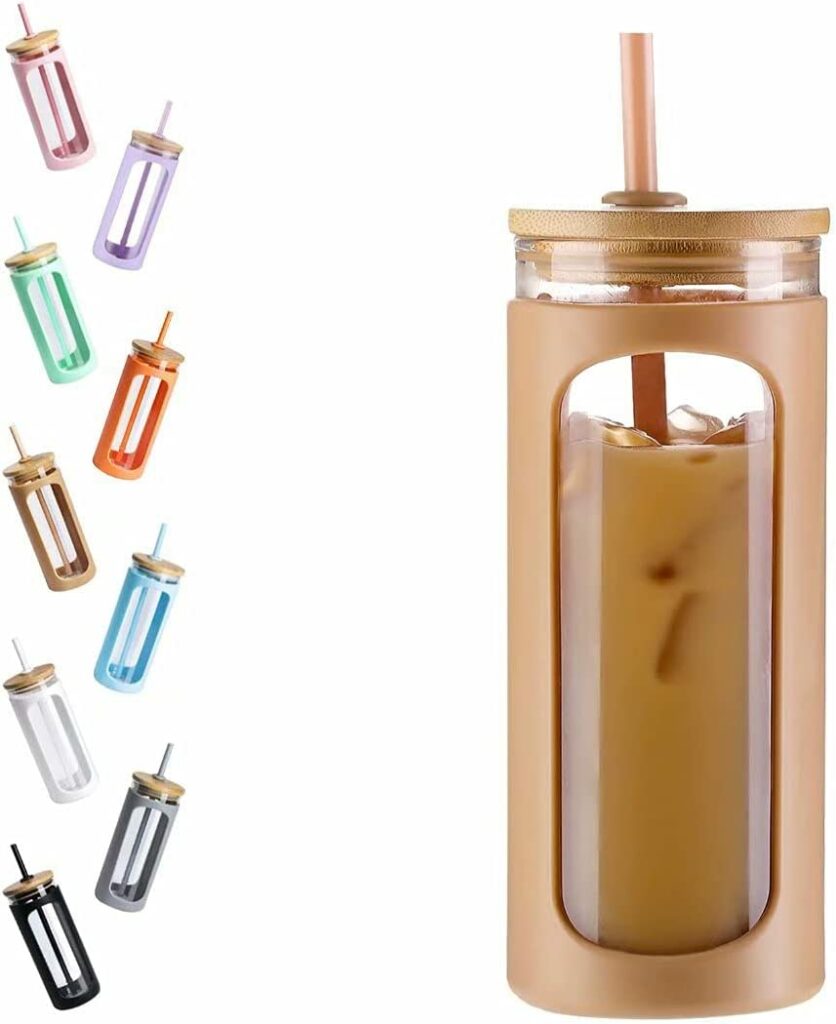 How many people would like to get some coffee or a smoothie throughout the day? If you nodded your head, this glass water tumbler will provide you with the best taste of those drinks. This 20-ounce bottle fits in most car cup holders. The outside is made of food grade silicone, a non-toxic type of silicone that does not contain any chemicals. This tumbler comes with a straw and lid, which prevents dust from entering the bottle.
7. CamelBak Eddy Water Bottle

This leak proof insulated water bottle stands out amongst other competitors for college students to stay hydrated each day. With its enhanced technology, this redesigned bite value allows people to consume 25% more water per sip. Moreover, you don't need to hand clean this bottle. Instead, put it in the dishwasher and the high-quality material will prevent it from getting damaged. Check out the website before making a decision because the company sells multiple colors and a wide variety of measurements and weights for this water bottle.
8. Classic Shaker Bottle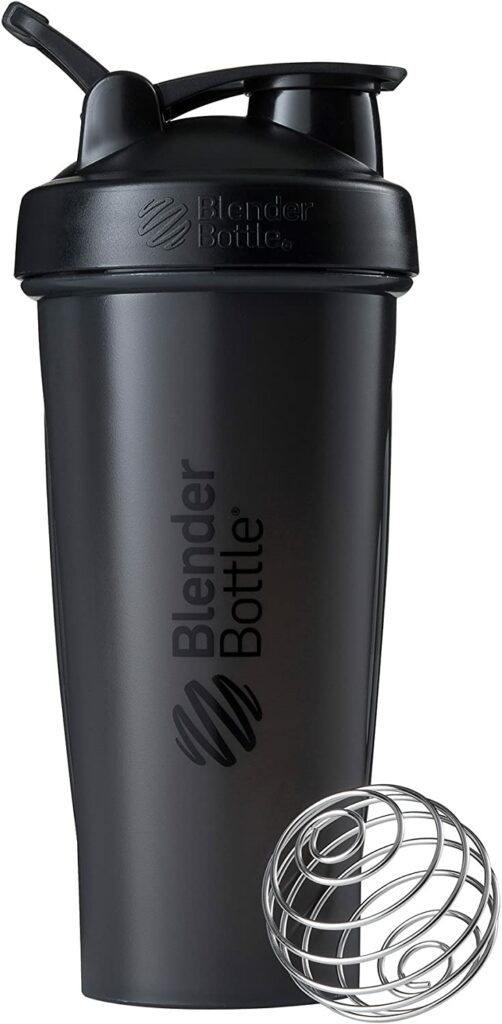 Calling all the gym people out there. You will fall in love with this selection: a 28-ounce shaker bottle with a blender ball inside. Its screw-on lid securely shuts to keep the drink contained. You can add your protein powder or fruits, drop in the blender ball and then shake it. Afterwards, you can enjoy a protein shake, smoothie or fiber drink to fuel your body. You can also pick out your favorite color and size in numerous collections.
9. Purifyou Glass Water Bottle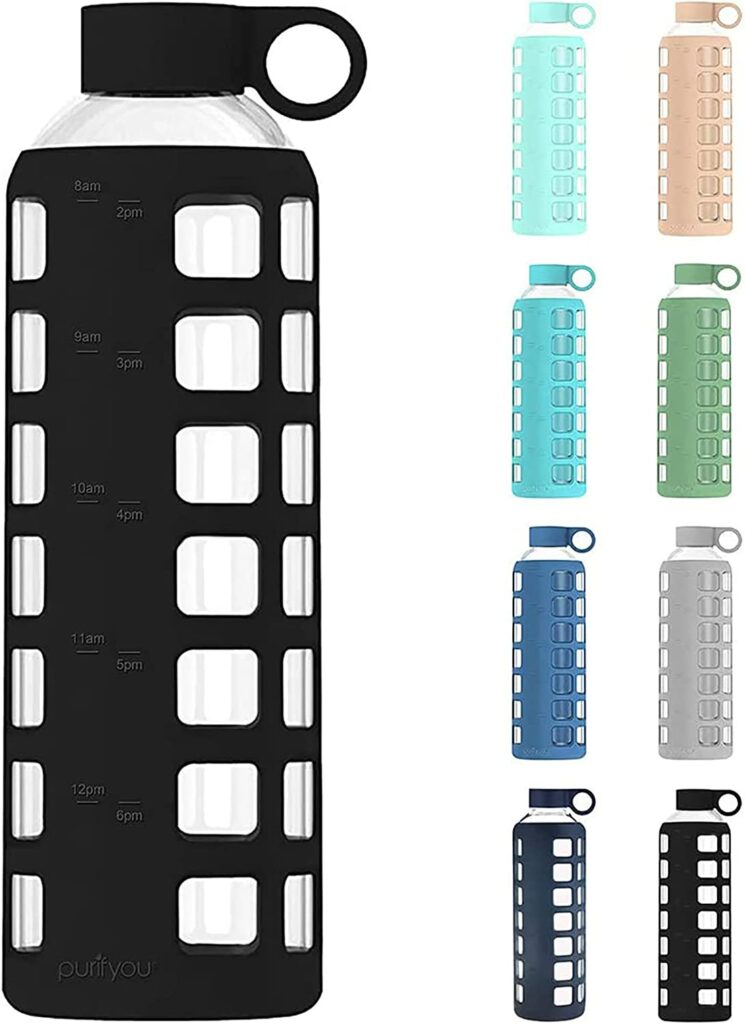 This cute water bottle satisfies your needs in every moment, whether you find yourself on the way to the gym, hiking or walking around campus for different classes. Switching from a plastic bottle to this one would prove a great investment. This bottle consists of high tempered borosilicate glass (same as pyrex) that is 100% leak-proof, which guarantees keeping liquids sealed whenever you put it into a cup holder. Plus, you can see a timeline on this bottle to remind you to drink enough water every day. 
10. Purist Mover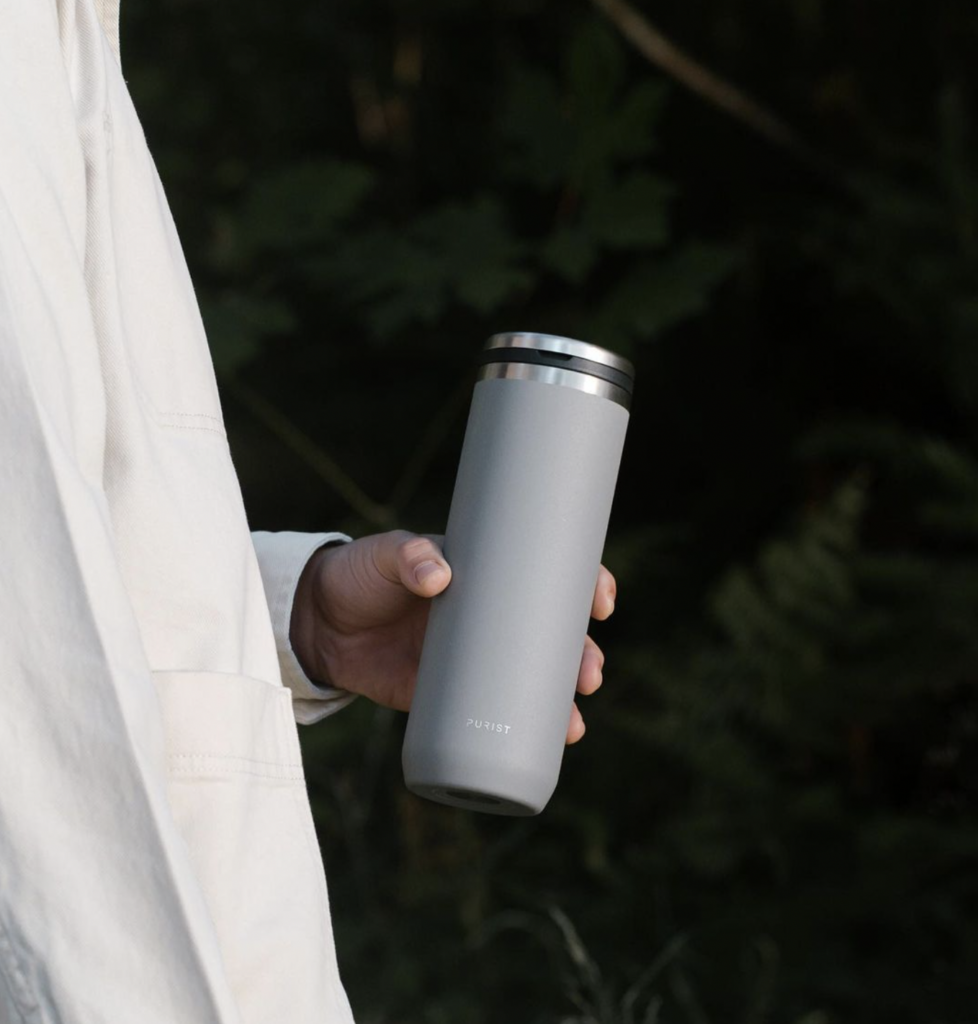 Do you want a beautifully designed mover? The company Purist offers an option that would not waste your money. This 18-ounce mover features a double wall vacuum outside along with unbreakable interior glass. In such a case, the bottle can keep hot water at a certain temperature for 12 hours and cold for 24 hours. If you put ice cubes into this mover to make a cold drink, it would melt in about 20 minutes. You can go from water to coffee or any other beverage without any remaining flavors mixing by using this mover.