Why choose trick when the treat will always be sweeter? Halloween desserts give bakers everywhere a chance to make their trick-or-treaters scream, and these dorm-friendly options have monstrous results. All you have to do is pick your poison.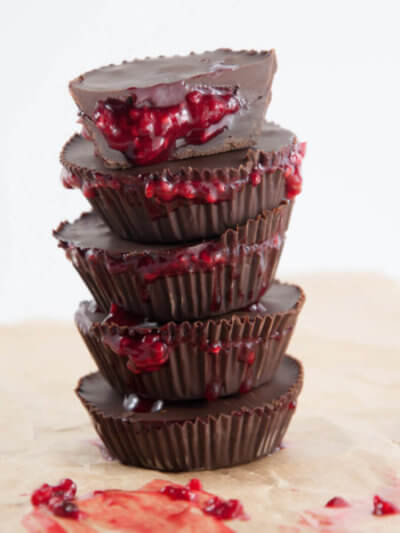 Werewolves are known for chomping on pretty much anything—but at least these gluten-free and vegan bites will help keep them healthy.
Total Time: 45 mins.
Ingredients Needed:
1 cup frozen raspberries
1 tablespoon rice syrup
1 cup + ¾ cup (150 g + 100 g) vegan baking chocolate (or chocolate chips)
Directions:
Heat the frozen raspberries in a small pot on medium-high heat until soft, mash the raspberries until there are no large chunks and add the rice syrup. Mix them together and set aside to cool.
In a double boiler, melt 1 cup of the chocolate.
Place 8 muffin liners in a muffin pan.
Place about 1½ teaspoon of melted chocolate in the muffin liners and tilt them so the chocolate spreads to the sides. Repeat for all the muffin liners and place the pan into the fridge for a few minutes (until the chocolate hardens).
Add about a teaspoon of the raspberry filling into the chocolate coated muffin liners (place it in the middle).
Melt ¾ cup of vegan chocolate in the double boiler.
Once the chocolate has melted, pour it over the raspberry filling. Tilt it a bit so the top is completely covered in chocolate. Let it harden in the fridge for about 5 minutes.
Once the chocolate has hardened, carefully remove the liners and enjoy.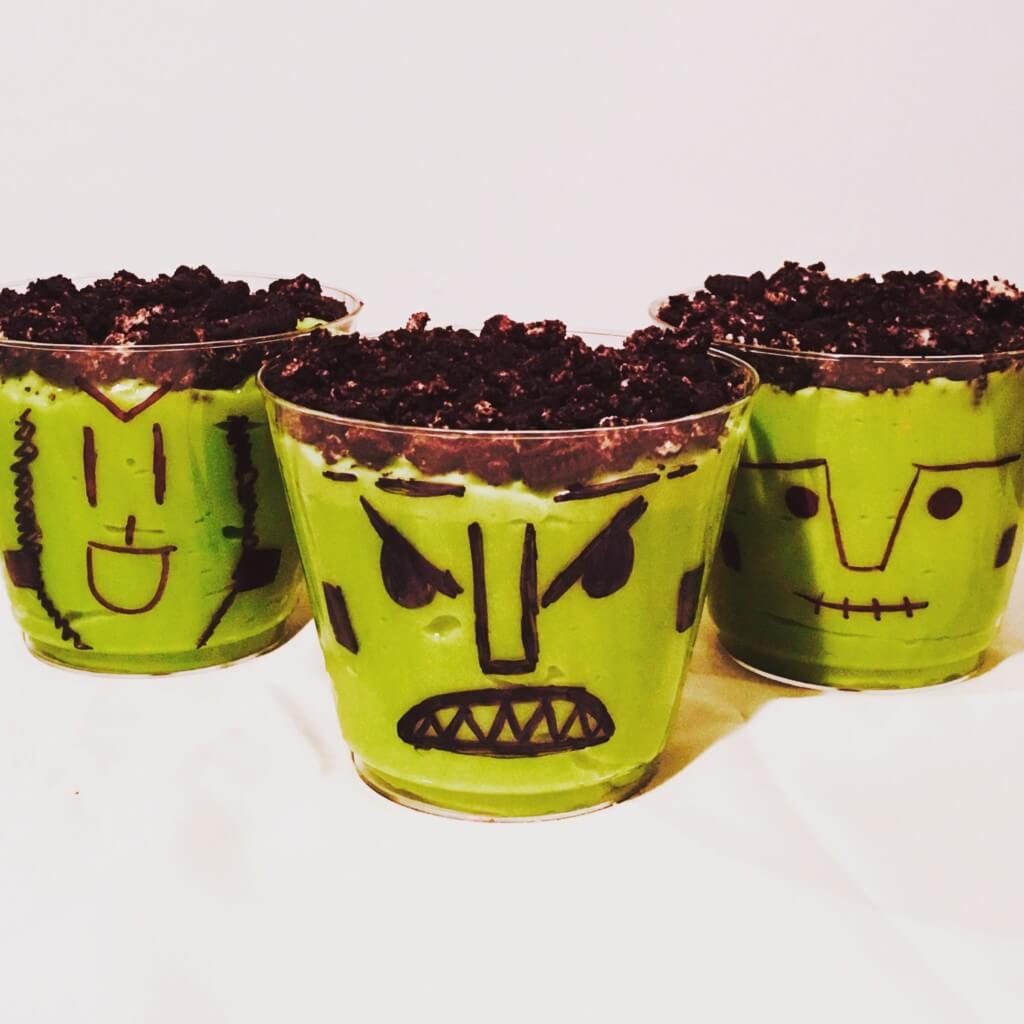 After being shocked awake, you'll need your first meal of the night. This dessert fills you up enough to bring you back to the land of the living.
Total Time: 10 mins.
Ingredients Needed:
2 cups milk
1 (3.4 oz.) box vanilla pudding
4 drops of green gel paste
2 cups crushed Oreos
clear glasses
black Sharpie
Directions:
Draw a Frankenstein's Monster face onto your cup with your black Sharpie. Make sure to leave room for the "hair."
In a bowl, pour your milk, green gel paste and pudding. Mix well until it thickens with a whisk.
Pour the green pudding into the Frankenstein cups.
Let it set for a couple of minutes.
Top with crushed Oreos.
Eat right away or chill for up to 2 hours. If they stay in the fridge much longer than that, the Oreos may get soggy.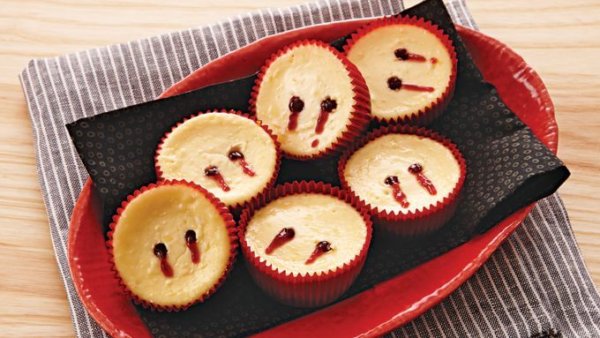 If you feel the sudden need to chomp on an artery, walk away from the living blood bags around you and try one of these succulent desserts.
Total Time: 2 hrs. 15 mins.
Ingredients Needed:
1 cup graham cracker crumbs
3/4 cup sugar
1/3 cup butter, melted
2 packages (8 oz.) cream cheese, softened
2 teaspoons vanilla
1 teaspoon grated lemon peel
3 eggs
1/4 cup raspberry preserves
Directions:
Heat oven to 350°F. Place a paper baking cup in each of 16 regular-size muffin cups.
Crust: In a small bowl, mix graham cracker crumbs, 1/4 cup of the sugar and the melted butter. Press 1 tablespoon of the mixture firmly in bottom of each muffin cup.
Filling: In a large bowl, beat the cream cheese and remaining 1/2 cup sugar with an electric mixer on medium speed until smooth. Add vanilla, lemon peel and eggs and then beat until smooth. Spoon the filling evenly over crusts.
Bake 20 to 25 minutes or until set. Remove from pans to cooling racks; cool 30 minutes.
Bites: With a straw, poke two holes in the top of each cheesecake. Spoon raspberry preserves into a small sealable food storage plastic bag and seal the bag. Cut off the bottom corner of the bag. Squeeze the bag to pipe the preserves into holes and on top of the cheesecakes to look like fang bites.
Refrigerate for 1 hour or until chilled. Cover and store in refrigerator.
Devil — Red Velvet Devil Truffles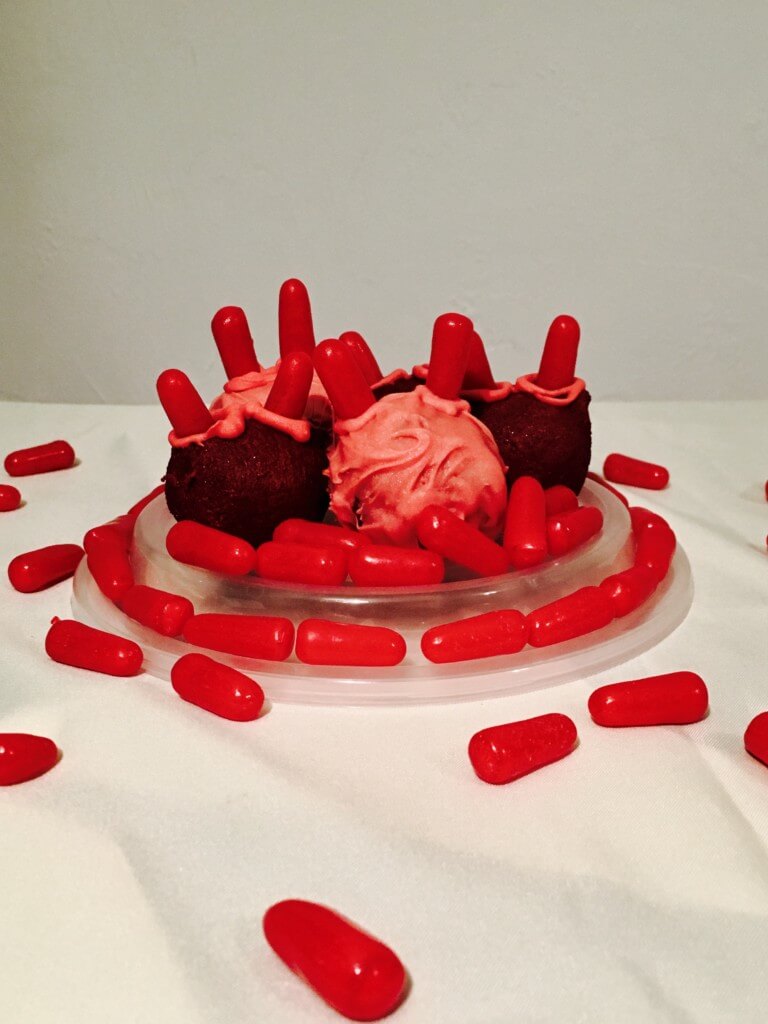 With the Red Hot horns, not only are you making a dessert that's devilishly delicious, you're also making them spicy as hell.
Total Time: 2 hrs.
Ingredients Needed:
1 box red velvet cake mix (plus ingredients listed on the box to prepare the cake)
8 oz. cream cheese-softened or vanilla frosting
16 oz. white chocolate
1 bag Red Hots or Hot Tamales or equivalent
red food coloring
Directions:
Make the red velvet cake per instructions on the box, let it cool completely and crumble it into a large bowl.
Add the cream cheese (or frosting) into the bowl and knead gently with your fingers until the mixture is fully incorporated.
Roll about a tablespoon of the mixture into a ball and place onto a sheet of parchment paper. Continue until all of the mixture has been used. Put them into the fridge to chill.
Melt the white chocolate and mix in red food dye. Take the cake balls out of the fridge and begin coating them with the melted red chocolate. This is best done by dipping the ball into the melted chocolate with a fork and then gently tapping the fork onto the side of the bowl so that excess chocolate drips back in.
When setting a truffle back onto the parchment paper, push in two Red Hots (or its equivalent) into the top of the cake ball to imitate devil horns. Continue doing so for each truffle.
Store the deviled truffles in the fridge.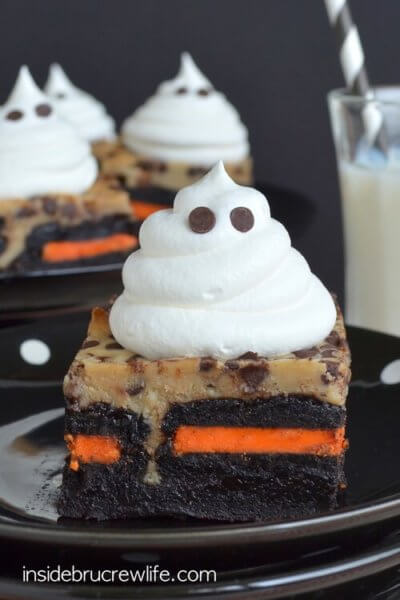 As you haunt the streets on Hallows' Eve, you're going to need a bite to keep you going. These brownies are absolutely to die for.
Total Time: 1 hr. 30 mins.
Ingredients Needed:
1 box brownie mix (9 x 13)
1 (8 oz.) package cream cheese, softened
2 tbsp. butter, softened
1 (14 oz.) can sweetened condensed milk
1 tbsp. cornstarch
1 egg
4 tsp. coffee extract (or 1 tsp. vanilla extract)
2 tbsp. flour
1 cup miniature chocolate chips
24 Halloween Oreo cookies
1 (8 oz.) container Cool Whip
Directions:
Mix the brownies according to the directions on the box. Spread ½ of the batter in a greased 9-by-13 pan. Place the Oreo cookies side by side onto the brownie batter. Cover the Oreo cookies with the rest of the brownie batter and set aside.
In another mixing bowl, beat the cream cheese, butter and cornstarch until fluffy. Beat in the sweetened condensed milk, flour, egg and coffee extract until smooth.
Spoon the cheesecake batter on top of the brownie batter carefully. Sprinkle with the mini chocolate chips. Bake at 350 degrees for 40 minutes. Cool completely. Refrigerate until chilled.
Top with Cool Whip before serving. Mini chocolate chips can be used for eyes, if desired. Store in a sealed container in the refrigerator.
Witch — Witch Hat Tartlets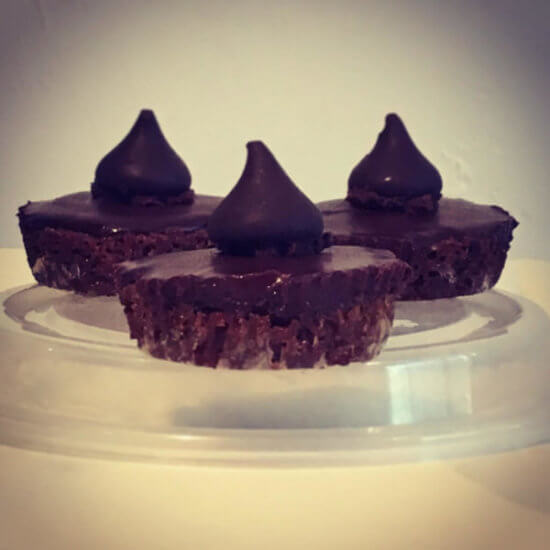 Instead of the eye of a newt and the toe of a frog, this recipe uses delicious ingredients to keep the nightly curses to a minimum.
Total Time: 2 hrs. 30 mins.
Ingredients Needed:
Graham Cracker Crust

8 large graham crackers
⅓ cup sugar
6 tbsp. melted butter

Chocolate Ganache

½ cup heavy cream
4 oz. bittersweet chocolate

1 bag of Hershey's kisses
Directions:
Heat oven to 350°F.
Graham Cracker Crust: Crush graham crackers into pieces. Transfer to the bowl and add sugar. Continue mixing until crackers form a very fine crumb. Add butter. Mix together.
Pack graham cracker mixture into 8 (2 ½ inch) mini tart pans. Transfer to a baking sheet and bake 20 minutes or until the edges of the tartlets darken slightly. Let it cool.
Chocolate Ganache Filling: Heat cream in a small saucepan over low heat until barely simmering. Remove from heat, add chocolate and whisk well until very smooth. Spoon into graham crusts.
Once cooled, top with Hershey's kisses to make the witch hats!
Spider — Spider Oreo Truffles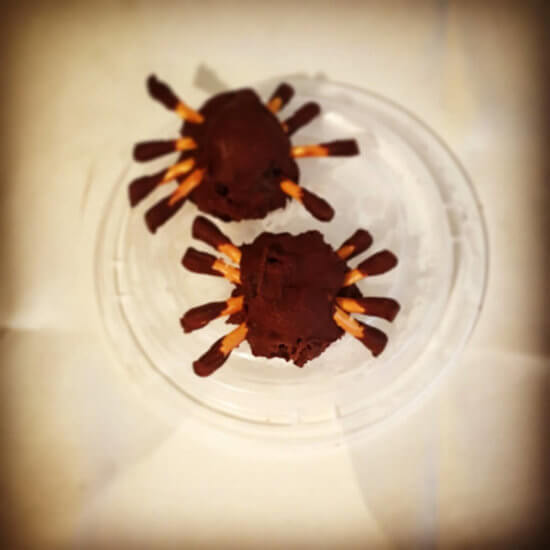 For all the creepy crawlers clambering around on Halloween Night, these spiders will hit the spot—just a touch of salty and sweet to make any hardcore ghoul smile.
Total Time: 1 hr. 30 mins.
Ingredients Needed:
1 (8 oz.) package of cream cheese
1 box Oreos (36 cookies)
2 bags semi-sweet baking chocolate
1 bag pretzel sticks
Directions:
Crush Oreos and mix with the cream cheese to make paste.
Roll into the paste into 1 inch balls and place onto wax sheet. Freeze for 10 mins.
Melt semi-sweet chocolate (no water can touch the chocolate!)
Take the balls and roll them into the melted chocolate. Take the pretzel sticks and dip them into the chocolate. Push 8 sticks into each ball for the spider legs.
Place the spiders back onto the wax sheet. Leave in a fridge for at least 2 hours.
Skeleton — Jack Skellington Cake Pops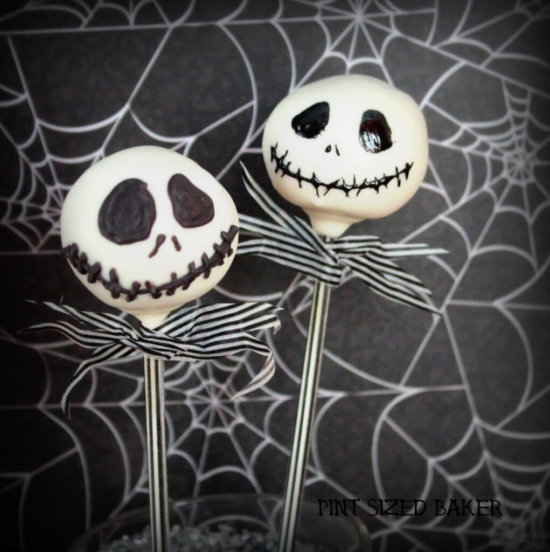 Whether you think Jack has a heart as pure as snow or as dark as Halloweentown, everyone can agree that these pops are tasty. Say hello to the pumpkin king.
Total Time: 2 hrs.
Ingredients Needed:
cake pop sticks
1 box vanilla or chocolate cake mix (plus ingredients listed on box to prepare the cake)
1 (8 oz.) package cream cheese
1 large package white baking chocolate
Cookie icing (with a toothpick) or black food coloring or black edible marker
Directions:
Bake the cake according to instructions on the box.
Crumble the cake and mix with the cream cheese. Roll the mixture into 1 inch balls and poke with the cake pop stick. Let cool on a wax sheet in refrigerator.
Melt the white chocolate and dip the cooled cake pops into the chocolate until fully coated. Place back onto the wax sheet and into the refrigerator to cool for about 1 hour.
Draw Jack Skellington's face onto the cooled white chocolate with the icing or food coloring.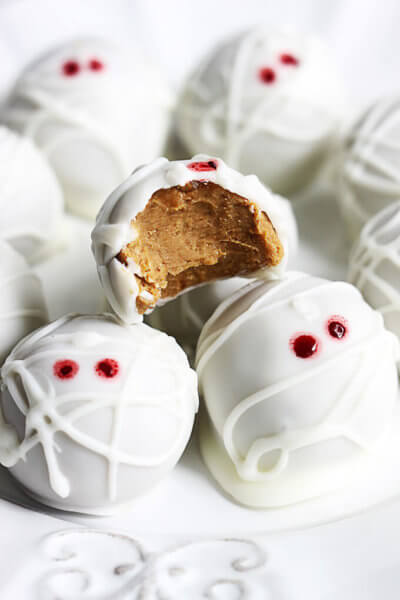 These no bake truffles are definitely a dorm favorite—no need to wait around for the next time the oven's available! Instead of stumbling through a difficult dessert, follow these instructions to wrap it up quickly.
Total Time: 50 mins.
Ingredients Needed:
1½ cups gingersnap cookie crumbs
¼ cup canned pumpkin purée
⅓ cup graham cracker crumbs
3 tbsp. powdered sugar
¼ tsp. ground cinnamon
⅛ tsp. salt
3 oz. cream cheese, softened
½ cup white chocolate chips
white chocolate chips or white dipping chocolate
red food coloring
Directions:
In a large bowl combine gingersnap crumbs, pumpkin puree, graham cracker crumbs, powdered sugar, cinnamon, salt and cream cheese. Mix until smooth. Melt ½ cup white chocolate chips and mix into truffle mixture.
Cover and chill until dough is solid enough to roll into balls (about 1 hour in the fridge or 30 minutes in the freezer). When cold enough, roll mixture into 12 to 14 balls. Place a toothpick in each ball.
Melt remaining white chocolate chips or white dipping chocolate in a small bowl. Use toothpicks to dip each truffle ball into the white chocolate, making sure to coat all sides. Gently shake off excess chocolate. Place chocolate-covered truffle balls on a baking sheet, parchment paper or foil. Chill until chocolate hardens.
Drizzle more white chocolate over the truffles. Soak the end of a Q-tip in red food coloring. Dab two dots of food coloring to make the mummy eyes. Handle carefully so you don't wipe off the eyes. Store chilled in airtight container.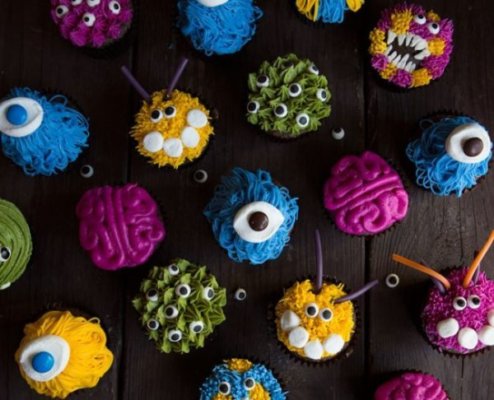 After a night filled with horrors and monsters of every variety, you'll want to sit back and relax with a cupcake of your choosing. Top the cupcakes with any kind of monster you think you'll see on Halloween night!
Total Time: 45 mins.
Ingredients Needed:
1 box preferred cake mix (plus ingredients listed on the box to prepare the cake)
2 packages (16 oz.) cream cheese
½ cup butter
2 cup confectioners sugar
1 tsp vanilla
various food coloring
Directions:
Bake the cake according to the instructions on the box.
Cream Cheese Frosting: In a medium bowl, blend together the cream cheese and butter until smooth. Mix in the vanilla, then gradually stir in the confectioners' sugar. Store in the refrigerator after use.
Add in food coloring to make different designs on top of the cupcakes.
Some additional ideas for toppings:

Chocolate wafers and chocolate ice cream cones for witch hats
Oreos and Hershey's kisses for witch hats
Gummy worms
Large marshmallows with black food coloring eyes for ghosts
Chocolate-dipped Milano cookie for a gravestone