Our TBR (to-be-read) lists are getting longer, but there's nothing wrong with adding some more titles… you'll get to them eventually, right? If you need specific titles to add, why not check out titles from queer authors, of course? Just because it's not Pride doesn't mean we can't celebrate. We need pride and love all year round, in every part of our lives — especially in the media we consume. Whether you're trying to expand your own horizons or looking to relate more to the different stories you read, these iconic writers are worth every bit of your time. From stories specifically relating to gender and sexuality to ones geared more toward adventure and genres, you'll be able to discover something for you in these author's works.
Keep reading for 10 must-read queer authors to add to your TBR list. Time to express your pride!
10. Sappho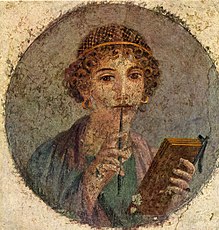 We're starting on a truly archaic foot here, but worth it, nonetheless. Sappho is best known for her beautiful poetry and you can find collections of them all over. Her work cannot be overstated, especially when we know that the etymology of the term "lesbian" is directly linked to her. Born on the island of Lesbos, Sappho expresses her love and passion for women in her poetry. Little is known about her personal life. What we do know includes some of her brothers and her wealthy parents. Despite any obscurities now, contemporaries of Sappho praised her work highly. Her poetry circulated and touched the population, even back in 600 BCE! Her work comprises approximately 10,000 lines all for you to peer over in wonder.
"I think gifting a book by a queer author can hold a lot of meaning for certain people, which gives it a more personal touch as a gift! It can be really important for everyone, not just for queer people, to feel that they are seen and heard," NYU junior Sarah Hassan said, who recently gave a copy of Sappho as a present. "I think works by people we can identify with, especially when it comes to hearing words from the heart (such as in the works of Sappho), tend to be more relatable and touching to those we want to help feel loved. Sappho's poetry really sticks out in its emotional touch and is great to share with queer friends to connect with them."
If poetry about love and yearning sparks your heart, then Sappho's your girl. She wrote, "You may forget but let me tell you this: someone in some future time will think of us." And she was right.
9. Alok Vaid Menon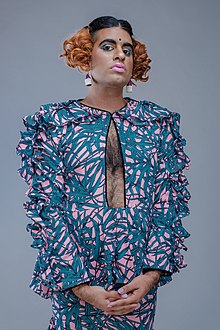 This artist does it all— poetry, performance art, fashion, drag and influencer. Going by Alok, they are a nonbinary artist. Their voice resonates with their audience through various forms of media and each way hits home. Alok's background as an Indian American from Texas allows them to confront several themes. This includes  race, gender and body neutrality, as well as trauma in their works.
"Alok Vaid Menon is a nonbinary poet and performance artist. They are the reason that I started questioning gender as a construct, and then my own gender identity. I am not a poetry person, but their words make me feel; comforting as much as they bring up pain," St. John's graduate Bianca Licitra said. "One of my favorite quotes from the book is 'I am sorry that the only way we have been taught to heal is to hurt.' They are such an important person to learn from and have helped me grow so much."
As an influencer on social media, Alok educates and evokes positivity in their followers. As a writer and poet, even more emotions and sentiment pour through. A truly gifted modern artist, Alok works to really enhance your life.
8. Meredith Russo
Here we recognize a contemporary author of Young Adult fiction and she's one to watch out for. Her first novel, If I Was Your Girl, won a Stonewall Book Award in 2017, along with the Walter Dean Myers Award for Outstanding Children's Literature. A beautiful book about the transgender experience, it proves valuable for anyone to read. Especially because of how rare it is for content involving transgender characters to be written by an actual transgender person. Here, you're granted the authentic, real and, most importantly, enjoyable experience.
"I think this is one of the few books I've seen gain traction as a book about a transgender person that was written by a trans author, which is incredibly important. It takes place in a high school and shows the struggles of a young transgender girl which is something so important for a younger audience to read. Even though the themes are a bit heavy, it's written in a way that opens the eyes of the reader to real struggles. Russo wrote it based on her own experiences and it does a great job of telling a real story," St. John's University junior Sam Haynia said.
Along with If I Was Your Girl, Russo has also written Birthday. Both deal with themes of gender, love, friendship and romance and can connect to audiences of all ages and identities. Whether you're here to explore stories about gender as someone with a similar experience or you're just looking to gain understanding, these books lend themselves to everyone. Build empathy, and maybe explore your own thought processes with these releases!
7. Yoon Ha Lee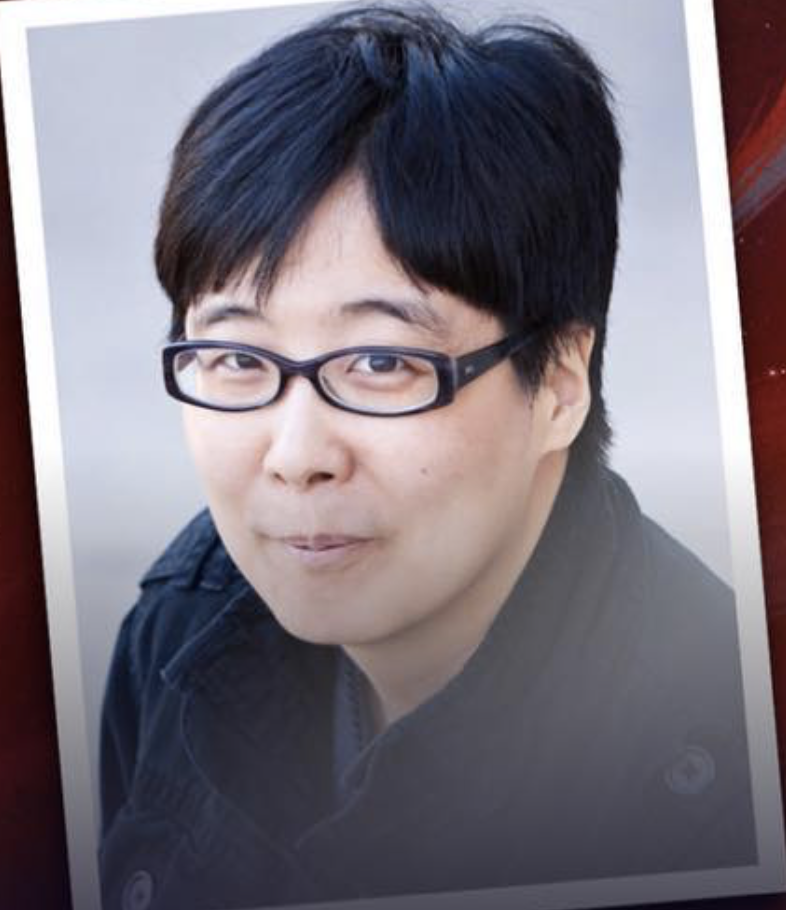 Yoon Ha Lee's works deserve all the honors and celebrations that they've been recognized for, because he has some truly inspiring work. Lee, a transgender man, doesn't center his writing on contemporary gender-centric story. Rather, he dedicates his talents to the science fiction/fantasy genre. His novels bring new ideas to this area and they are revolutionary in the sea of the sci-fi. The Machineries of the Empire trilogy, starting with the 2016 Ninefox Gambit, bursts with original concepts for how this interstellar empire functions in regard to time and power and it effectively utilizes tech in ways you haven't seen before. Not to mention the ghosts and clashing mass-murderer. And swords. These books, along with his short stories and poetry, rope you in right from the start.
Supporting Lee's work expands your boundaries when thinking about where to look for queer authors. There's more out there than the story of self-discovery (also important) and Lee brings out fantastic and exciting new elements to a mainstream genre. And his sci-fi is a treat for anyone who picks it up. Full of rebellion and dynamic, dangerous characters like Captain Kel Cheris, this is a modern author you won't want to miss.
6. Alex Gino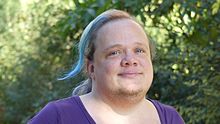 Genderqueer and proud! Alex Gino, originally from Staten Island, now writes children's literature. Here, they introduce the important topics of gender and identity to younger audiences. Gino's first novel, George, won the Stonewall Book Award in 2016, as well as the Lambda Literary Award for LGBT Children's/Young Adult choice— and deserved every bit of recognition. They write children's books and George is specifically geared toward middle-school readers. Still, the passionate themes pours through to connect with people of all ages. Kids vitally get the exposure of acceptance and gender exploration early with works like this. And we know adults can learn just as much from children's books as we could've back in the day. Even more so, now that adults can connect their own experiences (with themselves or others) and think even more broadly on the subject.
The experiences and emotions expressed in George are certainly ones to look out for. They also wrote the novel You Don't Know Everything Jilly P!, surely another treasure, as well as Rick, which centers around asexuality. All of these children's books, whether as a gift to someone or as a blast-to-the-past for yourself, are worth the check out. A natural author and storyteller, Gino is the perfect pick for a positive and expansive story relating to gender.
5. Nicole Dennis-Benn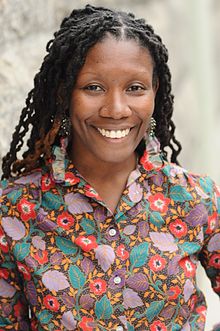 Her works have me hooked. Jamaican writer Dennis-Benn's books heavily deal with themes of sexuality, race, class and the postcolonial period. Important and touching, they're also just so engaging. We see generational problems, the complexities of family, romance and (trigger warning) some trauma she handles in a compelling and realistic way. A book with so many perspectives and conflicts (both external and internal), you won't be able to put it down. We watch the struggles of trying to move up in society, being marginalized due to sexuality, along with the effects of racism and colorism, all through three generations of one very interesting family. The New York Times called her first novel, Here Comes the Sun, the "Best Book of the Year," and we can see why.
As a lesbian author, it's clear just how vital Dennis-Benn's works are and how they touch the LGBTQ+ community. So many of her works touch upon feminist themes and prove important for all audiences. Works that are both engaging and heart wrenching, Dennis-Benn is one to look out for.
4. Oscar Wilde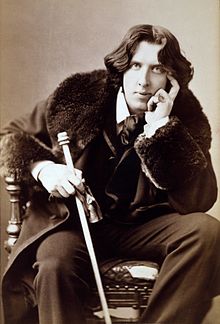 Another nineteenth century writer and poet. Wilde's talent expands to much more than that, as he thrived as a prolific essayist and playwright and, of course, wrote his sole iconic book The Picture of Dorian Gray. His name is known for many reasons, but for so long was connected heavily with the trial which rippled through the world. Convicted because of his homosexuality in 1895, Wilde was jailed for two years. After this, he became ostracized by society until his death in 1900.
Despite the tragedy of his fate, the many works he left behind continue to impress audiences everywhere. Plays full of witty phrases and comedy as well as poetry brimming with imagery and emotion, Wilde will never disappoint. The Importance of Being Earnest is a clever comedic play. It even included in its original title A Trivial Comedy for Serious People. His works, this one in particular, are full of ambivalence and commentary on Victorian society and often poke fun at their ridiculousness and contradictions. Many of his plays, poems and writings sport his aestheticist view of art as well, being "art for art's sake." Dynamic and iconic, Wilde can't be a name forgotten when looking at queer authors.
3. Alison Bechdel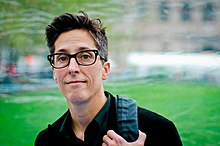 You might recognize the name from the Bechdel Test— a test applied to works of media to gage its representation of women. Credited to herself, Liz Wallace and inspired by Virginia Woolf, Bechdel's comic strip from 1985 first utilized it. Of course, that's not Bechdel's only accomplishment.
A writer and cartoonist, her experiences as a butch lesbian permeate her works as well as her connections with mental health issues and family dysfunction. Specifically, her graphic novel Fun Home documents her life. This work impacts and strikes so many people and eventually scored Broadway adaption into a beautiful, thriving musical that would go on to win a Tony award. Fun Home as well as her second graphic novel, Are You My Mother? hold significance with the LGBTQ+ community at large. Both are saturated in emotion, confusion and identity discovery. Especially when it comes to strained relationships with your parents and discovering who they are as adults. It certainly is a journey everyone should embark on, queer or not. It's a ride that'll hold your attention the whole way.
Bechdel additionally has a comic strip, Dykes to Watch Out For that ran from 1983 to 2008 and also exhibits an early example of her impact on the community.
2. Radclyffe Hall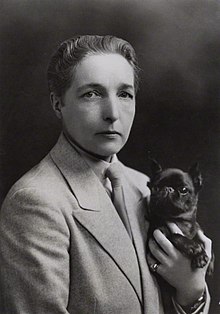 Hall wrote a few things, but her most well-known work, The Well of Loneliness, cannot be lost to history. This 1928 novel explicitly carries its lesbian themes strongly and proudly and Hall received much criticism and backlash for it. When it came out, the United Kingdom ruled all copies to be destroyed after taking it to an obscenity trial. Now that we're just reaching the 2020s, we can help bring Hall's work back into the light.
Hall was born wealthy and went into adulthood without a marriage. Rather, we know of her affairs and relationships with several women through the years. Hall even took the name "John" from one partner, Mabel Batten. When it came to religion, Hall was Catholic but still interested herself with spiritualism. This allowed her to continue to live her life as she would. The Well of Loneliness certainly reflects some of these ideals and concepts in a way that just makes us feel proud of her Roaring Twenties writing.
She gained more recognition as time went on, especially in LGBTQ+ spaces. Hall's own emotions pour through the novel, as its protagonist functions in the early 20th century world as a butch lesbian. For those of us curious about the past while still craving a bit of modernity, Hall's work is where it's at.
1. James Baldwin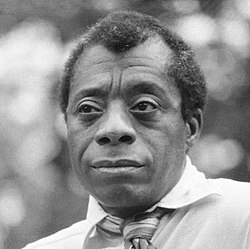 Baldwin wrote a quote that really understands our connection to books: "You think your pain and your heartbreak are unprecedented in the history of the world, but then you read." And that's why he's so important to delve into. An African American queer author born in the 1920s, Baldwin touches upon many themes in his various works. This includes that of sexuality, race and class. His ideas are expressed strongly in his many essays and short stories. His longer works, including Go Tell It On The Mountain and Giovanni's Room, can dive even deeper into these ideas and still fill us with emotion.
After experiencing abuse from parental figures and authority figures, we see some of Baldwin's exploration of trauma in his work. Similarly, he critiques religious institution in his writings, based on his own experiences in his youth. Both concepts engross the reader so strongly and take hold of you for the whole ride. Baldwin also notably participated in and advanced the Civil Rights Movement, including calling for a campaign of civil disobedience following an attack after the March on Washington.
As a modernist writer, his works revolve around the struggles of gay and bisexual African American men. Social conflicts pour through as do the characters' own internal struggles that we still appreciate and connect with today. Baldwin's touching and immersive prose is certainly not something to miss out on.