Congresswoman Susan Davis didn't think she'd find herself in public service, let alone in the federal domain. Her enthusiasm to provide service to those around her led her towards a path of government work. Fifteen years later, she's served on the city, state and federal level endorsing causes she feels passionately about like women's rights, LGBTQ rights, health care and more. Now, Davis uses her voice to promote change on massive scales.
CAREER TIMELINE
1983–1992: Elected to the San Diego School Board
1994, 1996, 1998: Elected to California State Assembly
2001–2003: Elected Representative of California's 49th District
2003­–Present: Elected Representative of California's 53rd District
Q: At College Magazine we're working together with EMILY's list, Emerge America, Human Rights Campaign, Higher Heights, She Should Run, Running Start, Victory Fund, and IGNITE on an initiative to fight for equal representation in Congress called 50 by 2050. What are your thoughts on the goal of achieving 50% of women in Congress by 2050?
A: We might know after this midterm election how possible it is to increase those numbers significantly because there's so many women running. Maybe even by 2025 or 2030 we'll be a lot closer. We're not that far right now in some ways. The problem that I see is that we tend to take a few steps forward and then a few steps back. So the idea would be to make sure that as that critical mass develops even greater that the momentum continues. I have to believe that if women are having positive experiences while running and are able to motivate themselves, more people will support them we might see those numbers grow fairly quickly.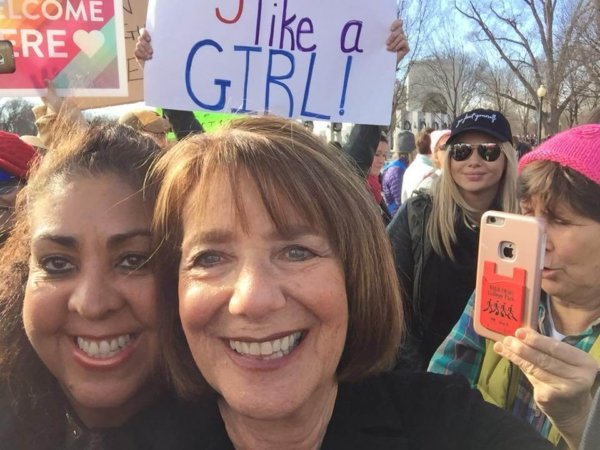 Q: Did you face specific challenges as a woman running for office?
A: Yes, of course. I think all women do, frankly… [In] many ways we are judged a little differently. A lot of us will tell the same story: If a man has to run home to be with his kids, people are glad to hear that. If a woman does that, they sort of respond with, "Well, why aren't you there now?" So I think that women are perceived differently, and when they run they tend to think of themselves as not good candidates until they realize they are.
Once they make the decision and are working towards an election, a lot of women believe that they are doing the right thing and that they're actually exactly where they should be. I never intended to run. I've always thought of public service because I'm a social worker, but I never really thought that I would be the one who was in political office. I helped out people who were running for offices, and I was willing to play a role more behind the scenes, I think as most women do.
However, I was in a siltation where my neighbor who was running for the school board decided at the last minute that she would not be running… I was always concerned about my kids' education and that of children that I knew were playing with my kids… [It] just came in pretty sharp focus when I had this opportunity to start.
Q: What was the most rewarding piece of legislation you helped pass?
A: The most rewarding was the repeal of Don't Ask Don't Tell. That legislation became an option for President Obama, where he could decide to move forward with it. Prior to that President Clinton had basically said, "Don't Ask Don't Tell." We ended up with a situation where there were men and women serving our country who were forced to live a lie. For them, the ability to serve openly became extremely important.
I [held] the first hearing with the military personnel committee back in 2008… We had not had a hearing on that since it was enacted in [1994]. I wasn't really encouraged to do that by people who didn't support the repeal. But I felt it was so important to move forward and to have witnesses tell us what it was like for them to serve in a military be patriotic, to want to do what they did to love their work and at the same time be in a position where they couldn't even put their partner's photo out next to their bunk… We've realized that this was a problem of readiness for the military. It really was a problem for the country as well. Working with our military leaders over time, we saw the change and by 2010 it was repealed.
 Q: What was the driving force behind your Survivor Outreach and Support Campus Act?
A: A lot of that came from my work on the armed forces committee. What we had been working with for some time, before we had been focusing on the university stuff, was what was happening to women in the military. They were experiencing sexual assault and sexual abuse, and it was important to be able to document that better to know what was going on. We discovered was that there was nobody available to these young women as advocates that had legal training and who had standing in the court that could help them navigate the system. They were really out there on their own. We created the S.O.S. system at universities and colleges with our experience from the military, and we realized how important it was to have that kind of council and advocacy on a university campus.
Q: Can you explain your role in Congress as one of the leading proponents for the National Institutes of Health?
A: It's to shine as bright a light as possible on the need for more funding so that we have the capacity, the people, the resources and the ability to cure the disease that we experience… We want to ensure that every person who has something to offer at a high level of research in the country sees that they can do that and they can make an incredible contribution to man and womankind. [We want them to] feel this responsibility with their intellect and with their aptitude to be able to solve some of these problems.
I have met with a number of young scientists. One of the things that they fear most is that if they go into the field, if they try and research and find cures and change lives, they won't be able to continue that work. There are periods where a lot of the people who have that ability decide to leave the scientific field because they can [earn] more money on Wall Street. My interest is in being sure that we have a continuity that its predictable, and that there's additional funding every year. On a personal level, I have family members who are living today who would not be here had we not had the Institute of Health to do the foundational work in research.
Q: For college women interested in running for office, could you describe what life is like as a Congresswoman?
A: I really love connecting people to resources, making things happen and having people who can do that together. I see this job—and I think women do this well—as a way to create a kind of synergy, a kind of excitement and engagement and connection to issues and people. [That's] something we contribute and that's why having women at the table is very, very important.
When I was first elected and my husband and I were here, we walked out of a room and gentlemen ran up to the two of us—I thought it was the two of us—looked at my husband and said, "Sir, are you a new member of Congress?" My husband dutifully said no. The guys said, "Oh I'm so sorry sir, I'm so sorry, I made a mistake. Please excuse me." And they walked away. They never even thought that I could be the member of Congress.
As women we still go through this. But I see these growing numbers, this critical mass that's occurring that's now making a real difference. I think it's going to make a difference in the country as well. I see it all the time… It's true of women who get involved, not just in the United States, but in other countries and even in war-torn countries. They play a much more significant role; they find that whatever they bring is something that does truly get in the heart of communities and helps them.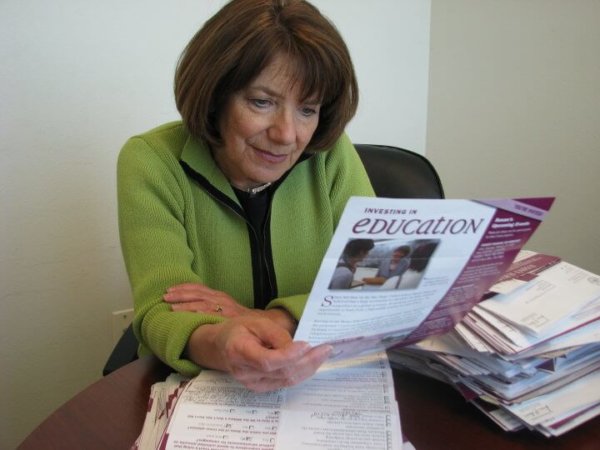 HOW TO BE A POWERFUL WOMAN LEADER
1. Be brave
"Just take a risk; get in there and do it. Decide that, 'This is a new experience for me and I'm going to do the very best. I'm going to really get a feel for what it takes to be successful at this, and I'm going to do the very best I can,'" Davis said. These inspiring words don't just apply to women set on becoming politicians, but for any woman looking to take major steps in life. Understanding that life throws challenges presents half the battle. The other half means finding the courage to take them on anyway.
2. Learn to connect, not to divide
Davis said, "I see this job as a way to create a kind of synergy, a kind of excitement and engagement and connection to issues and people.  I think that's something women contribute." Community takes precedence over all else has been one of Congresswoman Davis' main concerns throughout her time in office.  She stuck up for marriage rights, even when others criticized her actions.  She also defended health care and women's rights as a testament to supporting the community around her.
HOW TO CONTACT CONGRESSWOMAN DAVIS
Follow her on Twitter
Like her on Facebook
Contact her on her website.