As a woman of color, I'm accustomed to feeling out of place every now and then. For example, when my mom and I moved from Los Angeles to Irvine in the late eighties, I stood out. To add some perspective: I arrive for the first day at my new elementary school. I find out only two Black students attend there—and I am one of them. The other? A girl whose personality couldn't oppose mine more. You could describe me as quiet and athletic. She hated sports and was loud like really loud. Despite such differences however, the commonality of color that we shared caused an immediate bond and we remain good friends to this day. In case you might be wondering; she's louder now than ever. Thankfully I never experienced issues, or felt unwelcome, but I am very aware of how my dark skin stands out. Poet Claudia Rankine best sums up the sense of hyper-awareness most people with dark skin can relate to in her book Citizen; An American Lyric, where she writes: 'I feel most colored when I am thrown against a sharp White background.'
A few years ago, I found myself facing a crisis of age, not color.
I felt nervous about standing out as on older student. Initially, the prospect of returning to college for my undergraduate degree at the age of 40 simultaneously excited and terrified me. The thought of suiting up to play in the academic game after being away so long made me frequently question my sanity. When I really want a moment, I simply imagine myself playing alongside people young enough to be my own children. Talk about psyching yourself out. I don't know how, but somewhere in the midst of my self-imposed hysteria I came up with a plan that seemed doable: complete the general education units I need at my local community college, then apply for a transfer to a four-year university for my final two years. I figured community college would prove as a litmus test in gauging the level of emotional trauma awaiting me. Thankfully, all the energy I spent worrying proved useless. The truth? I love college life as a non-traditional student.
I never experienced ageism at community college or my current university.
From day one, I got welcomed in like any other another learner. Several of my classmates—yes, most of whom make up half my age (but who cares?)—diligently showed me the ropes, familiarizing me with all the academic apps one could ever need. Quizlet, Canvas, you name it, I can use it. I'd like to know why GroupMe didn't exist in my younger years, I'm legit obsessed. My year at community college flies by, and when it came time to transfer, I feel confident. As a matter of fact, I still carry a reputation as quite the savvy PowerPoint presenter. Excel still triggers me, but I remain hopeful that my visceral reaction at its very mention will eventually subside.
Unfortunately, my university campus experience got abruptly paused when COVID hit, but I made the best of my virtual learning space.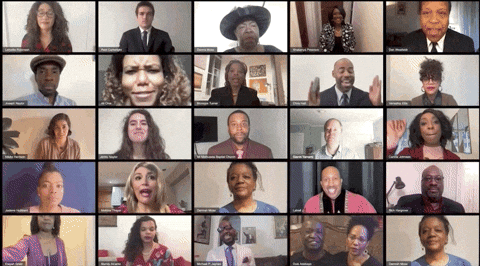 Zoom's gallery feature and breakout rooms suffice, allowing me to connect and work with my fellow students. Slowly but surely, I stopped bracing myself for questions regarding my age which never come up. In everyone's mind, we were one team working towards a common goal of graduating with a bachelor's degree. The path that brought us together feels entirely redundant. After a few hiccups, I finally make it onto campus and continue to relish in my university experience.
With my final quarter fast approaching, I spend most of my time doing what most seniors (students not citizens) do in the final stretch of their undergraduate journey: read, write, study, pray to make it through capstone seminar and find time for some semblance of a life in between. In retrospect, I realize that nobody ever cared about my age, especially my classmates. The acceptance and support I received throughout melts the heart. As an older student, I learned that difference creates balance everywhere, even in the classroom. So, if you know someone older who didn't complete their undergraduate studies and would like to, but appears hesitant for the same reason as me, tell them to go for it. Yes, college can prove hard and university even harder, but I'm living proof that both wind up amazing at any age.