COVID-19 mandates and guidelines make it hard to experience the Gainesville we once knew. The pandemic stops us from getting swept up in the bustle of West University on a Saturday night, looking up at the blue and orange flags glowing brightly inside Ben Hill Griffin on game day or piling plates at a crowded Gator's Dockside with friends. How do you make the most out of this cruddy situation? Gainesville holds dozens of activities within the Florida Health Department guidelines. Despite the COVID-19 pandemic, students continue to experience the real Gainesville. Remember to wear your mask when going out, social distance and wash your hands whenever possible.
Keep reading to find out the safest ways to keep the party going in the Swamp.
1. Order from Mi Apá Latin Café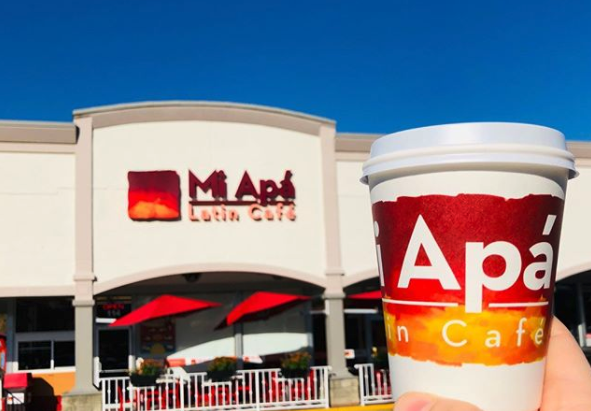 Tucked away in the Westgate Regency Shopping Center lies the best taste of Cuba. The vibrant color scheme of the walls and Spanish shingles make you feel like you fell in little Havana. Mi Apá offers a diverse menu of authentic Cuban dishes from the classic Cuban sandwich to palomilla empanizada, all at affordable prices. "I'm from Miami, where you can find Cuban food close to anywhere, so Mi Apa helped me not be homesick while I stayed in Gainesville through the pandemic," University of Florida junior Mariantonia Florez said. Mi Apá, like most food services, works hard to guarantee the safety of its customers during the pandemic. If you want to spice up your COVID-19 food routine, Mi Apá expanded its drive-thru and offers delivery services.
2. Run Trails at Sweetwater Wetlands Park
Tired of running around the same block or not getting enough nature? Just a short drive south of the University of Florida sits the Sweetwater Wetlands Park. The park extends miles over pristine Florida grasslands designed to clean the waterways leading into Paynes Prairie State Park and the Alachua Aquifer.
Catch wide-open views of the lowlands' green expanse coupled with blushing panoramic sunsets and sunrises. "I've also realized during this pandemic just how much natural beauty Gainesville has to offer," University of Florida junior Daniel Gallup said. "I've gone to the Sweetwater Wetlands Park and Paynes Prairie quite a few times! These are two places that have also kept me 'sane' during this tough time." Sweetwater Park consists of three extensive trails extending out towards Paynes Prairie teeming with a variety of Florida's wildlife.
You can switch up your running route, take in nature or catch some rays at Sweetwater for only a $5 entrance fee. The Park opens at 7 a.m. and closes at 7:30 p.m., leaving you with plenty of time to get out of your routine. With this, just make sure to social distance from other guests and keep a mask on hand. Get your daily dose of nature at Sweetwater Wetlands Park.
3. Have a Picnic at Depot Park
If Zoom calls become too boring with your friends, check out Depot Park. "Depot Park is definitely a great spot to have picnics, hang out with friends and social distance," University of Florida junior Kara Guillaume said. A few miles west of UF lies the perfect spot for your friends to see each other. Pop-A-Top perched in front of Depot Park provides plenty of snacks and soda for a picnic. Depot Park gives you plenty of picnic tables to choose from with a scenic view of the Park's playground, the diverse greenery and the Cade Museum's orange belvedere.
4. Sign Up for Gators Human vs. Zombies
While the COVID-19 pandemic ruined a lot of our plans, UF students hope to make the semester a little less ruined by hosting a zombie pandemic. The hardcore game of tag where UF students become a zombie or survivor hopefully continues this fall. "I look forward to playing Gators Humans vs. Zombies this semester," University of Florida senior Zachariah Chou said. "They just released revised guidance for how they'll be hosting their games while social distancing." Instead of the traditional rule, both zombies and survivors shoot each other with nerf guns. This year the Gators Humans vs. Zombies also require players to wear a mask. Check out their Facebook page to get involved in a more entertaining pandemic.
5. Go Underground to Devil's Den
About half an hour south of Gainesville hides Florida's best kept natural secret. A prehistoric spring hides in an underground cave known as Devil's Den. The spring maintains the perfect conditions for snorkeling. You can witness the blue and green light from the Den's large cenote against layers of 33 million-year-old limestone. Swimming in the cool waters of a million-year-old cave stands as a highlight of your year. In light of the pandemic, Devil's Den owners limit snorkeling parties to ten people. Check the Devil's Den Spring website to book an appointment and check their rates. Visit Gainesville's secret Devil's Den before it gets too cold.
6. Visit Ben Hill Griffin Stadium
UF administrators and Gainesville leaders prohibit crowds from attending football games, but Ben Hill Griffin remains open to the public for gator fans to imagine attending a Gator football game. The Swamp rises in hundreds of feet of bleachers and spiraling ramps, the perfect place for a hard workout. Racing up the flights of steps, alligator crawling up bleachers and lunging up to the top of the stadium puts you in shape for next year's football season. The stadium offers the best backdrop for the perfect Instagram pictures, graduation pictures or hanging out with friends. While the Swamp may remain open, remember to social distance with other gators.
7. Pick Up Some Fresh Food from Grove Street Farmers Market
If the regular trips to Publix start to bum you out, try something different. Every Monday at Cypress and Grove Brewery Gainesville's freshly grown produce and meat goes on display. "I'm vegan, so it can be hard to find good vegan spots to hang out at while also being comfortable during the pandemic," University of Florida senior Aschdin Fink said. "However, Groves Farmers Market has a ton of open seating that is also well-spaced. It's always a good time with the live music offered!" Grove Street Farmers Market opens Mondays from 4 p.m. to 7 p.m., giving you plenty of time to find everything for your grocery list. Check out their website to see updates and a full list of their vendors.
8. Go for a Walk Around Campus
As simple as it may sound, taking a short break from the stress of school, the pandemic and everything in between to walk around campus gives you the rest necessary to make it through the craziness. Despite not many Gators walking to class, walking around campus still gives you numerous benefits. "I find that walking around campus (with my dandy Gator mask) has really helped me stay grounded and allowed me to relax," University of Florida sophomore Mya Arong said. University Gardens and Lake Alice don't come with a price tag, so take advantage. The University of Florida works to guarantee students' safety on campus by sanitizing its facilities and providing gators with care packs.
Show off Your Artistic Skills at Painting with a Twist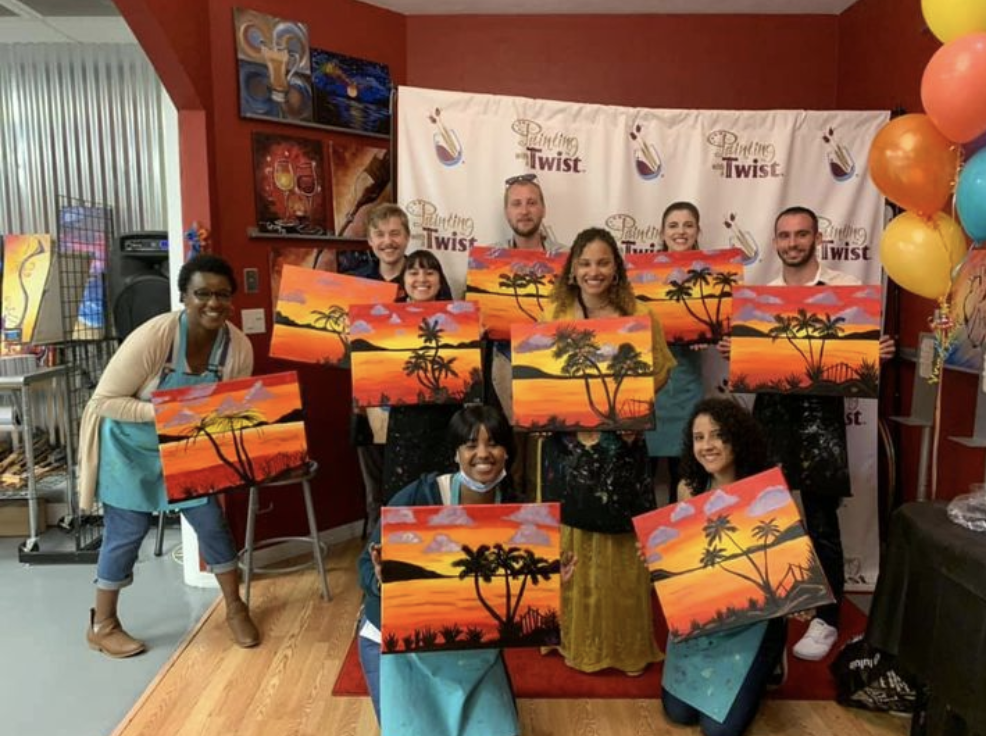 If you need to burn off stress and show off your artistic side, set up an appointment at Painting with a Twist. Located right next to the Oaks Mall, Painting with a Twist still keeps artists painting by hosting a weekly event where professional artists walk you step by step to creating masterpiece paintings. With no artistic experience needed, Painting with a Twist offers trivia nights, date nights and ladies nights. Painting with A Twist studio exhibits walls of every type of artwork bursting with flare and guaranteeing a good time. Bring your friends and a bottle of wine (only 21 and over) or any beverage for a course. Check out the best artistic talent Gainesville offers with two-hour courses starting at $35 and three-hour courses at $45. Painting with a Twist takes measures to ensure the artists' safety by distancing and requiring mask to be worn. Check out Painting with a Twist's website to start painting.
Order from Karma Cream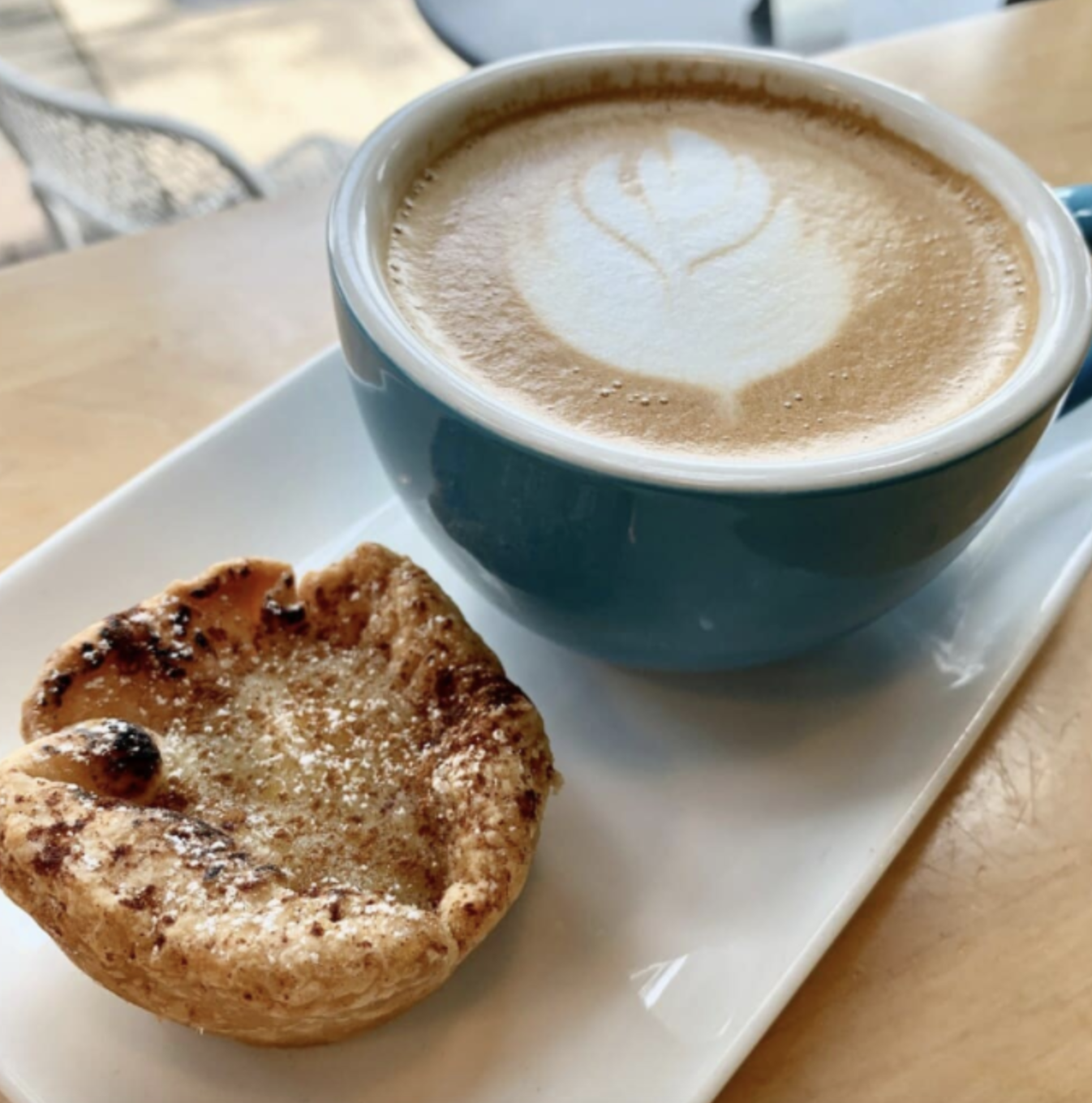 On West University resides the best spot to grab a quick coffee or one of their famous vegan sandwiches. This small curbside pick-up offers everything from organic ice cream to an orange sprinkle glazed donut. Karma Cream's soothing green walls and an assortment of light fixtures create the perfect environment to work on an assignment. Although Karma Cream offers limited seating, the shop makes ordering online easy. Visit their website to view their extensive menu. Even with the pandemic in full swing, Karama Cream still provides various options to lactose-intolerant and vegan customers.