Senior year of high school is when your teachers tell you that they're "preparing you for college life." But you know what? Some things in college are nothing like high school. Kill some of those learned behaviors like they're Slutty Girl number two in a B-rated horror flick. College is a whole new ball game, and to play it right you've got to step up to the plate and forget everything you already know.
And then all of a sudden you have three papers due in one week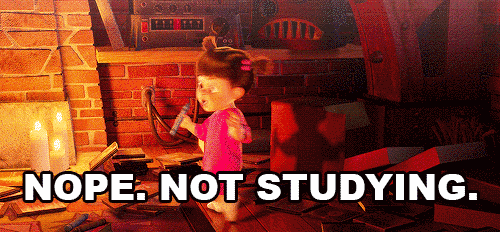 Most of us managed to get away with not reading our assigned novel until the night before the test (if you even did that much) or doing our homework in the study hall right before class during high school. But in college, when most classes (and not a set of classes, I mean one class) estimate you do about six hours' worth of work outside the classroom, procrastination won't cut it unless you somehow don't need sleep. "I didn't do any work in high school and still was high honor roll," TJ Mulcahy, freshman music education major at Augustana University, said/ "[Now] I actually take homework back to my dorm and complete (most of) it."
The Wrath (or lack thereof) of Student Orgs
When you get to college, you'll want to join a bunch of clubs or sports to get involved, and by all means, please do. Student orgs are fun and you'll meet lots of people. But be prepared—student orgs are their own form of work, and you have to really want to be part of it. "If you [show up once] in college, people are gonna call you out because there's more stuff associated with being in a club. A lot of clubs have events or responsibilities, and if you don't go and still say you're in the club, people are gonna be like 'nope',"Emily Yuill, senior public relations major at Bradley University, said.
On the opposite end of the spectrum, if you were very involved in high school, prepare for college to be more laid back. Jordyn Landau, sophomore exercise science major at the University of Iowa, attempted to join a club water polo team after loving her high school team. "My water polo team back in high school played year-round with club practice three times a week during off season…during the actual season, we had practice every day minus Sunday," Landau said. "When I got to [college], the team just messed around half the time and barely did any work, and there wasn't a strong coaching staff, so I just didn't really care for it."
Sayonara, Skip Days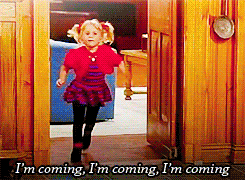 You know how in movies students show up to college whenever they want? That's a big, fat lie. You absolutely cannot be late to class in college. Most teachers give you five minutes after class starts before they mark you absent and three (and three is generous) unexcused absences. After that you start losing points from your grade. And if you skip enough, you fail the class no matter how much work you put in when you were actually there. Oh, and make up assignments? What are those? "[You] can't turn in any of the homework that was due the day you missed unless you have a really good excuse, and in several classes missing one day means you missed an entire chapter, so you start to fall behind. Good luck if you miss two or three in a row," Riley Schawo, junior computer-aided design major at the University of Central Missouri, said. If you miss any class time, get the coffee ready to stay up all night trying to catch up because you won't get it done in an hour like you could in high school. "The last time I tried to skip class…immediately afterwards I pulled a real all-nighter for the first time. Wrote code till 7 a.m., ate breakfast and kept coding until the project was due at 10 a.m.," Olivia Malone, sophomore computer design major at the University of Chicago, said.
Forgetting Your Pencil because you're not ready to adult yet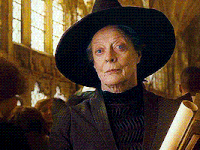 I know, this seems really simple…maybe even a little ridiculous because you think you'll be taking your notes on the computer anyway. But some professors won't let you use computers or tablets, so if you forget a writing utensil, you might be in trouble. "If you forget a pencil in high school, the teacher usually gives you crap, but then gives you a pencil. If you don't have a pencil and you show up for the test in college, sometimes you just don't take the test," Yuill said. "Raising your hand at 19 or 20…and saying 'I don't have a pencil' is a huge step back in the progress of your life. You're better than that." And honestly, turning to someone you probably don't know in your giant lecture hall to ask to borrow a pencil is just awkward. Carry five pens or pencils with you all the time. You will lose them, so plan to continually replenish your stock. Do not be the person who can't take their final because they forgot to bring a utensil to fill in the bubbles.
No texting and note taking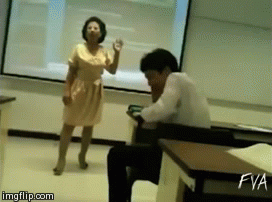 And while we're on the subject of electronics, that's another lie that the movies have been telling you. Using your phone in lecture? Not only a bad idea, but not worth it. Professors who see you on your phone will call you out in front of everyone, and getting called out in a class of 25 to 30 kids is much different than getting called out in a class of 200. "My marketing professor kept this kid after class and yelled at him for doing that. It was great," Yuill said. Watching a classmate get in trouble might be funny to you, but it won't be funny when it's you. Besides, Tweeting or Facebooking is a sure fire way to miss everything that could be on the final. Sometimes professors don't post the lecture notes online and create test questions based on what they only mention in class. If you're busy Snapping everyone how lame the class is, you just missed those three extra credit questions.