Fall semester has arrived, and it's time to hit the clubs. Student clubs, of course. These 10 student organizations dominate the Hawkeye Nation. In these clubs, anyone can join, meet hundreds of new Hawkeyes and leave their mark on campus before they have to leave the nest. From riding the radio airwaves to recruiting new black and gold blood, University of Iowa has everything.
1. Dance Marathon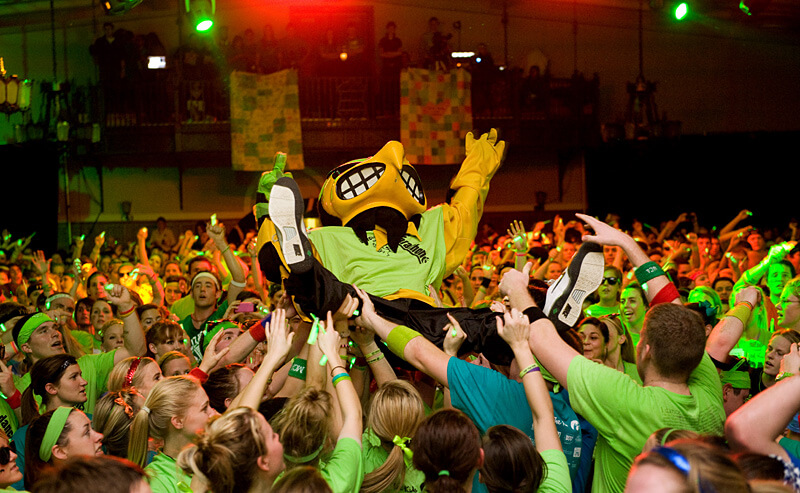 The running man, nae-nae and all moves from dad to dab take the floor at Dance Marathon. "You don't have to be able to dance…You just have to have urge to help others and drive to raise the $500 to get to the Big Event," Assistant Morale Captain Lexi Hicok said. To participate, students form fundraising teams led by morale captains. Each dancer must raise $500 for pediatric cancer research to participate in the Big Event: a 24-hour dance party. Literally. Until this moment, college has been your Mr. Miyagi, training you to beg adults for money, stay up all night and groove 'till the sun comes up. Make connections not only with your team and other dancers, but with the families you help through fundraising. What's better than a dance party for a cause?
2. CAB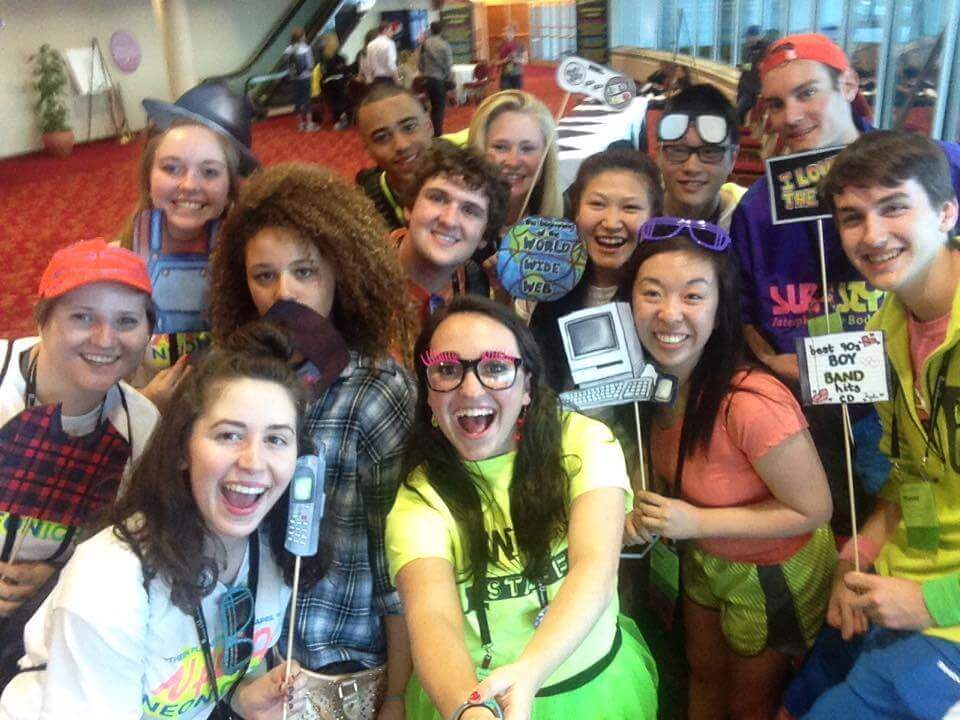 Do friends always hit you up because you know the hottest haps? If so, you'll fit right into the Campus Activities Board. CAB organizes good, clean fun on campus, but just because you're not hitting up bars doesn't mean you'll be snoring. "The big pull of CAB for me was that when I saw CAB at the student org fair. Out of all the tables, they were very upbeat, happy and inviting," president Haley Hollern said. "I would credit most of my friendships on campus to CAB, whether they be people I know from the org or people who recognize me from my involvement." CAB's impressive portfolio includes comedy shows by Amy Schumer and Kevin Hart, movie nights (with $3 admission, free for Greeks) and waffle bars. Joining CAB means signing up to be one of the hookups for fun on campus.
3. STAT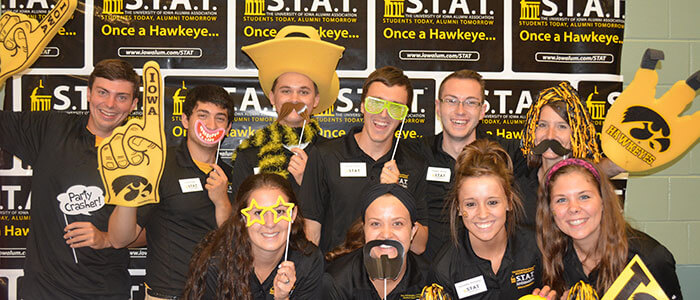 We all know every college student's favorite A-word–alcohol–but we hesitate to mention a college student's least favorite A-word–alumni. The dreaded six-letter word signifies the transition from a four-year party to the real world. Ick. Luckily, Students Today Alumni Tomorrow still excites Hawkeyes because, despite reminding us of the reality of adulthood, the club prepares students for post-grad life. STAT is rife with discounts on campus, volunteer opportunities, alumni networking and fun events like the Nearly Naked Mile and dodgeball tournaments in Kinnick Stadium. To join STAT as a regular member, registration is $20 dollars and comes with a free T-shirt. Regular membership means all of the benefits with no meetings to attend, but students can still advance to leadership roles.
4. Student Government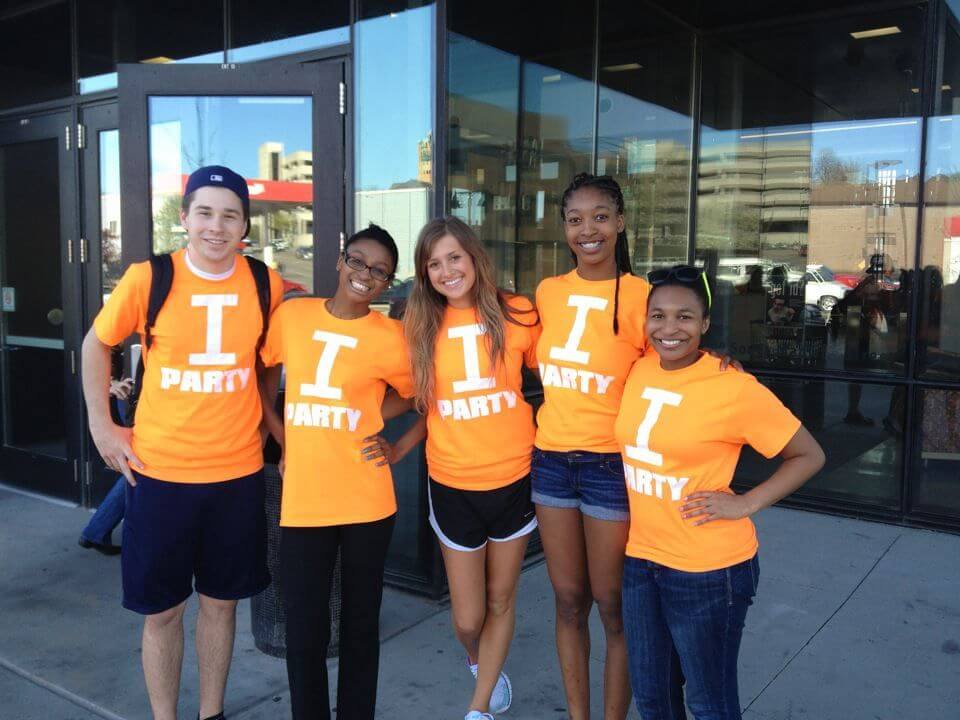 This election year may have left you jaded about the fate of American politics, but the POTUI (President of the University of Iowa) doesn't delete any emails or build any walls. "I joined student government as a freshman senator. I was looking to make a difference on campus, and I came in really motivated to leave this place better than I found it," UI Student Government President Rachel Zuckerman said. In fact, UISG has gotten shit done at Iowa that all students can appreciate. For example, UISG worked with Yellow Cab Iowa City to form SafeRide, a free taxi service for emergency situations and created the It's On Us campaign to benefit sexual abuse survivors. UISG combines socializing, leadership and executing positive changes on campus. "This is not an organization to join to fill a resume. You have to truly care about making a difference… It's a lot of work but the rewards are so meaningful," Zuckerman said.
5. Hall Associations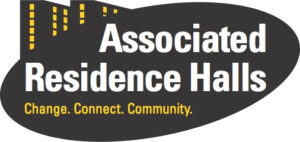 OMG, AD, BASH, HA, MayCo, OSCAR, ROAR and USA are the GOAT. RIP HAWQ. Almost all of these acronyms represent the hall associations of the dorms on campus. Joining one of these associations gives you everything you need to survive dorm life. Want to meet people outside of your hall? Got it. Need to rent a vacuum? Got it. Want free Jimmy John's while learning safe sex trivia? Okay, maybe that never crossed your mind, but your hall association still has it. "One major perk of being on Associated Residence Halls is that you get to see the behind the scenes of the Residence Hall. You become friends with the RAs and the desk clerks and you meet the staff," former HAWQ Vice President Lexi Frazier said. "The best thing that happened to me as an exec member of HAWQ was that we got to tour all the locked places of Quad and host an event for students to see those places as well." Be sure to keep an eye out for events in your dorm this semester.
6. Greek Life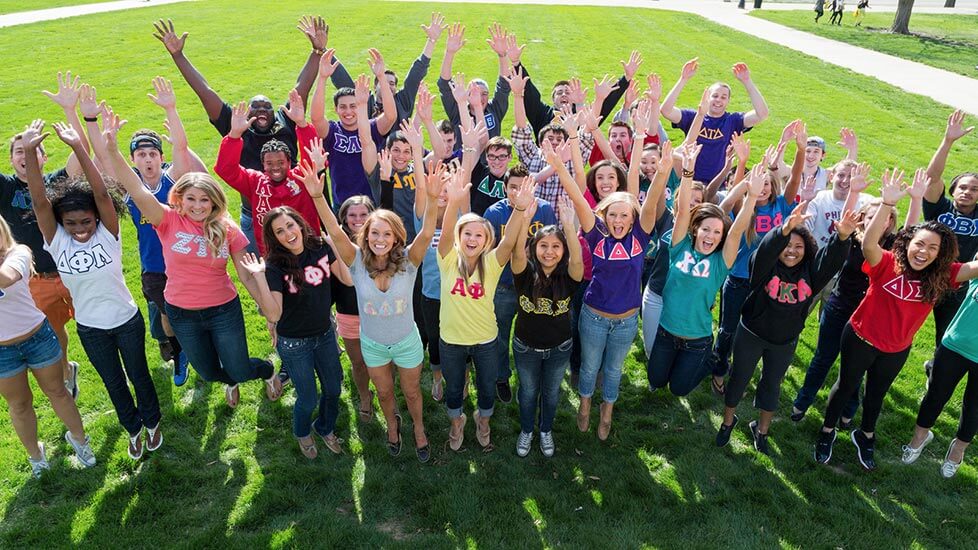 Almost as old as mythology itself (okay not quite), UI's Greek life dominates many college campuses across the country. While Greek life isn't the end-all-be-all of Iowa's campus, our famous party scene wouldn't feel complete without it. Aside from parties, Greek life offers volunteer and networking opportunities along with lifelong friends who you literally call brothers and sisters. If you love big friend groups, can't turn down a themed party or rush to raise the roof of a house for poverty-stricken neighborhoods, then you won't be able to pass up earning some letters of your own.
7. STAR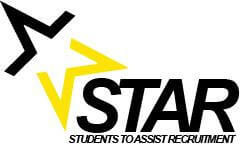 These Hawkeyes have, arguably, one of the most important jobs on campus: recruiting more Hawks to join the nest. STAR, Students to Assist Recruitment, works to confirm all the hype about Iowa to prospective students. Members work hard to show off the black and gold at its best, which, let's be honest, isn't very hard. "A good STAR member is someone [who] really cares about the university, is outgoing and just wants amazing people to join the wonderful Iowa City Community," STAR member Alex Anderson said. Commitments include a meeting once every other week and five hours of volunteering per semester. "Every meeting we have free snacks and drinks. Also, on visit days we get to hang out with Herky," Anderson said. Spread your wings and love of Iowa to the next generation of Hawkeyes.
8. KRUI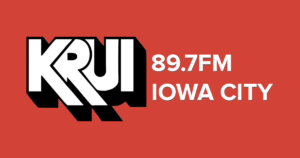 You know, you have just the face for radio. Kidding! But really, you should join KRUI-FM, Iowa City's alternative station. KRUI calls the Iowa Memorial Union its home, so no worries about long walks across campus. KRUI specializes in the unique, new and local, which should make your inner hipster glow ironically. Members can hold positions in one of nine departments from marketing to music to news and even sports–some members can even earn a paying position. Plus, KRUI exposes you to all of the notable people in the university and the greater Iowa City community. "I've met easily hundreds of new people. From different DJs to some of the people who run the venues we go to, to different professors, community leaders," general manager Kris Yambao said. "That's the beauty of radio. If you want to meet someone, you can. You have that KRUI brand behind you to say 'I'm important. Meet me so we can talk about why you're important too.'" If you've got something to say, regardless of major, KRUI is the place to say it.
9. Daily Iowan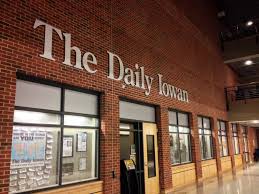 Throw it back to written press with the Daily Iowan, Iowa's award-winning student newspaper, where you get paid to report on news that matters to you and your fellow students. Shape up your writing skills before applying (What the heck is the difference between lay and lie anyway? Am I supposed to have an opinion on the oxford comma?), and if you make the cut, you'll contribute to a respected tradition at Iowa. A tradition that makes your resume shine when you leave. You can the newspaper as an editor, a multimedia reporter or a reporter in metro, sports, opinions, politics or weekend news.
10. Hawks Nest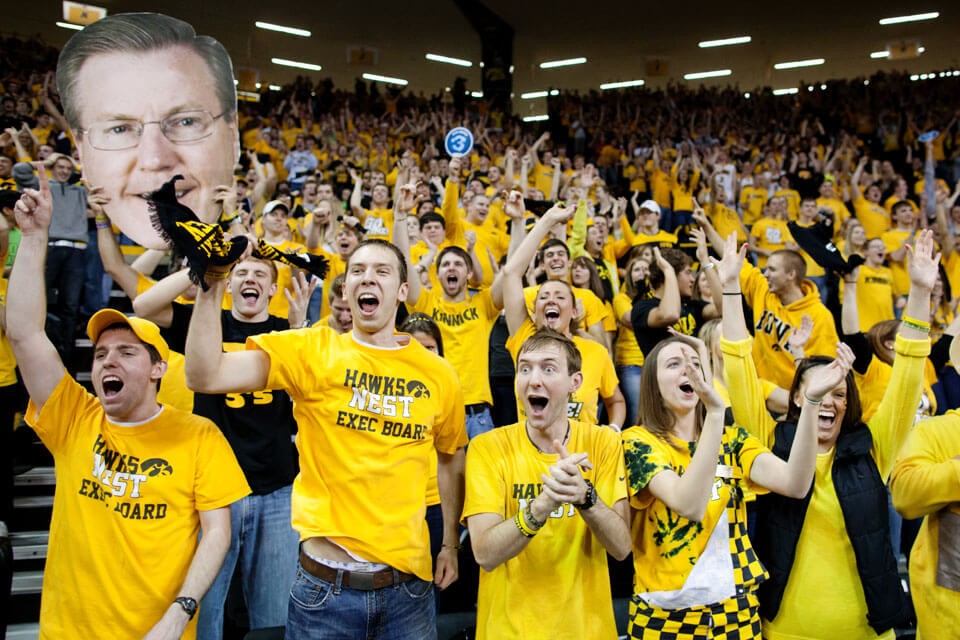 What makes Kinnick roar with chants of I-O-W-A glowing in perfectly coordinated sections of black and gold? Hawks Nest, the official student section of Iowa's athletic events. The Hawks Nest exec board makes sure every football game is turnt and runs smoothly. Special privileges for members include holding the gold banner after every touchdown and buying tickets in advance. "Hawks Nest has offered me really great opportunities, like being able to get tickets to the Big Ten Championship game. Hawks Nest also just always keeps the Hawkeye spirit alive, no matter what game we're playing and who else is in the stands," Hawks Nest member Abbe Sindlinger said. After all, Kinnick's electric energy would be nothing without black and gold blood to charge it.