Have you ever heard of the saying, "small pond, big fish"? Chicago is more like a big pond with even bigger passions. These Chicago college students take every opportunity to get involved and enact change in their community. That means different things to different students in Chicago. Some advocate for the entire student body in student government, others become a spiritual resource for athletes and some even rally the crowd at a basketball game. Regardless of their role, these 10 Chicago college students transform their passion into action across their campuses.
Ready to uncover your passion? The Passion Summit is for you.
Congratulations to Alese Allen at Indiana University for winning our Passion Summit Sweepstakes! Thank you to everyone who participated in the sweepstakes. You can still attend with our exceptional discount code:
PASSION SUMMIT $600 DISCOUNT: Promo code: COLLEGEMAG19
Check out these 10 passion-filled student leaders in Chicago.
1. Yvonne Chart, Northwestern University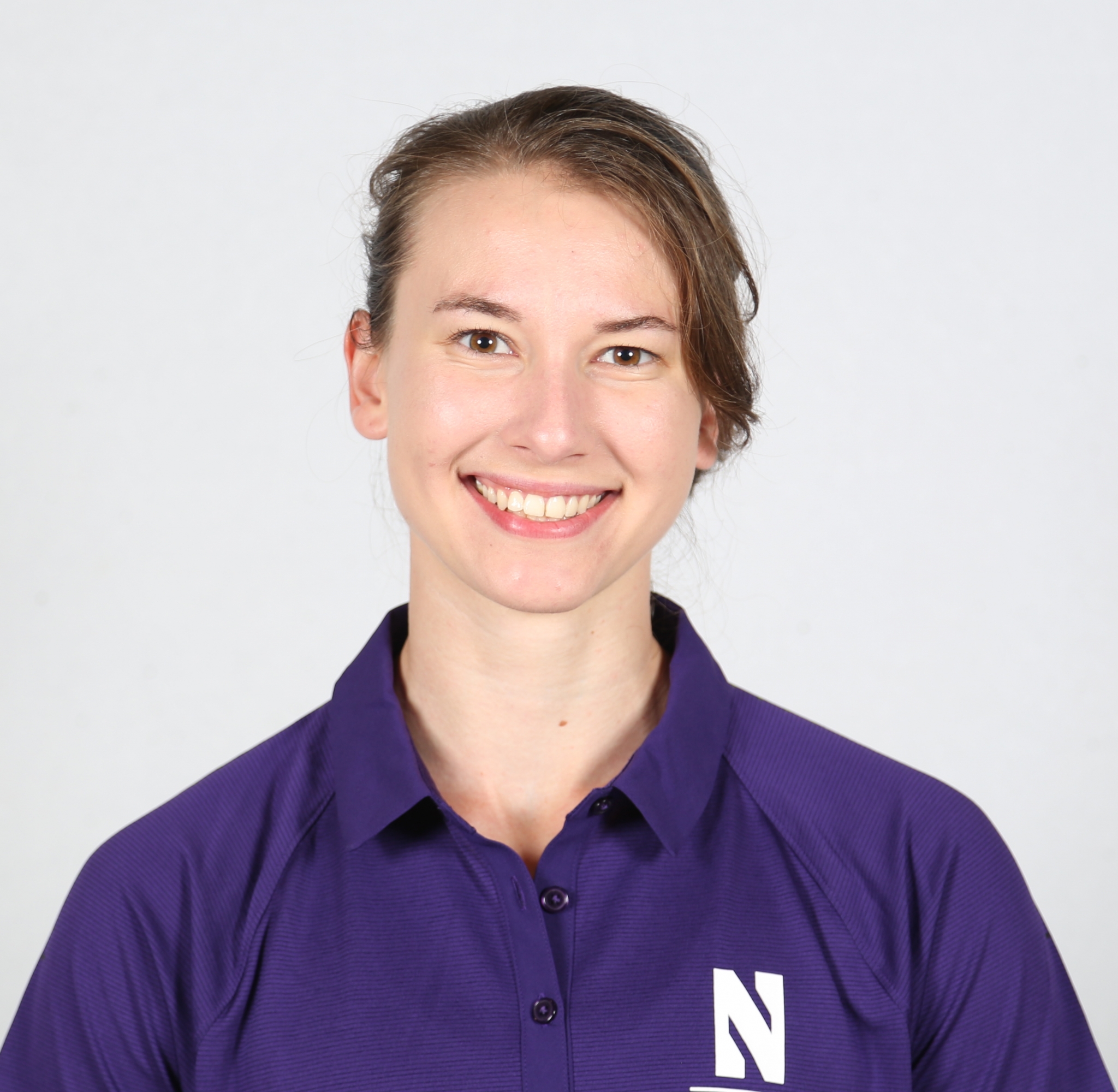 Student-athletes can make their voices heard on their campus. Yvonne Chart chose to blend her passion for sports and the environment with the Athletics Sustainability Committee Student Group. ASC aims to decrease the environmental footprint of Northwestern's Athletics and Recreation Department by raising awareness and decreasing waste. Chart joined ASC as a freshman with her fencing teammates. When the opportunity for President opened up, Chart felt ready for the challenge. "I knew that such a small club would need someone committed to keep it going… I felt that I would be able to fill that role," said Chart.
Now two years into her presidency, Chart recruits new members to make sure the organization thrives beyond her graduation. She researches long-term solutions to environmental issues so that the ASC can propose and enact day-to-day sustainable efforts in the Northwestern athletic community. Chart will continue to pursue her passion for sustainability post-grad by working in renewable energy or an energy storage field. "One of the biggest challenges to commercializing renewable technology is due to the lack of viable energy storage systems to balance supply and demand." Chart found a way to merge her passion for sports and the environment through her work with ASC.
2. Baylee Allen, Roosevelt University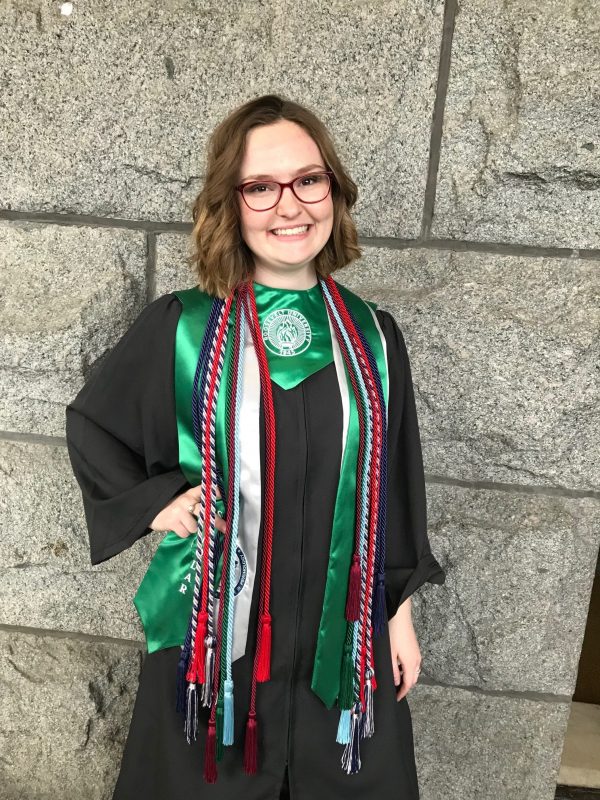 Baylee Allen knows psychology students have unlimited potential. Allen joined Psi Chi, a national honor society that offers scholarships and research grants at the national and chapter level, her sophomore year, then became president her senior year. "I wanted to help cultivate [a network of students] at Roosevelt… We had the organization but we didn't do a lot with it." Psi Chi also gave her a platform to explore event planning. As President she organizes rallies and coordinates guest speakers. "When you are making decisions as a president you are thinking what is it that my members are going to be interested in learning about… [you] think about their educational experiences and not just [your] own," said Allen. After graduation, Allen plans to work toward becoming a psych faculty member herself.
3. Ariana Moore, Northwestern University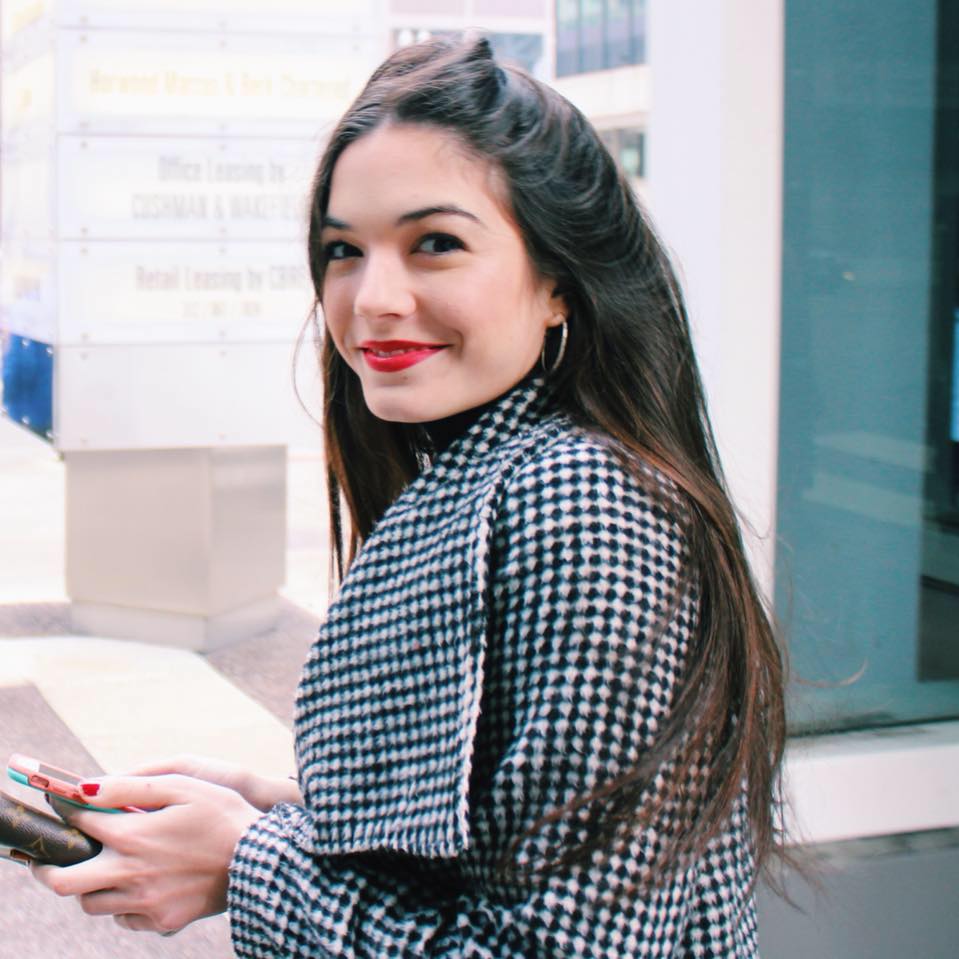 Ariana Moore watched her mother battle cancer. Camp Kesem gave Moore a way to give back to kids going through the same hardship. Through Camp Kesem, college students give children whose parents have or had cancer a week-long sleep away camp in the summer. "[Seeing] our campers leave… feeling like they have another support system… makes the long hours more than worthwhile," said Moore. After freshman year, Moore served on the Executive Board for two years, then became the manager of the Executive Board as Co-Director her senior year. "It's easy to get caught up in deadlines, meetings and career goals, but Kesem is a way for me to re-center… when those things become overwhelming," said Moore. "Using your own skills and talents to impact someone else instead of [furthering] yourself reminds me that the most meaningful things in life can happen when you… pay attention to the people around you."
4. Clayton Custer, Loyola University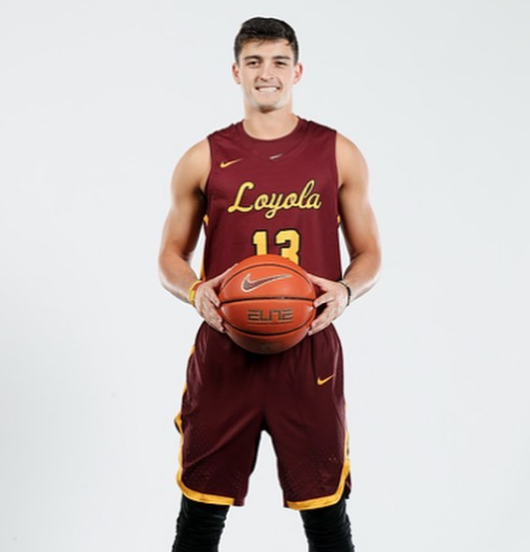 Student-athletes represent their university on and off the court. A senior on Loyola's men's basketball team, Clayton Custer learned to not feel discouraged by an "L" every now and then. Even after a slight decrease in his scoring averages, Clayton still holds his position as the third-highest scorer of this season. He's also a finalist for the NCAA 2018–19 Senior CLASS Award. The NCAA recognizes Division I senior athletes based on community, classroom, character and competition. With the end of his senior season ahead of him, Clayton will continue to pursue his passion for the sport and represent Loyola off the court.
5. Brianna McCormick, Roosevelt University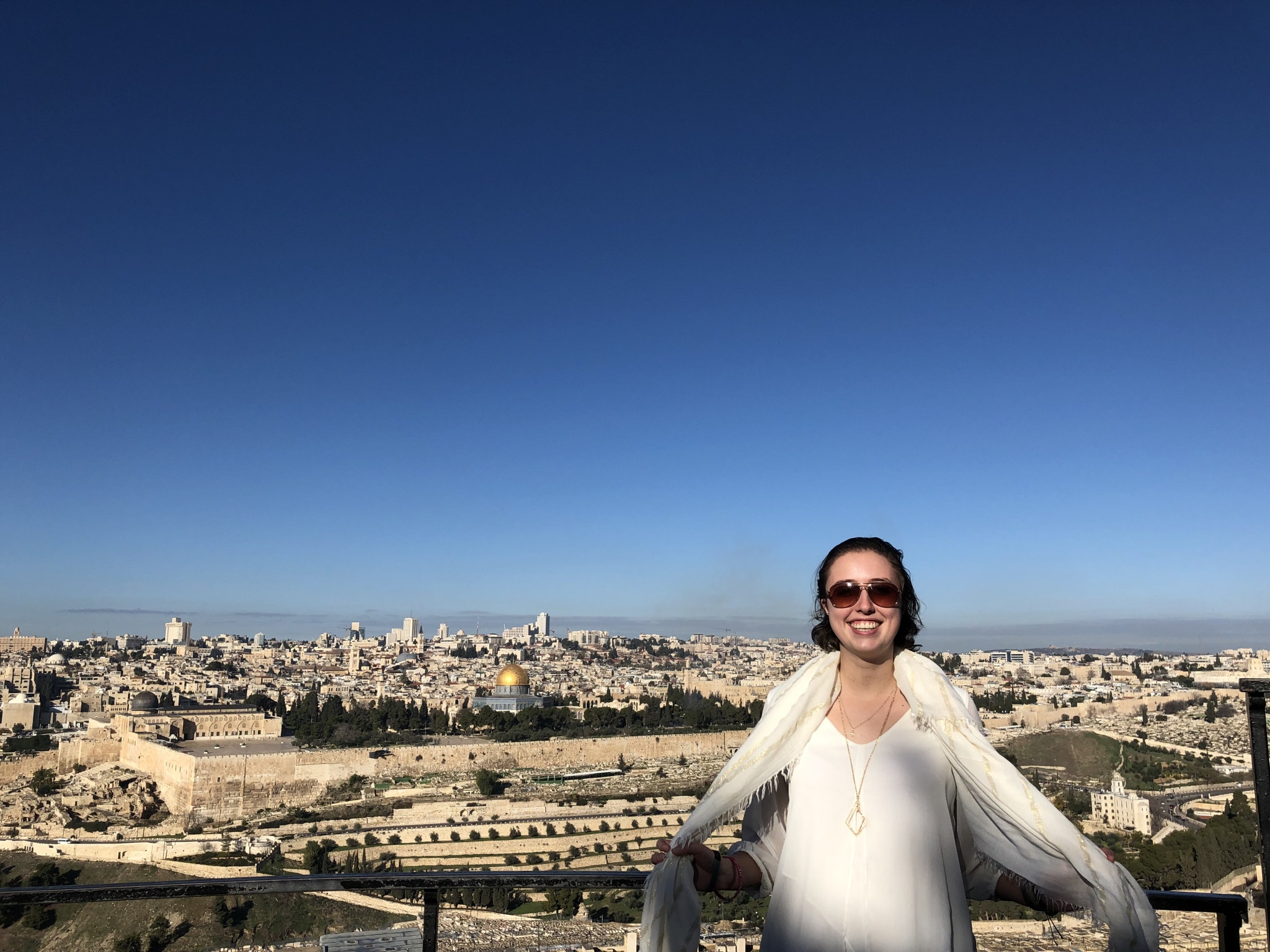 One dodgeball event hooked Brianna McCormick on Athletes in Action. From there, she decided to attend her first weekly meeting. "I could see that they were seeking something higher in life and I wanted to figure out what that was," said McCormick. Athletes in Action, a sports ministry organization, helps students come to Christ through sport. During her first year she experienced discipleship with a staff member. Then she got invited to join the action group—the leadership team that runs Athletes in Action.
Now as president, she helps to grow the organization's presence on campus. "Whether I am winning or losing at a game of softball or getting a PR for cross country or not, my worth isn't determined by success on the field or in the classroom," said McCormick. "While that is a gift from God that I love to be able to work towards, it's not defining me." Athletes in Action led her to discover her passion for ministry. She plans to continue her ministry by staying involved with the organization as a staff member or volunteer.
6. Kyle Shishkin, University of Chicago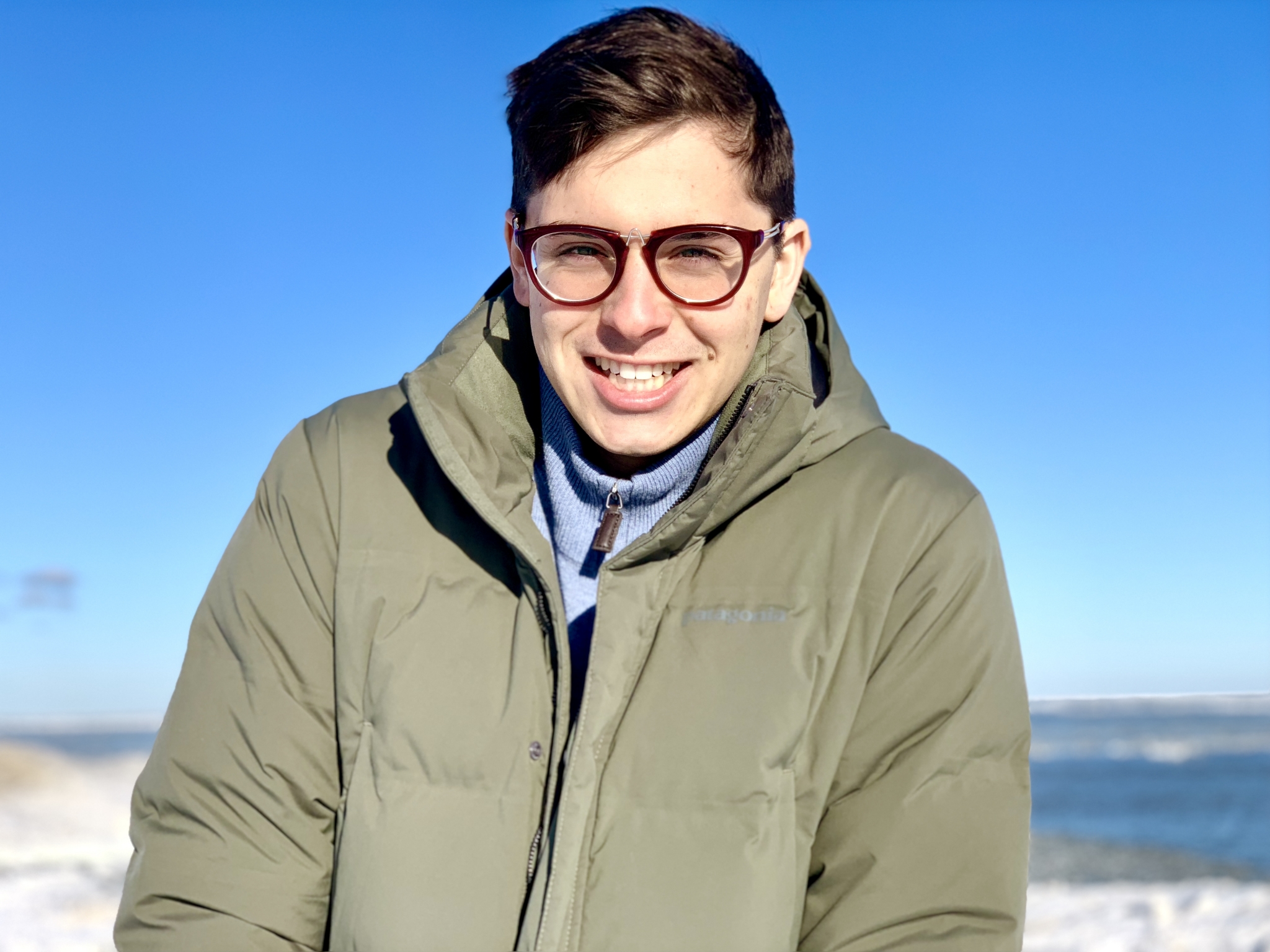 Kyle Shishkin sees an opportunity in every conversation as the Liaison to the Board of Trustees at the University of Chicago. "I was really excited to have an impact and make a difference at a university that I love and I am very grateful to," said Shishkin. In this role, he advocates for student interests by picking the topics to discuss at meetings between the student leadership and the University trustees. Shishkin said these meetings can sometimes get very involved but are always productive and respectful; everyone wants to make sure their represented body's voice gets heard. "My role as the liaison has taught me to navigate conversations on high-stakes topics, such as, 'How do we build a new Health & Wellness Center for students?' or 'What qualities do we look for in a new Dean?'" After graduation, Shishkin plans to continue his education with a Master's in International Relations. Born in Ukraine and raised in Israel, Shishkin looks forward to using the communication skills he's learned working with the Board of Trustees meetings throughout his career.
7. Elizabeth Cron, University of Chicago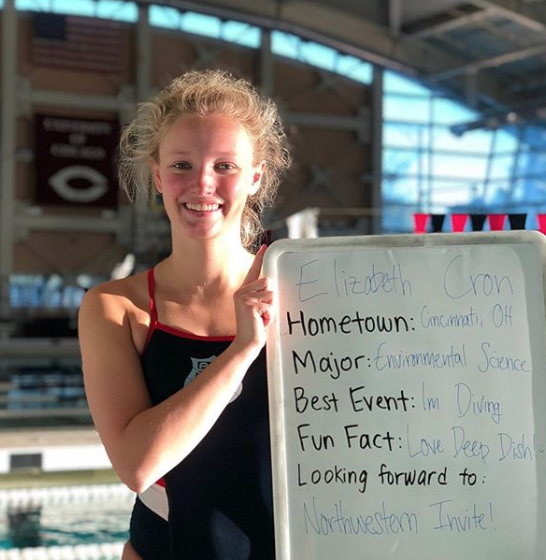 Elizabeth Cron set records on the UChicago diving team as only a freshman. She earned the title of UAA Athlete of the Week after excelling at the Triangular meet where she set the record for the women's three-meter dive at 308.32. Cron decided to try diving because of her background in swimming and gymnastics as a kid. Now, she enjoys actually being and feeling like a part of a team. UChicago's swimmers and divers practice together and cheer one another on during meets. This extended support system drives Elizabeth's passion for the sport.
8. Taylor Lake, University of Chicago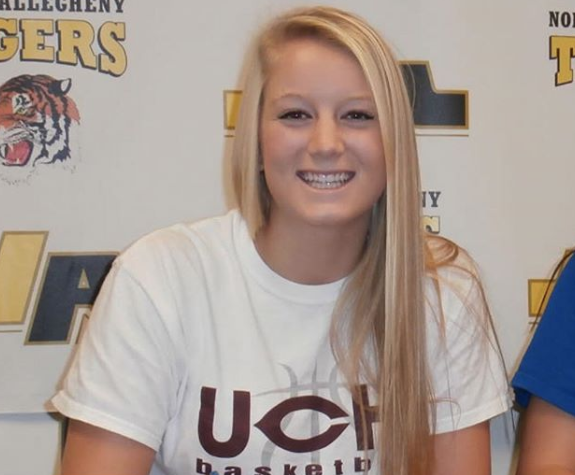 Good luck trying to guard Taylor Lake on her way to the basket; she can't be stopped. With a career scoring average of 11.6, UChicago's women's basketball team went undefeated last season—a title Lake defends alongside her team this season. She snagged the UAA Athlete of the Week and hopes to earn the First Team All-UAA. As the leading scorer on her team this season, Lake's passion drives her down the court and towards another incredible season.
9. Taylor Drew, Loyola University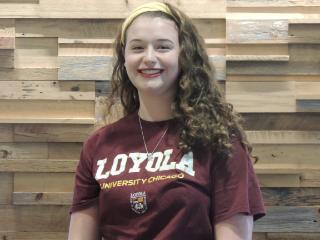 Taylor Drew's voice rules the court as Loyola's first consistent emcee for basketball. Drew, a sophomore history major, snagged the paid position after impressing Brian Day, Loyola's Director of Marketing, as an orientation leader. Now, she gets hypes the gameday crowd by announcing games and contests. This isn't her first time in front of crowds, though; Drew was both an announcer and athlete in high school. On Loyola's campus, Drew's school spirit opened up a new opportunity to use her voice to cheer on the home team.
10. Nahal Hashemian, DePaul University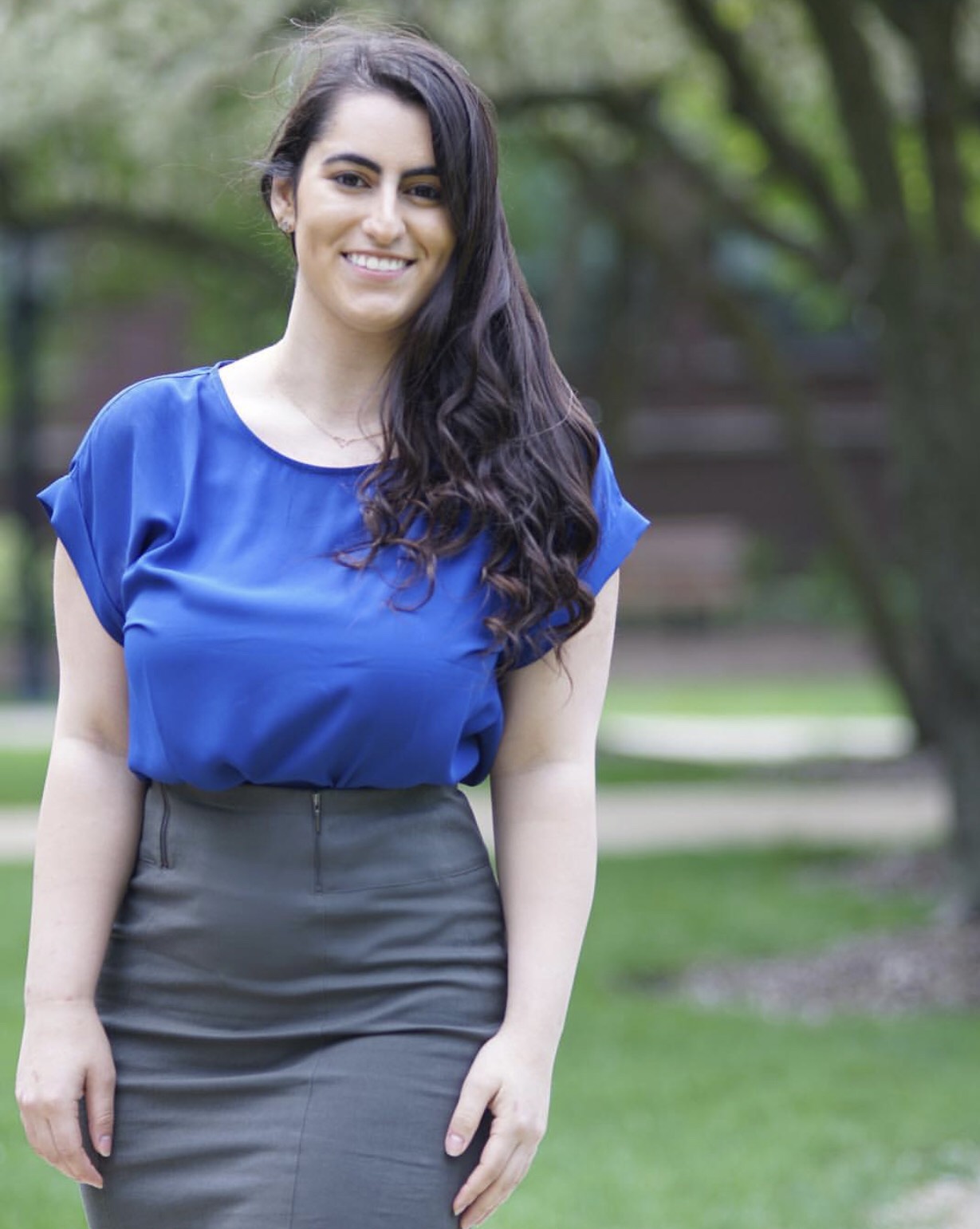 Nahal Hashemian got her first taste of leadership as co-captain of her high school swim team. She explored that passion when she stepped onto DePaul's campus as the Vice President for Special Events for DePaul's Public Relations Student Society of America (PRSSA) Chapter and a Student Success Coach for first-year students. "The best way to be a leader is to inspire others to rise [and] become leaders," said Hashemian. DePaul's Student Government Association gave Hashemian an opportunity to make positive change on campus. As Chief of Staff, she learned the "ins and outs" of student government. "I had the perfect mix of experience in terms of how the organization works and why SGA is so important to creating and cultivating positive change on campus," said Hashemian. Now as Student Government President, she understands that the role requires her to represent and advocate for all students. "Being a first-generation college student and young Iranian-American woman, I never even considered what higher-ed consisted of, let alone the politics of how my voice could act as a tool to make the DePaul experience a better one." With a passion for leadership and inspiring others to lead themselves, Hashemian lifts up her entire student body.