Finding a pharmacy school that works for you isn't always easy, and with tons of factors to consider, you can feel overwhelmed with choices. Great pharmacy schools provide resources to learn about the wide range of career choices in the pharmaceutical industry. Pharmacy students may also consider pursuing a dual degree, or finding a school to pursue both undergraduate studies and pharmacy school. Before you become a practicing pharmacist, you'll need to complete your Doctor of Pharmacy, or Pharm.D., and pass multiple licensing examinations, like the NAPLEX. Schools with intimate class sizes and high graduation rates allow future pharmacists to establish meaningful connections to use in the professional world. If you want to rock a white coat, the first step is finding a school where you can earn one.
Check out our Top 10 picks for the Best Pharmacy Schools in the Nation
10. Northeastern University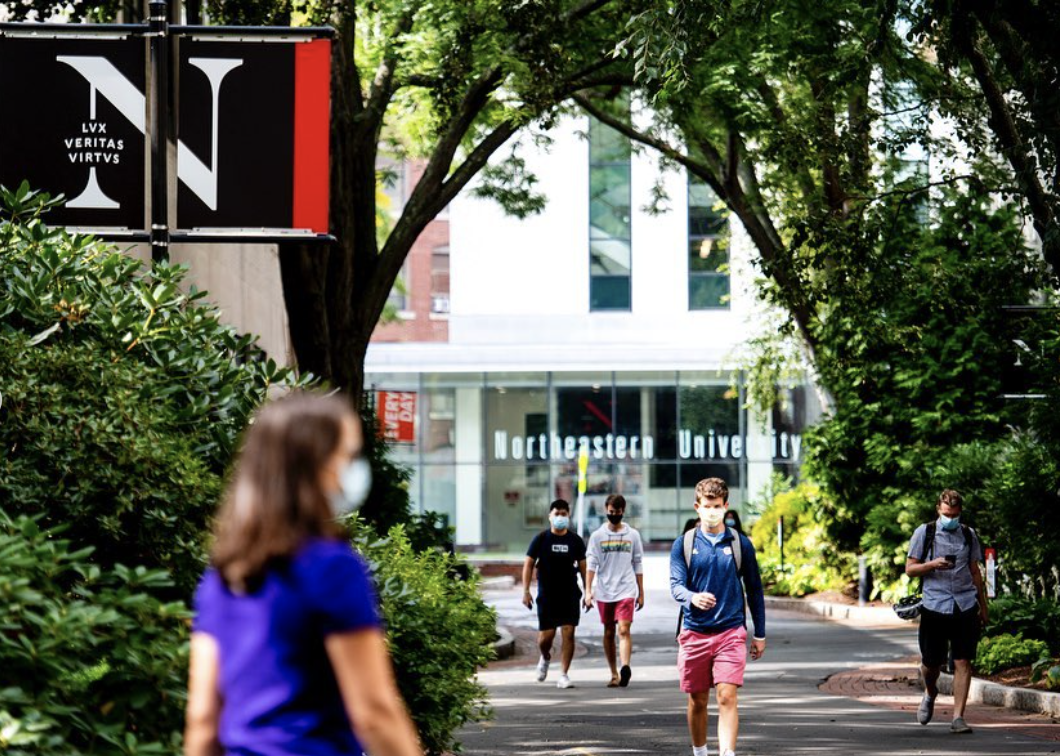 Northeastern University Bouvé College of Health Sciences offers a pharmacy program unlike any other. As a small program with under 150 students and a one-of-a-kind cooperative education experience, Pharm.D. students at Northeastern can expect an education full of hands-on experiences.
While all pharmacy students must complete introductory and advanced pharmacy experiences to gain hands-on work in the field, the Northeastern Co-op program allows students to gain more substantial experiences. In this program, students will alternate periods of classes and academic work with periods of paid employment. The Co-op program fulfills the typical IPPE required in all pharmacy schools. Even with a Co-op experience, students typically graduate on time with 87% of Pharm.D. students in the College of Health Sciences finishing their degree in four years.
With a mix of valuable hands-on experiences and an outstanding education, students studying pharmacy at Northeastern succeed in their field. Northeastern students average a first-time NAPLEX (North American Pharmacist Licensure Examination) pass rate of 94.6%. The co-op experience also assists students in creating connections with future employers; 92% of graduates find jobs or enroll in graduate school within just nine months of graduation. Alongside the Pharm.D. program, The Bouvé College of Health Sciences also offers a B.S. in Pharmaceutical Sciences, M.S. and Ph.D. programs, as well as dual degree options. The wide range of educational opportunities available at Northeastern allows students to establish a successful career in pharmacy.
9. University of Texas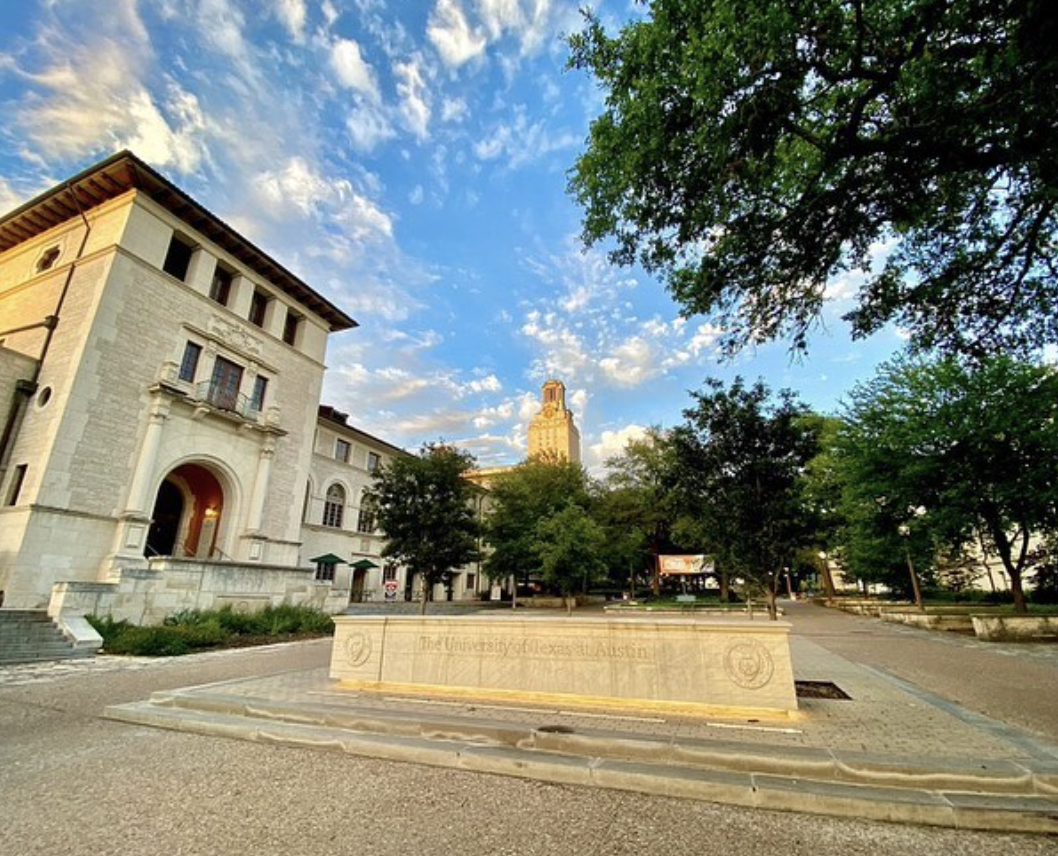 Get ready to Hook 'Em! At University of Texas College of Pharmacy, you'll have the opportunity to pursue a Pharm.D. degree, a Master of Science, a Ph.D. or work with your advisor to complete a combination of degrees. The PharmD program typically accepts 125 students a year, and over 90% graduate in four years.
"UT provided me with a sense of community during undergrad, so I knew I would be comfortable with my Longhorn ph-amily," University of Texas P3 student Haneen Hussein said.
It's important to find a school that feels like home, and UT provides that for its students. In the past ten years, University of Texas pharmacy students averaged a 97.8% first-time passing rate on the NAPLEX. No matter what pharmaceutical career you pursue, you'll likely find success at University of Texas. In recent years, 95% of Pharm.D. graduates found employment, matched residency or attended graduate school within four to six months of graduation.
Part of their high success rate comes from career advising opportunities in the College of Pharmacy. All students enroll in professional development courses to learn about the variety of careers in pharmacy. Each year, the school and student organizations collaborate to host career events with mock interviews, writing workshops, career fairs and more. The college also offers a Senior Interview Day each fall, where graduating seniors can interview with multiple pharmaceutical companies. Over half of seniors typically participate, and many gain employment from this opportunity. Students at UTCOP also gain valuable career experience outside of the college.
"Serving as a Pharmacy Coordinator for SAMM's Transitional Living and Learning Center Clinic in San Antonio has been an incredibly rewarding experience. TLCC is a home for families overcoming homelessness…an amazing opportunity not only to work on an interprofessional team with medical and nursing students, but also give back to the community," Hussein said.
Between studying and serving their community, UTCOP students receive an education to succeed in their careers.
8. University of Illinois at Chicago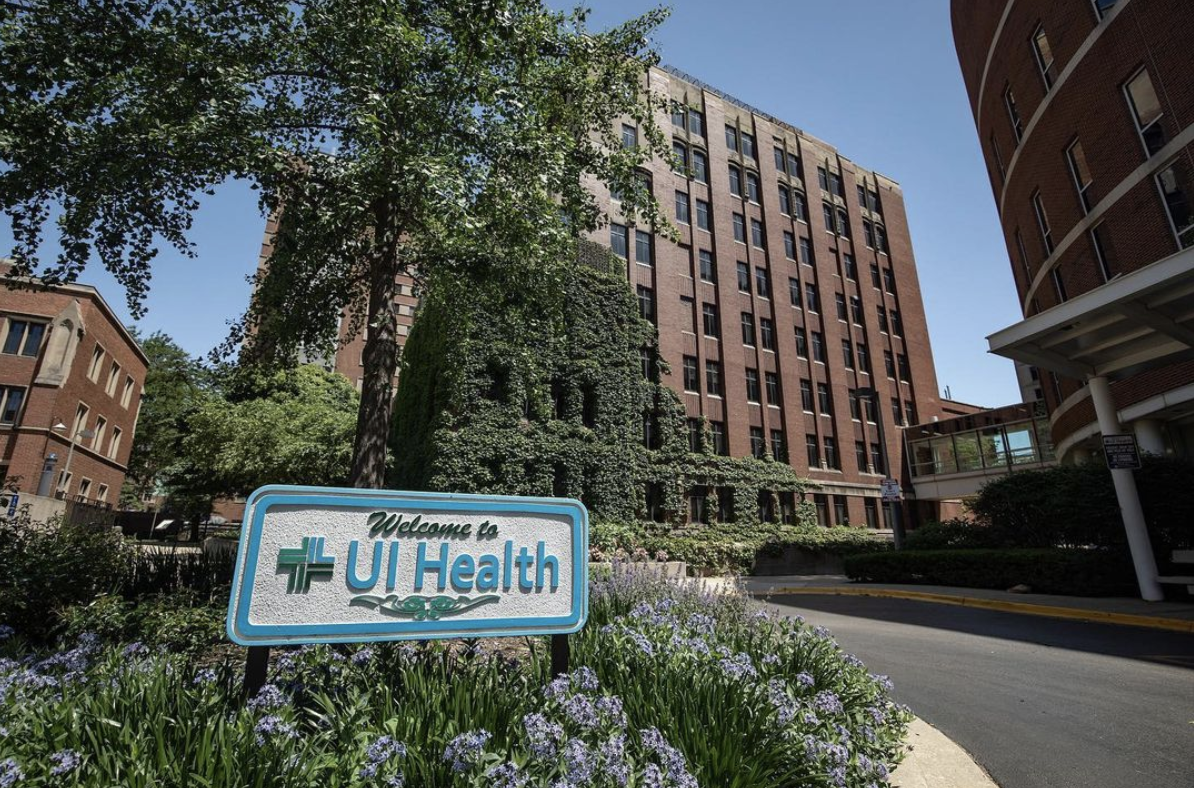 Whether you love the energy of a big city or a smaller town, the University of Illinois at Chicago's College of Pharmacy provides an education that sets future pharmacists up for success. UIC offers an opportunity to choose between two campuses to receive your degree. The Chicago campus, right in the heart of the city, houses an average class size of around 160 students. The Rockford campus, which is just 90 miles west of the city, offers a smaller class size of around 40 students. No matter which campus students choose, they'll receive the same degree and quality of education. UIC also offers multiple programs in the College of Pharmacy, whether you're looking for a Pharm.D. program, Ph.D., M.S. or a combination joint degree.
Almost all UIC Pharm.D. students graduate in four years, so you can be sure to start your career on track. UIC Pharm.D. students even pass the NAPLEX at an average rate of 92.3%. Student organizations also play an important role at every university, including in their pharmacy programs.
"It's so easy to get caught up with schoolwork, but the student organizations at UIC have provided me with an outlet to serve as a reminder as to why I am in pharmacy school," University of Illinois at Chicago P2 student Dagmara Kutrzuba said.
Besides working alongside peers in student organizations, students at UIC additionally receive opportunities to participate in peer mentorship and alumni mentorship programs, such as PhLAMES. The Pharmacy Learning, Advising Mentoring and Engagement for Students allows students to create connections with faculty mentors and student pharmacists. These connections lead to professional development and career opportunities. The College of Pharmacy's alumni mentorship pairs students with alumni to assist them with professional guidance and networking contacts.
7. University of Washington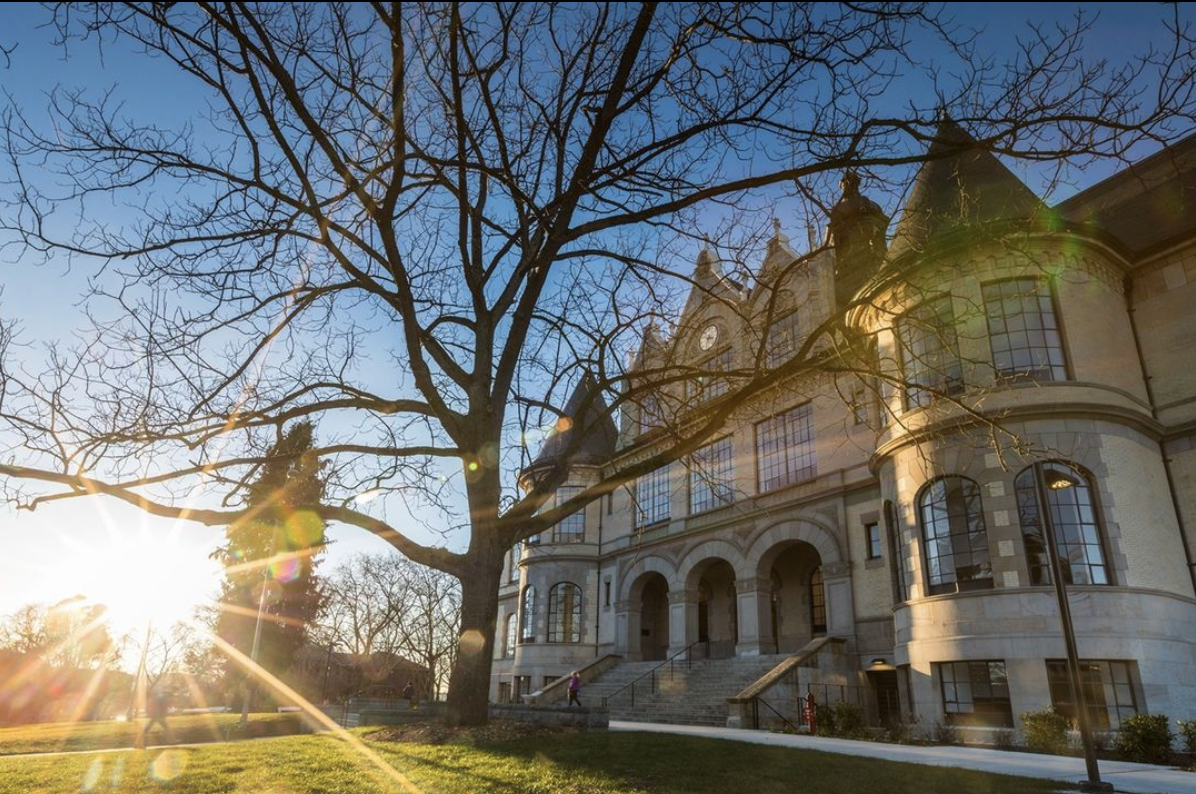 Want to study in the Emerald City? Consider a pharmacy degree from University of Washington School of Pharmacy. The school offers a Pharm.D. program, three Ph.D. tracks and multiple dual degree options with an M.S. degree. The School of Pharmacy offers small class sizes of only around 100 Pharm.D. students each year, and 91% graduate in four years.
UW Pharmacy students typically pass the NAPLEX with flying colors, with an average of 97.9% of students passing on their first attempt. 72% of students in 2020 found jobs or job offers weeks before graduation. Throughout students' time in the Pharm.D. program, they receive one-on-one advising to assist with career and academic planning.
"The most rewarding experience I've had to date has been competing in my school's Pharmacy & Therapeutics competition. The weeks leading up to the competition really helped me develop my skills in critical literature evaluation, which will help me in my career going forward," University of Washington P2 student Melanie Busch said.
UW School of Pharmacy also offers a professional networking day each fall to allow students to interview with potential employers and residency locations. Not sure about staying in one city for your entire schooling? UW may be the perfect fit for you because it's one of the few schools offering international Advance Pharmacy Practice Experience. Instead of completing all their rotations close to home, five to 10% of Pharm.D. students at UW take advantage of the opportunity to travel abroad and apply their skills hands-on at clinics in a different country.
6. University of Wisconsin – Madison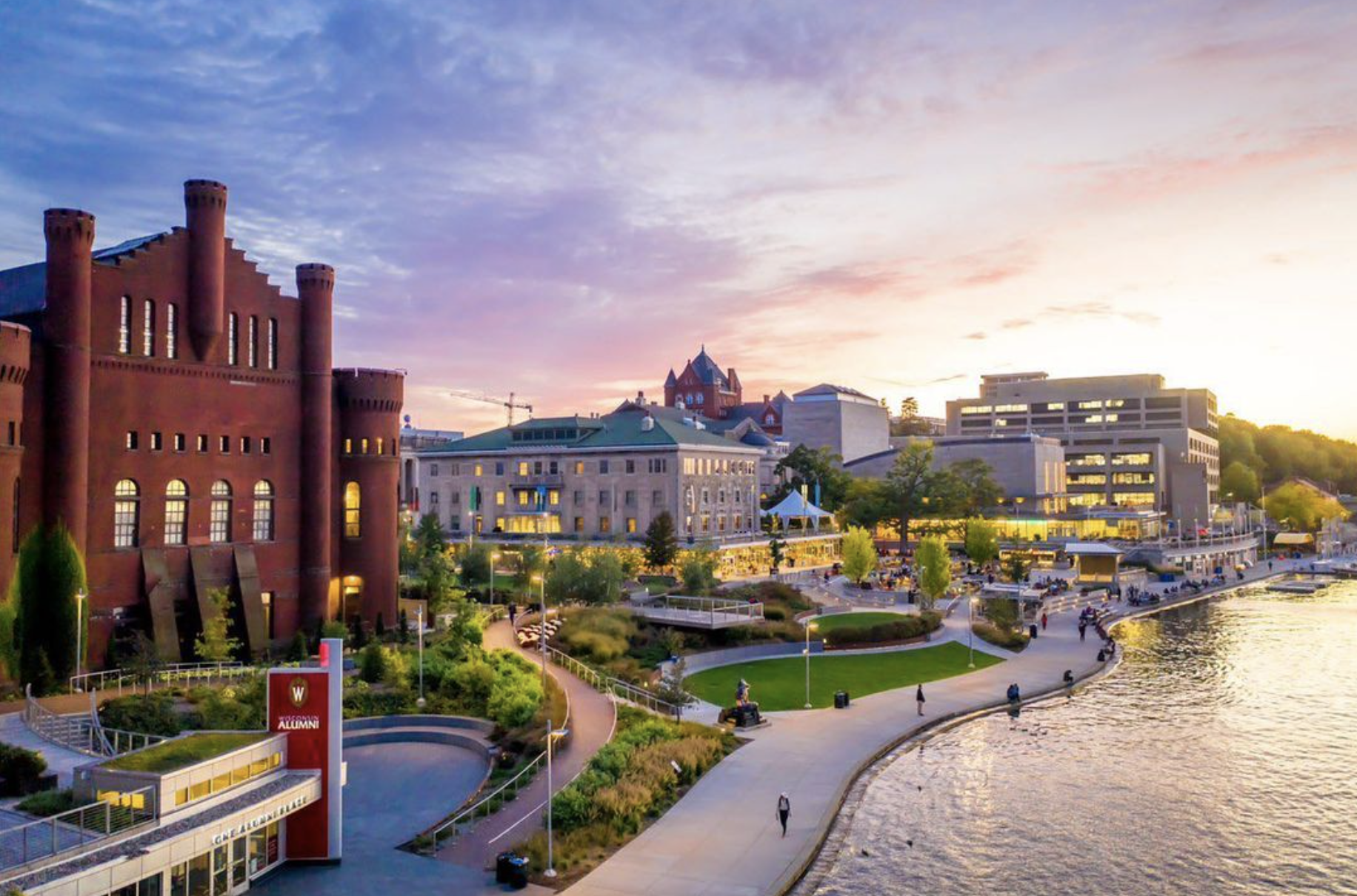 Love the Midwest? You may want to attend pharmacy school at University of Wisconsin-Madison. UW-Madison School of Pharmacy offers multiple degree programs for all careers in pharmacy fields. Whether you find yourself looking for a Pharm.D., Ph.D., master's or bachelor's degree in pharmacy and health science fields, UW-Madison offers a degree that suits your needs. With relatively small class sizes at the School of Pharmacy and a student-faculty ratio of 10:1, students make connections with their professors that last a lifetime. In 2020, 88% of their Pharm.D. students graduated on time. UW-Madison Pharm.D. students average a 98.2% first-time pass rate on the NAPLEX, so you'll be sure to find a successful career with a UW-Madison education. Pharmacy students at the University of Wisconsin-Madison also find opportunities to join student organizations to make connections with peers and learn more about the world of pharmacy.
"My most rewarding experience so far has been through my student organization, Phi Lambda Sigma Pharmacy Leadership Society. Our chapter won a national leadership grant to pilot a new community event to teach Alzheimer's and dementia caregivers about medication safety. It was very challenging to lead the planning of this new event, but also very rewarding to see the impact it had on the caregivers," University of Wisconsin-Madison P4 student Shelby Koen said.
The School of Pharmacy also offers tons of career opportunities with job placement assistance, career fairs, mentoring opportunities, recruitment days and more. One opportunity pharmacy students at UW-Madison gain is the connection to UW Health, the university's health system. With UW Health's 125 outpatient clinics and 3 hospitals in the region, students interested in hospital pharmacy are sure to create lasting professional connections.
Students who are eager for more mentorship opportunities can complete the Path of Distinction in Leadership program to participate in individualized mentorships with pharmacists in their career path. It's clear that alongside strong academics, UW-Madison students value the diverse network their pharmacy alumni create.
5. University of Michigan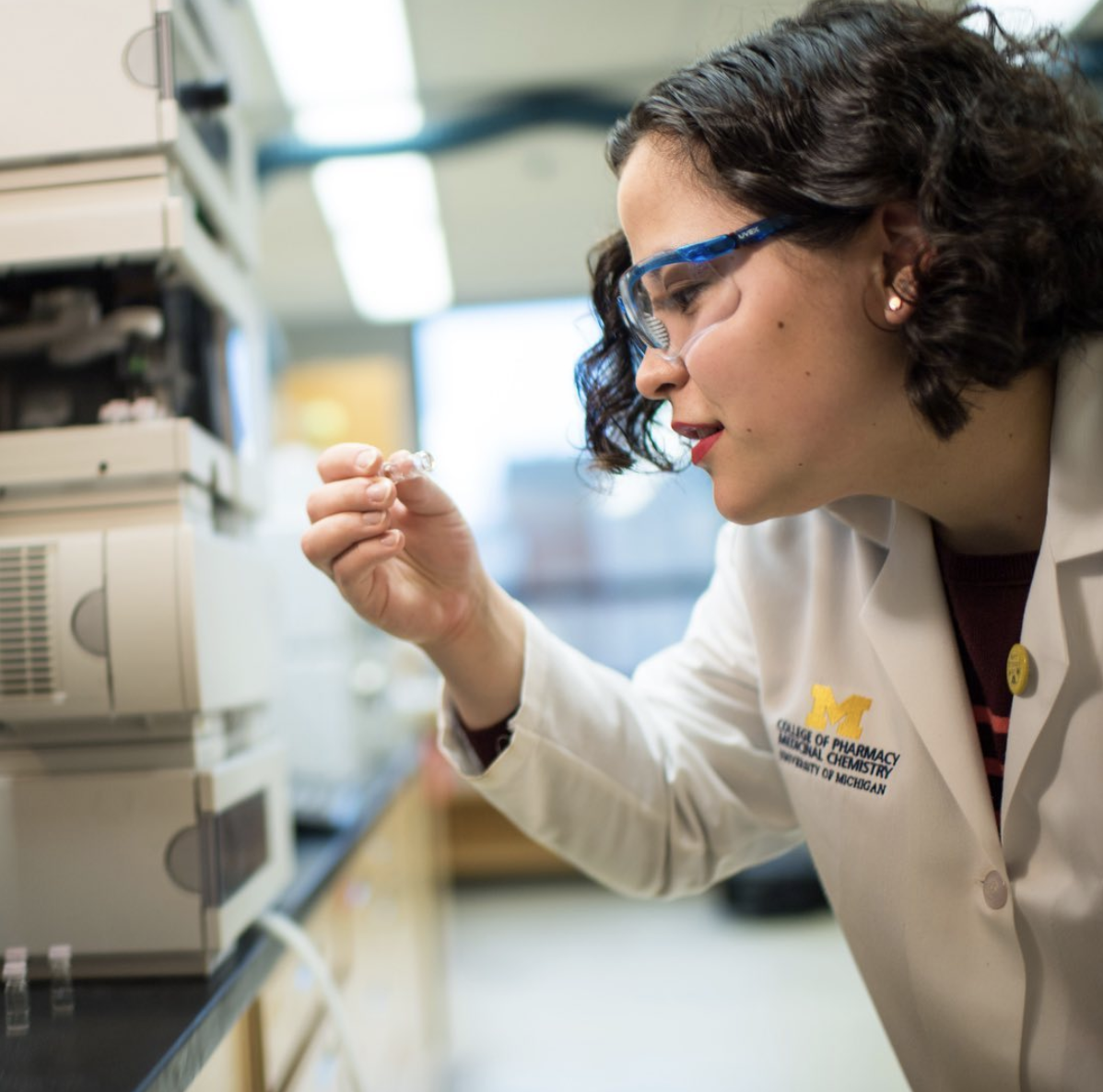 University of Michigan might be known best for its packed football stadiums and its incredible alumni network, but it's also a top school to study pharmacy. University of Michigan College of Pharmacy offers three Ph.D. programs, a Pharm.D. program, a Master of Science and a Bachelor of Science, along with multiple dual degree programs.
With small class sizes and a student-faculty ratio of four to one, the College of Pharmacy allows for individual experiences at an otherwise large university. This low student-faculty ratio offers students a better opportunity for personalized advising, which may lead to their high on-time graduation rate of 95%.
University of Michigan Pharm.D. students boast an average pass rate of 96.4%, and most students find employment after graduation. The College of Pharmacy offers career counseling for students, with consultation opportunities and assistance with cover letters, resumes and interview skills. If you need any other reason to choose University of Michigan for pharmacy school, check this out: 98% of recent graduates said they'd choose the UM College of Pharmacy again.
4. University of California San Francisco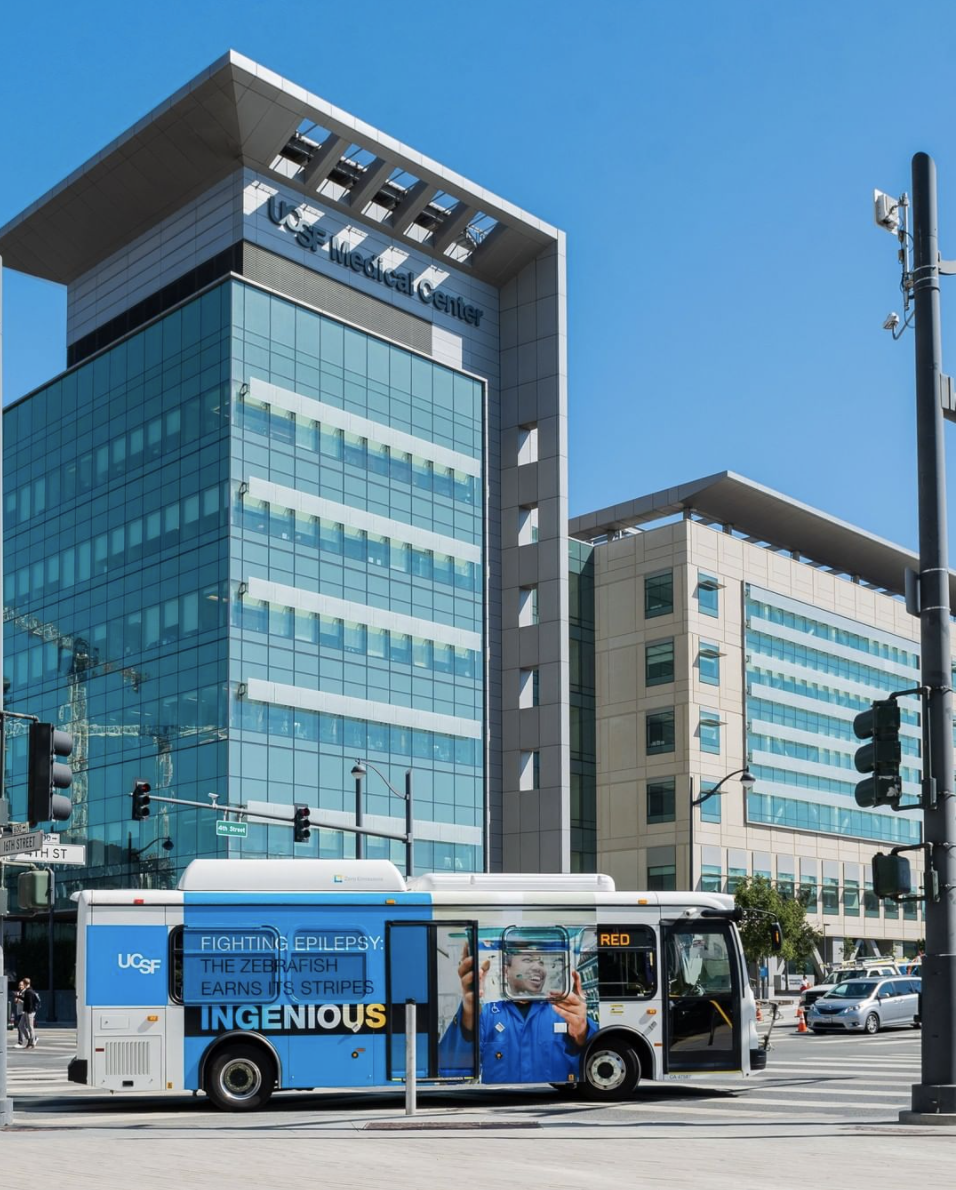 Searching for a west coast school with successful graduates? Look no further than California! University of California San Francisco's School of Pharmacy offers a rigorous Pharm.D. program and five Ph.D. degree programs. USCF typically enrolls around 127 students per class, and 94% graduate in four years. UCSF Pharm.D. students average a first-time NAPLEX pass rate of 97.4%. Most of their graduates enter into residency after graduation, with almost 90% matching with their first or second choice.
The USCF School of Pharmacy consistently receives more research funding from the National Institutes of Health than any other pharmacy school in the country. At USCF, students even gain access to the best technology and research experiences in the pharmaceutical world. But funding isn't the only thing USCF succeeds in.
"A big reason I chose USCF is for their emphasis and practice of diversity and inclusion. I have been able to be a part of the Mabuhay Health Center and the Pharmacy Homeless Clinic where I am learning more about the Philipinx-American population in the SoMa neighborhood, as well as individuals experiencing homelessness and how to utilize this knowledge to best serve them as student pharmacists," University of California San Francisco P1 student Rani Lu said.
A school that offers both quality education and affirms values of diversity and inclusion allows students to succeed both in the classroom and in the professional world.
3. University of North Carolina at Chapel Hill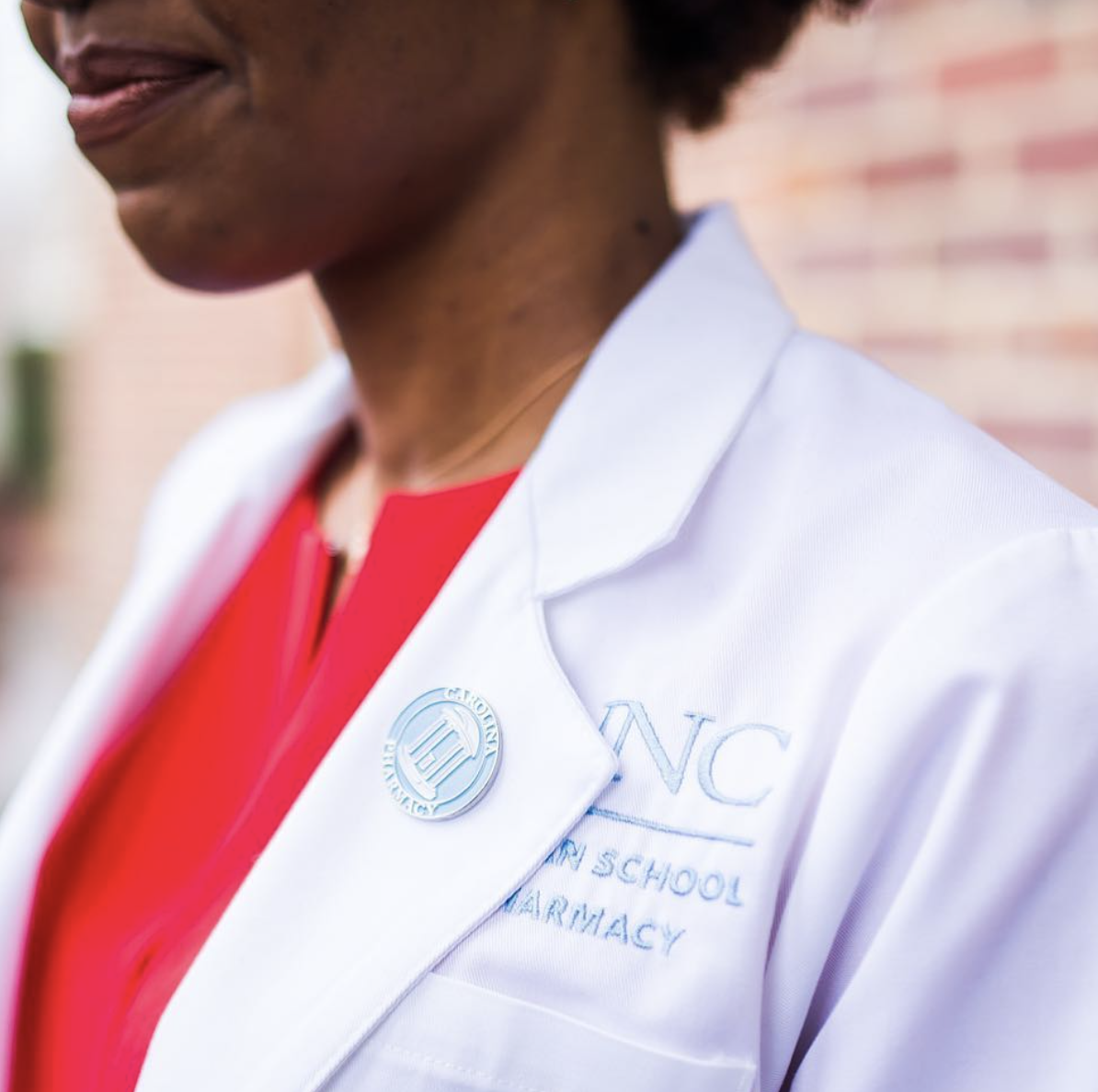 One of the best places to study Pharmacy is at the nation's first public university. The UNC Chapel Hill Eshelman School of Pharmacy offers a Pharm.D. program, multiple Ph.D. programs and two M.S. degree programs, giving students a variety of options for their course of study. Smaller class sizes at the Eshelman School of Pharmacy of around 123 new students enrolled each year allow for personal student-faculty relationships to grow. The support system at UNC helps students in the Pharm.D. program find success: 94% graduate on time, students average a first-time NAPLEX pass rate of 96.8% and are very likely to match with a top residency, since 88% of graduates who apply match with their first or second choice.
UNC offers unique events for prospective students to feel at home at UNC. One of these is a one-day Leadership, Excellence and Development program where students attend interactive seminars, network with researchers and clinicians and speak with current UNC Pharmacy students.
"I became interested in pharmacy at UNC after attending a LEAD program there. LEAD is a one-day program at the School of Pharmacy to give students a chance to learn about the school, connect with students and faculty and discover what you can do in the field of pharmacy," University of North Carolina PY2 student Sissy Addo said.
In 2020, 68% of graduates went into postgraduate training with residencies or fellowships, and 14% of the graduating class found jobs in pharmacy practice. If you use your innovative side, UNC will help you succeed. Their School of Pharmacy holds over 200 active patents, and the institution even formed 48 startups, such as ChemoGLO and Mucommune. After they secure their degree, UNC School of Pharmacy graduates join an alumni network of over 8,000 students across the world.
2. University of Southern California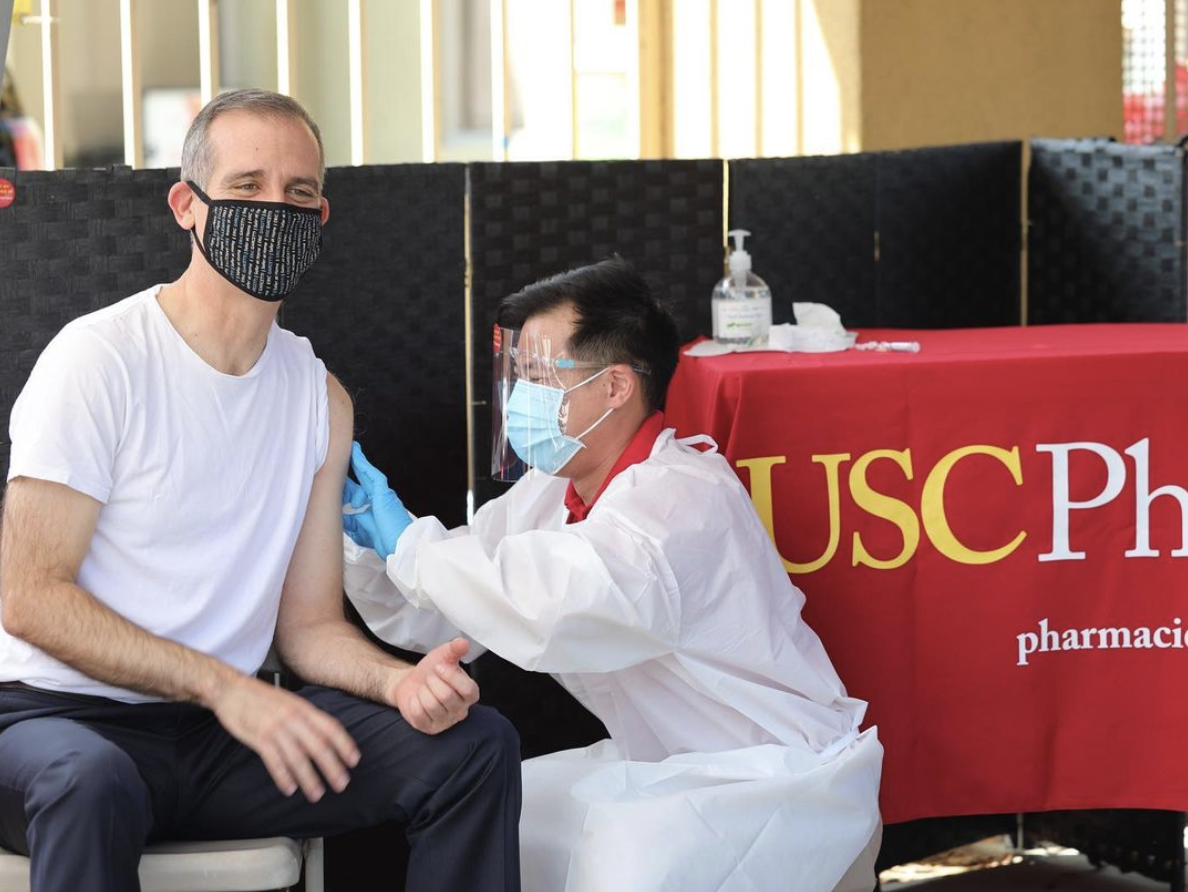 The University of Southern California isn't just one of the top colleges in California; they also claim one of the best pharmacy schools. While their class sizes are typically larger, with around 185 Pharm.D. students per year, this leads to an alumni network with endless opportunities. With an alumni network as large as USC's, students can always find new networking opportunities for job leads or general advice.
"USC has a vast and supportive alumni network, and I think that's really important in the future when we graduate. For instance, my current boss and many of the pharmacists I work with are USC alumni," University of Southern California P3 student Donna Heikali said.
The USC School of Pharmacy also offers one of the widest ranges of degree and certificate programs in the country. Whether you find yourself interested in getting an undergraduate minor in biomedical therapeutics or a unique dual Doctor of Pharmacy and Juris Doctor degree, USC finds the best program to fit your needs. USC undergraduates even enter into the Trojan Admission Pre-Pharmacy (TAP) program to receive priority admission to USC's Pharm.D. program. In TAP, students complete two years of pre-pharmacy while earning any bachelor's degree of their choosing, but most students land on the School of Pharmacy's Pharmacology and Drug Development major.
USC doesn't just offer a wide range of programs; their students succeed in them. Pharm.D. students averaged a first-time NAPLEX pass rate of 98.1% in the last decade. 95% of Pharm.D. students graduate on time, and almost every student graduates with a job plan. USC students receive a well-rounded education with opportunities to serve underprivileged communities in the Los Angeles area.
"Those are always super rewarding. Not only do they allow us to practice our skills outside the classroom, but they also allow us to give back to our community," Heikali said.
Experiences outside of the classroom represent a huge part of pharmacy education, and USC delivers.
1. University of Minnesota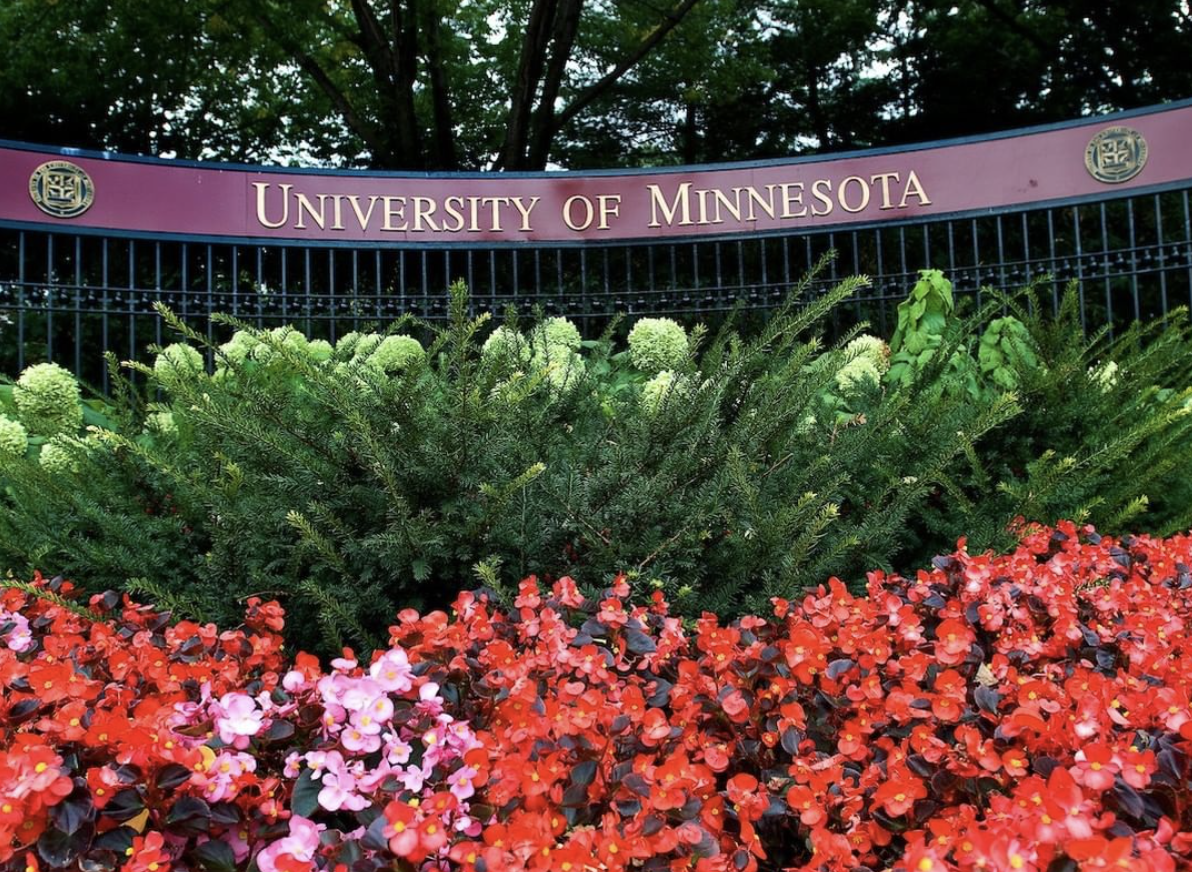 It's no surprise one of the nation's largest universities offers one of the strongest pharmacy programs in the nation. If there's one word to describe their students, it's "driven."
"Our students really do seek out what the opportunities are that they want. And if they don't already exist, they create it. And if it exists, they jump on board and help make it better," UMCOP Director of Admissions and Recruitment Olivia Buncher said.
Of the 120-150 students in the average class size at the University of Minnesota, 98% of those pursuing a Doctor of Pharmacy finish in four years. Pharmacy students seeking a dual degree, a Ph.D. or an M.S. will find multiple options at University of Minnesota. Whether students are interested in Medicinal Chemistry or Social & Administrative Pharmacy, UM offers graduate programs across a variety of disciplines. Even without declaring a formal dual degree, students can specialize in areas that interest them.
"We have a lot of students that specialize in some of these areas without doing a formal dual degree. One of the features of our program is that we have kind of unlimited electives, and we allow students to take electives outside of the College of Pharmacy," UMCOP Career Services Coordinator Becky Borg said.
In the past 10 years, students averaged a first-time NAPLEX pass rate of 96.1%, and 96.8% find post-graduation placement within six months. The College of Pharmacy offers multiple networking events each semester, allowing students to connect with internship and post-graduate job opportunities. Students in the UMN Pharm.D. program complete their experiential education experiences in both underserved areas and rural settings, which allows for learning about a wide range of unique patients. With all the incredible opportunities at their fingertips, UMCOP's future pharmacists find the passions and skills they'll bring into the real world.