"How did I wake up at six in high school?" I wonder. Oh right, my mom dragged me out of bed. Now, in college, I have trouble waking up for even a 10 a.m. class. I don't have any 8 a.m. classes this semester (and if you do, please keep reading), but I think it's safe to say that waking up at any time for class can feel like pulling teeth. We all regret the days we run out the door looking and feeling frazzled.
While most college students dread sunrise, it's possible to wake up on the right side of the bed—and even have some time for yourself before shuffling to class.
Check out these nine tips to making your morning not suck.
1. Prep the Night Before
Figuring out what to wear the night before (even with your go-to leggings and cozy t-shirt) helps your morning go much smoother. Even on a Monday morning, I actually feel productive if my outfit is more put-together. Try wearing that new shirt you just bought, and feel confident as you walk to class. "Mornings for me are easier when I have my bag packed and have time to grab a bagel," said Penn State freshman Emily Laird. Preparing the night before will help you get ready much faster so you can do other things (like eat).
2. Set a Nice Alarm, Early
Alarms suck. I don't think anyone hears their alarm and instantly smiles. With that in mind, choose a tone that won't make you jump or hurt your head. My alarm, for example, lets me wake up slowly with a relaxing song. Allowing yourself to gradually open your eyes, instead of jolting out of bed after hitting snooze for the third time, makes your morning much more peaceful and relaxing. Set your alarm a tad earlier for class and instead of pressing snooze, use this time to slowly wake up. Open the blinds, prop up your pillow and take this extra time for yourself.
3. Move Some Muscles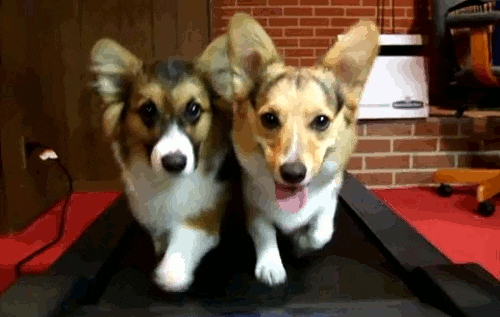 Instead of sleeping in, go to the gym. Starting your day off with exercise helps clear your head and leaves you ready to take on the day. You feel incredibly productive afterwards and can reward yourself with a delicious breakfast too. If you don't have time to exercise first thing in the morning, wear your workout outfit to class so you can head straight to the gym after.
4. Eat Breakfast
Feeling tired in bed? Think of that breakfast you could make if you give yourself the time to eat it. Instead of grabbing the usual granola bar, stop for a bagel and coffee. Better yet, make it a routine to make yourself some yummy breakfast in your room. "I love to start my day by making time to eat a really delicious breakfast. (Always oatmeal with frozen berries and almond butter). It's just as delicious every single morning, and it makes me so happy," said Penn State freshman Grace Joseph. Pro tip: Make yourself tea or warm lemon water to bring to class. This will give you a boost of energy and is a healthy alternative to coffee.
5. Try Meditating, or Just Breathe
I recently downloaded the app Headspace. It allows you to listen to a narrator and meditate. They even cover different topics like anxiety, stress and getting to sleep. Take a moment to meditate in the morning, which can mean something as simple as taking a minute to close your eyes, sitting up straight and focusing your mind. If meditation's not for you, just take a few slow, deep breaths before pushing back the covers.
6. Have a Simple Goal in Mind
Sometimes, my mornings feel slower due to the cloud of a never-ending to-do list, ranging from laundry to studying for a test. Instead of stressing, have a different daily goal in mind. Maybe compliment someone or try a new healthy snack. Having this unique goal in mind will excite your day and give you some extra motivation. "Just having that one thing to look forward to makes my mornings better," said Point Park University freshman Sara Wisniewski.
7. Listen to a Podcast
If music drags your mood in the morning, try a podcast. iTunes and Spotify have countless podcasts to choose from. If you obsess over murder mysteries, listen to Serial. I love lifestyle podcasts where I feel like I'm listening to a friend. I love to watch two of my favorite podcasters on YouTube, as well: Gals on the Go by Danielle Carolan and Brooke Miccio, and Thick and Thin by Katy Bellote. They both cover everything from pop culture to dealing with the stress of college life, perfect for any college student. Podcasts will make the walk to your 8 a.m. class way more enjoyable.
8. Create a Routine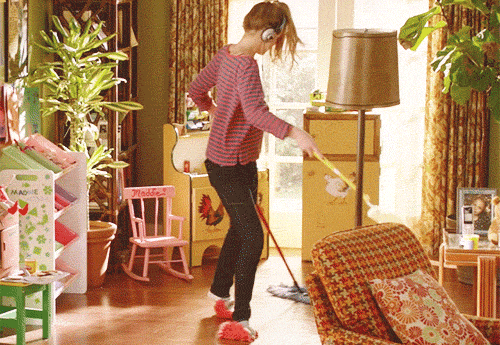 The more you do of something, the more of a habit it becomes. For me this year, it's making my bed. I also always try to allow time in the morning to make my room clean and organized. Coming home to a tidy room frees me up to do other things and puts me in a good mood.
9. Look in the Mirror and Say Something Kind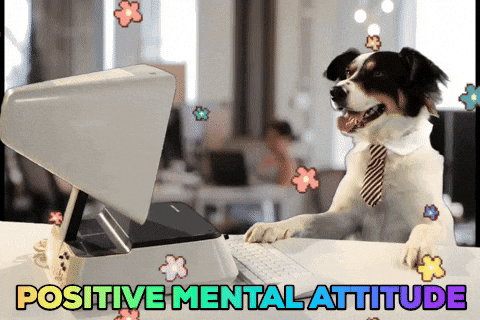 Keep a positive mindset throughout your day. Not every morning goes great, and that's just life. You don't always have control over what happens, but you do have control over how you handle it. Keeping a positive mindset helps you have a good day. Before leaving to start your day, remind yourself of one thing you're happy about or looking forward to. I like looking up inspirational quotes to lift me up. Waking up for class is a struggle, but it can be just a little easier if you put in the effort.
Feel fresh in five minutes every morning with a quick getting-ready routine.
Written by Alexandria Sese, English, freshman, University of Illinois
It's one of those mornings where you've slept through your alarm, and then when you looked in the mirror you were greeted by the haggard face of a sleep-deprived college student.
These simple tips will get you ready in less than five minutes to look fresh, awake and ready for the day.
1. Prep
Before putting any product on your skin, make sure to cleanse and moisturize. Cleansing your face prevents the oil that has accumulated in your sleep from being sealed onto your skin under your makeup. Using baby wipes is an efficient and gentle way to cleanse your face in a hurry. Then lather on moisturizer; it will save your skin in the long run. To save time, pick a moisturizer that is oil-free and sinks into your skin right away.
2. Fake the Wake
Radiant skin is a mark of restfulness and health. As Carmindy, makeup artist for TLC's What Not To Wear, would say, "When skin appears flawless, everything else sparkles." To achieve a flawless complexion, pick a concealer that can be used for your blemishes and under-eye darkness. Focus your concealer on the center of your face for an instant brightening effect. Using a foundation that has SPF also saves you from wasting time applying a separate sun-block. It protects your skin from premature wrinkles. If you're using liquid or cream products, apply them with clean fingers because the warmth of your fingers helps them blend into your skin more evenly.
3. Bang for your Brows
"I can't live without an eyebrow pencil," said Margeaux Methavichit of North Park University, Chicago. "Brows define my face the most." Having defined and well-groomed brows can make you look younger and more awake much faster than eyeshadows and eyeliners can. Apply a suitable eyebrow color with short feathering strokes for a natural look. For an added pop to the eyes, coat your upper and lower lashes with curling mascara.
4. Multi-Tasking
For a 10-second finish, choose products that can act as both cheek and lip colors such as Korres Lip Butter or The Multiple from NARS. Cream-based cheek colors look most natural when blended outwards from the apple of your cheek. Using a lip color in the same color family is the simplest way to tie your whole look together. Now you're ready to walk out and look like you had all morning to prepare.
*Updated November 8, 2018 by Alexandria Sese to include "Fresh in Five."