Time to take a hit of your favorite drug, music. Whether house, rock, rap or country rocks your boat, you can't tell me you go days without music. Our personalized playlists get us through the good, the bad and the ugly. When you need some inspiration in life, love and the pursuit of happiness, and you need more than just your support system, try listening to some of these songs.
Find your beat in the music quotes—and in a tank top that work for the gym, class or a jam session.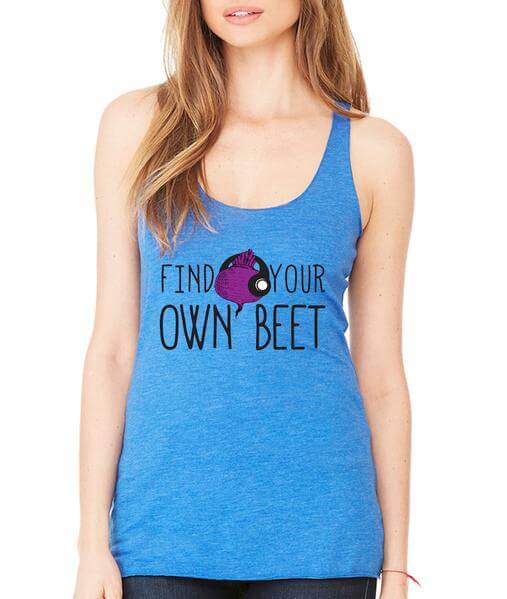 These 25 Music Quotes Will Get You Through Any Tough Time.
1. For when your hookup just wants to hook-up: "No Such Thing as a Broken Heart" by Old Dominion
Quote: "You know you can't keep the ground from shaking, no matter how hard you try. You can't keep the sunsets from fading, you gotta treat you love like you're jumping off a rope swing maybe 'cause the whole thing is really just a shot in the dark. You gotta love like there's no such thing as a broken heart."
Your LDR may not last forever. Your casual hookup may never define your relationship. If/when the day comes where your happily ever after ends a little sooner than you thought it would, use this quote to get you through the pain. The sun sets. Your heart breaks. You can't stop either one, but the sun rises again, and your heart will mend. Don't let keep you from loving again
2. For when you need a throwback to the oldies: "Don't Stop Believin'" by Journey
Quote: "Don't stop believin.' Hold on to that feelin.'"
People born in 1985, 1995, 2005 and even 2015 know this song. Any time you think classic rock, the chorus rings in your head. Listen to Journey. Don't stop believin' in yourself, in your goals and in life.
3. For when your peers try to bring you down: "Beautiful" by Christina Aguilera
Quote: "You're beautiful. No matter what they say. Words can't bring you down."
Xtina rocked our world at the turn-of-the-century when she came out with this passion-filled song. This song serves as a reminder whenever you doubt your beauty, inside and out. Just a few years after Xtina flooded our ears with this melody, too-gay-to-function Damian from Mean Girls reminded us of the message and showed the lyric can provide inspiration for all kinds of people.
4. For when mommy isn't there to give you that extra push: "Tubthumping" by Chumbawumba
Quote: "I get knocked down, but I get up again. You're never going to keep me down."
Chumbawumba and all their British glory hung up their guitars in 2012, may they rest in peace. This quote gets you up again when you need that push. In life, you fall time and time again. It hurts, and you wonder why you should even get up. Like Chumbawumba says, you have to get up to show them you won't stay down.
5. For when you forget to smile 'cause stress: "That's What I Like" by Bruno Mars
Quote: "Just to put a smile on it. You deserve it, baby, you deserve it all. And I'm gonna give it to you."
Bruno Mars first made our hearts swoon when "Nothin' On You" hit all the popular radio stations in 2010, and he hasn't stopped. Every year, almost like clockwork, he increases our love for him with hit after hit. So like he said, put a smile on it, even on your worst days when smiling is the last thing you want to do, because you deserve to smile (and to get spoiled).
6. For when you need a hint of Ultra, with a side of Warped Tour: "Something Like This" by Coldplay & The Chainsmokers
Quote: "Where d'you wanna go? How much you wanna risk?"
You can't avoid taking risks in life. How much you want to risk determines your outcome. So ask yourself, how much are you willing to risk to possibly get it all? Have you ever poured that bowl of cereal before even checking if you have milk, you little rebel you? Or made your way over to that guy you've been eyeing all night?
7. For when you want to see how far Beibs has come since his "One Time" Days: Despacito (Remix) by Luis Fonsi, Daddy Yankee and Justin Bieber
Quote: "Turn every situation into heaven, yeah. Oh, you are my sunrise on the darkest day. Got me feelin' some kind of way."
https://www.youtube.com/watch?v=k6s7If_1uws
Regardless of your taste in music, in the last week, you heard the Biebs' angelic voice in this perfect remix of Despacito. We all have that one person who makes our life heavenly. They make our life a little sweeter, and encourage us to be our best selves.
8. For when you get caught up in exams and forget to live life to the fullest: "Live Like You're Dying" by Kris Allen
Quote: "We only got 86,400 seconds in a day to turn it all around or to throw it all away. We gotta tell them that we love them while we got the chance to say. Gotta live like we're dying."
Face it. We all rooted for Kris Allen on American Idol in '09. Soon after his win our little middle school hearts fluttered for him, at least for a little bit. He kindly reminded us that we only have 86,400 seconds in a day to turn our life around and let our loved ones know that we appreciate them. So tell your mom, dad, brother, sister, boyfriend, girlfriend, whoever it may be that you love them.
9. For when you doubt yourself 'cause you're failing Chem: "Hall of Fame" by The Script
Quote: "You can throw your hands up. You can beat the clock (yeah). You can move a mountain. You can break rocks. You can be a master. Don't wait for luck. Dedicate yourself and you gon' find yourself standing in the hall of fame."
Everyone wants to make it into a Hall of Fame for something. Whether it be for the longest time chewing on stick of gum or for something a tad more serious like the WWE hall of fame, we want recognition. But in order to get to that point, we need to remember that we can do whatever we set our minds to.
10. For when you consider settling for less than you deserve: "Go the Distance" by Michael Bolton
Quote: "And I won't look back, I can go the distance. And I'll stay on track, no I won't accept defeat. It's an uphill slope. But I won't lose hope, 'till I go the distance. And my journey is complete, oh yeah."
Hercules sang like the gods (ha! Get it?) when he flooded our TV screens with his toga-wearing self, running around setting his mind to finding where he belongs, no matter what. You could stop trying as you start accomplishing little things that you wanted to get done, or you could aim higher. You need to go the distance and check everything off your list. Don't settle.
11. For when you need to remember to keep movin' through the semester: "Young Homie" by Chris Rene
Quote: "If you wanna build your love up, put your hate down. Ooh, that's the only way to live, turnin' negatives to positives. 'It's gonna be alright' Bob Marley said 'F*ck the dumb sh*t, keep it movin', that's what time it is."
What time is it? According to X-Factor 2011's second place winner, it's time to keep moving. Moving on from whatever holds you back. The negative things happening to you do not define you, unless you let those things dictate everything you do from that day on. Shitty things happen, but you determine the affect they have on your life.
12. For the light at the end of the tunnel–graduation: "When I Get Where I'm Going" by Brad Paisley with Dolly Parton
Quote: "Yeah when I get where I'm going, there'll be only happy tears. I will shed the sins and struggles, I have carried all these years. And I'll leave my heart wide open."
All the struggles you go through and the sins you commit along they way, they'll all make sense when you get there. Sometimes you forget to keep your hearts open to everything that comes your way. Leaving your heart open is crucial. Like that silly saying goes: an open heart is a happy heart. Let your heart be.
13. For when you forget what you have: "The Good Stuff" by Kenny Chesney
Quote: "He said: "When you get home, she'll start to cry. When she says: 'I'm sorry,' say: 'So am I.' An' look into those eyes, so deep in love, an' drink it up 'cause that's the good stuff."
Pride gets in the way of life. It keeps you from acknowledging what you did wrong, which in turn can put an end to your relationship. In this song, Kenny Chesney goes to the bar for some "good stuff" to get drunk, and forget about a fight he had with his SO, and the bartender. The good stuff isn't at the bottom of the bottle. Losing the love of your life or even just a friend because you couldn't swallow your pride and apologize isn't worth it.
14. For when your perfectionist side takes over: "Someday" by Plain White T's
Quote: "What if we all could just agree (what if we all could just agree) to live together in the world, in perfect harmony? What if we all could find a way (what if we all could find a way) to live a better life today?"
As heard in their song, if we could all agree to live in a world in perfect harmony, we would have no war. We would have no hate. We would only have rainbows and unicorns. Doesn't that sound perf? The Plain White T's turned middle school into one big sing-along between classes about a girl named Delilah that we didn't even know. Five years before they got on our radar, they released songs like this that talked about how amazing life would be if we could all just agree. Maybe someday.
15. For when you have to choose: "Lose Yourself" by Eminem
Quote: "Look, if you had, one shot, or one opportunity to seize everything you ever wanted. In one moment would you capture it, or just let it slip?"
Think about it. Start listing everything you've ever wanted, one thing at a time. Now stop. How many of those things to you have right now, in this moment? Now you have a chance to seize it all. Do you take it? Risk it all, and jump? Eminem says do it. You never know what awaits once you jump.
16. For the emo in you: "Welcome to the Black Parade" by My Chemical Romance
Quote: "He said, 'Will you defeat them your demons, and all the non-believers, the plans that they have made?'
We've all got our demons, AKA the skeletons sitting in our closet. Do you let them control your life? No. Your past doesn't define your future. My Chemical Romance rocked all your little middle school punk lives. You wrote MCR all over your notebooks. I see you. "Welcome to the Black Parade" made your 12-year-old emo self swoon, and over 10 years later, this song still makes you jam out real hard.
17. For when you need a reminder to do you and not the version of you your new friends want: "Over" by Drake
Quote: "What am I doing, what am I doing? Oh, yeah, that's right. I'm doing me, I'm doing me. I'm living life right now, man and this what I'mma do 'til it's over."
Every time Drake comes out with a new album, people rag on him for being emotional, yet they still listen. This Canadian perfectly personifies the saying the lifestyle of you gotta do you. Drake and this lyric warn you not to let other people think they can control your life for you. You control your own life.
18. For when you need a reminder not to give up: "Survivor" by Destiny's Child
Quote: "I'm a survivor. I'm not gonna give up. I'm not gonna stop. I'm gonna work harder."
Destiny's Child blasted through our bedroom speakers for years at the beginning of the century. They taught us since day one the lifestyle of strong, independent women, and we were only five. Their lyrics resonated in our hearts and minds. We've survived what seemed like the end of the world, and we'll keep doing that.
19. For when you need to move on from your high school self: "It's Gonna Be Me" by *NSYNC
Quote: "You've got no choice, babe but to move on, and you know there ain't no time to waste."
Along with Destiny's Child, our parents got tired of hearing "Bye, Bye, Bye," "Gone," "Pop" and every other *NSYNC song in existence. These five boys threw themselves out of Barbie boxes, and told us not to waste our time on things of the past.
20. For when you see something you want: "Formation" by Beyoncé
Quote: "I see it, I want it, I stunt, yellow-bone it, I dream it, I work hard, I grind 'til I own it."
You see something you want, fight for it. Nothing in life is just going to be handed to you. You gotta work hard until you get it, and once you get it, keep going. Beyoncé went from Star Search to worldwide. If she didn't follow her own message in this lyric, she wouldn't have reached her potential.
21. For when you doubt your strength: "Never Say Never" by Justin Bieber
Quote: "See I never thought that I could walk through fire. I never thought that I could take the burn. I never had the strength to take it higher until I reached the point of no return."
Biebs sang about himself in this song, but the lyrics ring true to all of us. Strength shows itself when when it needs to. You cannot know how strong you are, until you have to. Don't doubt that.
22. For when you just need to chill after your seven papers wrecked you: "Hakuna Matata" from The Lion King
Quote: "It means no worries for the rest of your days. It's our problem-free philosophy."
https://www.youtube.com/watch?v=xB5ceAruYrI
Timon and Pumba said it right when they said Hakuna Matata. If we could all find it in us to not stress the little things, or even the big things, our life would be so much easier. We spend too much time stressin' and not enough time livin'.
23. For when you consider choosing money over passion: "Eye of the Tiger" by Survivor
Quote: "So many times it happens too fast. You trade your passion for glory. Don't lose your grip on the dreams of the past. You must fight just to keep them alive."
Your heart and your bank account will battle until eternity over the choice between doing what you want to do in life and doing what will make you the most money. You have to follow your passion, not the path that leads you to glory or money because in the end, if you do something without passion, you won't have happiness either.
24. For when you gotta leap: "Yeah" by Usher
Quote: "'Cause I don't know if I take that chance just where is it gonna lead."
"What's meant to be, will be." The cheesy saying our mom offered us after our first heartbreak rings true, but this lyric shows how our adult selves can question that. We don't know the outcome of our decisions, but somehow our shitty decisions will lead us right to where the universe wants us.
25. For when your strength wins: "Titanium" by David Guetta & Sia
Quote: "I'm bulletproof nothing to lose. Fire away, fire away…You shoot me down but I won't fall, I am titanium."
Sia didn't swing on a chandelier in this music video, but she did remind us that nothing and no one can bring us down. Don't underestimate yourself. Pretend like you have titanium armor on every day and nothing will stop you from charging through whatever tries to shoot you down.
25 More Lyrics to Get Your Through College
Written by Devon Ledbetter
26. For When You Feel Nostalgic: "Younger Now" by Miley Cyrus
Quote: "Even though it's not who I am, I'm not afraid of who I used to be."
Miley Cyrus has come a long way from her Hannah Montana days, and this song reflects that transition perfectly. Everyone goes through rough patches that change who we are. Don't shy away from your personal growth. Instead, embrace the new you in a way that prevents you from feeling shame about the old you, like Miley does here.
27. For When You Want to Celebrate Your BFF: "Army" by Ellie Goulding
Quote: "Dark times, you can always find the bright side. I'm amazed by the things that you would sacrifice just to be there for me."
We all have that one friend who has stayed by our side through thick and thin. Whether you've known them since diapers or met them a few months ago, that friendship changes you in unimaginable ways. They deserve some recognition for what they do for you. Celebrate them with this song Goulding wrote about her own best friend.
28. For When You Find the Light in a Dark Situation: "Rainbow" by Kesha
Quote: "Got kaleidoscopes in my hairdo. Got back the stars in my eyes, too. Yeah now I see the magic inside of me."
Staying positive in the face of adversity can get extremely difficult. Some days, you just want to give up. Instead, sit back and play Kesha's newest album for inspiration. She went through a very public and very traumatic situation, but she rose against it and produced a beautiful album that proves just how strong the power of positivity can be.
29. For When You Take an L: "Bounce Back" by Big Sean
Quote: "Last night took an L, but tonight I bounce back. Boy, I been broke as hell, cashed a check and bounced back."
As a college student, we simply cannot avoid taking an L all the time. In the good name of Big Sean, though, we bounce back. Don't get down in the dumps about a failed test or a misplaced assignment. These things happen, we just have to keep pushing forward.
30. For When You Feel a Little Insecure: "Red Dress" by Magic!
Quote: "I got a lot of love and it's growing strong when I see you with that red dress on."
Magic! already has the beachy, relaxed vibes down with their music that makes you feel good. This song specifically, though, squashes insecurities by celebrating all body types. The music video displays all kinds of women sporting the same red dress to send a message of female empowerment. You'll be open to wearing anything after blasting this while you get ready.
31. For When You Need to Celebrate Your Success: "Congratulations" by Post Malone
Quote: "Now they always say congratulations. Worked so hard, forgot how to vacation."
If you haven't jumped on the Post Malone fan train yet; what are you waiting for? With bops like "Congratulations" and his new single "Rockstar," he knows how to hype up his listeners. Whether you just finished a tough assignment or need some extra motivation to get started, Post Malone will get you through.
32. For When You Need to Move on: "Reflections" by Misterwives
Quote: "Put me on the shelf, discipline myself, to let the sparks out. Shattering anything that has reflections of you."
Before you find the right one, you sometimes have to fall for the wrong one. Or many wrong ones. Struggling to get over an ex (or an almost relationship) is something we all experience at some point, and accepting defeat sometimes isn't so easy. This upbeat song will have you claiming back the time and energy you've been wasting by the second chorus. Move on when you feel ready, but kickstart the process with some good, empowering tunes.
33. For When Someone Not Worthy of Your Time Hits on You: "No Scrubs" by TLC
Quote: "See, if you can't spatially expand my horizon, then that leaves you in the class with scrubs, never rising."
Anyone, male or female, can jam to this classic 90's RnB hit. Swerving someone unworthy can get tricky, but stick with the ladies of TLC to get the job done right. Take some time to focus on yourself, and when the opportunity for a good relationship comes, you'll know that you're ready.
34. For Living in the Moment and Getting Off Your Phone: "Just a Picture" by Kyle
Quote: "Since you've been dating your phone all day, why don't you come back down to Earth? You spend too much time in cyberspace."
As millennials, we stay glued to our phones and laptops. Disconnecting from the online world to live in the moment can rejuvenate even the most chill social media user. Whether you need to disconnect from that family drama, the numerous snaps sent, or just that you've walked into too many stop signs, this song helps remind those that they do need to come back down to Earth. Take a few minutes in your day to make some tea, take a break from social media, listen to some music and spend time with a loved one.
35. For When You Feel a Little Lost: "Just Hold On" by Louis Tomlinson
Quote: "What do you do when a chapter ends? Do you close the book and never read it again? Where do you go when your story's done? You can be who you were or who you'll become."
Time to end an old chapter and start up a new one. Whether you just left for college or you graduate at the end of the semester, transitioning to a new time in your life intimidates even the best of us. Stay focused on your goals and don't let the uncertainty of the future hold you back.
36. For When You Feel a Little Blue: "Secret for The Mad" by Dodie Clark
Quote: "Little things, all the stereotypes, they're gonna help you get through this one night. And there will be a day when you can say you're okay and mean it."
Music heals the heart and the mind. Knowing someone out there has experienced similar feelings to yours and wrote a song about it that thousands of others can relate to assures you that you are not alone on this journey. When these feelings creep up, blast Dodie. She won't fix all your problems, but she'll give you a breath of fresh air to encourage you to fight back.
37. For When You're Getting Ready to Go Out: "The Man" by Aloe Blacc
Quote: "Stand up now and face the sun, won't hide my tail or turn and run. It's time to do what must be done, be a king when kingdom comes."
The playlist you listen to while getting ready to go out can change your whole evening. Blasting songs like this to remind yourself "I'm the man" will give you a major confidence boost. Whether you need a little help loosening up on the dancefloor or chatting up that cutie near the bar, you'll see the night go much smoother after your ritual jam session.
38. For When You Need to Take a Deep Breath: "Details in the Fabric" by Jason Mraz
Quote: "Calm down, deep breaths, and get yourself dressed instead of running around and pulling on your threads."
https://www.youtube.com/watch?v=XdIw6tEjyEg
From classes to jobs and internships to socializing with friends, college students lead very busy lives. This constant cycle of go-go-go grows overwhelming when you don't give yourself enough you time. Even if you just go for a walk in the park or take a nice, relaxing bubble bath, taking that time to do something for yourself can have a great impact on you mentally and physically. Take this reminder to breathe and stop stressing out over every little detail.
39. For When You're Newly Single: "Sorry Not Sorry" by Demi Lovato
Quote: "Now I'm out here looking like revenge, feelin' like a ten, the best I ever been. And yeah I know how bad it must hurt to see me like this, but it gets worse."
A bad breakup: everyone goes through one, whether you want to or not. You just need to pick yourself up and remind yourself who you are because the best revenge involves showing that you never needed that person anyway. We all heal differently, but proving to yourself that you still got it by going out for a fun night with your friends can make the healing process a little easier.
40. For When You Need Guidance: "Hand of God (Outro)" by Jon Bellion
Quote: "When you're lost in the universe, don't lose faith. My mother says, 'your whole life's in the hand of God.'"
Whether you follow a certain religion or not, the voice of Jon Bellion can soothe any troubled mind. The encouraging message and the church choir he has back him up on the track combine to make this my personal go-to tune when I feel overwhelmed with school or a new challenge. It's okay to not have everything all planned out—most people don't.
41. For When Everything Seems to Go Right: "On Top of the World" by Imagine Dragons
Quote: "I've been waiting to smile, been holding it in for a while. Take you with me if I can, been dreaming of this since a child. I'm on top of the world."
This song always makes me picture driving out to the beach with my windows down and the sun shining down on me. Sounds cliché, sure, but admit it: we're suckers for the cliché. They wouldn't stay so popular if we weren't. Embrace your basicness and enjoy the summer vibes from this good tune, even in the dead of winter.
42. For When It's Time to Get Hype: "Can't Hold Us" by Macklemore and Ryan Lewis
Quote: "Can we go back? This is the moment. Tonight is the night, we'll fight 'til it's over.
So we put our hands up like the ceiling can't hold us."
Get ready for some intense fist pumping with this one. This song guarantees to bring your whole squad to maximum hype level. With Macklemore's quick rhymes along with the catchy beat, you will really get the party started when you blast this from the speakers.
43. For a Solid Disney Jam: "Where You Are" by Moana Cast
Quote: "You may hear a voice inside. And if the voice starts to whisper to follow the farthest star, Moana, that voice inside is who you are."
Moana killed it in the box office in 2016 for good reason. The film surpassed all expectations tenfold with the plot, the animation and the representation of a future female chief, NOT a princess. Celebrate your passions alongside Moana with the soundtrack to this spectacular film. And if you haven't seen it, log on to Netflix and watch it ASAP.
44. For the Most #Basic Dance Party: "Shake It Off" by Taylor Swift
Quote: "But I keep cruising, can't stop, won't stop moving. It's like I got this music in my mind
saying, 'It's gonna be alright.'"
Whether you got a bad grade, had a bad argument, or even if it's just a rainy day… Don't let it bring you down. Stand up to your off-day with this T-Swift classic and some majorly nerdy dance moves. Have a solo party in your room or invite a few friends over for pizza and tunes to shake off the bad day and leave it in the dust.
45. When You Feel a Little Lonely: "Rhode Island" by The Front Bottoms
Quote: "Everything you're feeling is common, even though you've never felt so alone."
Admit it: we all like to bask in our sadness from time to time. The Front Bottoms, with their angsty-yet-relatable lyrics, will have you feeling melancholic after the very first verse. Staying happy 24/7 just doesn't happen, and it wouldn't be healthy even if it could. So, blast TFB like you've traveled back to middle school and scream-cry the lyrics. Trust me, it's cathartic.
46. For When You Need a Good Throwback: "No Diggity" by Blackstreet
Quote: "She's got class and style, street knowledge by the pound. Baby never act wild,
very low key on the profile."
Blackstreet had everyone feeling like a smooth operator with this classic. It makes for another great confidence booster, especially when sung with friends. Get everyone hyped in the Uber when you plug this one into the aux. Even your driver will be jamming.
47. For When You're Feeling Yourself: "Flawless (remix)" by Beyonce
Quote: "I woke up like this, I woke up like this. We flawless, ladies tell 'em say, 'I look so good tonight.'"
Who run the world? Girls. Any Bey song will have your confidence soaring through the roof, but you get an extra boost any time Nicki Minaj spits on the track. This power-duo has delivered hit after hit—exactly why you can find them on any mix dedicated to pregaming and getting ready for a night out.
48. For When You Want to Party Like It's 2008: "I Gotta Feeling" by The Black Eyed Peas
Quote: "I know that we'll have a ball if we get down and go out and just lose it all."
When you hit the throwback time of the night, you'll disappoint everyone if you don't play some BEP. They were a staple item for any party in the late 2000s, so the nostalgia hits hard when they come on. Get ready to watch everyone flock to the dancefloor—tonight's gonna be a good night.
49. For When You Feel Groovy: "Can't Stop the Feeling" by Justin Timberlake
Quote: "I got that sunshine in my pocket, got that good soul in my feet."
Even if you haven't seen Trolls, you can't deny this infectious tune that makes you want to dance. J.T. always delivers hip-shaking singles to us, so let loose and have fun with this one. Timberlake would want you to forget your inhibitions and have a good time.
50. For When You Need a Love Yourself Anthem: "Born This Way" by Lady Gaga
Quote: "Rejoice and love yourself today 'cause baby you were born this way."
At the end of the day, you are who you are. You can't change, and you shouldn't want to. While this song has become a sort of anthem in the LGBTQ+ community, anyone can take away the message of the impact of having a positive self-image from this. You're on the right track, baby, you were born this way.
**Updated on January 15, 2018 to include list items 26–50 by Devon Ledbetter