While you might consider The New Yorker or The Paris Review your dream journals, your chances of escaping the infamous slush pile might seem slim. But College Magazine has you covered with a guide to some of the coolest, up-and-coming indie lit mags to submit your latest pieces to. Whether you have a fresh nonfiction piece about life during the pandemic or an ode to take-out apps, make sure you edit carefully before finding the right fit for your writing.
Check out the individually unique characteristics of these indie mags worth submitting your work to, and good luck!
1. FAIRY PIECE MAG (Currently Open for Submissions)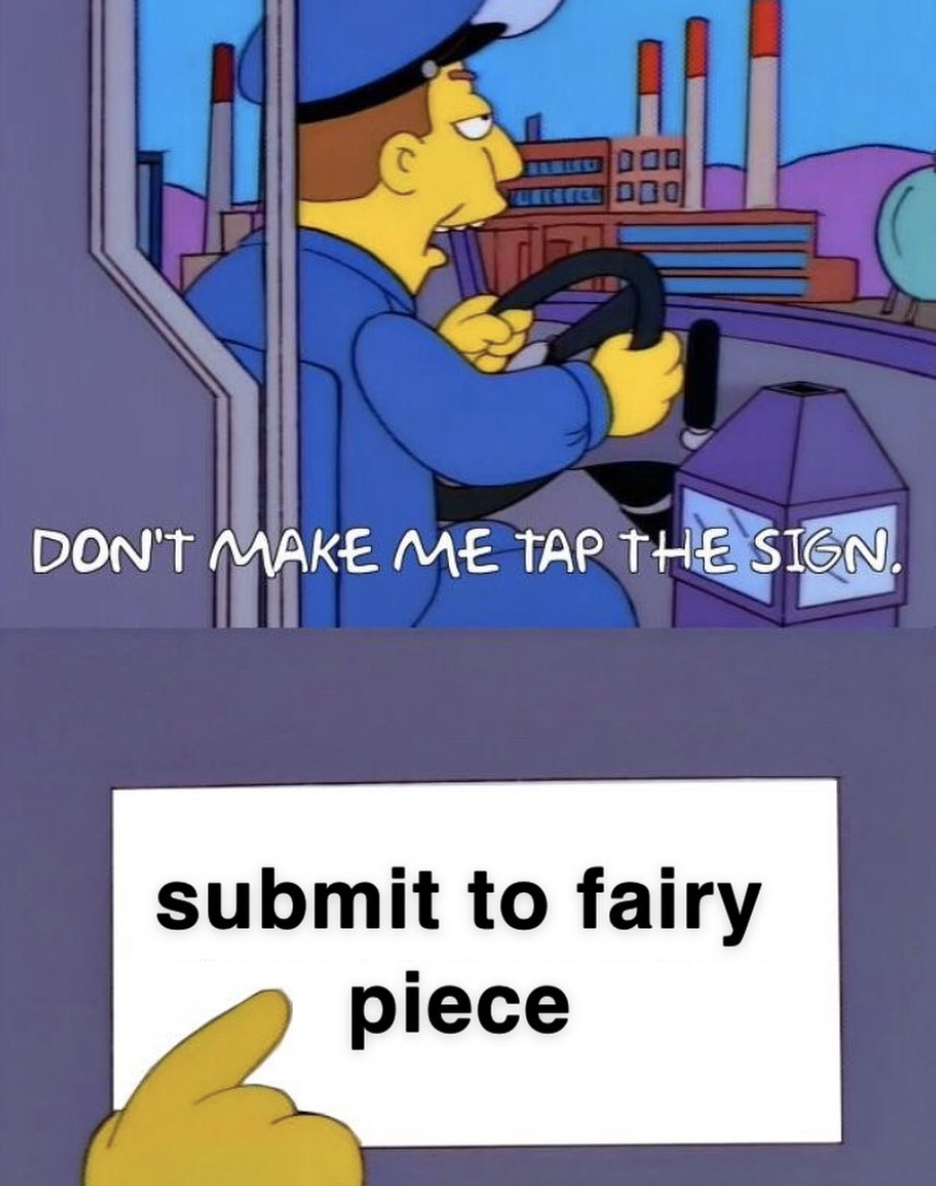 Self-proclaimed as "a lit mag for the odd and the peculiar" on its website, FAIRY PIECE loves writing that breaks the rules. Their editors, Teddy L. Friedline and Iskandar Haggarty, also poets, want the unexpected and the unconventional. Whether that means visual poetry, altered and unique forms, or diagrams—you decide.
For more insight on their taste, some of their favorite writers include poets Richard Siken, author of the collection Crush which won the Yale Series of Younger Poets in 2003 and Frank O'Hara, a dynamic leader and poet of the "New York School" of poets. If you have an experimental piece that doesn't fit into a specific genre, just send it away and you may just get lucky with the FAIRY PIECE MAG!
HOW TO SUBMIT: No more than five pages to [email protected] in a Word Doc. Please include a cover letter and third-person bio. Simultaneous submissions allowed. Quick turnaround, less than a month.
2. perhappened mag (RAIN OR SHINE Open Until 3/2)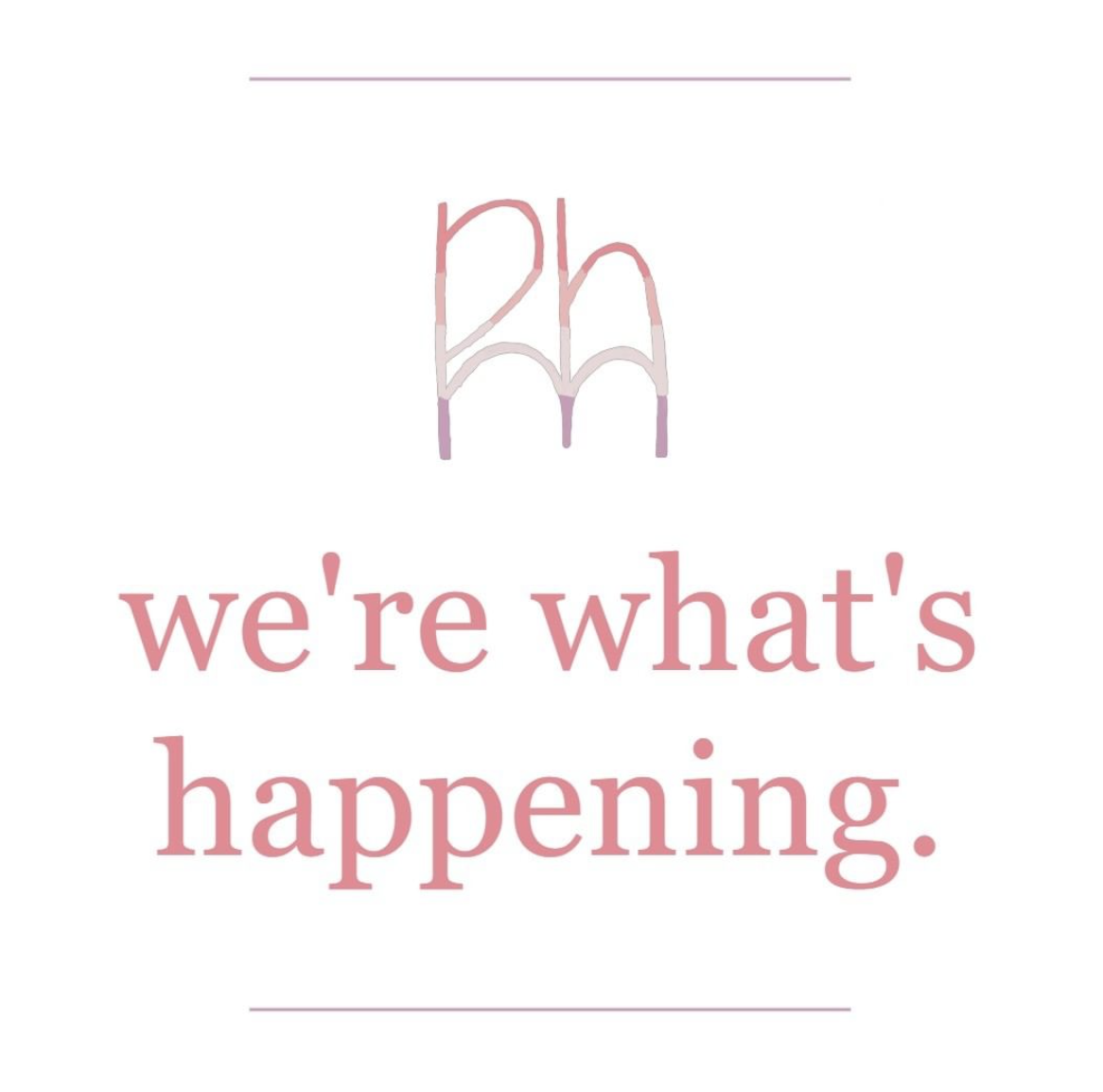 Founded in 2020 by Editor-in-Chief and fellow poet Isaura Ren, perhappened houses writing with an ethereal feel. As stated in their website bio, they want the "uncertain & surreal" and do not have any submission fees or word and genre limits. Cheers to words without any boundaries. This process provides a 24-hour turnaround or even editorial feedback if you donate to their mag. With an affinity for self-reflection and beauty in the overlooked, your musings will be given great consideration. Even so, the magazine has an infamous reputation for its kind rejections.
Just make sure you follow the theme! Their past issues include the themes FAIRYTALE, SNOWFALL and currently, LOVERS in which past submitters have interpreted these words in a plethora of ways. They also have a press open for 20-50 page digital chapbooks. Their first title Sun of Daedalus / ​Song of Anticlea by Caroline Grand-Clement comes out on February 28th. Submit the pieces that make you feel like you're about to float away and you may just get your writing published in perhappened's next issue!
HOW TO SUBMIT: Send your work to [email protected] as one of the following file formats: .pdf, .doc(x), or .rtf with a short third-person bio. 12-pt, standard serif fonts are preferred but not required. Simultaneous submissions allowed. Response times are about five to 10 days.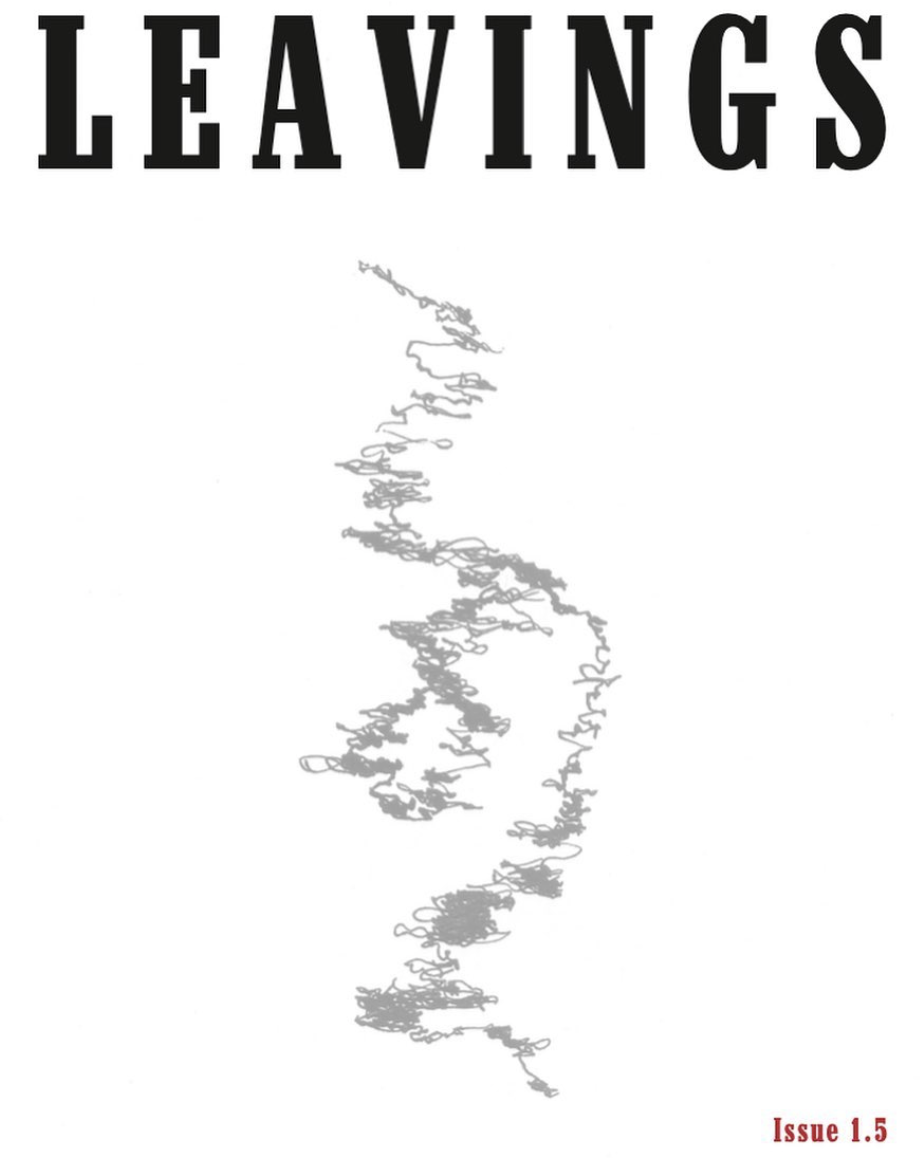 For a classic literary magazine feel with a modern twist, Züleyha and Max Lasky created the online journal and creative collective Leavings as a platform for "emerging poets, artists and thinkers." Named after a poem by Stanley Plumly, poet and director of the University of Maryland creative writing program, the magazine publishes poetry, prose, photography and artwork bi-annually.
"Our journal stands out because we are a collective of young, talented, ambitious writers and artists with the vision of providing a space for writers, artists, and thinkers, both emerging and emerged. Our collective thrives on a non-hierarchical structure where each member has an equal say concerning the decisions we make, which is different from your average journal that relies on a hierarchical mast-head," editors Züleyha and Max Lasky said. "We publish fiction, non-fiction, poetry, art, photography, and anything else that catches our attention. We see our creative evolving by adding more members to our collective as we continue to publish stellar work. Likewise, we have been in conversation with multiple printers, and in the near future, Leavings will be producing physical copies that will be available upon request."
Their only prerequisite involves submitting quality work, so if you have a piece ready for publication that you feel proud of, don't hesitate. You're in good hands.
HOW TO SUBMIT: Send your work to [email protected] with a short third-person bio. Poetry: 3-5 poems, single-spaced. Prose: one to two pieces, double spaced and paginated. Under 12,000 words. Photography & Art: 3-5 pieces formatted as a jpeg, jpg, or png. Background information optional. Simultaneous submissions allowed. Response time of around two months with a payment of $15 if accepted.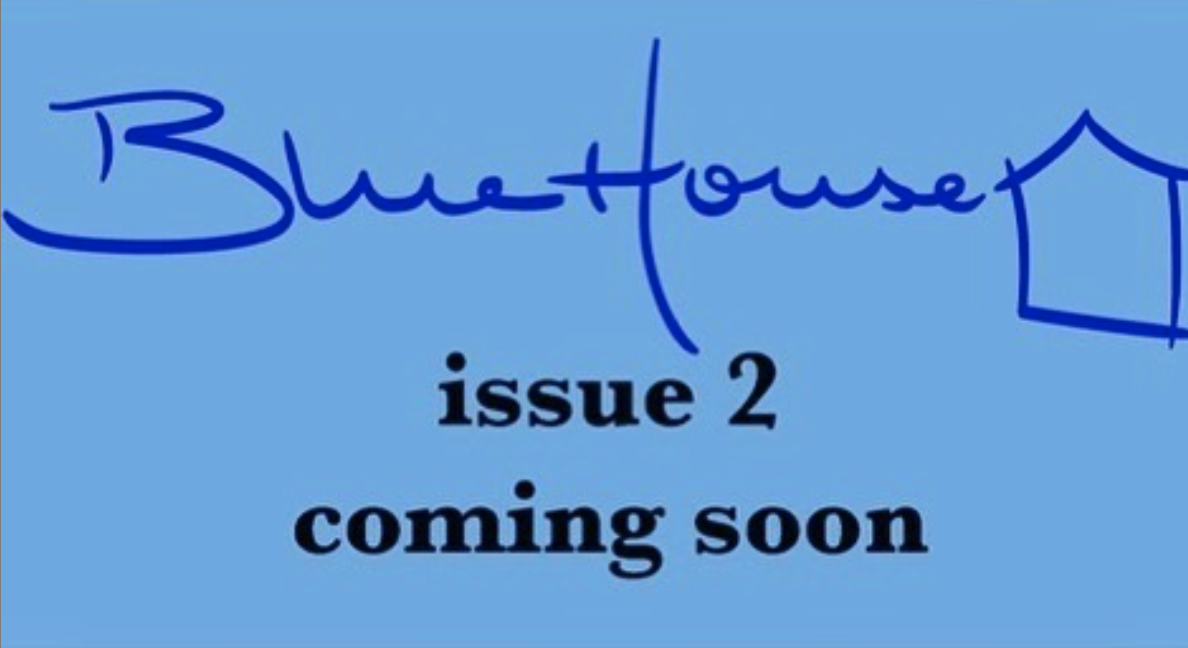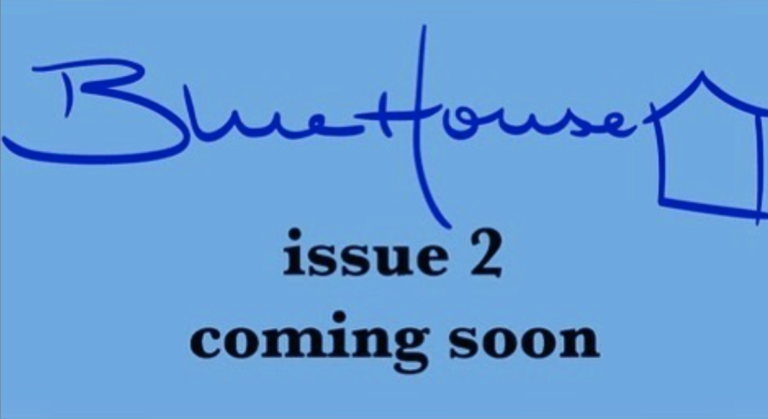 BlueHouse Journal focuses on "constructing the written self", a mantra evident in their visually and literary stimulating published works. Edited by Meredith Grace Thompson and guest editors, BlueHouse loves the blurring of genres and the "edge of things", stated boldly on their website. You won't find traditional short stories here—the magazine welcomes experimental and hybrid prose forms along with poetry and creative non-fiction.
"BlueHouse works to create space for writers to experiment in poetry and prose, developing their specific written self, as each piece of writing depicts a self however removed from selfhood, which is speaking to a reader. We are interested in where that line between reader and writer—between self and written self— begins to blur. BlueHouse functions within quite specific themes, so we are always looking for how a writer plays with the theme of the issue. But we also are looking for daring imagery, intentionality in formatting and diction, openness and lack of pretense. You have to be willing to risk failure in order to experiment successfully," editor Meredith Grace Thompson said.
Past issues include the themes THE I VOICE, LISTS and WATER. You'll find a mix of verse, deconstructed or visual poems and blocks of prose throughout. Despite identifying as a Canadian issue, the journal offers a range of international writers hailing from Brooklyn to Berlin.
HOW TO SUBMIT: x3 poems, max 50 lines each, x3 prose pieces, max 2,000 words each, x3 hybrid pieces, max 2,000 words/ 50 lines of poetry each x3 visual art pieces. For visual art and concrete poetry submit as .pdf or .jpeg; .doc file for all other work. Include written pieces in a single document. Save as "Lastname_Firstname_BlueHouseIssue#" and email to [email protected] along with a bio. Simultaneous submissions allowed.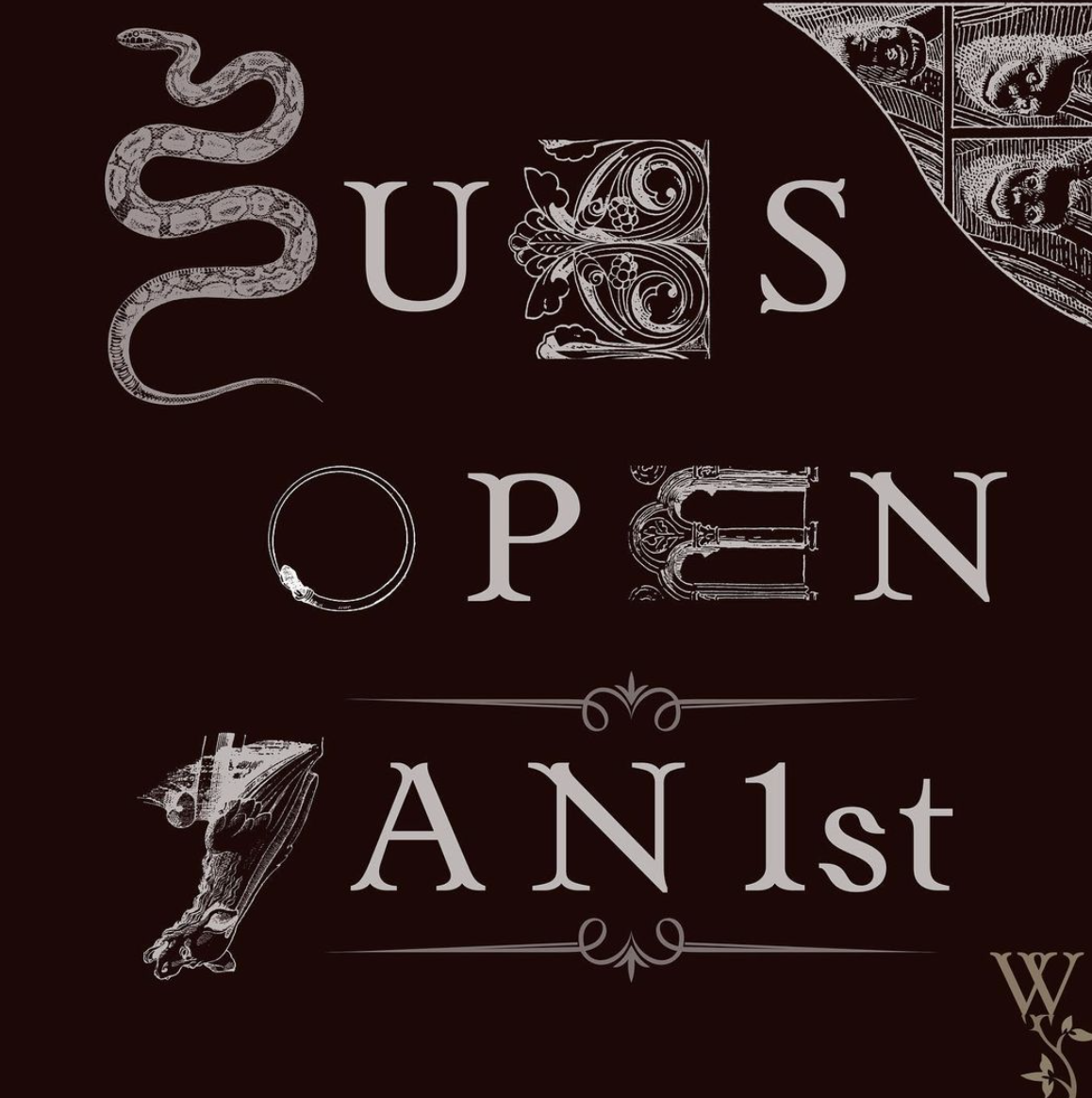 For those more darker pieces haunting the depths of your mind, consider submitting them to Wrongdoing Magazine. According to their website, the magazine looks for "writing that aches." Their inaugural issue, edited by Pascale Povtin, calls for pieces that contain a "mystical, ethereal & seductive vibe" while still being dark. If you have anything that feels "too wrong" or too "edgy" to submit anywhere else, then Wrongdoing might be the right place for you.
"At Wrongdoing, we're looking for work that disturbs; that doesn't mean it has to be horrific, but that it should be more than just moving. Perhaps it disturbs current ideas of what literature is and can be," Editor-in-Chief Pascale Potvin said.
Adhering closely to their guideline values on their website, they also aim to publish traditionally marginalized creatives and denounce any sort-of bigotry promotion through careful reading of any "gratuitously violent or sexual fantasies". You can also access detailed feedback with a donation.
HOW TO SUBMIT: Send submissions through the appropriate Google Form on their website. Double-spaced prose, single-spaced poetry, simple font. Cover letters are optional but appreciated, bios requested upon acceptance. You're allowed to submit two categories at once. Simultaneous submissions are allowed. Response time of around a month.
6. SUPERFROOT MAG (LOVER BOY Prose & Visual Art Open until 3/31)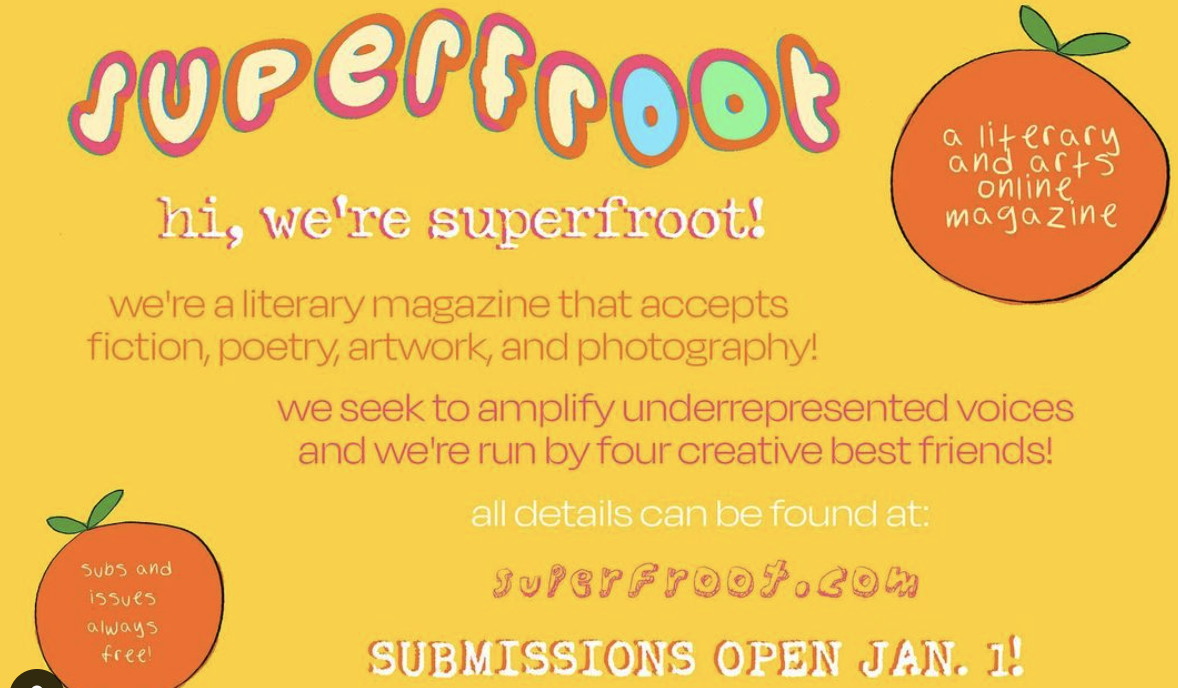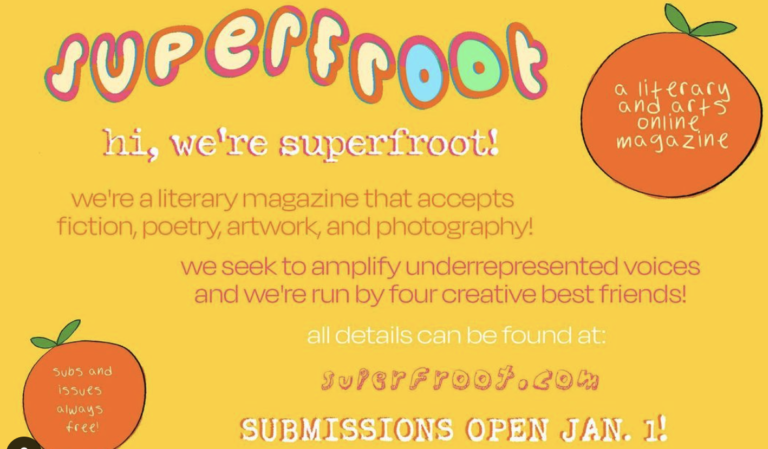 Started by four creatives who happen to be best friends, Superfroot showcases underrepresented and upcoming artists. Bright colors and saturation make up their website's aesthetic and their debut issue LOVER BOY seems promising.
"Here at Superfroot Magazine, we look for words that are as vibrant as fresh fruit, work with sprightly voices and fervent settings. We look to amplify all writers, but especially seek to celebrate the work of marginalized people," Editor-in-Chief Shyla Jones said.
So send your exciting pieces! Alongside each issue, you'll also find playlists and the founders' own works! If music and writing make up your world then here lies a chance to share it with others.
HOW TO SUBMIT: Submit as .docx, .doc, or pdf file to [email protected] Include name and genre in the subject line. Include a cover letter and short bio. Simultaneous submissions allowed. Response range of two weeks to three months.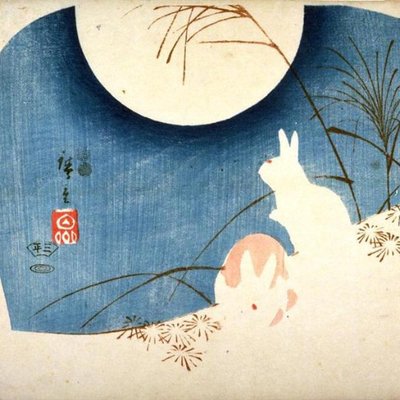 For flash fiction, Milk Candy Review makes up the definition of perfection. Edited solely by its founder Cathy Ulrich, "beautifully weird" and short make up her only submission guidelines on the website.
"Milk Candy for me is all about the shine and spark of hope, even in the midst of the darkest times. I love seeing stories with an unexpected brightness in our queue—it's that light that I'm really looking for," founder Cathy Ulrich said.
Milk Candy posts a new story each Thursday, followed by a two-question interview with the writer. Despite the softness of the journal's look, the writing itself can range from dreamy to hard-hitting. Each story will surely hit your writing preference sweet spot.
HOW TO SUBMIT: Send up to 750 words to [email protected] in a doc. or docx file with a short bio. Send one story at a time. Simultaneous submissions are allowed. Responses take within a week.