As an editor, writer and student myself, I know how much work goes into the constant battle with words. Picking a college, as an aspiring editor, feels like a battle too. Most universities don't offer an editing-specific program, so aspiring editors must look into writing and journalism programs that develop the skills they need. Aspiring editors should look for a high ranking journalism program, unique extracurricular activities and faculty involvement.
Break out the red pens or turn on your track changes. We're about to uncover the top 10 colleges for aspiring editors.
10. Asbury University
Editors need to learning how to effectively work the technology that publications use now. Asbury's journalism program molds tech-savvy editors through writing, editing and photojournalism courses. This school has received multiple Student Production Awards from the National Academy of Television Arts & Sciences and has even won Emmys in fiction and non-fiction short form. With a student to faculty ratio of 12:1, students get one-on-one mentorship from their professors. Aspiring editors can take Journalism 393 Seminar and Media Communications 212 Writing for the Media. These classes help students improve their editing skills by studying effective techniques of editing and writing. "Editing for The Asbury Collegian has given me a real-world experience of running a newsroom," said Katherine Sheets, editor for The Asbury Collegian. "I've learned more about effective communication, managing a full staff and personal responsibility than I ever could in a classroom setting." Students rave about the travel journalism course that takes students on photojournalism trips to places like Los Angeles, California and Tennessee.
9. University of Florida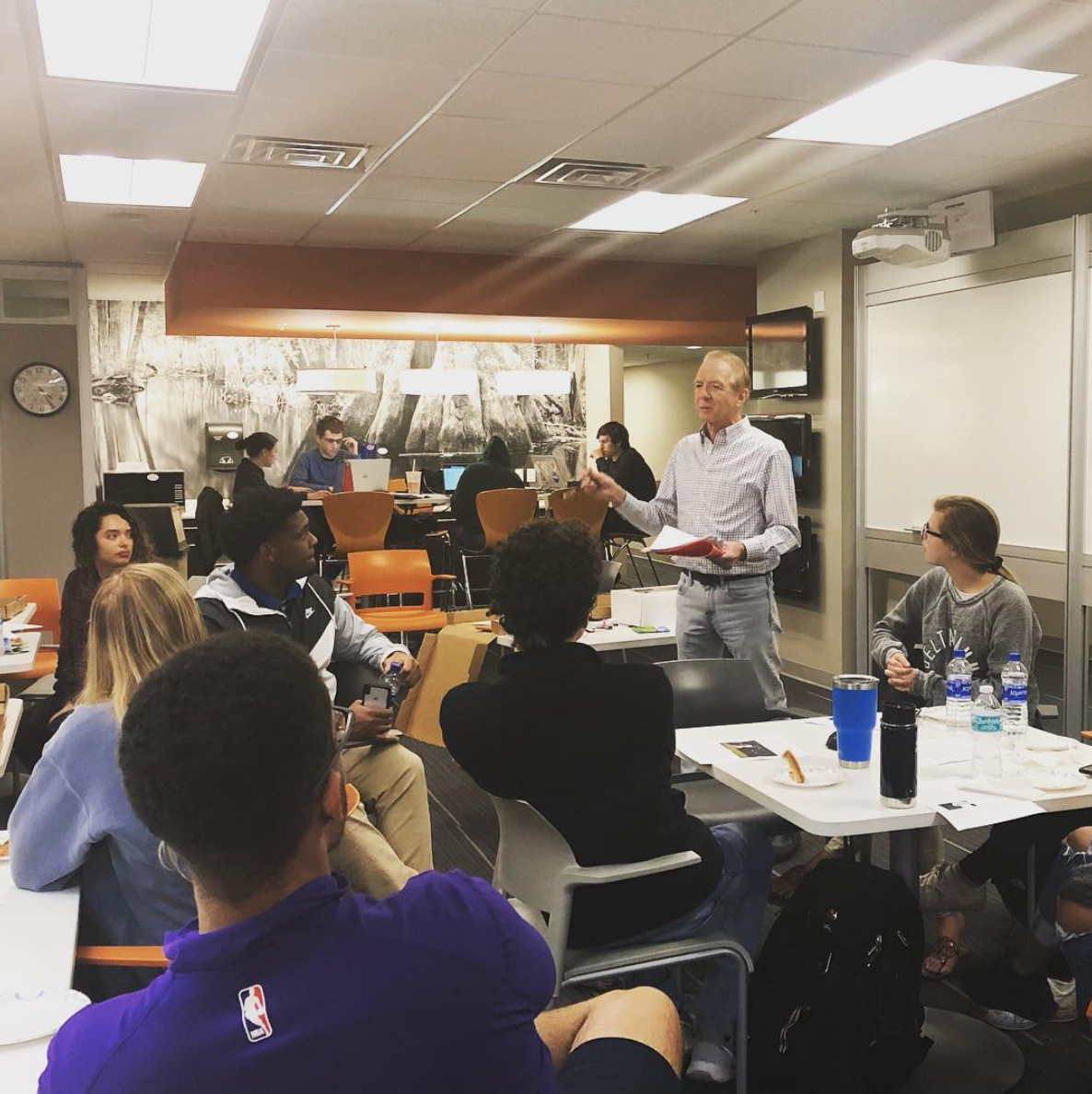 Get connected at UF. Its' J-school faculty includes Cynthia Barnett, an environmental journalist, and Clay Calvert, the journalism department director and scholar in Mass Communication. "The professors at the UF College of Journalism and Communications and in the journalism department, specifically, are truly there for their students in all aspects of academics and career," journalism student Darcy Schild said. "It's amazing that even in a huge school, I can walk around Weimer Hall and have these professors say 'Hi Darcy!'" After class, aspiring editors can join clubs that will give them the hands-on editing experience they need on their resumes. The Florida Magazine Student Association connects its' members to editors of local and national publications such as INsite Magazine, Giggle Magazineand Gainesville Business Report. This offers students a wide network of professionals to reach out to in their industry. The Agency, a student-run media agency, gets to work and research for clients such as McDonald's, P&G and Orange Theory to help them understand how to communicate with millennials. This organization gives UF students the chance to gain real life work experience before graduation.
8. Emerson College
Emerson's Department of Journalism creates outstanding editors by focusing on journalism fundamentals. Students take 44 credit hours with classes emphasizing daily, analytic, conceptual, in-depth and enterprise journalism. Classes like news editing and design, ethics for journalists and feature writing will help future editors prepare to mark up any text. Aside from class, Emerson students can take a noncredit copyediting program that will prepare them to take a draft of anything from a book to a website and prepare it for publishing. The copyediting program covers everything from precision proofreading to editing for bias–free language. Emerson alumni graduate to land dream-worthy jobs, like talk show host Jay Leno, travel writer Kira Salak and Boston newscasters Ed Harding and Pam Cross. Classes like Grammar for Professionals and Editing for Concision gives students the chance to go above and beyond in their editing skills and maybe even make it as big as those alumni.
7. Stony Brook University
Stony Brook University offers students hands-on programs like Journalism without Walls. This educational trip allows students interested in writing and editing to travel to countries like Cuba and Ecuador for a worldly reporting experience. Stony Brook also works hard to prepare students for life outside the classroom by requiring internships with professional news organizations. Led by faculty mentors, each student interns with a major company like CBS, ABC, CNN and FOX. Editors for The Statesman, Stony Brook's student newspaper, have been recognized for their work by the Society for Professional Journalists and Newsday. Professors like Jonathan Sanders, an Emmy-award-winning international reporter, and Pablo Calvi, an assistant professor teaching multimedia journalism and Latin American literature, inspire students to continue improving their writing and editing skills. Classes like Editing and Presentation focus on copyediting and page design. If you dream of living near New York City and launching a successful career in editing, check out Stony Brook.
6. University of North Carolina
Journalism is the most popular major at UNC. And there's plenty of organizations for students interested in editing, like Black Ink Magazine, Carolina Association of Black Journalists, Coulture Magazine, The Durham VOICE and Carolina Association of Future Magazine Editors. The Daily Tarheel, the student newspaper, holds editors to high standards. They produce 10,000 free copies each Monday, Wednesday and Friday. Classes like Writing and Reporting, News Editing and Advertisement Editing draw students in to UNC and then put them back into the real world as confident and inspired leaders. Students can rely on UNC to help them find their full potential, just as it helped alumni Kimberly Strassel, now on the Wall Street Journal editorial board, and Marita Golden, award-winning author for her memoir Migrations of the Heart. Apply to UNC today for endless opportunities and a ton of LinkedIn connections with successful editors.
5. Boston University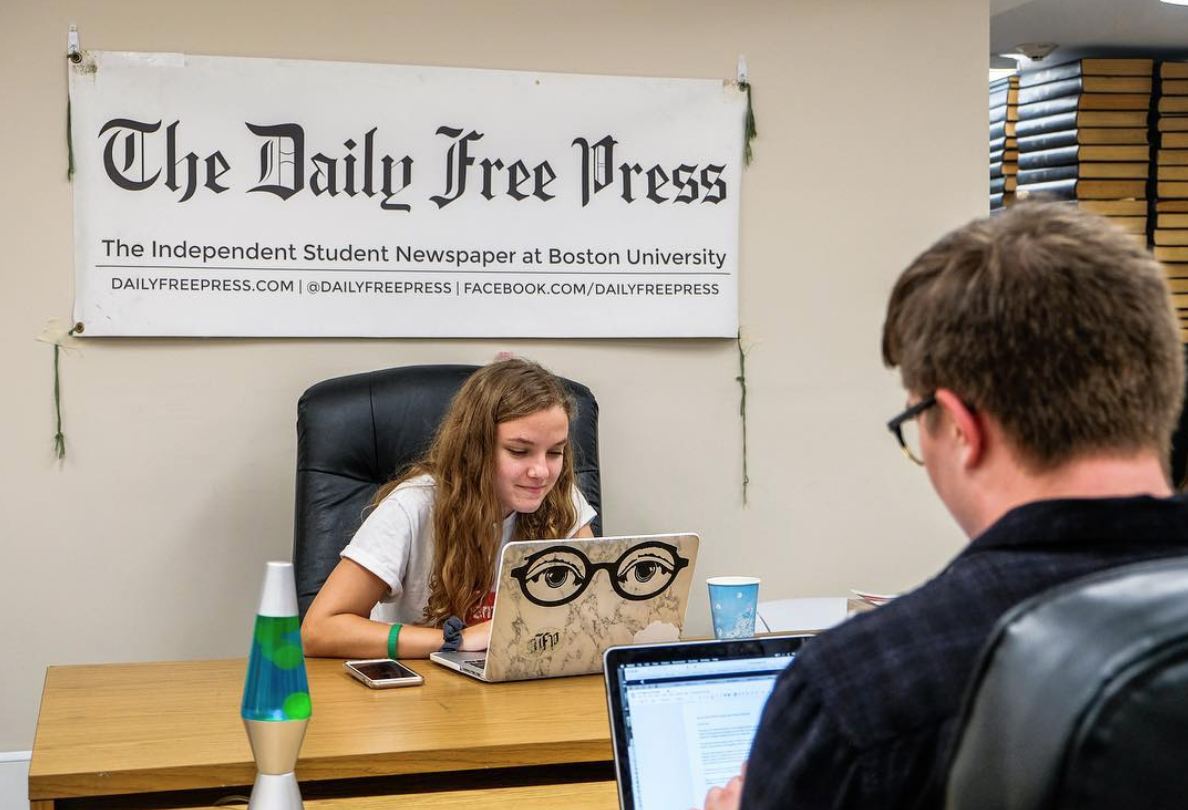 What is red and white with an impeccable journalism program? Boston University. The city of Boston is a news hub as the ninth-largest media market. This makes Boston University a prime location for aspiring editors to land an internship that transitions into an "adult" job. Some of their alumni go off to work for ABC and A&E Television Network, and some even get nominated for Oscars. To follow in these successful alumni's footsteps, get involved in campus organizations like Society of Professional Journalists, Public Relations Student Society of America and BU News Service. The journalism program offers classes like Media Criticism and Magazine Writing and Editing that allow students to tailor their studies to their interests and improve their editing. Let's say you want to take your skills to the next level. BU's Washington, D.C. Journalism Program sends 35 students to D.C. for a semester of enhancing their writing and editing skills. Each student has an experience that encourages them to find their voice and gain confidence as they work with media outlets like CNN, Fox News and NPR.
4. Ohio University
The E.W. Scripps School of Journalism at Ohio University has one of the most selective, challenging journalism programs. The college expects incoming students to rank in the top 10 percent of their class and maintain a 3.6 GPA or higher. To hone in on their editing skills, students can participate in student orgs like Backdrop Magazine, Her Campus and Fangle Magazine. The Post, the school newspaper, received an award for the Best All-Around Non-Daily Student Newspaper in 2017 by the Society of Professional Journalists. The Athens News, a newspaper published twice a week in Athens, also lets students to get hands-on experience by editing student–written articles. Alumni go on to edit at publications like The Washington Post, The Wall Street Journal and TIME. But OU grabs most editors' attention because the journalism program is accredited by the Accrediting Council on Education in Journalism and Mass Communications, a council that hand selects schools who achieve excellence and high standards in professional education in journalism. Put your editing skills to the test at OU.
3. University of Southern California Annenberg
USC's Annenberg School for Communication and Journalism's Media Center houses 30 flat-screen TV and two professional studios with student volunteers bustling about at all times. Editors sit hard at work behind the scenes, helping with one of the 14 shows produced weekly. "I was in awe the first time I walked in," said Hawken Miller, senior and managing editor at the Annenberg Media Center. The technology at Annenberg makes working on news, like radio equipment, green screens and computers in the edit bay. Students also get support from the faculty and staff who spent years as copy editors and journalists like Sasha Anawalt, an acclaimed critic and writer, and Amara Aguilar, an associate professor who teaches digital journalism in the graduate program. But to access all these incredible resources, you'll need to amp up your application for one of the 288 undergraduate journalism spots and an 8:1 student-to-teacher ratio. "Without Annenberg, I wouldn't have found the paper and developed my skills as a writer, editor and page designer," Miller said. Courses like Multi-Platform Editing and Advertising Copywriting will prepare you rock jobs at companies like NPR, NBC or The Huffington Post.
2. University of Texas Austin
The Moody College of Communication has come a long way since opening in 1914 out of a small building with a printing press. Now the largest and most influential program of its kind in Texas, the journalism program gives students incredible resources on and off campus. The school newspaper, The Daily Texan, holds titles such as the Associated College Press "Peacemaker Award," the Columbia Scholastic Press' Gold Crown Award and TAMPE's Newspaper of the year award in 2015. "The Texan does in-person edits, and so going in when I was a reporter and seeing my articles being edited and having them explained to me and pushing me to be better, taught me to start pinpointing what I shouldn't be doing and what I should be doing," former editor for The Daily Texan Morgan O'Hanlon said. If you have a sense of humor, get involved with the Texas Travesty, the official humor publication at UT Austin and the country's largest student-produced satirical newspaper. UT's size provides endless connections to media outlets and successful alumni like Karen Elliot House, editor and publisher of The Wall Street Journal, Jennifer Howell, Head of Development for Dreamworks, and Matthew Mcconaughey, actor, producer and Golden Globe winner. These people have made a huge difference in the world as editors, writers and creators, just like you can at UT Austin.
1. University of Missouri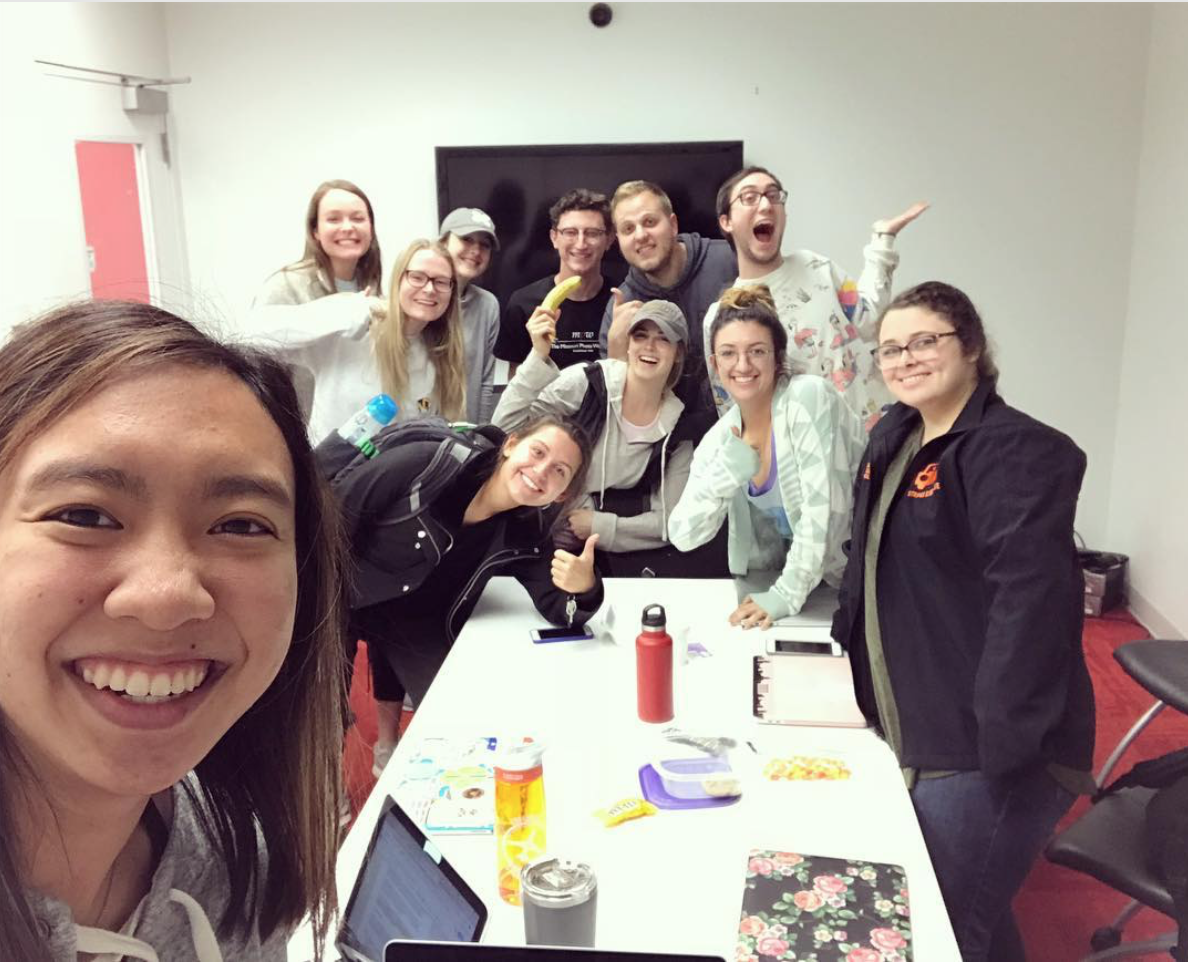 Join the Mizzou Mafia to network with the best and brightest editors worldwide. But don't let the name scare you away. The Mafia refers to how Missouri alumni go out of their way to hire other Mizzou grads. This is great for editors because Missouri has an alum at every major news outlet in the country. The J-school has three majors specifically for editors so students can choose their topic of interest. Magazine editing focuses on pitching and assigning stories, working with designers and proofreading. News editing helps students master evaluating content and publishing by tight, 24-hour deadlines. Lastly, the visual editing major hones in on images in print and online publications and requires students to take photojournalism classes. As if the majors weren't enough experience, participating in organizations like the school newspaper, Columbia Missourian and the Missouri Press Association, forces students to put their editing skills to the test. All work done at Missouri follows the Missouri Method, a school-wide goal to give students real-world work experiences. Alumni put their education to great use, like Maddie Aberman who works as a Beauty editor at Women's Health and Nancy Bishop, an editor and publisher at Third Coast Review. "I chose Mizzou because it was the only school I saw that offered students the opportunity to start working right away. I didn't want to go to college and wait until I was a junior to start getting hands-on experience," senior Robert Veno said. Missouri releases students into real life knowing they can edit anything to (near) perfection.
Top 10 Colleges for Writers 2018
The Top 10 Journalism Schools 2019