Spring Break in Panama City Beach is every college kid's dream. Years of watching MTV's coverage of the hottest students partying has prepared you for this experience. Now it's time for a whole week of debauchery. That's right, dancing, tanning and hooking up in Panama City Beach, Florida. But before you pack you bags, make sure your plan is waterproof.
1. FIND YOUR PEEPS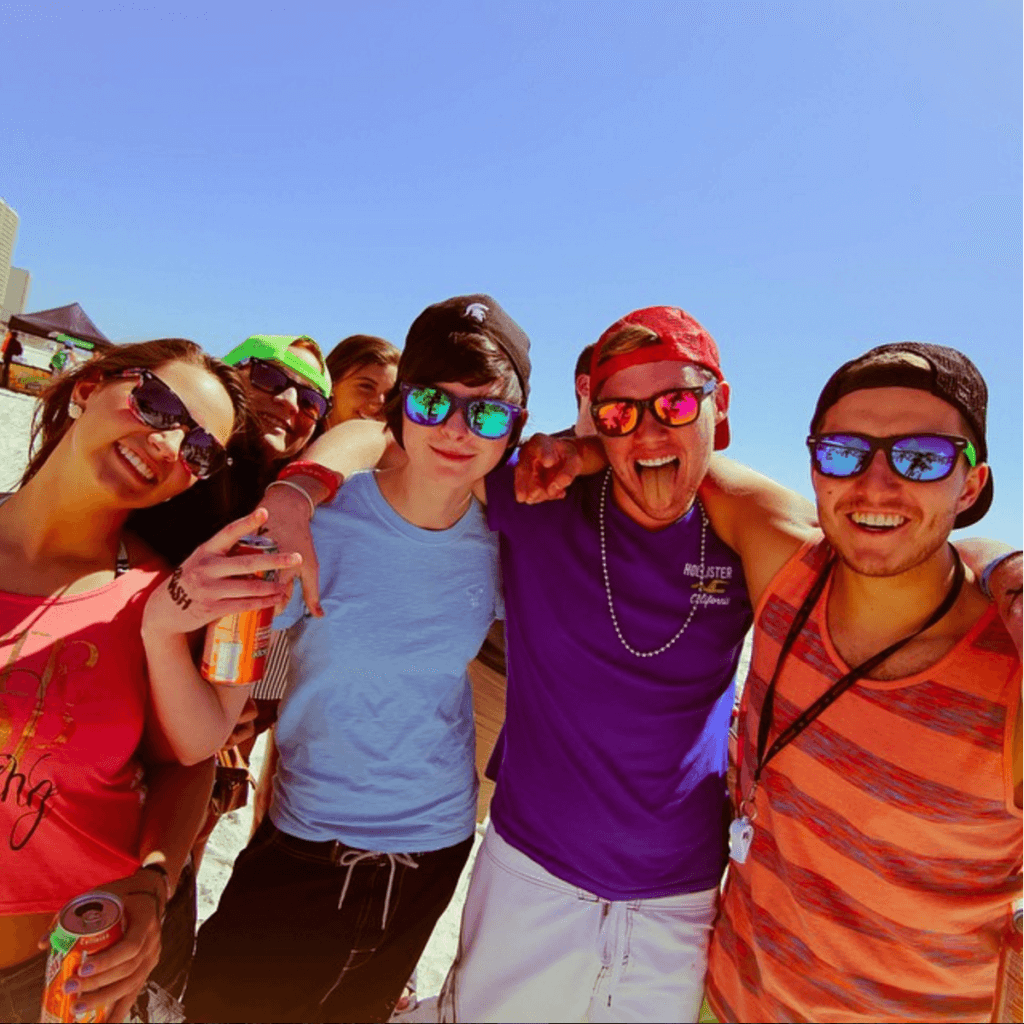 It's best to have at least 4-6 people in your PCBeach crew. Why? That way you can pair up and conquer while staying safe. Getting your group together and determining everyone's budget is key to having a fun, relaxing weekend. Budget is crucial for the best hotels, party tickets, food, and drinks. Make sure to save for a slush fund too. Expect to spend between $600-$1,500 for the week. Take into account who is 21 and up, and who is under. Put anyone who is under 21 in a different hotel room so that you 21+ peeps can protect what is rightfully yours, those shiny Bud Light cans.
2. AVOID TROUBLE WITH THE LAW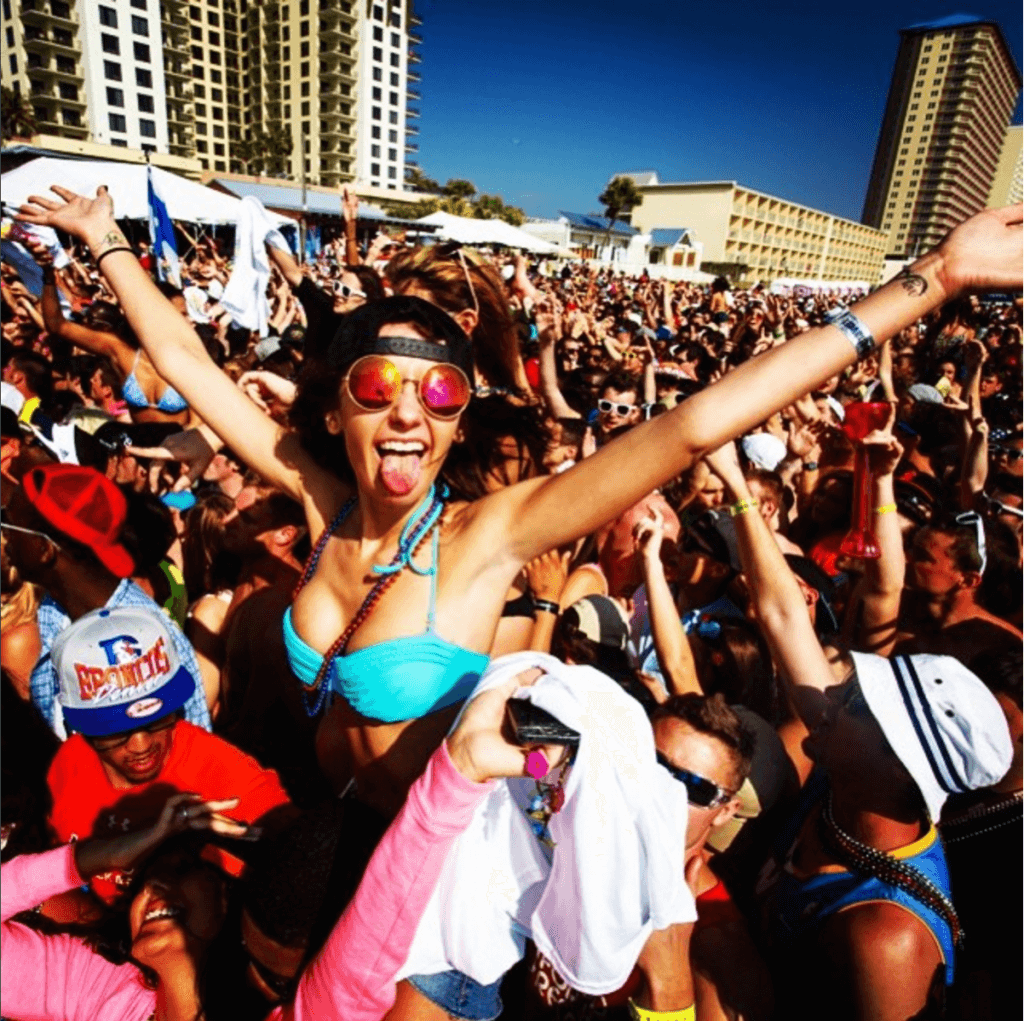 It happens every year. Undercover cops find the underage drinkers and hand out Minor In Possessions (MIPs) like your university health care center hands out condoms. Nothing soils a perfect spring break in the sun like an arrest. Worst part, you'll have to go back for your court date. Eek! Familiarize yourself on laws and ordinances in PCB. Avoid trouble with the fuzz and figure out the legal dos and don'ts.
3. PICK YOUR PAD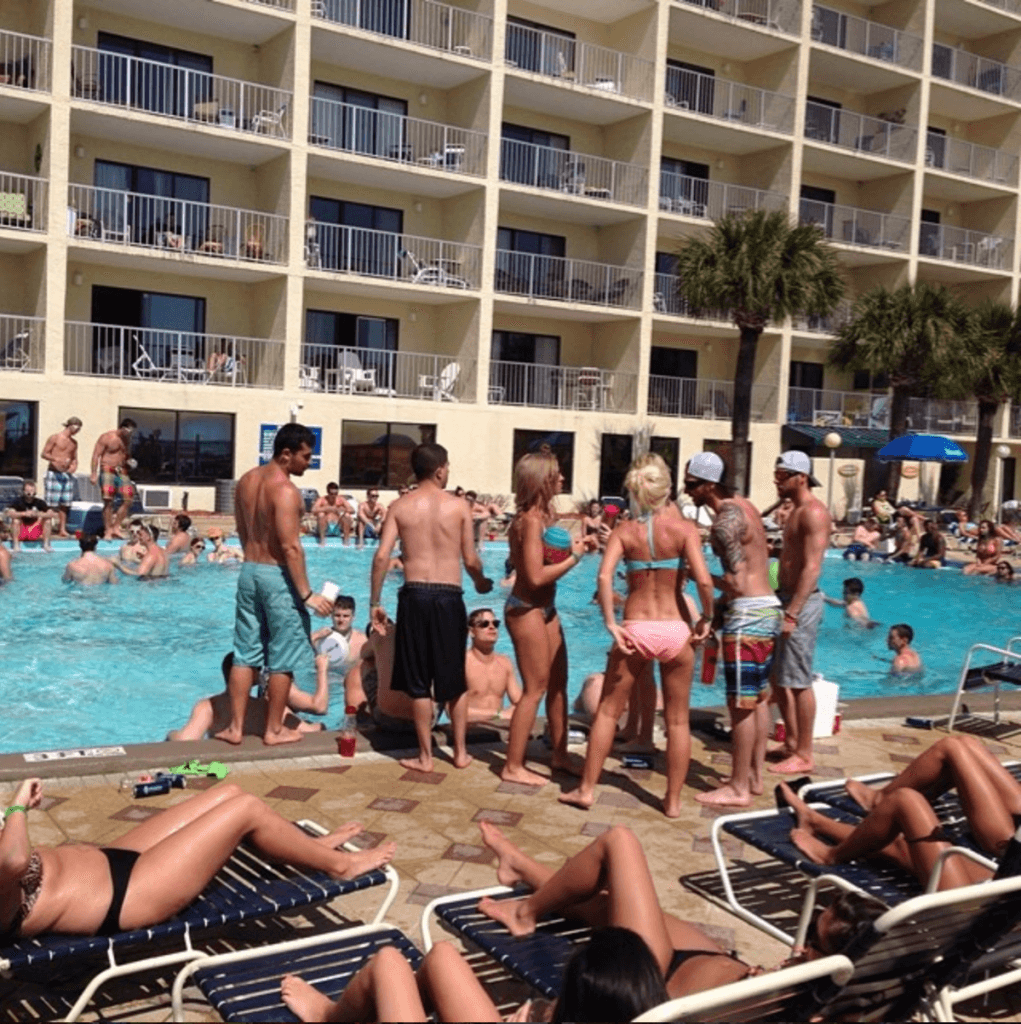 Each location comes with pros and cons. Staying on the beach is obviously prime real estate. You'll wake up every morning hung over, but ready to sink your toes in the sand and start the day's festivities. A beachfront hotels means the party never stops. Not to mention full amenities including a pool area, spa and fitness center. Fraternity flags will be waving, dizzy bat will be played and beer pong champions will reign. The beachfront clubs Sharky's Beach Club and Club Lavela are the Head Quarters for spring break. Hint hint: Stay close if you want fast access. Shot girls bring you "spring break juice," there's music blasting and lights flashing all night long.
4. SECURE YOUR PARTY PASSES
As Spring Break gets closer, packages and deals will start to run out. Start your research early. The sooner you buy your tickets, the cheaper they will be. Tickets for special events such as foam or Glow Paint parties can be $30-$40 each. Buy tickets when early access purchase is available. This will be cheapest. If you don't go, you can always sell your ticket to a fellow spring breaker. The Panamaniac Club Card is already for sale at an early bird price of $40. This card will get you free drinks, free cover and admission to all the BEST clubs and events. Events for this year's include the Beach Bash Music Fest 2016. PCBeachSpringBreak.com is an excellent resource for finding the hottest events.
For all you party animals out there that need a break from drinking or for those under 21, check out Pier Park. The restaurants, stores (one devoted to popcorn), and a rad mirror maze and laser maze will help you recover from the insanity. There's also Ripley's Believe it or Not and Gulf World Marine Park. If you want to make your trip really spectacular, book a snorkeling excursion. Give your liver a break, and check out these no-drinking-required places.
5. BOOK IT!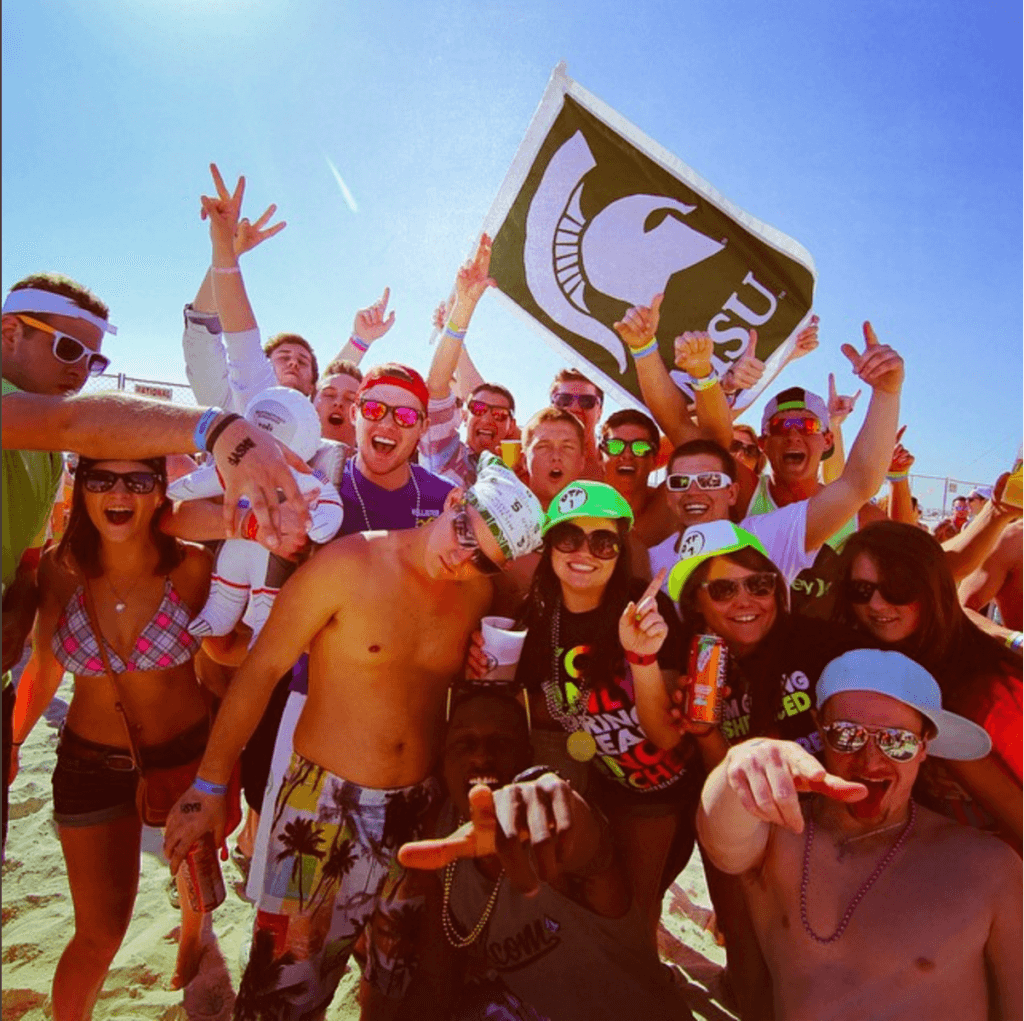 Take all your research, and book your trip! Reserve your hotel, get your plane or bus tickets, and don't forget your party passes. Draw up a group itinerary. It sounds lame but trust us on this. Just a simple schedule with the dates and times of each party. You can even mark down specials happening at a bar, and when your favorite concert starts. This will help you stay organized so you don't miss out. Need help booking your trip? Go to PCBeachSpringBreak.com stat.
Find your school's spring break dates:
| | | |
| --- | --- | --- |
| Adelphi University | NY | 3/12/16 |
| Adrian College | MI | 2/27/16 |
| Aims Community College – Greeley | CO | 3/12/16 |
| Albany College of Pharmacy and Health Sciences | NY | 3/12/16 |
| Albany State University | GA | 3/12/16 |
| Albright College | PA | 3/12/16 |
| Alfred University | NY | 3/5/16 |
| Allegheny College | PA | 3/19/16 |
| American University | DC | 3/5/16 |
| Amherst College | MA | 3/12/16 |
| Angelo State University | TX | 3/12/16 |
| Appalachian State University | MA | 3/5/16 |
| Arizona State University | AZ | 3/5/16 |
| Arkansas State University – State University | AR | 3/19/16 |
| Art Institute of Boston at Lesley University | MA | 3/12/16 |
| Ashland University | OH | 3/5/16 |
| Assumption College | MA | 3/5/16 |
| Auburn University Main Campus | AL | 3/12/16 |
| Augustana College – Sioux Falls | SD | 2/20/16 |
| Babson College | MA | 3/12/16 |
| Baldwin – Wallace College | OH | 3/5/16 |
| Ball State University | IN | 3/5/16 |
| Baltimore City Community College | MD | 4/2/16 |
| Barry University | FL | 3/5/16 |
| Baylor University-Waco | TX | 3/5/16 |
| Bemidji State University | MN | 3/12/16 |
| Benedictine University-IL | IL | 3/19/16 |
| Benjamin Franklin Institute of Technology | MA | 3/5/16 |
| Bentley University | MA | 3/5/16 |
| Berklee College of Music | MA | 3/12/16 |
| Bethel College-IN | IN | 3/12/16 |
| Black Hawk College East Campus | IL | 3/12/16 |
| Bloomsburg University | PA | 3/5/16 |
| Boise State University | ID | 3/19/16 |
| Boston Architectural College | MA | 3/12/16 |
| Boston College | MA | 3/5/16 |
| Boston Conservatory | MA | 3/12/16 |
| Boston University | MA | 3/5/16 |
| Bowdoin College | ME | 3/12/16 |
| Bowling Green State University | OH | 3/5/16 |
| Bradley University | IL | 3/12/16 |
| Brevard College | NC | 2/27/16 |
| Bridgewater College | NJ | 3/12/16 |
| Bridgewater State College | MA | 3/5/16 |
| Brown University | RI | 3/26/16 |
| Bryant & Stratton College: Albany | NY | 3/12/16 |
| Bryant University | RI | 3/5/16 |
| Bucknell University | PA | 3/12/16 |
| Bunker Hill Community College | MA | 3/12/16 |
| Butler University | IN | 3/5/16 |
| California Institute of Technology | CA | 3/19/16 |
| California Polytechnic State University-San Luis Obispo | CA | 3/19/16 |
| California State University-Chico | CA | 3/12/16 |
| California State University-Long Beach | CA | 3/26/16 |
| California State University-Los Angeles | CA | 3/19/16 |
| California State University-Sacramento | CA | 3/19/16 |
| California University of Pennsylvania | CA | 3/5/16 |
| Camden County College-Blackwood | NJ | 3/12/16 |
| Campbell University | SC | 3/5/16 |
| Canisius College | NY | 3/26/16 |
| Carleton College | MN | 3/12/16 |
| Carnegie Mellon University | PA | 3/5/16 |
| Case Western Reserve University | OH | 3/5/16 |
| Catholic University of America, The | DC | 2/27/16 |
| Central College | IA | 3/5/16 |
| Central Connecticut State University | CT | 3/19/16 |
| Central Methodist College | MO | 3/19/16 |
| Central Michigan University-Mount Pleasant | MI | 3/5/16 |
| Central Washington University | WA | 3/19/16 |
| Centre College | KY | 3/19/16 |
| Christopher Newport University | VA | 3/26/16 |
| Citadel-The Military College of South Carolina, The | SC | 3/26/16 |
| City College of San Francisco | CA | 3/26/16 |
| City Univ of New York-Queens College | NY | 4/2/16 |
| Clarion University of Pennsylvania-Clarion | PA | 3/5/16 |
| Clarkson University-NY | NY | 3/12/16 |
| Clemson University | SC | 3/12/16 |
| Cleveland State University | OH | 3/12/16 |
| Cloud County Community College | KS | 3/12/16 |
| Coastal Carolina University | SC | 3/5/16 |
| Coe College | IA | 3/5/16 |
| Colby College | SC | 3/19/16 |
| Colgate University | NY | 3/12/16 |
| College of Charleston | SC | 3/5/16 |
| College of DuPage | IL | 3/19/16 |
| College of Lake County | IL | 3/19/16 |
| College of New Jersey, The | NJ | 3/12/16 |
| College of Saint Rose | NY | 2/13/16 |
| College of the Holy Cross | MA | 3/5/16 |
| College of William and Mary | VA | 3/5/16 |
| Collin County Community College-Spring Creek | TX | 3/12/16 |
| Colorado College | CO | 3/12/16 |
| Colorado School of Mines | CO | 3/12/16 |
| Colorado State University | CO | 3/12/16 |
| Columbia University in The City of New York | NY | 3/12/16 |
| Community College of Philadelphia | PA | 2/27/16 |
| Community College of Rhode Island | RI | 3/5/16 |
| Concordia College-Moorhead | MN | 2/20/16 |
| Concordia University-NE | NE | 3/5/16 |
| Connecticut College | CT | 3/12/16 |
| Coppin State University | MD | 3/12/16 |
| Cornell College | IA | 3/5/16 |
| Cornell University | NY | 3/26/16 |
| County College of Morris | NY | 3/12/16 |
| Creighton University | NE | 3/5/16 |
| Curry College | MA | 3/12/16 |
| Curtis Institute of Music | PA | 3/5/16 |
| Dartmouth College | MA | 3/19/16 |
| Davidson College | NC | 2/27/16 |
| Dean College | MA | 3/12/16 |
| Denison University | OH | 3/12/16 |
| DePaul University | IL | 3/19/16 |
| DePauw University | IN | 3/19/16 |
| Des Moines Area Community College-Ankeny Campus | IA | 3/12/16 |
| Dickinson College | PA | 3/12/16 |
| Dordt College | NE | 3/5/16 |
| Drake University | IA | 3/12/16 |
| Drexel University | PA | 3/19/16 |
| Drury University-Springfield | MO | 3/12/16 |
| Duke University | NC | 3/12/16 |
| Duquesne University | PA | 2/27/16 |
| East Carolina University | NC | 3/5/16 |
| East Tennessee State University | TN | 3/5/16 |
| Eastern Connecticut State University | CT | 3/19/16 |
| Eastern Illinois University | IL | 3/12/16 |
| Eastern Kentucky University | KY | 3/5/16 |
| Eastern Michigan University | MI | 4/2/16 |
| Eastman School of Music of the University of Rochester | NY | 3/5/16 |
| Elmhurst College | IL | 3/19/16 |
| Elon College | NC | 3/19/16 |
| Embry-Riddle Aero University-FL | FL | 3/5/16 |
| Embry-Riddle Aero University-TX | TX | 3/5/16 |
| Emerson College | MA | 3/5/16 |
| Emmanuel College | MA | 3/5/16 |
| Emory University | GA | 3/5/16 |
| Emporia State University | KS | 3/12/16 |
| Endicott College | MA | 3/12/16 |
| Everest Institute: Rochester | NY | 3/5/16 |
| Excelsior College | NY | 3/26/16 |
| Fairfield University | CT | 3/5/16 |
| Fairleigh Dickinson University-Madison | NJ | 3/12/16 |
| Fairleigh Dickinson University-Teaneck | NJ | 3/12/16 |
| Fairmont State College | WV | 3/12/16 |
| Fashion Institute of Technology | NY | 3/19/16 |
| Fayetteville State University | NC | 3/26/16 |
| Ferris State University | MI | 3/5/16 |
| Fisher College | MA | 3/5/16 |
| Fitchburg State College | MA | 3/12/16 |
| Florida Atlantic University-Boca Raton | Fl | 3/5/16 |
| Florida Community College at Jacksonville | FL | 3/19/16 |
| Florida Gulf Coast University | FL | 3/5/16 |
| Florida State University | FL | 3/12/16 |
| Fordham University | NY | 3/12/16 |
| Fordham University-Bronx | NY | 3/12/16 |
| Fort Hays State University | KS | 3/12/16 |
| Framingham State College | MA | 3/12/16 |
| Franklin and Marshall College | PA | 3/12/16 |
| Franklin Pierce College | NH | 3/12/16 |
| Gallaudet University | DC | 3/19/16 |
| Gannon University | PA | 2/27/16 |
| Gardner-Webb University | NC | 3/5/16 |
| Gateway Community College-New Haven | CT | 3/12/16 |
| George Mason University | VA | 3/5/16 |
| George Washington University at Foggy Bottom | DC | 3/12/16 |
| George Washington University at Mount Vernon | DC | 3/12/16 |
| Georgetown University | DC | 3/5/16 |
| Georgia Institute of Technology | GA | 3/19/16 |
| Georgia Southern University | GA | 3/12/16 |
| Gettysburg College | VA | 3/12/16 |
| Gordon College-GA | GA | 3/5/16 |
| Grand Valley State University-Allendale | MI | 3/5/16 |
| Grand Valley State University-Grand Rapids | MI | 3/5/16 |
| Great Lakes Christian College | MI | 3/19/16 |
| Guilford Technical Community College-Main Campus | NC | 3/5/16 |
| Hamilton College-NY | NY | 3/12/16 |
| Hampshire College | MA | 3/12/16 |
| Hartwick College | NY | 3/26/16 |
| Harvard University | MA | 3/12/16 |
| Hawkeye Community College | IA | 3/12/16 |
| Heidelberg College-Tiffin | OH | 3/12/16 |
| High Point University | NC | 3/5/16 |
| Hobart & William Smith Colleges | NY | 3/12/16 |
| Hofstra University | NY | 3/26/16 |
| Hope College | MI | 3/19/16 |
| Howard College-Big Spring Campus | TX | 3/12/16 |
| Howard University | DC | 3/12/16 |
| Hudson County Community College | NJ | 3/19/16 |
| Hudson Valley Community College | NY | 4/2/16 |
| Illinois State University | IL | 3/5/16 |
| Illinois Wesleyan University | IL | 3/12/16 |
| Immaculata College | PA | 2/27/16 |
| Indiana Institute of Technology | IN | 3/12/16 |
| Indiana State University | IN | 3/12/16 |
| Indiana University Bloomington | IN | 3/12/16 |
| Indiana University Kokomo | IN | 3/12/16 |
| Indiana University Northwest | IN | 3/12/16 |
| Indiana University-Purdue University Fort Wayne | IN | 3/5/16 |
| Indiana University-Purdue University Indianapolis | IN | 3/12/16 |
| Iona College | NY | 3/19/16 |
| Iowa State University | IA | 3/12/16 |
| Iowa Wesleyan College | IA | 3/5/16 |
| Ithaca College | IA | 3/12/16 |
| ITT Technical Institute: Albany | NY | 3/12/16 |
| ITT Technical Institute: Liverpool | NY | 3/5/16 |
| James Madison University | VA | 3/5/16 |
| John Carroll University | OH | 2/27/16 |
| John Tyler Community College | VA | 2/27/16 |
| Johns Hopkins University | MD | 3/12/16 |
| Johnson & Wales University at Providence | RI | 2/27/16 |
| Johnson County Community College | KS | 3/12/16 |
| Kalamazoo College | MI | 3/12/16 |
| Kansas State University | KS | 3/12/16 |
| Keene State College | NH | 3/12/16 |
| Kent State University-Geauga Campus | OH | 3/19/16 |
| Kent State University-Main Campus | OH | 3/19/16 |
| Kent State University-Stark Campus | OH | 3/19/16 |
| King's College | ON | 3/5/16 |
| Kirkwood Community College | IA | 3/12/16 |
| Kishwaukee College | IL | 3/12/16 |
| Knox College | IL | 3/12/16 |
| Kutztown University of Pennsylvania | PA | 3/5/16 |
| Labette Community College | KS | 3/12/16 |
| Lafayette College | PA | 3/19/16 |
| Lake Forest College | IL | 3/5/16 |
| Lakeland Community College | OH | 3/12/16 |
| Lansing Community College | MI | 3/5/16 |
| LaSalle University | PA | 3/5/16 |
| Lasell College | MA | 3/12/16 |
| Le Moyne College | NY | 3/5/16 |
| Lehigh University | PA | 3/12/16 |
| Lewis and Clark Community College | IL | 3/19/16 |
| Lewis University | IL | 2/27/16 |
| Liberty University | VA | 3/12/16 |
| Lock Haven Univ of Pennsylvania-Main Campus | PA | 3/5/16 |
| Long Island University-C.W. Post Campus | NY | 3/5/16 |
| Longwood College | VA | 3/5/16 |
| Loyola University – Wilmette | IL | 3/5/16 |
| Loyola University in Maryland | MD | 2/27/16 |
| Loyola University New Orleans | LA | 3/19/16 |
| Loyola University of Chicago-Lakeshore Campus | IL | 3/5/16 |
| Lubbock Christian University | TX | 3/12/16 |
| Luther College-IA | IA | 3/12/16 |
| Lynchburg College | VA | 3/5/16 |
| Lynn University | FL | 3/5/16 |
| Maine Maritime Academy | ME | 2/27/16 |
| Manhattan College | NY | 3/12/16 |
| Maria College | NY | 3/12/16 |
| Marist College | NY | 3/26/16 |
| Marquette University | WI | 3/19/16 |
| Marshall University | WV | 3/19/16 |
| Maryland Institute College of Art | MD | 3/12/16 |
| Massachusetts Col of Pharmacy and Health Science | MA | 3/5/16 |
| Massachusetts College of Liberal Arts | MA | 3/12/16 |
| Massachusetts Institute of Technology | MA | 3/19/16 |
| McDaniel College | NY | 3/12/16 |
| McPherson College | KS | 3/19/16 |
| Medaille College: Rochester | NY | 3/5/16 |
| Mercer County Community College | NJ | 3/12/16 |
| Mercer University-Macon | GA | 3/5/16 |
| Meredith College | NC | 3/5/16 |
| Merrimack College | MA | 3/19/16 |
| Metropolitan Career Center Computer Technology Institute | PA | 3/19/16 |
| Metropolitan Community Colleges of Kansas City | MO | 3/5/16 |
| Metropolitan State College of Denver | CO | 3/19/16 |
| Miami University-Middletown Campus | OH | 3/19/16 |
| Miami University-OH | OH | 3/19/16 |
| Michigan State University | MI | 3/5/16 |
| Michigan Technological University | MI | 3/5/16 |
| Middlebury College | VT | 3/26/16 |
| Middlesex Community College-Lowell | MA | 3/12/16 |
| Mildred Elley | NY | 3/5/16 |
| Millikin University | IL | 3/19/16 |
| Mineral Area College | MO | 3/5/16 |
| Minnesota State University – Mankato | MN | 3/5/16 |
| Minnesota State University – Moorhead | MN | 3/12/16 |
| Minot State University | ND | 3/12/16 |
| Missouri State University | MO | 3/5/16 |
| Missouri University of Science and Technology | MO | 3/19/16 |
| Missouri Western State College | MO | 3/12/16 |
| Monmouth University | NJ | 3/12/16 |
| Monroe Community College | NY | 3/26/16 |
| Montana State University-Bozeman | MT | 3/12/16 |
| Montana Tech of The University of Montana | MT | 3/12/16 |
| Montclair State University | NJ | 3/5/16 |
| Montgomery College-Rockville Campus | MD | 3/12/16 |
| Moore College of Art and Design | PA | 3/5/16 |
| Morehouse College | GA | 3/5/16 |
| Morgan State University | MD | 3/19/16 |
| Mott Community College | MI | 3/5/16 |
| Mount Holyoke College | MA | 3/12/16 |
| Mount Ida College | MA | 3/5/16 |
| Mount Mercy College | IA | 3/19/16 |
| Mount St. Mary College – NY | NY | 3/5/16 |
| Muhlenberg College | PA | 3/5/16 |
| Nazareth College | NY | 3/5/16 |
| Nazareth College of Rochester | NY | 3/5/16 |
| Neumann College | PA | 2/27/16 |
| New England Conservatory of Music | MA | 3/12/16 |
| New Jersey Institute of Technology | NJ | 3/12/16 |
| New York University | NY | 3/12/16 |
| Niagara University | NY | 2/27/16 |
| Nichols College | MA | 3/12/16 |
| Norfolk State University | VA | 3/5/16 |
| North Carolina State University | NC | 3/5/16 |
| North Central College | IL | 3/12/16 |
| North Dakota State College of Science | ND | 3/12/16 |
| North Dakota State University | ND | 3/12/16 |
| North Georgia College & State University | GA | 3/12/16 |
| Northeastern University | MA | 3/5/16 |
| Northeastern University | MA | 3/5/16 |
| Northern Essex Community College | MA | 3/12/16 |
| Northern Illinois University | IL | 3/12/16 |
| Northern Kentucky University | KY | 3/5/16 |
| Northern Oklahoma College-Tonkawa | OK | 3/12/16 |
| Northwest Missouri State University | MO | 3/19/16 |
| Northwestern College-St. Paul | MN | 3/5/16 |
| Northwestern University-Chicago | IL | 3/5/16 |
| Northwestern University-Evanston | IL | 3/5/16 |
| Northwood University-FL | FL | 3/5/16 |
| Notre Dame of Maryland University | MD | 3/5/16 |
| Ocean County College | NJ | 3/19/16 |
| Ohio Dominican College | OH | 3/5/16 |
| Ohio Northern University | OH | 2/27/16 |
| Ohio State University-Main Campus | OH | 3/12/16 |
| Ohio State University-Marion Campus | OH | 3/12/16 |
| Ohio University | OH | 2/27/16 |
| Oklahoma State University-Main Campus | OK | 3/12/16 |
| Old Dominion University | VA | 3/5/16 |
| Onondaga Community College | NY | 3/12/16 |
| Orange Coast College | CA | 3/26/16 |
| Oregon State University | OR | 3/19/16 |
| Our Lady of the Lake University | TX | 3/19/16 |
| Pace University – Pleasantville | NY | 3/19/16 |
| Pace University New York Campus | NY | 3/19/16 |
| Palm Beach Community College-Lake Worth | FL | 3/5/16 |
| Palm Beach Community College-Palm Beach | FL | 3/5/16 |
| Parkland College | IL | 3/26/16 |
| Peirce College | PA | 2/27/16 |
| Pennsylvania Academy of the Fine Arts | PA | 3/5/16 |
| Pennsylvania College of Technology | PA | 3/5/16 |
| Pennsylvania Institute of Technology | PA | 3/5/16 |
| Pennsylvania State Univ-Altoona College | PA | 3/5/16 |
| Pennsylvania State Univ-Beaver Campus | PA | 3/5/16 |
| Pennsylvania State Univ-Erie/Behrend College | PA | 3/5/16 |
| Pennsylvania State Univ-Main Campus | PA | 3/5/16 |
| Philadelphia University | PA | 3/12/16 |
| Pittsburg State University | KS | 3/12/16 |
| Plymouth State University | MA | 3/12/16 |
| Portland Community College-Sylvania Campus | OR | 3/19/16 |
| Princeton University | NJ | 3/12/16 |
| Providence College | RI | 2/27/16 |
| Purdue University-Calumet | IN | 3/5/16 |
| Purdue University-Main Campus | IN | 3/12/16 |
| Quincy College-MA | MA | 3/12/16 |
| Quinnipiac University | MA | 3/5/16 |
| Quinsigamond Community College | MA | 3/12/16 |
| Radford University | VA | 3/5/16 |
| Ramapo College of New Jersey | NJ | 3/12/16 |
| Regis College-MA | MA | 3/5/16 |
| Rensselaer Polytechnic Institute | NY | 3/19/16 |
| Rhode Island College | RI | 3/5/16 |
| Rice University | TX | 2/27/16 |
| Richard Stockton College of New Jersey, The | NJ | 3/12/16 |
| Richland Community College | IL | 3/19/16 |
| Rider University | NJ | 3/19/16 |
| Roanoke College | VA | 3/5/16 |
| Robert Morris University | PA | 3/5/16 |
| Rochester Institute of Technology | NY | 3/19/16 |
| Roger Williams University | RI | 3/12/16 |
| Rollins College | FL | 2/27/16 |
| Rowan University | NJ | 3/12/16 |
| Rutgers – The State Univ of New Jersey – Camden | NJ | 3/12/16 |
| Rutgers – The State Univ of New Jersey – New Bruns | NJ | 3/12/16 |
| Rutgers – The State Univ of New Jersey – New Brunswick | NJ | 3/12/16 |
| Rutgers – The State Univ of New Jersey – Newark | NJ | 3/12/16 |
| Sacred Heart University | CT | 3/5/16 |
| Saint Joseph's University | PA | 3/5/16 |
| Salem State College-MA | MA | 3/12/16 |
| Salisbury State University | MD | 3/12/16 |
| Salve Regina University | RI | 3/19/16 |
| San Diego State University | CA | 3/26/16 |
| San Francisco State University | CA | 3/19/16 |
| San Jacinto College-Central | TX | 3/12/16 |
| San Jose State University | CA | 3/26/16 |
| School of the Museum of Fine Arts | MA | 3/12/16 |
| Seton Hall University | NJ | 2/27/16 |
| Seton Hall University School of Law | NJ | 2/20/16 |
| Seward County Community College | KS | 3/12/16 |
| Shenandoah University | VA | 3/5/16 |
| Shepherd University | WV | 3/12/16 |
| Shippensburg University of Pennsylvania | PA | 3/5/16 |
| Siena College | NY | 2/20/16 |
| Siena Heights University | MI | 3/5/16 |
| Simmons College | MA | 3/5/16 |
| Skidmore College | NY | 3/12/16 |
| Slippery Rock University of Pennsylvania | PA | 3/5/16 |
| Smith College | MA | 3/12/16 |
| Sojourner-Douglass College | MD | 3/5/16 |
| South Dakota State University | SD | 3/5/16 |
| Southeast Missouri State University | MO | 3/12/16 |
| Southern Connecticut State University | CT | 3/19/16 |
| Southern Illinois University Carbondale | IL | 3/5/16 |
| Southern Illinois University Edwardsville | IL | 3/5/16 |
| Southern Methodist University | TX | 3/5/16 |
| Southern New Hampshire University-Manchester | NH | 2/27/16 |
| Southern Utah University | UT | 3/5/16 |
| Southwestern Oklahoma State University-Weatherford | OK | 3/12/16 |
| Springfield College-MA | MA | 3/12/16 |
| St. Anselm College | NH | 2/27/16 |
| St. Bonaventure University | NL | 2/27/16 |
| St. Cloud State University | MN | 3/5/16 |
| St. Francis College | NY | 3/5/16 |
| St. John Fisher College | NY | 2/27/16 |
| St. John Fisher College | NY | 2/27/16 |
| St. Josephs University | PA | 3/5/16 |
| St. Lawrence University | NY | 3/19/16 |
| St. Louis University | MO | 3/5/16 |
| St. Marys College-IN | IN | 3/5/16 |
| St. Michael's College | ON | 3/19/16 |
| St. Thomas Aquinas College | CA | 3/5/16 |
| St. Vincent College | PA | 2/27/16 |
| Stevens Institute of Technology | NJ | 3/19/16 |
| Stonehill College | MA | 3/5/16 |
| Suffolk County Community College-Western | NY | 3/19/16 |
| Suffolk University | MA | 3/5/16 |
| SUNY at Albany | NY | 3/12/16 |
| SUNY at Binghamton | NY | 3/26/16 |
| SUNY at Buffalo | NY | 3/12/16 |
| SUNY at Farmingdale | NY | 3/19/16 |
| SUNY at New Paltz | NY | 3/12/16 |
| SUNY College at Brockport | NY | 3/12/16 |
| SUNY College at Buffalo | NY | 3/12/16 |
| SUNY College at Cortland | NY | 3/12/16 |
| SUNY College at Fredonia | NY | 3/19/16 |
| SUNY College at Geneseo | NY | 3/12/16 |
| SUNY College at Oneonta | NY | 3/5/16 |
| SUNY College at Oswego | NY | 3/19/16 |
| SUNY College at Plattsburgh | NY | 3/12/16 |
| SUNY College of Environmental Science and Forestry | NY | 3/5/16 |
| SUNY Upstate Medical University | NY | 2/13/16 |
| Susquehanna University | PA | 3/5/16 |
| Syracuse University Main Campus | NY | 3/12/16 |
| Temple University-PA | PA | 2/27/16 |
| Texas A&M International University | TX | 3/12/16 |
| Texas A&M University-Kingsville | TX | 3/12/16 |
| Texas A&M University-Main Campus | TX | 3/12/16 |
| Texas Christian University | TX | 3/5/16 |
| Texas State University | TX | 3/12/16 |
| Texas Tech University | TX | 3/19/16 |
| The Sage Colleges | NY | 3/5/16 |
| Thomas Jefferson University: College of Health Professions | PA | 3/5/16 |
| Towson University | MD | 3/12/16 |
| Trinity College-CT | CT | 3/12/16 |
| Truman State University | MO | 3/26/16 |
| Tufts University-Boston | MA | 3/19/16 |
| Tufts University-Medford | MA | 3/19/16 |
| Tulane University of Louisiana | LA | 3/19/16 |
| Union College-NY | NY | 3/19/16 |
| United States Air Force Academy | CO | 3/19/16 |
| United States Coast Guard Academy | CT | 3/5/16 |
| United States Naval Academy | MD | 3/12/16 |
| University of Akron Main Campus | OH | 3/19/16 |
| University of Alabama at Birmingham, The | AL | 3/19/16 |
| University of Alabama at Tuscaloosa, The | AL | 3/12/16 |
| University of Alaska Anchorage | AK | 3/12/16 |
| University of Arizona | AZ | 3/12/16 |
| University of Arkansas | AR | 3/19/16 |
| University of Baltimore | MD | 3/12/16 |
| University of Bridgeport | CT | 3/12/16 |
| University of California-Berkeley | CA | 3/19/16 |
| University of California-Irvine | CA | 3/19/16 |
| University of California-Los Angeles | CA | 3/19/16 |
| University of California-San Diego | CA | 3/19/16 |
| University of Central Arkansas | AR | 3/19/16 |
| University of Central Florida | FL | 3/5/16 |
| University of Central Missouri | MO | 3/12/16 |
| University of Central Oklahoma | OK | 3/12/16 |
| University of Chicago | IL | 3/19/16 |
| University of Cincinnati Main Campus | OH | 3/19/16 |
| University of Colorado at Boulder | CO | 3/19/16 |
| University of Connecticut at Hartford | CT | 3/12/16 |
| University of Connecticut at Storrs | CT | 3/12/16 |
| University of Delaware | DE | 3/26/16 |
| University of Denver | CO | 3/12/16 |
| University of Detroit Mercy | MI | 3/12/16 |
| University of Evansville | IN | 3/5/16 |
| University of Florida | FL | 2/27/16 |
| University of Georgia | GA | 3/5/16 |
| University of Hartford | CT | 3/12/16 |
| University of Houston | TX | 3/12/16 |
| University of Idaho | ID | 3/12/16 |
| University of Illinois at Chicago | IL | 3/19/16 |
| University of Illinois at Urbana | IL | 3/19/16 |
| University of Illinois at Urbana Champaign | IL | 3/19/16 |
| University of Indianapolis | IN | 3/12/16 |
| University of Iowa | IN | 3/12/16 |
| University of Kansas-Main Campus | KS | 3/12/16 |
| University of Kentucky | KY | 3/12/16 |
| University of Louisville | KY | 3/12/16 |
| University of Maine | ME | 3/12/16 |
| University of Maryland Baltimore | MD | 3/12/16 |
| University of Maryland-Baltimore County | MD | 3/12/16 |
| University of Maryland-College Park | MD | 3/12/16 |
| University of Maryland-Eastern Shore | MD | 3/12/16 |
| University of Maryland: Baltimore County | MD | 3/12/16 |
| University of Massachusetts-Amherst | MA | 3/12/16 |
| University of Massachusetts-Dartmouth | MA | 3/12/16 |
| University of Massachusetts-Lowell | MA | 3/12/16 |
| University of Miami-Coral Gables | FL | 3/5/16 |
| University of Miami-Miami | FL | 3/5/16 |
| University of Michigan at Ann Arbor-Central Campus | MI | 2/27/16 |
| University of Michigan at Dearborn | MI | 2/27/16 |
| University Of Michigan-Dearborn | MI | 3/5/16 |
| University of Minnesota-Duluth | MN | 3/5/16 |
| University of Minnesota-Twin Cities | MN | 3/12/16 |
| University of Mississippi-Main Campus | MS | 3/5/16 |
| University of Missouri _ Columbia | MO | 3/26/16 |
| University of Missouri – Columbia | MO | 3/26/16 |
| University of Missouri-St. Louis | MO | 3/26/16 |
| University of Nebraska-Kearney | NE | 3/19/16 |
| University of Nebraska-Lincoln | NE | 3/19/16 |
| University of Nebraska-Omaha | NE | 3/19/16 |
| University of Nevada-Reno | NV | 3/12/16 |
| University of New England-Biddeford | ME | 3/12/16 |
| University of New Hampshire | NH | 3/12/16 |
| University of New Mexico-Main Campus | NM | 3/12/16 |
| University of North Carolina at Chapel Hill | NC | 3/12/16 |
| University of North Carolina at Charlotte | NC | 3/12/16 |
| University of North Carolina at Greensboro | NC | 3/5/16 |
| University of North Carolina at Wilmington | NC | 3/5/16 |
| University of North Dakota | ND | 3/12/16 |
| University of North Florida | FL | 3/12/16 |
| University of North Texas | TX | 3/12/16 |
| University of Northern Colorado | CO | 3/12/16 |
| University of Northern Iowa | IA | 3/12/16 |
| University of Notre Dame | IN | 3/5/16 |
| University of Oklahoma Norman Campus | OK | 3/12/16 |
| University of Oregon Main Campus | OR | 3/19/16 |
| University of Pennsylvania | PA | 3/5/16 |
| University of Pittsburgh-Pittsburgh Campus | PA | 3/5/16 |
| University of Rhode Island | RI | 3/19/16 |
| University of Richmond | VA | 3/5/16 |
| University of Rochester | NY | 3/5/16 |
| University of Scranton | PA | 3/19/16 |
| University of South Alabama | AL | 3/12/16 |
| University of South Carolina Columbia | SC | 3/5/16 |
| University of South Dakota, The | SD | 3/5/16 |
| University of South Florida | FL | 3/12/16 |
| University of Southern California | CA | 3/12/16 |
| University of Southern Colorado | CO | 3/5/16 |
| University of Tampa | FL | 3/5/16 |
| University of Tennessee-Chattanooga | TN | 3/12/16 |
| University of Tennessee-Knoxville | TN | 3/12/16 |
| University of Tennessee-Martin | TN | 2/27/16 |
| University of Texas at Arlington | TX | 3/12/16 |
| University of Texas at Austin | TX | 3/12/16 |
| University of Texas at San Antonio | TX | 3/12/16 |
| University of Texas at Tyler | TX | 3/12/16 |
| University of the Arts | PA | 3/5/16 |
| University of the Sciences in Philadelphia | PA | 2/27/16 |
| University of Toledo | OH | 3/5/16 |
| University of Utah | UT | 3/12/16 |
| University of Vermont | VT | 3/5/16 |
| University of Virginia | VA | 3/5/16 |
| University of Washington-Seattle | WA | 3/19/16 |
| University of Wisconsin-Eau Claire | WI | 3/19/16 |
| University of Wisconsin-Madison | WI | 3/19/16 |
| University of Wisconsin-Milwaukee | WI | 3/12/16 |
| University of Wisconsin-Whitewater | WI | 3/19/16 |
| University of Wyoming | WY | 3/12/16 |
| Upper Iowa University | IA | 3/5/16 |
| Urban College of Boston | MA | 2/27/16 |
| Ursinus College | PA | 3/5/16 |
| Utah State University | UT | 3/5/16 |
| Valdosta State University | GA | 3/12/16 |
| Valencia Community College | FL | 3/5/16 |
| Valparaiso University | IN | 2/27/16 |
| Vanderbilt University | TN | 3/5/16 |
| Ventura (CA) | CA | 3/19/16 |
| Villanova University | PA | 2/27/16 |
| Virginia Commonwealth University | VA | 3/5/16 |
| Virginia Military Institute | VA | 3/19/16 |
| Virginia Polytechnic Institute and State Universit | VA | 3/12/16 |
| Virginia Polytechnic Institute and State University | VA | 3/5/16 |
| Virginia Wesleyan College | VA | 2/27/16 |
| Wagner College | NY | 3/5/16 |
| Washburn University of Topeka | KS | 3/12/16 |
| Washington & Jefferson College | PA | 3/19/16 |
| Washington and Lee University | VA | 2/20/16 |
| Washington College | MD | 3/12/16 |
| Washington State University-Pullman | WA | 3/12/16 |
| Washington University of St. Louis | MO | 3/12/16 |
| Washtenaw Community College | MI | 2/20/16 |
| Wayne State College-NE | NE | 3/12/16 |
| Wentworth Institute of Technology | MA | 3/5/16 |
| Wesley College-DE | DE | 3/5/16 |
| Wesleyan University-CT | CT | 3/5/16 |
| West Chester University of Pennsylvania | PA | 3/5/16 |
| West Virginia Junior College | WV | 3/5/16 |
| West Virginia University | WV | 3/19/16 |
| Western Connecticut State University | CT | 3/19/16 |
| Western Illinois University | IL | 3/12/16 |
| Western Kentucky University | KY | 3/5/16 |
| Western Michigan University | MI | 3/5/16 |
| Western New England College | MA | 3/12/16 |
| Western New Mexico University | NM | 3/26/16 |
| Western State College | CO | 3/19/16 |
| Westfield State College | MA | 3/12/16 |
| Wichita State University | KS | 3/12/16 |
| Wilkes University | PA | 3/5/16 |
| William Jewell College | MO | 3/12/16 |
| William Paterson University of New Jersey | NJ | 3/12/16 |
| Wingate University | NC | 3/5/16 |
| Winona State University | MN | 3/5/16 |
| Winthrop University | SC | 3/12/16 |
| Wittenberg University | OH | 3/5/16 |
| Worcester Polytechnic Institute | MA | 3/5/16 |
| Worcester State College | MA | 3/19/16 |
| Xavier University – Ohio | OH | 2/27/16 |
| Yale University | CT | 3/12/16 |
| York College of Pennsylvania | PA | 2/27/16 |
| Youngstown State University | OH | 3/5/16 |