So you want to be a blogger? In 2020, we creatives consider ourselves to be #selfmade. With COVID-19 bringing on a lack of job and internship opportunities for students, building up a blog helps you create your personal brand. But where do we start? What writing tools do we need? College doesn't offer a 101 Guide to Blogging class. Well actually, I'm sure most communications colleges have something along the lines of this by now. Just because you didn't add that to your fall schedule and registration passed doesn't mean you can't become the summer blogger you see all over Instagram and Linkedin.
Skip the cost of course credits and check out the 22 best writing tools for bloggers right here.
Writing:
1. Grammarly
I do consider myself to be a grammar and spelling aficionado, however, I am not exempt from having the classic case of butterfingers that enables me to mistype 98% of words. "This is a free Google chrome tool that literally functions as your live editor–whenever you're writing something (like an email or blog post), Grammarly will let you know if there are any grammatical/spelling errors and provide you with suggestions on how to fix them. Their paid version takes it one step further and allows you to filter your results by tone, audience, profession etc. to get even more customized recommendations," said Arianne Siegel, creator of seekingmillennial.com. Where would I be without this writing tool? Probably unemployed…and sent back to first grade to relearn the different forms of "your."
2. Google Docs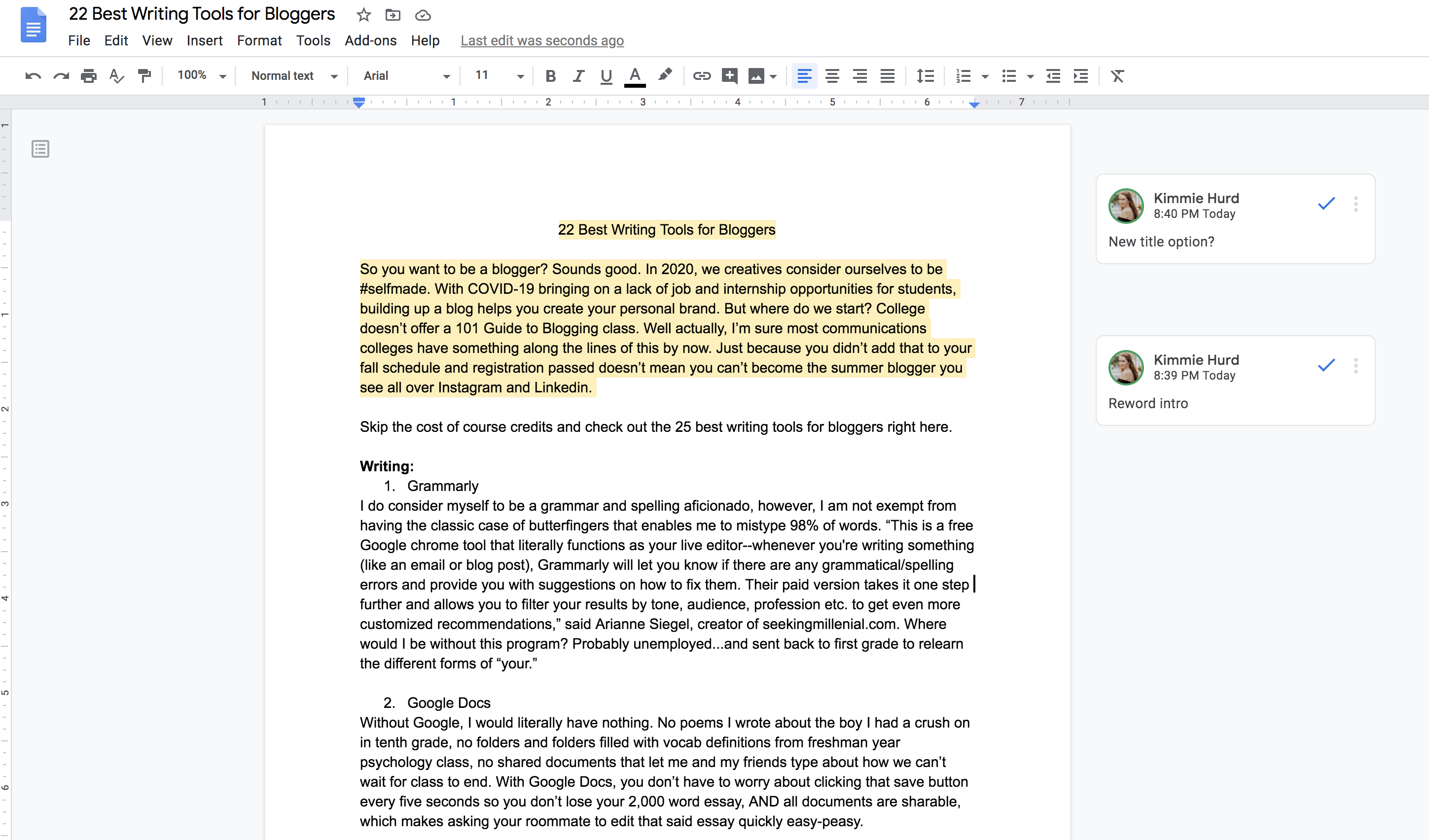 Without Google docs, I would literally have nothing. No poems I wrote about the boy I had a crush on in tenth grade, no folders and folders filled with vocab definitions from freshman year psychology class, no shared documents that let me and my friends type about how we can't wait for class to end. With Google Docs, you don't have to worry about clicking that save button every five seconds so you don't lose your 2,000-word essay AND all documents are sharable, which makes asking your roommate to edit said essay quickly easy-peasy.
3. Microsoft Word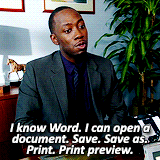 A classic tool for writing, Microsoft Word gets the job done. If you save a document and send it to an editor, they can utilize the Track Changes feature, which lets you see what changes they made and why. Most computers and businesses utilize Word, so you'll never have to worry about sending a document over and having it look all wonky after your boss opens it.
Design:
4. Canva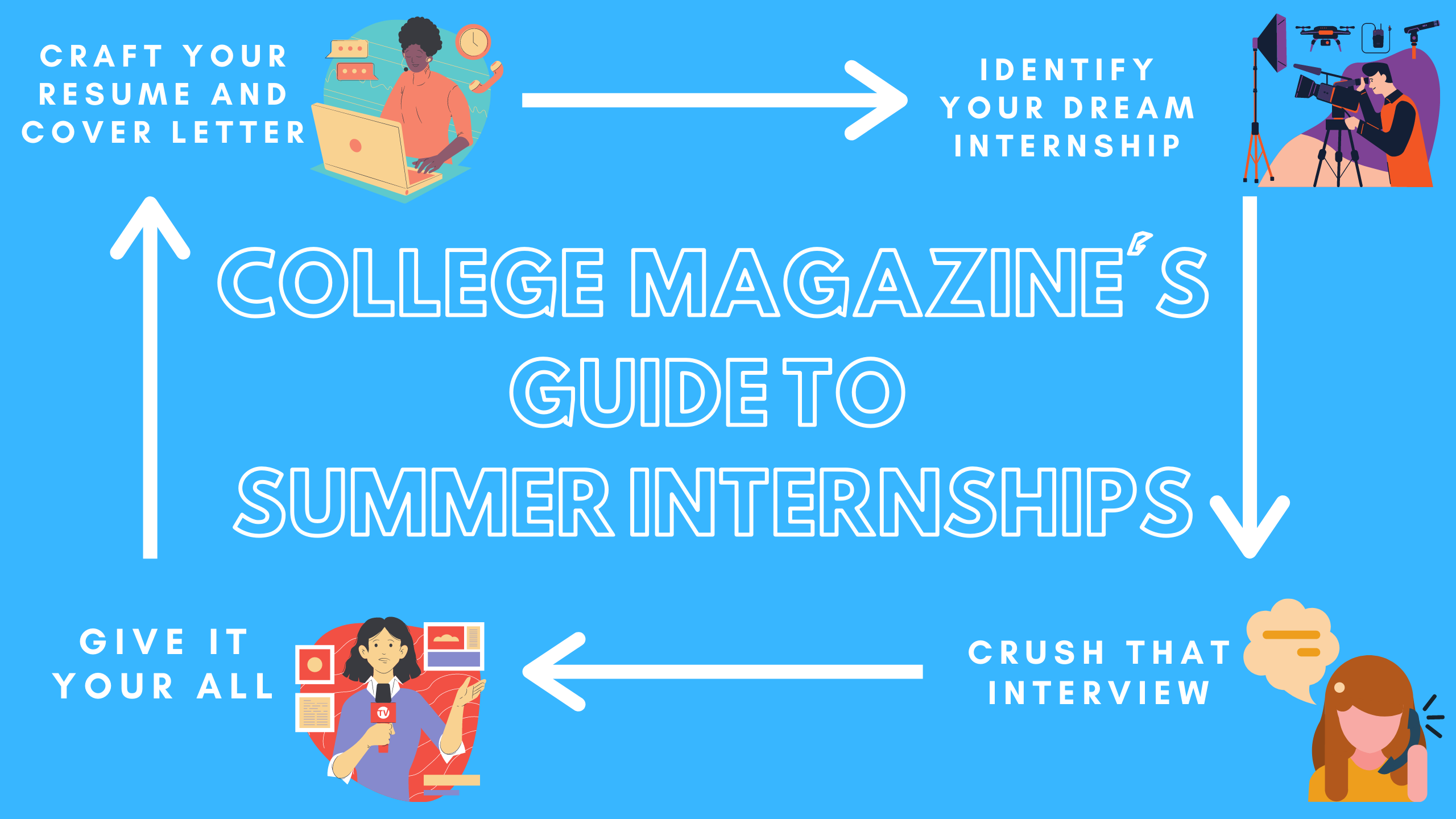 Ever wondered if there's one super rich graphic designer out there that all PR and advertising students use to get their resumes and cover letters to look creative and fancy? Believe it or not, we do it ourselves. Canva, easy to use and free, allows you to create presentations and documents to help your work look professional yet engaging. "This tool will make your life so much easier when it comes to creating any type of graphics for your blog especially if you are not an expert in graphic designing. I use this tool to create printables, pins for Pinterest, graphics for Instagram, logos for my pages, etc. It's such a great tool to use and such a time saver as well," said Gamila A., blogger at sincerelymsg.com. Canva offers pre-made templates but allows you to add/remove designs and switch up the color choices. To keep your site cohesive, keep the same color scheme and designs across the board.
5. Creative Market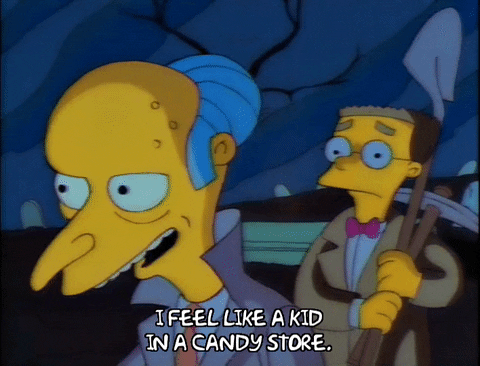 If you don't consider design a personal strong suit, skip the stress and buy some graphics instead. "This is like a digital marketer's candy store. (Beware: Shopping for digital items on here is VERY addicting)," Siegel said. From graphics to fonts to photos to templates, Creative Market offers a product for just about everything.
6. Adobe Photoshop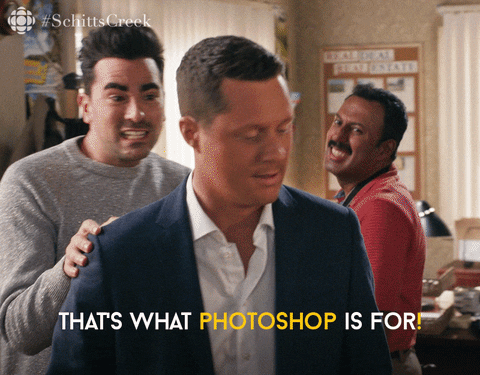 Part of the Adobe Creative Cloud, all graphic designers must either own Photoshop or understand how it works. Edit photos, enhance colors, create a gif or download the app on your phone for quick fixes. Remove that old man who photobombed your super cute cafe pic — no one will know he was ever there. Pro tip: While you can save images as a jpeg, gif, etc., always save your work as a PSD file in case you need to re-edit or revisit the project.
7. Color Story
With Color Story, touch up your photos, create presets and take advantage of the free filters. "As far as phone apps and software, you need to be versatile and create different forms of content. In a business that is constantly changing and evolving, editing photos and video is just a small portion of it," said Dinah Wulf, creator of diyinspired.com. Get creative and play around with color choices to find something unique and engaging.
8. Lightroom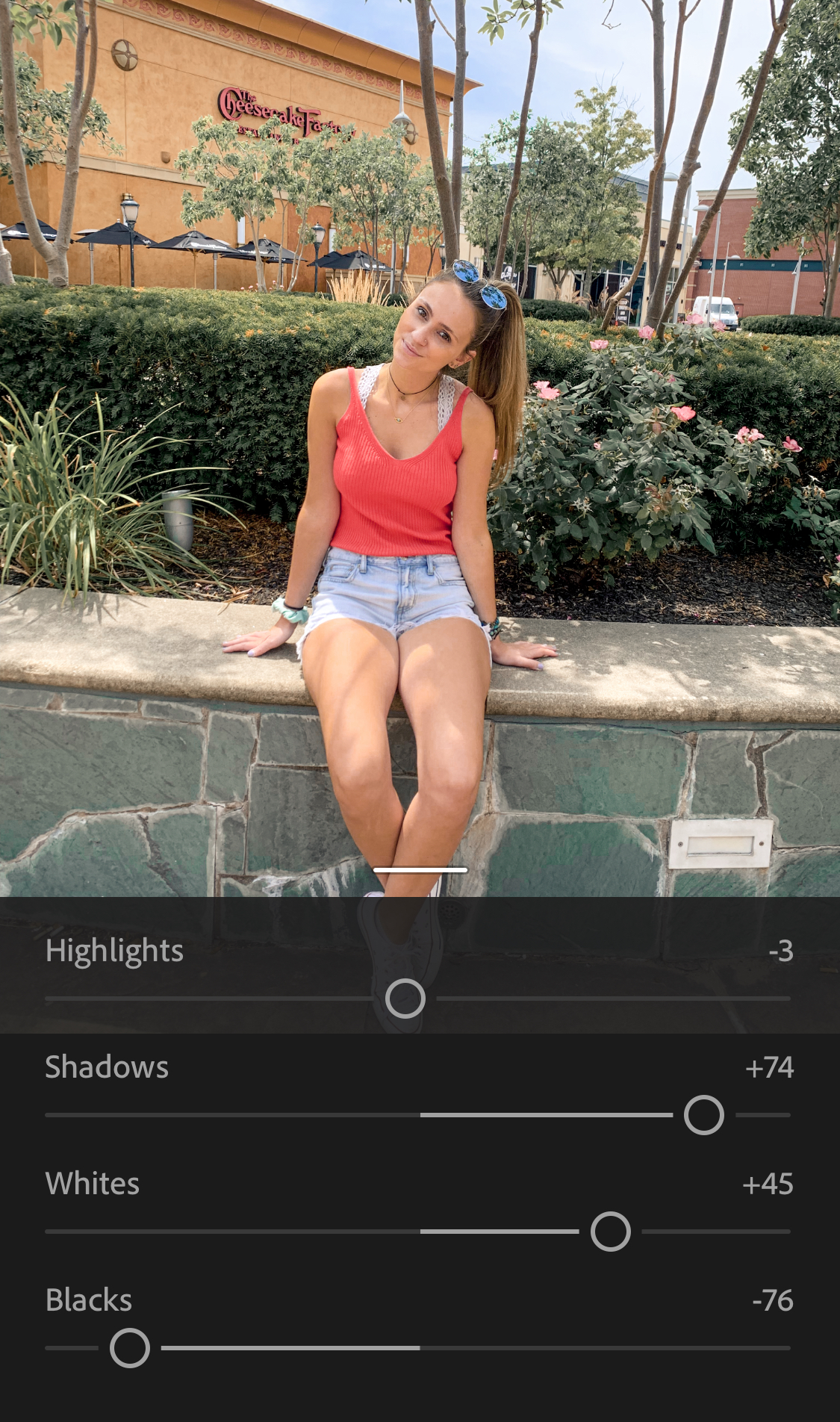 You know when you click on a 19-year-old girl's Instagram profile and suddenly see a perfectly portioned mix of orange and teal? Or sometimes all-white backgrounds that make the person photo'd pop? The majority of influencers use Lightroom to edit all of their photos using presets, which then helps their feed blend together and catch the eye. When I downloaded the app in middle school, no one thought to take Instagram seriously between our "like for a TBH and rate" posts. Yet here I am, watching YouTube videos at 3 a.m. telling me exactly how high the exposure needs to be to create my own personal influencer preset.
9. iPiccy
You're about to update your Instagram profile picture — a huge change, as the three-year-old photo of you from Big/Little reveal sophomore year shows off your natural summer tan so beautifully. Uh oh, you notice a beauty mark on your cheek that looks oddly close to a zit. Open up iPiccy right in your browser and do a quick fix on your image right before publishing. iPiccy allows you to crop, resize and rotate photos — without having to download anything.
10. InShot
Once you've nailed down your writing and photo editing skills, let's level it up and start preparing to become the next David Dobrik. Video supplements the copy included on your blog while also doubling as content to be shared on your YouTube and Tik Tok. Edit clips together, add text and backgrounds and decorate your final clip with stickers and emojis.
Blogging platforms:
11. Squarespace
Choose which platform suits your brand in terms of layout, themes and pricing. "Being familiar with WordPress, Squarespace and other popular blog platforms is important. The more comfortable you are with these, the easier it will be to adapt to custom/enterprise-level systems in the future (should you need to for a job or internship)," said Lauren Berger, creator of internqueen.com. Squarespace offers a free 14-day trial followed by a personal, business or commerce monthly plan.
12. WordPress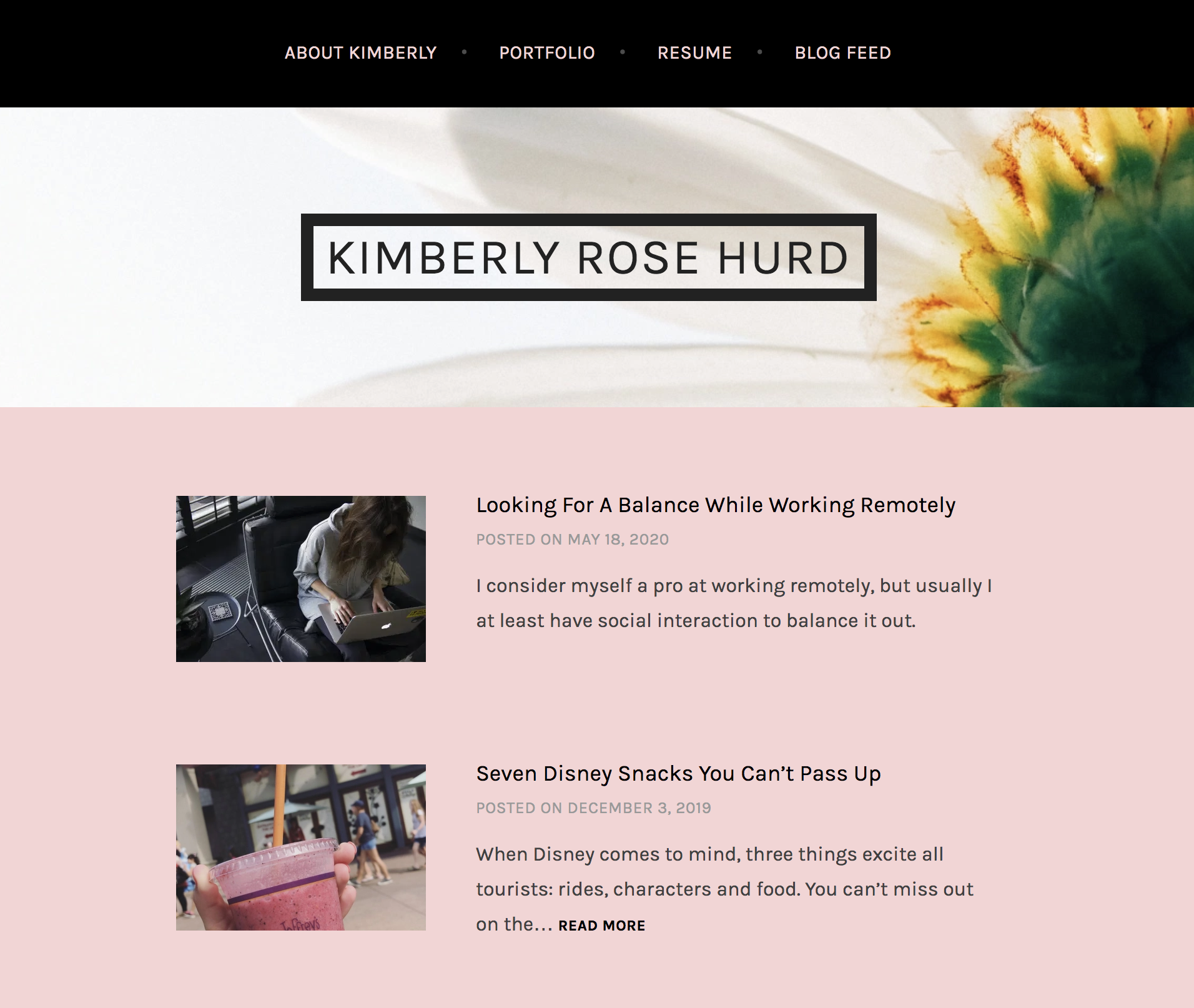 Want to start blogging but can't afford to pay for a platform just yet? WordPress offers an entirely free plan. "If your intent is to make money blogging, self-hosted WordPress is a great option. It is easy to use and manage and gives you the freedom you need to alter your site, place ads, and much more," Wulf said. Pro tip: Add links to all of your social media accounts in the footer of your blog as opposed to having a separate page that viewers might skip over.
13. Wix
Wix gives you access to creative templates and animations for free. "On Wix, you can have people sign up with an email and password. I launched StyleByKye Resources that are absolutely free. On a brand perspective, I was like "What can I get in return [for these resources]? Their emails. Then I add them to my mailing list and now people are subscribing," said Kyeisha Laurence, college blogger and creator of stylebykye.com. All communications students will likely have to set up their own Wix or WordPress site at some point in time — this has been required for three of my classes and I'm not even a junior yet — so get started now to secure that future 4.0.
Social Media:
14. Pinterest
Not just for dorm room decor and frat party themes, Pinterest allows you to see what other bloggers share, what works and what doesn't. "Unlike some other social media platforms, you have a chance to grow as a blogger and get your content out there for others to see. It's also a great way to connect with other bloggers in your niche by sharing your content and other similar content on group boards," Gamila A. said. Pin any relevant content to your board and use it as a hub for all of your creative ideas.
15. Instagram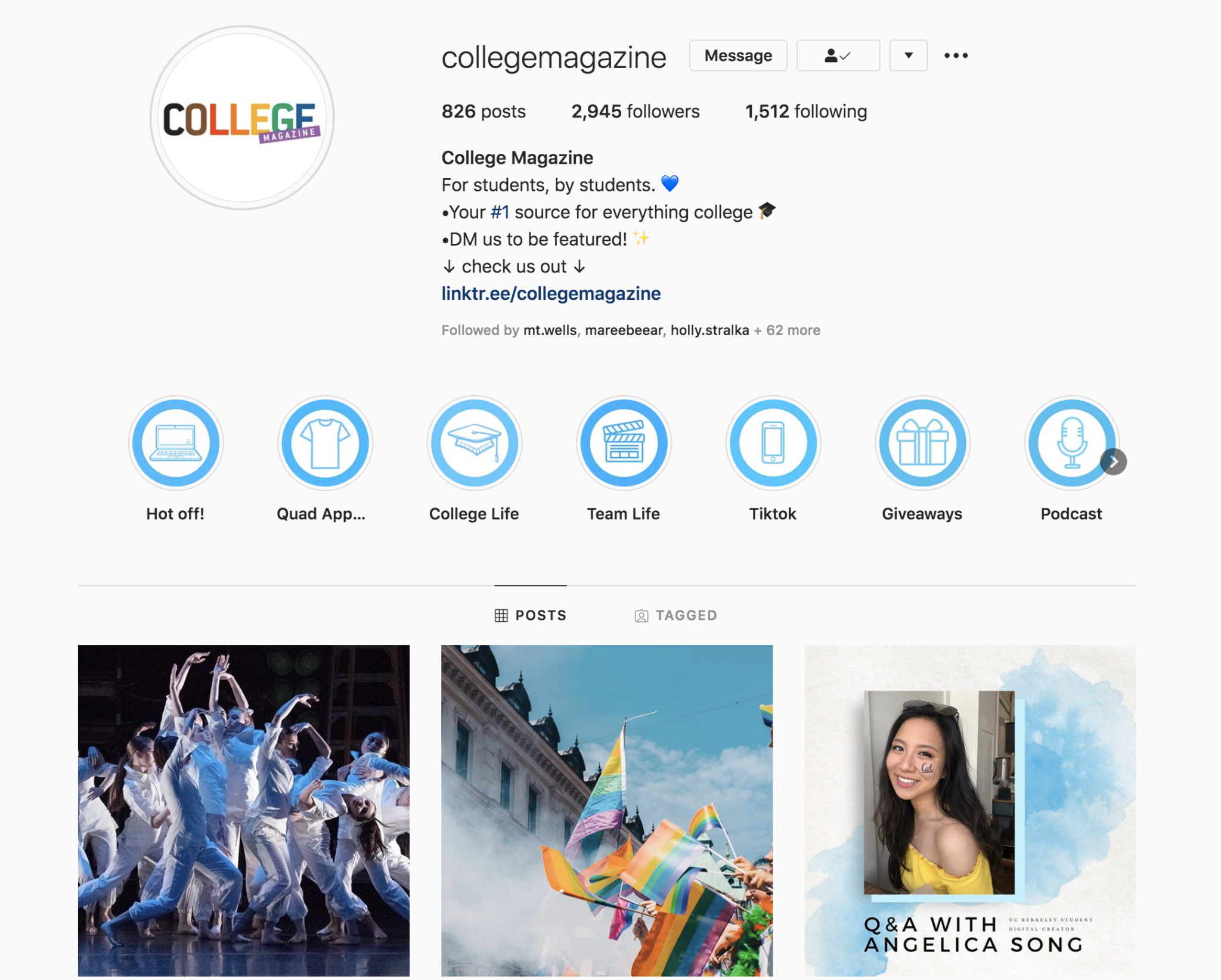 Use Instagram as a micro-blogging tool to create uniform content that showcases your personality and lifestyle. Think of it as a visual blog — showcase your beach selfies, your morning coffee and your family vacations. Let your followers see what your daily life looks like. Steer away from all of the businessy jargon and let your true colors shine — but try to keep it PG people. Potential employers LOVE to give your profile a good stalk when your name resume appears in the application pile.
16. Twitter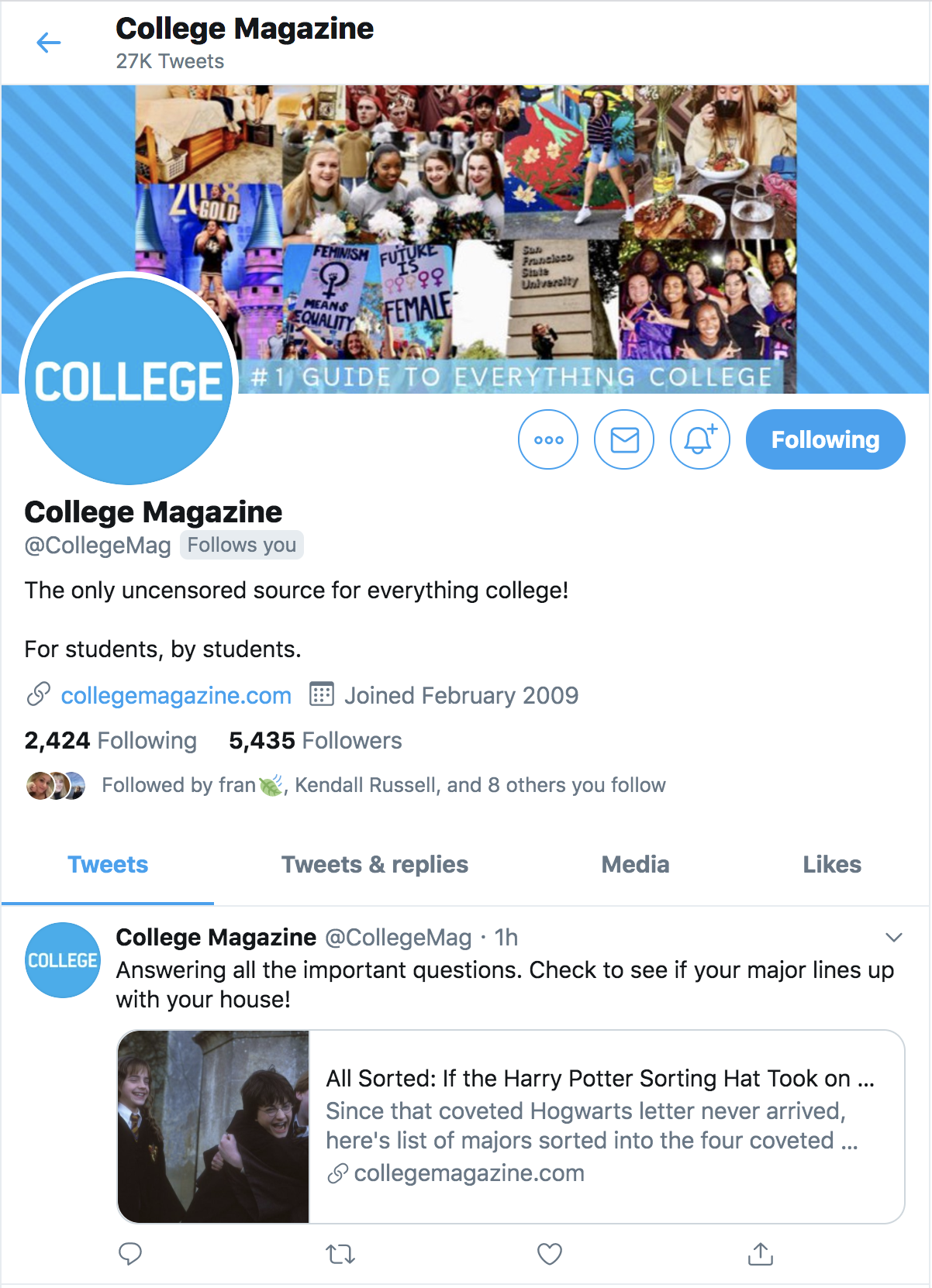 This hybrid news platform/social media site can be used to share your content and retweet meaningful posts. Link each blog post directly through your tweets to make your work easily accessible to your followers. Stay up to date on trends — between Twitter and New York Times notifications on, I'm constantly updated on what's going on in the world. Be mindful of what you tweet — while Twitter can be used for memes and hilarious comments, you don't want your account to end up looking like a certain politician who shall not be named.
17. TikTok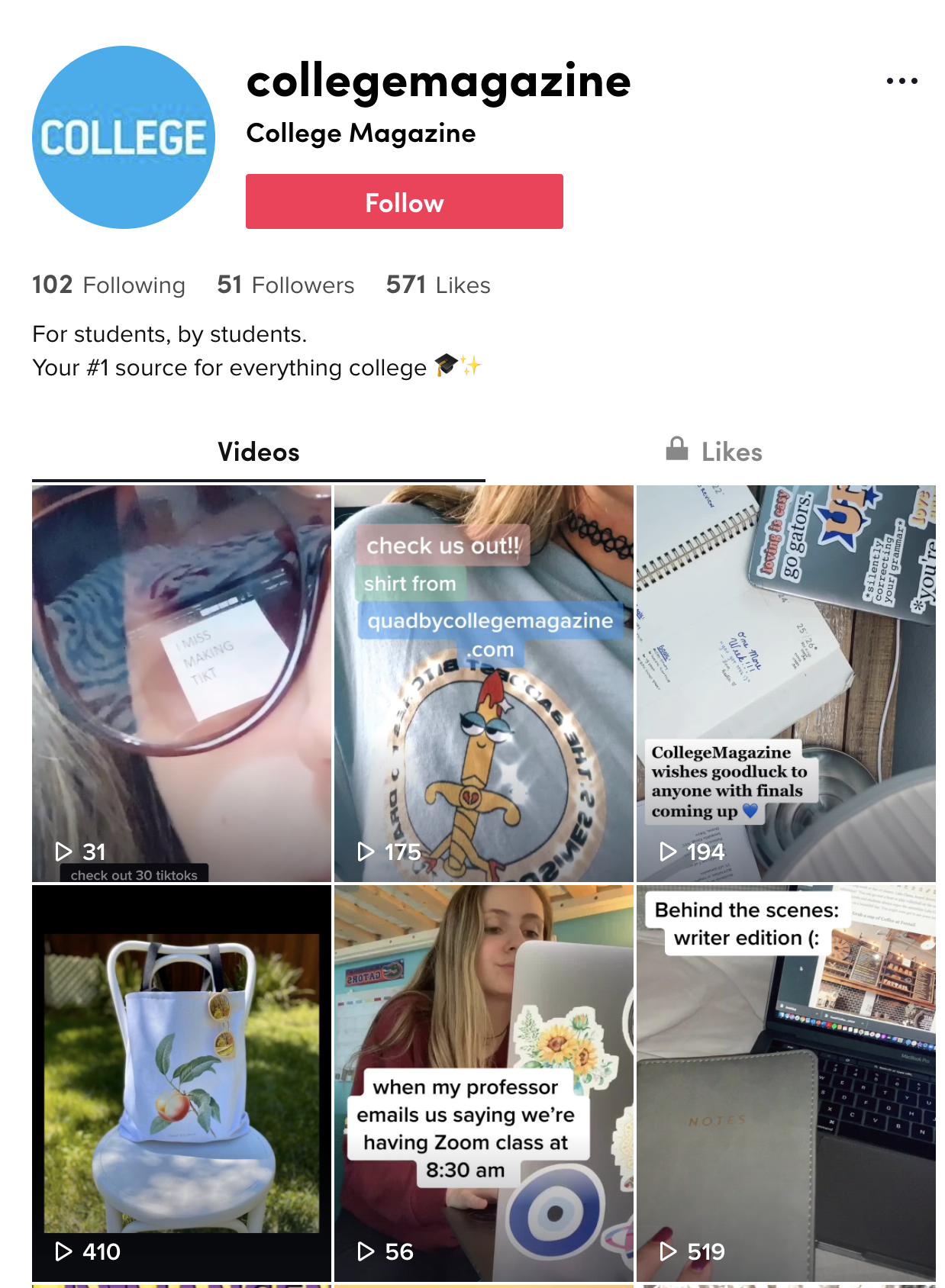 Remember that sweet, sweet time around September when Tik Tok was solely for sh*tposting? I thought I went viral after a video of me dancing to Mariah Carey's "Obsessed" got 70 likes. Well — those days are long gone. Now influencers and businesses use TikTok as another tool for social media marketing. Use this platform to share your own content and build up a portfolio of fresh ideas and video editing skills. When applying for jobs, some will already ask for your TikTok account, so hop on the trends and make something creative to show your future employer your content marketing skills.
Planning:
18. Trello
Use Trello to break down the content on your blog, plan for the future and even set due dates to keep yourself on track. "I use Trello for a lot of my blog planning. I can create different boards with my ideas and list my short-term and long-term goals. For people who are visual with planning this is a great way to get the blog done," Laurence said. Get acquainted with Trello now so you know what to expect for your first magazine job.
19. Tailwind
Schedule your posts in advance with Tailwind. "Gone are the days of logging into Instagram, typing out a caption, tagging a location, and throwing some hashtags in. Using a social media scheduler–like Hootsuite, Later, Planoly, Buzzsprout, or, my personal favorite, Tailwind–will save you a TON of time. Seriously, these are game changers people. They allow you to batch-task scheduling Instagram posts out so that on Mondays, for example, you schedule 5-7 posts for the week then you're done on content for the week. You can grab your first two months of Tailwind for free here," Siegel said. Carve out a day to create your posts and plan out your goals for the week.
Marketing:
20. MailChimp
Set up automated emails with Mail Chimp. Level up that mass text by selecting an entire contact list for the email to be sent to. Schedule these messages in advance to save you some trouble during your busy week. Less than 2,000 contacts? Send out these emails free of charge.
21. Google Analytics
Instantly see the reach your blog has. The content drilldown feature shows you exactly how many views each post gets (organized by day, week, month, year and all-time). This program shows you which of your content ranks #1 to your viewers. Your fashion posts seem to get the most page views? Build on that and grow your lifestyle blog into a fashion blog.
22. Ubersuggest
You've probably heard the term SEO a few times now, but do you know what search engine optimization means and why you should know about it? "If you want your blog to start ranking on Google, you'll probably have to learn about and implement SEO. A good starting point is to use one of these tools to research keywords related to your niche that people are actually searching for and that aren't too competitive to rank for. Then you can start throwing the keywords into the copy on your blog, which will naturally help your blog get more visibility from search engines," Siegel said. Ubersuggest helps you do this at no charge.
Advice for College Students Looking to Become Bloggers:
"For all those aspiring bloggers out there, do not bother coming up with a name, URL, logo, etc in the beginning. It is a waste of time. Rather, write 20 articles. Make sure those articles are well-written and a minimum of 500 words each. Take photos and video for those articles and edit them. After you complete the articles, images, and videos for all twenty, sit back and evaluate them. Did you like the process? Could you see yourself doing this long term? What did you learn about yourself and the type of content you created? If you liked it, great! Now you have the first month of blog posts ready to be published on your new site. You are officially ahead of the game. The rest is about consistency and learning and changing with the rest of the blogging world."
"I'd say blogging is great BUT the space is over-crowded so you really need to think about the VALUE people will get from your work. What is the takeaway? Make sure you aren't posting content just for the sake of posting content. And think of ways to do micro-blogs on Instagram posts, Tik Tok, etc."
"Find out your brand and stay true to yourself. I use three words to describe my blog: College, fashion, lifestyle. I may not share about relationships or my personal life, but if it's college, fashion or lifestyle, I got you. Don't look at the numbers. Even if it's just one person [who sees your content], I've still helped someone. I started my blog five years ago and this year was when I've really seen growth. It took four years of hard work to reach one year of success."
"My advice for anyone interested in becoming a blogger is to just jump right into it. Nothing will be perfect in the beginning, but the more you blog the better you will become at it. You will learn the most when you're doing it rather than reading about it. Get started and learn as you go. Choose a specific topic that you want to blog about and stay consistent. Make sure that you are CONSISTENT and have a set schedule of certain days that you want to post. I have seen major growth in the number of views on my blog when I started posting once a week and not just on random days."
"Collaborations are everything—not only will collaborations help you meet more people in your industry and learn from them (for example, I'm currently collaborating with a friend expert on investing for women and I'm learning a ton), but your blog will also benefit in a technical sense: You'll be generating backlinks. Backlinks are essentially when one website links to a page on your website. The more backlinks you have from reputable websites, the higher you will start to rank in search engines."