Are you about to turn 21 and looking for the right place to celebrate? No need to travel to Miami or Orlando to do a bar tour. Your college town serves to provide you with fun you can't find anywhere else.
Read on to find out the top picks of bars and clubs for Gators looking to have a good time.
1. Fat Daddy's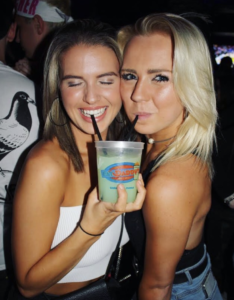 Location: 1702 W University Ave Suite A1, Gainesville, FL
Looking for a place to dance on bar tops and get wasted on colorful slushies? Stop no further than Fat Daddy's. They also have Philly Steaks and ice cream. "I love their Jell-O shots and frozen slushies, but when I was feeling more reserved, I'd get a Moscow mule, they're great!" University of Florida alum Natasha Awad said. Feel the school spirit and grab an orange and blue slushie.
2. Madrina's
Location: 9 W University Ave, Gainesville, FL
For fans of super hip cocktail bars, Madrina's serves an assortment of delicious drinks with exciting names like Guava the Hut, made with vodka, guava, lime, aperol and vanilla. You can order the Chupacabra, made with passion fruit, rum and vodka or keep it simple with a Piña Colada. "They have the most aesthetically pleasing drinks and it's the perfect place to have your photo taken with a nice drink to celebrate before the night gets too crazy," Awad said. For a tropical night out, head to Madrina's on University Avenue.
3. Swamp Head Brewery
Location: 3650 SW 42 Ave, Gainesville, FL
For a chill night, visit Swamp Head Brewery for an outdoor/indoor area with a game room at the center of their brewery. Sit back and enjoy a beer under the lights while you listen to a live band or head to the back and throw darts under their giant brewery tanks. "I love going to Swamp Brewery with my friends when we want a chill night. We usually grab a beer and play games and have a great time!" University of Florida junior Sophie Miller said. Oh, and they allow pets, so be sure to bring your dog or pet the ones you pass by on your way to the bar.
4. Arcade Bar
Location: 6 E University Ave, Gainesville, FL
Arcade Bar, better known as Barcade to the locals, is one of the more unique bars in downtown Gainesville. It includes a three-story Arcade with two bars and a music room, and backyard DJ. "My favorite place to go when I turned 21 was Barcade! It has so many fun arcade games and every time I went there with my friends, we always had the best time with the best music and good drink deals!" University of Florida senior Britney Escobar said. Grab your tokens and beat your friends at Killer Queen, an awesome 10-player game that will definitely cause a riot. Then, head upstairs and dance the night away to old hits and new bops next to the Skee-Ball machines.
5. Felipe's Taqueria
Location: 1209 W University Ave, Gainesville, FL
Celebrating on a budget and love tacos? We got you. Felipe's Taqueria offers margaritas for as low as $6.50. Not to mention their delicious assortment of tacos, burritos and chimichangas. "When I want to get trashed I start at Felipe's Taqueria, on Friday their margaritas are BOGO and two is enough to get you feeling right," Escobar said. Sounds like a great place for a birthday dinner.
6. The Rowdy Reptile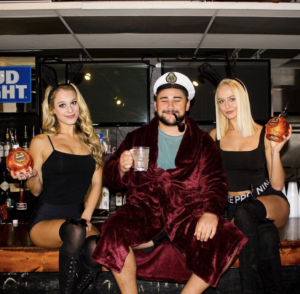 Location: 1702 W University Ave
Come to the place where Gators get rowdy! Get your $3 White Claws and enjoy some wings and burgers with your friends. It's also a great place to get loose and dance the night away. They play a variety of music, so everyone's sure to find their groove. On Tuesdays, take advantage of their Two Dollar Tuesday special — $2 doubles, $2 Domestics from 7 to 2 a.m. Walk over to midtown from your dorm and get rowdy with your gator pals.
7. DTF
Location: 112 S Main St, Gainesville FL
Downtown Fats, or DTF, is another favorite Gator hot spot. Take advantage of the free entry and popular music everyone can dance to. "I love starting my night at DTF, the drinks are great and my friends and I just love to dance and bump into other groups from UF," University of Florida senior Jessica Perry said. Enjoy a beer at the bar and hit the dance floor with your friends.
8. White Buffalo
Location: 111 S Main St, Gainesville, FL
A super chic place to dance and just right across the street from DTF, so you can bar-hop between both for an unforgettable night. It has a bar in the center so you can make your way around and check out the scene while you order cocktails. "White Buffalo was one of my favorite places because I could meet up with a large group of friends and dance until I was all sweaty," Perry said. With loud music constantly playing, you and your friends are sure to dance the night away.
9. Salty Dog Saloon
Location: 1712 W University Ave, Gainesville, FL
Known as "Salty's" or "Dog" to Gainesville locals, Salty Dog Saloon is a chill bar, perfect on game day. Be sure to grab a beer and share some wings with friends for a birthday to remember. "On a Friday night, I always like to start at Salty's. It sets the mood for the whole night," University of Florida senior Angelica Suarez said. Salty's–a great place to celebrate and have a drink with friends.
10. The Social at Midtown
Location: 1728 W University Ave, Gainesville, FL
If you enjoy the high life, Social makes the perfect evening destination. Start at the entrance — enjoy the lights and a wide variety of music. For more, grab a drink and head upstairs to their rooftop lounge where you can either watch the game at a second bar or grab a table with your friends and chat under the stars. "My friends and I like to head to Social and get their $4 Gator Guinness Shots," University of Florida senior Lauren Harrison said. You can always have a lavish time at Social.
11. The Backyard at Boca Fiesta
Location: 232 1/2 SE 1st St, Gainesville, FL
Backyard–located right outside of Boca's, a hip and chic Mexican restaurant– is a great spot for fans of alternative rock and indie music, sports and drinking. Enjoy live performances by local indie bands under lights and head inside to Boca's for some delicious margaritas and tacos. "My favorite place go now is Backyard and I usually get a Boca margarita or two!" Perry said. Order an $8 margarita from Boca's on your next visit; they come in free collectible mason jars and you can add strawberry or jalapeños for just a dollar. What could beat that?
12. Loosey's Downtown

Location: 120 SW 1st Ave, Gainesville, FL
Beers, burgers and live music make Loosey's the perfect spot for you and your friends to munch on a good meal in a great atmosphere. Check out their menu for a variety of vegan and vegetarian options as well, and a selection of craft beers that's sure to satisfy. You can play pool or head to their super groovy live music area and rock out in an indie concert setting.
13. Bricks
Location: 112 SW 1st Ave Gainesville Fl
Come to Bricks' for Ladies Night and Latin Night and take in the fun atmosphere and even better drinks. $5 pitchers, $4 margaritas and you and your friends can split a hookah for the night! Try their $2 special shots that vary given the day of the week. Their Friday Melon Ball's and Saturday Fireballs will get you turnt way into the night.
14. Grog House
Location: 1718 W University Ave Gainesville, FL
University of Florida students love going to Grog House for a great time and great prices. "They had the best music and played songs that everyone could actually sing along to and an overall great crowd. 10/10 night," Awad said. You can "Beat the Clock" on Fridays which means 25 cent drinks starting at 9 p.m. Bring your girlfriends to Ladies Night on Wednesdays.
15. Durty Nelly's Irish Pub
Location: 208 W University Ave, Gainesville, FL
Durty Nelly's offers live music and entertainment and great prices on drinks for every day of the week all in an old-fashioned-looking Irish pub. Sip on a beer while you watch the game in an authentic and chill atmosphere. Grab your friends for karaoke night, and take advantage of free Jell-O shots for all singers.
16. Crafty Bastards Restaurant
Location: 4860 NW 39th Ave A, Gainesville, FL
Do you like all-you-can-eat wings? How about a selection of 60 craft beers that's always changing? Well then, Crafty Bastards is sure to impress you and your friends during your next celebration or just another regular Tuesday. Come to Crafty's and beat the downtown and Midtown crowds.
17. Bank Bar & Lounge
Location: 22 W University Ave, Gainesville, FL
Enjoy a bar with a bit of history. The Bank was built during the reconstruction era during 1873 and used to be one of the first banks in Florida. Now the only thing you can invest in at this speakeasy-style bar is a good time. Grab a cocktail or some Irish whiskey and travel back to a different time. On Saturday Nights, come in for $5 cocktails and a dance party. What more could you want?
18. Hop Top Lounge
Location: 1207 SW 16th Ave, Gainesville, FL
The Hop Top Lounge offers a "Happier Hour" special on Saturdays that lasts all day long and includes a $3 pitcher of Gensee Cream Ale. Watch the basketball game as you sip on your drink. Come watch the game and enjoy their drafts in a comfy cool lounge that fits you and all your friends.
19. The Bull
Location: 18 SW 1st Ave, Gainesville, FL
The Bull is an awesome spot to chill to live music and enjoy a wide variety of drinks, from 26 selections of beer to 13 selections of wine and soft drinks, coffee and tea. Sporting a very comfy casual décor, it's definitely easy on the eyes. You and your friends can chill at the bar and listen to some savory tunes for hours on end.
20. The Atlantic Nightspot
https://www.instagram.com/p/B9nav0MBRS5/
Location: 15 N Main St, Gainesville, FL
The Atlantic Nightspot offers live performances from great local indie bands like Pearl & the Oysters and a karaoke night so you and your other drunk friends sing out all your frustrations on Sundays. Follow them on Twitter @atlanticgvl to find out what bands to expect. Bonus: you get to skip the cover that most places downtown charge.
21. Signal
Location: 7 SW 1 St, Gainesville, FL
Are you a fan of raves? Come and party at Signal! Signal's intense vibe will thrill you with DJs playing in front of a psychedelic backdrop and flashing lights. Have a memorable night bobbing your head to out of this world tunes. Check in every week for their newest signature cocktail–previous ones include The Neptune: an otherworldly blue martini featuring Van Gogh Vodka's Açaí-Blueberry Vodka. Come down to Signal for a psychedelic celebration.