"So where do you go to school?" You know the drill. You get this question from co-workers, distant family members, acquaintances—the list goes on. You answer you're a UCF student, and when they glow with excitement you reluctantly add "I do all my schooling online." The happiness slips off their face and you suddenly feel the weight of not being the "actual" UCF student they wanted to interact with. Yeah, I've been there too.
I decided my confused UCF identity and lack of school spirit depressed me during my senior year. I was upset with how I couldn't interact with any other UCF student because I felt like a fraud—a UCF student only in title and not in experience.
If this is how you feel, prepare to have your one day as a "real" UCF student. You know how eventually you're going to have to go down to campus? When you do, take this list with you (even if it's on a trip to pick up your cap and gown).
I took several trips to UCF and compiled a list of the best things to do on campus.
You can easily accomplish all of these tasks in roughly four hours, but I would plan an entire day to make your visit feel less rushed. If you complete some of the list below, you'll be able to discuss key spots on campus (like any other student!) and experience a taste of UCF life. Breathe in the fresh Knight air and prepare to walk off campus feeling like you know the place.
Before we get started, a note of caution. If you do not have a UCF ID Card, make sure to have one made before attempting the italicized suggestions. You can obtain these on regional campuses, or during your trip to the main campus (in the John T. Washington Center—which you will visit during your UCF day).
START: Park at the Visitor Center.
An all-day parking pass only costs five bucks. Here you can also obtain a school map. The following UCF spots are located in order for easier navigation. Let's begin your initiation.
1. REFLECTION POND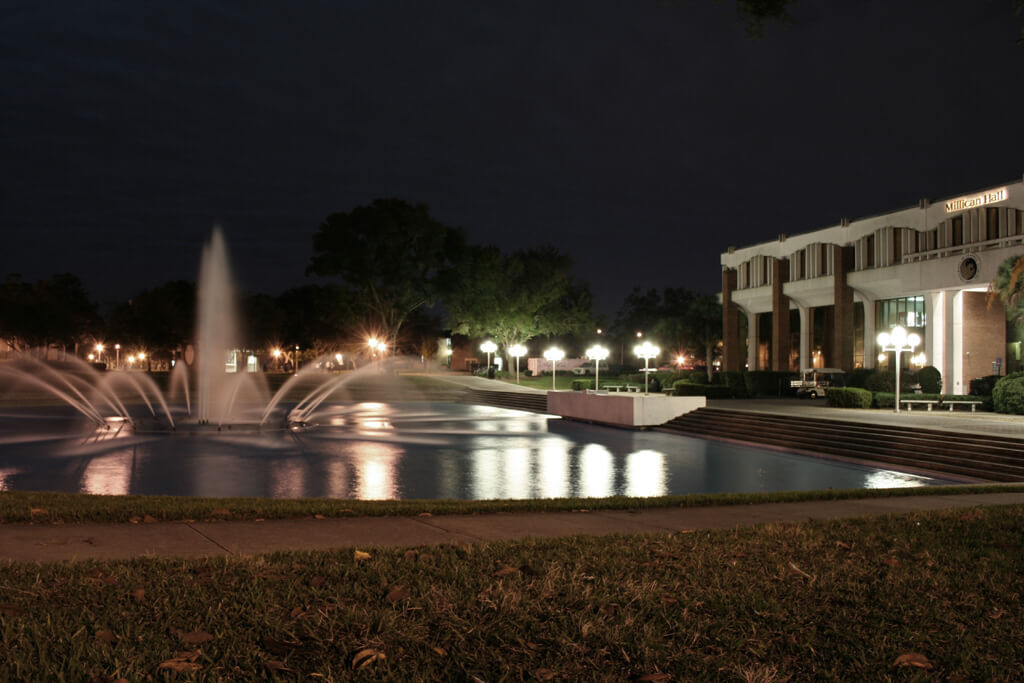 Pause at the pond. You will encounter this UCF common area, located between the golden hall and the library, first, assuming you park at the visitor section. The Reflection Pond may just be a manmade pond with a fountain, but it's not just a pond. This is a UCF landmark. Every in-person student knows this place. Take a moment to sit on the lawn and listen to the fountain—reflect, as it suggests. Every year for over 15 years, UCF throws an event called "Spirit Splash" during Homecoming week. Imagine the entire pond full of UCF students and thousands standing on the grass surrounding the water. Knightro, the school's mascot, will show up with the university cheerleaders. It's a blast of school spirit. Each year, themed rubber ducks are given out to students to commemorate the event. When you graduate, take some picture in and around the pond. That's right, in. Besides Spirit Splash, this is the one other time you are allowed into the Reflection Pond. It's a graduation tradition, and you'll want to take advantage.
2. JOHN T. WASHINGTON CENTER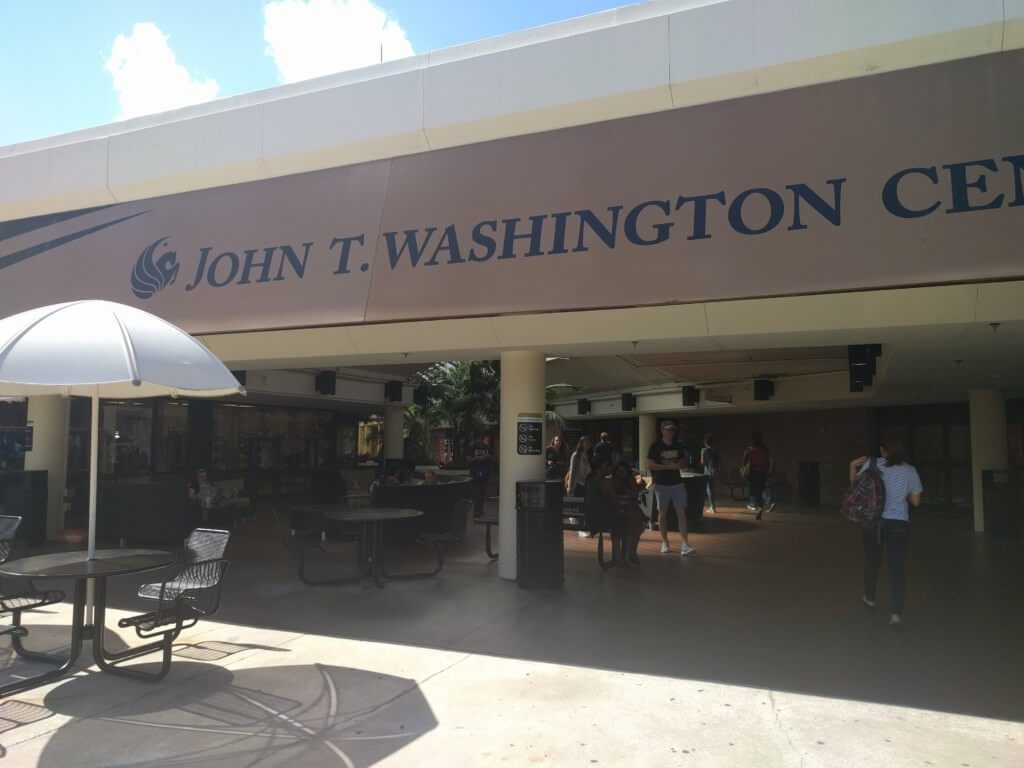 This is a lovely breezeway which contains the UCF bookstore, UCF Card Services (here's where you can snag an ID card), Chick-fil-A and many other amenities such as a hair salon and credit unions. Stop in the bookstore. Take a gander through the bookstore. Pick up some UCF memorabilia. Make sure to check out the bulletin board in the foyer to see if any events are happening on campus that day. As you exit the Center, on the way to the Student Union (just go straight), you will likely encounter several club booths set up. If you see one you fancy, interact with the students representing the club. Even though you likely won't be able to participate, it is still pleasant to meet like-minded individuals.
3. STUDENT UNION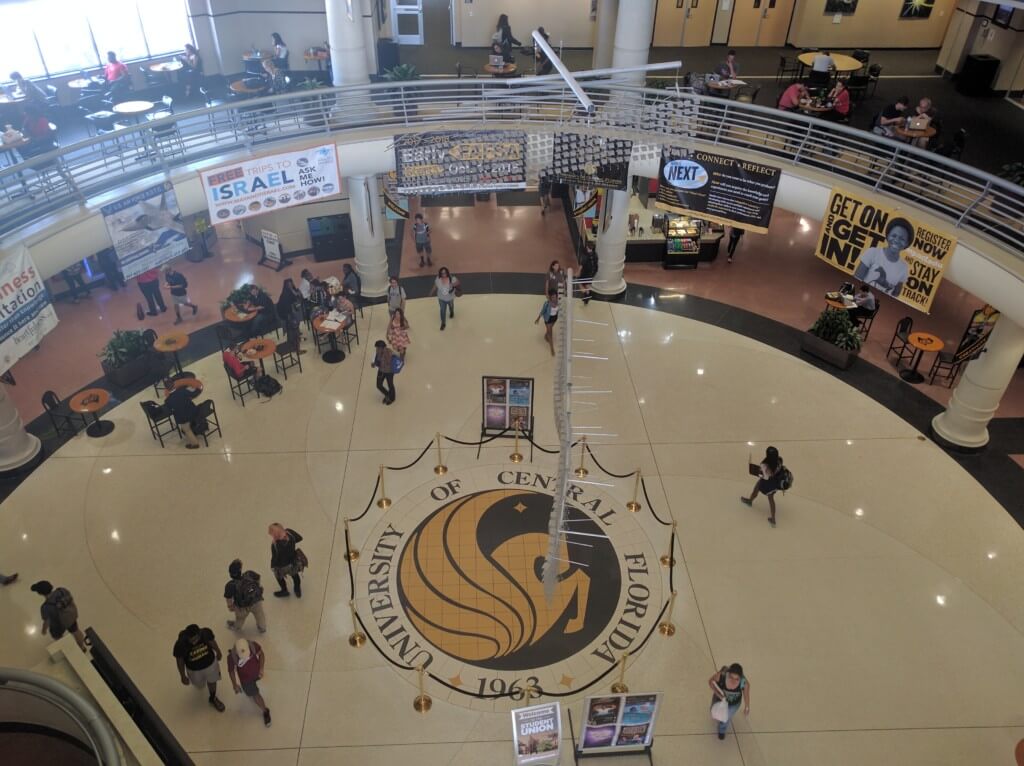 Experience one UCF myth. As you walk into the heart of the Student Union, you will see a shiny Pegasus emblem tiled onto the floor. It's surrounded by those fancy red ropes that shout "Do not cross!" Don't worry, you won't miss it. I watched as students playfully walked close to the black tile as they passed by. However, I didn't catch any foot touching it. Here's why: legend has it, if you stand on any part of this Pegasus seal, you won't graduate on time. Note: I plan to walk right over the sucker as soon as I move my tassel. After seeing that black magic, print free pages in the Print Lab on the third floor of the Student Union. I asked the help desk for instructions a few times and I fumbled around the printing lab like a genuine freshman (part of the experience). I was able to print 27 pages for free (there are 100 pages allotted per week). It's a magical experience when you've paid for printing elsewhere and realize how much money you've saved. Some of the nicest students on campus work in this sector of the building. They were very friendly and helpful to me as I stumbled to figure out the system.
4. Cypress Walkway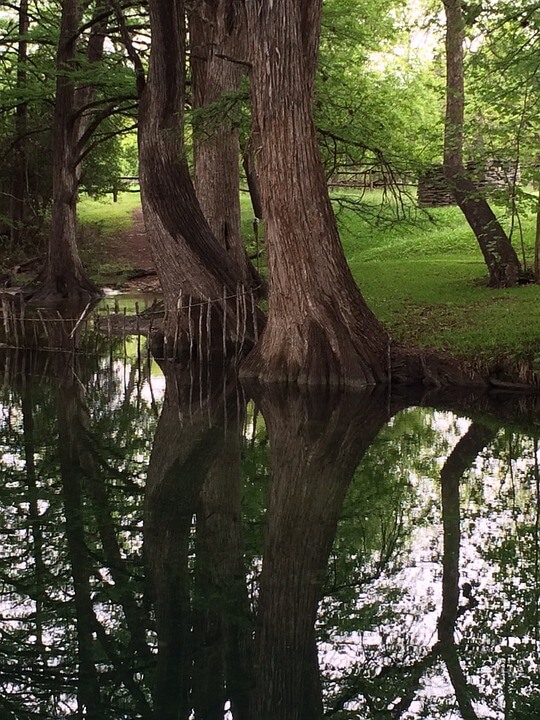 Stroll through the cypress trees on your way to Memory Mall. Take a brisk walk on the raised wooden path. It's one of my favorite ways to cut through campus, and provides a nice break from the hustle of university life. The shade from the trees also gives you a break from the Florida sun.
5. Memory Mall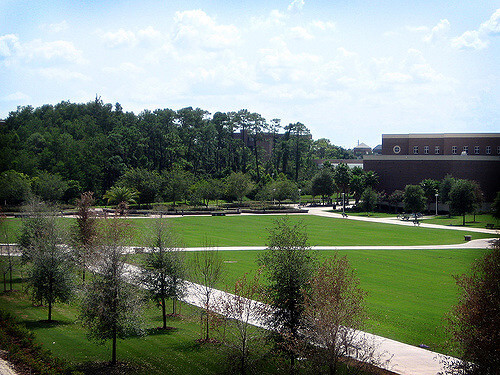 Whether you chow down at the food trucks or chill by the hammocks, Memory Mall is a fun and relaxing place to be. With long stretches of grass, students often play Frisbee and other activities here. Buy a snack and picnic, or pause under the huge American flag.
6. CFE ARENA
Check out where you'll graduate. This is likely where you will walk to "Pomp and Circumstance." Observe the shops and restaurants that line the streets surrounding the arena. Take a seat in one of the beach chairs, and enjoy the environment. Rent a Bike for free and use it to ride to the UCF Stadium. Bike rentals can be found on the corner of KP1, in the SGA and workout center.
7. UCF STADIUM
Snap a selfie with the Knight. Stand in front of the Knight and glory in all of the UCF Football's Undefeated Season's Wonder. Note: If you can visit campus on game day, do it. Nothing will bring you school spirit like rooting for the Knights. UCF students even get in for free. This goes for all athletic sports. Check with the ticket office at the CFE Arena for more information on guest passes and procedures for the event.
8. Find your PERSONAL favorite building
Discover where you would have taken classes had you the opportunity. Maybe even visit a few online professors (check for their office hours in advance). If you don't know where to look, use the map to find your department. Note: If you find that your department is lacking in luster, check out the Engineering Building. The common area has high ceilings and an amazing design. Place yourself amongst fellow students while they work hard and discuss projects. They are your people (and they happen to be very helpful when lost too).
9. LAKE CLAIRE
Lake Claire's pavilion with barbecues, two volleyball courts and an open lawn, plus the clear, calm water will bring you the tranquility you crave under all your college stress. Lucky for you, canoe rentals are free for students. And as long as they ride in the canoe with you, you can even bring someone who isn't a student. After signing a few waivers, you're all set. There's no time limit. Enjoy paddling across the blue waters of Lake Claire and appreciate the nature that your university has preserved.
10. GREEK ROW
The wonderful thing about UCF is that the main road is one huge circle, majorly helping out us online-only people who have no idea how to navigate the huge campus. The circle will eventually lead you to Greek Row, home of the sorority and fraternity houses. Fun Fact: The movie Sydney White (starring Amanda Bynes) filmed scenes on UCF's Greek Row.
11. Be a Coffee Snob at VESPR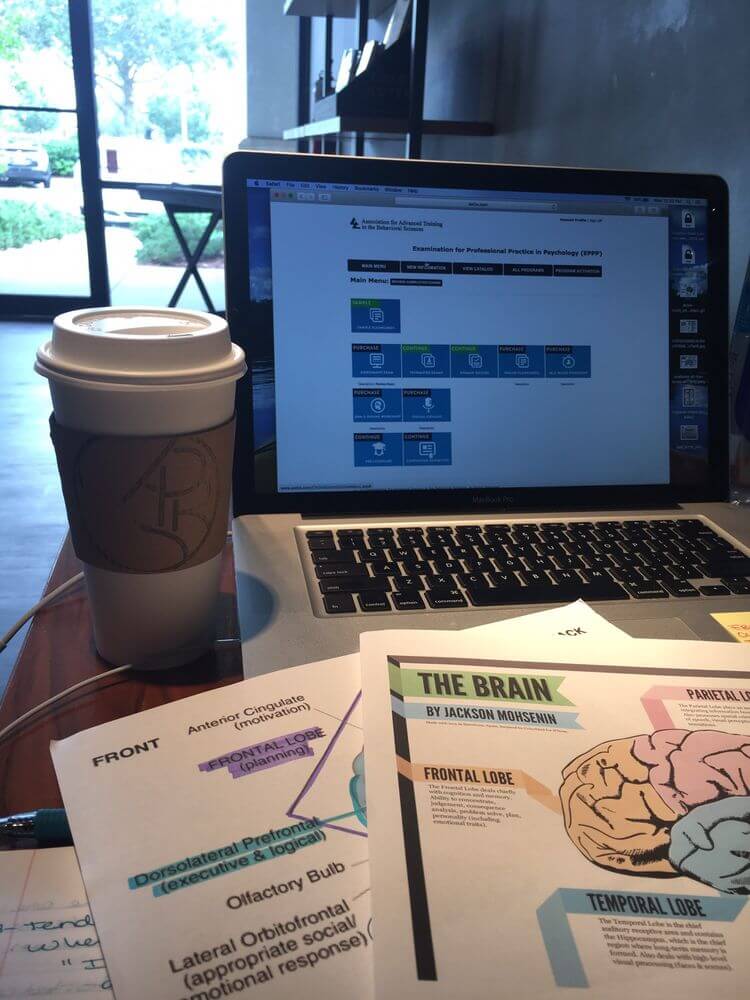 VESPR is only about a 10-minute drive from campus. The pricing is around the same as Starbucks, if not more, so head's up if you're on a budget. However, it's a local hangout and worth the experience. As I walked in, it was full of students, but strangely enough I could hear a pin drop. Complete silence. It was so quiet, I actually felt the need to whisper my order. People were on laptops, reading and texting. It's a small place, and seating was full, so I took my drink to go. If you get the chance, stay and observe the students working hard around you or, heck, join them and study yourself. Also, check out their coffee art.
12. What's College Without Pizza?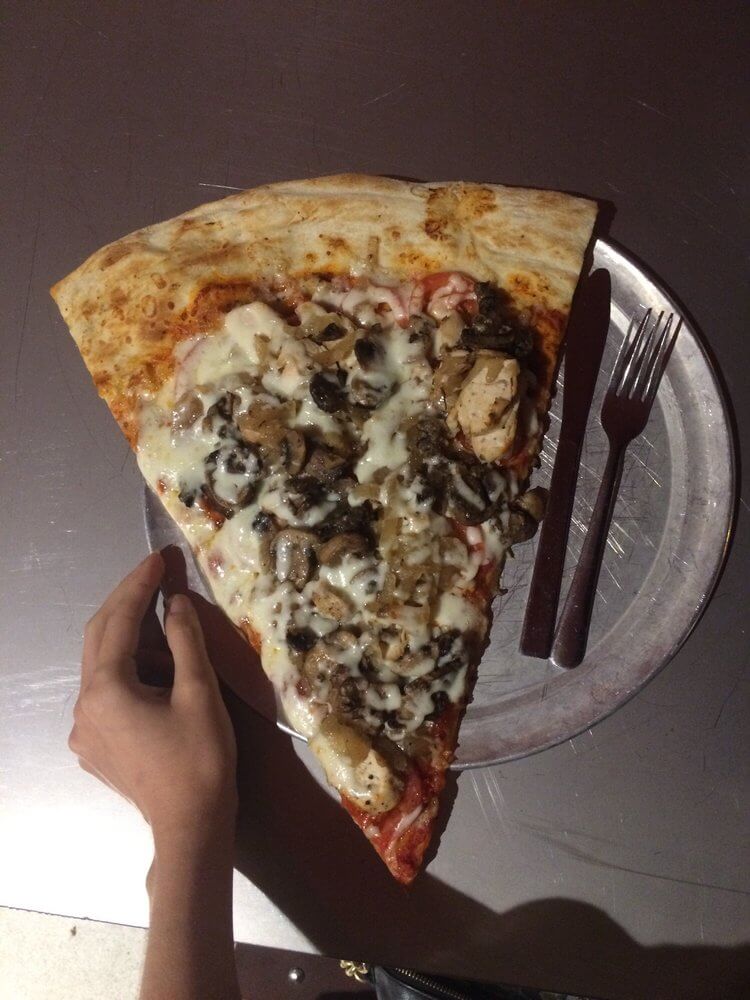 A miserable existence, that's what. Be a true college student and get a four dollar slice of pizza at The Lazy Moon. About five minutes from campus, not only is this a stomping ground for UCF students, it's a great pizza place with many custom options. They even have a bocce court inside.
FINISH: When a UCF student starts talking about campus, have the confidence to just jump right in. You've always been a real UCF student, but now you have the experiences to prove it. Congratulations!