People love to hate romantic comedies, but everyone can admit to knowing at least a few titles. We know screenwriters compose the stories. We know only a small chance exists of someone making that mad dash through the airport and catching us just before we get on a plane. But that doesn't matter. Rom coms represent the purest form of wish-fulfillment, the cotton candy of movies: super sweet and completely lacking substance, but so freaking delicious. When you find yourself single, especially newly so, they can feel hard to watch. Lucky for you we've compiled a list of 10 rom coms you can count on to still make you laugh and cry when find yourself single AF.
Explore these 10 Rom-Coms for Single People That Won't Send You Running Back To Your Ex.
1. Friends with Benefits
Friends With Benefits makes for the perfect film if you want a romantic comedy that doesn't overdo it on the tender moments: sweet, but not sickly sweet. It also helps that basically everyone has dubbed the two main characters Jamie (Milla Kunis) and Dylan (Justin Timberlake), two of the hottest people on the planet. Besides the knee-jerk, "because Justin Timberlake," answer as to why this movie gets so much love, one answer sticks out. "The storyline of it just seems so real to me. Someone always develops feelings in a friends-with-benefits situation. I liked seeing how the characters' relationship played out," said FSU junior Jasmine Johnson. If you've ever thought about acquiring a friend with benefits, this movie shows in the most charming way what you don't want to do—fall in love.
2. How To Be Single
Somewhere in the midst of having her lady parts rearranged in Fifty Shades Of Grey, actress Dakota Johnson found time to learn how to get on with her life after a long relationship portraying Alice in How To Be Single. If you find yourself single and in need of a rom com that doesn't shove a perfect love story down your throat, give this movie a try. While you watch, Rebel Wilson might teach you something about how this whole single-life thing supposedly goes down. Or, at least, she'll tell you how to figure out your drink quota.
3. Trainwreck
Amy Schumer: Need I say more? Get ready to watch Schumer (conveniently playing a character named Amy) as she navigates through the flaming dumpster fire of her life and comes out better for having gone through it. Perhaps you can relate. While cliché, the movie still makes a good watch. "I watch romantic comedies because they're easy to watch. I don't mind that I know what's going to happen," said Florida State junior Amanda Caplan. Written by Schumer herself, this movie will keep you laughing from start to finish.
4. Just Go With It
If you want laughs and appreciate slapstick comedy, you really can't go wrong with an Adam Sandler flick. In this piece of cinematic gold, we watch Sandler's character, Danny, take a dream vacation with his fake wife, played by Jennifer Aniston, to impress his gorgeous dream girl, Palmer. Remember, we've entered the realm of the rom com. It doesn't have to make sense. It only needs to distract you while you procrastinate on writing your research paper. Go ahead and relax a little. Leave the stress until after you finish crying with laughter.
5. Love Actually
When asked what rom com they'd recommend, almost anyone would mention Love Actually. The movie follows the loosely connected lives of several couples as they fall into and out of love. "I feel like there's something in it for everyone. It shows so many different kinds of relationships," said Florida State senior Cameron Bibaud. From the love shared between friends and family to the exciting sparks of new love, this movie has something in it for you. And, with all the craziness of papers, exams, and being away from your loved ones while at university, you can count on Love Actually to leave you with some positive feels.
6. Knocked Up
Like dumb, dirty comedies? In the 11 years since it came out in 2007, Knocked Up remains one of those crazy funny movies that people love to reference. You should expect nothing less from the Judd Apatow, director of The 40 Year Old Virgin. And, just like the name "Kelly Clarkson," after watching Knocked Up, you'll never hear the word "doorman" and without giving at least a little bit of a snicker ever again. Add some heavy drinking, one awkward hookup and just a pinch of shrooms to make this into an iconic film. That special blend of freedom and irresponsibility just screams college life.
7. 27 Dresses
If nothing else, this movie makes you feel good about your own life as it takes bad scenarios to impossible heights. In 27 Dresses, Katherine Heigl plays Jane, a woefully hopeless romantic and unappreciated doormat of a person. Depressed over a crush not noticing you? At least you don't work as your crush's personal assistant. Jealous of your crush's new fiancé? Let's thank the universe you don't have to help them plan their wedding and be his wifey's maid of honor. Try this movie out and remember that life could always cook up something much worse.
8. 10 Things I Hate About You
A list of romantic comedies would not feel complete without the 1999 classic. Julia Stiles and Heath Ledger's characters make the most adorably chaotic and perfectly imperfect couple you've ever seen. When you watch this movie you'll undoubtedly feel attached to the ups and downs of their relationship, hoping they work it out before the movies ends. "I watched it for the first time last year and, as a freshman, I thought it was so relatable. It made me think of people I knew back home," said FSU sophomore Tina. We double-dog-dare you not to get choked up on all that high school nostalgia.
9. Clueless
Ah, the 90s—a better time, a simpler time. Writer Amy Heckerling crafts a story around a rich airhead, concerned mostly with looks and playing matchmaker. Clueless could possibly prove the most popular movie on this list, though not because of its strong connection to the rom com genre. The story revolves more around Alicia Silverstone's character becoming a better, less shallow young woman than anything else. If you like movies about high school and don't want anything too heavy or full of angst, Clueless won't let you down. If, even now, you still haven't seen it, you've missed out on a good chunk of pop culture. Give it a shot.
10. Bridesmaids
Dignity, grace, poise: all things that the cast of this movie takes and stomps on, in favor of making the raunchy comedy you actually want to see. In Bridesmaids, Saturday Night Live writers, Kristin Wiig and Annie Munolo, gave us a film about friendship, love and picking yourself back up after hitting rock bottom. Even though we can call all of the movies on this list funny, this one pretty much takes the cake. "It's one of the funniest movies I've seen in a long time. I definitely know what it feels like to dislike some of my friend's friends," said recent graduate of University of North Florida Vania Predelus. If you've ever been just tiniest bit jealous of you best friend's new bestie, you'll love this movie.
10 More Rom Coms for Single People
Written by Corey Marfitt
11. 13 Going on 30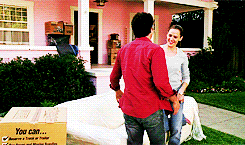 We're bringing back all the feels. "13 going on 30, a.k.a. the debut of a young Mark Ruffalo, confirmed my straightness when I was six. It's a good rom com because it's like fantasy since she time travels but also teaches a valuable lesson: the grass is always greener, and don't sleep on Mark Ruffalo," Penn State junior Ashley Ferrera said. This movie marks a milestone in everyone's childhood. It was a step into a false reality that opened our eyes to more than we knew at the time. Dig this movie up from your archives for laughs, cry's and life lessons.
12. How to Lose A Guy in 10 Days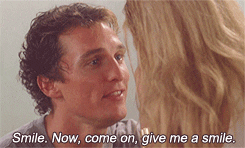 This movie shows just how unhindered true love is. Two individuals with completely different intentions end up sharing more than simple emotions. "How to Lose A Guy in 10 Days is different than other rom coms. The girl is actually doing her job at first and then falls in love," Penn State senior Nicole Ortega said. If you haven't seen it, this film will have your mind from wall to wall as the love unfolds. The stunning Kate Hudson takes on a work mission trying to woo her boss while Mathew McConaughey places a bet with his friends. Will the drive to win create unwanted emotions?
13. Pretty Woman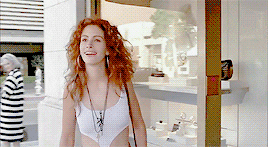 Imagine a 1990s version of Cinderella. "It's such a stereotypical love story, but Vivian (young Julia Roberts) is a savage the whole time and doesn't put up with any man's sh–t," Penn State senior Megan Bridges said. The inevitability of love strikes again as a hooker and successful entrepreneur make an unlikely match. Do opposites really attract? Find out how they build bridges between the two worlds.
14. Sweet Home Alabama
Sweet Home Alabama will leave you wishing you dated a Southern boy. First things first, money and fame don't buy love or happiness. Reese Witherspoon plays a striking role as a southern belle that moved out of her small town to New York City. As she returns to iron out legal details, all the emotions from her homegrown roots flood back. We learn how much our hometown effects what we want in the world from this love story.
15. The Proposal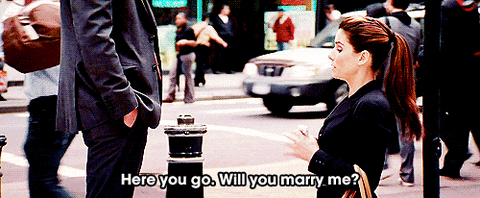 If you don't want your life to mimic a rom com starring Ryan Reynolds, then what do you want? A woman in power, Sandra Bullock, takes her "fake" fiancé on a trip so she won't get deported. The legalities and emotions turn out more complicated than anticipated. You can probably guess the ending.
16. Forgetting Sarah Marshall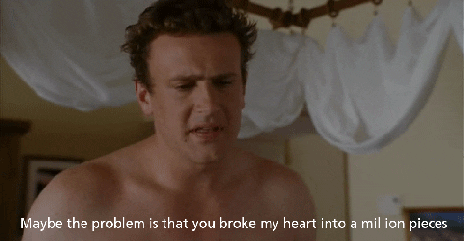 This movie will have you crying of laughter in your lonely dorm bed. After Jason Segel's dime girlfriend dumps him, they ironically stumble upon each other in the same vacation spot. Russell Brand, Kristen Bell and Mila Kunis establish the art of what really matters in a relationship—again, it ain't money and fame. It's romantic, comical and also full of grade A actors and actresses.
17. House Bunny
Imagine if a Playboy Bunny showed up on your campus. Anna Faris returns to college after being deemed "too old" to be in Hugh Heffner's Playboy house. She then joins a geeky sorority where she teaches her new sisters how to attract boys. "The main character says a lot of funny and dumb stuff. She's a total ditz but her character development ends up being kind of admirable and it's also one of those movies I can watch so many times and not get tired," Fashion Institute of Design and Merchandise senior Toria Webber said. Again, we defeat the "dumb blonde" myth. You can be hot and smart, in your own ways of course.
18. 500 Days of Summer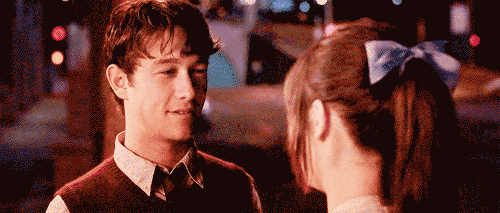 This movie is a real tear jerker if you ask me, but also a great musical playlist. 500 Days of Summer reflects on the emotions of getting dumped. Throughout the movie the main character replays his past relationships and where the love started to fade away. However, this reflection leads to more of a self-actualization journey than anything.
19. The Holiday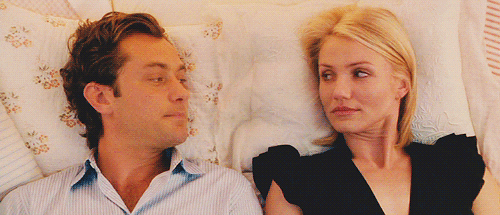 Save this movie for your Christmas vacation when you have no one to bring home to mom and dad. "My absolute favorite rom com for the winter season. It incorporates an amazing cast while being a romantic comedy and a Christmas movie at the same time. It covers all the bases for me," Penn State senior Emily Kocher said. The Holiday has an A-list cast consisting of Jack Black, Cameron Diaz, Jude Law and Kate Winslet. Two women decide to swap homes for the holidays and end up meeting partners they never thought they would.
20. 50 First Dates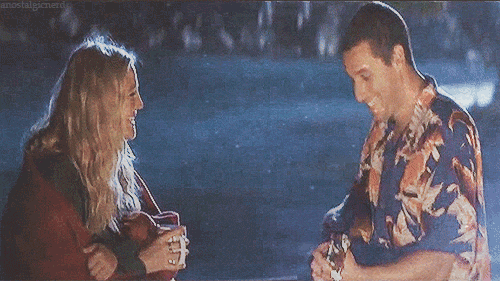 If you haven't seen this movie, you might have to reconsider your life. The comical Adam Sandler will always make you laugh, especially when he is trying to win over Drew Barrymore playing a character with short-term memory loss. This will always be top on my list for the funniest and sweetest romcoms of a lifetime.
**Updated on September 21, 2018 by Corey Marfitt to include 10 more rom coms