You finished up your last midterm which means it's time to celebrate! All the late-night studying, 8pm coffee runs, and lack of sleep hopefully paid off. You did it! Give yourself a pat on the back. Before the semester resumes, make sure to relax with your friends and enjoy the well-deserved break from course material. Places to go with friends near Rutgers University seem endless. From authentic Mexican to delicious thin crust pizza, Rutgers Students never go hungry.
Choose one of these 10 recommended eateries to celebrate the end of midterms with your friends.
1. Stuff Yer Face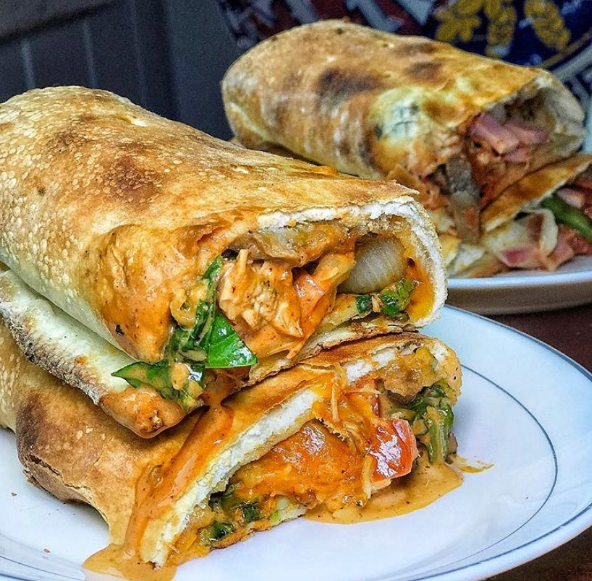 Everyone in the New Brunswick area knows Stuff Yer Face. The restaurant receives recognition for their outrageous strombolis. Choose your favorite meats, vegetables, seafood, cheeses, and savory sauces all wrapped in a freshly made pizza-like dough. With different sizes to choose from, the largest stromboli size weighs in at two pounds and 18 inches long! The menu offers over 30 different kinds of stromboli sandwiches. Their unique flavors range from buffalo chicken to a chipotle pork "boli".
"I love the casual vibe it gives off. Not only are they known for their strombolis, but the fishbowls are a must," Rutgers University Graduate Student Maricruz Azcona said.
The establishment even appeared on Man vs. Food and offers their own stromboli named after the menu item featured on the episode. The establishment's claim to fame doesn't stop at strombolis. Stuff Yer Face also offers locally crafted beer, making the perfect spot for college students to grab a drink and some good food.
2. RU Hungry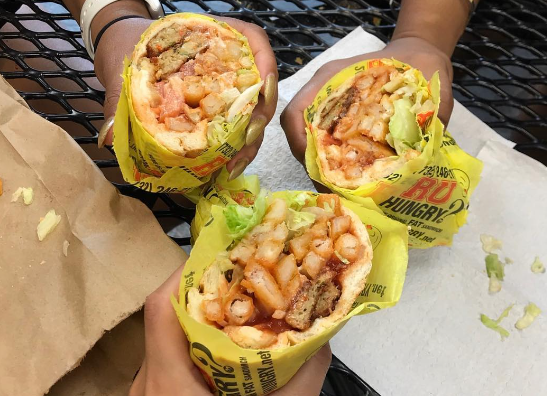 Do you feel like celebrating the end of midterms with an over-the-top sandwich? Look no further than RU Hungry. It makes a great place to grab quick and delicious food. The small eatery gets praised for their original "FAT" sandwiches. What exactly does a "FAT" sandwich entail? The menu offers nearly 40 different "FAT" sandwiches to choose from. A best seller and one of my personal favorites the "FAT ZBT" includes chicken fingers, mozzarella sticks, French fries, onion rings, and barebecue sauce. From vegetarian sandwiches to their famous gyros, students never leave even the strangest of appetites unsatisfied.
"The food at RU Hungry is delicious. It's right on campus making it easily accessible. They're open really late too which makes it the perfect place to grab a filling sandwich after a night out," Rutgers University junior Jamie McIntosh said.
Their "FAT DARRELL" ranked number one in the country by Maximum includes chicken fingers, mozzarella sticks, french fries and marinara sauce. The establishment even offers a sandwich called the "FAT KNIGHT" named after the Rutgers mascot. Make sure you bring your appetite before arriving to RU Hungry. A "FAT" sandwich will take care of your grumbling stomach in no time.
3. Hansel 'n Griddle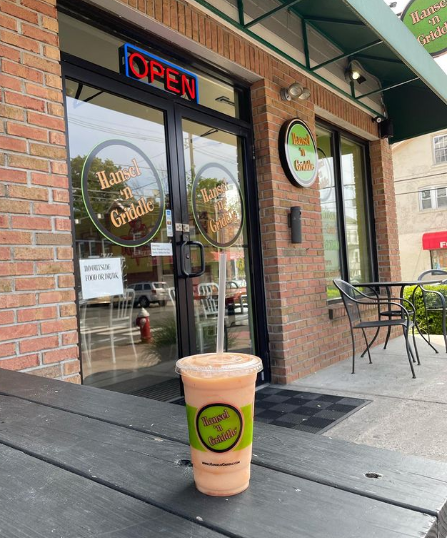 Can't decide on breakfast or lunch? Hansel 'n Griddle offers both! This eatery on Easton Avenue offers meals you never even imagined in your wildest dreams. From their signature Lumberjack breakfast to their chili cheeseburger, the restaurant offers something for everyone's picky tastebuds. In addition to their standard menu, the establishment offers daily specials such as pumpkin spice fried Oreos and a chipotle honey mustard wrap. Students may also join their rewards program where you get a point for every dollar you spend. Students earn free smoothies and apparel just by eating. Why just go to Hansel 'n Griddle only at the end of midterms? Go there all semester long to receive these benefits!
4. Roosterspin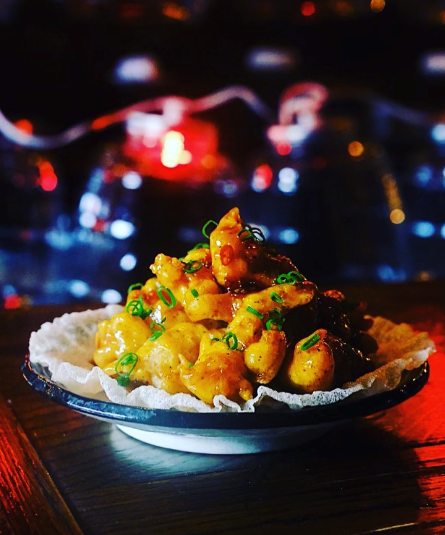 If you prefer a lively night out to celebrate the end of midterms Roosterspin makes the perfect place to go. Their double fried chicken and Korean cuisine keeps people coming back for more. What Rutgers students love most about Roosterspin however is the nightlife it provides. The establishment's industrial-chic atmosphere accentuates the lively vibe college students bring anywhere they go. Roosterspin offers karaoke rooms and live DJ performances for students to reward themselves outside the classroom. Dance the night away with some Flo Rida club mixes or sing your heart out to Adele. To each their own.
5. Daniel's Pizzeria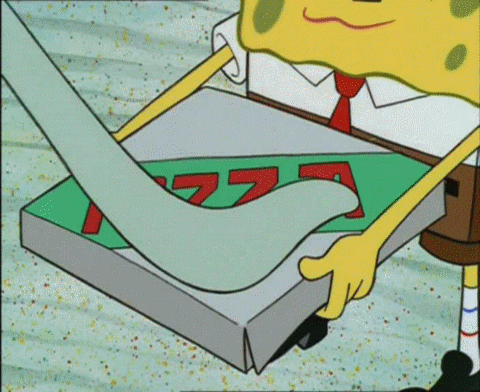 What better way to celebrate the end of midterms than with pizza? But Daniel's doesn't serve just any pizza. Daniel's Pizzeria arguably serves the best pizza in New Brunswick. Students talk about the establishment as if their food came straight from a fairytale. The stories about this pizza sound so delicious that it makes you want to try it for yourself, and Daniel's never disappoints. Students travel through rain and even snow just to get their hands on this pizza even until the early hours of the next morning. The hole in the wall pizzeria made a name for themselves with their thin crust pizza. Daniel's closes at 3 o'clock in the morning making it the perfect choice to grab some good food after a late night out.
6. Old Man Rafferty's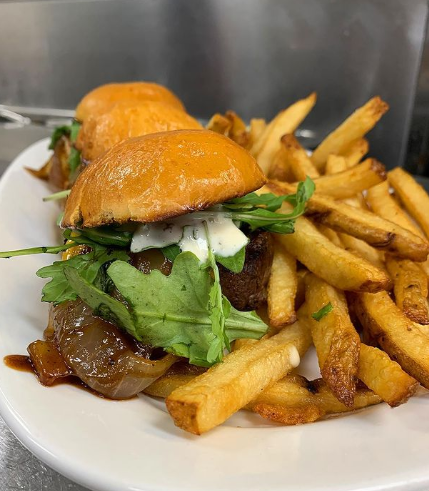 You better bring your reading glasses before coming to Old Man Rafferty's because their menu seems endless. The restaurant offers a diverse menu with a focus on American cuisine. Its casual and welcoming atmosphere makes it a local favorite amongst Rutgers students for many years. Their reasonable prices serve as another reason why students love it here. Order any Tito's, Bacardi, or Casamigos cocktail for just $6! A 12-inch cheese bar pie or spicy shrimp tacos only comes to $7. Looking to celebrate the end of midterms on a budget? Look no further than Old Man Rafferty's.
7. Redd's Biergarten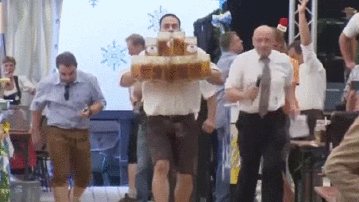 Celebrate the end of midterms with a beer, a pretzel, and some sausage! The well-known establishment gained popularity for its spacious outdoor seating area, extensive beer selection, and a menu featuring a variety of food options. Enjoy their Bavarian soft pretzel or their signature cheddar bratwurst. Redd's Biergarten hosts special events, live music, and themed nights throughout the year. This keeps the eatery active and lively to attract the younger crowd of college students. Some of the restaurant's wide ranging beer options include a variety of craft beers, domestic and international brews, and seasonal selections. It's a favorite spot for beer enthusiasts, which many college students claim to acquire a knack for.
8. Harvest Moon Brewery and Café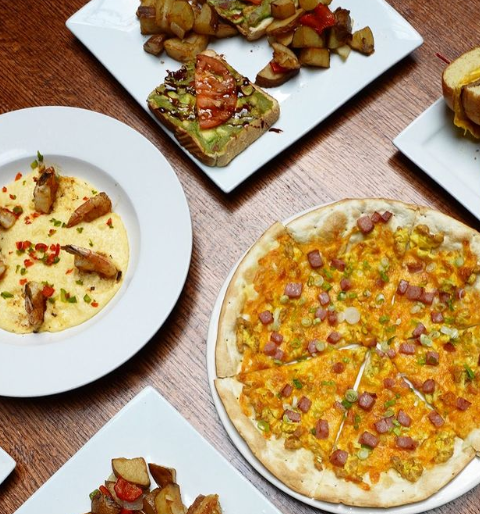 Many college students believe a thing as too much beer comes close to impossible! If you want another place to get good beer, Harvest Moon makes the perfect spot. The establishment brews their own beer on-site, making it a popular destination for both locals and visitors. Although primarily known for their craft beer, their diverse menu options range from casual burgers and sandwiches to more upscale dishes such as pasta and seafood. Their occasional beer tastings, live music performances, and special beer releases add to the overall dining experience. While dining here regularly may get expensive, this makes the perfect place to celebrate a special occasion, such as the end of midterms of course!
9. Fat Cactus Cantina
When Rutgers students crave Mexican, they go to Fat Cactus. Their authentic Mexican food makes the five-minute drive from campus a no-brainer. The well-known restaurant offers a diverse menu of dishes such as tacos, burritos, enchiladas, guacamole, and margaritas. Share their caramelized pineapple and bacon guacamole with your midterm study buddies. Attempt to eat an entire 7-layer dip burrito by yourself. Go out of your comfort zone and try their braised Mexican oxtail. Celebrate your midterm results by treating yourself to carne asada fajitas. If your midterms did not go as well as you hoped, a Fat Cactus frozen margarita can fix those post exam blues in no time!
10. Destination Dogs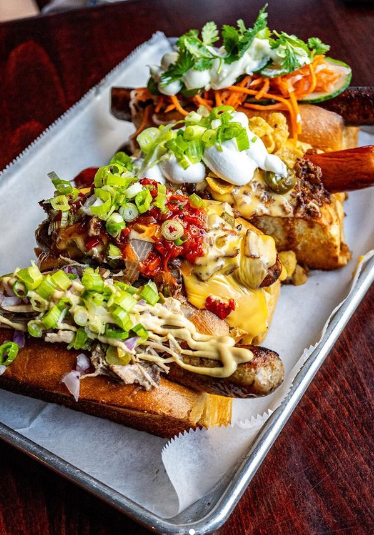 Expect anything but your average hot dog at Destination Dogs! Located in the heart of New Brunswick, Destination Dogs specializes in gourmet hot dogs and sausages inspired by international flavors. They offer a diverse menu with creative and unique combinations, often named after different cities around the world. Each hot dog or sausage reflects the flavors and ingredients commonly found in the region they named it after. For those who want to play it on the safe side, order off their domestic menu.
"Destination Dogs is an obvious favorite because I love how many options there are. Even as a vegetarian I don't feel like I am missing out on the experience at all. It's a super fun place to go with friends because there's something for everyone," Rutgers University freshman Sophie Hardy said.
They even serve a "Scarlet Bite" hot dog named after the university. Feel like going out of your tastebud comfort zone? Order from their international menu which includes a Canadian inspired "dog" consisted of duck sausage and poutine. Try their Greek menu item of lamb sausage and tzatziki sauce in between a toasty bun. The destinations don't stop at the hot dogs! The establishment offers a domestic and international beer menu as well!