Need a break from the library? We can all get sick of sitting inside and studying when the spring weather rolls around. With finals week quickly approaching, you know you'll spend long hours with your books. The good news? In the beautiful city of Washington, D.C., American University students have plenty of scenic study spots to use. You won't have to look far for some fresh air and a nice outdoor study spot.
Check out these 10 peaceful and natural study locations around American University.
1. The Benches Behind Kay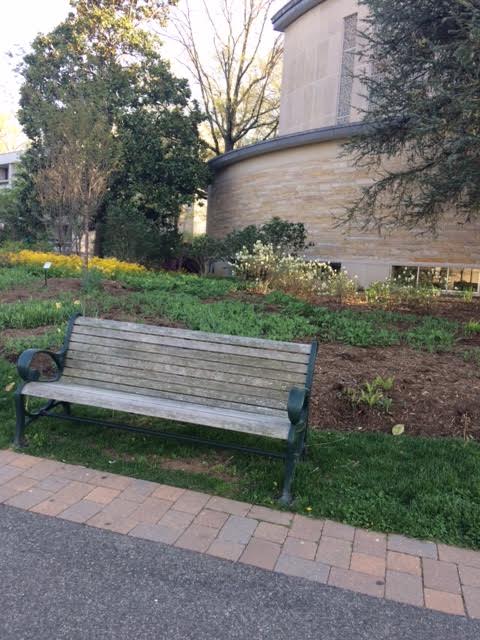 If you need some holy vibes while you study, the benches outside the Kay Spiritual Life Center provide a peaceful setting during crunch time. "It's quiet for the most part, few people passing by, has a great view, and is a prime spot for getting some Vitamin D! You're not sitting on the grass, so you don't have to worry about any bugs crawling on you too," said junior Christine Mazzocchi.
2. The Garden by the Amphitheater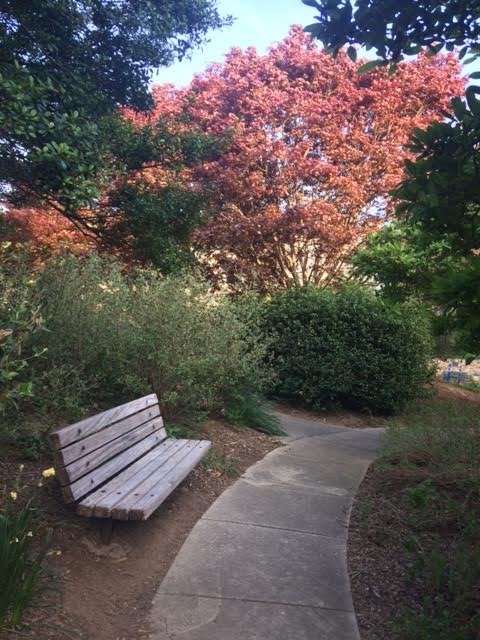 Little to no foot traffic occurs near the benches surrounding the amphitheater. This quiet location sits a stone's throw away from Eagle's Nest, where you can get a snack to go along with your studies. "It's a very relaxed atmosphere and not a lot of people go there, and you can go outside when it's nice and enjoy being outside without the distractions on the quad," said junior Emily Duncan.
3. The Amphitheater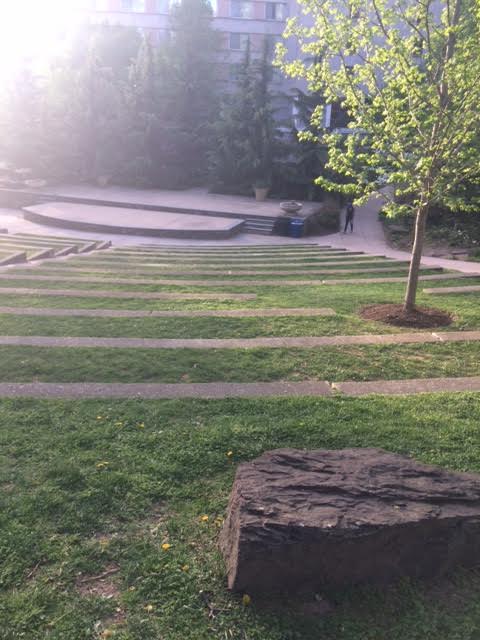 The amphitheater can be bustling with activity if there's a concert or club sports banquet being held, but on a normal day not a lot of people do more than pass by. "It's easy to get distracted while studying outside but the amphitheater is quiet and peaceful," said junior Aviva Chaidell. "I feel like I get in my bubble there," said junior Valentina Sader. "It's nice to tan and enjoy the sun and the nice weather. You can sit down or lay down even and do the readings that you have to do."
4. The Picnic Tables Outside McDowell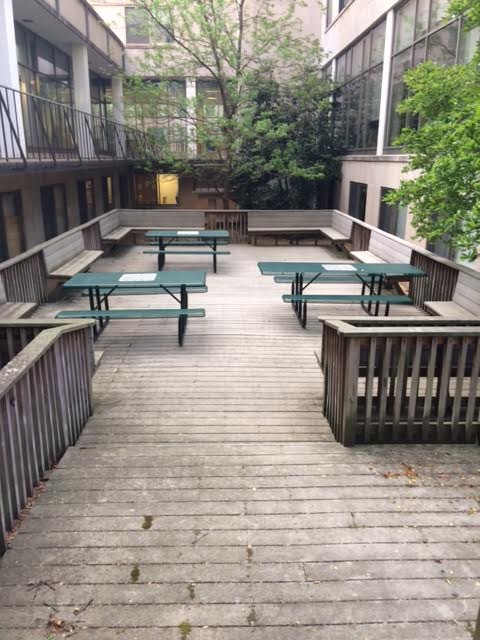 Not a lot of people on campus know about this spot, so it rarely draws a lot of people at once. The tables sit a good distance from the street so you won't be distracted by people walking, biking and driving. The tables allow you to keep your books off your lap while you're working. This area provides a great location to set up group meetings and work with your classmates while being outside.
5. The Grassy Hill Near the Athletic Fields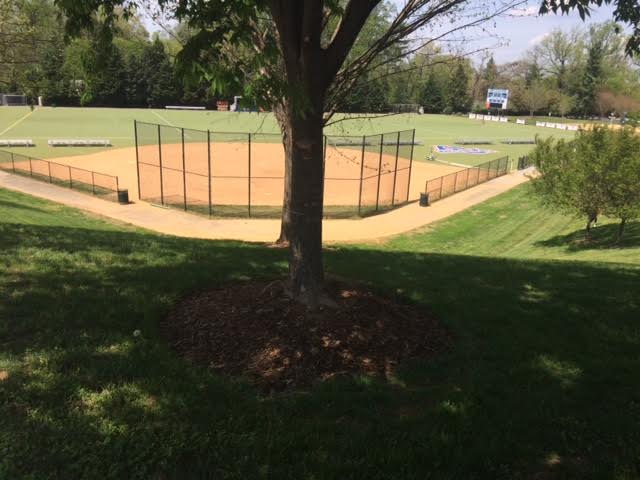 You can usually find several people studying on the hill when the sun comes out. The trees provide shade in a wide open space to spread out your books. Some people even bring their hammocks to hang from trees which overlook the softball field. You will definitely be inspired to get your work done when you see people having a catch and throwing the Frisbee around.
6. The Picnic Table Outside Hamilton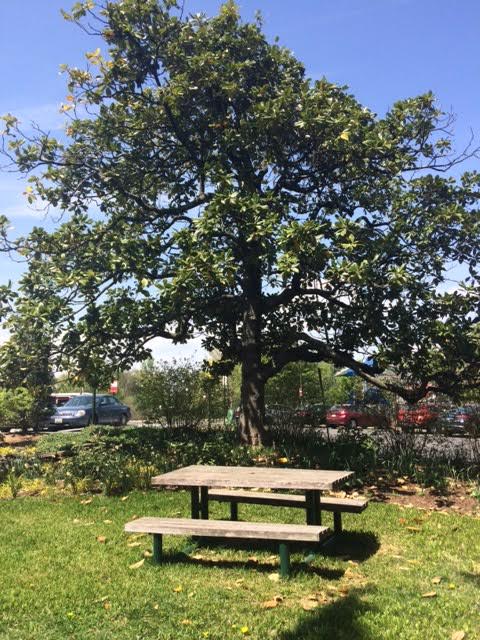 A lot of AU students don't even know that the Hamilton building exists on campus. Unless you're an anthropology student, you've probably never seen the picnic table under the big tree outside of this building. If you need a break from the lab you can take your books outside and clear your mind in the fresh air.
7. The Benches in Front of Kreeger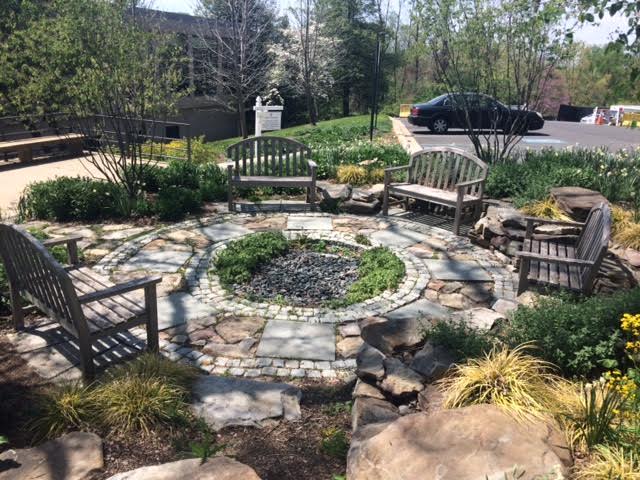 The benches by Kreeger provide a picturesque place to study. Arranged in a circle, they can be a good location for group study while out in the sunshine. The only foot traffic that might pass by will be students heading to their econ professor's office hours. So, if you're an econ student, you can get your thoughts and questions together on the benches before heading in to see your professor for that last meeting before the final.
8. By the Koi Pond

Half the people on campus don't even know about the pond. You will stumble upon it only if you have reason to be on the far edge of campus. Located near the math/statistics tutoring lab, the benches near the pond provide a nice location to get your questions ready before heading into the tutoring center. The pond provides a getaway feeling that makes you feel like you aren't even on campus anymore.
9. Rooftop of McKinley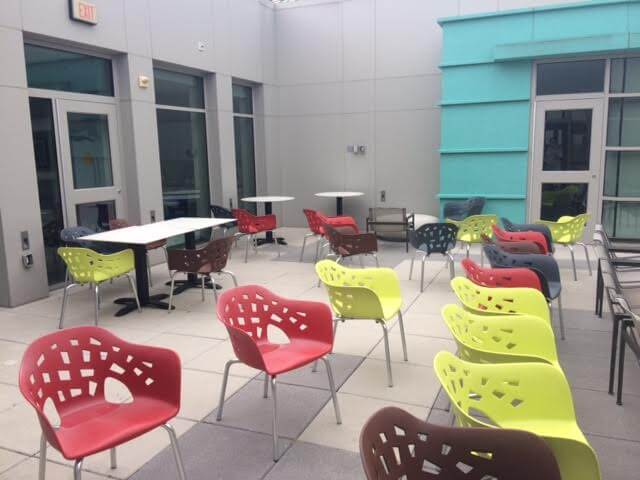 One of the most popular outdoor study locations, the rooftop provides a large, open space for students to get together to work on group projects. The rooftop provides a bunch of tables and chairs, and most importantly: outlets. A lot of people don't study outside because their laptops won't last long without being charged but the McKinley rooftop solves this problem. "The McKinley rooftop is a hidden treasure on campus. When the weather is right, it is a beautifully sunny, lightly breezy area with many tables and chairs to study. The area also tends to be quitter so if you like peace while studying but don't want to hide in the library, this is a great spot," said junior Channing Gatewood.
10. The Tables Outside SIS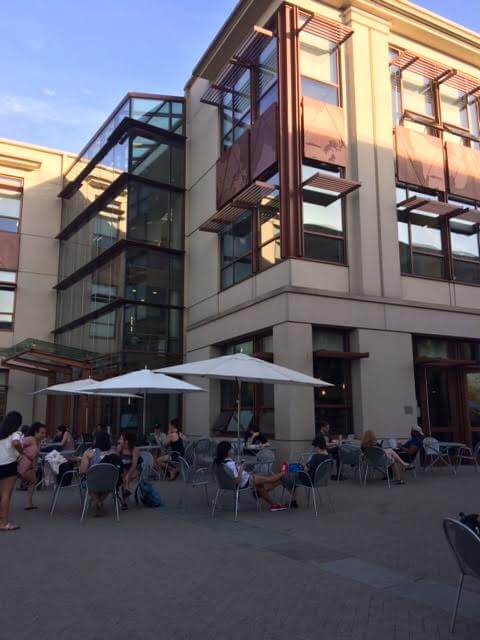 The School of International Service provides a peaceful setting to study whether you like to be inside or outside. When the tables inside fill up, the ones outside let you enjoy the sunshine and view of the quad. "The tables outside of SIS in the evening are very nice. When it gets darker, people aren't out and it's nice to be outside to get some work done," said junior Conchita Garcia. "It is nice there because you actually have a table and you can see people passing by. It's nice to not only get your readings done, but socialize as well," said junior Valentina Sader.