Every university has a commonality — the importance of different and unique buildings on campus that are frequently used by students, faculty, and staff. Whether they house draining classes and labs, exhausted students, or dining halls that serve less than edible food, one thing that remains certain — colleges need to establish structures for their various amenities. Even though incredibly designed buildings exist throughout the nation's schools, students often do not hear about which colleges have structures that are monumental to their specific universities. Students study abroad to different countries to see sights like the Eiffel Tower or Big Ben during their undergraduate career, so shouldn't we attempt to pay at least some attention to the beautiful pieces of architecture that exist on our own campuses? 
Read on for the 10 most beautiful and photoshoot worthy pieces of architecture at Temple University.
1. Performing Arts Center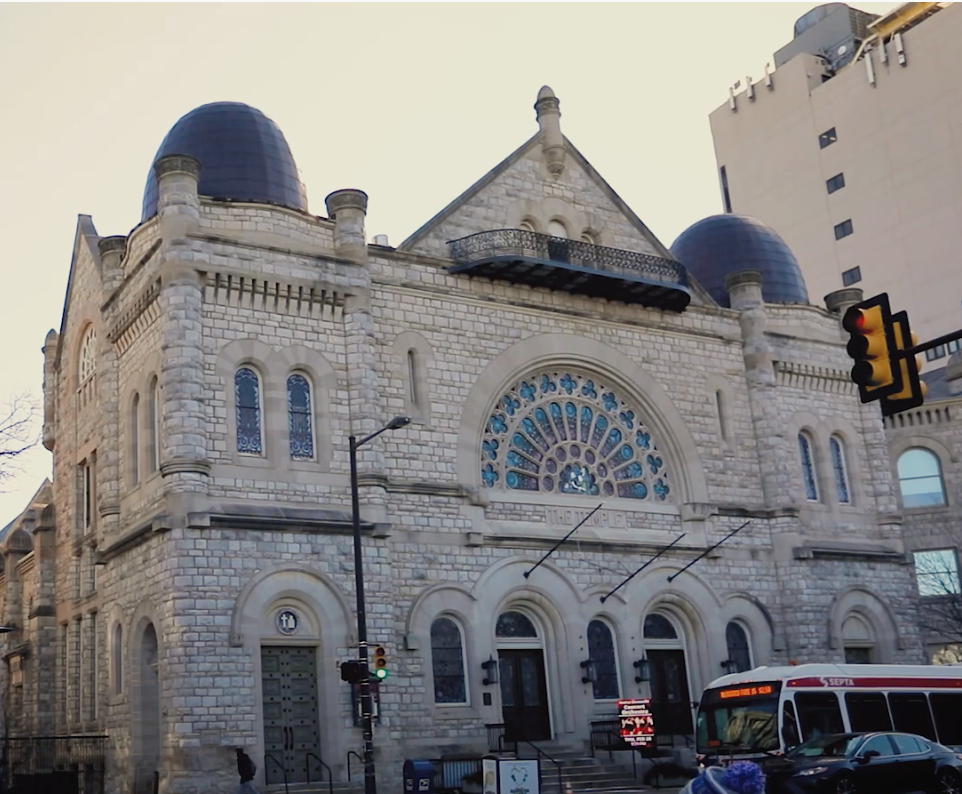 Pastor Russell Conwell founded Temple University after he moved to Philadelphia to lead the Grace Baptist Church, an older-looking, medium-sized stone building with stupendous works of stained glass scattered throughout the area. Conwell decided he would help a man who could not afford an education to study. After others started to show up to these study sessions, they began to refer to themselves as the "night owls." Eventually, the number of students was in the hundreds, and Temple College came into fruition.
In 1907, after Temple College became Temple University, the University then bought the original Church in 1974, which received a certification by the Philadelphia Historical Commission and became a Historical Building in 1984. In 2003, the American Institute of Architects elected the church as a Landmark Building. Today, it goes by the name Temple Performing Arts Center and holds various performances by students, including other important events like freshman orientation and graduation. Notable people who have spoken at this building include Franklin D. Roosevelt, anthropologist Margaret Mead, Anne Sullivan and Helen Keller, Dwight Eisenhower, Alistair Cooke and American broadcaster Edward R. Murrow.  
2. Charles Library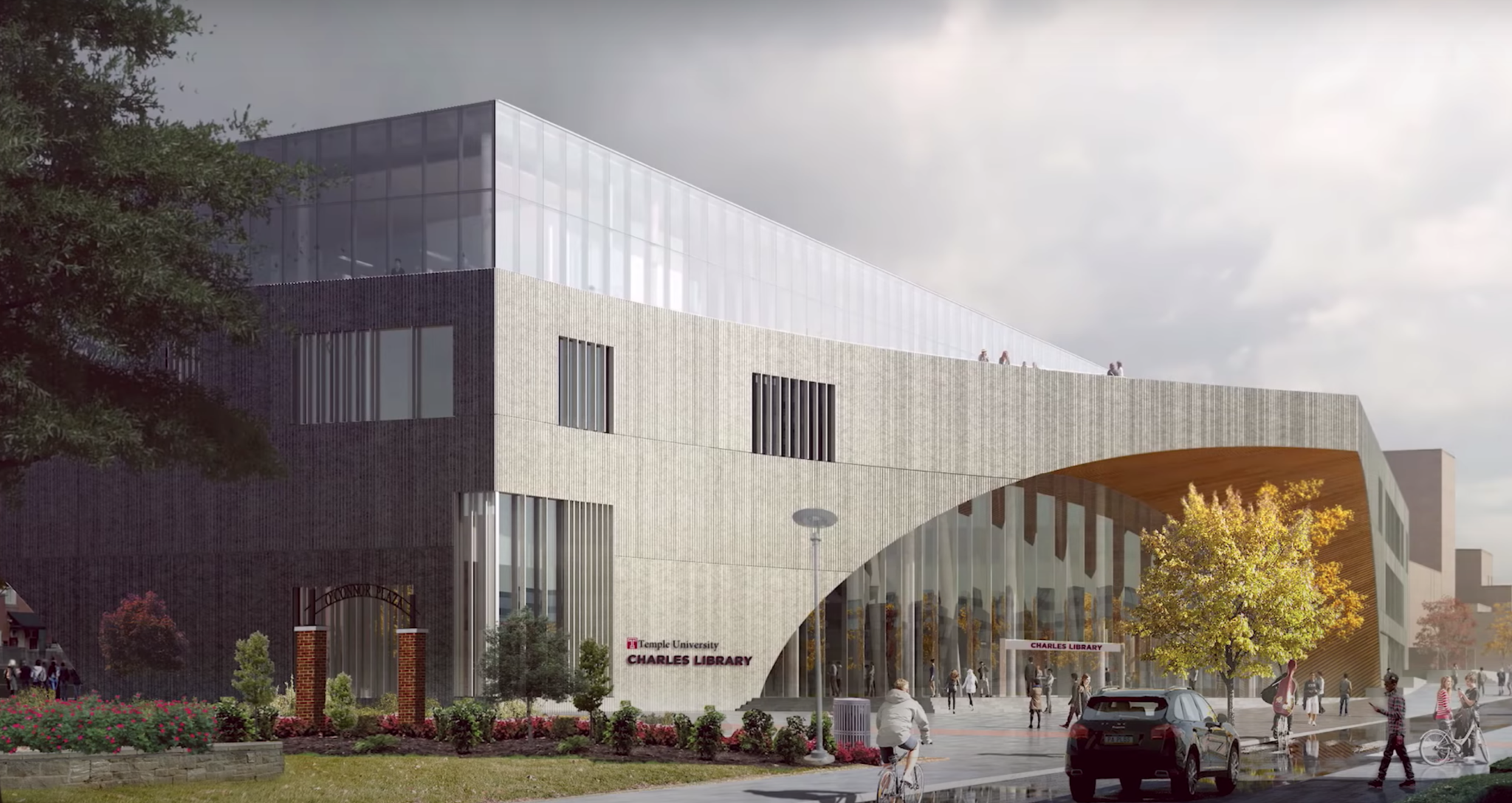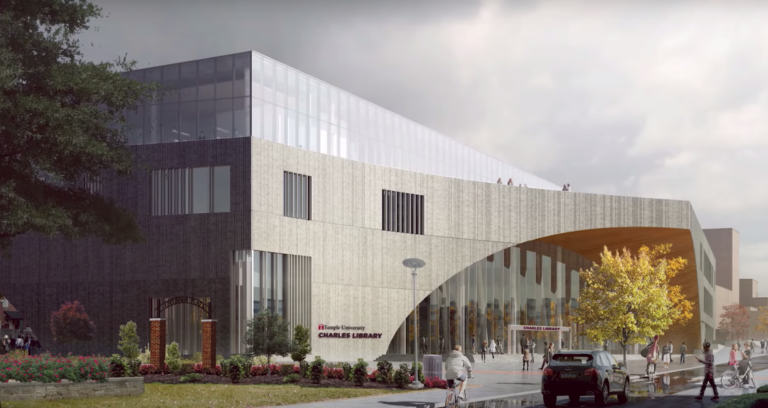 As the newest addition to Temple's campus, Charles Library looks like something out of a futuristic movie. Charles' location right in the middle of campus makes it easily accessible to all students and staff. The library's completion came in 2019 after being designed by the company Snøhetta and boasts its modern appearance. "The library was in construction for pretty much my whole college career. Now that it's open, being able to finally study there is something that I take advantage of all the time," Temple University senior Alison Lanson said.
Despite the many exciting attributes within the library, the robotic book storage and retrieval mechanism prove the most useful and intriguing tool by far. The machine allows for a more spacious area for students to study in as the relocated book-shelves are stored up high, allowing for more room on the ground enabling more people to use the space. Charles Library's intricately modern design helps Temple University stand out as one of the architecturally noteworthy campuses in the country.
3. Mitten Hall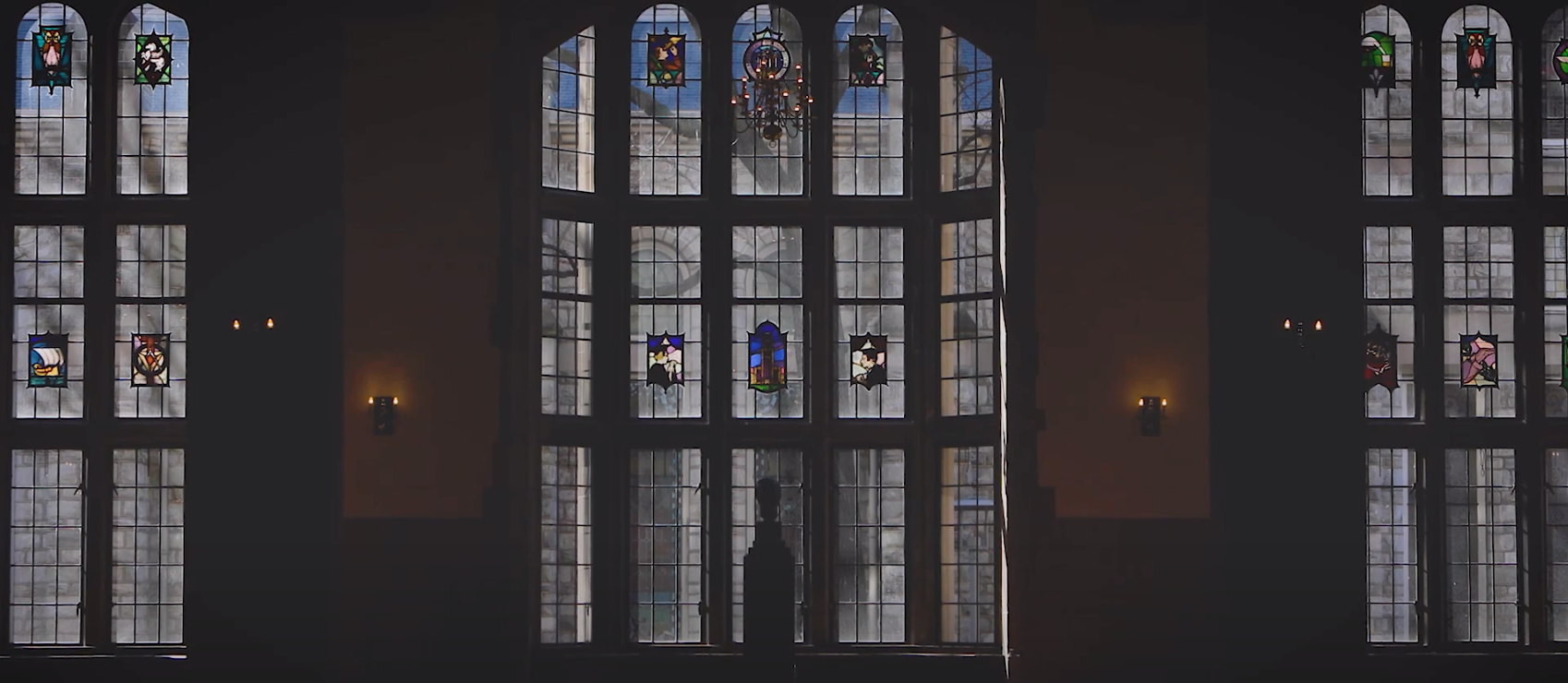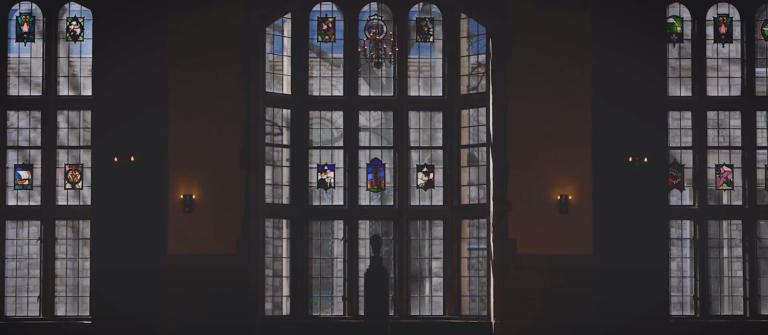 Completed in February 1931 and made out of stone, Mitten Hall stands as one of the oldest buildings on campus in both appearance and age. A well-known building originally created to be a recreational center for students, and the first on Temple's campus to be funded by donors, Mitten Hall now houses activities such as conferences and parties, as well as multiple advising offices. Many of the donations that funded Mitten Hall were encouraged by Thomas E. Mitten, thus the building being name Mitten Hall in honor of him.  Rumors have spread that a secret underground bar for alumni and staff to enjoy during events exists in Mitten Hall.
"I don't want to get anyone in trouble, but the rumors about the underground bar are completely true, I've been there multiple times," Temple University alumni Justin Downs said. Every year, Temple holds a Neighborhood Job Fair in Mitten Hall, accessible to both students and members of the surrounding community. Notable public figures who spoke at Mitten Hall in the past include Amelia Earhart, Franklin D. Roosevelt, Carl Sandburg and Charles Barkley, among others.    
4. Morgan Hall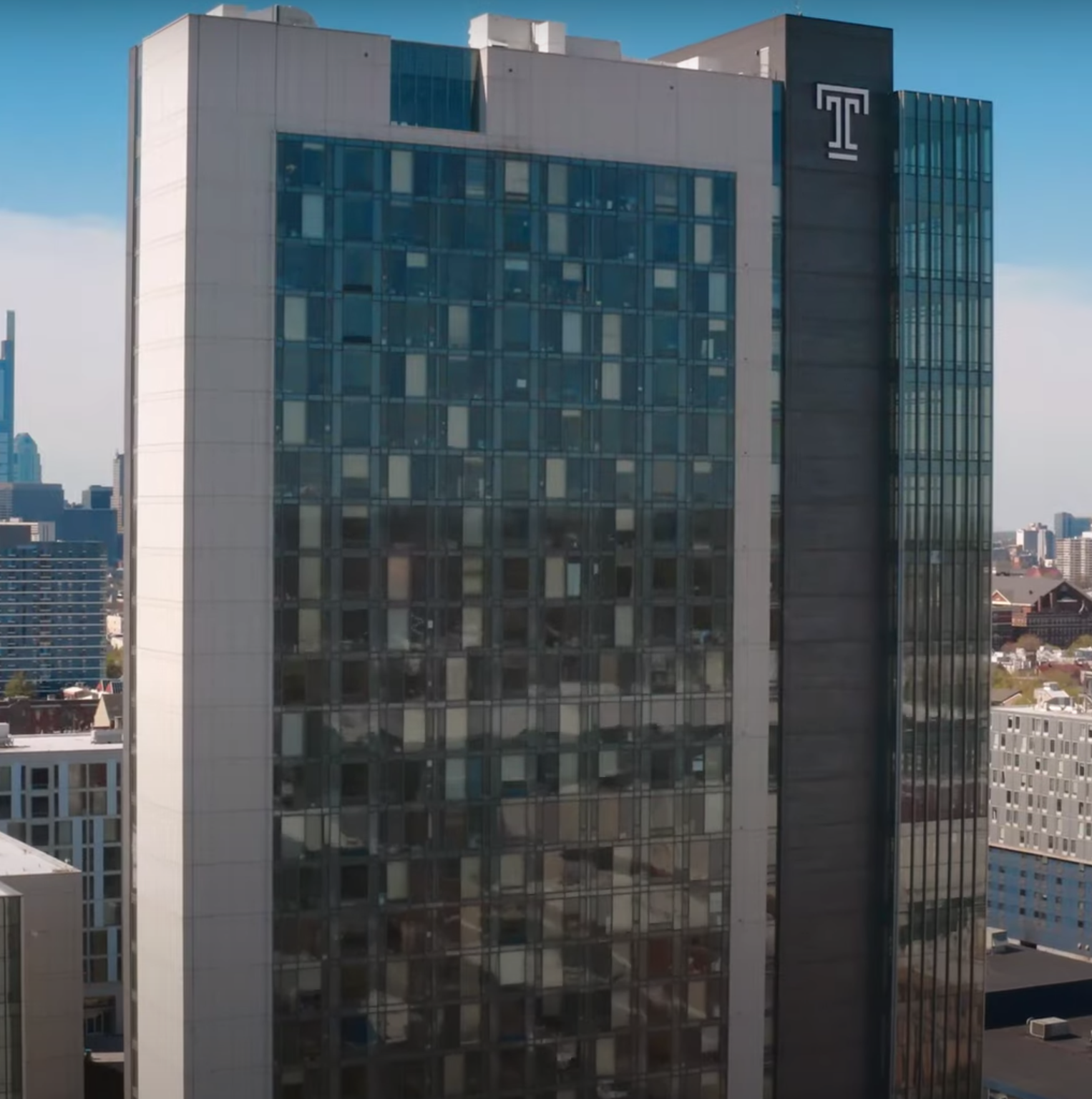 When driving towards Temple University, you will eventually notice a massive structure with the Temple logo right on the top. Students refer to this building as Morgan Hall, a 27-story resident hall completed rather recently in 2013. The project, designed by MGA Partners, a local firm, cost around $216 million. Morgan Hall houses 1,275 students and includes amenities such as an activity center for students as well as one of the campus' main dining halls. Morgan quickly became one of the go-to residence halls for incoming freshman and returning Temple students.
Standing at 312 feet tall, Morgan Hall also holds the spot for the tallest building in North Philadelphia. "I always know that I'm close to Temple when I can start to see Morgan Hall emerge in the distance," Temple junior Johnathan Lazarus said. As the highest skyscraper in the North Philadelphia area, Morgan Hall definitely lives up to its reputation as one of the most iconic buildings at Temple University.  
5. Bell Tower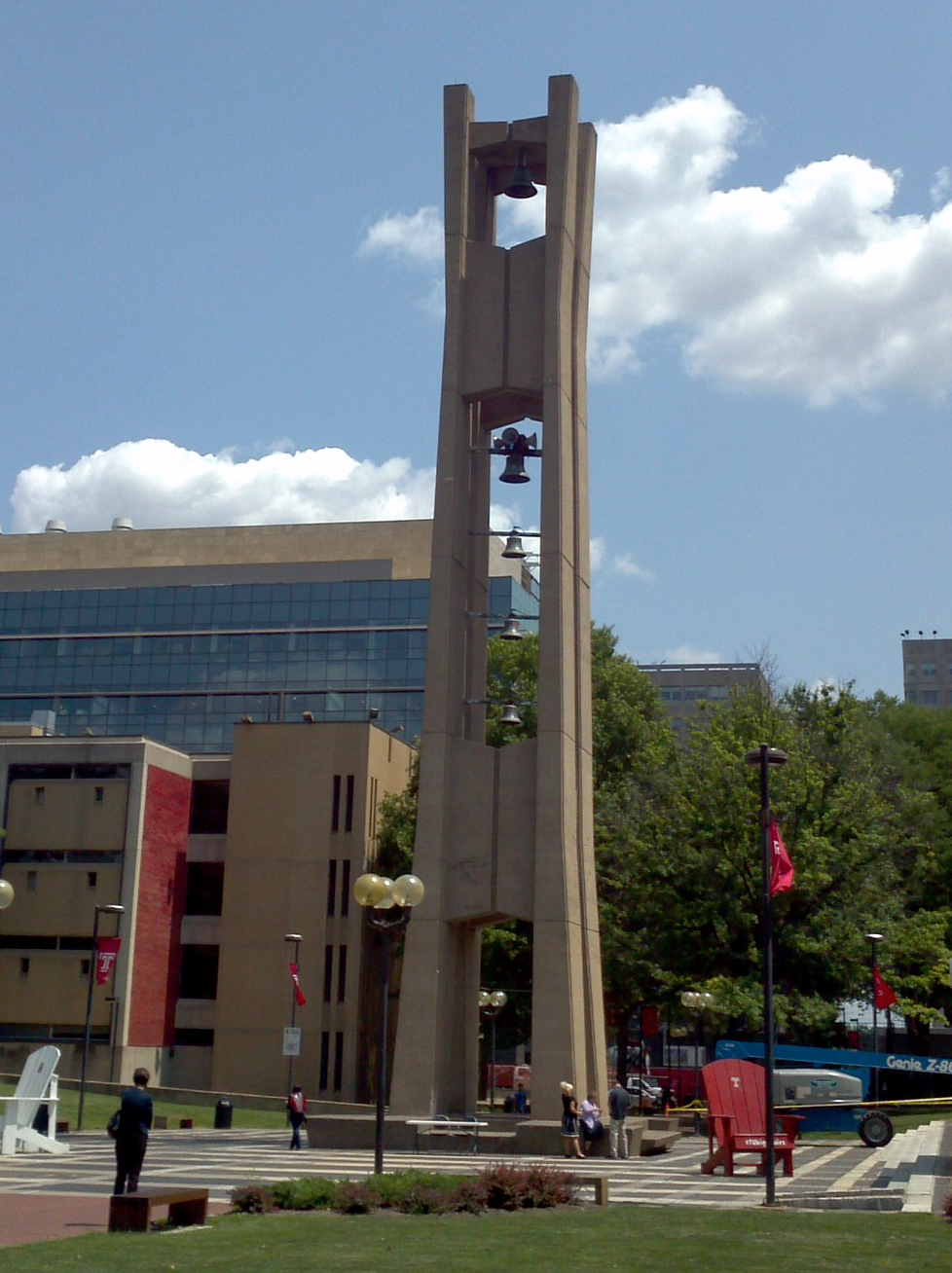 Built in 1966 as part of the Paley Library, the Bell Tower on campus stands at 100 feet tall and is located in the heart of campus. Seen as one of the most iconic aspects of Temple's campus, many alumni who visit Temple will often begin their tour with the Bell Tower. "I remember walking past the Bell Tower every single day when I was on my way to class or the library, to see it still standing today reminds me of the good old days at Temple," Temple University alumnus Stanley Calipari said.
Still an important staple of campus today, the Bell Tower acts as a common location for pop-up stands and bake sales, as well as protests against Temple University's board's decisions – such as the naming of the new founder's garden after a highly controversial individual – along with concerts and shows by various indie artists.  
6. Student Center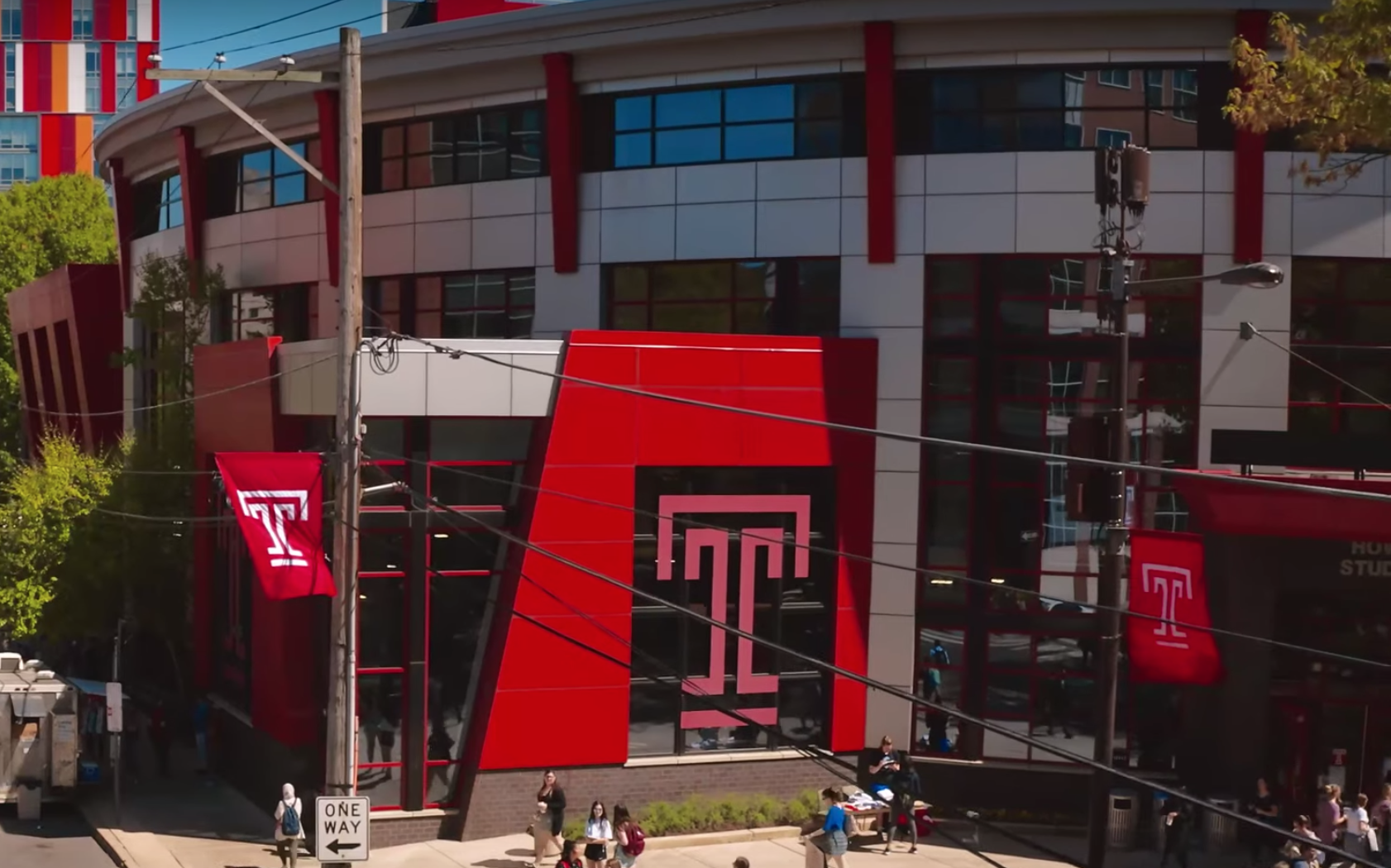 Newly renovated in 2017, The Howard Gittis Student Center gives students access to anything that they possibly may need, from a fully-stocked bookstore to a recreation room full of pool and ping pong tables. The Student Center stands right off of Broad Street allowing easy access to every student. Because of its new additions, The Student Center shows off one of the most modern looks out of all the buildings on campus. Student services are also constantly available immediately when you walk through the front doors.
"Whenever I need to know something about Temple, I always come to the help desk at the Student Center, and so far, I have yet to be let down by them," Temple University sophomore Zahir Abdullah said. Whether you're searching for somewhere to find something good to eat or simply just to hang out to pass the time with friends, the Student Center is always welcoming to all.    
7. Vantage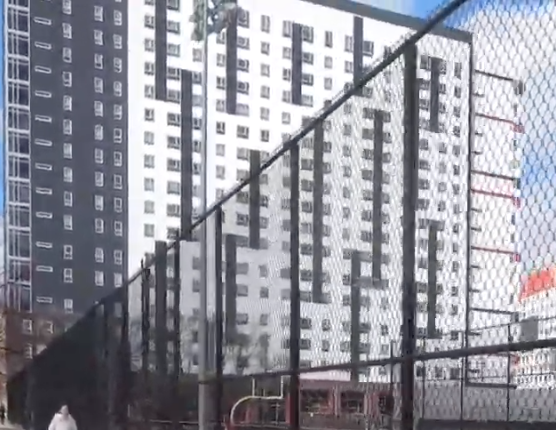 The Vantage, an even more recently built residential apartment building located on the Southeast corner of campus, stands as the most state-of-the-art residence hall. Vantage consists of two large towers – one 18 stories high, the other 12 stories – that are connected by a six-story high bridge. Vantage comes with the most useful and extravagant additions to a building out of any of the living options at Temple.
The complex consists of 368 apartments completed with multiple envious amenities including a golfing simulator where residents can practice their swing and an outdoor lounge fit with a TV and comfortable couches. Designed by The Harman Group, Vantage proves one of the most awe-inspiring pieces of architecture not only at Temple, but in all of North Philadelphia. 
8. The View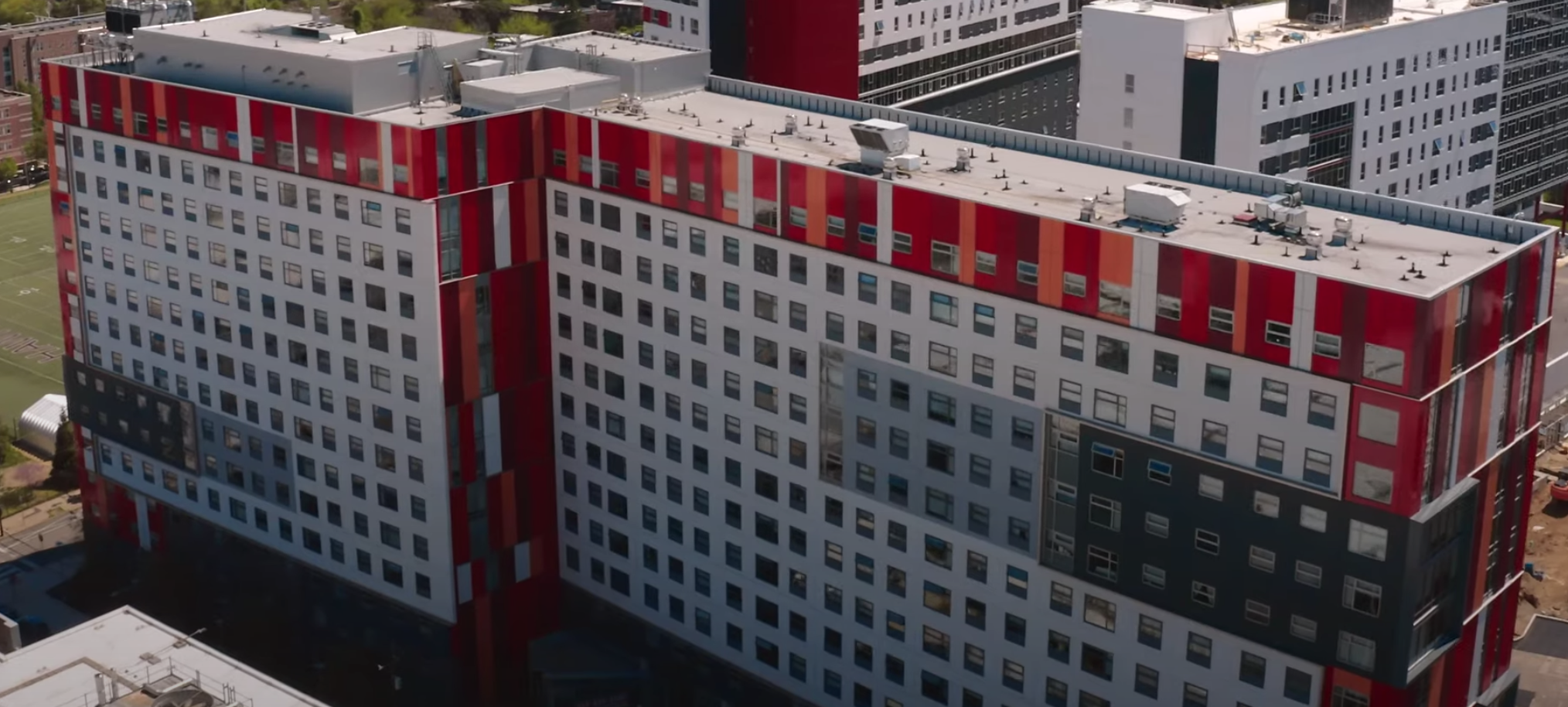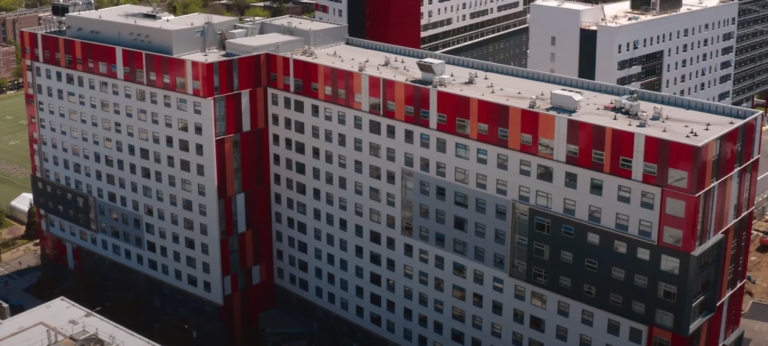 As one of the newest options for residential living near Temple's campus, The View stands out with its bright red and orange siding, noticeable from the majority of places on campus. The View comes with amenities such as free access to washing and drying machines for laundry, in addition to a top floor lounge and a flat-screen TV in every room, making it a premier living space for students. "It was awesome. An absolute all-around great experience. I'd live there again in a heartbeat. The fact that it is so close to campus made my life so much easier," Temple University graduate Lawrence Carmack said.
Right at the bottom of the building sit multiple restaurants, including well-known fast-food spots such as Chipotle and Potbelly, along with lesser-known chains that are just as delicious. As one of the most modern-looking pieces of architecture on Temple's campus, along with the fact that it provides one of the best views of the city of Philadelphia, The View will surely stick out as a campus staple for years to come. 
9. Fox School of Business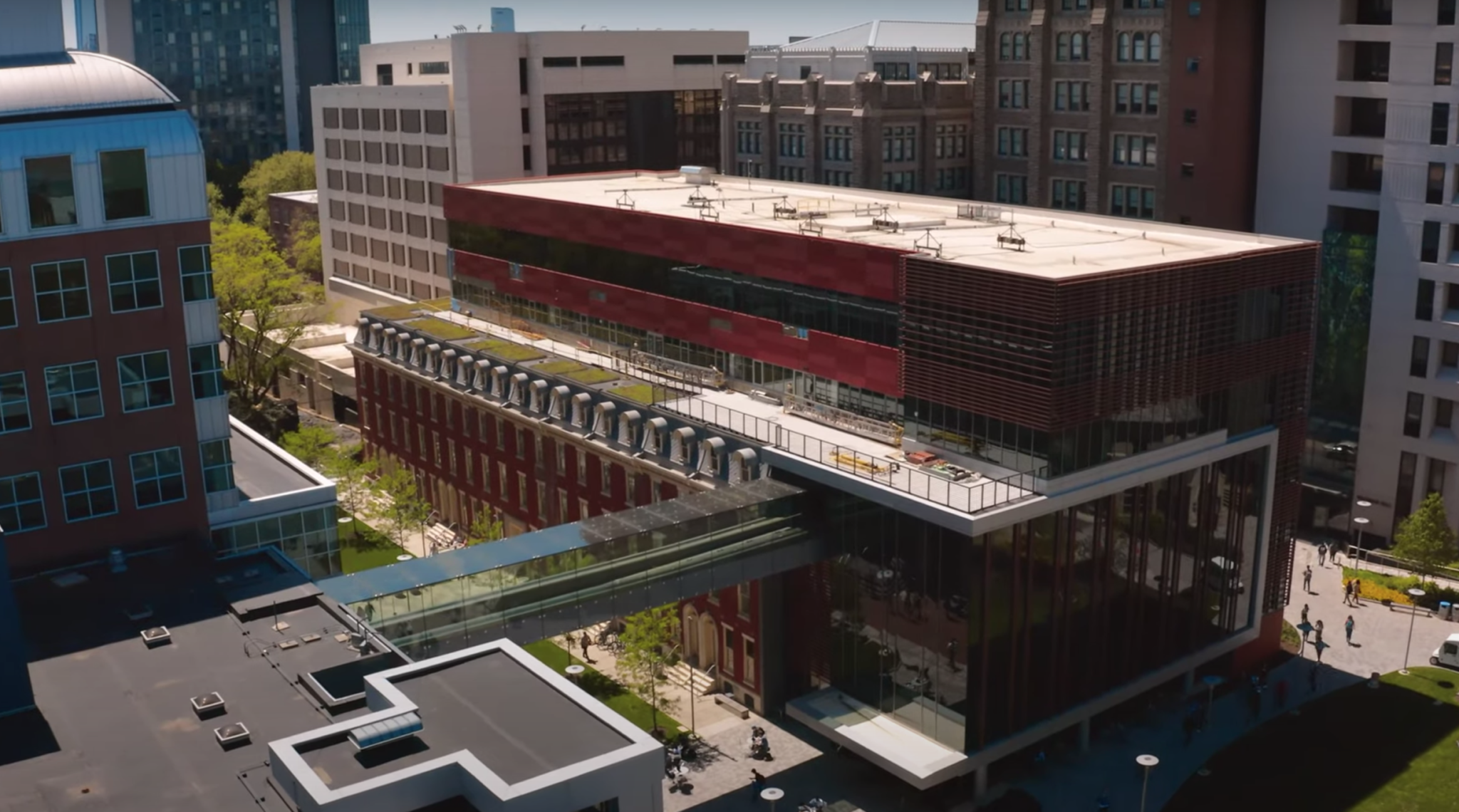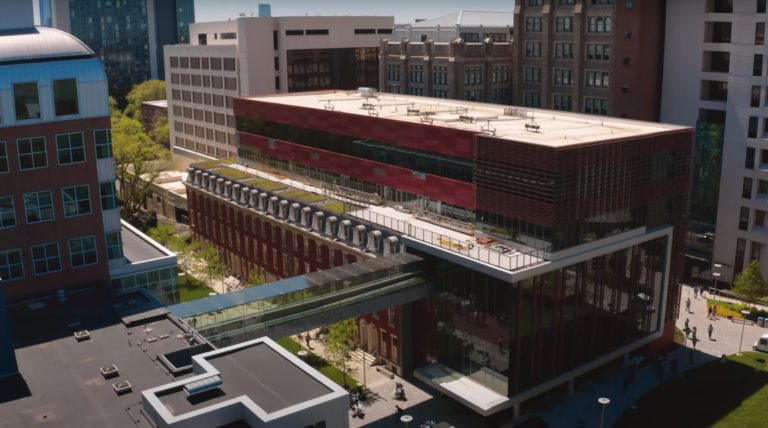 The Fox School of Business, one of the most popular schools at Temple, recently went through renovations done in order to handle the influx of upcoming business majors. The Fox School sees more undergraduates per year than any other major at Temple. "The new Fox building is actually quite beautiful, and the bridge they built with it will definitely come in handy," Temple University junior Paula Hopkins said.
The new design features a bridge between Fox's main building, Alter Hall, and the new building, located directly across the street at 1810 Liacouras Walk. Students who walk past Fox every day will have the opportunity to gaze upon the newly completed addition and stare in wonder at the futuristic design of the beautiful school. 
10. STAR Complex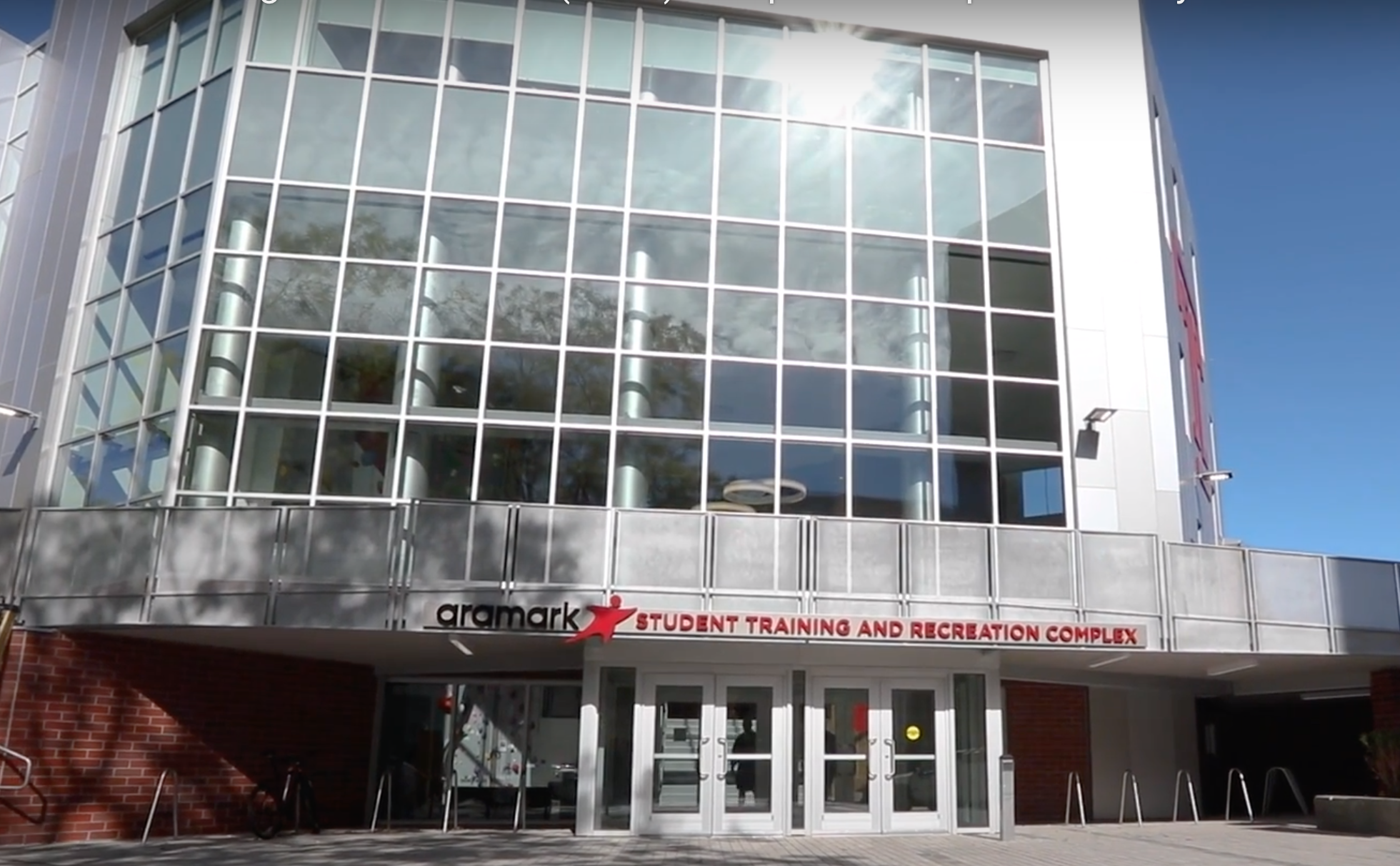 Temple recently built a new Student Training and Recreation (STAR) Complex that houses a gym, an indoor turf field, an indoor rock-climbing wall, as well as a full outdoor track. Ordinary students along with student-athletes have access to the STAR Complex for the ultimate training experience that one can get at Temple. "Temple has a bunch of gyms on campus, but this place is by far the best. I just tried the rock wall for the first time and I loved it," Temple University sophomore Bill Markham said.
There are also multiple different classrooms and lecture halls throughout the complex, allowing students to have a more hands-on learning experience and enabling the space to be used for multiple purposes. Also built by The Harmon Group, the STAR Complex includes a Jamba Juice in the lobby to help students eat healthy after an exhausting workout or study session.