As kids, we dreamed of becoming a school teacher, an astronaut or even both. I wanted to become head chef at a trendy restaurant and point my toes to perfection as a ballerina. But in my twirling fantasies, I never pictured crippling debt looming over me like a grim reaper because of my college degree. Rich or not, everyone should be able to access higher education and follow their dreams. These 10 universities not only offer education at a reasonable tuition, they also provide students with inexpensive housing options. And if off-campus living calls your name, you'll find a low cost of living around town.
Check out the 10 most affordable universities in the U.S.
10. University of North Georgia Blue Ridge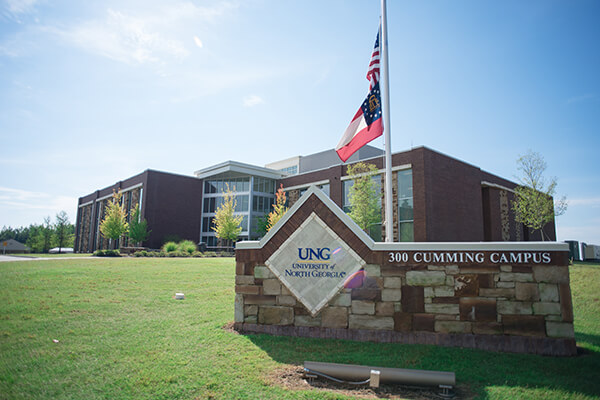 Tuition: $2,526 (in-state), $8,050 (out-of-state)
The beautiful blue mountains shrouded in early morning fog will make you eager to move to Blue Ridge, Georgia—and the view won't cost you a cent. Not to mention the added bonus of getting that sweet in-state tuition when you make the move. Another bonus? A one-bedroom apartment should only set you back around $528 a month, according to BestPlaces. UNG's financial office considers students for scholarships as soon as they submit an application. Every student automatically gets considered for three merit–based scholarships that could equal thousands of dollars towards tuition. The Academic and Leadership Scholarship goes to newly admitted students based on their high school grades and involvement. Presidential Tuition Waivers (PTW) go to only out-of-state and international students based on test scores and grades. Or a half PTW lets out-of-state students pay at the in-state rate, saving anywhere from $25,000 to $50,000. And the Honors Program Presidential Scholars gives $1,000 per year to academically qualified freshmen. All things considered, affording your stay and education in Blue Ridge, Georgia should be a piece of peach cobbler.
9. University of Arkansas-Fort Smith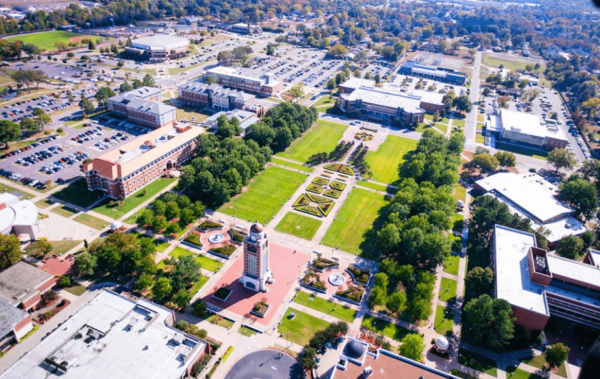 Tuition: $2,949.50 (in-state), $7,984.25 (out-of-state)
Ever consider moving to Arkansas? Me neither, but you could get a one-bedroom apartment for $494 a month in the Fort Smith metropolitan area and not share a fridge with a roommate or her four-month-old chicken–minis ever again. Once you settle in, you'll grow to love Fort Smith's charm and establish residency by getting a driver's license and signing a lease. Six months later, you'll smell the sweet smell of cash when you finally save by paying in-state tuition. Worried about tuition going up? Not at UAFS. The next round of incoming freshmen get to lock in their tuition rate for up to four years. Getting around should only cost you $35 and someone accidentally sneezing on the back of your head once a month when you purchase a Fixed Route bus pass. When it comes to free money, UAFS does it right. Incoming freshmen can apply for four different merit scholarships based on their high school performance, including Academic Distinction, Academic Excellence, Sebastian County Academic Opportunity and Academic Opportunity. They don't leave out transfer students or non-traditional students, who can also apply for scholarships at UAFS that get them one step closer to their dream careers.
8. University of Texas-Rio Grande Valley
Tuition: $3,906.56 (in-state), $8,886.56 (out-of-state)
Students basically get rewarded for wanting to take more than the 12 credit hours that qualify them as full-time students at UTRGV. "Tuition is capped at 12 hours so students enrolling in more than 12 hours are essentially getting free classes," Jael Perez, Associate Director of Financial Aid at University of Texas Rio Grande Valley said. If you live outside of Texas but want that in-state price, just abandon all ties with your current state and establish residency in Texas for a year. Your bank account will thank you when it hears you get to pay less than half as much in tuition. UTRGV students even graduate with about 50% lower than the national average of student debt, which makes sense when you consider they award $220 million in financial aid every year. The inexpensive cost of living in Rio Grande Valley will only sweeten the deal. With a 30-day student metro pass that costs $25, your commute to class will hardly break the bank.
7. Dickinson State University

Tuition: $3,383.64 (in-state), $4,773 (out-of-state)
In or out of state, this school won't slaughter your savings. And if you have a year to spare, live in Dickinson, North Dakota and save that $1,400 in tuition instead. Buy a hammock and a new pair of shoes. Hang the hammock in the living room of your one-bedroom apartment and put your feet up, sneakers and all, because for $650 you can do what you want in your apartment. Groceries and utilities cost about five percent less than the national average, but all the money you save on two liters of Diet Coke might have to go towards gas, since commuting would be the best way to get around this town. The average incoming freshman gets about $10,000 offered in financial aid, according to College Factual. Unfortunately, most of that aid comes in the form of loans, but Dickinson State also offers a long list of internal and external scholarships to cushion the blow.
6. South Texas College
Tuition: $3,770 (in-state), $4,440 (out-of-state)
In Texas, where if you try hard enough you could spend more money on food than rent in a month, the average adult spends about $300 on barbeque and chili ingredients every 30 days. They probably buy other things too. A three-bedroom apartment rents for $1,499 on average, according to Smart Asset, so split that with your two best friends and make a party mansion like the guys from Workaholics. If you don't have a Volvo to cruise around town in, the JagExpress bus service will drop you off at Sonic, no charge. Buy yourself some jalapeño poppers with your left-over financial aid, because College Factual calculates the average financial aid package for freshmen at STC totals $6,384. With 80% of that being grants and scholarships, impending student debt will be one less thing giving you anxious bubble guts. Can't say the same for the jalapeño poppers, though. If you need a little extra help paying for college after your financial aid, STC can help you out with one of their four scholarships. The Charles Robinson History Major Scholarship and T-STEM Challenge Scholarship offer $1,000 to qualifying students.
5. Minot State University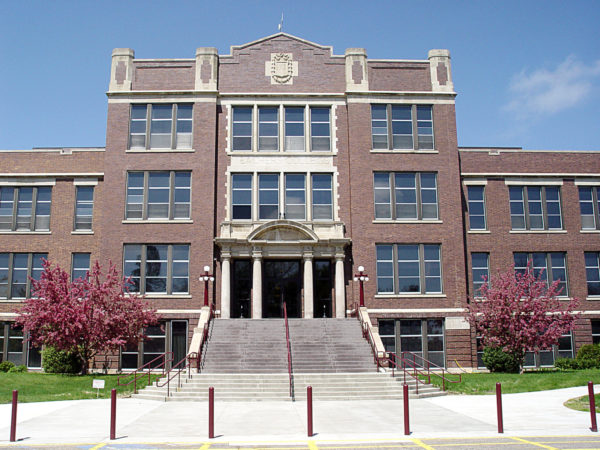 Tuition: $7,064
Minot State University loves to pay you for your academic achievements. They consider incoming freshmen for several automatic scholarships based on exceptional GPAs and test scores. "For the past few years, more than half of our graduating cohorts of students who have started and finished their degrees at Minot State have graduated without debt," Minot State University Financial Aid Director Laurie Weber said. That literally sounds like a college dream come true. "Students at Minot State receive an average annual financial aid of $7,136 per student: more than our tuition and fees," Admissions Counselor at Minot State University Kyle Patterson said. The average single bedroom apartment costs between $500-800, depending on how many roommates you tack on to the lease. To save even more, ditch the car insurance and hop on the bus; the Minot City bus service sells monthly passes for $26. You'll save money and save the planet by reducing your carbon footprint. Utilities fall below national averages in Minot, North Dakota. So go ahead and blast the heat when the temperature drops.
4. Alcorn State University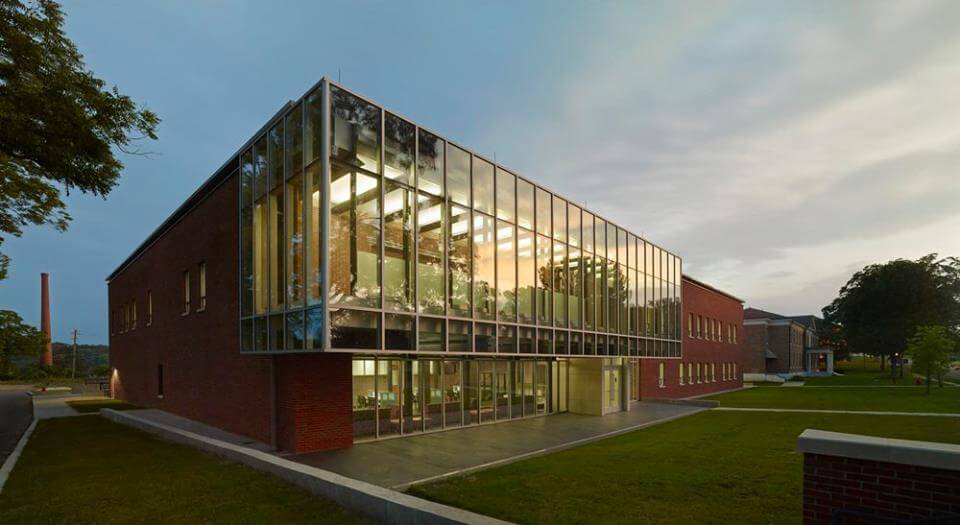 Tuition: $3,542
Celebrate black excellence at this top-ranked HBCU. Alcorn State University offers extremely low tuition rates for in and out-of-state students alike. This, coupled with a cheaper cost of living than the average American city, makes Alcorn, Mississippi quite an affordable place to move for college. Studio apartments rent for $450 a month. Or you could pay a little less and live with your best friend until you find out she never remembers to flush the toilet. Getting your own place won't cost much more. If you have at least a 3.0 GPA, prepare to get $200-1,500 per semester when you apply to one of their three academic scholarships. Or submit an application to five of their 130+ ASU Foundation Scholarships and really get some money, like the Jack Spinks Scholarship for C students with school spirit or the Ernest Regan Scholarship for business students with a 3.5 or above. It might be a little overwhelming when you scroll down the page and see the list just keeps going. But it's worth it to take your time and see which five you're most qualified to win.
3. Eastern New Mexico University
Tuition: $3,103.32 (in-state), $4,063.92 (out-of-state)
Freshmen, transfer students, residents of New Mexico or not, Eastern New Mexico University offers scholarship applications for all. With up to $12,000 for out-of-state or more than $33,000 for in-state freshman over four years at ENMU, your scholarship money will give student debt the middle finger and then take you out for lunch. The Green and Silver Presidential Scholarship pays for everything: tuition, residence hall, all those pesky fees. Then it tips you $500 a semester for books. Out-of-state freshmen with a 30+ ACT or 1380+ SAT score can get $3,000 a year, every year with the Freshman Academic Scholarship.ENMU even offers grants and scholarships to graduate and non-traditional students. With all that, you still get a quality education from faculty and staff that care."I chose the university because they really care about their students and really wanted me to succeed," ENMU senior Jordyn Roberts said. "The classes are close to, at most, 20 students, so there is lots of hands-on teaching." That means no chance of flunking that calculus class and paying for it again.
2. Bemidji State University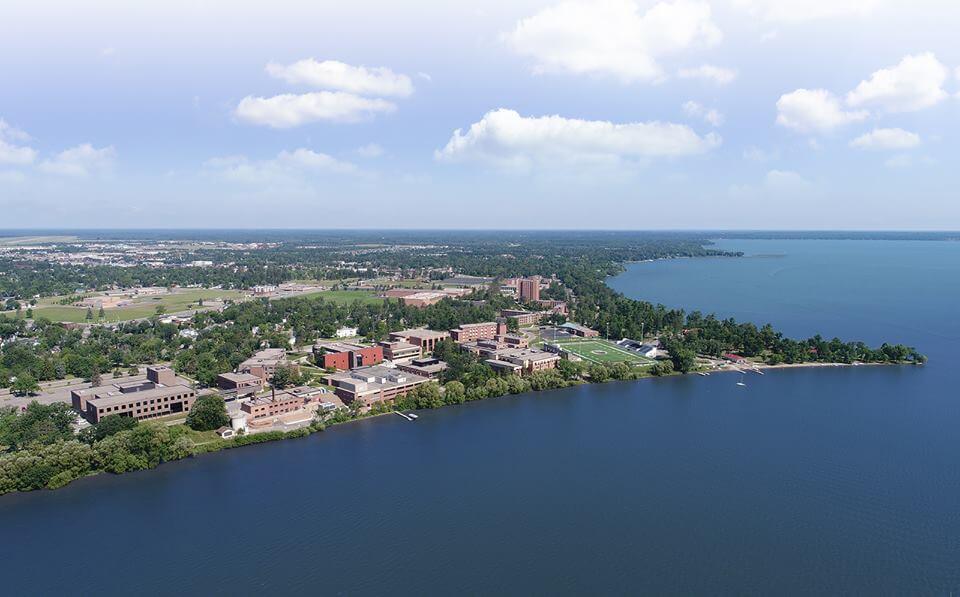 Tuition: $3,815
Go to a university that brags about how much money they give back to students every year. BSU gives almost $2.3 million in scholarships and $800,000 in Work Study every year. And in Bemidji, Minnesota living hovers below Minnesota and national average for groceries, utilities and most noticeably, housing. A four-bedroom apartment rents for $1,018 on average, according to Best Places. "The campus at BSU is more affordable than larger metropolitan areas and I feel safe here also," BSU alum Jennifer Bamberger said. If you need a bike to commute with, rent one from Bucky's Nice Ride for $40 a semester or $20 if you bring it back on time. "The campus is alongside beautiful Lake Bemidji. In the summer, students can rent bikes, sailboats, paddleboards and all the camping gear you could ever want for next to nothing," Bamberger said. Twenty bucks plus the occasional uber ride will keep your transportation costs low and your thigh muscles looking ripped and kind of intimidating.
1. Berea College
Tuition: $0 out of pocket
You can't scroll down the Berea College home page without hearing about its No-Tuition Promise. Berea and its community commit themselves to make sure every student graduates with zero student debt, saving over $155,000. These generous donations from the Berea network only cover tuition, but several grants and scholarships exist to cover the remaining expenses after the No-Tuition Promise Scholarship works its magic. "It really is guaranteed for all admitted students," a representative from the Berea College Financial Aid Office said. "There's no conditions under which a student at Berea wouldn't receive the scholarship." Additional support like the Federal Supplemental Education Opportunity grant and the Kentucky CAP grant can supplement the remaining costs of attendance. You can keep riding the free-train, also known as the BC Express, if you want to visit near-by-but-too-far-to-walk destinations, like Office Depot or the next town over. The cost of living in Kentucky won't make you nervously check your banking app every time you swipe your debit card because both groceries and utilities fall at least seven percent lower than the U.S. average. And you can score a one-bedroom apartment for less than $700 off-campus.