University of Iowa College Guide
The Vibe:
Big 10 Twist
What it Feels Like to Go Here: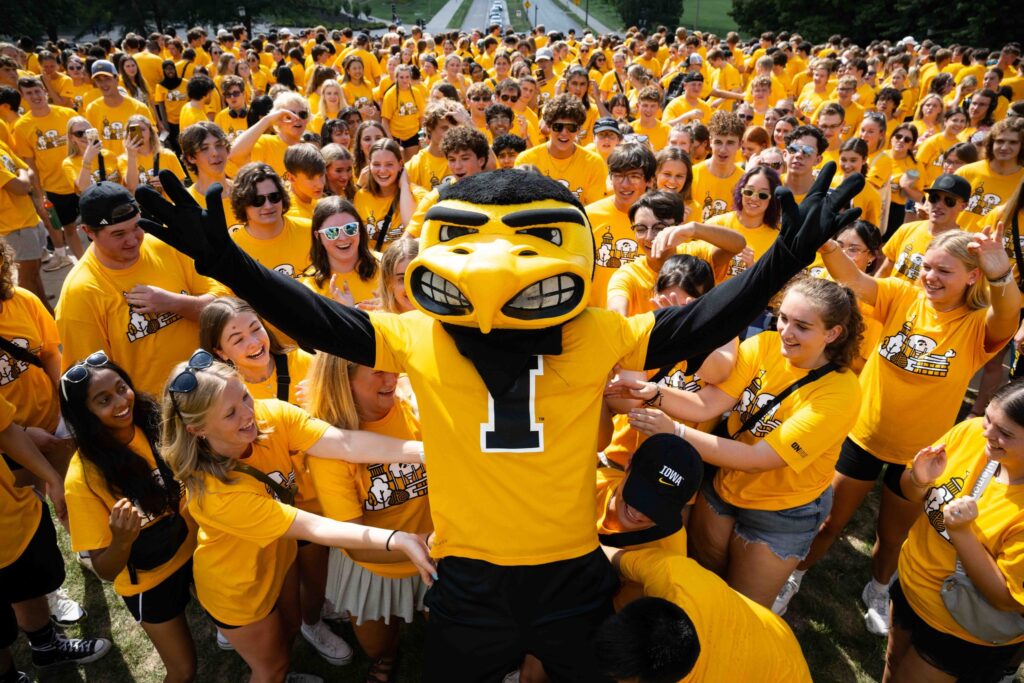 When you walk across the Cleary Walkway past the Brain Rock and gaze out at the Old Capitol Building, you'll notice the eclectic vibe of the University of Iowa. No two buildings look exactly alike, and every student's experience can vastly differ. It is a Big 10 school with a great party scene but also offers competitive classes and coursework that can prove difficult and prepare you to enter the workforce. The benefit of encompassing everything is that UIowa will suit the tastes of various students. From business majors to artsy writers to sorority and fraternity goers, every student comes to UIowa for their own thing. The town of Iowa City itself feels like a mash of city, college campus and suburban town. No matter your major or your interests, UIowa will leave you feeling like you've tasted every flavor you could find at college.
Awesome Alumni: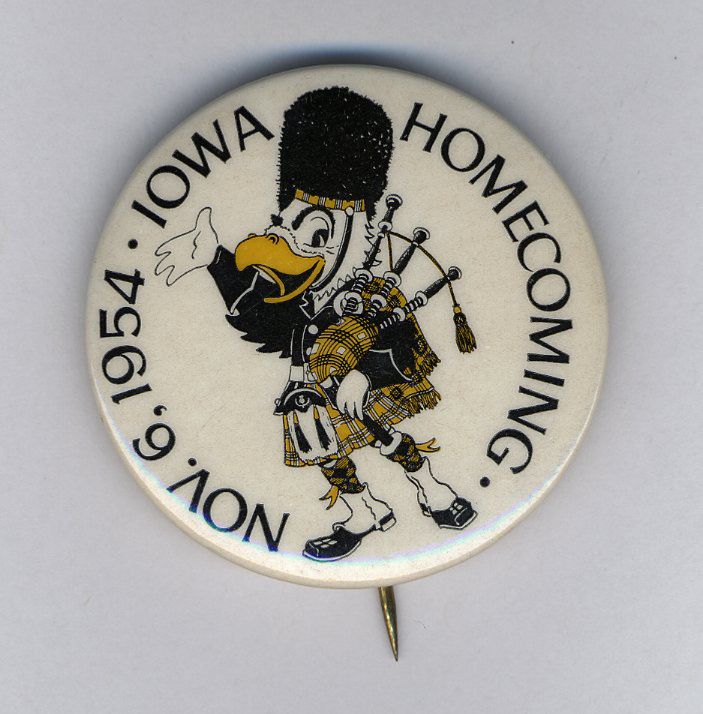 Don't think of this as wonky, but there's a plethora of actors and artists that attended the University of Iowa, including Gene Wilder (known for playing Willy Wonka). Other actors include Ashton Kutcher and Mary Beth Hurt. UIowa also has a deep history of cultivating writing talents. Flannery O'Connor is a famous alumnus who won the National Book Award for Fiction in 1972. Pulitzer Prize-winning Marilynne Robinson also attended the University of Iowa. It's not only artists who have attended the University of Iowa, however. If New England Patriots fans need another reason to come to UIowa, Andre Tippett is another famous alumni.
Where We Hang: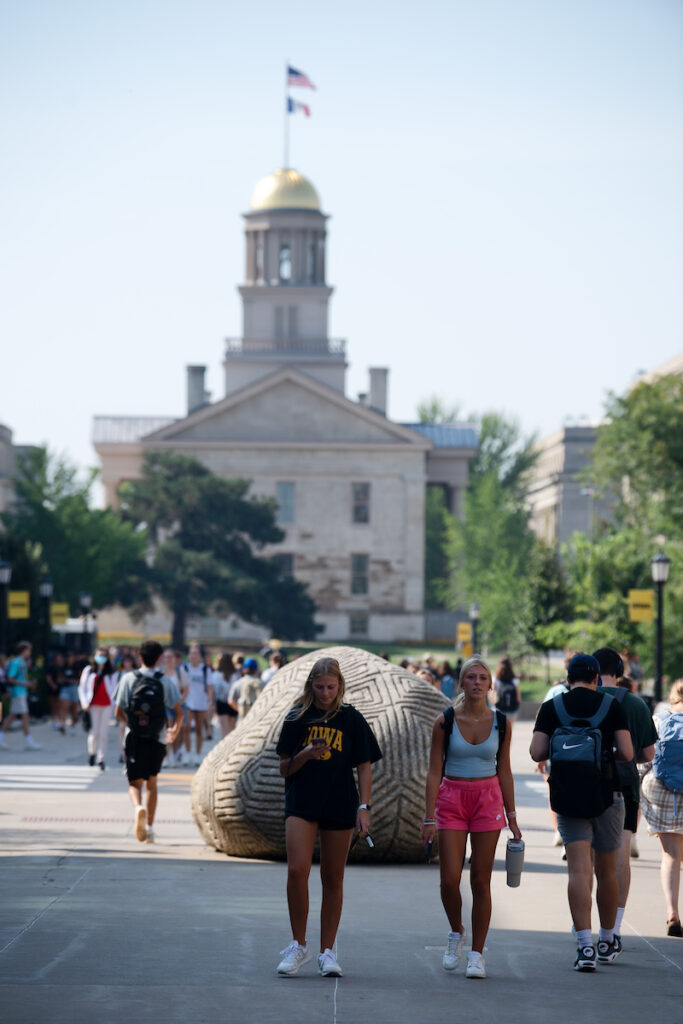 With so many writers on the University of Iowa campus, there are a lot of calm, studious places to hang out and work. The libraries are incredibly popular for studying or taking a break— both the university's Main Library and the Iowa City Public Library. Coffee Shops like High Ground (now known as Coffee Emporium), Java House, Nodo, and more are also popular study spots. Prairie Lights is the perfect bookstore to go to for coursebooks or just to browse. Most students go shopping at the downtown Target and then walk down the street to Ragstock to browse the clothes. You'll discover plenty of restaurants and bars to choose from, enough for their own lists. For a sweet treat, Yotopia is a popular frozen yogurt place, and rival boba shops Teamo Tea and La Tea offer delicious beverage options.
Q&A:
1. How much are students partying?
"While the students were serious about their studies, they also needed to blow steam, and they did it by partying— creating and attending," University of Iowa alumni Neel Kumar said.
If you're not a partier, don't fret— there's so much to do at the University of Iowa and many groups of people that don't go out to party. However, if you are interested, there is ample opportunity to party and many invented reasons to celebrate.
2. What are the best dorms at the University of Iowa?
"All of the dorms have their perks… I lived on the East side, and I thought it was convenient to have two dining halls so close to my dorm. I had friends on the West side that never complained, but I noticed they had to use the bus a lot," University of Iowa senior Maria Trillo said.
Dorm debates about the East and West sides are common across campus, but there's no reason to worry. While the East Side does have more general class buildings and access to downtown Iowa City, there's no going wrong with either side of the Iowa River, as everything is relatively close. Mayflower, the suite dorm, is the furthest from campus, so it is the only one that is only recommended for those with particular interests.
3. Do people actually go to football games?
"Don't even get me started with how amazing the football games are. [Even] if I wasn't in the marching band, I'd still go to all of them," University of Iowa alumni Kathleen Donnelly said.
Yes! Iowa isn't in the Big 10 for nothing— students don't just flock to the football games, but also to wrestling and basketball (mainly women's basketball). Dorms and local businesses will celebrate the sports season, and you'll find plenty of students willing to sell you tickets.
4. How much sex are students having? How is safe sex encouraged on campus?
"You are here to get an education, not get laid. Education comes first," University of Iowa alumni Gary Salisbury said.
Tinder certainly does well around the University of Iowa area. Students have about as much sex at the University of Iowa as they do on most campuses. If you aren't interested, you'll feel no need to couple up, and vice versa. Each college dorm floor has a box of condoms outside of the RA's dorm, so there's no excuse for freshmen to go unprotected. However, students generally understand college's goal is more than meeting people.
5. What would you tell incoming freshmen about the University of Iowa?
"Most of all, don't stress. U of I is a great school, and Iowa City a fun and unique place to be in. People are friendly and helpful, and you will be fine," University of Iowa alumni AJ Melvin said.
UIowa provides a lot of resources that can help make the college transition smoother. The best way to take advantage of this is to get involved! There's a Student Organization fair that you can go to so you can find the perfect club to join, and there's also a variety of events throughout the year. Take advantage of being in the dorms and talk to your neighbors.
5 Student Reviews:
"I enjoyed my time at the University of Iowa. I wish I took advantage of more opportunities during my time there. There are plenty of ways for you to get involved on campus and make your mark. I will say, unfortunately, there is a lack of diversity on campus, and that can sometimes get to you; however, I believe by the time I was graduated, the school was taking more of an initiative to make the campus more inclusive," Univerisity of Iowa graduate Kierra Lewis said.
"I was a direct admit into the Tippie College of Business, which was a blessing. The amount of people that I met throughout college reshaped the person I am today. I am still in contact with many people who attended the business school, which has opened doors in my career thus far," University of Iowa graduate Lauren Nitchoff said.
"I really enjoyed my time getting my bachelor's in journalism at the University of Iowa. The program has well-rounded course work that prepares you for a career immediately upon completion. From taking courses in the history, ethics and laws associated with journalism to learning about video editing extensively, students are able to work in a variety of fields within the discipline," University of Iowa graduate Sandra Grzybowski said.
"Professors are very accessible and willing to offer support. The department is interested in your success as a student, and it shows," University of Iowa graduate Mo Payne said.
"The University of Iowa is a great school, where you are expected to perform to the best of your ability but are also supported by faculty. It is a good environment where our futures as dentists are nurtured. Some classes do seem to take up excessive amounts of time, however," University of Iowa graduate Blake Schany said.
Top 3 Majors:
Business
Nursing
English & Creative Writing
Top 3 Student Organizations:
1. Dance Marathon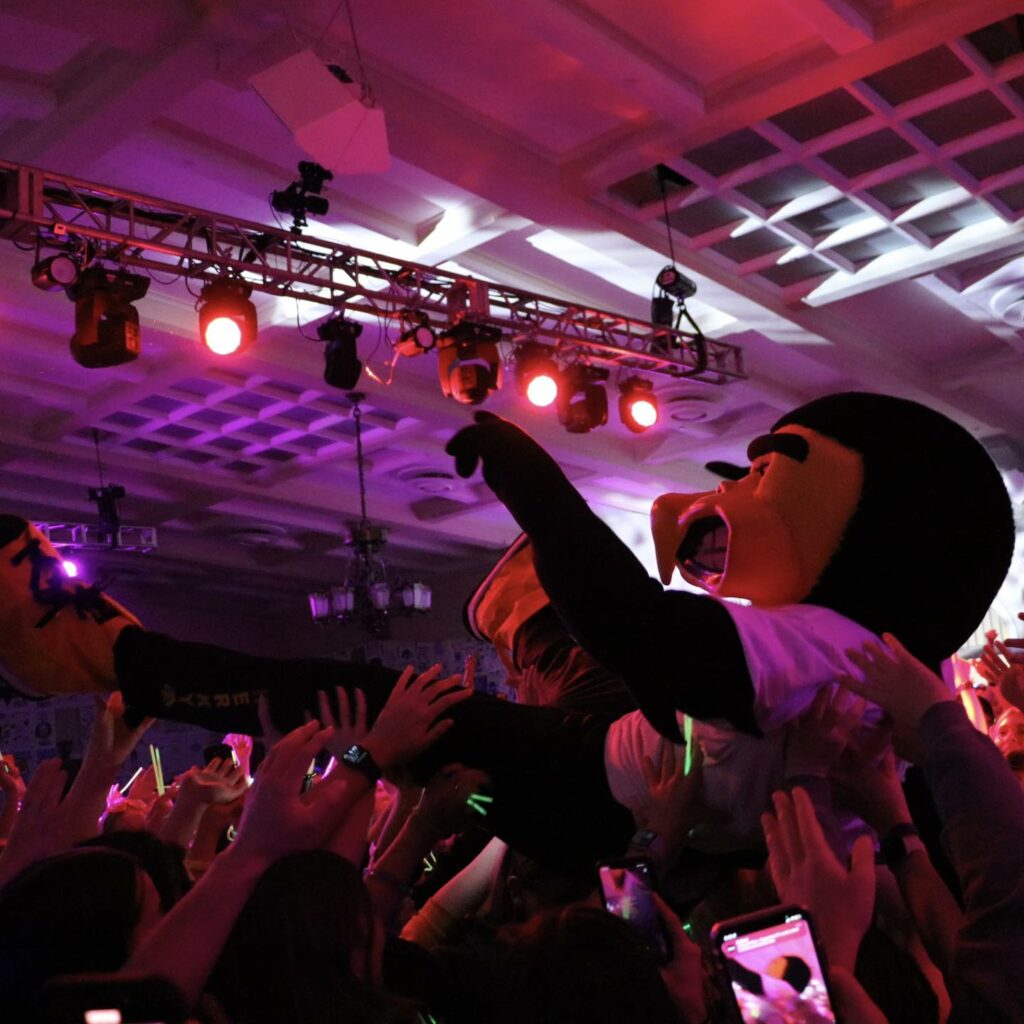 Everyone on campus knows when Dance Marathon is going on. It takes place in the IMU and draws plenty of volunteers and viewers. You can sign up at the beginning of the year.
"With fundraising efforts this year, emotional and financial support will continue to be given for pediatric oncology and bone marrow transplant patients and their families treated at [the] University of Iowa Stead Family Children's Hospital." Sarah Schminke, Dance Marathon 28 Public Relations Director, said.
They have raised millions of dollars for the University of Iowa Stead Family Children's Hospital through their 24-hour dance event. Dancers sign up to dance for 24 hours— with no caffeine breaks.
2. Campus Activities Board (CAB)
The CAB plans weekly activities to help you meet people and get out of the dorms. You can look into their meetings or just stay on the lookout for their events.
"CAB aims to provide an alcohol-alternative and safe space for students and community members through collaborative, accessible, sustainable and engaging events. Our organization furthermore provides our members with professional development and leadership opportunities." Kate Warfield, Executive Director, read.
They host a variety of fun activities that help students get to know each other better, and often host events close by the dorms for first-year students.
3. Hawks Nest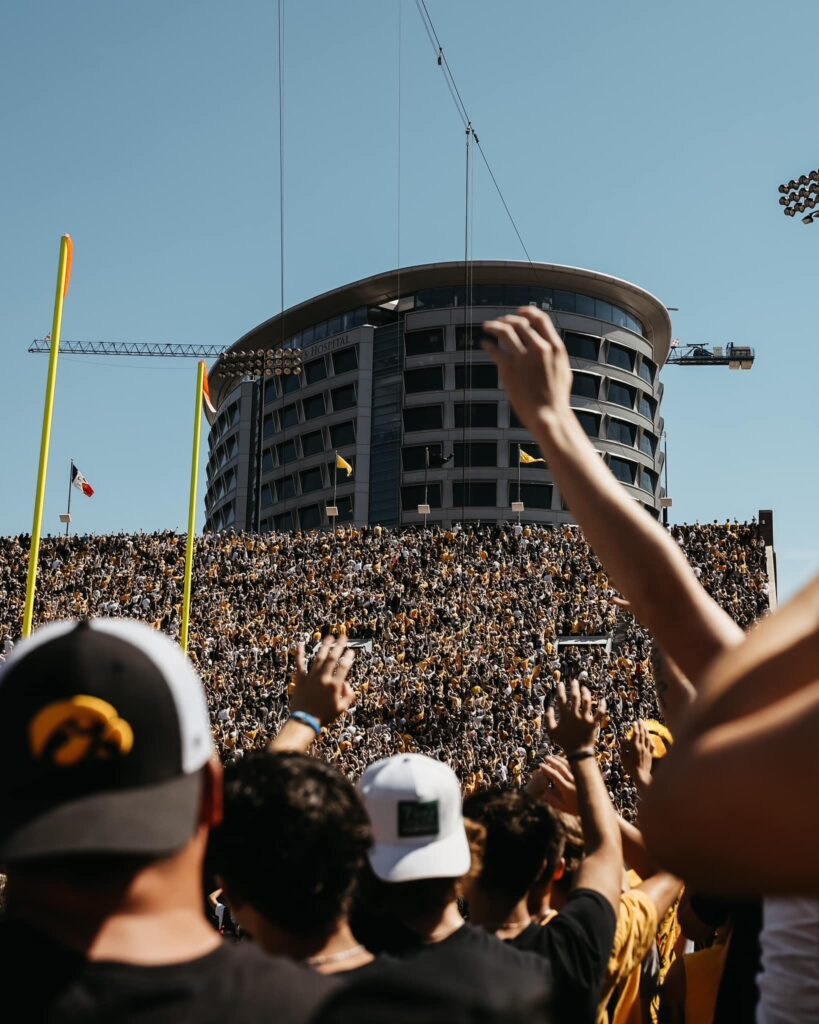 The Hawks Nest is impossible to miss while you're in Kinnick Stadium. They plan out cheers and outfits for the students' section of football games, as well as support the Hawkeye Marching Band. The students' section is in the back of the stadium, and the Hawks Nest makes sure to hype the crowd up so fans can support their team loudly and proudly.
"I appreciate you all for watching… follow the CFB Nation for more information regarding your Hawkeyes and all your college football news. As always, go Hawks!" Hawks Nest podcast host Dennis Nowell said.
This especially helps Hawkeye football traditions, like the first quarter wave at the Stead Family Children's Hospital. Hawks Nests organizes that and connects them to the school football scene, such as with the Hawks Nest podcast that talks through upcoming games.
Getting in:
The University of Iowa has amazing programs in various fields, but luckily is not the most competitive school to get into. While they have an SAT acceptance average between 1130 and 1340, they are test-optional and accommodating to a variety of students. Giving a little extra care to your college essay should help you to get in, especially in the English and creative writing majors.
Stats
Location: Iowa City, IA
Tuition & Fees:
$10,964 in state
$32,927 out of state
Total Cost on Campus:
$28,846 in state
$50,809 out of state
Undergrads Enrolled:
21,973 (Fall 2022)
Grads Enrolled:
6,156 (Fall 2022)
Total Enrolled:
30,015 (Fall 2022)
Acceptance percentage:
83%
Percent Admitted who Enroll:
23%
Percentage of Male Students:
45%
Percentage of Female Students:
55%
Percentage Receiving Financial Aid:
83%
Percentage Receiving Federal Grants:
28%
Percentage Receiving Federal Loans:
43%