Pride got celebrated all over the world this June past for the first time in two years. The world overflowed with rainbow floats, glitter and drag shows from morning to night, a cry of triumph in the face of homophobic haters. For the first time on a broad scale, LGBTQ+ characters find themselves coming out of their closets! Gay characters no longer get shunned but given a stage to perform. Queer people everywhere can see themselves on the screen, although representation of LGBTQ+ and other minority characters in the media could definitely get better. Now, yes, Pride month ended…. but who says pride belongs in just one month?
So, here is a list of the top ten queer couples in television. Because what better way to celebrate year-long pride than talking about queer love?
10. Nick Nelson and Charlie Spring, Heartstopper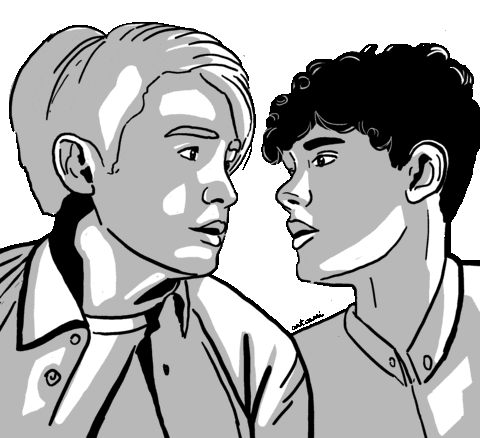 By now, I'm sure most college-aged people saw the show Heartstopper. Every gay man envies this adorable love story. It feels impossible not to root for Charlie, a loveable nerd, as he fawns over Nick Nelson, the seemingly-straight jock. The whole "coming-out" aspect of being queer usually drowns out any other message in queer shows, but this show tends to focus more on the actual love story.
"A significant number of the main characters identify as queer, so it is refreshing to see a show that didn't have a 'coming-out' story as the entire focus," Drake University junior Grace Brunner said. "Charlie shows us exactly what it feels like to have a crush on someone who seems like they will never be able to love us in the same way back."
The big question, ("Does he love me or not?") drives the show's drama, giving the story dimension and relatability. These high school lovebirds provide great gay representation, but they also make for the perfect example of a healthy relationship. Nick dotes over Charlie and Charlie falls head over heels for Nick. The cute moments they share (like when Nick draws a smiley face on Charlie's hand) will for sure make you cry. And that's a promise.
9. Fabiola and Eve, Never Have I Ever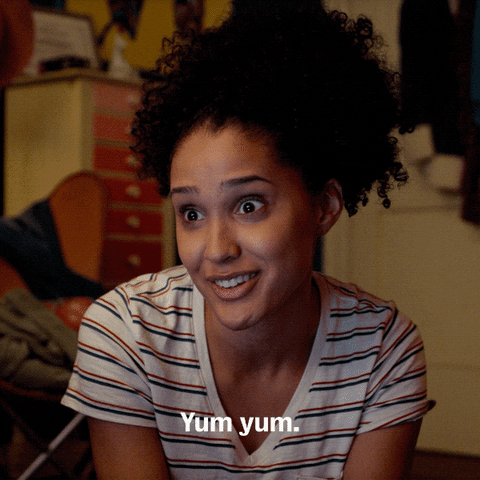 Ok, but this relationship just does not get talked about enough. Never Have I Ever, the hilarious comedy produced by Office Alum Mindy Kaling, follows the teenage dramas of main character Devi Vishwakumar. Fabiola, her introverted computer-nerd bestie, comes to terms with her sexuality throughout the first season… and audiences will struggle not to blush when they see her getting flustered over the popular-resident-lesbian, Eve. Fabiola's high-tech intelligence paired with her adorable shyness perfectly complements Eve's outgoing personality. Who doesn't like an "opposites attract" love story?
8. Juliette Fairmont and Calliope Burns, First Kill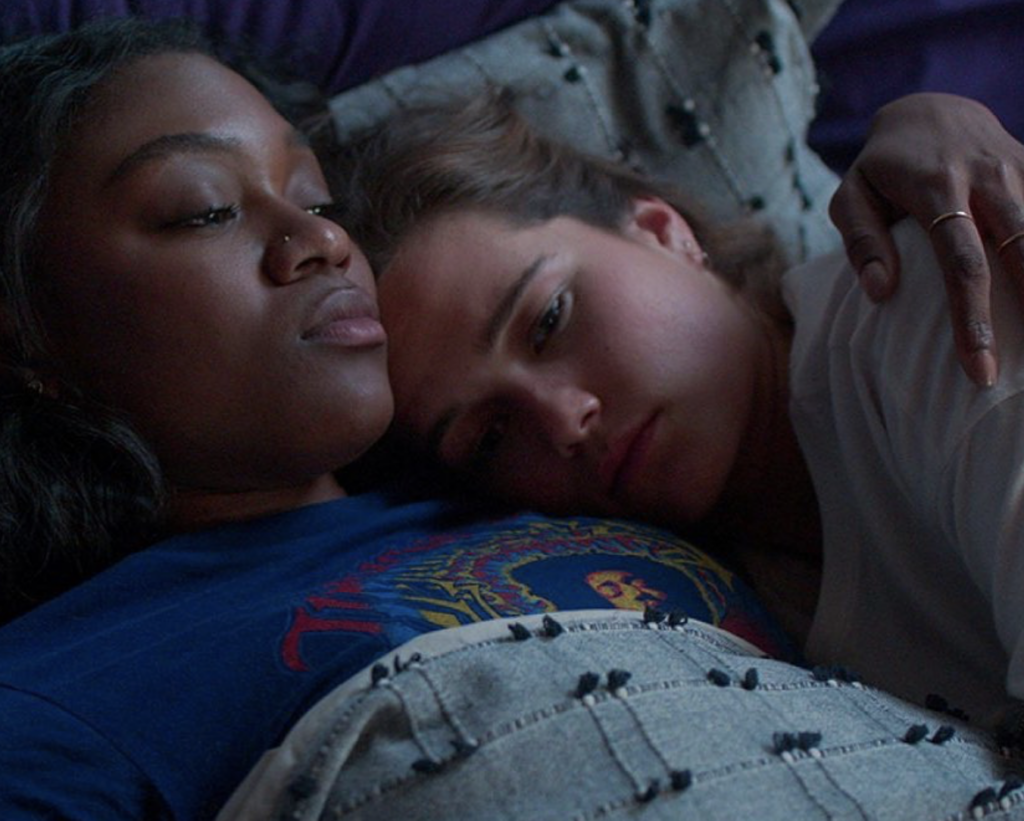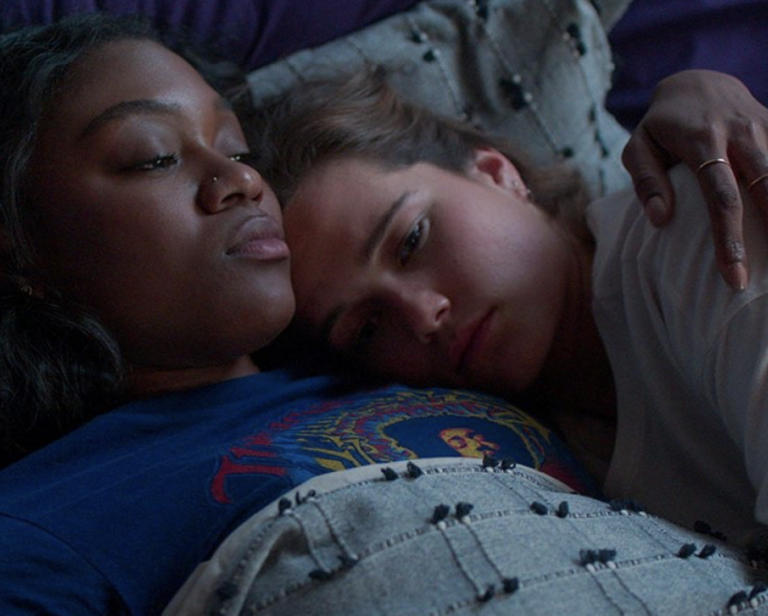 First Kill, produced by Emma Roberts and written by YA novelist Victoria Schwab, boasts the title of the first vampire lesbian teenage love story to grace the screens— and we couldn't ask for a juicier drama. The show might seem cheesy, but in the best way. Following the story of teenage vampire Juliette Fairmont, the show cleverly weaves sexuality into the narrative. Juliette feels ashamed of her vampire heritage and terrified of accepting this aspect of her. She takes pills that reduce her power, as well as any "vampire craving." Ultimately, her inability to repress herself causes her to turn her desires towards Calliope Burns.
Unknown to Juliette, Calliope comes from an ancient line of monster hunters. Immediately identifying Juliette as a secret vampire, Calliope begins her quest of assassination. The tension builds between the girls on numerous levels—yet they feel themselves being pulled to one another. The drama of the show makes the relationship captivating and you won't want to look away from the screen once you find yourself invested in their love story.
7. Harley Quinn and Poison Ivy, Harley Quinn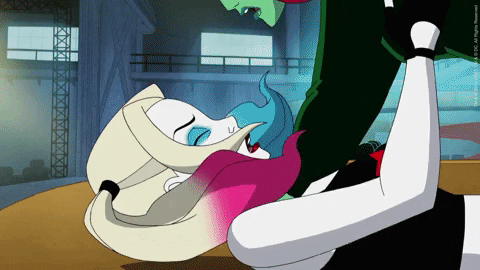 Harley Quinn and the Joker, once the quintessential villain couple, fell out of grace with society. A cringey phase, but everyone remembers the fact that a few years ago, everyone lost their minds over the abusive couple. The animated series Harley Quinn, proves that Joker and Harley aren't end game. They certainly shouldn't be envied. In the show, Harley Quinn feels smitten with the Joker— a man who frequently abandons her, neglects her and puts her in physical harm. While convinced her abuser loves her, Harley's bestie (and absolute baddie) Poison Ivy proves that the Joker does not want the best for Harley.
Over the show's two season run, the friendship between the two women grows. Sexual tension begins building as Harley grows jealous of Ivy's boyfriend and Ivy obsesses over Harley. They're meant for each other — but they don't realize that until the end of season two, creating a powerful "will they-won't they" dynamic. Ivy grounds herself, and she always thinks things through. Harley is the charismatic and impulsive anti-hero, and she's kinda out–of pocket. Their contradictions complement one another, making them a perfect couple. And we love to see a non-toxic lesbian villain couple ready to take on the world (and looking hot as f-ck doing it.)
6. Ian Gallagher and Mickey Milkovich, Shameless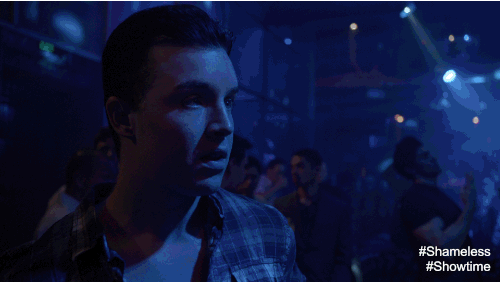 This one appears on many other lists…but how could we ignore it? Shameless, the hit show, follows the misadventures of the Gallagher family on the south side of Chicago. Ian Gallagher, at the start of the show, plays a young kid coming to terms with his sexuality in an environment where heterosexuality is mandatory. Mickey Milkovich, on his own journey of acceptance in a place unaccepting of him, embraces a life of crime. The two characters clash at first, often violently. Ultimately, these alterations lead the characters into exploring their sexualities. At times, the relationship grows toxic—but mostly as a result of their environment.
"Ian and Mickey show us what it feels like to grow up in an extremely closed-minded family and overcome internalized homophobia,." Brunner said. "They learned to accept each other and themselves regardless of what anyone else thought."
Watching their romance transform is what makes this love story interesting. These are two very different characters who survive the same type of situations. The audience watches them grow together and apart, transforming into becoming the version of themselves who learned to accept themselves. It''s honestly the cutest thing I've ever seen. Plus, who doesn't want a hot ex-con boyfriend? (I'm kidding…. Unless??)
5. Daphne and Velma, Scooby Doo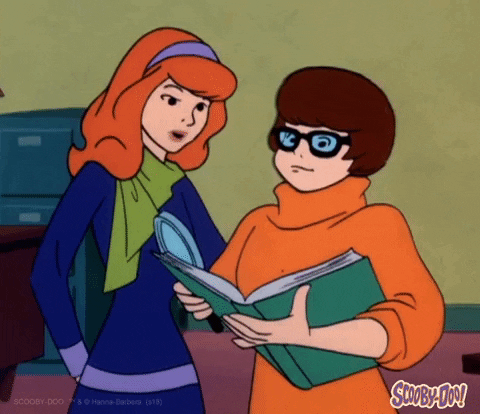 Ok, so this love story isn't canon, but come on! Even the original show creators said Velma and Daphne were queer-coded and the director of the 2002 live action movie, James Gunn, claims that in the original script, Velma was written as a lesbian. Unfortunately, due to the climate at the time, the writers were forced to change Velma's sexuality for the final draft of the script. There's also plenty of evidence in the animated films to support their attraction to one another. In the film Scooby Doo and Zombie Island, Velma experiences a case of levitation.
Awkwardly, she covers her skirt with her hands. "This just keeps getting better and better!" Daphne exclaims. "Maybe from where you're standing," Velma retorts, blushing. They make for the perfect boyish-bookworm and lipstick lesbian couple, and I hope in the future we get an on-screen confirmation of their love.
4. Marceline and Princess Bubblegum, Adventuretime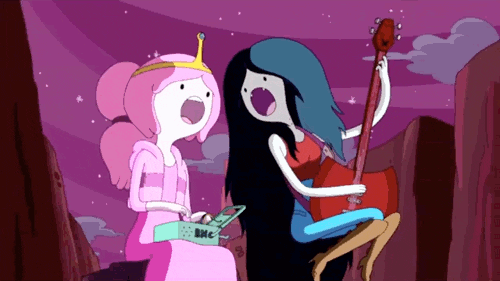 Yeah, I know. This couple probably makes every top ten queer couples list— and for good reason. Marceline, the vampire queen, lived for nearly an eternity. While maintaining a tough exterior, she's a softy at heart. Throughout the show, we see her taking care of people who need help: Finn, The Ice King and of course, Princess Bubblegum. Princess Bubblegum also existed for ages and as a result, saw a thing or two. She appears innocent, wrapped in bubblegum and leading the Candy Kingdom, but she holds dark secrets, regret and traumas all of her own.
The remarkable bonding we see between Marceline and Princess Bubblegum will make the most heartless person burst into tears— and it seems impossible not to sigh and say "Awww," when they finally share their first on screen kiss. How can you not envy this Lesbian-couple goals relationship? Like, come on…emo rockstar vampire girlfriend (who probably listens to My Chemical Romance) with a literal candy-princess girlfriend… show me a more perfect lesbian couple. I'll wait.
3. David Rose and Patrick Brewer, Schitt''s Creek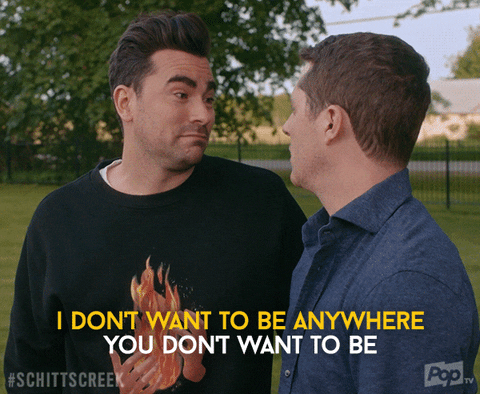 Schitt''s Creek recently took the world by storm, and it''s everyone's latest obsession. And I don't blame anyone for loving the series. The show basically reverses Beverly Hillbillies, following the Rose family right after losing all their money and fame. Forced to move to a rural town called Schitt''s Creek, the family's hilarious antics drive the show's plot. David Rose, the pampered oldest child, decides to strike out on his own and start a business. Patrick Brewer becomes David's business partner, but feelings quickly grow between the two. At first afraid to ruin their business relationship, they ignore their feelings for each other. Ultimately, love wins and the two decide to give a relationship a shot. David, (the sensitive and high maintenance introvert) and Patrick, (the doting and gentle partner) pair with each other perfectly. Who didn't shed a tear when Patrick sang Simply the Best to David? (Please don't tell me if you didn't cry during this scene, it will only make me feel worse).
2. Luz Noceda and Amity Blight, The Owl House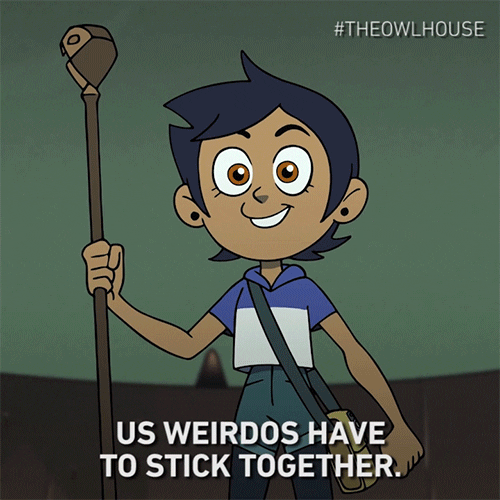 An underrated show, you can stream The Owl House on Disney Plus. Set in the cursed Boiling Isles, it follows the stereotypical story of a girl who stumbles upon another world. Only this world is the opposite of every kids dream land, a place full of fun-loving creatures and innocent magic tricks. Instead, The Boiling Isles is full of creepy (but kid-friendly) demons and a maddened Emperor who wants to destroy the universe. Luz Noceda, disappointed by the realities of her fantasy world, decides to make the most of a bad situation and transform herself into a witch. At Hexside School of Magic (this universe's Hogwarts), Luz brings her optimism and friendliness as she learns sorcery. Befriending the school's outcasts, she sets on a journey to help reveal everyone's hidden talents.
"Amity and Luz are an adorable couple that serve as great representation, especially for younger kids who may not get the acceptance that they need in life," Simpson College graduate Rebekah Sparandeo said.
Amity Blight, on the other hand, runs with the cool-crowd. At first, she holds disdain for Luz, and they wind up as school rivals. Eventually, however, Amity and Luz get to know each other and a friendship blossoms. This love story (- the perfect perfect enemies-to-rivals-to-friends-to-lovers relationship)— will make you obsessed with the show-waiting for the next episode with a held breath. Also, the show includes astounding representation of all LGBTQ+ individuals, including non-binary, trans, lesbian and gay characters.
1. Stede Bonnet and Ed "Blackbeard" Teach, Our Flag Means Death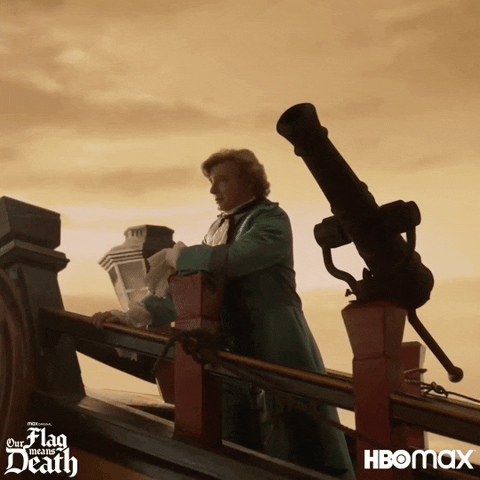 I'm not going to lie, I struggled in my decision of who would fill the number one spot on this list. In the end, Our Flag Means Death's queer representation blew all other shows out of the water (pun intended). A majority of the cast identifies as queer and the gay relationships on this show explode to life. The comedy follows Stede Bonnet, a once-wealthy landowner who gave up on life to pursue his dreams as a swashbuckling pirate. With a gentle style and a "people positive managing approach," Stede deems himself the "Gentleman Pirate." During his journeys, he runs into the crew of Blackbeard. Blackbeard, feared and revered on all the seas, finds Stede's disposition amusing and decides to sail with him for a while. They balance each other by Stede reigning in Blackbeard's insanity and Blackbeard dragging Stede out of his shell. Their romance builds slowly, as they grow from admirers to friends and then finally proclaim their love for one another.
"Our Flag Means Death was revolutionary for having three queer couples among the main characters," Drake University sophomore Kathryn Prince said. "Stede and Ed are a great example of a queer couple among people who may not have recognized these feelings in themselves until their middle ages."
Stede and Blackbeard feel dynamic as audiences watch their relationship grow, and it warms the heart to see a gay relationship portrayed in older characters as well. While the first season ends on a cliff-hanger, it would seem impossible to perceive a world in which these two don't end as a happy old couple, sipping martinis on a private beach. After watching the show, you can't help but hope for the best for this adorable couple.