But I'm a Cheerleader is a seminal gay film. If you're queer and haven't seen it, get yourself together. If you're straight and haven't seen it, go learn some things. If you're questioning and haven't seen it, get ready.
A quick catch-up for the unenlightened: 90s family fears that their 17-year-old cheerleading daughter, Megan, may be *gasp* a lesbian. The tell-tale signs? Veganism and hating making out with her slobbery boyfriend. After staging an intervention, led by ex-gay Mike (played by RuPaul), Megan's family packs her off to True Directions, a reparative "therapy" camp for young gays and lesbians. Once there, Megan quickly transitions from disbelief—But I'm a cheerleader!—to the realization—I'm a homosexual!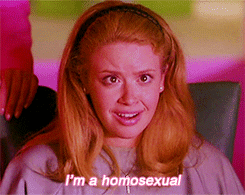 At True Directions, Megan joins a ramshackle class of other recently self-discovered "homosexuals," including the cigarette-smoking badass love interest, Graham. Together, they go through the camp's five-step program to heterosexual recovery:
Step 1: Admitting you're a homosexual.
Step 2: Rediscovering your gender identity through gender-stereotyped tasks.
Step 3: Finding your homosexual root through family therapy.
Step 4: Demystifying the opposite sex.
Step 5: Simulated sexual lifestyle.
Want to know who will make it to True Directions graduation? You'll have to watch the film. Expect hilarity, satire and valuable life lessons to be learned. Trust me, it's worth it.
1. Dating a woman is empowering.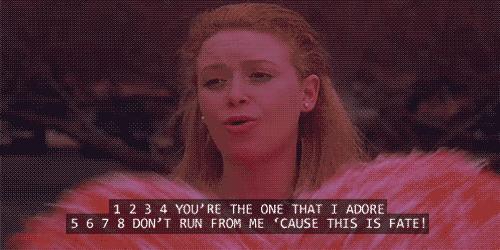 Megan goes from being coerced into conversion camp by her parents, to standing up to dictatorial camp director Mary and professing her love to Graham in a cheesetastic cheer. Who said that finding your inner gay doesn't go hand in hand with finding your inner WHAT?
2. Cheerleading outfits are sexy.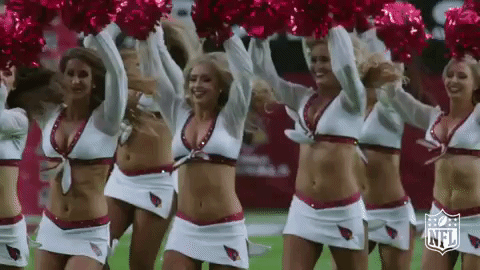 We all knew it, Hollywood capitalized from it, feminists fought over it, Kirsten Dunst brought it on, Natasha Lyonne (who plays Megan) confirmed it. Who can blame poor Megan?
3. Being sent to boarding school makes you gay.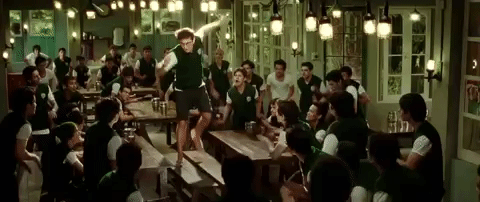 …Obviously? (See Sara Colombo's Root below.)
4. Pink is an awful color.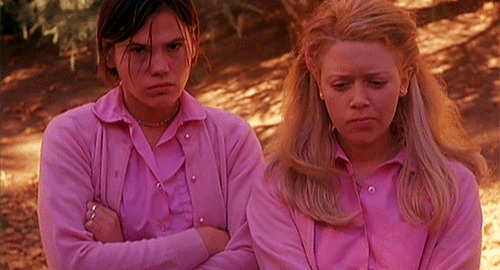 We know it was the 90s, we know it was satirical, but honestly—it takes a lot to make Clea DuVall (who plays Graham) look this bad. But I'm a Cheerleader takes wearing pink to a whole new level. It's horrendous.
5. Gay bars = fun bars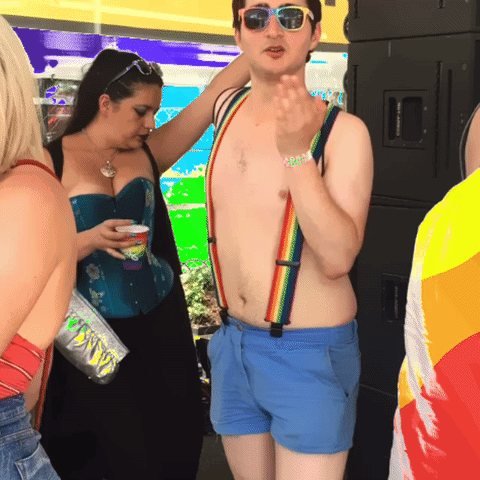 There ain't no bar like a gay bar. Avant-garde abound and flamboyant to the nines, dancing is the only rule. Gay bars offer homes for queer folk to let loose and be their true and fabulous selves. No matter if you dress top to toe in leather, wearing a sailor's hat or just a shirt and jeans, at the gay bar you're sure to have a good time.
6. "It's a phase" is not real.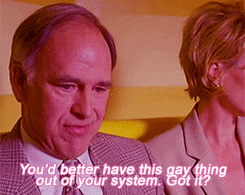 Parents, teachers, preachers, peers and society at large–get the memo: Being queer is not a phase. It's not a thing you try out once in college or drunk at a party—it's for life (for many of us). People are gay. Get over it.
7. Don't repress your feelings.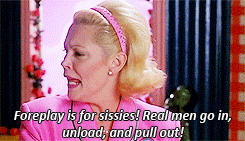 People who repress their feelings end up being intense homophobic dictators. Mary Brown, leader of True Directions and hater of the "homosexuals," packs a mean punch. But it's her son, Rock, with his booty shorts, love of 80s music and eyes at the "ex-gay" Mike, who really raises eyebrows. Try as Mary might to cure her students, she can't help her son.
8. Natasha Lyonne is the gayest straight person.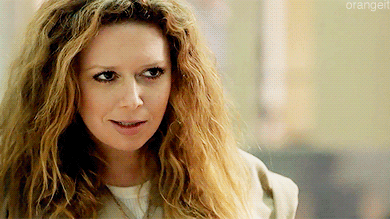 Natasha Lyonee has made a name for herself in the queer world as a lesbian actress. Count the films she's starred in—she probably played a gay character. As it turns, that's not so true. In multiple interviews, Lyonee has self-identified as "very straight", leaving lesbians across the world crying out in shame. Alas, she's not a half-bad queer actress.
9. RuPaul is the best ever.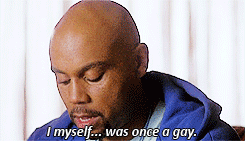 Literally, the best ever. If you don't know him from RuPaul's drag race, you've been living under a rock. If you don't know him from But I'm A Cheerleader, you're seriously missing out. RuPaul plays Mike, a cured "ex-gay" who works with Mary at True Directions to teach the boys how to chop wood, along with other manly activities. Shame he can't keep his eyes off Rock, Mary's son…
10. Cheerleading, varsity wrestling and softball are straight sports.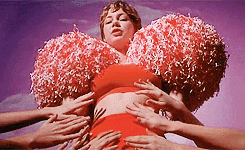 As if! We've known about softball and varsity wrestling as long as we've known about Subarus, but time to add cheerleading to the spread of queer-loving sports. Who could deny it?
Be proud. Be Magical. Be you.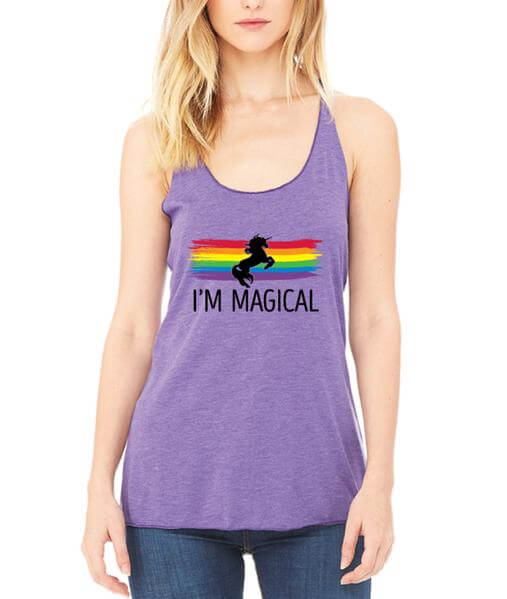 LGBT Outfitters I'm Magical Tank Top: $24.99
What's Your Root?
Step three of True Direction's path to straightdom is "Finding Your Root"—the thing in your past that induced gayness. Megan's Root? Her Mum worked while her Dad was out of work, and her gender roles got confused. For Graham, on the other hand, it was the fact that her Mum got married in pants. Here are some real-life(ish) Roots from Colorado College's finest queer ladies:
"Going to an all girls boarding school made me gay. No parents, 8 girl rooms, late night talk, and 'practicing' with each other." – Sara Colombo, Class of 2017
"The music video for 'All The Things She Said' but Tatau. There are two girls kissing in the rain. I wasn't offended by it. In fact, I liked it." – Erica Singer, Class of 2013
"Going to Jewish summer camp when everyone was making out with boys and I realized I wasn't into my Shabbat date and wanted to make out with girls!" – Katie Lerer, Class of 2017
"Really enjoying playing "house" with a lot of my childhood girl friends. I would play the Dad, there was a bit of making out." – Maeve O'Connor Bethune, Class of 2015
"Honestly it took me a while. I really liked fashion magazines and I thought it was for the clothes, but in retrospect I think it was for the girls." – Lydia Ballantine, Class of 2017