I'm one of those people who studies because I want good grades but who simultaneously avoids studying because I'm afraid to earn bad grades. I guess you could call me a Starburst because I'm a walking contradiction (RIP awkward Starburst slogan). This problem gets to be doubly troublesome come midterm season on SDSU's campus when the only seats available are the criss-cross-applesauce yoga configuration on the floors of overcrowded libraries.
Want to land that 4.0? These study spots at San Diego State University will help boost your GPA.
1. Student Lounge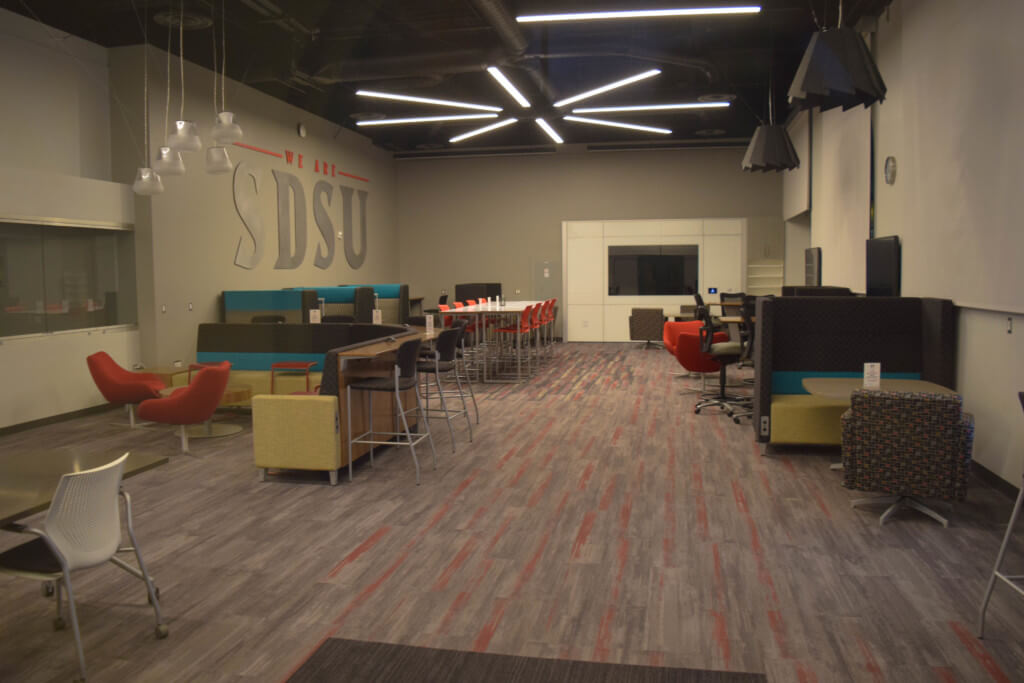 The Student Lounge, or "SLounge," as many of its frequenters call it, recently opened to the public. Located in the Aztec Student Union, just off to the side from the College Ave. Bridge and the Habit's main entrance, this location looks about perfect for a student needing to pop in and finish an essay. "I actually didn't even know this place existed," fourth-year biology student Alex Santos said. "It's a nice location but a little loud for my tastes." Don't expect complete silence or computers here—the freshmen have claimed this chill area for themselves and proudly announce their presence with raucous laughter and giant groups crammed into the four seater study booths.
2. Student Life and Leadership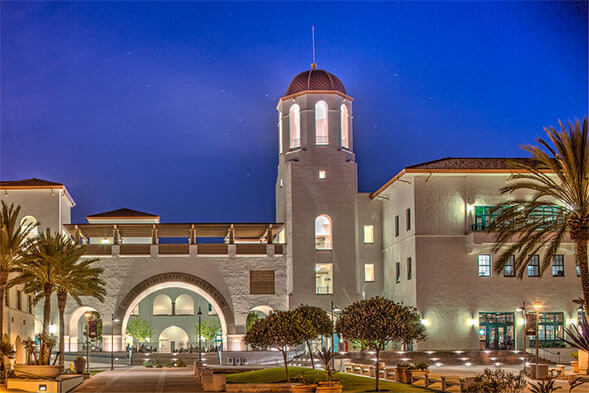 Part of a club? Awesome. Not part of a club? I recommend joining one. Knowing which clubs SDSU recognizes and have offices in the Student Life and Leadership SLL Office means you can study inside the Aztec Student Union building, often with friends from said clubs. This area tries to maintain a quiet atmosphere and also has a microwave and fridge for commuter students in one of the rooms. Avoid this place if you only want to socialize, but remember that long study sessions broken up with that oddball of a friend should be welcomed as a well-deserved distraction.
3. 24/7 area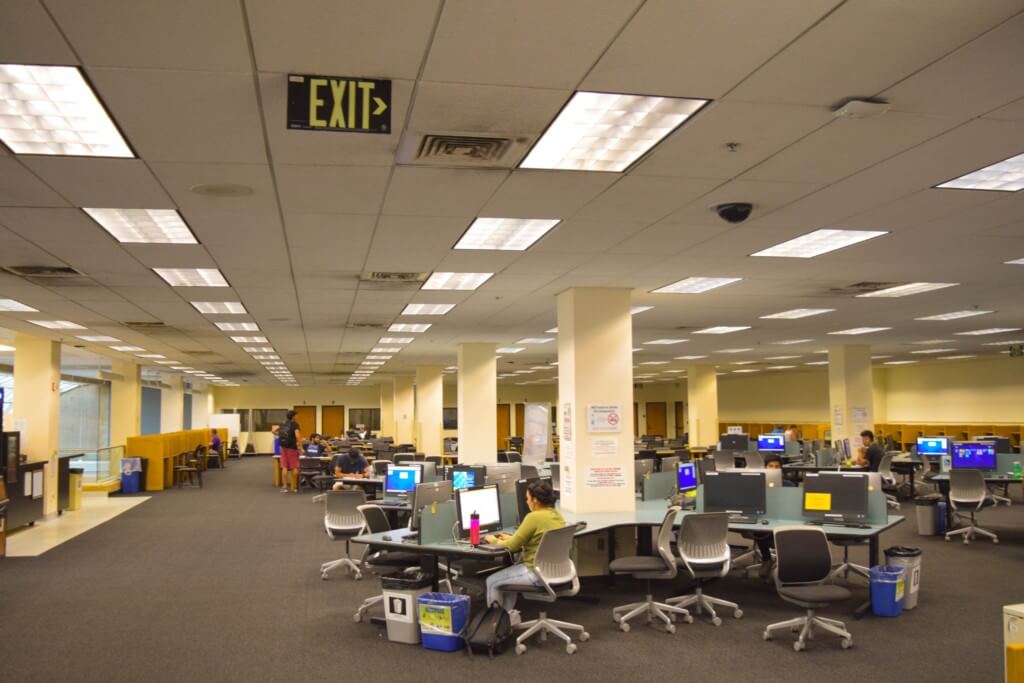 This go-to answer seems like a no-brainer. Almost any campus tour by SDSU's wonderful Ambassadors will show prospective and enrolled students the 24/7 area, connected to the Dome and next to the Love Library. Plenty of soft couches, tables, computers, study rooms and even a BCB Coffee cart to get your much-needed buzz during midterm season. Beware, this location nears capacity during finals and will be close to bursting with stressed out students.
4. Hidden Niches in Love library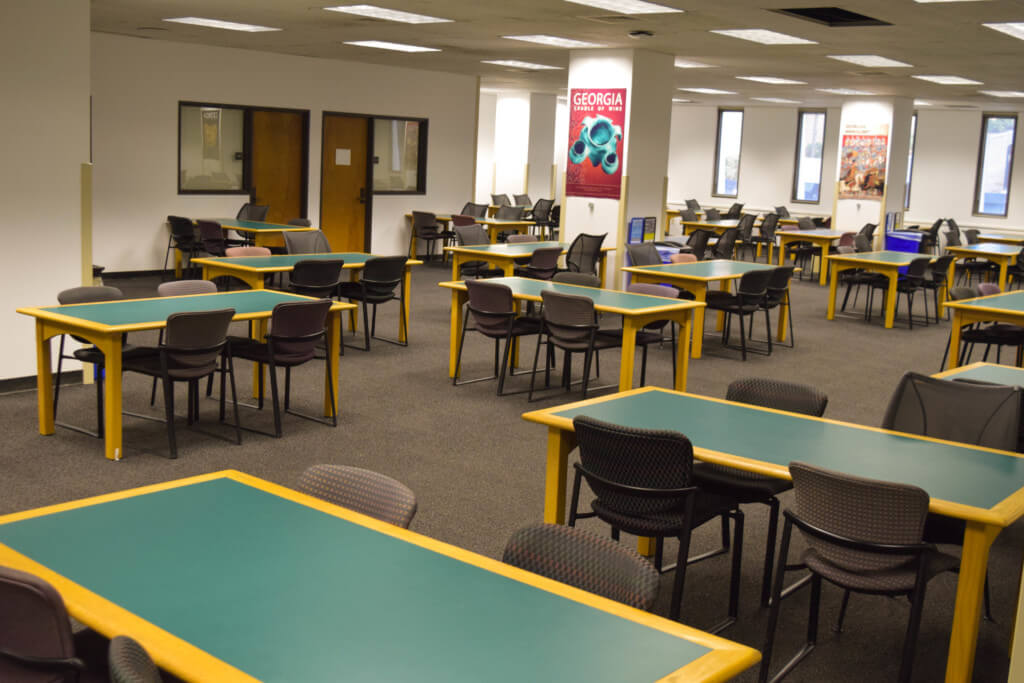 "I like the hidden mini cubicles on the third and fourth floor of the Love Library," rising sophomore computer science major Jan Domingo said. "It's like the size of a small, first class airline seat. It's private, it's quiet, it's like a mini office." SDSU's library has several floors, and sequestered away behind theology or agriculture books you can find some seats painfully bare, waiting for the right gluteus maximus to envelope. Silvia Sanchez, a fourth-year English major said, "I normally prefer to study here because I can eat and have some conversations with my friends in between study breaks." On the first floor of the Love Library (and at several other locations sprinkled throughout), exist the quiet study areas for hardcore studying. Hours will pass before a student moves or possibly breathes.
5. Turtle Pond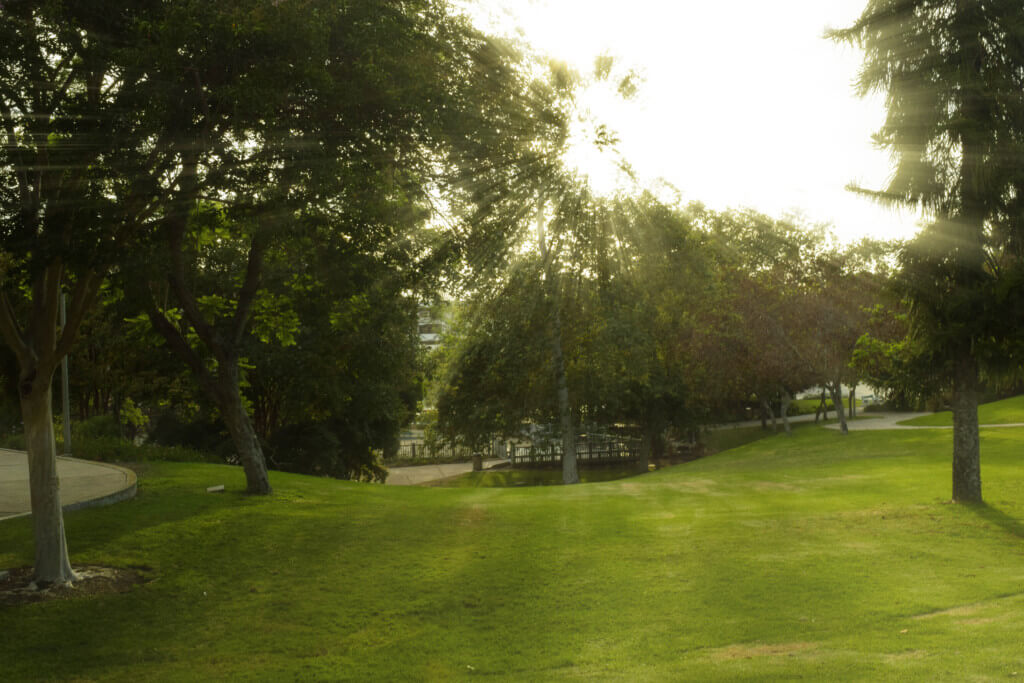 Yes, SDSU has turtles. They don't look like Sheldon the Turtle, but they do enjoy sunbathing and stretching themselves out on the rocks and surrounding area just like the students. There are tables to lay claim to near Scripps Cottage, but nothing can really compare to lying on a blanket under some trees while reading a good old Organic Chemistry textbook with the sun shining and the birds warbling out their little Cinderella song. "It's the aesthetic and the space I get," said Diego Guerra, rising sophomore and music conductor student. "It doesn't feel crowded like the library. Plus, out in the open feels great."
6. Storm Hall Terrace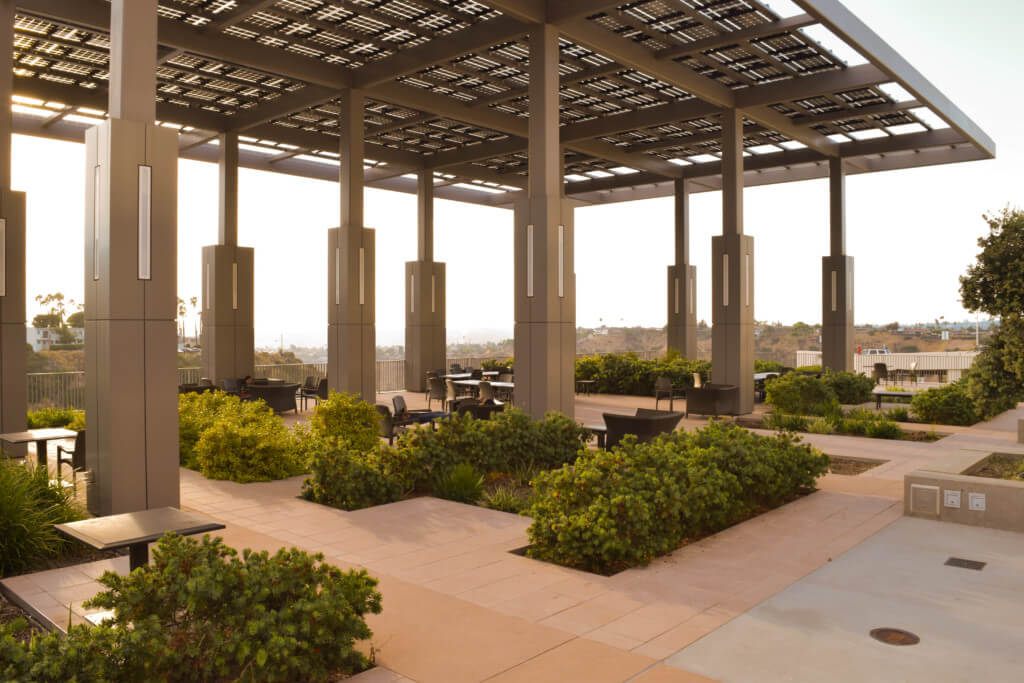 This is the aesthetic of all aesthetic places to study at SDSU, especially during sunset. Or, maybe sunrise if you somehow wake up in time. The sun stridently making its way up the sky to batter down your back on the open terrace is welcoming after the cold clutches of the air-conditioned classrooms. Enjoy any day in sunny San Diego here, exercising your brain and making your melanin work for that summer glow. Durable tables and wicker chairs for the booty, plus a nice view to boot? Lemme take a seat right here, unless it's one of the few days in San Diego where the wind is a bitter ex-girlfriend and we sun-spoiled children cower from the 65-degree weather.
7. Bottom of Dome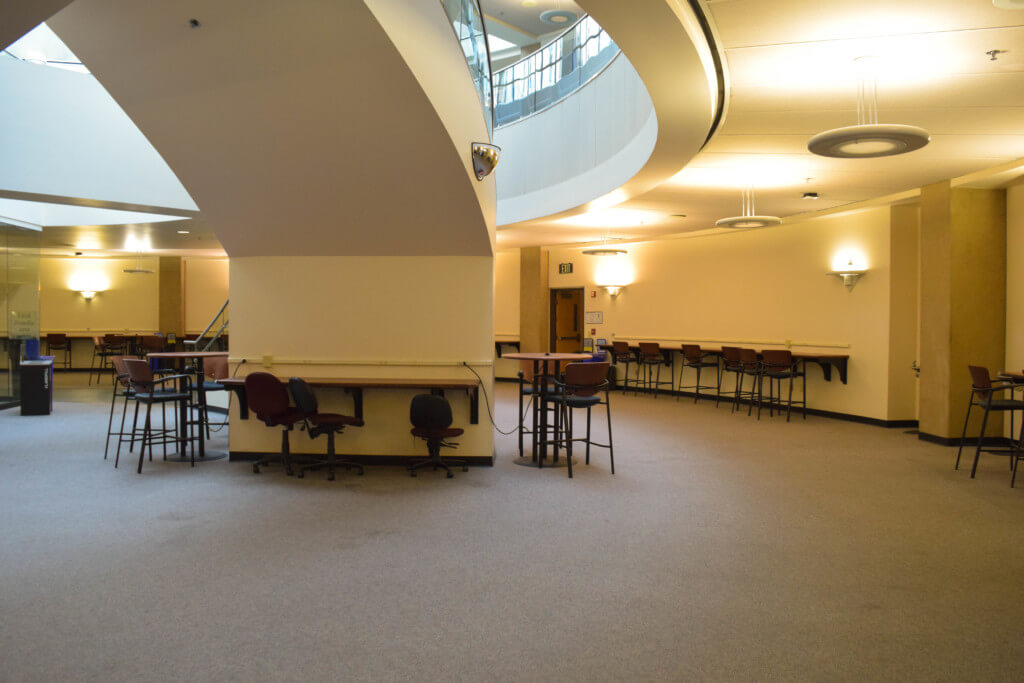 This the perfect place to zone out on some high-chairs and avoid human contact, but only from 9 a.m. to 6 p.m. on weekdays. "The bottom of the dome has a really nice vibe to it," rising senior engineering student Jasmine Cheng said. "It's spacey but also kind of filled with energy, which helps me focus." Plus, you'll also find clean bathrooms and vending machines here to satisfy all your late-night snack cravings.
8. Bottom of PSFA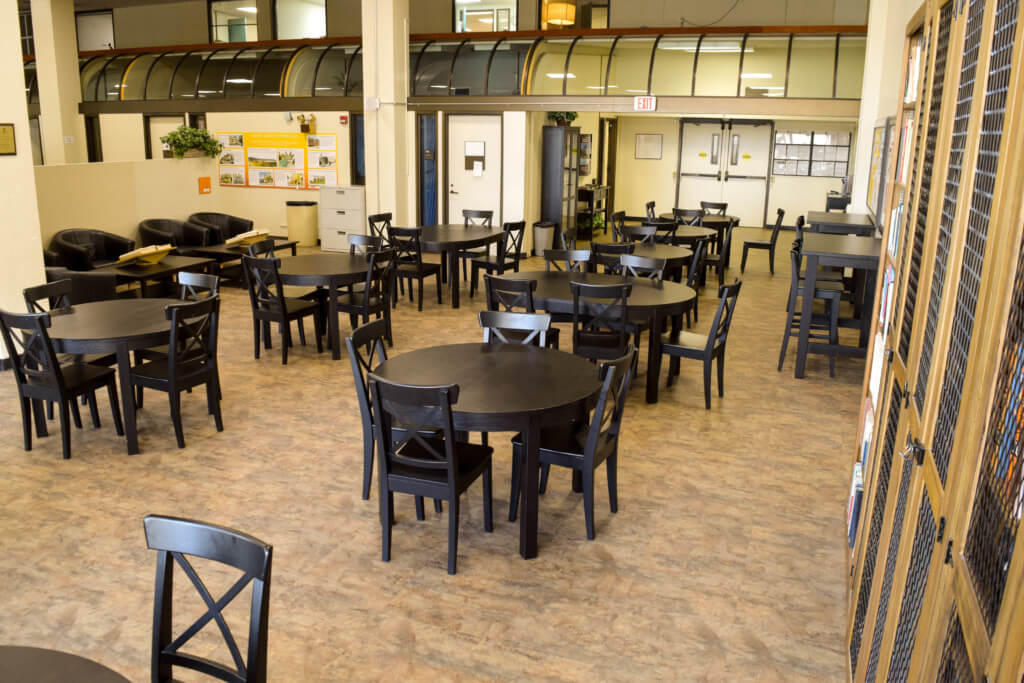 If you venture into the Professional Studies and Fine Arts building and take the stairs all the way to the bottom, you will find a small library. They even have computers tucked into a back corner and multiple desks littered across the floor. There are also small office spaces that have been closed off, but are good for in-depth solo studying time. "I like studying here," Domingo said. "It's nice having a room that's not known to too many people. Plus, the new Confucius exhibit will be opening right next to it so you can bet it'll be a good place to 'wise-up' before exams."
9. Arts and Letters Patio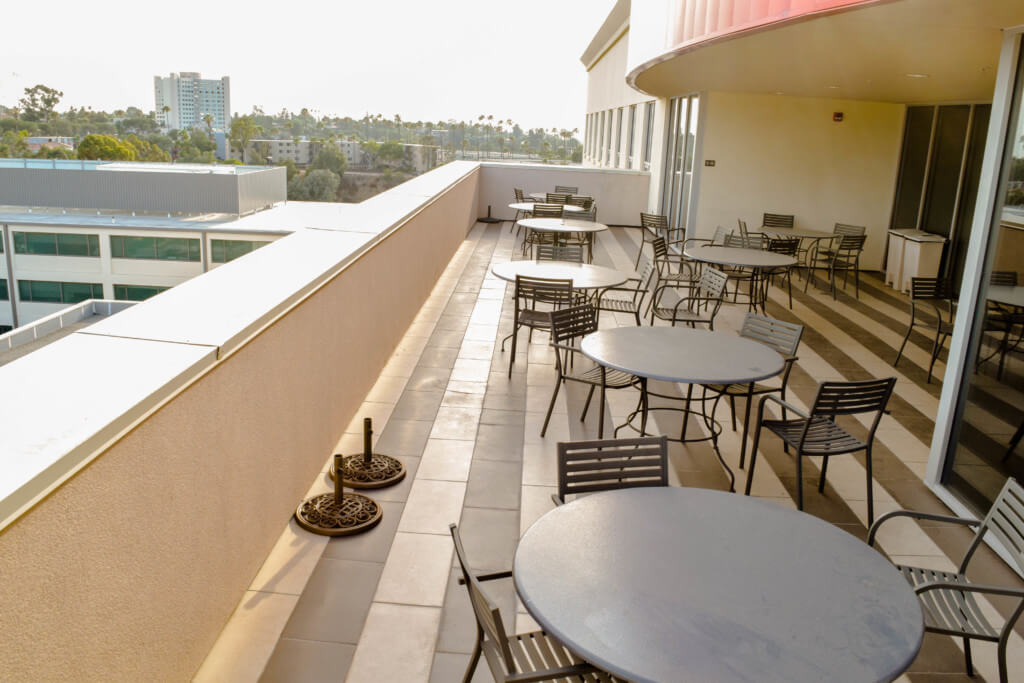 If you look for your college's building, chances are there is a small study area hidden away specifically for students in your discipline. Working as an IT for the Arts and Letters building, Domingo revealed a great location to get some serious studying done on the sixth floor. "The breeze is the perfect temperature up here," he remembered. "The view looking down and the light from the sunset is perfect to look over all your calculus homework." But don't try to cram in everybody from your large lecture class up here. I'm not saying that the building's structural integrity should be feared, just that the number of chairs and bodies would not fit and sitting in your peer's lap is only socially acceptable within reason.
10. Starbucks and other coffee shops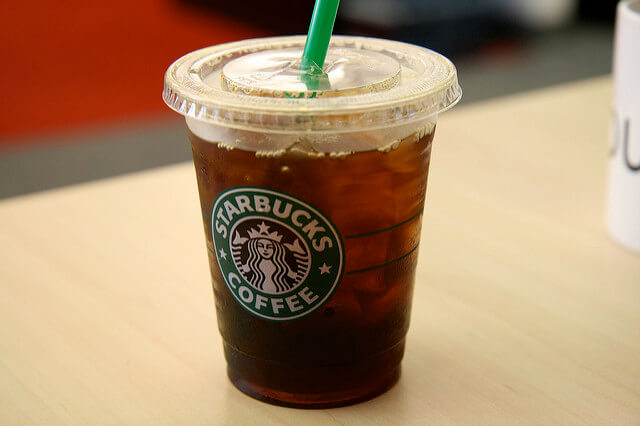 Everybody loves a good coffee shop to study in. Unfortunately, Starbucks in the Aztec Student Union is always packed. Luckily, you'll find another Starbucks located just off College Ave. and Montezuma Rd. that is a ghost town. Get your drink fix and plop down to read some notes. If Starbucks isn't your jam, there are several other coffee shops you might want to hit up instead. These include Clockwork Coffee Shoppe, Duet Coffee, The Living Room, Jo Jo's Coffee and others. You'll find them at the click of a Google search. You'll find each within 5–10 minutes of SDSU; they have that focused hum of energy that personifies itself into background noise.