The University of California, Los Angeles may be Elle Woods' alma mater (albeit slightly misnamed—Go CULA!). But I doubt everyone knows just how many real-life famous and influential alumni walked these halls. From toying around in space to Toy Story, UCLA alumni have done it all. Check out these 10 notable UCLA alumni. And celebrate the fact that so many others could've also made the cut (we love you, Jack Black).
Read on to learn about 10 notable UCLA Alumni.
1. James Franco
Ever wanted to hang out with eccentric A-listers? Take a screenwriting class with James Franco, Franco dropped out of UCLA after his freshman year to pursue his acting career. However, he returned to get his B.A. in English, and then earned master's degrees in creative writing, filmmaking, poetry and design. He also worked on multiple Ph.D.'s. It must have taken him a lot longer than 127 hours. "He's so diverse in his acting abilities. He should get an Oscar. You heard it here first," junior Haley Petitt said. He currently teaches at UCLA, working with MFA students. Who says English majors don't go far in life?
2. Kareem Abdul-Jabbar
Kareem Abdul-Jabbar has brains, brawn and baller instincts. He rose to fame as part of the UCLA basketball team under legendary coach John Wooden. "One of the greatest basketball players to ever step onto the hardwood. He used his plethora of moves including his unguardable 'sky hook' to lead UCLA to three consecutive NCAA championships," alum Joy Saha said. Now at age 70, he focuses on writing books that tackle complex issues, such as systematic racism and divisive politics. His work significantly influences the perception of race and religion in sport. Oh, and he wrote a comic book called Mycroft Holmes and the Apocalypse Handbook. As if you didn't already love him.
3. Taylor Wang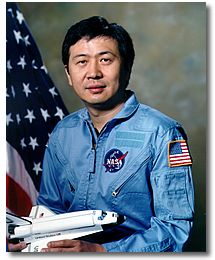 The old Taylor can't come to the phone right now. Why not? Because he's in space. In 1985, Taylor Wang made history as the first Chinese-American astronaut. Born in China, he became a U.S. citizen in 1975, and went into space as part of the Challenger Spacelab 3 mission. He graduated from UCLA with three degrees, and currently holds tens of U.S. patents in various hard science subjects, including acoustics and containerless science. He has worked in some of North America's most prestigious universities, including the California Institute of Technology and Vanderbilt. #blankSPACE.
4. Jackie Robinson
Did you know that America's favorite pastime was segregated until 1947? And the man to break that tradition was UCLA alum Jackie Robinson. At UCLA, he acquired varsity letters in baseball, track, football and basketball. In 1939 he played on the UCLA football team, one of four African-American players to do so at the time. After he graduated, he became one of the most celebrated baseball players in history. Robinson also advocated for the Civil Rights Movement, and involved himself heavily in politics. In other words? No one can stop you from literally breaking boundaries.
5. Francis Ford-Coppola
Anyone ever heard of The Godfather? How about Apocalypse Now? If not, then crawl out from under that rock you call home and watch movies. The filmmaker behind these legends of the screen, Francis Ford-Coppola, called himself Bruin before film legend. While pursuing his master's degree at UCLA's film school, Ford-Coppola met Jim Morrison, and ended up using his song "The End" for the opening of Apocalypse Now. He went on to win six Oscars and several other accolades. Got a passion for filmmaking? Maybe you'll end up on this list alongside Ford-Coppola someday.
6. Randy Newman
https://www.youtube.com/watch?v=3m8x8fDL01o
You've got a friend in Randy Newman, the man behind the Toy Story soundtrack. Newman dropped out of UCLA's music school with one semester of study left (#relatable), but went on to win six Grammys, Emmys, Oscars and every musical recognition in between. Known for his witty lyrics and distinctive voice, Newman's songs have been covered by everyone from Peggy Lee to Harry Nilsson. "He's created classics that can be shared by a generation. His style is instantly recognizable and captures a warmth that reminds me of my childhood," senior Sophie Matthews said. The Rock and Roll Hall of Fame has inducted Newman into its ranks, and he is also a Disney Legend for his work on eight Pixar films.
7. Ralph Bunche
UCLA students can confirm that getting lost in Bunche Hall is a regular occurrence. But everyone knows how privileged we are to have that building. Ralph Bunche was not only a Bruin but the first African-American to win a Nobel Peace Prize. He graduated from UCLA summa cum laude and valedictorian. He then went on to Harvard and became the first African-American to earn a Ph.D. in political science from an American university. As if that doesn't sound impressive enough, he also became the principal secretary of the UN Palestine Commission, and earned his Nobel Prize for the 1949 Armistice Agreements.
8. Steve Martin
https://www.youtube.com/watch?v=CbA9JHkkaAk
Any transfer students reading this? Steve Martin gets the struggle. He transferred to UCLA in 1967 to major in theater, but dropped out at age 21. Now, his career in film and TV rings a bell with audiences of all ages, notably as a cast member in Saturday Night Live. "Steve Martin is funny as f—k in The Pink Panther," junior Manali McCarthy said. "I like to laugh at his hilarity." Watch him in iconic movies like The Three Amigos, Father of the Bride and Dirty Rotten Scoundrels. Martin also rocks out on the banjo, and won Grammys for Best Country Instrumental Performance and Best Bluegrass Album.
9. Mayim Bialik
You probably know Mayim Bialik from The Big Bang Theory, but she doesn't just play a genius on TV. Bialik, the actress behind Dr. Amy Farrah Fowler of The Big Bang Theory, also has "neuroscientist" on her resume. She graduated from UCLA with a B.S. in neuroscience, and a double minor in Hebrew and Jewish studies. She took a break to pursue acting, but returned to UCLA to obtain her Ph.D. in neuroscience, investigating Prader-Willi Syndrome. Bialik now makes power moves in feminism and runs programs encouraging girls to study STEM-related subjects.
10. James Horner
Would you have even cried in Titanic if the soundtrack hadn't been so heart wrenching? You can thank James Horner for that. Yes, he may have studied at UCLA's rival school USC for his undergrad years, but he earned his Ph.D. at UCLA all the same. He has worked on Star Trek films, the infamous film Alien, Braveheart, Apollo 13 and Avatar. But his most famous work is obviously Titanic. He co-wrote the classic "My Heart Will Go On" with Will Jennings, which won him his first Oscar, as well as accolades from the Grammys and the Golden Globes.