There's more to the Orange Nation than a number one party school ranking and a killer basketball team. Our 10 undergraduate colleges offer some of the top ranked programs in the nation. Whether you aspire to twirl your way to the Broadway stage or become the next Anderson Cooper, Syracuse has a place for you. Every major is notable in its own right, but here are 10 undergraduate majors at 'Cuse you should know about.
1. Architecture
Architects at Syracuse are some of the brightest and most tortured students on campus. A degree in architecture is a five-year melee of sleepless nights, but a highly respected badge of excellence.
Although the School of Architecture is the fourth oldest architecture school in the nation, it upholds its top ranking with extensive facilities. Studios stock 3D printers, laser cutters and wood workshops for students' use.
Sophomore architecture student, Peder Ulven, explained how the school's new and young professors compliment the school's high standards. "Architecture is like fashion these days," said Ulven. "To bring in new architects from different places gives a boost of inspiration and ability to learn innovative software and techniques."
2. Bandier
Want to be at the reins of every boy band's career? Enroll in the Bandier program, where students learn how to manage the entertainment and music industry. Students are required to take classes in the arts and sciences, business and communications schools. After all, there's more to creating a controversial Nicki Minaj music video than exclusively shooting her butt.
In addition to its unique program, Bandier also boasts strong relationships between students and faculty. Professors don't freak out over class attendance. They understand that an internship at SXSW or Billboard is actually way cooler and more important than excitedly shouting, "Present!"
"By having an intimate program, we are able to gain extra attention and care, said sophomore Bandier student, Erin Singleton. "It allows us to access more resources and have frequent industry leader speakers."
3. Broadcast and Digital Journalism (BDJ)
Ron Burgundy's inability to function as a sane newscaster is hilarious, but in reality, his journalism skills suck. Fortunately for the future of news broadcasting, the S.I. Newhouse School of Public Communications' BDJ program knows exactly how not to emulate Burgundy and his squad.
BDJ Chair Christopher Tuohey believes the program's strengths lie within its faculty. "The faculty are all trained electronic journalists with many years of experience as reporters, producers and news managers in television, radio and digital news," Professor Tuohey explained.
Students have access to state of the art facilities including a new NCC News studio that is staffed with robotic cameras and Digital HD field camera equipment. "Most students will probably be exposed to more cutting edge production technology here than they will see in their first jobs," said Professor Tuohey.
4. Communications Design
Commuting to the off-campus warehouse and staying up until the wee hours of the morning really blows. But that's typical of a Com Design student's life.
There's no sympathy for your lack of sleep in the professional world, and the Com Design department prepares students for that harsh reality. "It's an intense major because from the day you join your first class you're expected to work and act as a professional," sophomore Harlie Yeldezian explained. "You're expected to dedicate all of your time into working and reworking all of your designs."
However, Com Design ensures its students aren't constricted in their creativity. "Students possess the freedom to explore subject matter they are passionate or curious about. The major emphasizes the importance of visually translating ideas and information through a variety of media, all while remaining relevant," said junior Kitty Caissy.
5. Entrepreneurship and Emerging Enterprises (EEE)
An entrepreneur's life is arduous. Prepare for five years of no pay and a pretty non-existent social life. If this hard-hitting reality hasn't scared you off, then the Martin J. Whitman School of Management's EEE program is for you. Year after year the program ranks in the top 10 by a variety of sources, including Bloomberg's Business Week.
To help cultivate students' entrepreneurial skills, Whitman provides extensive resources to its students. The Couri Hatchery Center, a student-center business incubator, gives students the opportunity to run their own business with the support of experienced mentors.
It's important to note that Syracuse's EEE program is not limited to students who want to start their own businesses. "Whitman has a pretty broad definition of entrepreneurship, so we designed a track system to help students design their careers based on what they want to do," said Chair of the Department of Entrepreneurship and Emerging Enterprises, Alexander McKelvie.
Students can pursue any of the four tracks of entrepreneurship: start their own business; corporate entrepreneurship to assimilate to a big, established business while keeping the entrepreneurial spirit alive; social entrepreneurship that focuses on establishing sustainability and non-profit organizations; and family business management.
6. Film
Does somber mood lighting accompanied by a dramatic soundtrack cause your heart to giggle? You're probably destined for film.
Housed in the Department of Visual Arts and Production, Syracuse's film major fosters students' creativity and production skills while following a structured path of study.
Film at Syracuse credits its strength to its study abroad programs. Students can participate in Syracuse's International Film Festival or participate in the internship-centered Los Angeles semester program or the Film and Television School of the Academy of Performing Arts in Prague, Czech Republic.
7. Information Management and Technology
The Internet is the ultimate overlord, and School of Information Studies' Information Management and Technology major helps students get a piece of that power.
Students can select among five concentrations: information security management, project management, network and systems management, web design and management and database management. As the technological world is expansive, concentrations prepare iSchool students for the professional world. But students don't need to fret; according to the iSchool's website, "nearly 100 percent of…students have jobs within six months of graduation and report the highest starting salaries of any other group of students at SU, including engineering and business."
8. International Relations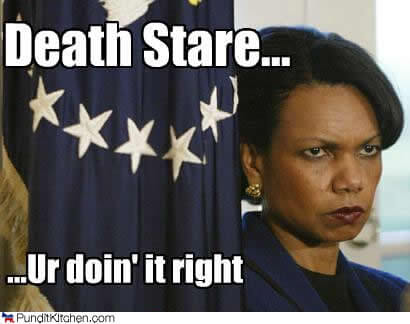 Get ready for a new wave of Condoleezza Rice's because Syracuse's IR program is pumping out the next world leaders.
IR at 'Cuse encourages students to focus on a world region to fine-tune their specialization. Regions include Africa, Asia, Europe, Latin America and the Caribbean, and the Middle East-North Africa. At the same time, Maxwell encourages students to be well-rounded individuals. The IR program expects students to be well versed in geography, history, public policy, anthropology and economics.
Naturally, Maxwell promotes its study abroad programs. Most notable is its Maxwell-in-Washington semester, where students enjoy that precious internship while taking IR-specific courses.
9. Musical Theater
Musical theater majors don't just sing and twirl their way to their degree. They mean serious business. Taye Diggs is a graduate of the program, and is unsurprisingly kind of a big deal.
Students undergo rigorous coursework to perfect their musical theater skills in singing, dancing and acting. And this major is for the especially talented; the Class of 2017 is comprised of only 20 students.
"We share a building with Syracuse Stage, which is one of the best regional theaters in the nation," said sophomore Emma Roos. "Professional artists are brought in from all over the world for us to interact with and learn from."
Even more impressive is the Tepper Semester, in which students move to NYC to immerse in the Broadway lifestyle. Roos claims it helps students transition into their careers, as they pursue master classes with casting directors and composers.
10. Psychology
Imagine this: you're in the common room, sitting across from a hall mate. As they rant on the latest drama you're able to analyze every decision they've made till this point. "Don't worry, it's not your fault Brad didn't text you back! His behavior is a result of situational attribution!"
You can sound that smart with a psychology degree, and although decoding college relationships may not be the deciding factor, a large number of students choose to study psychology.
"I've never had a psychology teacher that isn't funny or passionate about what they're teaching," said Punika Limpanudom, a junior psychology and television, radio and film dual major.
The department also easily accommodates double majors, of which it has many. The College of Arts and Sciences, the college that houses psychology majors, allows students to double major without an excess amount of additional stress.
"It's so malleable to everything. "You can use if for business, advertising, counseling, pretty much anything to do with humans," Limpanidom explained.
Main image: tumblr.com