Name three things most commonly seen on the streets in NYC: trash, rats, and ­bagel stores! New Yorkers love bagels for breakfast and a snack. According to popular mythology, New York's low concentrations of calcium and magnesium in its tap water soften the gluten and thus makes the bagel extra fluffy. Crunchy and chewy, New York bagels are rich in texture and high in calories. Want to eat bagels like a New Yorker?
Stop by any of the top 10 best bagel places and jump in line.
1. Brooklyn Bagel & Coffee Company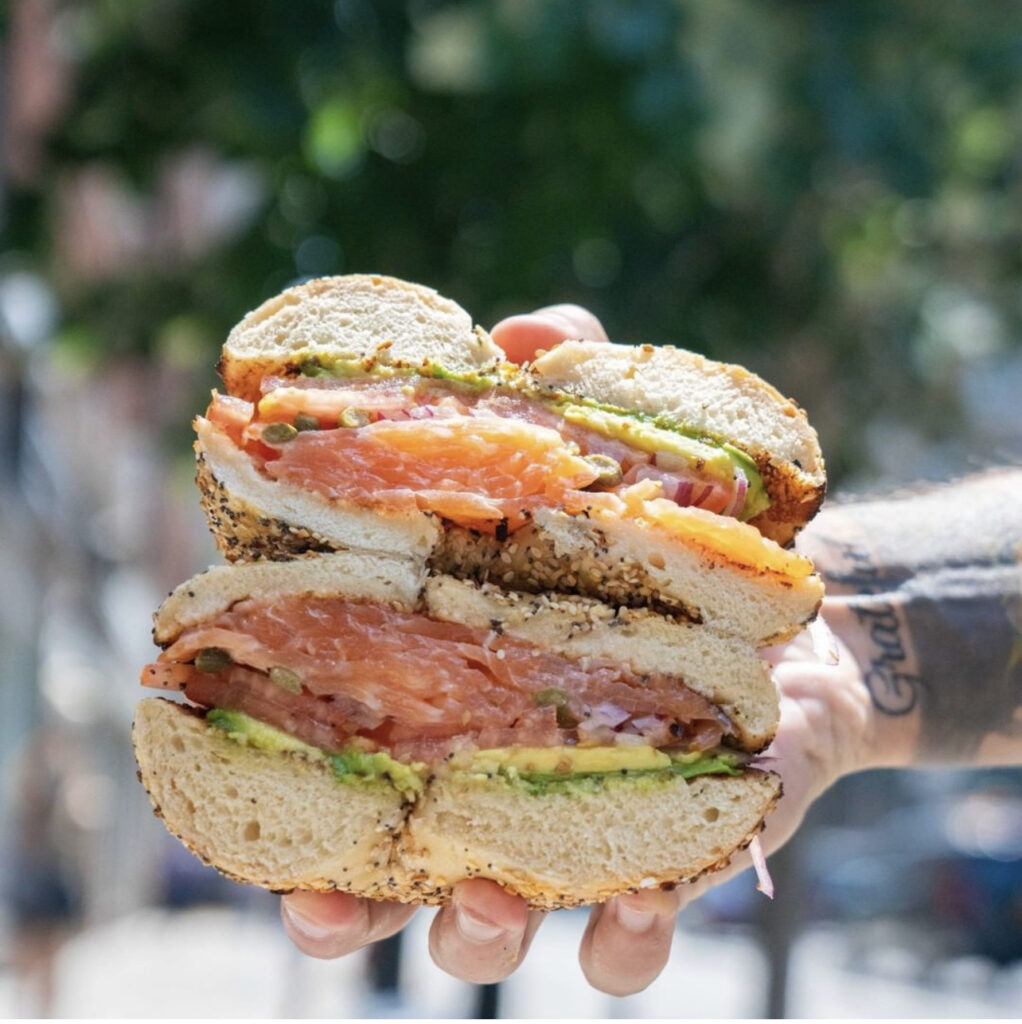 Don't let the name trick you, Brooklyn Bagel & Coffee Company isn't located in Brooklyn. Instead, there are five Brooklyn Bagel stores across Manhattan and Queens. Customers love Brooklyn bagel for its gigantic, old-fashion style bagel and its rich texture. The size of their bagel is no joke; they even released mini versions since a lot of customers commented that their stomachs hurt after finishing the whole bagel. For your first-time visit, I recommend trying scallion and lox cream cheese and share this post when I am proven right.
2. Russ and Daughters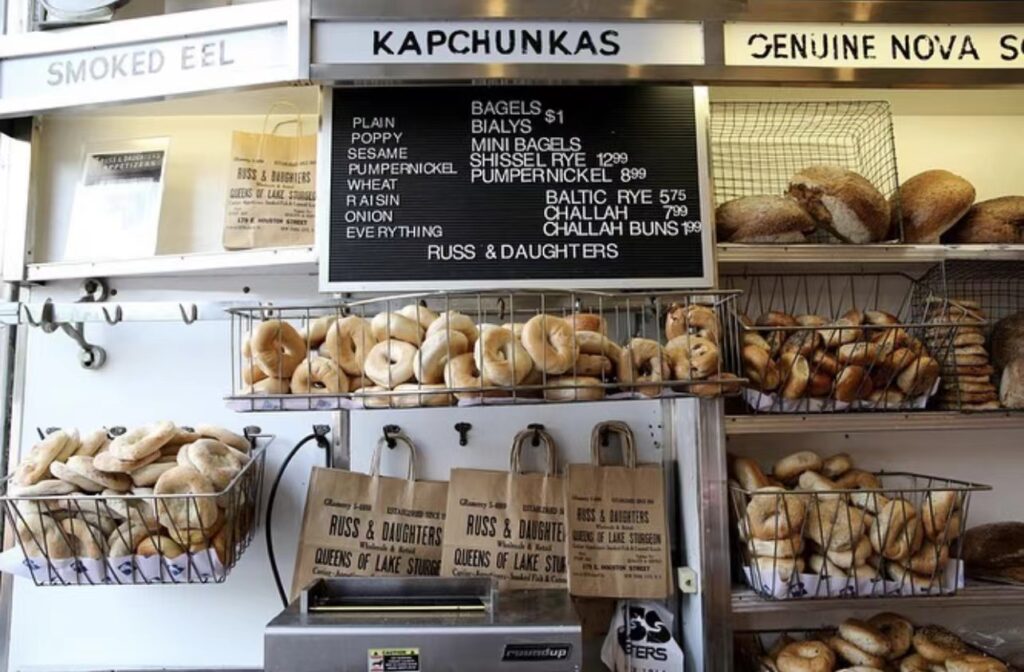 Opened in 1914, the Russ family has operated Russ and Daughters for four generations. Unlike other bagel shops, Russ and Daughters specializes in fish. Russ and Daughters loves to show off the freshness of their fish by exhibiting over 10 kinds of smoked salmon under the reflective glass for their visitors, almost 10lbs for each filet. While the large number of lax choices may overwhelm you, you can always trust "the Classic" – Gaspe Nova salmon. Salmon roe and caviar, which you won't see in other bagel shops, also stand out as another specialty at Russ and Daughters. Special reminder, Russ and Daughters closes on Monday so treat yourself on Tuesday!
3. Best Bagel & Coffee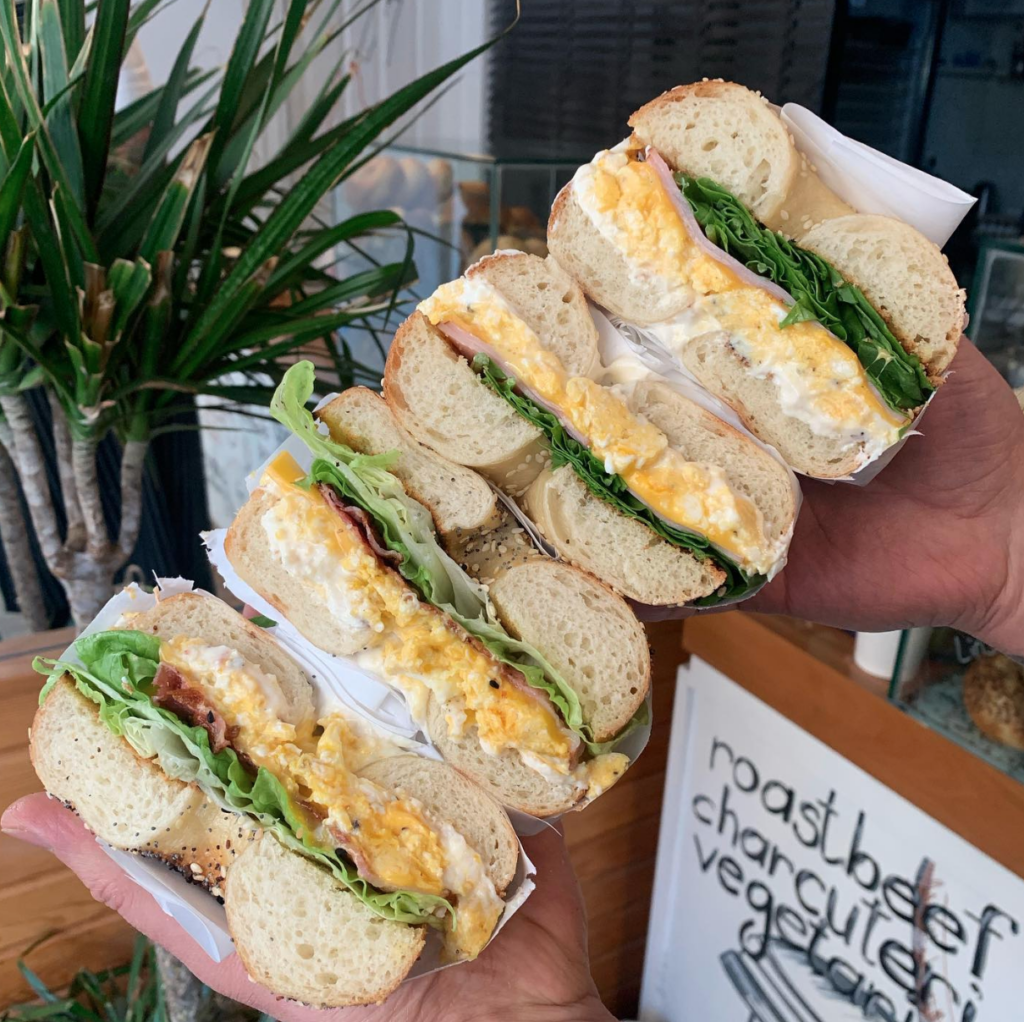 With almost 5 thousand reviews on Google Maps, Best Bagel & Coffee serves the best bagel in New York for a lot of people. Despite the abundant choices of toppings, its signature bagel is blueberry cream cheese on a blueberry bagel. Unlike the typical hard and dense New York bagel, Best Bagel gives you a soft and crunchy texture that goes perfectly with the sweet cream cheese.
"I am not a bagel person but Best Bagel is different. The bagel is baked just right with crips exterior and soft interior, and the filling even comes out of the bagel. I am willing to fly to NYC again just for Best Bagel," Alfred University junior Nova Niu said.
Besides its amazing taste, the hardworking staff makes Best Bagel worth visiting. It opens early at 6:00 in the morning during the weekdays. So, even a busy New Yorker who needs to get ready for work at 7:00 can make the trip for a satisfying breakfast. In your spare time, you can sit down to enjoy the wheat melt in your mouth and accompany it with the bitterness of black coffee. During the summertime, they also have outside seating for you to enjoy the fresh air and breeze
4. Liberty Bagels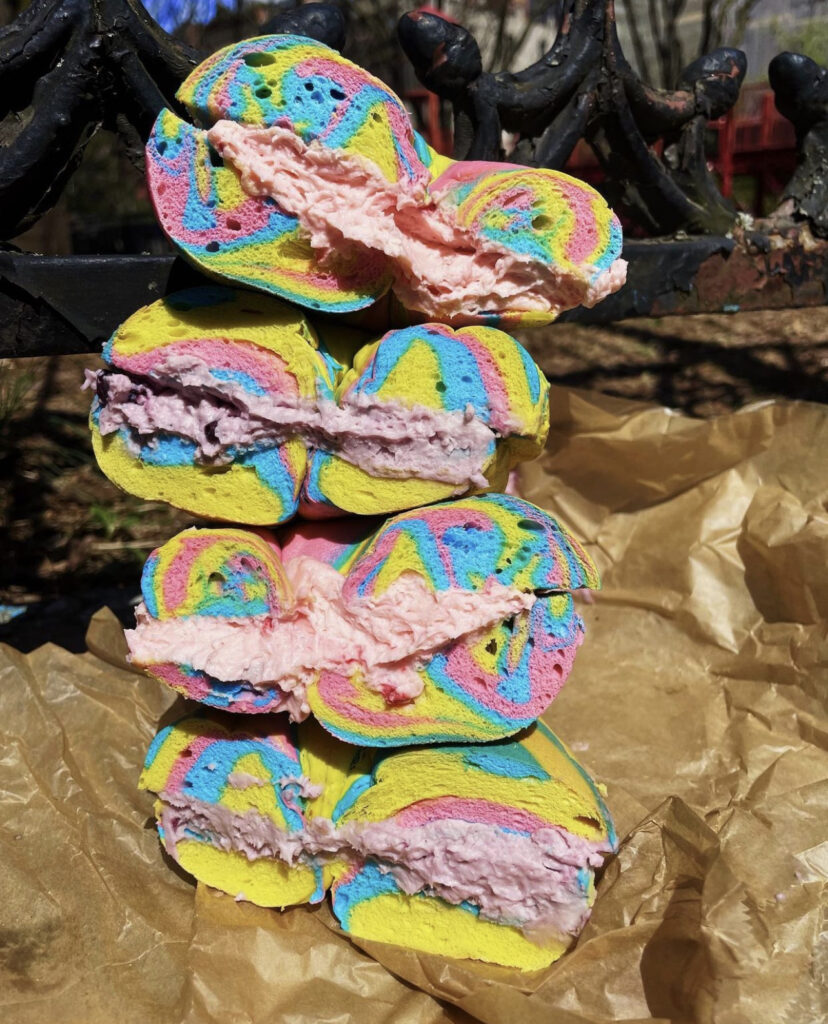 Want something good and colorful for an Instagram snap? Try the rainbow bagel at Liberty Bagels. Their eye-catching rainbow bagel will definitely get you more likes on Instagram. Located across the street from the Best Bagel, there comes Liberty Bagels with its glaring logo of the head of the Statue of Liberty. With over 20 choices of cream cheese, Liberty Bagels stands out as the best place for cream cheese lovers. People love their bagel for its moist and chevy content and multi-layer crust on the outside
5. Ess-a-bagel
An Austrian family opened Ess-a-bagel in 1976. The name "Ess-a-Bagel" means 'Eat a bagel' in Yiddish and in German. Ess-a-bagel stands out among all the bagel shops in New York for its 13 choices of bagels and wide range of toppings. Imagine an adventure with a doughy, fluffy, pumpernickel bagel and schmear it all with tofu cream cheese! Yes, tofu cream cheese – the rich flavor of beans in a creamy texture–it all comes from the spirit of the creative New Yorkers.
"I almost get my breakfast every day from there. They serve a variety of toppings and bagels so I never get tired of it," New York University alumna Chelsea Ling said.
Among the three Ess-a-bagel stores in Manhattan, the one located on 51st draws the most visitors. The store created the perfect background for your Instagram photos with its retro style and golden store logo contrasting with the green board on its wooden structure. Unlike typical bagel shops that close at 3:00 Ess-a-bagel stays "late" till 5:00. Too many people during the morning rush hour? Come by in the evening to skip the line.
6. Absolute Bagels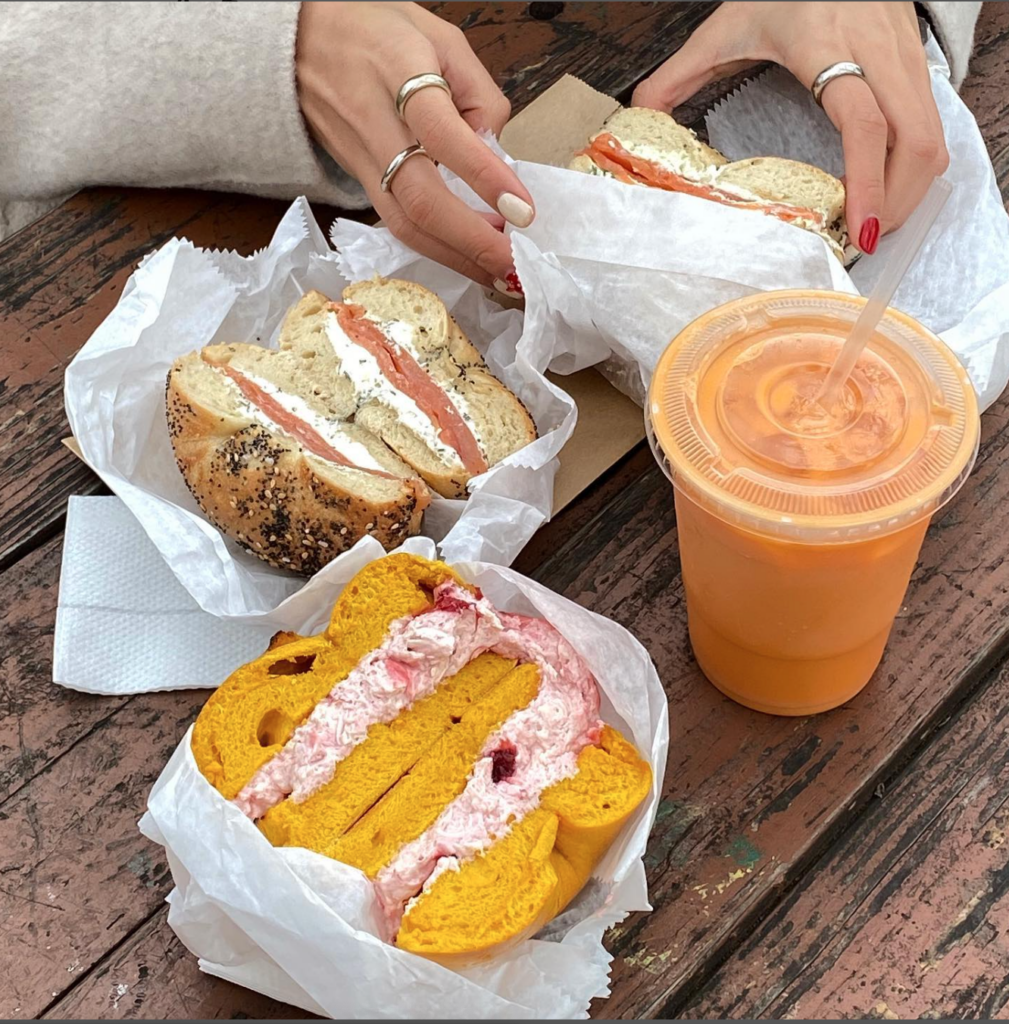 Located on the upper west side and cafeteria of Columbia University, Absolute Bagels. The founder of the shop previously worked at Ess-A-Bagel for years and then started his own career. You can expect a long line every weekend, but don't worry, it moves quickly. Inside the bustling compact store, you can see all kinds of bagels pile on each other behind the window. Even without any toppings, the bagel themselves at Absolute Bagels tastes satisfying already – malty, fresh, and sweet. Special reminder, Absolute Bagels only takes cash. So, don't let a few dollars of the transaction fee stop you from getting the absolute best bagel on the Upper West side.
7. Broadway Bagel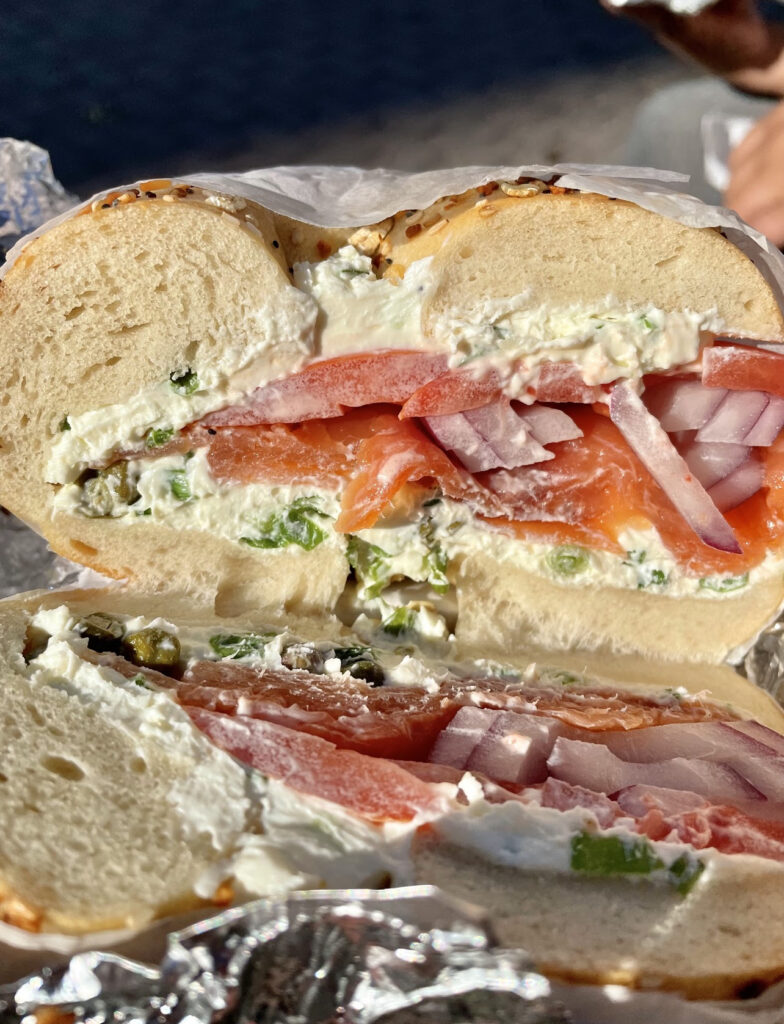 Broadway Bagels, another family-owned and operated bagel store located on the Upper West side of New York accompanied by super friendly staff with superb skills in toasting the crispy outside and soft inside bagels. They serve all classic toppings, including vegan-friendly ones. Want something special? Try egg everything.
"Egg everything is a must-try at Broadway Bagels. I grew up in New York. I know what's unique about New York bagels. I can tell Broadway Bagel follows the traditional way of making bagel—boil the dough in the kettle first and then bake it. Egg everything comes with eggs, tomato, and arugula on the spread cream cheese. So yum!" Pace University freshman Tory Ashleigh said.
People also praise Broadway Bagels for its affordability in a high living expense city like New York. Its bagel combo comes at $10 with a fresh bagel of many varieties along with a selection of cream cheese and a coffee. For reference, a basic McDonald's breakfast sandwich and three hash browns can cost you $15, no place can beat Broadway Bagels for a hearty and affordable meal. Tired of bagels, Broadway Bagels also serves amazing deli sandwiches and burgers ­ ­­–– definitely a place you won't get tired of.
8. Murray's Bagels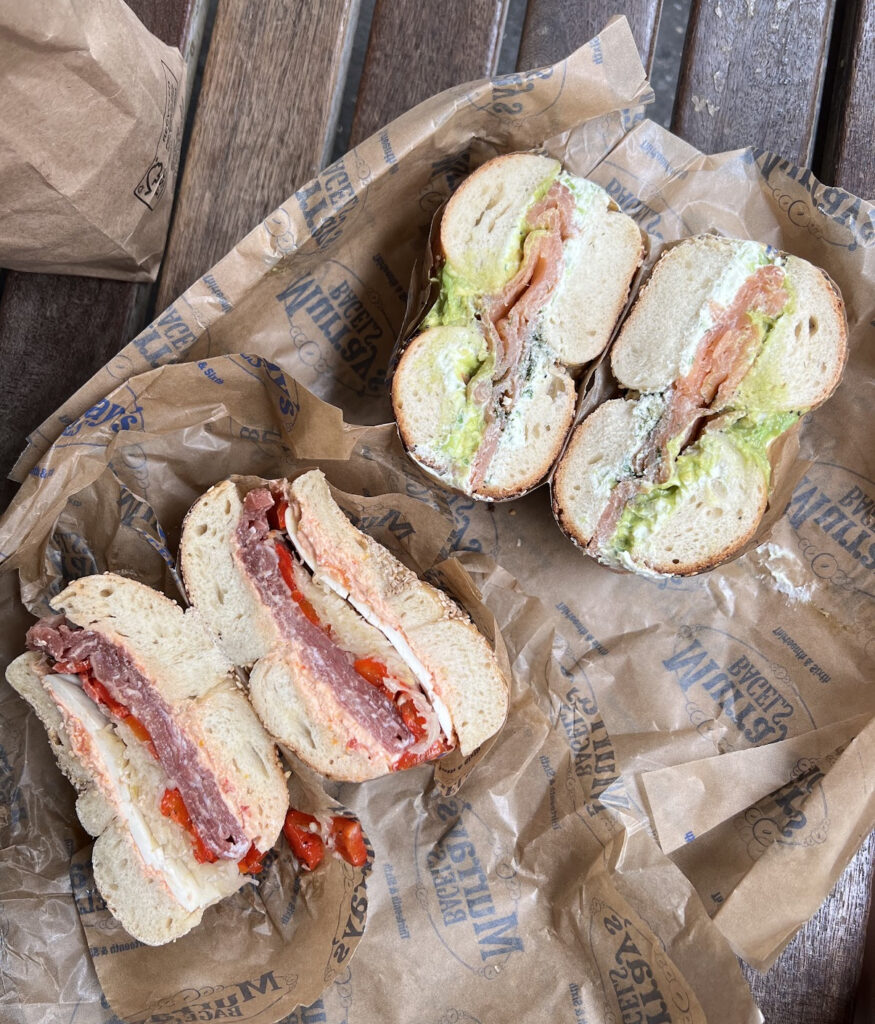 Praise by hundreds of New Yorkers on Yelp, Murray's became one of the most well-known bagel places in New York. The smoked fish sandwich stands out on Murray's menu. Murray's treats their diners with the absolute freshest and lavish ingredients. You can even feel the blueberry from the blueberry cream cheese explode​​ between your teeth. With 16 types of bagels to choose from, you can cure any bagel craving. Visitors can order a classic everything bagel or try something new like bialy or poppy seed, Murray's can always prepare you for the long day ahead.
9. Tompkins Square Bagels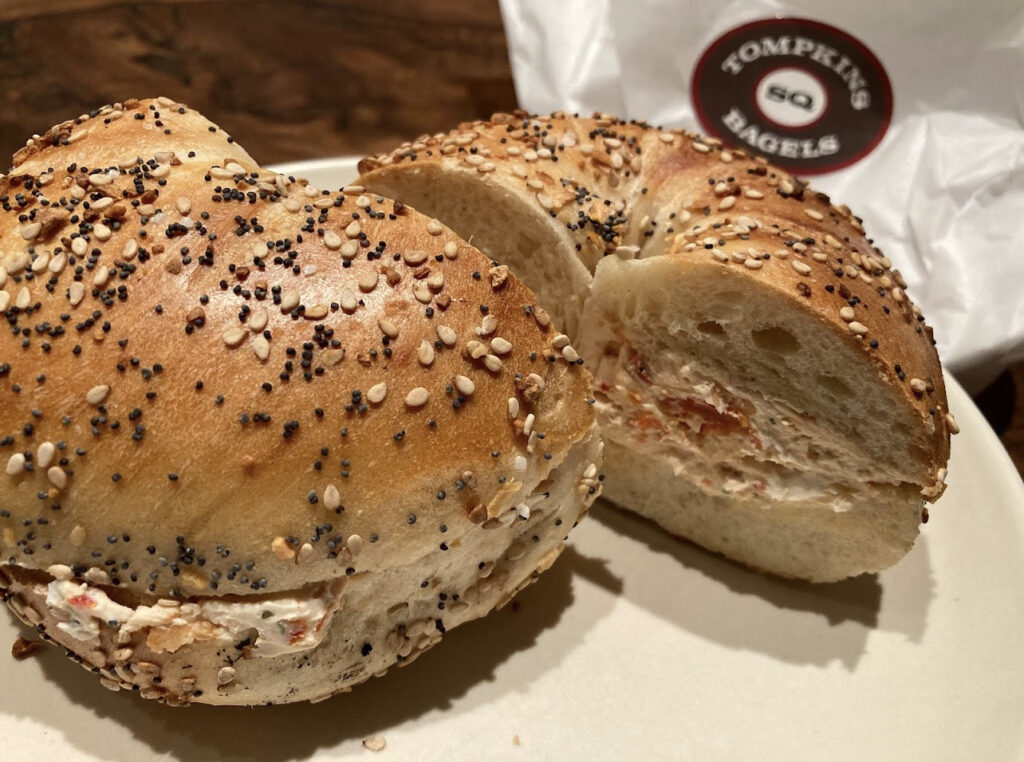 Successfully expanding its third store this year, Tompkins square Bagels shows its popularity with quick business development and its bright and modern design. You may encounter a long waiting time but will leave satisfied, deeming the wait worthwhile. You can witness every step of your bagel being made in the open kitchen, making your wait time less boring.
"I always ordered pick up on ChowNow ahead of time, so I don't need to stand there waiting," New York University senior Ed Moran said.
The bagels here taste dense and shiny. You can find over 30 cream cheese varieties, all with natural toppings. Tasty but not too sweet, the well-balanced cream cheese can go well with your diet plan. Weezer, their signature combo, comes with bacon and onion cream cheese. They also serve innovative spreads and combinations created on a daily basis, so check the blackboard. Special reminder: cash only.
10. La Bagel Delight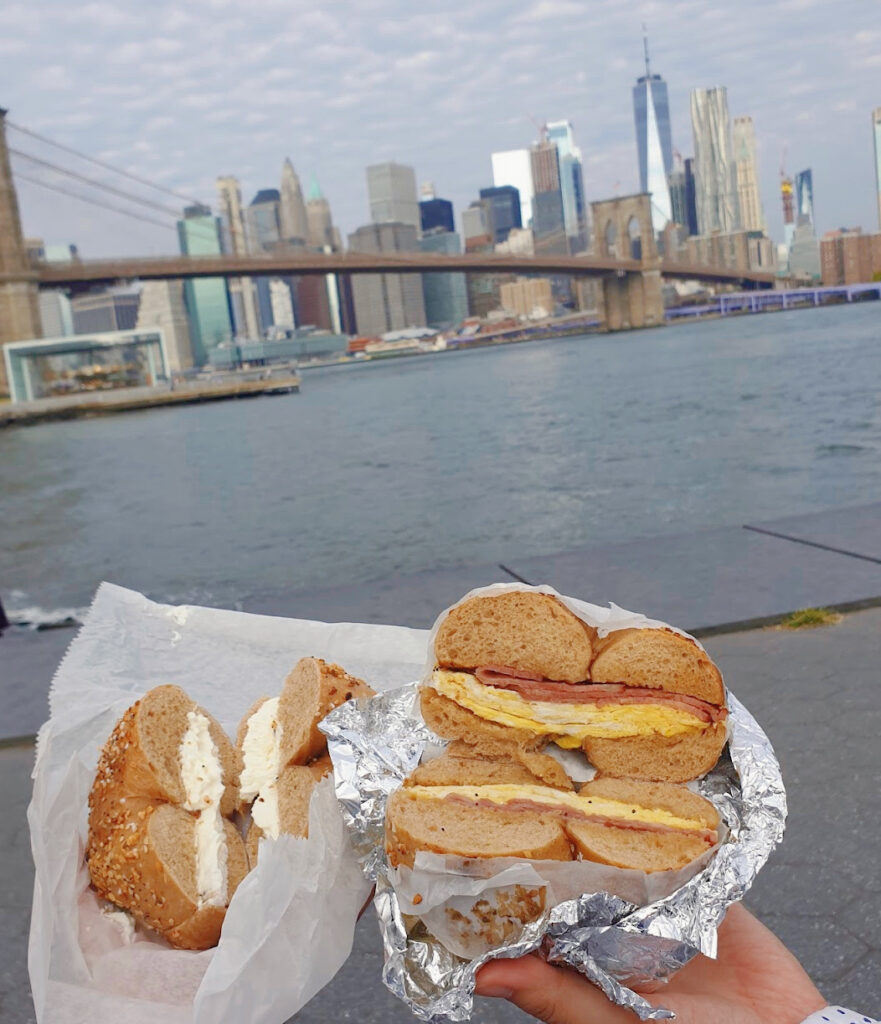 At La Bagel Delight, you can see their old New York way of bagel making on Youtube — hand rolled and kettle boiled. La Bagel Delight stands in the most artistic area in New York, Brooklyn Dumbo. Classic and crunchy, you also get a wide range of schmears—a Yiddish way of calling cream cheese –on top of it. Imagine wandering along the East River under the Brooklyn Bridge with a hot and chewy bagel sandwich, the authentic New Yorker way.
Brought by Jewish refugees from Poland in the 1800s, New York bagels were originally served as an inexpensive filling food for the Jewish community in the city. In less than a hundred years, New York bagels not only made themselves the iconic food that represents the city, but it also transformed into the first version of a bagel in the United States. Besides its crunchy and chewy taste, the rich cultural diversity and inclusion behind it make New Yorkers proud.