When you think Canada, you think poutine, hockey, hospitality and, of course, Justin Trudeau, Canada's handsome yet politically troubled prime minister. If you've never visited the Great White North, these 10 things to do in Montreal will start you off on the right snow-shoed foot. The location of the 2010 Winter Olympics has so much to offer.
If you don't know where to go first, allow me to recommend these 10 things to do in Montreal.
1. Bask in the Glory of the Notre Dame Basilica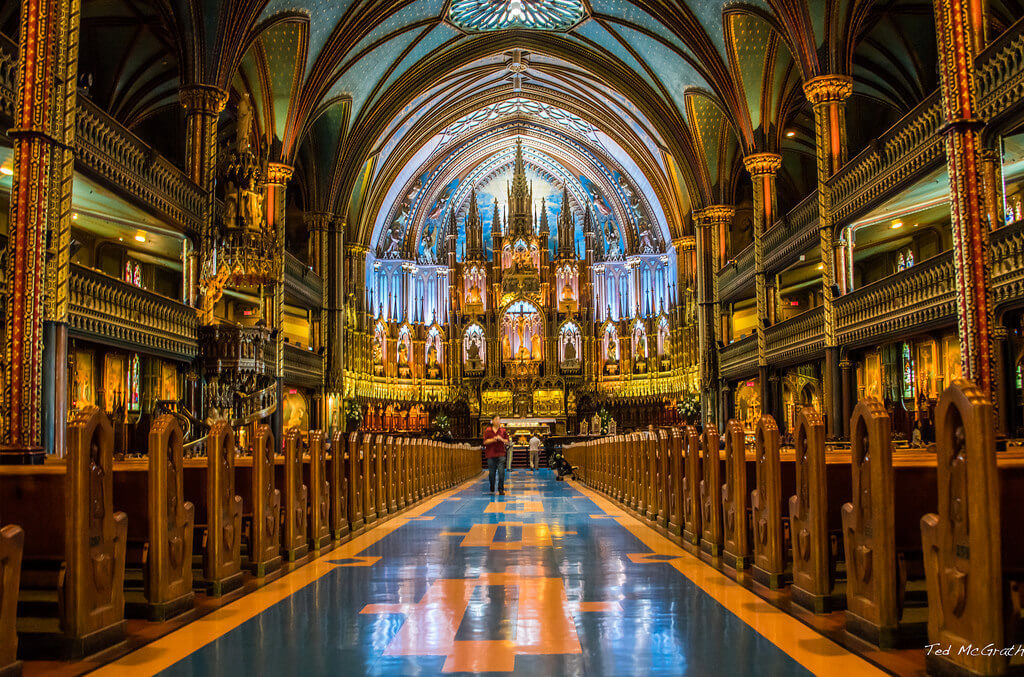 Once you pass through its grand wooden doors, an overwhelming sense of spiritual grandeur will wash over you before you even attempt to take in the powerful display. Intricate, geometric patterns curve over the ceiling in unbelievable symmetry. The walls, lined with paintings, depict historic scenes from the history of Montreal. The front of the church holds a spellbinding worship site which towers high over the wooden benches. Rainbow lights flash and illuminate sharply carved statues of religious figures. "I've honestly never seen anything like it. The cathedral brought tears to my eyes," said Emory University freshman Karina Ramadan. The cathedral also offers choral and organ performances as well as a light show titled "And Then There was Light" in the evening. If you visit Montreal, the Notre Dame Basilica should be your next stop after the airport. Remarkable on both the inside and the outside, the Notre Dame Basilica rests in the historic district of Old Montreal.
2. Pick Up Fresh Produce at the Jean-Talon Market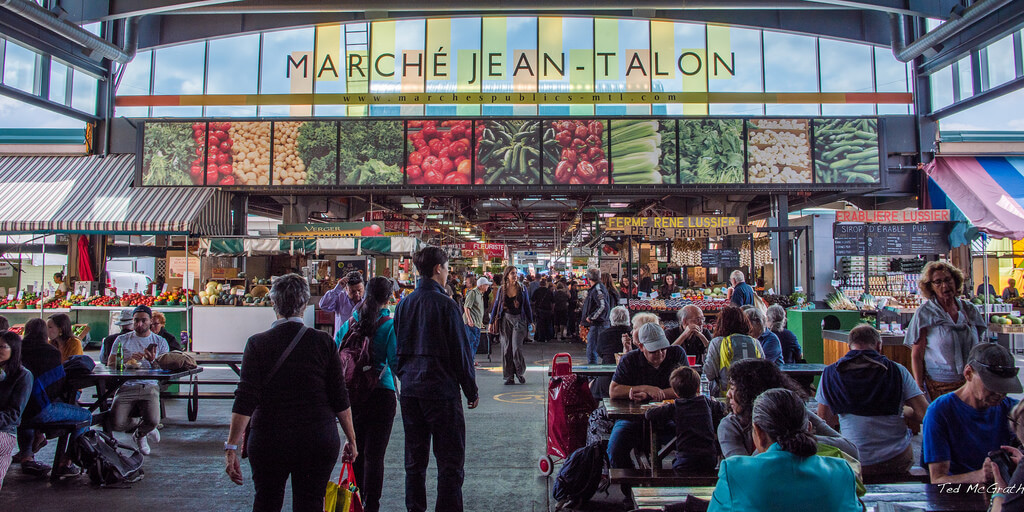 Perhaps the most well-known farmer's market in Montreal, the Jean-Talon Market offers a variety of mouth watering products. You can spy the market half a mile away; long, wooden stands infused with mountains of fresh fruit and vegetables sparkle brightly under the sun. Most vendors put out samples, we can guarantee a tasty and easy-on-the-wallet experience. While the market stays open year- round, visit during the peak summer period (May to October) when its open-air arcades host over three hundred vendors. Besides indulging in fruits and veggies, the market also offers the best of local meats, fishes, chocolates, spices, cheeses and much, much more. You can also pick up cute knick-knacks and souvenirs from the cute craft shops scattered around the market.
3. Enjoy Iconic Poutine at La Banquise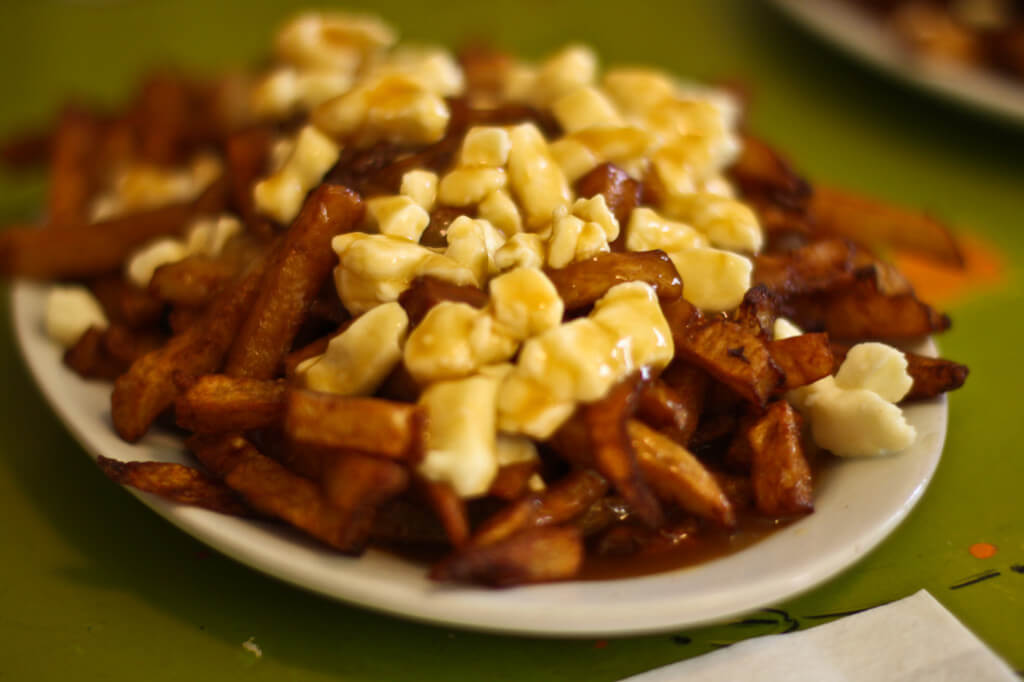 People worry too much about looking like tourists when they travel, despite being tourists. Don't give into this concern because it may hold you back from experiencing the best and most legendary poutine in Montreal. If you're unsure about the dish, trust me you'll like it. French fries, gravy and cheese curds—chances are you like them all individually so why not piled on top of each other in a shamelessly caloric, steaming platter? Sorry America, but poutine beats chili cheese fries any day, especially when served up by La Banquise. Opened in 1968, this famous, 24-hour eatery offers over thirty different kinds of poutine. Concoctions range from La Classique to the indulgent La Reggae which includes steak, guacamole, diced tomatoes and spicy peppers in addition to the regular poutine. Don't let your taste buds miss out on this place.
4. Overlook the City from Mont Royal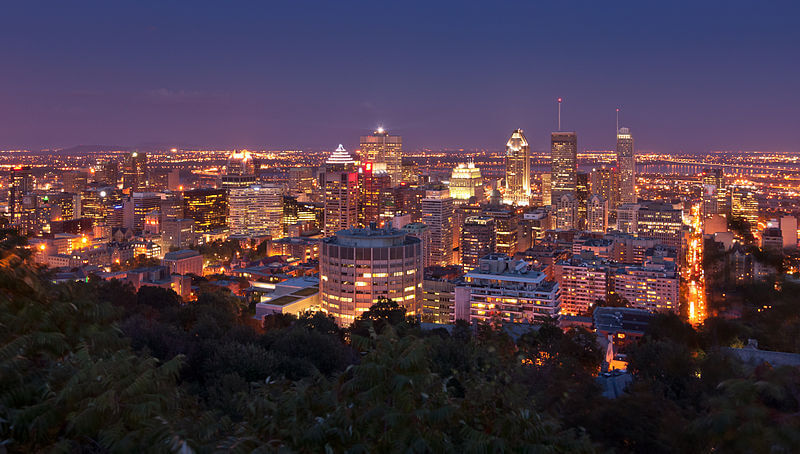 Montreal gets its name from this iconic spot. This extinct volcano boasts a high point of seven hundred and sixty-four feet. Looking to burn off the poutine? Visitors can hike up steep, rocky trails to reach the summit. "I couldn't stand up the next day, but the view of the city was worth it," said University of South Florida sophomore Jackelyn Dunn. Mont Royal Park, a sprawling green space, surrounds the mountain and contains a lake, places to picnic and playgrounds. Also, be sure to check out Tams Tams, an outdoors drum festival that takes place on Sunday mornings.
5. Dance till You Drop on Crescent Street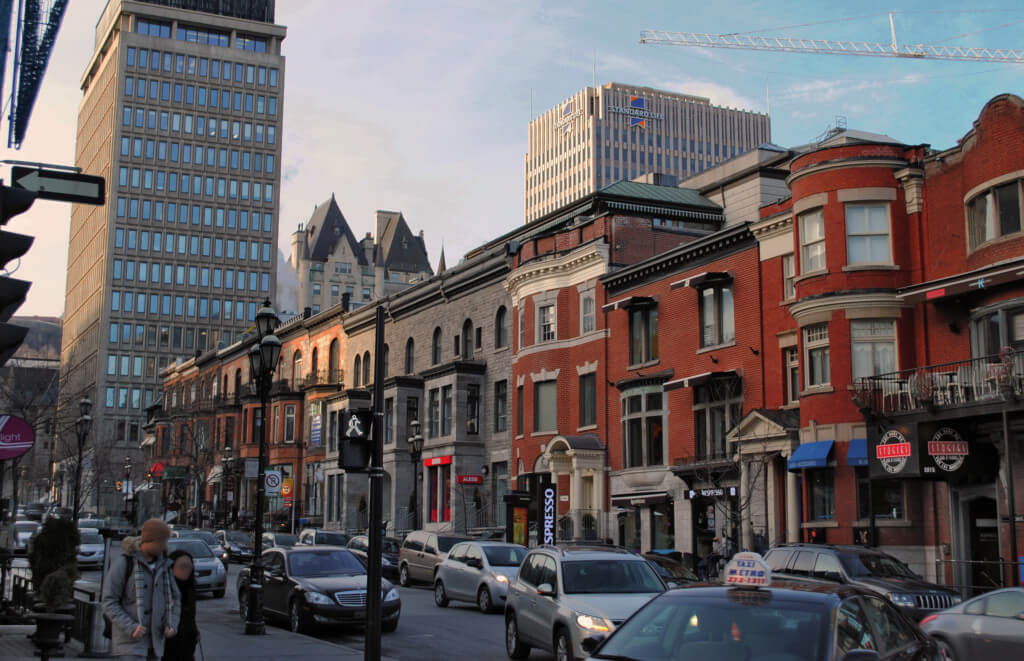 For an unforgettable Friday night, hit up Crescent Street, one of the most energetic and thrilling spots in town due to its collection of famous nightclubs and bars. Popular nightclubs such as Club Electric Avenue and JET crank beats so loud and flash neon lights so bright, you'll forget all about your nine to five waiting for you post-graduation. "Word of advice, if you go out past twelve make sure to fill your pockets with cash. Doormen only let you in with tips, which is something I realized after waiting in line for two hours," said Davidson University sophomore Gabe Perra. If you're not a club person, check out double-story bars such as Thursday's and Sir Winston Churchill's, which offer great drink selections and a laidback party feel.
6. Chase your Adrenaline High White-Water River Rafting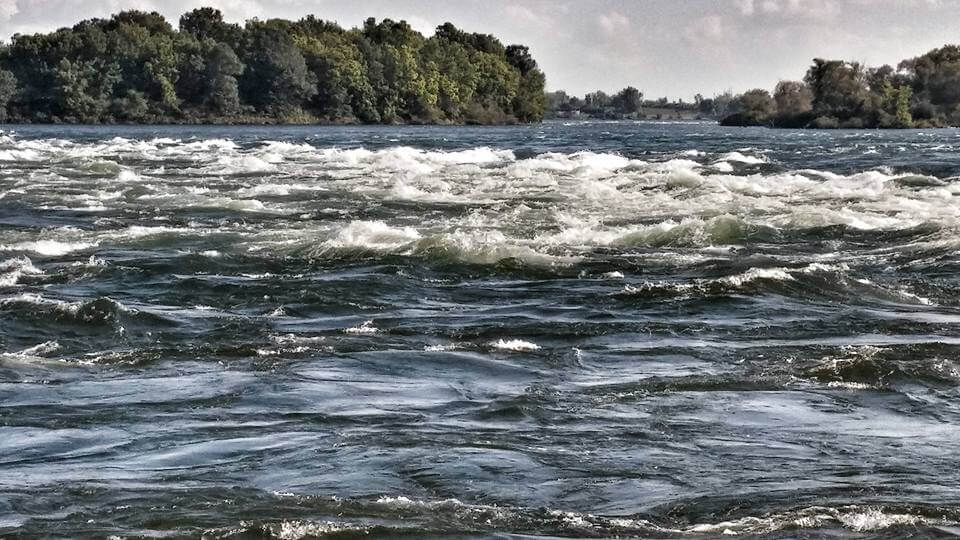 You know the phrase, "calm before the storm?" That encapsulates the wait before white water river rafting on the Saint Lawrence River. Les Rapides de Lachine, the main rafting agency on the river, will provide an intense rafting experience unlike the one you took at your summer camp back in '08. Equipped with wet suits, helmets and paddles, you and your raftmates will begin on a calm float downriver until you reach the jagged currents, roaring whirlpools and towering ten-foot waves. Bodies will fly out of the boat. Your arms will burn and cramp. Freezing mountain water will flood your foot space. But the adrenaline rush makes the strain worth it. Trust me, you'll immediately want to go again.
7. Stroll through Gay Village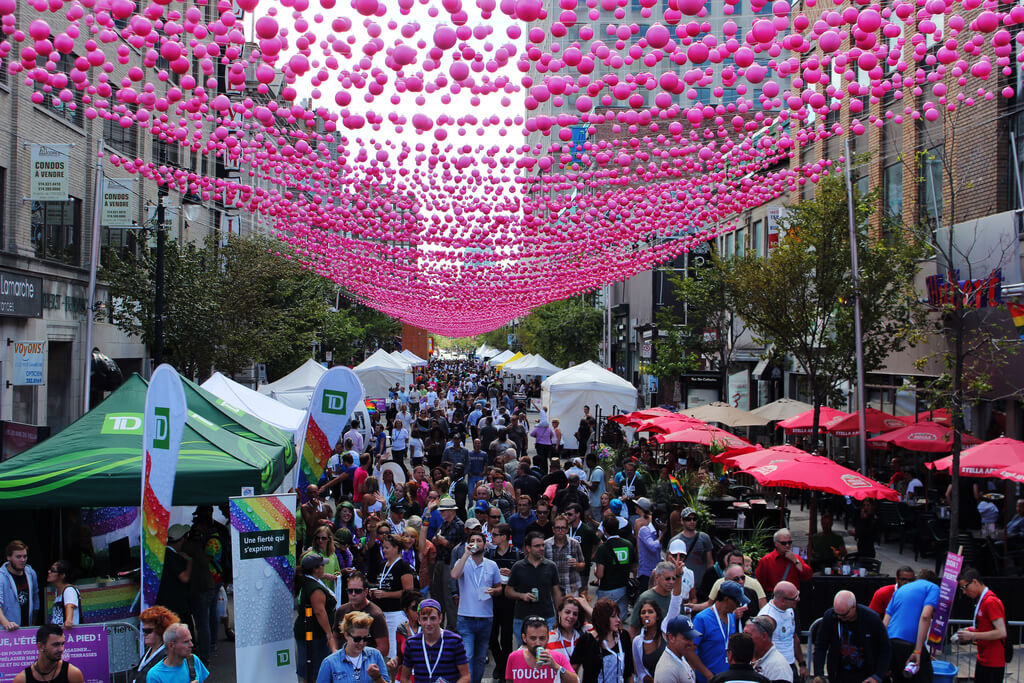 Delight in the brightly colored and friendly atmosphere of Montreal's Gay Village, located mainly on St. Catherine St East. Though an originally poor working-class area, the neighborhood became increasingly attractive to the LGBTQ community after many gay businesses migrated to the area. "There's always so much going on. There's a wide selection of bars, restaurants and music. I especially enjoyed all the talented street performers, lots of them serenade onlookers. It's just a great street to stroll down and relax during the day," said Dunn.
8. Carriage Ride around Old Montreal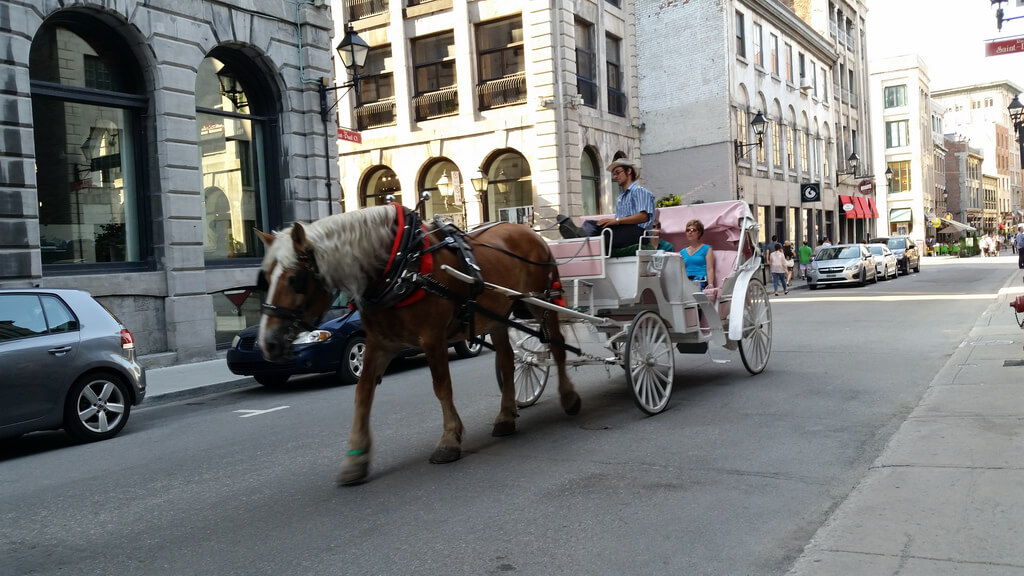 Get thrown back in time and hop on a classic, horse-drawn carriage for a tour around Old Montreal. Tours start at the Notre Dame Basilica and continue to explore the city's major streets. Admire the elaborate, European-style architecture as you listen to the clickity-clack of the horse's hooves against the pavement. Tour guides share detailed information about Montreal's history and you'll wind up learning a lot. This old-fashioned carriage ride acts as a great icebreaker to the city. Don't forget carrots and apples to thank your hard-working animal guide.
9. Enjoy the Montreal Museum of Fine Art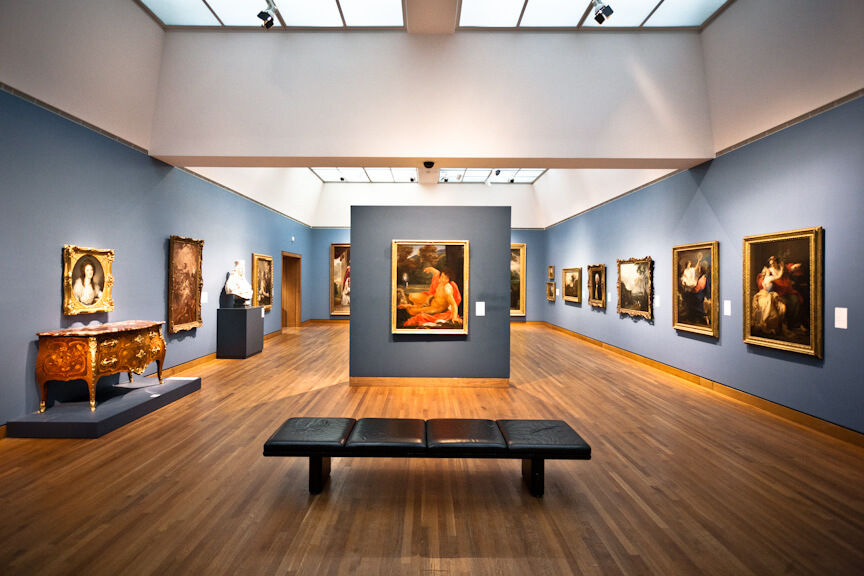 The Montreal Museum of Fine Art stands as the most prestigious museum in Canada. Located on the historic Golden Square Mile stretch of Sherbrooke Street, the museum offers a paradise for lovers of art and history. Choosing to revolve many of their exhibits around Canada's diverse culture, one of their current exhibits on display is titled "Here We Are," which challenges preconceived notions about Blackness in Canada through the work of eight stand out, contemporary artists. Spread out across five pavilions, the museum occupies 140,000 square feet of exhibition space. Their popular exhibit on Canadian Art spans across six levels. Make sure to reserve a whole day for the MMFA if you plan on visiting.
10. Let your jaw drop at the Montreal Botanical Garden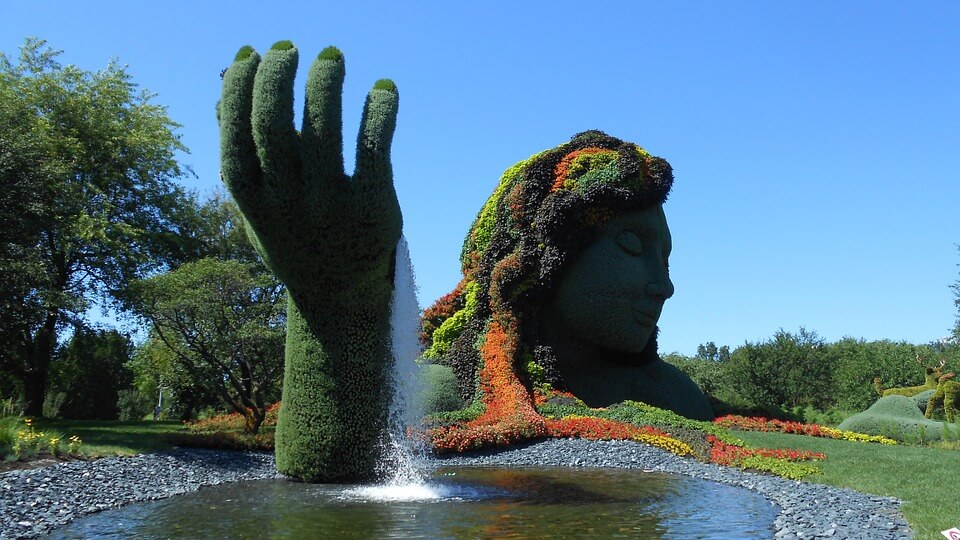 The Montreal Botanical Garden presents a natural oasis in the middle of a lively city. Spanning 75 hectares, thematic gardens and stuffed greenhouses will wow you with natural beauty. Recognized as one of the most important gardens in the world for its diverse collection and elaborate facilities, this tree-lovers paradise certainly earns its reputation. The gardens boast over twenty-two thousand plant species. Giant sculptures of humans and animals line pathways in dramatic scenes, dripping with rich vegetation and coated in vibrant flowers. Small waterfalls pour out of statues' hands and scenic ponds surround fairytale-like setups.