I went on a bit of a book-buying spree for my birthday this year. By a bit of a spree, I mean a full-out shopping extravaganza. You'll understand why in a minute. I told myself to indulge in as many romance books as my wallet allowed. The plan? Get three books at most, but even that felt unlikely. My TBR already rose as high as the ceiling and I needed to employ some sense of rationality here. What ended up happening instead? Well, I found a bunch of pretty, pastel book covers that caught my eye and begged me to buy them. I never considered myself the type of person to buy based on book covers, but voila. Oh well. At least I have some cute covers to share with you guys, so not a total loss.
Keep reading for 10 Romance Novels with the Prettiest Covers:
1. The Paris Connection by Lorraine Brown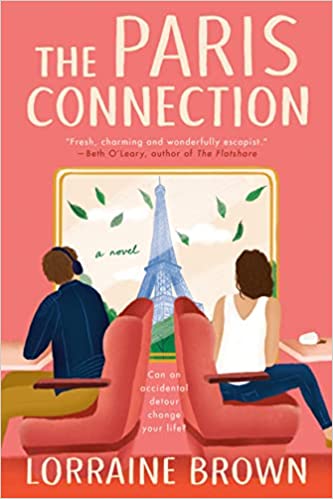 This book caught my eye before any of the others. Why? The color. Yeah, that basic of a bookworm, people. I loved the deep pink color, the pastels, the leaves flying across the page. I hate real-life people on the cover but animated characters get a pass. In fact, I prefer my romance books with pastel animated characters on the cover, I think that presents such a perfect aesthetic, especially on a wooden shelf. But anyway, the best part about the book cover? Sandra Chiu did a perfect job of giving such a feel of Paris and traveling on the metro.
"It's a cute, captivating cover, makes you want to know what happens on the train ride that's on the cover. And the colors are also beautiful and look good on a shelf," University Paris-Est Créteil 2nd Year Student Assia El Gharbi said.
The book itself offers the simplicity and elegance of Paris. Beauty no matter where you look. The main character represents anxiety and learning to take on new challenges. It fits the falling leaves of the cover that one could argue represents changing seasons, passage of time and overcoming obstacles. The train symbolizes moving on and the Eiffel Tower represents the magnificence of Paris. Brilliant, beautiful and befitting an elegant story.
2. The Love Audit by Annah Conwell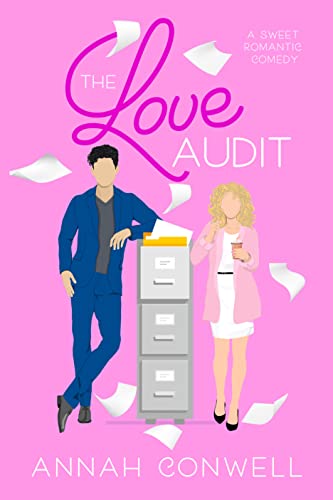 I absolutely loved reading this book. I knew a pink cover could never steer me wrong. The simple design of a pink background with an even darker pink font won me over at once. Not to mention the cutely-drawn animated characters on the front. The story gives an enemies-to-lovers romance, which fits me perfectly. And let me tell you, it could not disappoint.
"The other book cover I like is The Love Audit. I don't remember the author but I do follow her on Instagram. The Love Audit is complete pink and another minimalist design with just two characters (male & female) both Americans with an office drawer type. I haven't bought the book yet but I heard it's a good book," Tyler Junior College sophomore AJ Qureshi said.
I love how, even without reading the book, people feel drawn to it just because of the brilliant cover design. I think it does a wonderful job of showing you exactly what kind of story you will get. Office romance? Check. Sunshine and grumpy? Check. Swoony, romantic, cute; absolutely. I very much encourage everybody to read this book if you want a heartfelt romance with a sweet arc and really loveable characters.
3. Romancing Mr. Bridgerton by Julia Quinn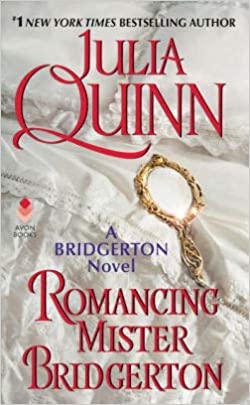 There exists a few covers for this book. I, however, want to focus on the Instagram cottagecore aesthetic cover. You know the kind I mean. The one with a gilded mirror on white sheets with red-rose cursive font. If this cover doesn't tell you exactly the kind of romance inside, then nothing will. Imagine wide fields and ballgowns and horse-drawn carriages, families and friendships that warm your heart, and romances that completely melt it. I think the cover for all of Julia Quinn's books present great romances.
"This cover tells us a lot about how Penelope was always judged about her looks and how it was always hard for her to think of herself worthy of love. On the other hand, the mirror also represents what she was seeing whenever she was writing as Lady Whistledown and how she always kind of knew that she was meant to do something important even if no one knew about it. A reflection of her true talents that only one can see for themselves. There's a lot to Penelope that no one dared to really learn because of the way she looked— or better said, the way her mom made her look. I feel as if there's always going to be this double meaning behind the mirror on the bed. The privacy of the reflection and the reflection of a true self," Lusófona University alumnus Mafalda Freitas said.
Maybe because I actually read this book and fell in love with it so deeply, I know that the cover represents the contents perfectly. The characters; loveable. The atmosphere; comforting. My favorite part of the story definitely came in the form of Lady Whistledown's entries at the start of each chapter. Hilarious, beautifully written and just an overall pleasure to read. Give it a chance and see how you feel.
4. Love on the Brain by Ali Hazelwood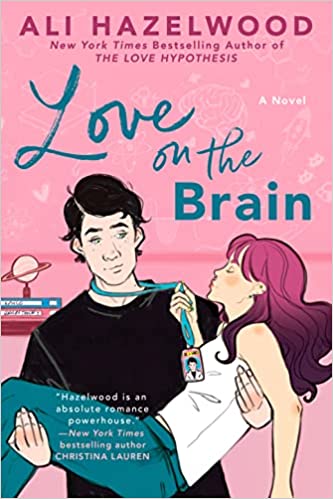 I can seem like a very superficial person sometimes. My interests come off as very basic. Example: Pink. I love pink. If a cover gives me pink, I am a happy reader. In terms of Love on the Brain, the main female character's pink hair matching the pink background works for me. In other words, I really like the cover for Love on the Brain. I like the pastel colors and the contrast to the main male character's black hair and shirt. I like the font and its color, which I know sounds weird to say, but I think the font makes such a difference for a cover. Truly, thumbs up.
5. A Lady's Formula for Love by Elizabeth Everett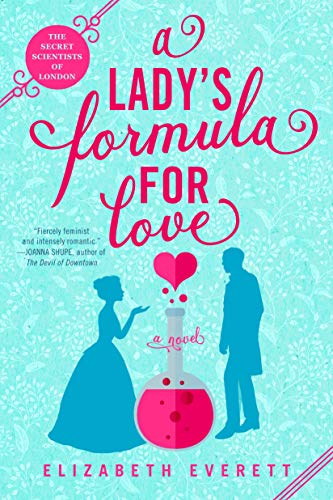 What a gorgeous cover design by Rita Frangie, ladies and gentlemen. Didn't I call myself basic? Okay, well, this book presents a heart on the cover. A pink heart. My favorite part about Valentine's Day probably comes down to all the pink and red hearts everywhere. I can't help it, pink feels like romance to me, and this cover does such a good job of presenting pretty deep pink with a pastel blue background and characters. Also, just now realizing this as I look at my copy, but the pastel background also shows white engraved leaves, which I didn't notice when buying it. How pretty, right?
6. Seoul Searching by Samantha Ann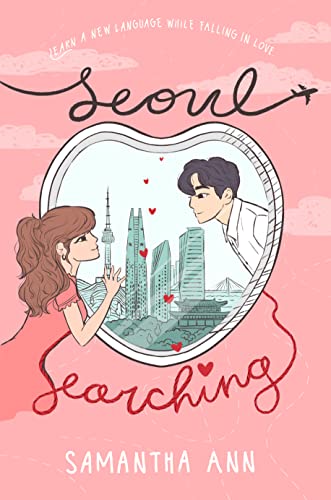 Remember when I said I hate real-life people on the cover, but animated gets a pass? This cover's animated couple look like something out of one of my favorite cartoons growing up. You know, the millions of pretty fairy characters that were everywhere? Winx, Angel's Friends, etc. Anyway, this whole cover could not look more adorable. With plenty of pastels and, yes, more pink hearts, I feel like my aesthetic heart gets everything it wants with this simply pretty cover.
"The cover design was created by Kim Kciart (IG: @kciart), a good friend of the author, in November 2021. Funny enough, I remember when author Samantha Ann shared this piece of news with us on Tiktok and thought how cute it looked. From the cursive writing to the animated main characters gazing at each other lovingly through a heart-shaped window with Seoul in the background, you have to wonder if the cover matches the story. Well, I would tell you, but I shall instead allow you, the reader, to make that judgment for yourself once you read the book," SDSU Imperial Valley alumnus Alegna G. Granados said.
I love knowing exactly who designed these beautiful covers. I love other people's respect for cover artists, as readers often neglect them. For that reason, I wish to shine the spotlight on not only these beautiful covers, but the artists behind them as well. Seoul Searching combines a simultaneously cute and simple artwork that conveys the simple love story so many readers, myself included, fell in love with. Truly, a sweet and romantic cover for a sweet and romantic book.
7. All This Time by Mikki Daughtry and Rachael Lippincott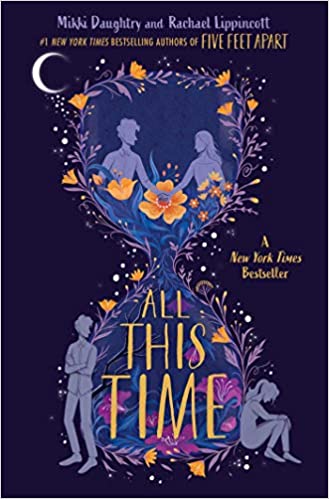 Remember that first Tangled scene with Mother Gothel finding that magic flower at night? The way it glittered like drops of gold against the dark background and felt otherworldly? Okay. Imagine that spread out across an entire book cover. That pretty much sums this book cover up. Truly gorgeous deep blue and purplish background and character silhouettes, brightened only by these fuchsia and honey-colored flowers imbedded in the hourglass around the characters. I just don't know what else to say about this book cover. Beautiful, creative, colorful— everything you could want on your shelf.
8. This Love Hurts by Willow Winters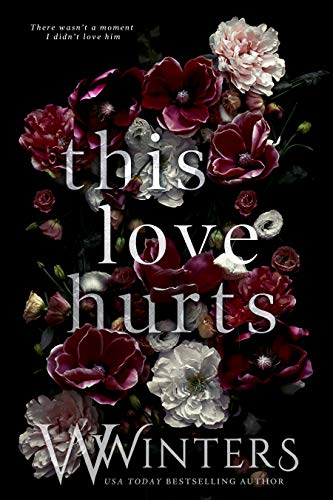 If you don't follow Willow Winters on social media, get on that right away. Her bookshelves truly speak wonders. I personally refuse to sit to down and read one of them until I get them all. Like Pokémon. With such a floral theme to her books (the non-discreet collection anyway) Winters does not disappoint with this books' aesthetic. A pitch-black background with deep-pink and pastel flowers surrounding a brilliant and simple title of white and shadowed font. I always love looking at Willow Winters's books and imagining I could afford all of her works if only to carry them on my shelves. Even her discreet series, which follows a color-coded system, looks gorgeous, whether one book on its own, or the entire collection put together. Once again, could not disappoint.
9. Love, Chai, and Other Four-Letter Words by Annika Sharma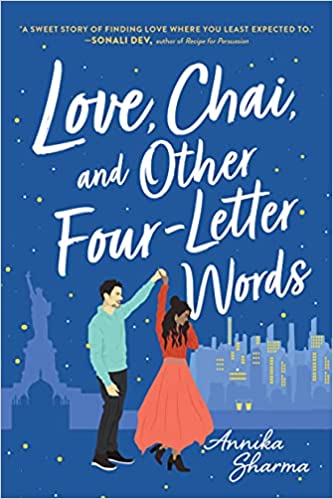 I just took a ten-minute pause in writing this article to convince myself that adding another book to my TBR could only amount to a bad idea. But wow, do I want this book, if only for the cover. Guys. Listen. Animated characters, stars all over the front page and outlines of both the New York and India skylines in the background? Yes, please. Also, the main character's outfit looks amazing. Yes, I focus on that because I can't help it. Because it looks that good, people.
"What I love about the cover of Annika Sharma's debut novel is how it captures the feel of the story with perfect little details. From the Statue of Liberty outlined in the background to the turn of Kiran's head and the fall of her hair against her blouse. And check out Nash's beard stubble! The cover artist also does a wonderful job enhancing the intimacy and romance of their pose. Like they're about to dance right off the cover," Miami University alumnus Suleikha Snyder said.
This beautiful cover art does this beautiful love story justice with a simple combination of colors. They clearly put the thought and focus into highlighting the most important aspects of the story. I didn't read this book, but I know the relationship affected a lot of people. The difference in backgrounds, cultures and personal stories shows in the simple background design of two different cities. However, the dancing couple in brighter colors at the forefront highlights that love can surpass all differences.
10. Never Fall for Your Fiancée by Virginia Heath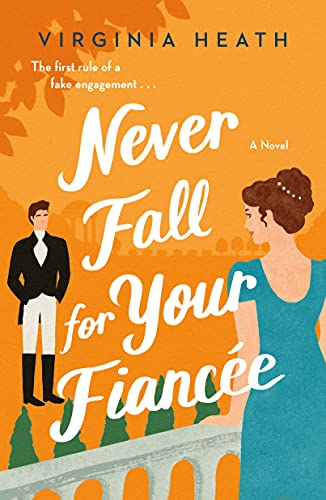 Gosh this book looks pretty. It feels like summer, know what I mean? The pretty orange background contrasts beautifully to the main female character's sky-blue dress and the main male character's black and white suit. With some darker orange trees hanging from the corner and some green shrubbery near the bottom, along with the pretty white font that fits in perfectly with that summer picket-fence feel? This cover feels like oranges at the beachside, you know? It carries a refreshing feel in its aesthetic alone, and that always comes as worth buying.
Let's all tell each other the truth, okay? Book covers matter. The writing alone doesn't pull you into the story, the cover must do the job first and foremost. We want something alluring on our shelves. Even if you just borrow from a library, you want to feel like you sit down with something special every time you sit down to read. Pretty aesthetic doesn't mean a good story, granted, just like bad aesthetic doesn't mean a bad story. However, much like a flower garden transports you to a new world, so does a book cover.